Book info
Sample
Audiobook
Media
Author updates
Lists
Synopsis
In the latest page-turning FBI K-9 novel, Special Agent Meg Jennings and her search-and-rescue Labrador, Hawk, find that a training session in the Minnesota wilderness becomes a fight for survival …

Keeping their search-and-rescue skills honed isn't just a job requirement for FBI Special Agent Meg Jennings and her Labrador, Hawk—it's essential to saving lives.

A water search training weekend in the Boundary Waters area of Minnesota has attracted participants from all levels of law enforcement, each vying to win. The races are challenging, the rivalry is intense, and Meg is already under pressure
when Hawk alerts to a scent in the water—and discovers the fresh body of one of Meg's fellow competitors.

The contest is called off, but Meg's still feeling the heat. The victim had made an unfounded complaint about her, one that could cost Meg her job and see Hawk removed from her care. The field of suspects is daunting, and all of them are
experts in throwing others off the trail. And though Meg's team flies out to Minnesota to help uncover the truth, they're on unfamiliar territory, pitted against a killer with the skills, and the motivation, to stay hidden in plain sight …
Release date: November 29, 2022
Publisher: Kensington Books
Print pages: 304
* BingeBooks earns revenue from qualifying purchases as an Amazon Associate as well as from other retail partners.
Listen to a sample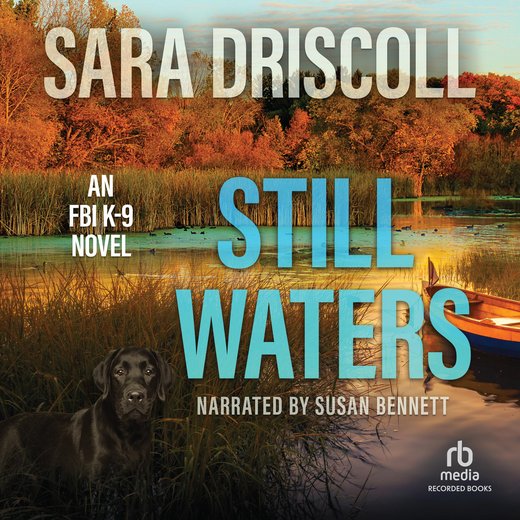 10:49:45
297.44 MB
November 29, 2022
Recorded Books
2022
Still Waters
Sara Driscoll
Napoo: A British slang term from World War I, a pronunciation of French il n'y en a plus or il n'y a plus ("there is no more"). It means something is finished, inoperative, or someone is dead.

The boat ghosted over water, slicing almost silently through a vivid reflection of blue sky and wispy clouds. At the edge of the narrow lake, stands of pine towered above ragged piles of granite, while mist danced atop the still surface near the shoreline. High overhead, a raptor glided, wings outstretched, riding the upper-level wind, its prey safe far below.

Not yet time to kill.

At the front of the boat, the black Labrador stood with his front paws braced on the curve of the inflatable bow, his head high, nose constantly scenting the air, the plume of his tail waving back and forth. A dog in his element, on the hunt, waiting for the first sign of the trail.

"Has he got it?"

Meg Jennings, search-and-rescue dog handler for the FBI's Human Scent Evidence Team, took her eyes off her dog just long enough to glance over her shoulder at the man clad in a wet suit, buoyancy control vest, and air tank, sitting farther back in the boat. Like her, he was perched on the rounded side of the boat, but he also held a GPS unit in one hand, careful to ensure only he could see the screen.

Meg moved to keep her eye on her dog, but turned her head enough that her voice would carry and not get lost in the wind the boat generated as they traversed the lake. "I don't think so. I'm still learning Hawk's signs for a water-based search, but based on his physical stance, he hasn't picked up anything yet."

Meg turned her attention back to Hawk and tightened her hold on the leash, wrapping it around her hand one more time. An experienced search-and-rescue dog, Hawk had done water searches before—as he had after Hurricane Cole struck the Eastern Seaboard the previous year—but those had really been transports over water to get to land searches. And as a black Lab who loved his time in the water, Meg didn't want him to get overenthusiastic about catching a scent and leaping out of the boat to track it like he would on land.

Have faith. You know he's better trained than that.

She did know—a simple voice command would keep him in place. And, in case of a crisis, the use of his "don't mess with me" name—Talon—demanded instant compliance. Even if he did go overboard, not only was he an excellent swimmer, but he wore a life jacket, just like the humans in the boat.

Safety first. You couldn't help a victim if you were in trouble yourself.

Today they were training a different skill. On land, Hawk was an excellent tracking and trailing dog over a range of terrains and through varied conditions. But there were times when a search ended at a body of water where it would be more useful if he could continue. Granted, any search over water was bound to actually be more in the purview of the dogs of the FBI Victim Recovery Team—who were trained to search out human remains versus the living victims, who were the target of the Human Scent Evidence Team—but cross-training would only improve their overall search success. It was a sad but true fact that not all their searches ended in a live rescue.

Special-Agent-in-Charge Craig Beaumont, who led the Human Scent Evidence Team, had approved Meg and Brian Foster's request for this training weekend. Brian and his German shepherd, Lacey, were often paired with Meg and Hawk because of how well the dogs worked together and their resulting success rate. The handlers and their dogs were mandated by the FBI to refresh and upgrade their training as part of their positions on the Forensic Canine Unit, but when Craig heard that part of the weekend was also a trials competition against other law enforcement agencies, he gave his enthusiastic approval. Outside his office, Meg and Brian had shared a high five, pleased their strategy to sell the trip to Minnesota, based on Craig's competitive nature and his love of showing off his teams' skills, had been successful.

Brian and Lacey were somewhere out on the water as well, but considering the breadth of the Boundary Waters Canoe Area and the number of small lakes and rivers, they could be anywhere this morning. Part of the Superior Natural Forest, Boundary Waters was a widespread interconnected chain of waterways, distant from any towns and even most roads. Visitors to the area generally portaged their way into the interior. For these trials, the organizers, Search Dogs of America, had picked an area still accessible by land vehicles, allowing the competitors and their dogs to drive in, instead of being solely reliant on boating skills. However, as this was a designated wilderness area, the SDA had sought, and received, approval to use outboard motors for the training sessions, since the distance to be covered was considerable. Nonpolluting equipment was required as part of the agreement, so the boats used electric outboard motors.

At first, the lack of noise as they left the shore had seemed jarring, but Meg quickly settled in, enjoying being able to talk without shouting and to hear birdcalls coming from the surrounding forests. There were four people accompanying Hawk: Meg, Charlie Allen, the pilot, Claire Hughes, the trainer, and Salvatore Gallo, the diver. It was a small group, but each of the eight dog-and-handler pairs involved in the training needed a full team each morning, so they were running with the bare minimum of personnel. Had it been an actual search, there would have been a separate team of divers in a second boat. But, in this case, they were looking for a "hide"—a perforated metal canister containing a small piece of decaying human tissue. Unlike other areas in the world, in the United States, training could be done using donated human samples, instead of pork or another substitute, so the dogs were able to learn on the precise blend of decomposition chemicals they'd need to react to in a real situation.

The water search mimicked their typical land search strategy with an important reversal. On land, they'd start downwind, working into the breeze, weaving back and forth, trying to catch a telltale particle of scent. When he found it, Hawk would weave out of the scent plume, then turn and come back into it, cutting across the scent cone until he came out the other side. Then he'd move back into it, each pass getting narrower and narrower as he worked his way to the origin of the scent cone and a single pinpoint location.

However, for water searches, the strategy was to start upwind and work down, crisscrossing the body of water laterally in a similar pattern to Hawk's land route. They followed the wind, hoping Hawk would react the moment he entered the scent plume. Then, they could go back upwind, taking him out of the scent, and back in on shorter and shorter passes, until they found the exact position of the hide.

Meg knew this was going to be a challenge, even for a trained scent dog like Hawk. Land scents were one thing—scent particles were blown by the wind in predictable patterns, even if differences in altitude and urban or geographical obstacles got in the way. That was their bread and butter, and, as a team, they consistently nailed it. But Meg wasn't sure how Hawk would do today. His nose was sharp, but this search would require leveled-up skills. The hide was likely thirty or forty feet below the surface of the water, possibly dropped into silt or underwater plant life. Scent particles from the decomposing tissue had to filter out of the container, into the water, and then diffuse up to the surface, where they would catch the wind. The number of particles making it to open air would only be a minute fraction of what Hawk was used to working with. Not to mention, out here in the middle of the lake, the wind had picked up considerably; so, would the air current simply whisk away what small amount of scent remained? And even if Hawk caught the scent, once they took him out of it, would it be possible for him to catch it again and again as they narrowed down the location?

He was good, but was he that good?

The moment Hawk's stance changed, Meg knew they were about to find out. His body tense, his tail still, Hawk leaned out, his nose working frantically. His rear end wiggled, dipped, and then he had to catch his balance as the boat bobbed slightly. He let out a series of sharp barks.

"Good boy!" Meg stroked a hand over his hip. "His alert is normally a sit, but I think he's figuring out that won't work on water."

"He tried to sit, but didn't like how it made him unsteady, so he adapted." Short and slight, with her wavy, blond-streaked hair whipped into a frenzy by the wind, Claire grinned in approval. "Smart boy. Bring us around and let's try another pass."

The moment they left the scent plume, Hawk relaxed, becoming more watchful than intent.

Meg studied him, cataloging how he was actively working this search. "Apparently, we're both learning as we go. How long does it take for the dogs to pick this up?"

"It depends on the dog. Experienced dogs, like Hawk, can sometimes nail it on the first try. In that case, we're doing more training of you as his handler, so you know how to help him, since he's utterly reliant on you getting him and his nose where he needs to be out here on the water. It's the handler's responsibility to direct the boat pilot. If you can't get him to the exact location, he can't help you. I'll show you how it's done this time. Tomorrow you're going to show me." Claire looked over her shoulder to where an older man with stooped shoulders and a belly that hinted at a love of beer sat at the tiller. "Charlie, bring us around one hundred eighty degrees. I want to narrow this down."

With a bob of his black ball cap, Charlie arced them in a curve.

"We're on the north side of the lake," Claire continued. "I want to circle to the south side and bring him into it from that direction to get an idea of how far across the breadth of the water we need to limit the search area."

"Have you ever had dogs so into the search they jump out and try to do it themselves?"

Claire's laugh answered the question before she spoke. "Oh yeah, then it's fun to drag them into the boat by their life jacket. But they can't search that way. They'd have to expend too much effort swimming to be able to concentrate on picking up scent this scant."

An image filled Meg's mind—Hawk in the Potomac River about ten feet in front of her, his head above water as he swam as if his life depended on it around sunken World War I vessels. It hadn't been his life at stake, but her sister Cara's. Hawk had unerringly led her, her partner, firefighter/paramedic Todd Webb, and her sister's partner, Washington Post investigative reporter Clay McCord, to where a maniacal killer had tied Cara to one of the disintegrating ships, and left her to drown as the tide rose. Hawk had saved Cara's life that day, but it had been hard work and the scent had been 100 percent above water and essentially a glowing neon arrow for the dog. The scent he was looking for today would be much harder to find.

"No swimming for you today, buddy. At least not until we're back on shore."

Hawk turned around at the sound of her voice, his tongue lolling in a canine grin, and wagged his tail.

Sometimes she swore he understood every word she said, and not just her commands.

The boat circled to the north, then east, coming within about thirty feet of the shore, the mist eddying around them as the winds eased near the trees, and then headed north again.

"Find it, Hawk. Find the scent again." As part of the training, before they'd left shore, the dogs had been exposed to a small bit of decaying tissue to give them the mixture of scents they'd be looking for out on open water. Hawk could find human scent in the wilderness, or, if given a specific scent, could find it in the midst of a crowd, but this was an odor Meg wasn't sure he'd even identify as human. He might just think it was a game to find rotten eggs, for all she knew.

They were back to the center of the lake when Hawk's motion stilled, and he leaned forward over the bow. Another twenty feet and he barked twice.

"Good boy, Hawk."

"Back west again, Charlie, out of the scent. Then north and we'll come south into the plume." Claire's eyes were fixed on the dog. "He's doing great." Her gaze flicked up to Meg. "Do you see what we're doing here?"

"You're essentially gridding off the scent."

"Exactly. This isn't like a land search. You're unlikely to have any concentration of scent over a one-hundred-yard swath, especially on a lake this calm. There are currents because of all the interconnected waterways. But it was a dry summer, and not much rain so far this fall; as a result, the levels are down, and the water isn't running like it does in the spring. And keeping in mind the hide has been in place for about two hours, you need to get a feel for how far the molecules have diffused laterally in the water and then up to the surface. The highest concentration will, of course, be directly above the hide, but depending on how deep it is, how long it's been there, and the dog's sensitivity, he may alert farther out. Part of the process is training them with a second tell, or watching for them to develop their own, when they're over the most concentrated scent on top of the hide. So, more than on land, you have to work out the details of the search before you step into the boat—how long a victim has been missing, the currents in the body of water you're searching, wind and weather conditions. You're a team on land, but even more so on the water. He's the nose, but you have to be the strategic brains of the search."

"Does that team aspect sometimes doom the dog if the handler can't lead the search well?"

"Absolutely. The best nose in the world won't help if you can't get it to the site of the victim."

"No pressure," Meg muttered, her gaze fixed over Hawk's head to the expanse of water beyond.

"I'm not worried. I know about you two."

Meg's head jerked back to stare at the trainer.

"I'm helping out the SDA this weekend, but I'm not a Minnesotan. I'm from Maryland. And I know about some of your cases." Claire smiled down at Hawk. "I pay attention to news stories with dogs. And you guys keep making headlines."

"My sister's partner is with the Washington Post," Meg said dryly. "I can't do anything without him wanting to write about it."

Claire chuckled. "I bet. But as I said, I'm not worried. You're established, and I can see the bond between you. You'll nail this."

The boat circled around and then motored south again.

"Okay, Hawk, find it, buddy. Find the scent."

This time, there was almost no hesitation before Hawk alerted with a triple bark.

"Is the scent stronger here?" Meg asked. "Or is he figuring out what he's supposed to do?"

Claire waved both hands back and forth. "Could be one or the other. This early in his training, it may just be him recognizing the scent earlier. Later, when he's more established, it will indicate a greater concentration." She gave new orders to the pilot to circle around.

Their circles became smaller and smaller.

One circle netted them no scent, but Claire wasn't concerned. "Knowing where the scent isn't is just as important as knowing where it is. And he can't direct us, so we're reading between the lines of his response, especially while you're learning too."

On the following circle, as they came around to the east, Hawk let out a sharp series of barks and threw himself down on the curved edge of the bow, his head dangling over the side as his nose stretched toward the water.

Meg shortened the leash, keeping a solid hold on it as she leaned forward to see into the water, but she couldn't distinguish anything in the murky depths. "Is this it?"

"Charlie, mark this spot, and let's circle back to it." Claire studied the dog almost hanging off the boat. "I know it's in this quadrant, but I don't know the exact location. They only give me a vague location to determine if the dog has missed the mark altogether, so we're not wasting training time. They don't want me to know specifics so I can't influence you or Hawk. This entire process has to be dog led. And I'd say he's done that."

The boat moved in a tight circle, slowed, and stopped when Hawk barked again. "Hawk, good boy. Come back into the boat. Sit." Meg's eyebrows curved upward in surprise when the dog didn't move. She gave the leash a tug, but met the resistance of solid muscle.

"He may not want to move, even at your command. He thinks his job's not done because he can't find the concentrated scent yet."

"Give me a few minutes, and I'll be able to confirm if we're in the right place," Sal said, his eyes still fixed on the GPS unit in his hand.

"You know where the hide should be?" Meg confirmed. "It's still transmitting?"

"Yup."

Meg waited for a few beats of silence, battling back her competitive nature and a sudden need to shake him. "And?"

"We're right above the signal."

Every muscle in Meg relaxed in relief. She knew it was silly—this wasn't a real search, there was no life on the line, and likely in a search like this, there never would be—but Hawk staying at the top of his game was important to both of them.

"I just need to check," Sal continued. "It's doubtful the transmitter has become dislodged at the exact spot of your dog's alert, but let's make sure." He pulled his goggles down into place, slipped his mouthpiece in, and bit down. He looked at Charlie, who held the coil of rope Sal would take down with him to indicate if he had any trouble. Charlie gave him a thumbs-up, which Sal returned. Then he glanced quickly over his shoulder to make sure the water was clear, raised his right hand to cover his regulator with his palm, holding his goggles in place with two fingers, covered the goggles strap with his other hand at the back of his head, and rolled backward over the edge into the lake with a shimmy of flippers. He surfaced, gave the occupants of the boat the okay signal, grabbed the rope, and disappeared under the water. Charlie let the rope play out, a black stripe every ten feet marking Sal's progress. Ten feet, then twenty. Then more, stopping just short of sixty feet.

Straightening, Meg looked over the edge as the water settled into its normal choppiness. "That's pretty deep."

"A little deeper than intended, for sure. We try not to make these first forays discouraging for the dogs. We thought it would be more like forty feet here, but sometimes the topography of these bodies of water isn't as consistent as we think."

"How hard will it be for him to find the hide?"

"Shouldn't be too bad. The tissue is in a container, attached to a floater on a four-foot cord, so he's looking for the floater, not the hide, which could be lost in the plant life or sediment at the bottom of the lake. It's going to be dark down there"—Claire squinted into the sun-bright sky—"even on a day like today, but he has his flashlight."

They waited for a few minutes in silence. Hawk wanted to stay perched on the bow, so Meg left him in peace, sitting beside him, one hand resting on his sun-warmed fur just behind his navy-blue-and-yellow FBI life jacket. The wind gently blew every loose strand of long black hair not tied back into her ponytail around her face. Even though they'd been enjoying an unusually warm fall, the breeze was cool, but here on the open water, the sun kept them from being cold. Motion at the edge of the lake caught Meg's attention, and for a moment, she wasn't sure what she was looking at as something moved across the water. But then it was joined by another, and another, and another, and she realized a family of otters was swimming near the shore. A smile curved her lips as they cavorted in the shallows; as a city dweller, albeit one who often did searches through outdoor environments—moments for work, not relaxation—she didn't get much of a chance to just enjoy the peace of nature.

Which was exactly what Todd had told her when he was convincing her to turn this trip into a mini-vacation.

Todd. That made her wonder how he and his brothers were managing at the campsite. Hopefully, they'd brought everything they'd need because there would be no dashing out to a store to pick up supplies, not way out in the wilderness like this.

"Two tugs," Charlie announced. "He's coming up. Keep in mind he's going to have to do a three-minute safety stop at fifteen feet to avoid the bends." He started coiling the rope, which lay lax between his hands as the diver rose in the water.

Finally the float broke the surface, bright white to catch the light of the flashlight below, followed by a stream of bubbles and then Sal's head as he surfaced.

He spit out his mouthpiece and grinned up at Meg and Claire as his right hand broke the surface, holding a silver metal tin with circular perforations in the top of the magnetic lid, and a loop on the side where a woven cord was neatly tied, before disappearing into the water. Meg was instantly hit with a waft of putrid sulfur that turned her stomach.

With a bark, Hawk dropped back into the boat, his tail wagging furiously.

"Good boy, Hawk. You did it!" Meg followed her praise with a jerky treat, which he happily sank down on the floor of the boat to eat. "I don't normally reward him with food after a search, but I want to make connections in his head right now."

Claire nodded her approval. "Totally agree. This is new enough for him that you want him to understand he did it correctly."

Charlie dropped the rope, pulled the lid off a rectangular plastic bin at his feet, and extended it. "For the love of God, put that away."

Sal tossed the canister into the bin, and then Charlie set it on the floor, allowing him to reel in the cord and floater. He snapped the lid on tight and turned his face into the wind, trying to breathe only fresh air. "How can something that small stink so much?"

"Decomp chemicals are nasty, no doubt about it." Claire waited as Sal kicked his way out of the water, giving a twist as he did to sit on the side of the boat, his flippers still in the water. "Was Hawk precise? Was the hide right here?"

"Not only was it right here, when it dropped, it burrowed into the silt by a good six inches." Sal studied Hawk as he happily finished his treat. "He not only nailed the location, he did it sixty feet down and with less scent than usual because it had to percolate through the silt before it hit the water to filter up to the surface. I'm impressed."

Claire ran a hand over Hawk's head. "Me too. Good boy, Hawk." She looked up and met Meg's eyes. "Land and water capabilities. With this added skill set, you guys are going to be in great demand."

Meg beamed down at her dog, taking in his eyes, so bright and alert, as if to say, What's next? "Hawk says, 'Bring it on!' "

Briefing: A meeting before a search during which search teams are given information in order to initiate and execute the search.

"Meg! Over here!"

The sound of her name drew Meg's attention up the hill, away from the water's edge, where they had disembarked fifteen minutes earlier, and along the path leading into the forest. She instantly recognized Brian Foster's tall, athletic form and dark hair. The arm he waved over his head and the German shepherd sitting at his knee only cemented the identification. She waved back and changed direction. "Hawk, come on, boy, let's go see Lacey." At Lacey's name, Hawk's ears perked and his pace quickened. Meg chuckled and grinned down at her dog. "You two are like an old married couple who can't bear to be separated for long."

As Meg climbed the hill toward Brian, she took in his cargo pants, unzipped navy FBI windbreaker, and Henley beneath, all of which were splattered with water. "Did you swim to shore?"

"Not me." Brian cast a flat stare down at his dog. "Her." Lacey grinned up at Meg, her long pink tongue lolling sideways out of her mouth, her tail thumping packed dirt scattered with a bright carpet of autumn's fallen color, her spiky fur telling the tale of a quick swim after her morning's work.

"Couldn't resist, could she?"

"Not even kind of. Good thing it's a warm day for this time of year. How did you keep Hawk out of the water?"

"I didn't." Meg pinched a fold of Brian's shirt between her thumb and index finger and rubbed the wet material. "I stepped away when he shook off. And then sat in the sun with him on the beach for ten minutes to dry off."

"Yeah, I didn't quite make it out of range." Brian rolled his eyes, but then belied his exasperation by dropping a hand onto Lacey's head and stroking fondly.

Like she would for Hawk, Meg knew Brian would do anything for Lacey. Always would have, but following Lacey's near-fatal brush with a cougar in the spring, their bond had only grown stronger as he'd nursed her away from the brink of death, and then coached her back into top form. "How did you guys do this morning?"

"Fantastic. Lacey got it on the first try. It took her a few rounds to pinpoint the exact position because the hide was located in an area of the lake where the wind funneled around a corner, making an eddy. But we've dealt with obstacles like that on land, haven't we, Lacey-girl? We just had to apply some of that strategy to this new situation and she narrowed it down once the trainer and I got her into the right location. How about Hawk?"

"Nailed it."

"Of course he did. Like we expected anything else from either of them."

"I admit I wasn't sure. It's not like either of them are Theo," Meg said, referring to Scott Park's bloodhound, the best nose in the Human Scent Evidence Team. "Knowing how sparse the scent is, I wasn't sure how either of them would do."

"Oh, ye of little faith. I knew they'd rock it." Brian peered uphill toward a clearing. "Now they need to rock the first trial. As far as I'm concerned, either of them can win, but it needs to be one of them, not one of the other teams. Craig is a little overly invested in our whipping some serious ass this weekend."

"I'll say. He's competitive at the best of times, but did you see when he realized the Connecticut St. . .
We hope you are enjoying the book so far. To continue reading...
Still Waters
Sara Driscoll
Copyright © 2023 All Rights Reserved
Also in this series
Also by this author