Stamped Out!
Everyone doesn't know how Bernadette's life is filled...filled with everyone's hidden secrets and obsessions.
Book info
Sample
Audiobook
Media
Author updates
Lists
Synopsis
Everyone in Sugar Creek Gap has tried to fix up widow and beloved mail carrier Bernadette Davis on several dates. They say she has to be lonely.
What they don't know is how Bernadette's life is filled...filled with everyone's hidden secrets and obsessions. After all, she does deliver their mail and hears all the dirty laundry southern folks love to sweep secrets under the rug.
While on her route, Bernadette finds out the beloved Sugar Creek Gap Country Club is being sold and turned into condos. The developer is Bernadette's best friend, Mac Tabor, and right now he's not very popular.
The entire town is against the development and eager to vote it down, vowing they will do whatever needs to be done to stop the sell of the country club to Mac Tabor.
Chuck Shilling, majority owner of the country club, and Mac have a public fight because Chuck is rethinking of selling the club to Mac. When Chuck is found dead, Mac Tabor is the number one suspect.
Bernadette discovers she's got a penchant for discovering clues that just might help stamp out a killer who is on the loose while trying to save Mac Tabor from going to prison for a murder he didn't commit.
Release date: October 29, 2019
Publisher: Independently published
Print pages: 150
* BingeBooks earns revenue from qualifying purchases as an Amazon Associate as well as from other retail partners.
Listen to a sample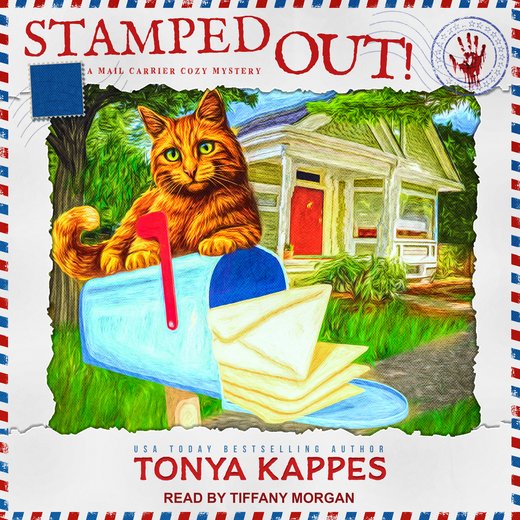 03:53:36
106.94 MB
March 17, 2020
Tantor Audio
2019
Stamped Out!
Tonya Kappes
Chapter 1
Have you ever been around one of those people who say there's something coming or something about to happen? Or you've been thinking 'bout her and she calls at that moment, that instant?
My best friend, Iris Peabody, she's not one of those psychics or anything, but she does get those weird feelings every once in a while. The first time we were in third grade. She swore to me how she'd seen a vision of Bobby Peters, the cutest boy in school, kissing me on the old rubber tire that was cemented into the ground on the playground. As soon as the teacher said it was time for recess, I darted out to that playground and perched myself right on top of that tire.
Until…
Bobby Peters himself ran by and pushed me right off, sending me to the ground and breaking my wrist. Boy, was Iris wrong.
Then there was another time when we were in high school and Iris told me she'd had one of them visions where Bobby Peters was going to ask me to prom. When I saw him walk over to our table in the cafeteria, my heart went pitter-pat.
Until…
He up and asked Iris. She went.
It wasn't until years later, when I'd already gotten married to Richard Butler—making me Bernadette Butler, stay-at-home mom and ex-United States postal worker—and Iris was already divorced from Bobby Peters when she called me up at three p.m. one afternoon. I was getting ready to head on over to the high school football stadium to watch Grady. Oh no, he didn't play football; he was the Sugar Creek Gap grizzly bear mascot that did get promoted to manager of the team the following year. Still, I went to every game Sugar Creek Gap High School played to watch my boy run up and down the sidelines in the ridiculous bear outfit, waving the high school flag in our very small town of Sugar Creek Gap, Kentucky.
Anyways, back to Iris. Well, she called me right before I was setting out for the game, asking all sorts of questions about Richard and whether I'd talked to him. Her exact words were, "I feel like something is wrong with Richard."
To this day, I still get chills thinking about it.
Iris insisted I call him, but I knew Richard was away on business in our neighboring state of Tennessee, according to the online calendar we shared. There was no reason to bother him, especially when Iris's little "feelings" had never come true yet.
I was cheering on the cute bear when I noticed the state Sheriff had showed up at the game. It was like a slow-motion scene when I recalled seeing them ask someone a question, and the person had pointed directly at me. The Sheriff officers' eyes met mine, and my stomach dropped. Iris Peabody's feeling about my beloved Richard had come true: he had been killed in a car wreck on his way to his meeting.
I'm Bernadette Butler, United States postal carrier. Mom to Grady Butler. Widow.
"Good morning, Vince."
Vince Caldwell was sitting outside on one of the many swings across the long covered porch at the Sugar Creek Gap Nursing Home, looking at the morning paper.
My phone rang just as I'd walked up. It was Iris. This was the second time she'd called this morning and the second time I'd sent her to voicemail.
"Mornin', Bernie." Vince pulled the readers off the bridge of his nose and looked up through his bushy gray eyebrows. He patted the open space next to him and put down his crossword puzzle. "I was thinkin' of you this mornin'. About to turn cold. I hope you start dressing warmer. I'd hate for you to catch a chill."
"Thank you. I think about you every morning." I took a seat and at that moment realized exactly why Iris had called me but hadn't left a message.
Earlier I had been running late for my route, and I wanted to try to finish a little early since it was game day.
"I still can't believe it's been ten years." Vince reached over and patted my leg. "We sure still miss Richard and his guitar."
"Yeah. Me too." I sucked in a deep breath. My heart sank into my stomach when I looked at my watch to see the date.
The anniversary of Richard's death. Something I'd never forgotten…until today.
"You and Grady headin' over to the cemetery before the big game?" Vince asked, because it was high school football season, and wouldn't you know, my son Grady had gotten his degree in sports management with a minor in English and was now Sugar Creek Gap High School's English teacher and head football coach.
"I'm sure we will." I tugged open my mailbag and took out Vince's mail. We probably weren't, but I wasn't going to tell anyone. I usually went to see Richard alone. "You want this or want me to put it in the mailbox?"
It wasn't long after Grady was born that Richard and I had decided I'd be a stay-at-home mom and quit my job as a mail carrier. Childcare was expensive, and Richard had just gotten his first good sales job, which took him out of town a lot. It made more sense for me to quit my job than to try to find somewhere or someone to watch our son.
After Richard had passed, I'd gone back to the post office. They'd offered to give me my route back, which was a driving route, but the downtown-area walking route was available. It was much harder to walk and carry the mail, but staying outdoors kept my mind clear and helped me escape from thinking too much about Richard.
"I'll take it," Vince said, bringing me out of my thoughts. Vince was one of the many elderly citizens who had moved to the retirement condos the nursing home offered. My parents lived here too. They weren't retired by any means, but it was a low-cost and low-maintenance way of living, and they loved it here.
"Well, if I'm going to get to the game on time, I better get hustling." As I stood up, the chains holding up the swing clanked. I handed him his mail.
"Growllll." Vince did his best impression of the grizzly bear sound the football crowd made when someone scored a touchdown. He got up too. "Goooooooo Grizzlies!"
"Rah, rah." I laughed and pumped my fist in the air. I noticed an Uber driver had pulled up. "Where are you going?"
"Emergency city council meeting today. I've heard of some rumblings about Chuck Shilling selling his majority share of the country club to someone. Apparently, at last night's commissioners' meeting, things got a little heated." He didn't mention who might have bought the country club. "From what I understand, Dennis Kuntz is all up in arms. Should be a good one."
"Maybe I'll stop in on my route." I waved him off before I made my way into the building.
Dennis Kuntz and Chuck Shilling owned the one hundred twenty acres the country club sat on, so why would Dennis be so upset?
I pondered the question as I dropped the mailbag to the floor and filled the small community boxes as quickly as possible before I locked them back up and headed out in record time.
In light of the news of the sale of the country club—which was huge if what Vince had told me was true—maybe no one would remember what today meant to me. Not that I didn't love the way my community rallied around me and Grady, but it was as if they rehashed it every year when I was just wanting to grieve on my own.
The bright sun had warmed the autumn day enough that I could take off my sweater. I tied it around my waist and walked over the Old Mill Creek bridge. Once over the bridge, I was standing right where I'd started my morning: next to the post office and across the street from where I'd begin the rest of my morning route. The downtown businesses were on the left side of Main Street.
Eventually, I'd get to the small neighborhoods on the west side of downtown then make my way back to downtown, where I'd deliver all the mail to the business district of Sugar Creek Gap, which included the courthouse, doctors' building, bank, and various other businesses. I liked to finish my day with a few neighborhoods just east of downtown that circled back to the post office.
Briefly, I stopped to listen to the sound of the babbling brook swimming across the rocks as the old mill pushed the water down the creek. It was a daily ritual that I loved, only today there were a lot more cars on the bridge than usual.
When I crossed the street, I noticed the cars were pulling into the courthouse parking lot.
Out of curiosity about what Vince had said about the country club, I decided to switch up my route and deliver the mail to the courthouse just so I could pop my head into that emergency meeting.
Social Knitwork was the first business I came to. It was our local yarn shop, owned by Leotta Goldey. She was a whiz with any sort of material. She was the go-to gal for anything that needed to be altered and lettered and had a monopoly on all things with names on them, including all the business she got from the Sugar Creek Gap schools and sports teams.
When I pushed through the door, the bell above it knocked against the glass. Leotta looked up.
"Morning, Bernadette," she greeted me with a pair of knitting needles in her hand. "You doing all right today?"
"I sure am." I headed over to the counter. I reached around and grabbed her mail out of my bag, putting it in the basket that sat next to the register. "No mail today?"
"Nope." She stood over a customer's shoulder, watching them knit something. I generally was here at the same time each day, which was when Leotta gave lessons as well. I was not a knitter or any type of crafter, but I did enjoy watching. "I'll have some tomorrow. I'll be writing out my bills this afternoon." She pointed one of the needles to a coatrack, where some fluffy knitted fall-colored scarves hung. "I made some new scarves for tonight's game. You take one if you like. It's gonna turn real cold this week."
"These sure are pretty." I thumbed through them. "Grady and Julia gave me the personalized scarf for my birthday this summer that I think you made. I better use it, or they'll tan my hide," I joked, thinking Grady probably had no idea that Julia had given it to me.
"That's right." She looked up at me and smiled from over the student's shoulder. "He's such a good boy, Bernadette. And that Julia. She's a quick learner."
Julia Butler was his wife. They'd met at college. She worked as a secretary for Mac Tabor, a good family friend who was the local architect. She'd graduated from business school. She and Grady had gotten married a couple of years ago and had yet to give me a grandbaby.
"Quick learner?" I asked.
"Yes. She's been coming over here and taking a class from me during her lunch break."
That was news to me, but it didn't seem odd, since Julia's office was just a couple doors down.
"You be careful out there this morning." She pointed her needle toward the window at the street. "All sorts of people cancelled their knitting appointments because they are up in arms about the sale of the country club. Did you hear about last night's meeting?"
"Somebody said something about it over at the nursing home this morning." I watched alongside her as another car zoomed down the street.
"I wonder why so many people care." Leotta shrugged and walked back to her student.
"I have no idea. I'm not a member of the country club." I put my hand on the handle of the door.
"I'll see you at the game," Leotta called out to me from across the shop.
"Sounds good."
My phone buzzed. I stopped on the sidewalk and pulled the cell out of my pants pocket.
When I saw it was Iris for the third time, I figured she really wanted something, so I answered it.
"Hey, Iris," I answered as I continued to deliver the mail of the local businesses. Mostly the owners were busy with customers or not in the fronts of their shops when I delivered their mail, so I'd pop in and out as quickly as I could.
I'd pretty much perfected my system over the last ten years.
"Where have you been? I've been calling and texting all morning. I about left pies in the oven to come find you." Iris sounded a little more on edge than the typical yearly feeling-bad-for-her-friend call.
Maybe she was calling about the pumpkin sugar cookies I'd volunteered us to make for the high school boosters.
"I'm fine. I'll meet you at my house right after I get finished delivering my route." I didn't tell her how I'd already baked several dozen of the pumpkin sugar cookies last night when I couldn't sleep. "I totally forgot it was the day until Vince Caldwell reminded me. I feel awful. I bet Grady wonders why I haven't texted him."
"Huh?" Iris sounded all sorts of confused on the other end of the line.
"Richard's date of death." Was she pulling my leg? Iris never forgot.
"Oh my God!" Iris's voice was so loud it made my brain rattle. "Bernadette, I'm so sorry. How are you? Did you get any sleep? You're working? Of course you didn't get any sleep and you just said you were working. I'm a bad friend."
"You're a great friend. I'm fine. I slept," I lied. "I just told you that I totally forgot." I stopped shy of Tranquility Wellness to make sure I didn't disturb any sort of class or clients' quiet time. Tranquility Wellness was a one-stop Zen shop that did all the things the name would suggest, like spa treatments, yoga classes, meditation classes, nutrition classes, and any sort of spa treatments that I wanted to check out.
"So if you weren't calling to check on me so early this morning, then what's up?" I asked.
"First off, I think it's a good sign you forgot. Maybe you can start dating now."
Leave it up to Iris to fix me up. She'd been trying to do so for the past nine years, leaving me one year to grieve.
"Not on your life. The last thing I want is a man to have to cook and clean for." I looked in the window to see if there was a class before I crept in and laid the mail on the counter. "What's up?"
For a brief moment, I stopped and took a deep breath. Even though I knew Peaches Partin, the owner, used a machine to pump a spa smell from a bottle into the vents, it still made me feel good to inhale and exhale the fragrance.
"I had me a feeling. I know you don't want to hear about it, but I was wondering if you've been by Mac Tabor's house yet?"
I'd asked her to stop telling me about her "feelings" after Richard's death.
"No. I haven't gotten that far in my deliveries," I told her. "I'm about to stop at Pie in the Face. You there?"
Iris had created her business, Pie in the Face, after she'd caught Bobby Peters cheating on her in their own bed. Not only were he and the girl all snuggled up, they'd been eating Iris's homemade pie right out of the pie plate.
Forget he was cheating; Iris never let anyone eat out of the pie plate.
"You didn't even cut a piece out of the pie plate?" was what Iris had told me she'd said to the cheating couple when she found them in bed with her pie plate. "You get a pie in the face!" she yelled at them as she picked up the pie and slammed it into his face.
She had come to our house all torn up, but Richard and I couldn't stop laughing. Richard had suggested she make her baking side hustle into a real business. That was also when he had jokingly said she should call it Pie in the Face so whenever Bobby had to drive downtown to get to his lumberyard, the name on the bakery would be a constant reminder of his philandering ways.
She ran with Richard's idea and had a very successful bakery now.
I did bake some items for her, and she paid me for them, but most nights, we were still baking in my farm kitchen, keeping each other company. If not for Iris and our friendship or our fun nightly baking sessions at my house, I didn't know what I'd do with all my free evenings now that Grady was married off.
That was when being a widow was the hardest. Night.
"I'm not at the bakery. I had a few deliveries this morning, and now I'm off to the high school to help teach Cake Decorating 101." Iris was also the baking consultant for the high school's home economics department.
"Anyways, when you get to Mac's house or business, make sure he's all right. And I have some outgoing mail, so be sure to grab it, because I'm not sure Geraldine even heard me when I left. She was on her phone Instagramming some of the pies." Geraldine Workman was Iris's only employee.
Iris and I hung up. I quickly texted Grady.
I knew Grady would be too busy in his classroom to even read my text, but I still didn't want the day to go by and Grady think I didn't remember.
A group of men was standing on the sidewalk in front of the Wallflower Diner, my mom and dad's place. One of them was Dennis Kuntz. I walked slower and pretended I was going through the bag to collect the diner's mail.
I recognized the other men from the football games. They all liked to hang over the chain-link fence instead of sitting in the stands with their wives.
"I'm telling you, Mac Tabor threatened me last night when I told him I didn't agree with Chuck selling his part of our country club to him. He's not going to get away with it."
When anyone mentioned Mac's name, it got my attention.
Dennis Kuntz's big belly hung over his pants, and a toothpick stuck in the corner of his mouth. His thin brown hair was combed to the side to help try to cover up the baldness, but he didn't do a good job of it. He had plump cheeks.
"I heard it," I heard one of them say, but I didn't look up to see who it was. "This emergency city council meeting better settle it, because I don't have time to listen to this crap at tonight's game. We've got to bring home a win." The man shook his head. "The city council and the commissioners better get on the same page before this little town implodes."
As the mother of the coach, it was hard to pinch my lips shut. These men loved to give their two cents on how they'd run the plays that Grady gave the boys on the field. Once, I hadn't kept my mouth shut, and Grady had been mad at me for a week. He said I should know better and it was part of being a mom of a coach.
Nonetheless, I was a mom—a Sugar Creek Gap Grizzly mom that was a bear in her own right.
"Mac Tabor and Chuck Shilling will regret it if they show up this morning." Dennis Kuntz folded his hands over his big belly.
If it hadn't been for them talking about Mac and how Iris was hell-bent on those feelings of hers, I would probably have just walked on by with that night's game my only care in the world.
"You only own forty percent of the country from what Chuck Shilling told me last night after football practice it was a done deal."
Another one of the men had spoken up, and I recognized the voice as Peter Dade's. Peter's son, Samuel, was the star of the high school team. I knew his wife, Eileen, from the boosters.
"Chuck pretty much said it was a done deal. Said it right there while we were standing on the fifty-yard line." Another one of the men in the circle had stuffed some money into his wallet and was trying to put it in his back pocket when his elbow hit me. "I'm sorry."
We hope you are enjoying the book so far. To continue reading...
Stamped Out!
Tonya Kappes
Copyright © 2023 All Rights Reserved
Also in this series
Also by this author