Southern Sass and Killer Cravings
Book info
Sample
Audiobook
Media
Author updates
Lists
Synopsis
Life has always been sweet on Georgia's Peach Cove Island, but a case of murder has Marygene Brown down in the pits....
For generations, the women of the Brown family on Peach Cove Island have been known for their Southern sass and sweet homemade desserts at their beloved Peach Diner. Since their mother's passing two years ago, Marygene has been stuck in Atlanta while her sister Jena Lynn has been running the family business. Now Marygene has left her husband and returned to her hometown, where she can almost feel Mama's presence.
But all is not peachy back home. Marygene has barely tied on an apron when a diner regular drops dead at the counter. When it turns out the old man's been poisoned, Jena Lynn is led away in handcuffs and the family eatery is closed. Now, to save her sister and the diner, Marygene must find the real killer. With some startling assistance from her Mama's spirit, Marygene will be serving up a special order of just desserts....
Release date: May 28, 2019
Publisher: Kensington Books
Print pages: 304
* BingeBooks earns revenue from qualifying purchases as an Amazon Associate as well as from other retail partners.
Listen to a sample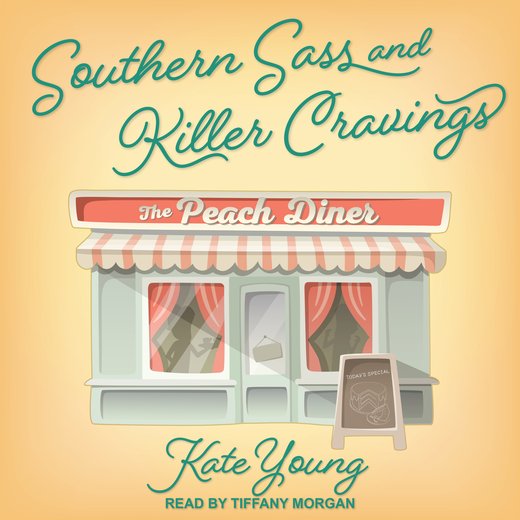 08:28:38
232.85 MB
May 28, 2019
Tantor Audio
2019
Southern Sass and Killer Cravings
Kate Young
My phone rang for the umpteenth time this morning. After a brief glance at my cell, I hit the speaker button on the steering wheel. "Hey, I didn't get cold feet. I'm doing this." My lips creased in a grin, proud my tone sounded confident, even to my own ears.

"I'm so glad to hear it, Marygene." My friend Yvonne sounded relieved I hadn't chickened out, that we were both moving back home around the same time. We each had our issues to sort out, but the two of us would feel a bit stronger together.

"I just passed the Peach Cove welcome sign." They'd repainted the giant peach since my last trip home for Mama's funeral two years ago.

"I'm so jealous. I can't wait to be welcomed by that glorious peach. Two more days and I'll be home too. Do me a favor. Roll down the windows so I can hear the wind." My hair whipped around my face the exact second she said dreamily, "Oh, I can hear it now. Don't you love that salty air?"

I sampled the air before agreeing.

"Hello, my beautiful island," Yvonne sang. "Do you miss me?"

A chuckle escaped my lips.

Yvonne was doing her best to cheer me up. It was working. "You did have a heart-to-heart with Jena Lynn, didn't you?"

Returning home with my proverbial tail between my legs was difficult enough, without an extra helping of guilt from my sister, and that was exactly what I'd received when I made the phone call. There was no way I was going to mention or discuss Peter and my messy divorce at that time.

When I didn't respond, she continued, "You're going to have to find out if she signed those papers. In your current situation, you don't have another option. You need an income stream."

I made a noncommittal noise.

"You're so stubborn. Listen, I'm at my attorney's office now. I'll see you in a couple of days. Maybe less. Be brave."

I'd fled Peach Cove only a few short years ago, determined to make a new life for myself in Atlanta. "Established Around 1854, Population 2,003," the sign now read. The island never changed much. The large number of original settlers migrated from the Carolinas to the small island off the Georgia coast and never left. Once folks were born here, they usually died here.

Yvonne had moved to the city a year earlier pursuing her interior design degree. In my case, I planned to follow my dream of attending Le Cordon Bleu. Luckily, Nanny had left me a little inheritance that would cover most of my first-year expenses. Yvonne, God bless her, fully aware of the tumultuous relationship Mama and I had, had given me a standing offer of rooming with her and splitting expenses. It worked out that the proximity of her apartment proved convenient for the both of us. A month after my first semester began, I'd secured a job working for a prestigious caterer. During one of those functions is where I'd first met Peter. Little did I know then that he'd turn my life upside down. I'd left the island a naive young woman and returned a little battered yet wiser.

Jena Lynn had been running our family business since our mother's passing, and because, in her mind, I had effectively abandoned our inheritance, she was eager to buy me out. When we were younger, she worked tirelessly at perfecting her skills in the kitchen. For me, it had just seemed to come naturally. As you could imagine, that had been a point of contention between us. Now, The Peach Diner was my lifeline.

I came to a stop at a red light at Cove Square, where most of the businesses in town were situated, including The Peach. Pedestrians, from shoppers to diners to those enjoying the bluegrass bands that set up on the corners to play, filled the square at all hours. Today was no exception. A flash of brilliant red hair to my right drew my attention toward the paved brick crosswalk. A face I'd not seen in years came into view.

"I can't believe it!" I cried and laid on my horn.

A couple of seconds later, my fiery-haired friend, with a personality the size of Texas, waved like a loon before she threw herself against the hood of my car to peer through the windshield. A giant smile spread across her sun-kissed face, her emerald gaze twinkling. "Marygene! Hell's bells! It is you!"

"Betsy! It's been ages!" I laughed.

Betsy Myers was a unique character who, by some folks' standards, was an acquired taste. To her friends, she was larger than life. Boisterous, completely outspoken, with a generous spirit and a heart of gold.

"How's things?"

She huffed. There was always something going on with Betsy. "Long story." She gestured to her ears.

I got it, there were nosy people everywhere. I grinned as she practically crawled through the window to give me a hug.

"Seeing you has made this uncomfortable day bearable," I said as she carefully extricated herself from the window.

She glanced at my backseat crammed with clothes, obviously tossed there in a hurried fashion, and scrunched up her face in a distasteful way.

"Wow! Things didn't go so well, huh?"

I shrugged.

"Men, whatcha going to do?"

We shared a loaded glance. Men are pigs, our eyes were shouting.

The truck behind us started honking the horn. The light had changed, and we'd been too preoccupied to notice.

I waved to Betsy. "I better go. I want to show Jena Lynn I'm raring and ready to work."

"Okay. You moving back into your mama's place?" At my nod, she continued, "Terrific! My shift is about to start. I'll see you at the diner." Betsy was a lifer at The Peach, employed at the diner since the day she turned fifteen and begged Mama to hire her. She never gave any inkling she had any intention of ever doing anything other than wait tables. It was good to have reliable help.

Once parked, I took a couple of deep breaths and checked my reflection in the rearview mirror. The bruise on my neck had nearly faded, thank God. Today was the first day of my new life. Peter Hutchinson will not break me. The night we'd met he'd been so charming, projecting confidence that I'd found so alluring. I'd lost myself in the illusion. Shame consumed me when I recalled my infatuation. What a cliché. Older man finds desperate younger woman who's struggling to find herself. Younger woman is enthralled by older man and his attentiveness. A few extravagant dates via private jet where he showered me with affection and I fell hard. Only a few short months later, he popped the question. I should have listened to my friends when they cautioned me about how fast things were moving. Yvonne mentioned that Peter isolated me from those I held dearest. I hadn't seen it. Maybe I hadn't wanted to see it.

I got out of the car and gave myself a once-over. My khaki shorts were a little rumpled from the drive, but the peach polo I wore with "The Peach" embroidered above the left breast still fit well. My fake-bake tan gave me a healthy glow. It would be good to have access to the beach again, because tanning beds were a poor substitute for natural vitamin D. As I raised my face toward the sun, I invited the rays to seep into my pores, the warmth healing.

Okay. One foot in front of the other. I can do this. I tightened my grip on my wristlet and crossed the bricked street.

The tinkling of the door signaled my arrival in The Peach. With a deep inhale of the married aromas of all the food being either fried, scattered, or smothered was such a comfort. It was as if I'd never left. For the first time, I actually took in my diner. From the age of ten, Mama had Jena Lynn and me wiping down tables and cleaning gum from underneath them. I had worked about every single job in the diner. That I knew it so well brought me an overwhelming sense of calm. It was strange how something you'd run from your entire life could feel like a comfy fit in the end. There was no evidence of my ex here. He'd spent his childhood and teen years in New Jersey. That would account for his lack of manners, my Nanny would have said. God love her, she'd been a Southern snob. Marygene, if a man ain't Southern born and bred, he ain't worth spit. In my current predicament, I had to laugh.

Nanny would have despised Peter. A month into the marriage, I'd discovered he struggled with alcoholism, just like Nanny's husband had. It was my nanny's words that came rushing back to me last night. A man that raises a hand to a woman should be DRT (dead right there). God, I missed her. But being inside the diner, I felt like she sort of was here, cheering me on.

Our diner was decorated in a fifties motif with its black-and-white checkered floor tile that set off the peach vinyl booths and chairs with a white stripe down the center. The long counter, where I'd spent many years of my life doing homework, ran the length of the room and was fitted with eighteen high chairs. The walls were adorned with old photographs of the town and townspeople, with the back wall dedicated to Peach Cove's high school football team.

My sister, Jena Lynn, walked out of the bakery side of the kitchen located behind the grill line. She lifted the glass dome lid and began stacking peach rolls neatly on the decorative white display plate. I gave her a weak smile. My sister's light brown bob was tucked neatly behind her ears, and she had a light dusting of color across her cheeks.

"Want a glass of peach tea?" She gave me a tentative smile that didn't quite meet her amber eyes.

"Yes, please."

My half-brother, Sam, peeked through the service window, spatula in hand. I waved. Both of us had inherited our father's gray-blue eyes and easily tanned skin. Over the years Sam and I had sort of settled into an awkward brother-sister relationship. The sibling rivalry we had down, the close connection part, not so much. Maybe that could change.

I was on my way to round the counter to greet my brother properly, when Betsy lumbered into the diner. "Gawd, it's hotter than Hades today." She was fanning herself with an old magazine. She greeted a couple of customers on her way over to me. "Y'all, ain't it great to have our girl back home?"

Several customers nodded and smiled. Their welcome was appreciated.

"Sorry I wasn't here to be your buffer. I had to run into the pharmacy. Was it awkward with Jena Lynn?"

"Sort of."

"I wish you'd told me sooner about that SOB." I opened my mouth to respond but she cut me off. "I hate it, but I get it. I'm just glad you called me yesterday and I'm here for you now. It'll get better." A lump developed in my throat as I fought emotion. She smiled, understanding shining through her eyes. "Well, your hair looks fab. Those highlights really add dimension." She ran her fingers through my shoulder-length layered cut. "Not that your blond locks weren't already the envy of the island."

I'd spent a fortune on the highlights and style in one last-ditch effort to hold on to the mirage of the life I was living. "Thanks."

"We need to have a wine-and-dine night, to catch up on all things on the island. Bet you could use one."

"Right you are, Bets," I said as Jena Lynn deposited a glass of peach tea on the counter and I took up purchase of a free stool next to old Mr. Ledbetter, followed by a healthy sip from the glass. Sweet but not too sweet, with a perfect amount of peach flavor. Tasted like home.

"Good?" Betsy tied on her apron.

"Delicious," I groaned and grinned.

Mr. Ledbetter patted my hand. "I bet Jena Lynn is glad to have you back. Those peach rolls of hers sure could use some pop."

"I told you I was still tweaking the recipe." Jena Lynn's mouth contorted in a disapproving grimace.

"Well, they smell wonderful from here," I said placatingly, not wanting to remind her of any old competitions between us.

Unfazed by her admonishment, he held up his mug. Obligingly, she refilled it. Betsy took the sugar caddy in front of him and replaced the missing packets. She eyed me with amusement as he pointed to the framed newspaper print on the wall.

"You haven't changed a bit," Mr. Ledbetter's smirk caused his sagging dimples to deepen.

Betsy hooted with laughter, and I gave them a wry smile. It was known around the island that I had the gift of an expert's palate. It was true I could tell you what was missing from a recipe or what needed to be adjusted that would send the dish right over the top. If a dish needed a dash of this or a dessert called for a hint of zest or perhaps a splash of vanilla, I was your gal. In my junior high years, like a lot of kids, I had gone through an awkward chubby phase. Fortunately for them, most pubescents aren't subjected to having those years captured and published by their hometown's paper and then framed in the family diner. I cringed at the image of my face, round as a MoonPie, grinning while taking a large bite of Mama's blueberry cobbler and captioned beneath the picture, "The Peach's secret weapon Marygene Brown will never allow a dessert to be served without her stamp of approval." Ugh. Next to that little gem was another framed print of me. My arms were thrown around Alex Myers, then captain of the football team. I'd been wearing his letterman's jacket and we were in the lip lock of the century.

"Well, we've had perfectly ripe peaches in abundance since the Fowlers took over the McKenna orchards, year before last." My sister saved me from the moment of embarrassment. "We've started selling preserves by the jar. Oh, that reminds me. I've been working on a new berry crumb bar recipe. Something about it isn't quite right. I'd love to get your opinion on it."

"Of course. I'm here to help." I meant it.

"You get that order straightened out?" Betsy asked Jena Lynn as she began wiping down the laminated menus.

With a roll of her eyes, Jena Lynn nodded, "They're sending a rush order. Cami in the order department claims they received a call from me canceling the order yesterday."

The loud rumbling of a tow truck pulling up in front of the diner diverted our attention.

"What's going on?" Jena leaned over the counter, attempting to gain a better view.

"I don't know." I got up to investigate with Betsy and my sister on my heels.

The bluegrass bands were in full swing as I charged out onto the sidewalk. The usual crowd appeared to be enjoying the music. They clapped and tapped their feet to the beat. All were witness to the tow truck loading up my Prius!

"What do you think you're doing?" I shouted over the band to the coverall-clad man with grease-stained hands and leathery skin.

Not an ounce of empathy was visible on the man's face as he handed me a slip of paper. "I have an order here to repossess this vehicle." I didn't even read the specifics, stunned by the name Peter Hutchinson scribbled at the bottom of the order slip.

"That lowlife high-handed jerk!" Apparently, my ex's reach extended to the island. "My things are in there," I choked out.

"Marygene! You didn't unpack when you first got home?" my sister asked.

I said frantically, "I haven't gotten there yet." Now I was second-guessing my decision to visit the diner first. My face began to burn and the crowd around the diner grew.

"Can't she at least get her stuff out of it before you haul it off?" Jena Lynn asked the man, her tone demure and annoyingly calm.

Surely he would show some compassion, but my hopes were dashed when he spoke. "Once it's loaded, I can't unload it until I reach the destination on the work order." He spat a wad of chewing tobacco near my feet. "Sorry. Just doing my job here, ladies."

I poked him in the chest with my finger. "Well, your job just plain sucks!"

The man literally shrugged me off and stalked around the truck, his heavy work boots pounded against the street. His nonchalant disposition added fuel to the flames. I glanced back toward Jena Lynn and Betsy then to the flatbed. My sister was vehemently shaking her head. Betsy gave me an enthusiastic two thumbs-up.

Up the side of the flatbed I went. The doors were locked but I'd left the windows down.

"Hey! Get off there!" the man bellowed as I crawled through the passenger-side window. I reached into the backseat and flung what clothing I could grab out toward Betsy. She was scooping up the items as fast as I was throwing them down.

"Not without my stuff!" I shouted back as he revved the engine, threateningly.

Our eyes met in the side mirror. I narrowed mine in a silent dare. He dared. The truck lurched forward, flinging me into the dash. Determined not to be beaten, I scrambled back over the console and made another grab for my belongings. Betsy screamed my name, shouting something about the deputy sheriff right before I was flung forward again. I deemed it wise to bail on the rescue mission. I hit the ground with a thud, glad to have landed on my feet. Betsy and I high-fived. Ha!

My victorious mood lasted for less than a minute. All eyes were on me. Half of Peach Cove Island's population had just witnessed my breakdown.

Betsy and I shoved everything I'd retrieved into the backseat of her car. "Y'all go on! Ain't nothin' to see!" Betsy shouted as I tried desperately not to lose my stomach's contents.

Heat was radiating off my face.

"It's going to be all over the island now," Betsy told me, the corners of her mouth turned down as she gave a regretful sigh.

"I know," I groused. "That was one of the things I never missed." Living on a small island had its disadvantages, like everyone always knowing your business.

"Well, if anyone asks me, and I suspect they might, being the most important witness and all," Betsy wrapped an arm across my shoulders, "you are a total rock star."

I certainly didn't feel like a rock star, but I appreciated the sentiment.

"I've had just about enough of this," Mr. Ledbetter said when I walked past Felton Powell, the deputy Betsy had warned me about a few moments ago.

I snorted, not making eye contact with them as Betsy hustled me into the diner.

"Oh, honey," Heather Lawson said as she rushed through the front door after us, nearly colliding into two tables. She enveloped me in a massive hug. Heather graduated a year behind Betsy and me, but our mamas were close friends. She was tall, dark haired and too thin these days. As The Peach's fill-in waitress, she eagerly worked every shift Jena Lynn had available.

I hugged her back, taking care not to squeeze too hard—her edges were sharper. "I'm sorry I haven't kept in touch" was all I could think to say.

Heather released me and immediately cut me off with a "Pfft. Don't you start that. You went off to spread your wings—good for you, I say. But it's mighty fine to have you back home with us. Jena Lynn has kept us apprised of your life." Concern etched her brow as she noticed the bruise on my neck. Startled, I stood like a deer in the headlights as my hand covered the evidence. "You decide you want me to send some boys to put a beatdown on that ex of yours, you just say the word." She leaned in and whispered, "I'm so proud of you for leaving. You ever need someone to talk to, I'm here." She raised her hands. "No pressure, though. And my offer still stands." Heather gave me a wink I interpreted to mean she would gladly send her brood of brothers over to put a hurting on Peter. They were probably the reason her ex was MIA. I must admit, it was tempting.

"Thank you. I'll keep your offer in mind," I whispered, and she gave me a solid pat on the back.

"Was the car in his name?" Jena Lynn asked, her eyebrows raised, causing that little wrinkle between her brows to deepen.

I nodded and she gave me an admonishing look. She didn't have to quote the words of my Nanny. They rang loud and clear. You can't trust a man to take care of you. You've got to take care of yourself, child. Nanny was right, and that was what I was attempting to do. "It seems I'm still a work in progress."

"Y'all go on back to your tables. A round of peach rolls on me!" As of this moment, Betsy was my hero.

I was relieved when everyone had gone back to their respective tables to finish their meals. Several customers paid their checks and took their freebie to go. I received several pats on the shoulder in passing. Pity—I hated it. I scrounged up a smile for them.

"You didn't have to do that," I said to Betsy, overwhelmed with her generosity.

"Don't worry. Jena Lynn won't make me pay." She folded her hands in a praying fashion toward my sister, who reluctantly gave her a nod of agreement before she laughed. Betsy had that effect on people.

I reclaimed my seat at the counter next to Mr. Ledbetter. Seemingly unaffected, he was devouring his BLT quite happily now. He clapped me on the back and pulled me closer, not quite in a hug but near enough, without it feeling awkward. The old man was heavyset, with gray hair. In his day he'd always had a reputation of being a ladies' man. To look at him now, you'd never have guessed it.

"Take my advice," his raspy tone lowered, "play hardball. Take the man for everything he's worth. Make a statement you won't be played for a fool." He leaned back. The metallic taste of anxiety was in my mouth. He took a sip from his mug. "The past always has a way of coming back and biting you in the keister."

Betsy took a right on Orchard Street, which had rows of grand, historic colonial-style homes with large front porches. It was picture-perfect, with nice manicured lawns and budding flowering trees. There was comfort here, along with the stability that couples sought out when they were ready to settle down and start a family. Mr. Johnson was picking up sticks out of his driveway that had fallen off his large oak tree, much older than my twenty-seven years. He threw his hand up. . .
We hope you are enjoying the book so far. To continue reading...
Southern Sass and Killer Cravings
Kate Young
Copyright © 2023 All Rights Reserved