Seven Percent of Ro Devereux
Book info
Sample
Audiobook
Media
Author updates
Lists
Synopsis
Fans of Emma Lord, Rachel Lynn Solomon, and Alex Light will love this clever, charming, and poignant debut novel with a masterful slow-burn romance at its core about a girl who must decide whether to pursue her dreams or preserve her relationships, including a budding romance with her ex-best friend, when an app she created goes viral.
Ro Devereux can predict your future. Or, at least, the app she built for her senior project can.
Working with her neighbor, a retired behavioral scientist, Ro created an app called MASH, designed around the classic game Mansion Apartment Shack House, that can predict a person's future with 93% accuracy. The app will even match users with their soulmates. Though it was only supposed to be a class project, MASH quickly takes off and gains the attention of tech investors.
Ro's dream is to work in Silicon Valley, and she'll do anything to prove to her new backing company—and the world—that the app works. So it's a huge shock when the app says her soulmate is Miller, her childhood best friend with whom she had a friendship-destroying fight three years ago.
Now thrust into a fake dating scenario, Ro and Miller must address the years of pain between them if either of them will have any chance of achieving their dreams. And as the app takes on a life of its own, Ro sees that it's affecting people in ways she never expected—and if she can't regain control, it might take her and everything she believes in down with it.
Release date: January 17, 2023
Publisher: HarperCollins
Print pages: 320
* BingeBooks earns revenue from qualifying purchases as an Amazon Associate as well as from other retail partners.
Listen to a sample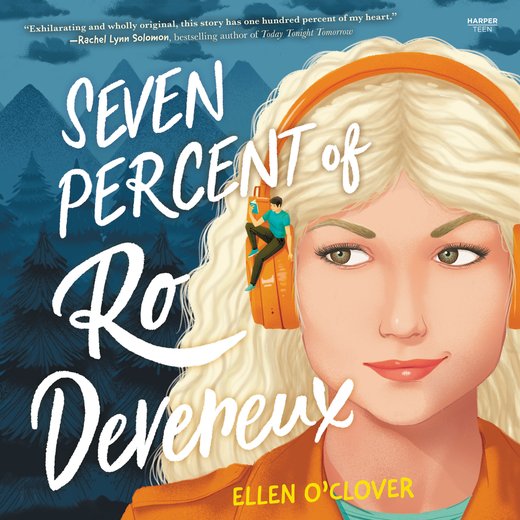 09:35:35
263.5 MB
9780063255067
January 17, 2023
HarperCollins
Seven Percent of Ro Devereux
Ellen O'Clover
The only time I see Miller that summer, he's walking straight at me in a tuxedo.
"Code red," Maren says, and tugs me sideways into the math hallway. School is quiet—a little over a week before the start of classes, only open this afternoon for senior presentations. I risk a peek around the corner just as Miller's looking up, a clothbound book tucked under one of his arms. When he sees us, his eyes narrow.
"Maren," he says, nodding tightly as he approaches. His gaze skates right over me, and I get busy studying the locker Maren plastered me against. A rudimentary etching of the word dickhead is carved like a rainbow around the combination lock.
"Miller." Maren's voice is icy, and after Miller passes us she sticks her tongue out and makes a vulgar hip thrust in his direction. He's cut his hair since May, his usual mop replaced by a short-on-the-sides, tsunami-wave-up-top situation that makes him look like a boy-band front man wannabe.
"Sick tux," I mutter, and Maren snorts.
"Of course he wore a penguin suit to his presentation." Her arm's still hooked through mine, and she guides us back into the main hall. It's empty now, late-August light slanting in through tall windows that overlook the parking lot. "Has that boy not taken something too far even once?"
I can hear his dress shoes retreating—click, click, click, click. Steady and measured, unshaken by me.
"Come on, Ro." Maren elbows me in the ribs. "Don't let him throw you off your game."
"He didn't," I say, even though my chest has gone all tight, that suffocating feeling only Miller ever gives me. A natural side effect of being so thoroughly hated, maybe. "I'm ready."
"Good," she says, and nudges me forward. We've reached the end of the hall, where a printer-paper sign is taped to the auditorium door: Group A Senior Presentations 12 p.m.–5 p.m.
"Hey," I say, turning toward her. "Thanks again for coming." She didn't have to be here: It's summer, still—the last few precious days. But here she is nonetheless, just like always.
"You know I wouldn't miss it." Maren reaches for the door, swinging it wide so I have to step through. "Now let's go, you're stalling. The future awaits."
I could've waited until May to present my senior project. Maren hasn't even decided what to do for hers yet. But here I am, instead: ten days before the start of senior year, in a room full of teachers I'm not legally required to listen to for over a week, with my unruly hair tamed into a bun and my toes cramped into flats Maren made me borrow.
I could've waited until May, like everyone else. But not everyone else has a dad breathing down their neck to apply to college when it's the last place they want to go. And not everyone else needed all summer—literally every waking moment—to finish their project. I couldn't have pulled this off during the school year, with eight hours of all my days spoken for, plus homework. Between all-nighters spent coding and mornings studying behavioral science with Vera, I needed all the time I could get.
I definitely needed more time than Miller, but of course when I step onto the stage his presentation's still up on the big screen, leaching overachiever pheromones into the whole auditorium. His title slide's plain white, Times New Roman font:
THE ILIAD'S SECOND HERO: THE GREAT WAR THROUGH HECTOR'S EYES
ALISTAIR MILLER
SWITCHBACK RIDGE HIGH SCHOOL
SENIOR PROJECT GROUP A
What a fucking nerd.
"Can you pull my thing up?" I hiss toward the sophomore manning the screen. He's sitting in the front row with his shoes off and a Styrofoam smoothie cup the size of my head. He takes a long sip before looking at me.
"Name?"
"Rose Devereux," I say, and after a couple of lazy clicks my presentation blinks up onto the wall. There's a panel of six teachers sitting behind Smoothie Boy, and behind that Maren's made herself comfy in the very center of the auditorium, legs folded up in her seat. Otherwise, shit's empty as Antarctica. A classroom would've been kinder, but instead I'm presenting to ninety-two empty seats. Cue the applause, I think, and then my dad walks in.
He holds the door for Vera, and as she teeters in behind him I can see she's gone the whole nine yards to be here: cloud of gray hair teased into a neat bob, lilac sweater set, her favorite columbine brooch. Maren waves them over to sit with her, and Dad offers Vera his arm to help her down the narrow aisle. He's still wearing his apron and I'm pretty sure there's whipped cream on his face.
"Rose?" Mr. Gupta, the AP English Lit teacher, prompts. I'm so busy thinking about how he must have gone googly-eyed for Miller's faux-intellectual literary escapade that I miss what he says next, and he has to repeat himself. "I said, we're ready when you are."
"Right." I grip the sides of the podium. My notes are fanned out in front of me, but by now I could do this in my sleep. Dad flashes me a thumbs-up from the audience, and I think, This is all for you. Pay attention.
"I love computers," I say, leaning into the mic so my voice fills the room like a god. "I always have. And the weird truth is, we're more like them than we think." Smoothie Boy coughs on air from his straw, doubling over to hack into his hand, and I wait. When all six of the teachers are looking back at me, I tell
them what Vera's been telling me for years. "Human behavior is ninety-three percent predictable."
Pause for effect. "And in theory, if we knew all of someone's nature and nurture information—who they come from and how they were raised—we'd be able to accurately predict their behavior. So I built an app that asks the right questions, then tells you your future. It's called MASH."
Maren lets out a whoop, and the logo she helped me design animates on-screen: a hand-drawn spiral, spinning over the letters M A S H arranged in a square.
"My app takes the idea of the kids' game Mansion Apartment Shack House and pairs it with a science-backed survey to accurately predict your future. I worked with Vera Kincaid, renowned human behavior expert, to develop the survey. Once you take it, MASH chews up your data and spits out four key aspects of your future: the city you'll live in, your profession, how many kids you'll have, and who your partner will be."
Not gonna lie, I get chills just listening to myself. And I can tell I've got these teachers on the hook—some of them aren't even blinking.
"But instead of telling you about MASH, I want to show it to you." I walk around the podium, pulling my phone out of my pocket. "So if you don't mind, go ahead and download MASH from the App Store. And see for yourself."
"Rose," Ms. Thompson says, peering at me over her readers. Her phone's lit up in her palm, download in progress. "This seeing-your-future thing. Is it really possible? Accurate, I mean?"
"Oh, yeah," I say, and I can't help it—I smile. "It's really possible."
"Crushed it," Maren says. She kicks off her Birkenstocks and plants her feet on my dash. "Gupta's voice when MASH told him he's fated to be a novelist? I thought he was going to cry."
"I thought I was going to cry," I say, shifting the truck into drive. "I can't believe it's over."
"You pulled it off." Maren's head lolls back against the top of the passenger seat; the headrest busted years ago but she's short, fits just right if she scoots down. "Miracle of miracles."
Miracle of miracle of miracles. I barely slept this summer between afternoons at Vera's to talk science, nights in my bedroom writing code, anxious hours waiting for the App Store to finally approve my beta. Clicking that MASH icon and having it open an actual app on my actual phone in my actual hand was pure magic.
"Now we just have to hope my dad's convinced," I say.
"How could he not be?" Maren looks at me, late-afternoon sun hitting her hair like alpenglow. "You found a way to see the future, Ro. Coded it all on your own in three months." Her eyebrows hike up into her bangs. "You've got the goods—you don't need a bachelor's degree to prove it."
"God, agreed." I stop at the four-way intersection at the bottom of the hill. There isn't a single traffic light in
Switchback Ridge. "Can you say that again, but record it this time and text it to my dad?"
She laughs, rolling down her window to stick an elbow out. "No. But I bet if he takes the survey it'll tell him he's going to run his own restaurant one day, and he'll be so happy he'll let anything go."
I sigh and don't tell her what I'm thinking—that maybe he'll take the survey and it won't tell him that, and it'll be more than either of us can bear. My dad inherited Beans on the Lake from his dad, who inherited it from his dad before that. The Deve-reuxs have been slinging coffee in Switchback Ridge for three generations, but Dad went to culinary school. All he wants is a restaurant, but all he's got are double-shot mochas, the occasional grilled cheese, and a full pastry case of muffins. What he also doesn't have is money. So.
"When are you going to take the survey?" I ask. There's a beep, and when we look up Dad's passing us in his SUV, hand lifted in a wave and Vera riding shotgun.
"Still never," Maren says, rolling her eyes. "My future's a mystery and that's how I like it."
"Fair," I tell her. "Only, your best friend in the whole world made an app all on her own, and it would be super best-friendly of you to experience it for yourself. That's all I'm saying."
"I love you," Maren says, drawing out the o. "So much. But there are some things we just shouldn't know."
I wave her off. "Some of us prefer a little insight, but okay."
"Get the partner match up and running, and then we can talk." Maren looks at me. "I'm definitely game to circumvent the whole dating thing for the entire rest of my life if I can nail down my partner now, then go find them when I'm ready."
Partner match—my biggest hang-up. I could only get MASH to hit three of its four categories: city, job, and number of kids. (My results: San Jose, software developer, zero. Check, check, and check.) Those three things follow from a user's own survey responses. The partner match, though—you need more users, a critical mass of people to pair up. Get their consent, mine their data, and unleash the algorithm to match them based on their surveys. I could do a lot on my own, but not that. Which was a bummer, because figuring out who you'd marry was always the best part of playing MASH.
When we were in middle school, I'd sleep over at Maren's and her mom would teach us all the stuff my mom wasn't around to—how to French braid our hair and how to stop the microwave before the popcorn burned and, best of all, how to play MASH: a paper-and-pen future-prediction game she'd played growing up in the eighties.
We'd make lists for each category: four cities we'd want to live in, four jobs we dreamed of having, four boys who made our heads spin. A throwaway list of four numbers to represent how many kids we'd have. And, of course, the final category: mansion, apartment, shack, or house?
From there, one of us drew a spiral at the bottom of the page. And when the other told us to stop, we tallied the lines to the center and used that number to count down, checking off options on each list until we were left with the picture of our far-off adult lives.
Every category was fun—finding out you'd live on a beach in Florida, in a mansion with six kids, whatever—but knowing the name of your future husband? That's where the real power was. We'd pick the cutest kids in our class, leaving ourselves with no bad options (save for the few times Maren snuck Miller's name into my list as a joke).
We knew—distantly, somewhere—that the game was outrageous. We probably weren't going to marry Eli Kim, the absolute dreamiest boy at Switchback Ridge Middle, and live with him in an apartment in New York City. It was unlikely either of us would make it out to San Diego to be lead ornithologist at the zoo. And that was before Maren told me she was bi; we didn't even put girls on her list.
It was all completely fantastical, but seeing those new-penny-shiny futures written out on paper made them feel possible. It was like bottling up a daydream and drinking it straight. I wanted to re-create that feeling with the app, and I got there—seventy-five percent of the way.
"Unless a million people download my buggy beta," I say, "you're out of luck."
Maren shrugs. "A girl can dream."
When I pull into her driveway, red-sand gravel and pine-tree roots, Maren slides her shoes back on and hops out of the cab.
"Hey." She leans through the open passenger window, her face constellationed with freckles. "Good luck with your dad. You got this."
"Right," I say, shifting into reverse. "I totally got this."
We hope you are enjoying the book so far. To continue reading...
Seven Percent of Ro Devereux
Ellen O'Clover
Copyright © 2023 All Rights Reserved