Righteous Assassin
On the last Saturday night of the month, there will be blood.
Book info
Sample
Audiobook
Media
Author updates
Lists
Synopsis
"A taut thriller that moves with lightning speed.  If you enjoyed Seven, you're in for a treat." -- Anna Willett, Author of Small Town Nightmare
"Kevin Chapman is the East Coast distributor of tension. Righteous Assassin eats it, drinks it and breathes it." – Greg Prince, author of Faith and Fear in Flushing
"A sizzling mystery thriller." -- Saul Warshaw, author of Loose Ends/Mind Tricks
-- - -- - -
A MOB BOSS IS EATEN ALIVE BY TIGERS AT THE BRONX ZOO. A New Jersey factory owner is mutilated and left to bleed out under a Manhattan highway. A French pharmaceutical baron is tortured and frozen to death in Little Italy. A high-society fashion designer is poisoned in her Upper East Side apartment. Four months, four unsolved murders – each carried out on the last Saturday night of the month.
The victims share no similar traits, have no connections to each other, have no common enemies, and were each killed in very different ways. NYPD Detectives Mike Stoneman and Jason Dickson pick up the trail based on the coincidental timing of the unsolved murders. Could these assassinations really be the work of a single serial killer? Why would a single killer choose such strange and disparate methods? Why spread your victims across all of New York? And most importantly, how do you track down someone with no pattern?
Each new murder adds a piece to the killer's jigsaw puzzle. Each month is a race against the calendar. On the last Saturday of the month, there will be blood.
Release date: October 18, 2018
Publisher: Kindle Direct Publishing
Print pages: 417
* BingeBooks earns revenue from qualifying purchases as an Amazon Associate as well as from other retail partners.
Listen to a sample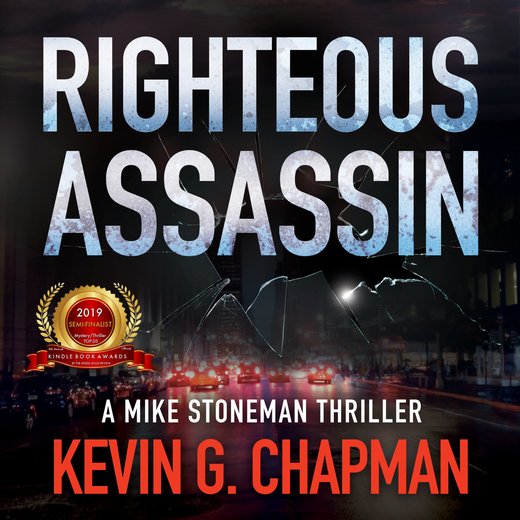 13:18:27
365.52 MB
9781094211145
January 20, 2020
First Legacy Productions
Righteous Assassin
Kevin G. Chapman
Prologue
April 1
oday is the beginning of my great crusade. In ten months, I shall fulfill my divine destiny. I did not ask for this. I did not know when I went to Afghanistan for the first time that I would find such inspiration, such meaning. How can a man know? Until God puts that knife in your hand and that evil creature in front of you, how can anyone imagine? I felt the hand of an Angel guiding me and heard the sound of a choir singing in my ears. It was bliss.
The foolish quote the Bible and say, "Thou shalt not kill." Imbeciles. Over and over, God commands in the Bible that we kill. We must put to death those who have committed sins against the Lord and sins against their fellow man. Thou shalt not kill without justification and reason. Thou shalt not kill in anger or in haste or in the heat of passion. But when divine justice requires death, then death there shall be. I understand that now. Everyone will understand when I am finished.
This journal shall be the scripture I leave behind, to be read and examined and eventually understood by those whose hearts and minds are open to the message of God. He is a vengeful and wrathful God who will punish those who sully this Earth. I am his servant, his Earthly Angel. What else explains this hunger inside me to see the fear and the anguish in the eyes of the evil ones whom God has selected for execution? The righteous of the world will know me and know my story and my inspiration. Let this be known as the first day. The Lord is my shepherd, I shall not stray from the true path of justice.
July 29
RIME SCENES IN NEW YORK CITY are often bloody, regularly bizarre, and occasionally fascinating to the homicide detectives who are jaded to all but the grisliest circumstances. Detective Mike Stoneman had seen them all in his twenty-four years on the force. Stiffs in swimming pools, stiffs tied up in basement dungeons, stiffs with various parts of their anatomy removed, and stiffs fished out of the Hudson river with their eyeballs eaten away by aquatic creatures. This one, however, was a new variation – what he referred to as a "unicorn." Eaten alive by tigers is not a cause of death often registered by the New York City medical examiner. Mike knelt down next to what was left of the corpse's foot and examined the remnants of duct tape that had bound one ankle to the other. The tigers had left the tape mostly uneaten. Discerning palates, apparently.
"Just another routine murder in the Big City, eh, Mike?"
Stoneman looked up, squinting against the morning sun, and saw Detective Jason Dickson towering over him. Jason was six-foot-three, with broad shoulders that tapered down to a slim waist. Even wearing a suit, it was obvious that he was in great shape and had well-defined muscles across his entire upper body. He was a mountain compared to Mike's five-foot-ten and slightly paunchy frame, even when Mike was standing. On this morning, Jason was wearing a blue pin-striped suit with a starched white shirt that contrasted sharply against his dark brown skin. His red-and-blue silk tie was expertly knotted and held in place with a gold tie bar, giving him an especially dapper appearance next to Mike's rumpled jacket, wrinkled shirt, and scuffed loafers. Even at 9:00 a.m., the July humidity made Mike sweat as the temperature started its unstoppable rise toward too-damned-hot, but Jason seemed impervious.
Mike looked up at his young partner and smiled, which was a rare occurrence. "What? Never seen a stiff partially eaten by wild animals before?"
"Oh, sure," Jason parried, "just not this early in the morning."
Mike turned his attention back to the remnants of the body. The crime scene team was nearly finished, but the photographer was still taking shots all around the area. Normally, Mike would be worried about people walking around and contaminating the evidence, but in this case the press had been relegated to the spectator area above the tiger enclosure and the zoo security team had not allowed anyone but NYPD into the pit. The whole Bronx Zoo was closed for the day. Mike could hear the faint thumping of a chopper's rotors somewhere overhead, but he ignored it. "Did we get a positive ID on the corpse?"
"Yes, we did," Jason responded with his usual perfect diction. "You were correct, Mike. It's Mickey Gallata. The family has not reported him missing, but his son confirmed that he left home yesterday evening and did not come back. I guess he's not going to make it."
"No," Mike said without emotion. "Slick Mick will definitely not be having supper with his family ever again. It's funny, you know. We've been trying to pin a conviction on him for what, a dozen years? And now, somebody has taken care of all that for us. I guess we should thank them."
"When we figure out who's responsible, I'll send a fruit basket." Jason walked away to talk with the uniformed officer who was patrolling the perimeter of the tiger enclosure looking for anything out of place. Mike was pretty sure that the beat cop from the South Bronx was not going to know whether anything he saw in the replica jungle was out of place or not.
Mike stood up and squinted again as he gazed out of the pit and saw the television news crews positioned along the black iron fence that normally kept the zoo visitors from getting too close to the edge. They had jockeyed for position as soon as the cops had let them in an hour earlier. At the time, the low sun had made the left side of the enclosure the prime real estate for live remote shots. But now, as the sun rose a little higher in the sky, the crews were repositioning, staking out spaces and camera angles with the best backgrounds and lighting. Signs all along the bars reminded the public not to feed the animals. These particular tigers would not need feeding again for a few days.
Several minutes later, Mike and Jason walked together to have a talk with the director of zoo security, Maurice Walker, who was understandably both pissed off and embarrassed by the situation. Walker sported a jacket that could have been navy blue or black, depending on whether it had been cleaned recently. He wore light grey slacks with an elastic waist band that hugged the bottom of his belly, which was spilling slightly over his black belt. His dark sunglasses and open-collared dress shirt made him look like an extra in a gangster movie. He had been working security at the zoo for thirty years and had been promoted up the ranks. This was his home, and it had been violated.
In a thick Bronx accent, Walker explained to the two detectives that there were no security cameras inside the animal enclosures, but there were cameras at the zoo entrances. Jason asked him to provide copies of the recordings so that he could have someone review them as soon as possible. Walker said he would have the tapes sent over.
"Tapes?" Jason asked incredulously. "You mean disks, right?"
"Nah," Walker responded. "This is a City-run operation. C'mon. You know how it goes. We installed this security system twenty years ago. Ya think City Hall is springing for the latest tech for the fucking zoo? Ha! We got VHS machines and big-ass cassettes. But looking at tape's a waste of time. I know where the scumbags broke in, and there're no cameras there."
"Where's that?" Mike asked.
"Over on the wall, a few hundred yards," Walker said, pointing toward the brightly sun-lit space overhead and to the right of the tiger enclosure.
"What about the route from there to here?"
"Well, there are a couple cameras, but they're only turned on during the day when there are people here. We don't run them twenty-four hours a day. No reason to record darkness."
Stoneman looked at Dickson and shrugged. "It only matters when it matters. Can we see the entry point?"
Walker led the two detectives out of the tiger pit and up a long ramp past the news crews, who scurried to grab their equipment, thinking that the appearance of the two NYPD detectives might signal something worth recording. When Mike waved them off and kept walking, they set down their cameras and went back to their territories. Walker guided Dickson and Stoneman to the perimeter wall that separated the zoo grounds from the surrounding city. It was made of concrete blocks that were arranged to mimic stonework, like a medieval castle. Every few hundred feet along the wall, there were steel gates secured with a deadbolt lock and a separate chain-and-padlock combination. Walker explained that the gates were there to allow access for trucks bringing in supplies and large items that would not fit through the public access entrances. They had occasionally had kids climb over the wall and commit acts of vandalism, but nobody had ever broken through the gates before. Walker stopped in front of a gate that was obviously no longer locked. Yellow police tape was strung across the threshold. Its broken padlock lay on the ground, the metal twisted where it had been cut.
"Even with vandalism issues in the past, you didn't keep the security cameras running at night?" Mike was trying to keep a professional demeanor, but his annoyance with the absence of potentially helpful evidence seeped into his voice.
Walker shrugged. "It wasn't my call, Detective. It was a budget decision made by the managing director."
Mike pursed his lips and said nothing. At first, he could not imagine how running cameras could be a budget issue. But, when he thought about the eight-hour maximum duration of a VHS tape, which would need to be changed during the night, he figured it out. No reason to pay somebody to sit in the security office and swap out tapes all night. He examined the broken lock and severed chain lying on the ground. It would have been simple for anyone with some basic equipment to cut the padlock and chain and drill out the deadbolt. "Aren't you worried about somebody stealing valuable animals?"
Walker shook his head. "The only animals here that are really worth anything outside the zoo industry are so poisonous or dangerous that nobody with a brain would try to steal them. And they're all tagged with permanent identification that makes them pretty much impossible to sell."
Stoneman nodded, then asked, "How did they get Slick Mick into the tiger enclosure without being attacked themselves?"
Walker paused. "Why do you think it was more than one person?"
Mike smiled at Walker's perception. "You're right, Mr. Walker. I shouldn't make that assumption. It's just that, in my experience, one person generally has a hard time dragging a full-grown man around, and it's particularly hard to get someone into a spot like that even if he's unconscious."
Jason interjected, "If this was a mob hit, there were probably multiple goons involved."
Mike frowned. "We're making a lot of assumptions now, Detective Dickson."
Jason bit back a response and nodded. "Right, Detective Stoneman. Stick to what we know for sure, not what we think."
Mike nodded back. "Right. We'll figure out how the facts fit together later." They walked slowly back to the tiger enclosure, tracing the probable route of the killer or killers and looking for anything out of place, but saw nothing they could perceive as out of the ordinary. At the bottom of the sloping ramp that ran along the side of the tiger pit, they came to a door they had come through before, marked "zoo staff only." The three men paused while Mike examined the broken lock. "Why isn't this door secured with a better lock?"
Walker shrugged. "Who in their right mind wants to break into the tiger pit?"
Mike nodded and said nothing. They walked through the door into a dark corridor, then through another door, with no lock, back out into the pit and the mid-morning sunlight. Mike squinted while Jason smoothly extracted sunglasses from the front pocket of his suit jacket. Jason asked, "Where were the tigers when the killers dragged Gallata out here?"
Walker didn't hesitate. "The animals all stay in their interior cages during the night. We release them each morning, but they're never out here after dark."
Mike nodded again. "Once the perps were past the staff door, was there anything blocking them from releasing the tigers out into the pit?"
"No," Walker replied. "Just a sliding bar on the access door. No lock."
"Pretty easy gig," Jason opined. "Tie the guy up, either ahead of time or when you get here. Cut him a little to get some blood flowing, then release the tigers and walk away."
"Yeah. Very creative," Mike deadpanned. "Jungle Book meets Goodfellas."
Mike walked back into the middle of the pit, scanning the lush foliage and the large rocks hewn from some upstate granite quarry. A small artificial stream meandered across the jungle-scape, ending in a deep pool where the tigers could cool off on hot days. The mangled corpse had been removed while Mike and Jason had been away, leaving only a series of pins in the ground and blood stains to mark the place where Mickey Gallata had met his end. Jason sidled up to Mike as he stood there, contemplating whether this apparent mob hit was worth any time investigating, and kept silent and still for two full minutes. "Good," Mike commended. "That's the longest I've ever seen you keep your mouth shut."
"Thanks. I have two thoughts."
"Great, Kid. Tell me both of them."
Jason paused, frowning down at Mike from his six-foot-three perspective, but he kept his annoyance in check. "First, do you remember what they used to call Slick Mick before he became the boss, back when he was just a goon for the old man?"
Mike smiled and nodded his head slightly. "Oh, yeah. I remember. 'Mickey the Animal.'"
"Kind of poetic justice, don't you think?"
"Sure. Somebody's idea of a sick joke. What's the other thing, Junior?"
"I thought you weren't going to call me that?"
"Sorry. Habit."
"What I was going to say," Jason said softly, "is that last night was the last Saturday of the month."
"Yeah," Mike responded blankly, "I thought about that. This one seems pretty obviously not connected, don't you think?"
Jason turned to his partner and took off his sunglasses, revealing his dark eyes. "Like you always say, Mike, no matter what we may think, what we know is the evidence. What we know is that there was a murder with unusual circumstances on the last Saturday of the month. It could be a coincidence, of course, or it might not be."
"Yeah," Mike grunted, wiping away a trickle of sweat from his eyebrow with the back of his increasingly dirty suit jacket. "Let's see what happens."
We hope you are enjoying the book so far. To continue reading...
Righteous Assassin
Kevin G. Chapman
Copyright © 2023 All Rights Reserved