Book info
Sample
Audiobook
Media
Author updates
Lists
Synopsis
In this timely, compulsively readable legal thriller series set in The Garden State, transgender defense attorney Erin McCabe finds herself drawn into a murder investigation that could land her behind bars …
Erin McCabe's years as a criminal defense attorney have prepared her for almost anything, except being on the opposite side of the interrogation table. A new client—a successful financial adviser—was found stabbed to death on the beach near his palatial Jersey Shore home. The time of death is estimated to be during
Erin's one and only consultation with him, during which he revealed that he was secretly transgender. As the last person to see him alive, Erin's now the prime suspect.
If the evidence were simply circumstantial, Erin is sure she and her law partner, Duane Swisher, could prevail. But there are entanglements that can't be easily explained, and connections to powerful unscrupulous politicians who hold a lot of grudges. While the investigation unfolds, Erin and Duane are called on to
represent a mother charged with abducting her child—a hot-button case that has both private and public implications for Erin.
As she battles one prosecutor who wants to see her charged with murder, and another determined to send her to jail for refusing to divulge her client's location, Erin also faces a devastating family tragedy. With her career and her relationship on the line, and her life being targeted by a desperate nemesis, there has never
been more at stake—or fewer places to turn
Release date: May 30, 2023
Publisher: Kensington Books
Print pages: 352
* BingeBooks earns revenue from qualifying purchases as an Amazon Associate as well as from other retail partners.
Listen to a sample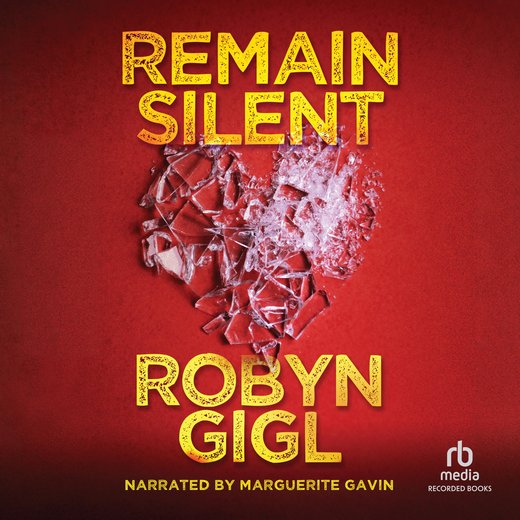 12:07:59
333.26 MB
May 23, 2023
Recorded Books
2023
Remain Silent
Robyn Gigl
Wednesday, May 27, 2009, 10:30 a.m.

ERIN EYED THE CAMERA IN THE CORNER OF THE CEILING. AFTER ALMOST twelve years as a criminal defense lawyer, she had been in enough interrogation rooms to know that it probably wasn't the only one focused on her.

She brushed her copper-colored hair back off her face, willing her expression to conceal the emotions roiling inside. She glanced to her left at her law partner, Duane Swisher, hoping to find solace in his commanding appearance, but as she studied his face, she found it inscrutable. Duane, who had spent seven years as an FBI Special Agent, had mastered many tricks during his time with the Bureau, one of them being the art of hiding whatever he was thinking.

The door to the room suddenly swung open, and a man swaggered in, followed closely by a woman.

"Ms. McCabe, Mr. Swisher, I'm Detective Adam Lonza with the Cape May County Prosecutor's Office. We spoke yesterday. And this is Detective Emily Carter with the Avalon Police Department," he said, extending his hand and shaking Duane and Erin's hands in turn, with Carter then following suit.

Lonza looked to be in his early thirties, with close-cropped black hair and brown eyes. His broad shoulders and barrel chest certainly looked like the by-products of many hours in a gym. Carter appeared older—mid-forties perhaps—her brown hair pulled back in a tight ponytail. Despite the fact that Carter was there to interrogate her, Erin was immediately curious about Carter's backstory. It wasn't easy for women in law enforcement, so if Erin's guesstimate of Carter's age was close, it meant she had gone through the police academy when there were very few women recruits.

"Thank you for coming in," Lonza said, dropping a folder on the table in front of him before sitting opposite them.

Thank you for coming in, Erin thought. Not like you gave me much choice.

Lonza folded his arms across his chest. "You're both experienced lawyers, so let me be clear. Ms. McCabe, you have the right to leave anytime you'd like. This is not a custodial interrogation. We're just trying to gather information on the murder of Bradford Montgomery."

Duane leaned forward in his chair, narrowing the space between himself and Lonza. At six-two, with broad shoulders and a hard body, Duane's size was imposing, a fact he wasn't afraid to use to his advantage.

"Since we are, as you said, experienced lawyers," Duane said, "I will likewise presume you and Detective Carter are experienced detectives. So, let's lay our cards on the table, shall we. We're in the county prosecutor's office in one of your interrogation rooms, meaning this is all being video-recorded and probably monitored by others sitting in another room. Your preamble about Ms. McCabe being free to leave is just your way to avoid providing her with her Miranda rights. That way you can always claim it wasn't a custodial interrogation. Which means that if you so choose, you can cherry-pick her words and use them against her." Duane stroked his goatee and leaned back. "Do you think Ms. McCabe is somehow involved in Mr. Montgomery's death?"

"Let's just say she's a person of interest," Lonza responded.

"Let's just say," Duane said, feeding Lonza's words back to him, "legally there is no such thing as a person of interest, Detective. Either Ms. McCabe's a suspect or she's not, and we both know there are different ramifications."

Erin watched her partner, still trying to adjust to her unexpected role in this unfolding drama. She was supposed to be the one fencing with the detectives, parrying the lunges at her client, but not today. In this morning's performance, the part of Erin McCabe will be played by Duane Swisher, she thought. And yet as much as she hated being the understudy, there was no one she trusted more than Duane. He was not only her partner, he was her best friend. When he left the Bureau six years ago, he could have gone anywhere, but to Erin's surprise, he agreed to become her partner, and together they started the firm of McCabe & Swisher. Of course, at the time, Erin was still living as Ian McCabe. A year after they formed the firm, Erin had come out as a transgender woman, and even though some of Duane's friends had given him a hard time for staying partners with the "trannie," Duane hadn't wavered, and the firm, and their friendship, had flourished.

"Mr. Swisher, we can put Ms. McCabe in Mr. Montgomery's home around the time he was murdered. Perhaps Ms. McCabe has an explanation for that, perhaps she doesn't," Lonza said, his tone pleasant, but his eyes betraying his suspicions. "But since you and Ms. McCabe were kind enough to drive all the way down here, I presume it wasn't to turn around and drive right back. So is Ms. McCabe willing to talk to us or not?"

Duane gave Lonza a sly grin. "Why don't you talk to us first, Detective? I was with Erin when she spoke to you on the phone yesterday. Based on that, you already know that she met Mr. Montgomery for the first time Monday evening. She also told you that she met at his request for a consultation. I would add that Mr. Montgomery was very much alive and healthy when Ms. McCabe left him. You've said Mr. Montgomery was murdered. How did he die?"

"Ms. McCabe . . . and Mr. Swisher," Detective Carter interjected softly, allowing herself to fall smoothly into the role of "good cop," "I'm sure you can appreciate that at this stage of the investigation we cannot divulge the cause of Mr. Montgomery's death. We're just looking for information that might be helpful." Turning to face Erin, Carter continued, "Mr. Montgomery's surveillance videos show you arriving at his house around seven thirty in the evening on Memorial Day and the two of you walking down toward the beach about thirty minutes later. There's no video of either of you reentering the house at any point. From a security camera on Fiftieth Street, we see your car leaving around 8:20 p.m. Mr. Montgomery's body was discovered in the dunes between his house and the beach yesterday morning. The medical examiner estimates his time of death to be between seven and ten p.m. on Monday. In other words, right around the time you were together. It certainly would be helpful if you could explain why you were there."

"Detective," Erin responded, "as I told Detective Lonza on the phone, I can't reveal why I went to see Mr. Montgomery. As you know, I'm an attorney, and despite the fact that Mr. Montgomery is deceased, I'm not relieved of my obligation to maintain his confidence as a client. All I can tell you is that he called my office on Friday while I was at home, packing to head to the Shore, and left a message that he needed to speak with me as soon as possible. When I called him back, he asked me to meet him at his place in Avalon for a consultation. At our Monday meeting, we talked about why he wanted to see me. Afterward, he showed me his house, and then we walked down to the beach to continue our discussion. While we were talking, he received a phone call on his cell that he ignored. It then appeared he received a text message, followed by a second call, which he did answer. When he hung up, he told me he had to go and showed me where to leave the beach at Forty-eighth Street. When I looked back, he was standing by the water, watching me leave. That's the last I saw or spoke to him."

"Do you know what number you called him at?" Carter asked.

Erin removed her BlackBerry from her purse and scrolled through her recent calls. "973-555-0100."

As Carter jotted the number down, Lonza opened the file in front of him and slid several photographs across the table to Erin.

"Do you recognize these?"

Erin looked at the photographs. The first group of photos appeared to be dated, having an almost vintage quality to their appearance, perhaps copied from some website or a publication of some sort. The others were more recent. Erin had seen law-enforcement surveillance photos in any number of cases, and these had the same feel—surveillance photos taken using a telephoto lens. They were all of a woman. And as Erin studied them, she realized all the photos probably depicted the same woman, each group separated by several decades.

"I've never seen these before," she answered.

"Do you recognize the person in the photos?" Lonza asked.

Erin glanced down at the photos. "I don't believe I've ever seen this person before," she replied, looking up at Lonza.

"What if I told you they were all pictures of Bradford Montgomery dressed as a woman?"

She looked down at the pictures again and then back to Lonza. "Okay," she said.

"Okay, what?" he said accusingly.

"Okay, nothing," she responded. "I met Mr. Montgomery once, for less than an hour. That's the only time I've ever seen him. He was dressed in khakis and a golf shirt. If you're telling me these are pictures of him dressed as a woman, I'll accept your representation. It doesn't change the fact that I've never seen these before."

"Don't you find it strange that Mr. Montgomery is found dead after meeting with you, a well-known transgender, and pictures of him dressed as a woman suddenly surface?"

Erin cringed at Lonza's misuse of the word "transgender" as a noun, but she knew this was not the right time to be pedantic. "Detective, I find it strange that Mr. Montgomery has been murdered, period, full stop. But I can assure you, these pictures have nothing to do with me."

"We have reason to believe that you, probably at the behest of others, were trying to blackmail him with these photos because of his involvement in Arnold Welch's campaign for governor. What do you say to that?"

Erin stared at Lonza, suddenly aware of what it felt like for her clients. She'd lost count of the number of times she had watched an interrogation video in disbelief as a client, sitting in a room just like this one, tried to talk their way out of the jam they were in. And each time, she'd scream at the screen, "Shut up and take the Fifth, you idiot!" But they rarely did. And on those rare occasions when they did, it was usually too late. Now she understood the temptation—the feeling that all she had to do was explain what happened; then they'd understand their mistake, and she'd be done with all of this. But that was a fool's errand.

"What do I say? I say I think you're crazy, Detective," she finally said. "That, and I think it's time for me to go."

Duane pushed his chair back from the table. "Unless you have a warrant for Ms. McCabe's arrest, we'll be leaving now."

Erin held her breath, waiting to see if they had a warrant. She didn't think so; otherwise, they would have Mirandized her. But Lonza struck her as someone who didn't always color inside the lines, making the sudden appearance of a warrant possible.

"If you leave now, you'll be missing your one and only opportunity for Ms. McCabe to come clean and work out a deal," Lonza snapped at Duane. He then turned to Erin. "Your story doesn't hold water, McCabe. The only cell phone found at Mr. Montgomery's was in his living room, and there were no incoming calls or text messages between six and nine thirty p.m. So, where's the phone you say he got these calls on?"

Don't engage, she thought. As crazy as it seemed, Lonza appeared to truly believe she had killed Montgomery, and it was clear from his demeanor that nothing good was going to come out of any further conversation.

Lonza pointed his finger at Erin. "Prison life can be really tough on people like you. If you cooperate, tell us who you're working with, we can make it easier. Make it so you do your time at Edna Mahan, the women's prison. But if you walk out the door, all bets are off. Who knows, maybe you'll wind up at Northern State or East State. The guys there will have a lot of fun with you."

She glared at him, trying to ignore his comments and focus on what was important. They didn't have a warrant, so they weren't arresting her. She moved her chair back from the table and stood.

Lonza's smirk quickly morphed into a scowl, the veins in his neck pulsing noticeably. "Remember, McCabe, this train is leaving the station. This is your one and only opportunity to get on board. The next time I won't call and invite you down for a talk; I'll show up with cuffs. You understand that?"

She tried not to roll her eyes at the number of clichés being thrown at her.

"Have a nice day," Duane said, then gently took Erin's arm and steered her around the table heading toward the door.

Lonza shot out of his chair and hurried over to block their way. "I meant what I said, McCabe. I'll have fun watching you sit in the men's jail. I have to admit that, for a guy, you're pretty attractive. I'm sure all the guys in state prison will be happy to see you."

"It's Ms. McCabe to you, Detective," Erin said. "And as far as your threats . . ."

She walked around him, opened the door, and looked back over her shoulder.

". . . You can go fuck yourself."

Two days earlier, Memorial Day, May 25, 2009

AS ERIN HEADED SOUTH ON THE GARDEN STATE PARKWAY, SHE couldn't help but notice the traffic crawling north. Sooner or later, that was going to be her fate. There was no way to avoid it. It had been a glorious Memorial Day weekend, and the beaches up and down the Jersey Shore had been packed. She and her boyfriend, Mark Simpson, had enjoyed the weekend at the condo she owned in Bradley Beach. They had been dating off and on for about two years, and Erin had finally begun to feel confident that their relationship was going to last. Somehow, Mark had gotten over the fear that many heterosexual men had when they found themselves attracted to a transgender woman. What did it say about their own sexuality? There had been a few bumps in the road, but Mark had come to see her as the person she was—a woman—and not the person she had once forced herself to be. Of course, his mother and brothers were a different story. His relationship with them since he'd started dating her was strained; her relationship with them was nonexistent.

Normally, after a weekend at the Shore, she would have headed north to Mark's house in Clark, where they lived together, but today she was driving to Avalon to visit a new client, Bradford Montgomery. They had spoken for the first time on Friday. He told her that he needed to meet as soon as possible and gave her the address of his place in Avalon. Since he didn't want anyone to know they were meeting, he asked her to park on Fiftieth Street and follow the path that led from Dune Drive to the beach. Then, about fifty yards down the path, she'd see a smaller path on her left, marked with PRIVATE PROPERTY NO TRESPASSING signs. She should take the smaller path, which snaked about thirty yards through the dunes and ultimately led to his backyard. Aware that he was asking her to make a four-hour round trip on Memorial Day weekend, he had offered her a three-thousand-dollar fee, which, after Erin had agreed, he wired to her firm's account.

After their call, she had done a quick Internet search on Montgomery. Apparently, he was the owner of a financial services company located in Hoboken, but what had startled her was that he was a financial adviser to Arnold Welch's campaign for governor. Welch, who was running against Senator William Townsend to be the Republican nominee for governor, was, in Erin's opinion, a little bit to the right of Attila the Hun. Unfortunately, the racist and xenophobic undertones of his rhetoric seemed to be striking a chord with a segment of the electorate.

It was almost seven thirty p.m. when she parked on Fiftieth Street, walked across Dune Drive, and followed Montgomery's directions. When she stepped into the small clearing behind his house, she was overwhelmed by the size of his home—it was enormous. Montgomery was sitting on a deck that wrapped around the entire second story; when he saw her, he immediately jumped up and came down to meet her.

Based on the little she had found on the Internet, she guessed Montgomery was around sixty. Up close, however, his unwrinkled face made him look like he was in his early fifties. Clean living or a good surgeon, she thought. He was dressed casually in khakis, a Lacoste golf shirt, and Top-Siders. After introducing himself and offering her a drink—she accepted a Diet Coke—he led her back to the deck.

"May I call you Erin?" he asked, as they sat across from one another.

She smiled politely. "Of course."

"I guess you're wondering what this is all about?"

"I am," she replied.

"I'm not sure what you know about me."

"Honestly, not too much," she said. "I presume you know that there's very little available about you through an Internet search."

"That's good," he said with a small grin. "Unlike some of my flashier contemporaries, I like to fly under the radar. But as you can see," he continued, allowing his hand to sweep around in front of him, "I've done okay. I give people investment advice and, if they want me to, invest on their behalf. The folks I invest for are part of a very select group of high-end investors, including Arnold Welch, who, as I'm sure you know, is running against William Townsend in the Republican primary for governor. I will confess, I'm not a huge fan of Arnold's politics, but he has been a client for years, and I want to keep him happy. Candidly, I didn't think he had a chance, but apparently there are a lot of people out there whose politics are as crazy as Arnold's. I now find myself in a very awkward place. I'm not sure I want him to win, but I'm even less of a fan of Senator Townsend."

"Have you ever thought about voting for a Democrat?" she interjected with a broad smile.

"Good God, no!" he said with a chuckle. "My father would haunt me."

"Can I ask why you're not a fan of Senator Townsend?"

He took a deep breath, and Erin sensed he was weighing his words. "I've known Will Townsend for many years. We don't exactly run in the same social circles—I'm more New York, he's more Philly—but we both have money, so we know a few of the same people. Let's just say I find some of his business practices . . . unsavory. He's got enough lawyers and accountants that I assume he never breaks the law, but he certainly knows how to bend it, and it seems like it's the little guys that do business with him who often wind up getting screwed." He shook his head. "I know I'm not the poster child for altruism," he said, gesturing to their surroundings, "but I've tried my best to avoid taking advantage of people." He grew silent. "But to each their own."

"I'm sorry, I interrupted," she said. "You were telling me about Mr. Welch."

He shook his head as if waking himself from a trance and ran his hand along the back of his neck. "On Thursday, Arnold called me. His research team had been doing oppositional research on Townsend, and a case you were involved in came up." He hesitated. "The case involving the death of Townsend's son."

Erin nodded. "Okay?"

"There was a settlement of a civil case with Ocean County. It appears that money was paid to your firm's attorney trust account and that simultaneously there were nondisclosure agreements entered into by you, your partner, and a Tonya Tillis, the guardian ad litem for Sharise Barnes. Although the criminal case against Ms. Barnes received a lot of notoriety, this settlement received no press. Any idea why no one knows about it?

Erin snorted. "Probably because there's a nondisclosure agreement."

"Arnold believes that the nondisclosure agreement is hiding dirt on Townsend's son and perhaps on Townsend too." He stopped, his look betraying his hope she would add to his statement.

"Mr. Montgomery . . ."

"Please, call me Brad," he interrupted.

"Brad," she repeated, "there's nothing I can say. There is a nondisclosure agreement, so legally there's no information I can provide other than what's already part of the public record."

"Erin, I understand that if you breach the agreement—or I guess if your firm and Ms. Tillis breach the agreement—you may all be required to return whatever amounts you were paid. But suppose I were to say that, in return for the information, I'd be prepared to pay your firm, and Ms. Tillis, double whatever it is you have to return."

Erin was momentarily stunned, and she could tell by his expression that she had not done a good job of masking her reaction. After considering her options, she finally said, "I'd say that would be very generous of you, but it's an offer I couldn't accept."

"And why is that?" he asked, matter-of-factly.

"A number of reasons, I suppose. First, I have no desire to help Mr. Welch get elected. In my humble opinion, he's a racist, a xenophobe, and a misogynist—no offense," she replied.

"No offense taken—he certainly can sound that way at times. Although, on some issues of importance to you, you'd be surprised to know that he's more nuanced than you may think."

"Nuanced is not something I associate with Arnold Welch," she said. "Not to mention the fact that I'm supporting Marie Honick for governor."

"Fair enough," he replied, his tone gracious.

"As for my other reasons not to accept your offer, there is the little detail of researching whether the payments you propose would be in violation of campaign-finance laws. But, most important, I signed an agreement, and my firm is ethically obligated to honor its commitments. Besides," she added before he could respond, "based on my experience, William Townsend is a dangerous man, and I honestly don't want anything to do with him."

Montgomery stood and walked over to the railing of his deck, leaning against it as he looked at her. "I appreciate your principled position. Not too many people, especially lawyers"—he flashed a grin—"would turn down an opportunity to double their money, no questions asked. I also agree that Townsend is a dangerous man. As for Ms. Honick . . ." He let out a small laugh. "I hate to break it to you, but the Democratic bosses will never let a woman beat Henry Nestor in the primary. I suspect it will be Nestor against Townsend, and as much as I don't like him, it's in my interest if Townsend wins. My taxes are high enough now."

She got up and walked over, so she was standing next to him at the railing, gazing out at the ocean. "I don't know, as I drove around Avalon, it didn't look like there were too many people being taxed into the poorhouse," she said, a tinge of sarcasm in her voice.

He turned so he too was facing the ocean. "Touché," he replied. "Is there any information you can give me on Townsend?"

"I'm afraid not," she replied.

"I will confess I'm disappointed, but I respect the position you're in." He cupped his hands over his mouth, as if weighing what to do next. "Perhaps I could interest you in taking a walk down to the beach before you leave? There are a few other questions I'd like to ask you." His tone seemed cautious, almost apprehensive.

"Sure," she replied.

He led the way inside and showed her around the house before they made their way along the path to the ocean. They stood looking at the waves crashing on the shore when he turned to her. "I hope you don't mind, but the questions I'd like to ask are personal."

"Like?" she replied.

"I know you're a transsexual—I mean, don't get me wrong, you're a beautiful woman, there's nothing about you that gives you away—but I did read about you on the Internet, and, well . . . I was wondering if you'd had the change?"

"The change?" she repeated, unsure of what he meant and struggling with his reference to her passing and his use of "transsexual," a term she didn't use.

"You know, the surgery?"

"Um, yeah, I did," she replied, trying to figure out where this was going.

"Are you happy as a woman?" he asked.

"Very," she replied.

Again, she noticed him staring at her, but this time there was a different quality to it. His look appeared wistful.

"Is our conversation confidential?" he asked.

"Of course," she responded.

He turned back to the horizon. "I've been a crossdresser for years. Back in the seventies, I was part of a sorority for crossdressers. Most of us were married, or were at the time, and it gave us a chance to dress up and have some fun. We'd have events in different places, and sometimes our wives even joined us. In the beginning, my wife tolerated my 'little quirk,' but she eventually tired of it, and we divorced in 1982. At the time, it cost me a pretty penny to buy her silence. But I have to give her credit; she never betrayed me. After we were divorced, I thought about going through the change, but my career on Wall Street was really starting to take off, and I knew my father would disown me." He stopped and slowly turned back to her. "So I just stayed in the closet."

He fell silent, and Erin was at a loss as to what to say.

"Was it hard for you—I mean your transition?" he asked, ending the awkward silence.

Now it was her turn to look wistfully out to sea. "I lost most of my friends, but the hardest thing was losing my marriage. I loved my wife, Lauren, very much, and I hoped we could stay together. But she's not a lesbian, and she wanted to be with a man. I get it. I just didn't fit the bill anymore. My dad and brother struggled with it. But my brother and I are okay now, and things with my dad are getting better. My mom has been very supportive, and that's been really helpful. My law partner has been great, so at least I didn't have to start over again professionally. There were some bumps, but things have definitely gotten better."

"I'm glad to hear that. I'd like to hope that things are getting better for transgender people. Back in the seventies, when I thought about going through the change, being transsexual was almost unheard of. I saw what happened to Renée Richards, and I decided I wanted no part of being in the limelight." He inhaled. "I don't know; it just wasn't an option for me. I did what I needed to do to survive."

The sound of a phone ringing startled both of them. He reached into his pants pocket, took out a cell phone, looked at the display, and hit IGNORE. Before he could even return the phone to his pocket, it vibrated. Again, he looked at the display, his face contorting with confusion. Then the phone rang again.

"Who is this?" he demanded, spinning around to peer over the dunes at his house. She could hear a muffled voice on the other end but had no idea what they were saying. After several seconds, Montgomery disconnected.

"I apologize," he said. "But I was just reminded I have to meet with someone. I think it's best if you leave by going off the beach at the Forty-eighth Street exit," he said, pointing in the direction of the exit. "Please don't take it personally, but it's best if my company doesn't see us together." He looked at her, his eyes conveying his disappointment. "I was hoping to take you out to dinner and continue our discussion. Perhaps we could meet for dinner one night up near my home in Short Hills. I think we'd have a lot to talk about."

"I'd love that," Erin replied.

He shook her hand. "Until then."

"Until then," she replied with a warm smile.

Tuesday, May 26, 2009, 1:30 p.m.

"PUT ALL THIS SHIT IN ENGLISH FOR ME," WILLIAM TOWNSEND demanded as he paced behind his desk.

Milo Corliss, Townsend's campaign manager, looked down at his laptop, making it clear that he expected his assistant, Sarah Meadows, to deliver the bad news. Corliss was no fool. He knew it was hard to deal with Townsend when all they had was good news—and this was decidedly not good news.

After an annoyed look at him, Sarah sighed. "Will, what our polling is showing is that four weeks ago you had a ten-point lead over Welch among likely Republican voters, with a margin of error of plus or minus three points," Meadows hesitated. "Unfortunately, as of our last polling, which was tabulated on Friday, you are only holding a four-point lead. Given the margin of error, that means it's now an extremely close race."

"What the fuck!" Will exploded. "How can that little shit be catching up to me? Damn it, Milo. I'm paying you good money. What the hell is going on?"

Corliss, who had handled all six of Townsend's successful campaigns for state senator, took a deep breath. Will Townsend was one of the wealthiest and most powerful politicians in the state. He could literally make and break careers, which meant he was not someone you wanted to piss off.

"Will, you are a middle-of-the-road conservative Republican. Welch is far to the right, but some of the things he's saying are appealing to a vocal minority of the party who are now calling themselves Tea Party Republicans. They love the guy. He probably doesn't have a snowball's chance in hell of winning a general election in New Jersey, but folks are paying attention to him. And Terry is considered even more liberal than you are," he added, referring to Theresa Posten, who was Townsend's running mate.

"They're right, Will," Michael Gardner said from where he was sitting in the back
We hope you are enjoying the book so far. To continue reading...
Remain Silent
Robyn Gigl
Copyright © 2023 All Rights Reserved