Book info
Sample
Audiobook
Media
Author updates
Lists
Synopsis
A generation after a global plague depletes humanity and divides the world, Jenn and Mykol are brought together by a mysterious project and uncover a secret that changes everything they think they know.



On Jenn's side of the city's impenetrable walls: power, military discipline, and unimaginable technology. On Mykol's: darkened streets, deteriorating infrastructure, and a tedious job prying haunted memories from the electronic devices of those long departed. When the orphan Jenn risks everything to learn about her hidden past and her father's possible connection to the world's collapse, she and Mykol discover a secret that binds them together while glimpsing the strange reality behind the all-powerful Thomas Gibson and his Provisional Authority. Their next desperate step is attempting to save humanity from what it has wrought.



Project Chrysalis is a thrilling and terrifying portrait of how human technology might create a post-human world, and a meditation on what place love and memories would have within it.
Release date: May 30, 2023
Publisher: Permuted Press
Print pages: 272
* BingeBooks earns revenue from qualifying purchases as an Amazon Associate as well as from other retail partners.
Listen to a sample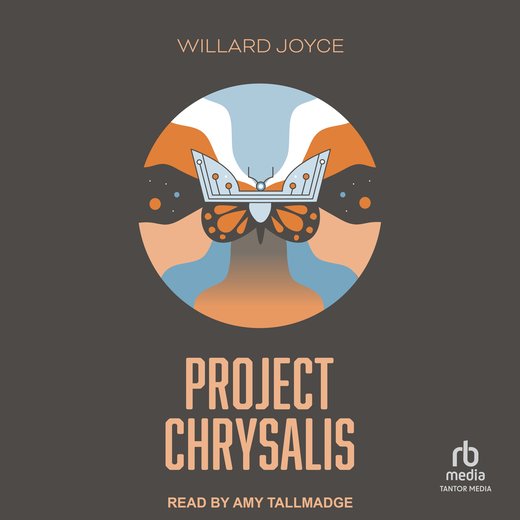 08:16:22
227.24 MB
May 30, 2023
Tantor Audio
2023
Project Chrysalis
Willard Joyce
Peering into the jagged innards of broken machines, Mykol Krusos wondered what was left to save and why it was even worth saving. You could fix a device, but the person who had once used it succumbed, along with billions of others, during the Grip that began twenty-five years ago. The promises of a new day coming felt hollow, and Mykol found himself increasingly wondering what was the point of it all.
You think too much. Mykol's father had told him this ever since he was a young boy—even when his dad said it fondly, it still triggered spirals of anxiety and doubt. Mykol had a mind that churned with too many possibilities.
"There's no need for solving problems anymore," Mykol's father said, years ago. "There's so little left. Relax and live your life and just deal with what's in front of you."
Mykol knew that it took approximately eight minutes for the light from the sun's effectively eternal nuclear explosion to reach the grime-smeared windows of the Ellison Machine Shop. It seemed a lot of bother to travel that far and barely light up a dim and dusty room.
The little light that made it through that front glass illuminated shelves of broken things, musical instruments without power jacks, and handhelds and laptops that no longer provided any kind of service in an analog world.
Mykol rubbed his eyes until he heard a squish; he opened them and watched the room pulsate with blurs and stars. None of these machines served the function for which they were built, not since the internet and the power grid crashed twenty-three years ago, six months after he was born. He took some of the machines home to play with, the ones with no appeal to anyone, and wired them to calculate and communicate with one another.
There were stories in nearly all of them. He collected these useless data storage lockers for the Provisional Authority, a monotonous job that caused time to flatten as though tethered by lead weights.
The gewgaw plugged into his cluttered workstation was somebody's old smart phone. It wasn't very smart now. Nearly everyone had possessed one of these and depended on it for just about every aspect of life. That was a fairytale fantasy now. It hadn't been that long ago—there were literally millions of people in the world who were still alive and remembered those times. His own father was one of them. Mykol and his father were all that remained of an extended family that once numbered in the dozens, gone with the other billions. Whatever genetic oddity of random chance that had spared Mykol had also spared his father, who now mostly went days on end without speaking, leaving his room, or acknowledging anyone's existence.
The smart phone had a badly cracked screen, but it fired up its white semisphere logo
against a black backdrop when Mykol plugged it into an adapter and gave it juice. Within a minute or so, it popped up that classic operating system with a grid of colorful squares against a customized backdrop—in this case, a photo of two small children smiling on a patch of grass in the sun.
Those children hadn't grown to adulthood; it was almost certain. Numbers were numbers. Ninety-seven out of a hundred died. It had taken less than three years from start to finish. Sometimes Mykol would pull out some of the history caches from school, to reflect on those months and think about what it had been like before. When his mother was still alive.
He plugged the phone into his station's storage drive and hit the upload—photos, messages, emails, videos, contacts, everything personal and unique to this device. It took about thirty seconds. Mykol opened the photo application and took a quick scan through its contents. Sometimes there were nudes and other personal images such as scantily dressed women who seemed to be promoting exotic places he'd never seen and products whose use he barely understood, but more often it was stuff like he was seeing now as he flipped through dozens of files and absorbed as much as he could take. Men and women, children, dogs. Older people. Landscapes he'd never seen. Group settings: work, holiday parties, maybe Friday night get-togethers (people still clung to the tradition of the weekend these days, although it was rare to see a watch. Schedules tended to be fluid and based on the position of the sun).
He'd seen as much of the past as he could bear. Mykol unplugged the phone and, with a practiced twist, cracked it open with a slim, metal tool. He knew the insides of this model well. He put on his magnifying lens and quickly stripped out the battery, depositing it into a tray by his workstation that was bathed in a beam of golden light. He'd soon have enough to meet his daily quota, but he wasn't particularly eager to go anyplace else.
The shop door opened with a grinding creak. There used to be an electronic chime to signal visitors, then an old bell after that broke dow
n. After that died, no one bothered to replace it.
A loud, rattling throat clearing in the back of the store signaled that Grigori had stirred from his nest of electrodes and circuit boards. This was rare enough to make Mykol swivel and lower the magnifying lens strapped to his forehead.
Mykol went to the front counter. He blinked in a ray of sunlight. The visitor was a dark silhouette; outside the window, a tattered sign over an empty storefront fluttered in the breeze.
"Hello?" said a young woman's voice. "You. You work here. Can you help me?"
Mykol blinked. Grigori's music blipped and farted in back, electronic sounds from a party that had long since shut down. For such a dour character, he had a taste for relentlessly upbeat tunes.
Mykol stiffened with shock. His visitor was probably about his age. But she was dressed in the intimidating uniform of an officer of the Provisional Authority—the starched blue, patches and insignia below her right clavicle, her hair pulled back tight from her forehead and tucked into a gray cap.
"You're presumably not mute?" she said, her breezy arrogance tinged with humor.
"I work here, yeah." He felt as though she was an unflattering mirror, revealing his stubbled face, his worn and faded clothes, the fact that he had just been trawling through someone's memories.
"I need help with this." Her tone implied she was accustomed to being obeyed. She reached into her shoulder bag and produced a plastic data stick.
"What do you want me to do with this?"
Her gaze froze as she caught a reflected glimpse of light in one of the mirrors.
"How many of you work here?" she asked.
"Four," Mykol replied. "Only two of us are here at the moment."
"Precious metal and battery extraction along with memory archival?" she said.
Mykol nodded. "And some repairs, when we're done with Authority business for the day." He turned the data stick over in his palm. It was an old one, with a logo he didn't recognize. These things had once been ubiquitous. They were limited in capacity, and were also once an excellent means of transmitting pernicious computer viruses.
It had been almost a quarter century since the collapse of the internet. According to Provisional Authority Chairman Thomas Gibson, its restoration was imminent. But he had been saying that for almost as long as it had been gone. With his black turtlenecks, trimmed goatee, and placid gaze, Gibson's was a familiar and seemingly ageless face on the televisions that broadcast Provisional Authority messages—though his commitment to the lives of ordinary people was suspect at best.
"Can you read what's in there?" she asked. "And transfer it for me?"
"That won't be a major problem." Mykol thought for a moment. "This is old PC stuff. It's definitely an antique. I'll have to find a compatible jack, then link that up to the main system."
He felt confused—and worried. This woman was Provisional Authority. She had access to technology that people who lived outside those walls—such as Mykol—could only dream about. Not only that, her uniform marked her as an officer—Authority staff at the compound took orders from her; she had incalculable clout. So what was she doing at Ellison's?
"Here's the thing," she said. He looked into her eyes and saw the flicker of parallel lines that marked her retinal implant. She seemed to be monitoring data input in the lower right quarter of her visual field, judging from the way her gaze flickered. It was well known that Provisional Authority officers and staff also wore complicated biometric monitors—supposedly for their own good, but Mykol was chilled by the idea.
She snapped back to focus on him. "The data on this device is entirely personal. It's of no value to anyone but me. I'm hoping you can have it converted and copied manually to my wallet."
"Is this an Authority request?" A wave of anxiety came in hard and tightened its grip around his throat. The last thing he wanted was to get involved in Authority secrets. People sometimes disappeared, the way many vanished during the Consolidation when the Provisional Authority took power after the Grip led to governments collapsing and institutions imploding. The Authority took over operation of civil utilities and started printing its own money; there were nominal governments in capitols throughout the world, but their status was primarily symbolic. The Authority owned the major cities of the world and was accountable only to itself. No matter how soothing Thomas Gibson made his public pronouncements, ordinary people had plenty of reason to fear the Provisional Authority.
Sometimes people still used the term "provisional." More and more they didn't.
"No, this is not an official request. Think of it as a favor."
She looked him over. Her eyes were light brown and would have been luminous even without the sparkle from the implant. Mykol felt like an unwashed mutt as he took in her effortless poise. Then he reminded himself of the danger she represented.
"OK, I can look at it that way," he told her. "It's just there's paperwork—"
"I'd like to avoid official channels, if you don't mind." She glanced out at the street; a couple was walking past, pushing a baby stroller, carefully maneuvering around the holes in the sidewalk.
He laid the stick on the counter. "Can I please ask—"
"This was a bad idea," she said, momentarily distracted as her eyes flicked left to right. She radiated purpose and intelligence. "I'll just leave now. Thank you
for your time."
He didn't want her to go. The prospect made his insides lurch. "Wait, wait. Nothing official," he said. "I can do that for you. Got it."
She turned and seemed to notice him for the first time. For a suspended moment they were ordinary people, a young man and a young woman. It was thrilling. Then she was all business again.
"That's very kind of you," she said in a neutral tone. "Just so you know, you won't be dealing with anything sensitive. It's primarily photos and letters and personal messages. It belonged to a family member who's long deceased."
Everyone had plenty of those. Mykol had his own mother, his two siblings, his aunts and uncles, his grandparents—all still alive when he was born but who succumbed during the pandemic.
"It'll just take me a day or so. It's nothing too difficult, but I have to fit it into my work quota," Mykol told her. He paused. "Look. If you want to keep this private and accessible only to your wallet, you should come back and I'll transfer it manually. I can do that without uploading into the system."
She gave him a wonderful smile. He was almost certain she was about his age, although that would be all they had in common. He had heard that the younger officers were the talented elite employed on massive undertakings Gibson alluded to in public pronouncements but never really explained.
In his way, he was working on one, too: the Chrysalis Project, which he had been told was going to unlock a new future. He extracted batteries, metals, and memories—though he had no real idea why.
He wished he could ask her about Provisional Authority tech, not to mention the work Gibson said was underway to restore the internet. But asking que
stions of the Authority wasn't a winning strategy.
"I would be so grateful," she said. "What do I owe you?"
He thought about it. If she came back, seeing her again would be enough.
"Don't worry about it. It'll be a fun challenge," he said. "Let me make sure I can read everything first. Sometimes data can be pretty fragged on these old devices."
"I have faith in you," she said. "And we can keep this entirely between us? I promise I'm not putting you in any danger. It's…just important to me."
"Then I guess I'll have faith in you as well." Mykol attempted a smile that, he sensed from her uneasy reaction, came across more like a grimace.
What a clown. Granted, he had never been particularly accomplished when it came to women, but this one had managed to obliterate all but his most rudimentary social skills.
"I'm Jenn," she said and held out her hand. When she was gone, he stared for a long time at the pool of hazy sunlight where she had been, watching dust motes dance.
"Hey, Dummy!" Benny shouted when Mykol pulled back the beaded curtain and let himself into Max's bar.
Quiet music played from a cobalt-colored sound tower in the corner—high-plucked strings and chiming synths, nice and soothing. Mykol lay Provisional Authority cash on the bar and got a lukewarm beer from a bartender whose attention was fixed on a TV showing one of the old reality shows, where a bunch of people who couldn't stand the sight of each other lived together for the audience's entertainment. On another screen the Authority channel was on; Thomas Gibson spoke soundlessly across from an interviewer. The text along the bottom of the screen read Chairman Gibson: The potential of the people is immense.
Some people took the news on the Authority channels seriously, though Mykol thought the reports were full of bullshit optimism and promises of change that never materialized. He could see why people believed in Gibson, though. He had an otherworldly serenity and sense of purpose.
Mykol settled into a ragged chair instead of the plush sofa jammed against the wall; that would have meant sitting next to Benny, who was his best friend but often neglected to bathe, shave, or observe much in the way of personal grooming other than tending to the dirty strips of cloth he wove among the long, tangled clumps of his hair.
Benny had a car that ran more often than not, along with a black-market gasoline connection; between the two, he made enough of a living to spend much of his remaining free time in Max's, situated at a serendipitous halfway point between the Ellison Machine Shop and Mykol's house.
"Good day, Mister Fix-It?" Benny grinned. He was drinking a minty green cocktail that Mykol knew from experience tasted like stale chewing gum marinated in rubbing alcohol.
"Pretty standard," Mykol said as he sipped his beer.
The power was on in the neighborhood, but the cooling unit for the beer keg had been out for the better part of a week. He didn't mind; it saved him the temptation of drinking several, then ordering something stronger, which he had recently done too many nights in a row. That had led to a one-sided argument with his checked-out, barely conscious father. It had been one of those nights at home, and Mykol had since felt a tingle of self-reproach in his gut every time he allowed himself to think about it.
Benny stared down at his mobile. He was one of the few people who even tried to make one work, since it was necessary for his car service. Phone service was intermittent at best, dependent on mysterious and unclear factors known only to the Provisional Authority. Most people had gotten used to in-person communication; it was one of the planks of the prevailing anti-tech Unplug philosophy. But an entrepreneur such as Benny had to be plugged in and vigilant
for when the network was working.
"Battery's barely holding a charge on this damned thing," Benny said. "Can you score me a fresh one?"
Mykol looked at Benny's phone, which was held together with strips of frayed tape, its screen spiderwebbed with cracks.
"Tell you what. Let me find you a better phone instead. I keep telling you, a more recent model will hold a charge better and get better reception. We get nice ones in the shop with the daily deliveries. It wouldn't be hard for me to snag you a goodie."
Without looking up, Benny slowly shook his head. They had been best friends too long to continue this discussion.
***
Benny was five and had just started kindergarten when people started dying from the Grip. He had only really talked to Mykol about it once, a few years ago when a shady farmer paid him for a round-trip ride from the countryside with a chunk of hashish. Benny and Mykol had gone into one of the tall buildings downtown, through the shattered atrium with crumbling concrete damaged by decades of exposure to the elements. They made their way up the stairwell through the sounds of squatters' music and the smells of cooking and backed-up bathrooms.
It was a long way up, and they had to stop a couple of times to catch their breath. They finally pushed open the heavy door onto the roof, where no one would be living until the warmer months. There were old beds and discarded food cans piled up along the edge of the deck, but they had the crystalline night all to themselves, with the stars above and sporadic swaths of electric light below. They smoked the hash and started sharing in a way they never did in Max's, or at the burger shop where they sat and watched girls.
In that first wave, when they were collecting bodies at the football stadium and burning them in improvised crematoriums in a futile attempt to isolate the virus, Benny's father developed a fever and was dead by the time the sun rose two days later. Benny had been a month or two into kindergarten; it would be some time before he saw the inside of another classroom. The phones were still working at that point, and his dad's cell kept buzzing all the time even though they had left Dad's body downtown at one of the rolling drop-offs. Benny remembered cars in a line, moving slow, exhaust looping up in the air.
People hadn't totally panicked yet. There was an odd, almost uncanny sense of acceptance, along with a conviction that doing the right thing would stop the Grip from spreading. The wars and refugee crises simmering in the Middle East, Europe, Africa, and Latin America all seemed to evaporate simultaneously. Humanity lost the focus needed
to destroy one another now that an insidious virus had taken on the task. There were still operating governments; for a while, at least.
There was still a president, for instance, but Mykol struggled to remember her name. She was seen on the news updates much less frequently than Thomas Gibson.
Benny's grandmother accompanied her son into the hereafter two days later. Then Benny's mom; all her kindnesses and snacks and security were gone after a long, fever-drenched night. A month after the first wave, his family was pared down to Benny and his sister Teresa. They hadn't been terribly close before, because of the decade-plus difference in their ages and because she was an independent, caustic spirit who was on uneasy terms with the family, but when it was just the two of them, they fell into a routine: getting food, cooking, watching the news, eyeing the street outside nervously after the sun went down.
Their next-door neighbor came by with a Bible and asked if he could pray with them. Teresa slammed the door in his face; Benny appreciated that. They remembered their grandmother, pale and full of fear, kneeling in prayer when the fever settled in. There had been no intercession on her behalf, or for the others who were still being burned a couple of blocks away across from the playground where Benny had once fallen off a swing, split his chin open, and earned his first scar.
Teresa and Benny had eaten spaghetti from a can that night, and it was delicious—he could still remember its tangy smell. He fell asleep with his head on her lap, with her telling him stories about his parents from before he was born, the TV glow casting shadows on the walls and allowing him to fantasize that the rest of his family was just in the other room, playing a joke on him, about to burst in any minute laughing, giving him presents, telling him what a silly boy he was and that he'd better get some sleep because he had to be ready for school the next day.
A week later, they were walking on a side street downtown, where a charity mission was set up and where it was rumored the city was handing out free groceries, when a minivan driven by a feverish, dying man lost control turning a corner, caromed off a pair of parked cars, hurdled over the curb, and struck Teresa from behind. She had been holding onto Benny's hand and, while the car missed him entirely, the force of impact dislocated his shoulder and left him screaming in pain on the sidewalk, not comprehending the enormity of what had happened and what awaited him after a nurse at the charity slid his arm back into its socket and told him that his sister was gone. ...
We hope you are enjoying the book so far. To continue reading...
Project Chrysalis
Willard Joyce
Copyright © 2023 All Rights Reserved