Book info
Sample
Audiobook
Media
Author updates
Lists
Synopsis
A murder in her quaint British bookshop drops American Gothic novelist Penelope Parish into her deadliest caper yet.



Penelope Parish is ready to close the book on her amateur sleuthing—from now on, The Open Book's writer-in-residence will be sticking to villains of the fictional variety while she puts the final touches on her new novel. But when an author is murdered inside the bookshop, all of Upper Chumley-on-Stoke goes on high alert.



Now it's up to Pen and the quirky citizens of Chumley to stop a killer and protect the charming British town she's begun to call home.
Release date: March 1, 2022
Publisher: Berkley
Print pages: 320
* BingeBooks earns revenue from qualifying purchases as an Amazon Associate as well as from other retail partners.
Listen to a sample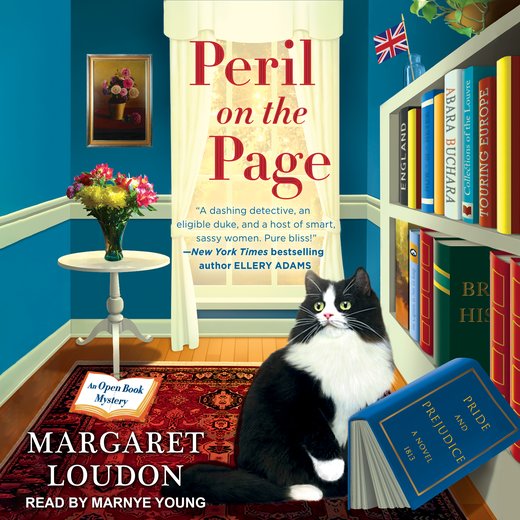 06:50:28
187.9 MB
March 1, 2022
Tantor Audio
2022
Peril on the Page
Margaret Loudon
One
Penelope Parish loved her position as a writer in residence at the Open Book bookstore in Upper Chumley-on-Stoke, England. She never knew what to expect. One thing she certainly hadn't expected when she'd crossed the Atlantic and set foot on these shores was to be involved in a murder. So far she'd been involved in two. But that was all behind her now and she could focus on writing her book and helping Mabel Morris, the owner of the Open Book.
At least that's what she told herself.
Today they were getting ready for a book launch at the bookstore. Stepping into the Open Book was like stepping back in time, with its low ceiling crisscrossed with wooden beams and the large diamond-paned front window. It was located on Upper Chumley-on-Stoke's high street, where the storefronts were the original Tudor and all the shops had hand-carved wooden signs hanging out front.
The book launch had been Penelope's idea and she had her fingers crossed that it would go off without a hitch. Mabel had been a bit skeptical at first, but had finally come around and was now as enthusiastic as Penelope was about the event.
Odile Fontaine, an art teacher at the Oakwood School for Girls just outside Chumley, had written a book called You Can Paint and the book launch was being combined with a wine and paint party.
The event had stirred up considerable interest, and a photographer for the weekly newspaper the Chumley Chronicle had phoned to say she planned to attend and take pictures.
Odile was a member of the fiction writing group Penelope had recently started and was a teacher at the Oakwood School for Girls. The headmistress, Maribel Northcott, had invited Penelope to conduct a seminar for the students there. Penelope was quite pleased that her master's degree in Gothic literature was finally being put to good use.
Of course that same degree had driven her to write Lady of the Moors, which, much to her surprise, had become a bestseller, so perhaps the money on her education had been well spent after all, in spite of what her mother was always saying. It was the writer's block that she'd been stricken with while working on her second book that had pushed her to apply for the writer-in-residence position at the Open Book, hoping that a change of scenery would spur some creativity.
Life in Upper Chumley-on-Stoke, a medieval town about an hour from London, had worked its magic and Penelope's second book was due to be published at any moment.
Pen was arranging a stack of Odile's books on a display table when Mabel approached her.
Mabel ran a hand through the fluffy white hair that made her look more like a grandmother than the former MI6 analyst she'd been.
"I've cleared a space for the easels to be set up," she said. She frowned. "They are bringing the easels, right?"
"Yes. Odile is taking care of everything-the easels, paints, aprons for the participants, and the wine." Pen looked toward the bookshop's tearoom, which was run by Lady Fiona Innes-Goldthorpe, or Figgy, as she was more familiarly known.
"Figgy is providing some desserts-cakes and cookies, that sort of thing."
Mabel nodded. "Good. Best to have something to soak up the wine." She looked around. "It appears as if everything is in order, then," she said, giving a relieved smile.
The bell over the front door tinkled and Odile Fontaine, the subject of that evening's book launch, swept in. She was a fairly tall woman-although not as tall as Penelope's nearly six feet-big-boned, and had a purple beret perched on top of her head of long curly red hair threaded with strands of gray. She removed her cape with a dramatic flourish, sending it swirling in an arc around her that nearly toppled the sign on one of the display tables.
She was wearing a bloodred skirt, which flowed around her ankles, with a purple tunic over it and a necklace of large mustard yellow beads that looked hand carved.
Penelope took the cape from her and hung it on the coat stand near the front door.
Odile had brought an almost palpable sense of excitement into the store with her as well as a whiff of cold air. It was mid-October and the Michaelmas term was underway at the Oakwood School. The leaves on the trees were turning and the residents of Chum, as the town was affectionately known, were digging out their cozy sweaters and boiled wool jackets.
Odile swept over to Penelope and greeted her with an air kiss on each cheek.
"Have you read my manuscript yet?" she said. An armload of silver bracelets jingled as she straightened one of her books on the display table. "I'm hoping to send it off to a publisher soon."
Not content to just publish a book on painting, Odile had taken up fiction as well and had penned a four-hundred-page contemporary romance. Penelope silently groaned. She'd been meaning to get to it and had actually read a few pages, but it was such a slog that she'd given up and had spent the time wondering how she could persuade Odile to stick to painting instead.
The door opened again, sending a chilly breeze through the shop that ruffled the pages of the flyers sitting out on the front counter. A young man stuck his head into the store.
Odile glided over to him, her long fluid skirt swishing about her legs.
"I've got the gear," the young man said. "Where do you want it?"
Penelope hastened to join them. She glanced out the window and saw a large van with the Oakwood School crest on the side double-parked in front of the Open Book.
"There's another entrance behind the shop," she said, and directed the young man to an alley that ran alongside the Open Book and led to a back door that opened into the storage room.
"Cheers." The young man gave a sketchy salute, turned around, and hopped into the driver's seat of the van just as the driver of the car behind him began to lean on his horn.
"That's Grady Evans," Odile said, as the van pulled away. "He takes care of the grounds at the school and does odd jobs for Rodney Simpson, who is in charge of maintenance. I asked him to cart my supplies over here for me."
The door opened again and a gentleman walked in. He had thick gray hair brushed back from his forehead in a wave and round tortoiseshell glasses. He was wearing a tweed coat with a velvet collar and leather gloves, which he pulled off as he walked toward Odile and Penelope.
Odile smiled and put her hand on the man's arm.
"Penelope, this is Quentin Barnes, my significant other, as the young people say." She smiled up at Quentin. "He teaches history at the Oakwood School." She turned to Quentin. "Quentin, this is Penelope Parish. This event was her brilliant idea."
Pen crossed her fingers. She hoped her idea would turn out to be brilliant.
"Will you be doing a painting?" Penelope said to Quentin.
"Heavens, no. I'm just here for moral support and to say good-bye." He gave Odile a peck on the cheek and glanced at his watch. "Unfortunately I can't stay long. I have a conference in Bristol that starts early tomorrow morning, so I'm heading out tonight." He turned to Odile. "I'll be at the Bristol Harbor Hotel if you need to reach me."
"Well, I hope you can stay for a bit. I've got some of that wine you fancy." Odile took his arm and led him over to the display table where her books were piled up, waiting to be signed.
A few minutes later Pen heard Grady knock on the back door and ran to open it.
Grady sidled through the door with several easels tucked under his arms.
He was tall and sinewy, with dark brown hair long enough to flop onto his forehead. He was wearing faded and worn jeans, a plaid flannel shirt with the sleeves rolled up, and work boots. Penelope could see goose bumps on his arms.
"You must be freezing without a coat," she said.
Grady shrugged. "I left my jacket in the van. I'm okay." He nodded at the easels he was holding. "Where do you want these?"
"We've cleared a space at the front of the store," Penelope said.
"Righto."
Penelope led him toward the area where she and Mabel had decided to hold the event. They'd shoved some display tables out of the way to create a large enough space for the painting party.
"Why don't you lean them against that table over there." Odile pointed to a spot. "You can help me set them up after you bring everything in."
Grady nodded. "I'll go get the rest of the gear." He loped off through the store toward the back entrance.
Moments later he came back with a handcart piled with cardboard boxes.
"Let's have those over there," Odile said, pointing to a spot off to the side. "Now we can begin to set up the easels."
Grady, who had briefly paused and was leaning against one of the display tables, reluctantly shoved off and began placing the easels according to Odile's instructions.
"What do you have here?" Mabel wandered over and peered into one of the open cartons.
"Paints, palettes, aprons." Odile ticked them off on her fingers. "And that last one there is the wine." She whirled around to face Penelope. "Do we have glasses?"
"Yes, no problem."
"Hello!" Figgy called as she wheeled a tea cart over to them, its wheels rattling as she pushed it across the floor.
Her short dark hair was gelled into spikes and looked as if she'd run her hands through it haphazardly, and she was wearing one of her vintage thrift store finds-a flowered peasant dress with an empire waist-a style that had been popular in the nineteen seventies. She'd paired it with black ankle boots and large hoop earrings.
Penelope glanced at the tea cart and her stomach rumbled, reminding her that she hadn't had dinner yet. She'd been working on her third novel and had become immersed in it-something that sadly didn't happen every time she sat down to write. Her writing room at the Open Book-a small space barely bigger than a closet with a desk and a chair and nothing else to distract her-was windowless, and she hadn't seen the sun going down and darkness descending. She wondered if there was time to dash across the street and pick something up from the Chumley Chippie.
"I've made some shortbread cookies, Jaffa cakes, and jammy dodgers," Figgy said, pointing to the various platters.
"What on earth is a 'jammy dodger'?" Penelope said. "It sounds like a position on a baseball team." Penelope put on an announcer's serious voice: "And John Smith has been drafted for the jammy dodger position with the New York Yankees."
Figgy laughed. "It does rather sound that way, doesn't it? They're shortbread cookies with jam filling. They're quite lovely." She pointed to the tea cart. "There's a Victoria sponge as well and some slices of Madeira cake." She frowned. "I think that should do."
"It certainly should," Pen said, pushing her glasses up her nose with her finger. She glanced at the tea cart again, longing to grab a slice of the Madeira cake. It had become one of her favorites since arriving in England. It was like a pound cake, but moister and with a hint of lemon flavoring. According to Figgy, the Victorians used to serve it with a glass of Madeira in the afternoons and that was how it had acquired its name.
Grady, meanwhile, had set up the easels and the folding chairs Mabel had rented for the occasion and Odile was organizing the paints and palettes.
Penelope glanced at the clock. The wine and paint participants should be arriving any minute now. She nixed the idea of running to the Chumley Chippie. A slice of Figgy's Madeira cake would have to do.
Fortunately for Penelope, she had been blessed with the sort of metabolism that made it hard to gain weight and it didn't help that she often forgot to eat until hunger finally drove her to think about having a meal.
The shop door opened again and two women entered, their faces red from the cold and their hands fluttering in excitement.
Odile introduced herself and invited them to choose a spot and take a seat.
India Culpepper was the next to arrive. She was wearing the English gentlewoman's uniform of a waxed jacket, plaid wool skirt, twin set, and a strand of yellowing pearls. She was distantly related to Arthur Worthington, the Duke of Upper Chumley-on-Stoke, and lived in a cottage on the grounds of the Worthington estate.
The family money, handed down through generations of Worthingtons, hadn't reached India to any substantial degree, and her sweaters were likely to be darned and her shoes rather worn at the heels. Figgy kept her supplied with cookies and cakes from the tea shop at no charge, and Mabel often hunted out used copies of the books India wanted to read.
But India was a proud woman, as befitted the aristocrat she considered herself to be, and never complained about her lack of funds.
Penelope guessed that India's interest tonight didn't lie in wine and painting but rather in the contents of Figgy's tea cart.
Gladys arrived next, her face red from rushing across the street. where she and her husband owned the Pig in a Poke, Chumley's butcher shop. She took off her coat and squealed when she looked down at herself.
"I've forgotten to take me apron off," she said, laughing and slapping her thigh. She whipped it off quickly and hung it from the back of the chair she'd chosen next to India.
Several more women arrived, chattering like birds and fluttering around the shop. One of them went over to talk to Odile.
The bell over the front door tinkled as it opened and everyone's head turned in that direction. Several of the women gasped in surprise when the Duchess of Upper Chumley-on-Stoke walked in. Charlotte Davenport had married the Duke of Upper Chumley-on-Stoke in a magnificent ceremony at Worthington House that had been the talk of the town from the moment it was announced. Not all the talk had been positive, though-not only was Charlotte an American, but she was a romance writer, and neither of those things sat well with a lot of the residents.
We hope you are enjoying the book so far. To continue reading...
Peril on the Page
Margaret Loudon
Copyright © 2022 All Rights Reserved