Book info
Sample
Audiobook
Media
Author updates
Lists
Synopsis
"As fun and frothy as a Britney concert mashed up with a musical comedy . . . warm, engrossing, and satisfying in every way."—Entertainment Weekly (One of the Best Romance Novels of Spring 2023)

From the bestselling author of Funny You Should Ask comes "a pitch-perfect second chance romance with off-the-charts tension and chemistry" (Carley Fortune, author of Every Summer After).

Then. Katee Rose is living the dream as America's number one pop star, caught in a whirlwind of sold-out concerts, screaming fans, and constant tabloid coverage. Everyone wants to know everything about her and her boyfriend, Ryan LaNeve, the hottest member of adored boy band CrushZone. Katee loves to perform but hates the impossible demands of stardom. Maybe that's why she finds herself in the arms of another CrushZone member, Cal Kirby. Quiet, serious Cal, who's always been a good friend to Katee, is suddenly Cal with the smoldering eyes and very good hands. One unforgettable night is all it takes to blow up Katee's relationship with Ryan, her career, her whole life.

Now. Kathleen Rosenberg is okay with her ordinary existence and leaving her pop star image in the past. That is, until Cal Kirby shows up with the opportunity of her dreams—a starring role in the Broadway show he's directing and a chance to perform, the way she's always wanted. The two haven't spoken since the joint destruction of their careers, and each of them blames the other, making their reunion a tense battle of wits and egos. Kathleen reluctantly agrees to the musical, as long as she keeps her guard up around Cal. But rehearsals are long, those eyes still smolder, and those hands are still very good. Despite everything, Kathleen can't deny the chemistry between them. Is it ever a good idea to reignite old flames? Especially if you've been burned in the past?
Release date: May 30, 2023
Publisher: Dell
Print pages: 416
* BingeBooks earns revenue from qualifying purchases as an Amazon Associate as well as from other retail partners.
Listen to a sample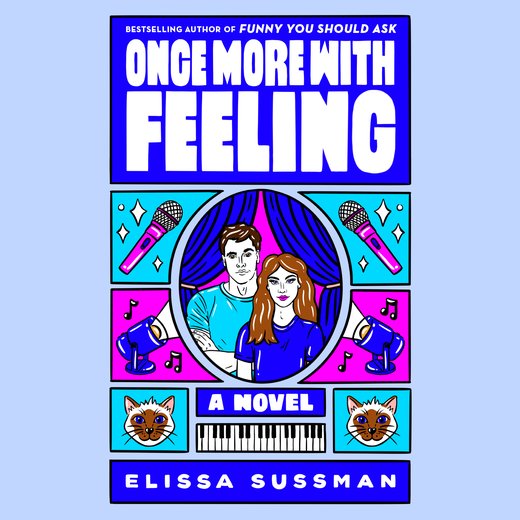 09:12:30
252.93 MB
9780593668658
May 30, 2023
Penguin Random House
Once More with Feeling
Elissa Sussman
OVERTURE
It was trial by fire, musical theatre–style.
Once our bags had been unpacked, instead of the first-day bonding activities I was accustomed to at my usual Jewish summer camp, everyone had been herded into the theatre and told we'd be auditioning for the end-of-summer showcase.
Right. Now.
Camp Curtain Call was not fucking around.
Most people would be shaking in their boots, but I wasn't. I was more than up for the challenge. I was ready.
It was exactly the reason I'd wanted to come here in the first place.
I had it all planned out.
Step one: Convince unsupportive parents to spend bat mitzvah money on expensive, exclusive theatre camp.
Step two: Astonish everyone at said camp with my talent, charm, and can-do spirit.
Step three: Perform—to a standing ovation—at the end-of-summer showcase, impressing an audience full of agents, managers, and other theatre powerhouses.
Step four: Theatrical domination.
I sat in the back row and observed my competition.
Even though I'd anticipated step one to be the hardest to pull off, I knew the rest wouldn't be a Sunday walk in the park. There was talent here—plenty of it—but that didn't discourage me. There was no pride in being the best of the subpar. If anything, this would make my triumph all the more glorious.
Auditions were being conducted alphabetically, so I had the advantage of watching everyone with last names from A to Rosenberg go before me. We were an hour in, and I'd already changed my audition song twice, after watching the front row of instructors sigh at yet another rendition of "I Dreamed a Dream" and "Don't Rain on My Parade."
Luckily, I'd prepared at least a dozen potential performances, ranging from the expected to the more obscure. Right now, I was debating between "If I Were a Bell" and "Lion Tamer." One was funny, one was wistful. Most singers were leaning toward the latter, so I was leaning toward the former. Luckily, I was excellent at both.
It was essential that I stand out.
The next camper stepped onstage.
"Rachel James," she said, her hair thick and shiny, her teeth perfect.
There was a soft groan next to me. I glanced over to find a face scrunched with disdain behind big, round glasses.
"It's a stage name," she said when she caught me looking. "Her real name is Rochelle Illowski."
A stage name. I was probably going to need one of those.
Though, when I imagined receiving my (first) Tony Award, it had always been "And the winner is Kathleen Rosenberg!"
I could tell, from the way the instructors leaned forward, the way the whole room went quiet, and the straight line of her shoulders, that Rachel knew what she was doing.
And she did.
Her voice was gorgeous. Crystal clear and emotive.
We weren't supposed to clap after auditions, but half of the campers did anyway. No one stopped them.
"She's good," I said.
"She's been on tour," the girl with glasses said.
I was unspeakably jealous. And a little nervous.
"Wow," I said.
"She's a bitch."
I looked at my new friend, surprised and delighted by the outburst. She shrugged.
"She put pine cones in my bunk last year," she said. "And stole my signed Rent playbill."
"That bitch," I said, and meant it.
"I'm Harriet," she said. Her box braids were pulled up away from her face in a towering twist.
"Kathleen," I replied.
We shook hands.
"First summer?" she asked.
I nodded.
"Fourth," she said.
"You must know everyone," I said.
She shrugged, but with a pleased smile.
"It is very nice to meet you," I said.
I meant that too. A Rent fan and someone who knew the ins and outs of Curtain Call? It was as if the patron saint of musical theatre—Stephen Sondheim—was smiling on me.
Perhaps.
"What do you sing?" I asked.
"I'm an alto," she said.
Lucky indeed. A new friend that I didn't have to compete with.
"But I mostly write songs," Harriet said.
"You write your own songs?" I asked.
She nodded.
It was like she'd just confessed to having a superpower.
"You're my new best friend," I said.
"Okay," she said.
Harriet knew everyone and everything about them. At least the important things, like how many summers they'd been attending, if they'd been featured in the showcase, and if they'd ever performed professionally.
"That's Courtney," she'd say. "Six summers. Was only in the showcase once and it was an ensemble role."
Or "That's Shauna. Only her second summer, but she had a duet last year."
Or "Corina wasn't here last summer, but she was the summer before. I think she was in the chorus."
It was a little like being with my dad when he was reciting baseball stats. Only actually interesting.
"Who. Is. That?" I asked.
My attention was completely captivated by the most beautiful man I'd ever seen. And considering that he looked at least sixteen, he was definitely a man. He had floppy hair cut like a curtain in the middle of his forehead and a puka shell necklace, and I couldn't stop staring at the way he'd looped his thumbs into his cargo shorts as he rocked back and forth on his heels. He had nice legs too. Strong and
tanned.
"Calvin Kirby," he said, standing center stage.
Every hormone in my body went off like overheated lightbulbs. Pop. Pop. Pop.
He was a baritone.
I was in love.
NOW
CHAPTER 1
I'd made a terrible mistake.
Well, two terrible mistakes.
The first was agreeing to the lunch. The second was not insisting that Harriet and I arrive together. We would have been late, because Harriet was always late, but it would have been better than being early, which I was because I was always early.
Cal too, apparently.
He was already seated when the waitress escorted me back. He glanced up as I approached.
Three mistakes.
The grainy headshot that the trades used whenever he was mentioned was at least five years old, and now that he was here, eyes locked with mine, it was clear that photo hardly did him justice.
He stood and seemed to go up and up and up. Had he always been this tall?
His clothes fit well. He had a five o'clock shadow that had arrived just in time. His hair was artfully tousled. I imagined him wearing mirrored sunglasses while driving through Brooklyn in a convertible, causing everyone to stop and stare.
"Kathleen Rosenberg," he said.
And then there was his voice. I'd forgotten—worked hard to forget—just how fucking good it was. How deep and resonant.
God. I felt it in my toes and my fingertips.
"Well, well, well," I said. "If it isn't Calvin Tyler Kirby."
His cheek twitched, but his polite—fake—smile didn't falter.
He hated being referred to by all three names. Which was exactly the point.
Cal should consider himself lucky that I wasn't using his even more loathed nickname.
In fact, he should consider himself lucky that I showed up here in the first place. The last time we'd seen each other, he'd called me a "mistake" and I'd told him to get the fuck out of my life.
He'd obliged.
My feelings about him hadn't changed, but circumstances had. And I'd promised Harriet I'd hear him out.
"It's good to see you," he lied, holding out a hand.
"Come now," I said.
Placing my hands on his shoulders, I leaned up and gave him two loud, obnoxious air kisses. His muscles tensed beneath my palms. His cologne—like an orange grove—wrapped around me. I ignored how good all of it felt, let go, and stepped back.
"Shall we?" He gestured toward the table.
We sat.
It was like being in a sauna of awkwardness. I could feel it in my pores.
"It's been a while," I said. Understatement of the century.
Cal raised an eyebrow but said nothing. His menu was apparently fascinating.
I was fairly certain, despite his unruffled exterior, that Cal was doing exactly what I was doing—which was recalling the last time we'd been in a room together, exchanging barbs. We'd both said some unkind things.
How long had it been? Ten years? Fifteen?
It didn't really matter. I could still remember the disgust and disappointment in his eyes. How he'd turned away, not looking back as he left me alone to deal with the consequences of our shared actions.
I wondered if he felt bad about it now, or if he still thought I'd deserved what happened.
The complete lack of apology seemed to indicate he had no regrets.
Well, that was fine. Fucking fine.
Because it wasn't like I was about to accept an apology, even if he had offered one. Sorry wasn't enough to repair what had been broken.
My career. My spirit.
I knew I was being dramatic, but I was quite certain Calvin Tyler Kirby wouldn't expect anything less.
"Harriet's always late," I said, even though I was sure he knew that.
"I'm in no rush," he said, still examining his menu.
I wanted to reach across the table, rip it out of his hands, tear it into a million tiny pieces, and force him to look at me.
"Fantastic," I said through clenched teeth.
I should have turned my attention to my own menu but found myself staring at him instead. At all the ways time had changed him. I tried imagining his younger self superimposed over this one, contrasting the gray in his hair and the lines around his eyes with my memory of him with frosted tips and eyeliner.
Had he done the same to me when I walked in?
I would deny it if pressed, but I'd put extra effort into my appearance today. My hair hadn't been blond since my Katee Rose days, but I'd taken the time to tame and style it, resisting the urge to dye my own multiplying grays.
The weather was that charming in-between of winter and spring, when days had an equal chance of being floral and bright or chilled and slushy. It had been nice when I left my apartment, but there was no guarantee that it would stay that way. I'd worn jeans and a lightweight sweater, but I knew for a fact that Cal had noticed the fit of both si
nce his gaze had darted downward—just for a moment—when he first saw me. It was gratifying to know that the boobs that had earned me the moniker "Titty Rose" from the tabloids continued to maintain their stage presence after all these years.
"Is there something on my face?" Cal asked.
He hadn't even looked up.
"Just your eyes, nose, and mouth," I said sweetly.
If he was trying to catch me off guard, he was going to have to try a lot harder. I was ready for him. Crouched, with tail twitching, just waiting for an opportunity to attack. I might have gotten softer and rounder since he last saw me, but I'd sharpened my claws. Donned some armor. If he thought he was dealing with the person I'd been back then, he was going to be sorely disappointed.
Katee had trusted him.
Kathleen knew better.
"I've heard the grilled octopus is good," he said.
"It is," I said.
He finally lifted his eyes to meet mine.
"How good?" he asked.
He was asking about the octopus, but also, he wasn't.
"Best you've ever had," I said.
He smiled at that.
I'd forgotten about his stupid fucking dimples.
"Sorry I'm late," Harriet said.
We both started at that. I hadn't even seen Harriet approach. In fact, for a moment, I'd completely forgotten that she was the reason I was here in the first place.
I wanted to blame the dimples.
Cal rose to greet Harriet, giving her a hug. I did the same.
"Give him a chance," she said in my ear.
I sat, and the smile I offered was all teeth. Sharklike.
"Kathleen was just telling me how great the grilled octopus is," Cal said.
"Life changing," I said.
That earned me a sharp kick from Harriet under the table. It stung, but not as bad as learning that my best friend had been cavorting with my archenemy for months behind my back.
Okay. Cavorting wasn't quite the right word.
Plotting. Collaborating. Scheming.
We ordered—Cal got the octopus—and once the server had gone, Harriet's gaze bounced between the two of us as if she were waiting for a bell to go off and one of us to take the first swing.
It wasn't going to be me.
"I appreciate you taking the time to meet with me," Cal said. "Thank you."
I hated how polite and formal he sounded. I'd thought it would be awkward enough seeing him again after everything we'd been through, but it was somehow worse to sit here and pretend that none of it had happened. To playact that we were strangers. Professional strangers.
Well. If that's how he wanted to play it.
"Oh no," I said. "Thank you."
There was a pause and Cal cleared his throat.
"Riveted! is a very special show," he said.
Last week when Harriet had asked me to meet her for dinner, I had braced for the w
orst. She'd been distant for months, canceling plans at the last minute and making ridiculous excuses, like that she was busy because she was training for a marathon.
The only thing Harriet had ever run for was Shakespeare in the Park tickets.
We'd gone to our favorite place, Aardvark and Artichoke, and I'd focused on my drink while going through a mental list of all the worst-case scenarios for why she'd been avoiding me. She was sick. She was moving. She was back together with my least favorite of her ex-girlfriends.
It was worse than all those things.
And better too.
"I'd been searching for the right show when Harriet approached me," Cal said.
"It's so crazy," Harriet had told me last week. "He called. Completely out of the blue."
I raised an eyebrow and looked at Harriet.
She stared at her water glass.
"How fortuitous," I said, but knew there was a reason she'd lied.
I couldn't even blame her for the subterfuge.
Riveted! wasn't the first musical Harriet had written. It wasn't even the fifth. Or the tenth.
When we met at fourteen, she'd written at least two dozen songs—and a handful had been quite good. By the time I was touring worldwide as Katee Rose, Harriet had albums of excellent material. She had been on the verge of success, of becoming the kind of songwriter that was in high demand. The person that everyone wanted to work with.
Instead, she was practically anonymous, stuck writing the occasional tune for made-for-TV movies or C-list one-hit wonders. Once in a while, it would seem like she'd be getting another chance, another break, but it always fell apart before anything could happen. She deserved better.
And all I could do was watch and feel guilty all over again.
"Riveted! is fresh, yet familiar," Cal was saying. "It walks that line between nostalgia and innovation."
"It's brilliant," I said.
"It's brilliant," Cal echoed.
At least we could agree on that.
"I want to do a workshop here in New York," Cal said. "Then out-of-town tryouts. Maybe the Globe or the Orpheum, or even somewhere closer to home. And then, if all goes well—and I plan on it going well—w
e'll be taking it to Broadway."
He said all of this with such confidence that it was hard not to feel hopeful.
But hope was a dangerous, capricious thing. Especially connected to Cal Kirby.
"And you'll be directing it," I said.
"Yes," Cal said.
This wasn't just Harriet's show. Yes, she'd written the all-female musical based on the iconic Rosie the Riveter, but one of the three leading roles, Peggy, had been created for me. It was tailor-made to emphasize my known talent—dancing—and also my lesser-known ones, like the fact that I actually had a pretty decent voice under all the auto-tuning management had done to my albums way back when. And even though I hadn't recorded anything in a decade, I knew that auto-tuning happened even more frequently these days. The last record before my forced retirement had been especially egregious—I had barely recognized myself when I'd heard it.
This time if I went back onstage it would be on my terms. With my voice. My name.
I'd tried for years to love something else the way I loved performing.
Money wasn't the problem—I'd been smart and lucky—I had enough to live on, especially since my life wasn't especially extravagant anymore. And there were always residuals from my songs, which still got licensed. In lean times, I taught dance, but mostly I did that to fill the days.
That was the thing I'd had to get used to after my career ended. All the time I had. And all the time I had to myself.
Boredom had been a novelty at first—once the depression lifted—but a novelty that quickly faded.
I took up all kinds of hobbies, trying to find something else that would provide the feeling of being in the spotlight. ...
We hope you are enjoying the book so far. To continue reading...
Once More with Feeling
Elissa Sussman
Copyright © 2023 All Rights Reserved