On Rotation
Available in:
eBook
Paperback
Audiobook
Hardcover
Book info
Sample
Audiobook
Media
Author updates
Lists
Synopsis
ONE OF TEEN VOGUE'S "25 BOOKS BY BLACK AUTHORS THEY CAN'T WAIT TO READ THIS YEAR"
ONE OF BETCHES' "22 BOOKS YOU NEED TO READ THIS YEAR"
"As a fan of Grey's Anatomy (and Chicago Med!), I couldn't put down On Rotation, and you won't be able to, either. Shirlene Obuobi makes you feel as if you're actually right there with the lovable Angie, and I personally couldn't get enough." —Meg Cabot, New York Times bestselling author
For fans of Grey's Anatomy and Seven Days in June, this dazzling debut novel by Shirlene Obuobi explores that time in your life when you must decide what you want, how to get it, & who you are, all while navigating love, friendship, and the realization that the path you're traveling is going to be a bumpy ride.
Ghanaian-American Angela Appiah has checked off all the boxes for the "Perfect Immigrant Daughter."
Enroll in an elite medical school
Snag a suitable lawyer/doctor/engineer boyfriend
Surround self with a gaggle of successful and/or loyal friends
But then it quickly all falls apart: her boyfriend dumps her, she bombs the most important exam of her medical career, and her best friend pulls away. And her parents, whose approval seems to hinge on how closely she follows the path they chose, are a lot less proud of their daughter. It's a quarter life crisis of epic proportions.
Angie, who has always faced her problems by working "twice as hard to get half as far," is at a loss. Suddenly, she begins to question everything: her career choice, her friendships, even why she's attracted to men who don't love her as much as she loves them.
And just when things couldn't get more complicated, enter Ricky Gutierrez— brilliant, thoughtful, sexy, and most importantly, seems to see Angie for who she is instead of what she can represent.
Unfortunately, he's also got "wasteman" practically tattooed across his forehead, and Angie's done chasing mirages of men. Or so she thinks. For someone who's always been in control, Angie realizes that there's one thing she can't plan on: matters of her heart.
Release date: June 21, 2022
Publisher: Avon
Print pages: 384
* BingeBooks earns revenue from qualifying purchases as an Amazon Associate as well as from other retail partners.
Listen to a sample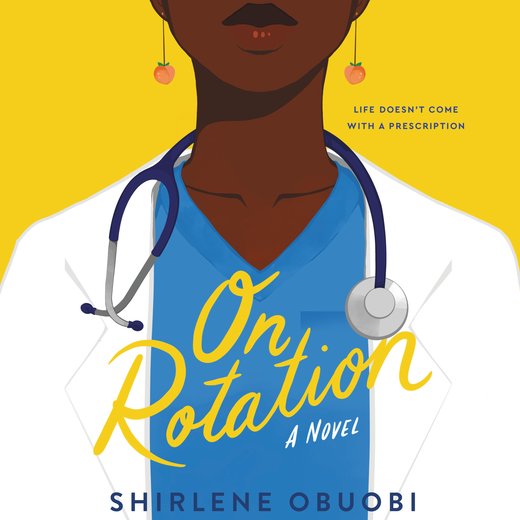 11:28:37
315.24 MB
9780063209176
June 21, 2022
HarperCollins
On Rotation
Shirlene Obuobi
The worst thing I ever did was grow an ass. It announced its presence loud and clear before the rest of my body could figure out what was happening; one day, I was skinny thighs and gangly arms and protruding belly button, and the next, my thighs were bursting the seams off my jeans and my ass was projecting out so far from my back that you could fit a pencil bag down the gap, fit an orange, fit an asshole thirteen-year-old boy's hand. No belt could contain it, and spandex-polyester-blend "curvy"-fit Levi's didn't stand a chance. The Ass had taken over. It didn't care that it was 2002 and asses were out of style. It didn't care that it had robbed me of the chance to be that girl from the movies, the one scrutinizing her slim, toned body in her full-length mirror, peering over her shoulder and asking her bum of a boyfriend "Does this dress make my butt look big?" Because for me, the answer would always be yes, and it would be unjust to blame the dress.
(No, sweetie, movie boyfriends always say. You look great. Three minutes later, they'll complain to their boys about how annoying it is when she asks questions that have no right answer. They'll make fun of the fat chick, for no reason other than fat girls are funny, in the scene after that.)
Real men, the ones who existed off-screen, had no quarrel with the Ass. I knew what it meant to know that a guy was fucking you with his eyes before I knew what fucking was, knew enough to feel sticky-sick from their sleepy, half-lidded gazes and curled lips and damn, mamas. I learned to clutch my fists tightly over my barely budded chest and shuffle out of sight, legs clamped together to keep the Ass from jiggling too much, not that it helped. The Ass had tossed me into womanhood without my consent, thrown me out on a platter for consumption, and left me there to smile vapidly at the Uncle Who Was Just Visiting as his eyes went hooded and he said, "Ay! Angie! All grown up, I see."
For a while, no man who wasn't "hood" would ever fess up to being into ass, not until the time when ass came into style and every other Instagram post featured some skinny-waisted, big-bootied video vixen in a bodycon bandage dress. I would have given the Ass a pass for all the trouble it brought me if only it had remembered that I didn't have the right phenotype. Big asses were glamour if you were Kim K or a light bright Dominicana, but on a dark-skinned nappy-headed ho like me they were too jungle, too much Saartjie Baartman and not enough Marilyn Monroe.
Frederick, my (first ever!) boyfriend of six months, loved the Ass. He liked to rest his hand on the small of my back and stroke down the satin-smooth skin until the high, round cut of it was cupped in his palm. Momma had always said I was lucky—my ass came from my back on a steady slope, not jutting out assertively like so many of my aunties' did—and Frederick enjoyed that incline, resting his hand along it when we were watching Netflix or falling asleep on his double.
I think the Ass might have been the only thing he actually liked about me, in the end.
"I'm . . . not coming with you."
I hoisted my duffel bag higher onto my shoulder, giving my soon-to-be ex-boyfriend an appraising look. Frederick looked sheepish, leaning against his perfectly-parallel-parked Lexus with his hands shoved into his pockets and his gaze directed determinedly into the distance. He was the kind of guy whose fashion sense swung dramatically between runway sharp and basement-dweller sloppy, and today, in his sun-bleached high school debate tee and raggedy sweats, he was flagrantly going for the latter. It was an outfit barely acceptable for bed, let alone for meeting my judgmental Ghanaian parents. I still remembered what he'd worn on our first date: a blue blazer, starched white button-down, gray slacks. That outfit, paired with his sculpted frame, even brown skin, and thick-rimmed glasses? He'd looked good enough to eat. I'd taken one look at him, thought, Oh, you'll do, and praised the geniuses behind the Hinge app algorithm for bringing his existence to my attention. Everything about the way he presented himself in public was so deliberate, and once upon a time, that effort had been attractive to me.
But now? I knew, with certainty, that he had specifically chosen this monstrosity of an outfit to signal to me that I would be driving to Naperville alone. He'd probably spent thirty minutes hunting down the rattiest tee in his dresser just to get the point across. He would've done better to spit at my feet.
"Clearly," I said with a defeated sigh. "So. What are you doing here, then?"
We both knew the answer to that question. After all, Frederick had been playing the Nice Guy game for weeks now—the one little boys play when they want to break up with their perfectly fine girlfriends but don't want to bear the responsibility of hurting her feelings, and so drag things out and misbehave until the girl loses patience and breaks it off first. And he'd played it so well: responding to my complaints about my Step exam* with a halfhearted "that sucks," commenting at large on how hot he found women who looked nothing like me, finding reasons to be too busy to see me that somehow were not present for his boys. He'd been mean, when all he'd had to be was honest.
And my dumb ass had allowed it. I'd convinced myself that I was being oversensitive, that I needed to give him space, that he didn't owe me the commitment he'd promised me. And because of my own negligence, Frederick was going to end us in the cruelest way possible. Not that he thought he was being cruel. Knowing Frederick, he probably figured that dumping a girl an hour and a half before meeting her parents was being magnanimous. I need to do it to her face, he'd probably told himself, that's what a good guy would do. Even now, his expression was tortured, like someone was slowly driving a screw into his back. As if the burden of dumping me was one he was brave to bear.
"I'm sorry," he said. He looked me up and down like he couldn't help himself. "You look great."
In contrast to his shabby outfit, I had chosen a dress that I knew he would like: midi length and navy (classy, conservative) but form-fitting (so that everyone in the vicinity would know Frederick's girl had body). But physical attraction had never been our problem, had it?
"Thanks," I said. I crossed my arms, waiting for him to gather his nerve. Frederick mirrored my stance, avoiding my gaze as the silence thickened. Eventually, he cleared his throat.
"You know, I really was touched when you asked me to come meet your parents," he started. "It was nice to know that you wanted me to see you with your tribe."
His delivery felt rehearsed, the heavy pause and pained swallow all part of a performance.
"But even then, I wasn't sure," he continued. "I said yes because I thought I should. It felt like the right thing to do.But—"
"Now it doesn't," I said, cutting his speech short. No need to hear his final arguments when I'd already accepted my verdict. "Okay, cool."
I pulled out my keys and took a sharp left, marching toward my car. Not a second later, I heard the heavy footfall of his steps behind me.
"Come on, Angie," Frederick tried. "Let's talk for a bit. I feel like I owe you that much."
I swung around to look at him one last time. Even in this getup, Frederick was handsome. Smart. So woke that he probably taped his eyelids open at night. He was everything I thought I wanted in a man, the perfect other half of the Black power couple I'd always dreamed of. The Barack to my Michelle.
But, yet again, I'd gotten ahead of myself. What about Frederick, aside from his nice car, his impressive CV, his swag, had convinced me that he could be the One? Sure, he checked off all the boxes, but every guy I'd fallen for checked the boxes too—except the one that required them to actually give a shit about me.
"You're breaking up with me, right?" I said. When he didn't answer, I nodded, understanding. I threw open my car door, tossed my bag in the back seat, and gave him my most beatific smile. "Don't worry; you don't owe me anything. We're good. Have a nice life, Freddy."
When I drove off, he was still standing where I'd left him, dumbstruck. I smirked. Small victories, Angie, I thought. You dated a lawyer and still managed to get the last word.
The drive up to my childhood home was mercifully smooth for a Thursday morning in Chicago. It was as if all the city's rowdiest drivers had decided to cut me a break and sleep in; I got cut off only once merging onto the expressway and swerved out of the way of only two souped-up Dodge Chargers going 90 down I-55. I turned on my favorite true crime podcast, careful to avoid any cases involving jilted lovers or angry exes, and when I tired of murder, switched to a playlist conveniently devoid of Girl Power songs and breakup anthems that could get me all up in my emotions. Today was about my baby sister. Whatever feelings I had about Frederick would have to be bottled up, boxed, and left in a cellar to ferment.
Too soon, I pulled into the driveway of my childhood home. With its brownish-red brick, charcoal roof, and well-manicured lawn, my parents' house looked like a clone of all the others on our cul-de-sac. Still, I could make out the small additions they had made in anticipation of the Knocking*: two large ceramic pots brimming with petunias in the entryway, a row of solar-powered lanterns that lined the walkway to the front door, a thin but gloriously blooming crepe myrtle my parents had probably fought the homeowner's association to plant. I thought about stealing one of the petunias to tuck behind my ear but thought better of it and rang the doorbell instead.
My mother was at the door in a flash, her magenta maxi dress floating around her like the petals of an orchid. She was still strikingly beautiful. She hated when I said that—"Still! Am I abrewa* already?"—but it was true. Dealing with my, Tabatha's, and Daddy's bullshit for a quarter century plus somehow hadn't put a crack in that silky smooth skin of hers.
"Where's Frederick?" she asked.
Probably, I thought, because she's preserved in brine.
"Nice to see you too, Momma, you look lovely," I said. I stepped around her and gave Auntie Abena, who had come to Chicago for a short trip that, so far, had lasted four months, a nod. "Auntie."
"Yes, where is that fine boy you said you were bringing?" Auntie Abena said.
"He's not coming," I said, toeing off my shoes by the door. Saying it out loud stung more than I'd anticipated, and I took a deep, settling breath to recalibrate. "It smells amazing in here, Auntie. Did you make nkatenkwan?"
"How did you know I didn't make it?" Momma said.
I shot my mother a disbelieving look. Despite being the picture of the perfect Ghanaian woman, my mother's skills in the kitchen were notoriously lacking. She could crank out a reasonable kontomire, throw together an ampesi that Grandma wouldn't side-eye, but anything more complex was a wash. If it weren't for our omnipresent crashing aunties, I probably would've grown up on takeout.
"Where's Daddy?" I shouted, walking down the hall to drop off my bag in my room.
"Looking at himself," Momma shouted back. "Tell him he has to hurry up. Christopher and Gregory will be here any minute." When I circled back into the kitchen, she grabbed a hold of my arm, turning me around to face her. "So why isn't Frederick here? It would have been good for him to watch, for when he knocks."
Frederick, knocking, for me? When we first started dating, I'd seen it. Frederick standing at my door, bolstered by the parents I had never met, a bottle of ostentatiously expensive gin tucked under his arm. The image seemed preposterous now. Still, at its resurgence, my body ached with yearning.
"We broke up," I admitted in a small voice.
Momma's eyes widened. Then she released me, smoothing her hands down her dress with a huff.
"Ah, well, lawyers don't make that much money these days anyway." She narrowed her eyes critically at my hair, reaching up to fluff the crop of tight curls. "You know, I don't think this hairstyle is helping you. You know how these men are; they like their women with hair down their backs. Before you leave, you should try on one of my wigs. And we can take you around church; a few nice young men joined the congregation recently, and Sister Lisa has said some of them are looking—"
"I'm going to check on Daddy," I said with finality.
But before I could step toward my parents' bedroom, the doorbell rang.
It was Chris, right on time at ten thirty. Chris was the most punctual Black person I had ever met, a peculiar match for the perpetually late Tabatha. Thankfully, his patience was about as infinite as his love for my sister. At least from the outside, their relationship was by the book. Chris and Tabatha dated for the appropriate amount of time—three years, long enough to prove that Chris was serious, not so long that his intentions could be questioned. He was respectful, tall (which Daddy liked), African American (which Daddy liked a little less), and had recently landed a six-figure job as a mechanical engineer three months after walking the stage at the University of Illinois at Urbana-Champaign. When Tabatha insisted on moving to Evanston to pursue her MBA after graduation, Chris left his beloved college town behind and followed her north, spending hours in our living room chatting with our father and sipping Muscatella. We all knew it was only a matter of time before he knocked, but when?
And then, last week, I got the phone call. Chris cleared his throat and asked me to please find a way to get Tabatha out of the house, and within minutes, the entire Appiah family, both domestic and international, knew that when was today.
"Hi, Angie," Chris said, his smile a little shaky. He had spritzed on too much cologne, but otherwise looked smart in his blue button-down and dark wash jeans. He clasped a thin box that I knew contained the ceremonial liquor he would use to make his request. Behind him stood a heavyset middle-aged man. Chris's father, Gregory Holmes, I remembered, just before clapping his large hand in mine. Chris had done his research. You can't come alone to ask to marry a Ghanaian girl. My parents would have laughed him all the way back to Urbana.
"It's nice to see you again, Angela," Mr. Holmes said. "How's medical school going?"
"Well," I said, dismissing the many sleepless nights and the tearful breakdowns alone in a corner of the campus library in one woefully inadequate word. "Hard, but I'm enjoying myself."
Mr. Holmes inhaled deeply, as though my admission had shifted something deep and old inside him back into alignment. He was sixty-something years old, of the generation that remembered scorched churches and sundown towns, and every young Black person's success seemed to loosen the scars left by the state-sanctioned violence he had endured in his youth. He placed a heavy hand on my shoulder and squeezed, peering down at me over his bifocals.
"Good," he said. "Good. We're proud of you, you know."
I smiled. Old Black people were always proud of me. It felt undeserved; my parents had grown up free.*
"Thanks, Mr. Holmes."
I led them into the living room, where my father now sat, arranging himself like an Ashanti chief on our blood-red couch as if he hadn't been preening in the bathroom seconds before. I'd disliked the decor in my childhood home for some years now, with its garish gold curtains, lavish green throw rugs, and custom coffee table with Gye-Nyame*engraved into the sides. It seemed desperate, a too-transparent proclamation of our family's Ghanaian-ness. It was as if my parents—who'd been born in Ghana, educated in Ghana, then shipped off to England in their twenties for jobs that didn't exist at home—had grown insecure in their heritage. When we first moved to the States, their habits and mannerisms had still been distinctly Other. Growing up, Tabatha and I had taken off our shoes before entering the house, folded our hands behind our backs when scolded, and were careful never to hand things to our elders from our left hands. But those habits were extinguished within a quarter of the time that it took for them to be ingrained in our parents in the first place. Even my parents' accents had become something oddly inimitable, no longer the thundering brogue I used when describing to my friendswhat a Ghanaian accent sounded like, but something slightly English, slightly American, with a touch of a vague African something mostly audible in the r's and t's. The last time Momma went back to Tema and tried to haggle in Twi in the market, the seller accused her of being a foreigner and tried to charge her double. After that, our house was suddenly shrouded in red, gold, and greens, in adrinka symbols and carved ebony elephants. I was a bit surprised that Daddy hadn't broken out the kente cloth for the occasion.
Daddy didn't stand until Chris and Mr. Holmes stopped in the center of the living room. He regarded them with a cool smugness for a half second before languorously getting to his feet, moving with the syrupy slowness of a man who considered himself a great benefactor.
"Chris, good to see you!" he said, clapping him on the back with one hand. With the other, he reached for Mr. Holmes's hand. "Oh, Greg, Chris was telling me you were coming into town. How was the trip?"
The niceties continued. Daddy asked after Chris's mother, who unfortunately could not make it, and oohed and aahed over pictures of Mr. Holmes's new BMW. When they settled into their chairs, Daddy shot me a look, reminding me to execute my duties as eldest daughter and serve our nice guests. I put on my most serene smile and asked them whether they would like anything to drink (orange juice for Mr. Holmes and water for Daddy and Chris), any biscuits*—We have some good shortbread, you really have to try some—and shuffled to the kitchen to help prepare the arrangement. The presentation had to be perfect—biscuits arranged so that not a crumb fell out of place, glasses filled to three quarters height with just two cubes of ice in Daddy's water, napkins folded into neat triangles, all balanced on a large silver serving tray. The first time Chris came over and my father sent me to the kitchen to prepare the tray, he had seemed uncomfortable being served. Now he barely acknowledged me before plucking a biscuit from the plate.
"How's Dorothy doing?" Mr. Holmes asked. I sighed internally; gathering my parents was like herding cats.
"Oh, she's doing well. She'll be out in a minute."
Daddy gave me another look, this one saying, Go check on your mother, and I obliged with a nod and slipped out of the living room and into my parents' bedroom.
I found Momma in front of her vanity wearing a gray sheath dress, her magenta maxi dress discarded at her feet. She gave me a chagrined smile, as shy as Dorothy Appiah could look.
"I looked out of place," she explained. "All of you are in muted colors, and I thought we should match, you know, for the pictures . . ."
She was nervous. Of course she was; the Appiahs were among the first crop of Ghanaians to immigrate to Naperville, and Tabatha the first of the children to have a Knocking. All eyes would be on our family, taking notes on how successfully we translated the marriage traditions through a Western lens. Any photographs we took would likely be circulated through WhatsApp groups across the country, and Dorothy Appiah was not about to give any cause for salty aunties to cluck about the mother of the bride trying to "steal the spotlight."
"You looked great before," I said truthfully, "and you look great now." I turned my body toward the door. "Come on, Ma. Hurry out before you miss the whole thing."
Momma didn't miss the whole thing, and neither did Auntie Abena, who snuck her nosy ass into the living room under the guise of sneaking some biscuits and ended up sitting on the couch next to Mr. Holmes, interjecting like Tabs was her daughter.
I did, though. Because just when Chris cleared his throat and said, "Actually, I have a reason for coming here today," I got a notification on my phone: an email from [email protected]
Your score report is now available, the subject said, and my heart took off in a gallop. My Step 1 score.* I hadn't been expecting it so soon; my upperclassmen had told me to expect to wait six weeks after the exam, and it had barely been two. And yet here it was. The main determining factor for the trajectory of my medical career, the test that determined whether I had a hope of matching to the specialty of my choice,* sitting in my email behind an unassuming link. I rushed into my bedroom to open it, tapping my foot impatiently as the PDF loaded on my phone—
A 209.*
I'd passed, but barely. I stared at the number in numb shock, feeling the tears I had held back all morning prickle the corners of my eyes. I had gotten 240s on all my practice exams. I'd studied for twelve hours a day for a month straight. How could this have happened? How could I have let this happen? So much, I thought, for proving myself as more than the Affirmative Action Candidate.
On the other side of my closed door, my father's unrestrained laughter mingled with Mr. Holmes's, and I felt a smothering sense of loneliness. The father of a man who loved me so much that he wanted to be mine forever would never sit with my family nibbling on Walkers shortbread. After all, the one man I'd convinced to commit had left me out on the literal curb after just half a year. Dorothy's first daughter is a doctor, but she's still unmarried, can you imagine? the Appiahs still at home base would say among themselves. Up until today, they could have added, Oh, but at least she's brilliant, and for me, that would have been enough.
But now, they couldn't even say that. I was not only alone, but also a failure. All of that potential, wasted, they would say instead. What a shame, what a shame.
What a shame indeed.
* * *
I lay in bed, facedown and unmoving, until the Holmeses took their leave and my bedroom took on an orange hue. Being in my childhood room felt less like an escape and more like being trapped in a curated exhibit on Childhood Overachievement. Plastered on every wall were reminders of what I should have been before this Step score. The newspaper clippings announcing my induction into the National Honor Society. Trophies from the National Science Bowl regionals and Destination Imagination, from spelling bees and science fairs through the years. Stacks of Princeton Review books, AP workbooks from every available class, a placard next to my diploma marking me as Parkview High School's class of 2010's salutatorian. Markers of excellence, of a girl who always worked twice as hard,* who was the best of "the best and the brightest," not a girl who barely passed. Tabatha's bedroom was much more typical, covered in Twilight posters and clippings from Seventeen magazine, but Tabatha had grown up with a chiller, saner version of Momma who had allowed such trivialities. My version of Momma had been convinced that simply looking upon the image of a shirtless man was enough to get me pregnant.
Joke's on her, I thought. If she'd known back then how disastrously bad I would be at keeping a man, maybe she would have let me spend a little more time ogling Taylor Lautner's abs.
My door slammed open so hard that it nearly ricocheted off its hinges. I looked up to find my sister glowering over me, her hands on her hips.
"You know your bestie has been blowing me up," Tabatha said. "She's freaking out because you aren't answering her texts."
With a sigh, I pulled my phone out from my pocket. I'd silenced it shortly after receiving my score in an attempt to shield myself from notifications from my class group chat, which would inevitably be full of Step-related humble-bragging. I had ten messages from Nia (all some version of Are you alive?) and thirty more from the "Sanity Circle" group chat brainstorming progressively more grisly ways that I could have been murdered en route to Naperville. I smiled in spite of myself.
Sorry to disappoint, I typed. I am, indeed, still among the living. When I looked up again, Tabatha was peering down at my face.
"You okay, sis?" she asked. "Momma told me about what happened."
My heart rate skyrocketed, and I rolled onto my back, looking up at her in terror.
"How did she find out?" I said, my mind racing. Had I somehow accidentally hit a button and forwarded my Step score to my mother? Had she hacked into my exam registration account and taken a peek for herself?
Tabatha raised an eyebrow.
"Um," she said, "because you told her?" When I looked at her blankly, she added, "About Frederick?"
The relief I felt was washed over almost instantly by despair, and I groaned, wiping my hand down my face.
"There are no secrets in this house, are there?" I said.
"Not a one," Tabatha declared. She closed the door behind her with a click, then dropped unceremoniously onto the bed next to me. She was still dressed in a chic jumpsuit from her outing, completely unaware that her boyfriend had spent the morning requesting her hand in marriage.
"Look at you," she said. "Sulking. Just like old times."
"I'm not sulking," I insisted. "I just have a stomachache."
"Yeah, sure, a stomachache," she said. "How are you so bad at lying? Even to yourself."
"How are you so bad at minding your business?" I snapped.
Undeterred, Tabatha sat up on her elbows and flicked me on the forehead.
"My big sister's emotional well-being is totally my business," she said. "Anyway, what I came here to say was good riddance. No offense, but your boy Freddy was a jerk."
"No, he wasn't." I sighed. "Frederick was actually a gentleman most of the time. He just . . . wasn't that into me."
Him and everyone else. How many times had I thought I'd made a genuine connection with a member of the shittiest sex, only to be shrugged off like an old coat at the nearest opportunity? So many that I had practically lost count. But Frederick had seemed so different. After all, he'd done something groundbreaking: called me his girlfriend. He had looked at me and seen a future, seen something more than an ethnic, erudite fling to show off to his friends. He had wanted something more than an Ass. No one before him had managed that, no matter how poorly they fit the script for what a fuckboy was supposed to be. I'd made it to almost twenty-five before convincing a man to commit to me, and even he hadn't made it a year before saying "never mind."
A tear slid down my cheek, and I swiped it away, annoyed. To her credit, Tabatha didn't say anything for a long time, letting me mire in my misery. Then she sighed.
"Angie," she said. "Be honest with me. Were you that into him?"
I rolled onto my side to give her an incredulous look.
"What do you mean, was I into him?" I said. "I was with him, wasn't I?"
Tabatha rolled her eyes.
"You know what I mean," Tabatha said. "Did you like him?" Then she grinned, kicking her voice up to a grating pitch. "Did he make you feel all warm and gooey inside?"
Impossibly, I laughed.
"Never make that voice again," I said, but I knew the answer to her question. It was one I'd turned around in my head over and over again ever since the excitement of being chosen had worn off, even before Frederick became distant. "I guess? Or at least, I wanted to like him. I didn't have a reason not to. I just . . ."
"You didn't have a spark," Tabatha finished for me.
I closed my eyes. Yes, that was true. Frederick and I hadn't had even the semblance of a spark. But I'd found our lack of chemistry comforting. With Frederick, there was no haze of hormones to cloud my judgment, no rose-colored lenses for red flags to hide behind. No opportunity to do what I did best, which was to throw myself heedlessly into another person and let them drain me dry. A spark was like a sprig of parsley next to a steak: nice, but not necessary, for love. Not objective. I had looked at Frederick, with his three-piece suits and silver tongue, his law degree and his easy, ready smile, and thought, here is an investment that is low risk, high reward. No need for a will-they-won't-they, no hours spent second-guessing intentions and ruminating over lingering touches. Frederick's romantic interest was explicit from the start; after all, we had picked each other like items off a menu. I would have to learn to love him, and I was more than okay with that. Frederick had felt safe, until he hadn't.
I told Tabatha as much. To her credit, she didn't say anything for a long time. I was thankful for that. Not even a year ago, Tabatha might have responded with a pithy statement about how I needed to work on my self-esteem, and I would have been forced to kick her out. But a year out in the real world had taught her that she didn't know everything, and so when she opened her mouth to speak again, I listened.
"You know what, sis," she said. "I think you're thinking too hard about this. Love isn't a test. There aren't right answers. You can't get into anyone's head and puzzle together whether or not they can love you, or you can love them. You just have to jump in blind and accept the chance that you might get hurt."
Lucky for me, I'm bad at tests too, I thought bitterly.
"Well, some of us have better odds than others," I muttered.
Next to me, I felt Tabatha stiffen, gearing up to protest. I closed my eyes against her defiance. No matter how much Tabs tried to empathize, for her, my romantic troubles just didn't compute. Growing up, she'd been Baby Appiah 2. ...
We hope you are enjoying the book so far. To continue reading...
On Rotation
Shirlene Obuobi
Copyright © 2022 All Rights Reserved