Never Kiss A Notorious Marquess
Book info
Sample
Audiobook
Media
Author updates
Lists
Synopsis
They are the infamous lords, whose scandalous ways keep tongues wagging. But when darker whispers take hold, a spirited writer's encounter with a dangerously desirable nobleman may uncover the whole story . . .
For James Trent, Lord Huntington, there's no escaping the question that labeled him The Murdering Marquess: was his wife's death a tragic accident or a cold-blooded crime? He's avoided London's gossipmongers since that terrible night, as guardian to his younger siblings on his Essex estate. But trouble finds him when a veiled temptress with secrets of her own falls—quite literally—into his arms.
Caroline Lawrence doesn't need a man to rescue her—the aspiring journalist anonymously advocates for women's rights in a radical London newspaper column. But when a suffragist's soapbox speech turns to pandemonium, Caroline is knocked on the head and reawakens in Trent Hall—with the notorious lord of the manor irresistibly close. If there is any truth to his tarnished past, she should denounce him with her powerful pen. Yet love has a way of revealing a man's true character . . .
Contains mature themes.
Release date: April 30, 2019
Publisher: Zebra Books
Print pages: 320
* BingeBooks earns revenue from qualifying purchases as an Amazon Associate as well as from other retail partners.
Listen to a sample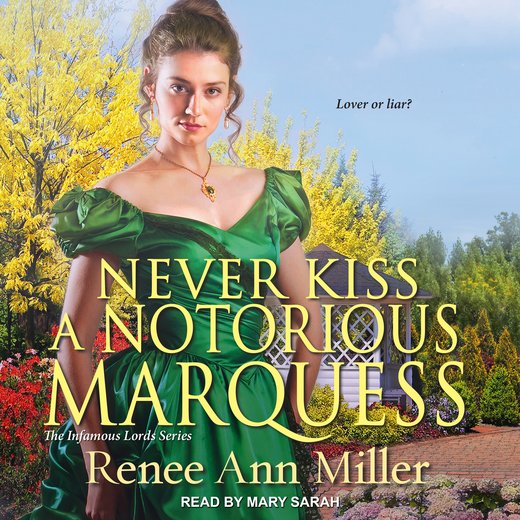 09:16:15
254.64 MB
July 9, 2019
Tantor Audio
2019
Never Kiss A Notorious Marquess
Renee Ann Miller
The carriage hit a rut as it sped down the road. With an unladylike curse, Caroline Lawrence grasped the seat to stop herself from toppling to the floor. She'd obviously hired the worst hackney driver to convey her from the train station to the Essex countryside.

"Whoa," the cabby called to the horses. The ill-sprung vehicle slowed and jerked to a stop.

Caroline peered out the window. Under the cloudy April sky, a crowd of mostly women stood before a stone barn to listen to Beatrice Walker speak in favor of women's rights.

A bolt of excitement shot through Caroline. She lowered the black mourning veil of her widow's weeds. It was the perfect disguise. She couldn't afford to have some gossipmonger inform Father they'd seen her here when he returned from his diplomatic meeting in Paris. He wouldn't approve of her attendance, nor her intention to write an article about Miss Walker for the London Reformer.

Ha! An understatement. Father detested the progressive newspaper. What would he do if he discovered she was C. M. Smith, the paper's most notorious journalist?

Father's voice echoed in her head. A woman's place is at home.

Poppycock. When she saw her articles in the London Reformer, exhilaration coursed through her. Women were not members of parliament, but her writings gave a voice to those forced to be silent. They gave a voice to women like her mother. While Mama lay close to death, she'd revealed how she'd felt powerless throughout her life. As if she was little more than a pretty ornament. Though Caroline would garner her father's wrath if he discovered she was C. M. Smith, Mama would have been proud and encouraged her.

The cabby flung open the door and flashed a gap-toothed grin.

Caroline alighted the vehicle. "You'll wait for me, sir?"

"Indeed, miss."

Clutching her folded umbrella, she lifted the hem of her plain black dress and strode up the dirt drive to the rear of the crowd.

Miss Walker, a sturdy woman of tall stature, stepped onto a crate to address the group. The suffragist thrust out her pointy chin and cleared her throat. The chattering in the crowd lowered to a hum. "Today, I will speak about the inequalities women must contend with."

A short man standing next to Caroline shouted, "'Tis a bunch of rubbish."

Caroline turned to him. "Sir, do you mind? I wish to listen."

He harrumphed. "To this hogwash?"

"Go home, you dried up ol' spinster!" a beefy man wearing a crumpled brown suit yelled at Miss Walker from where he stood near the front of the crowd.

"Go find yourself a husband," a third man shouted.

In all her twenty years, Caroline had never seen an orator treated so shabbily. As if used to this type of abuse, the suffragist continued speaking without blinking an eye.

The rude man next to Caroline pulled an egg from his coat pocket and pulled his arm back.

Oh, the audacity of the little weasel! Caroline lifted her umbrella and cracked it down on the man's head.

The egg flew out of his hand, sailed to the right of Beatrice Walker, and struck the fellow wearing the brown suit.

Red-faced, the man with yolk spattered on his coat uttered several obscenities. He removed his soiled garment, tossed it to the ground, and stormed toward the egg-thrower with his fist raised. "McAlister, that's me best coat. You were supposed to hit her. Not me, you bloody sod!"

A handful of women chastised the man for his profanity. Then all hell broke loose. A cacophony of raised voices filled the air. Men and women argued. The rude weasel and the beefy fellow rolled on the ground in a cloud of dust, while Beatrice Walker continued speaking in an elevated voice as if nothing were amiss.

A petite, gray-haired matron, who looked to be a century old, batted her umbrella at every male in sight. With a surprising yell, she swung it at a rotund man in front of Caroline.

The man ducked.

The nib of the umbrella caught Caroline's veil and her hat took flight like a lame bird—tumbling and twirling to the ground. She glanced around. God help her if there was anyone here she knew. Shielding her face with her hand, she crouched and reached for the hat.

Someone kicked the rim, and it sailed several yards away.

Drat! On her hands and knees, she weaved between the feet of the unruly mob. Her fingers were a mere inch from the hat when a foot landed on the gauzy veil. She peered up—past knee-high boots, past thick muscular thighs, and past a wide chest and broad shoulders.

The gentleman, dressed in black trousers and a cutaway riding coat, set his fisted hands on his lean hips and peered at the melee.

His dark eyes, straight nose, and high cheekbones gave him a stern countenance. The silky waves of his black hair should have softened his features, but the tight set of his jaw obliterated that thought.

"What's going on here?" he demanded in an authoritative voice.

As if the devil rose to stand before them, several women gasped, as did a few men.

Caroline rose and stepped back.

Everyone stood quiet and still, even Beatrice Walker.

With a scowl, the newcomer moved to where the wiry, egg-throwing weasel sat atop the larger man on the ground. "McAlister, what's this about?"

The weasel scrambled to his feet and opened his mouth, but nothing came out.

"I'm waiting," the gentleman said.

"'Tis not me fault, m'lord." The scoundrel jabbed a finger toward Caroline. "'Tis hers."

She squared her shoulders and swallowed the lump in her throat. "It is not, sir."

"'Tis too!" the weasel insisted. "You struck me with your umbrella."

The stern-faced gentleman cocked a dark, slashing brow at her. "Did you?"

The low, accusatory tone of his voice made her legs weak.

Remember you are a strong woman. And strong women do not cower to men, even ones with broad shoulders and muscular arms and legs. She tilted her chin up. "Indeed I did, but he was about to toss an egg at Miss Walker."

His piercing gaze swung back to McAlister. "Is that true?"

"Y-yes, m'lord, but 'twas a very small egg."

The gentleman motioned to a thin man standing behind him, a constable of some sort by the look of his black uniform and top hat. "Ingles, I think McAlister needs to spend a night in jail contemplating his actions."

Having made his pronouncement, he returned his attention to her. "Your name, madam?"

Caroline nibbled her lower lip. Mentioning Father might get her out of this mess, but when Papa found out, he'd be so vexed he would banish her to that Anglican convent in Oxfordshire. His favorite threat when displeased. He'd never speak to her again, though he rarely conversed with her now.

The constable stepped toward her. "Should I arrest the woman, sir?"

Arrest her? Nervous energy coursed through Caroline. She stepped back. Her feet tangled with the beefy fellow still lying on the ground. Arms flailing like a whirligig, she tumbled backward. Her bum, then shoulders, hit the hard, compacted dirt, followed by her head. The impact of her skull hitting the ground resonated in her ears. Flashes of light danced with splotches of black.

The tall gentleman knelt beside her, his face almost obliterated by the midnight-colored patches that floated before her eyes. He spoke. Muffled words she couldn't grasp. Strong arms lifted her. The spicy scent of shaving soap filled her nose, then darkness enveloped her, dragging her into a sunless pit.

James Trent, the Marquess of Huntington, braced his hands on his desk and tried to hold his temper in check as he stared at Dr. Clark. Did the physician seriously want him to keep the injured woman here at Trent Hall? "Why can't you take her to your residence?"

The doctor blushed like a debutante with a randy suitor's hand up her skirt. "My lord, I am a bachelor."

What did the doctor think James was? His wife had died two years ago in London. The physician was new in Helmsford, but surely the village biddies had shared the wicked gossip about Henrietta's death—that James had played a nefarious role in his wife's passing. He arched a brow at the man.

The doctor nervously shuffled his feet, confirming the tattlers had. "As . . . as are you, my lord, but you have your siblings residing with you, whereas I live alone."

Siblings. That might have made things better in society's eyes, but not in reality. Yesterday, Anthony arrived home from Cambridge, and already the rascal was down at the Hog and Thistle, probably bedding one of the serving girls. And now James would have to worry whether the young buck would attempt to bed this woman while under James's protection.

Would attempt? Hell and fire, once his brother set eyes on her, he'd salivate like a dog after a beef joint. The chit was too lovely by half with her extraordinary green eyes, lush mouth, and light brown hair with threads of gold.

"How long must she recover?"

The physician tapped a finger to his chin. "Hard to say. Injuries to the head are unpredictable. Perhaps a week."

A week? Seven days longer than he wished. "Did you find out if she has family? Where she hails from?" James asked.

"When she regained consciousness, she inquired about her veil. I presume it was lost in the scuffle. Then she mentioned she needed to return to London posthaste. She was most insistent it be today. When I told her she must not travel, she became overwrought. So much so, I felt compelled to give her a tincture. She is sleeping now."

"Thank you, Dr. Clark. Send me your bill."

The physician nodded and left without another word.

Releasing a heavy breath, James picked up a financial report that had arrived this morning from his business partners, Simon Adler and Hayden Westfield.

The office door swung inward and Georgie walked in.

"Aren't you supposed to be in the schoolroom?" he asked the youngest and least troublesome of his three siblings.

His eight-year-old brother sat in one of the chairs facing the desk and swung his legs back and forth. "Mr. Harkins dozed off right in the middle of my math lesson. He's snoring so loud I'm getting a headache."

James leaned back and ran a hand over his jaw. Harkins was obviously getting too old to tutor, but James disliked the thought of pensioning the man off. The tutor had no family, and he feared the scholar would be lost without the employment. Harkins had served them well, having been both his and Anthony's teacher. The latter causing the tutor's gray hair.

No, he'd not send the man away.

"What arithmetic function were you working on?"

"The multiplication of fives." Georgie wrinkled his nose.

James stood and ruffled the lad's hair. "Very well. Go get your paper and pencil. We shall work on them together."

A moment after Georgie darted from the room, the door to James's office flew open again. Anthony swaggered in with easy, loose-limbed strides. His brother's disheveled clothes implied he'd been up to no good. The reprobate would be fortunate if he didn't end up with the French pox or shot by some outraged husband before his twenty-second birthday.

His brother sank into the leather chair Georgie had vacated. "James, you have to hear the rubbish people are spouting at the Hog and Thistle."

Sitting, James kneaded the back of his neck. He could imagine what the local gossips were saying, since it usually revolved around him.

"They say you lost your temper at Wickham's grange where that suffragist Beatrice Walker spoke. Pushed some chit down and knocked her right out. It's outrageous what the denizens of this backwater whisper."

Pushed? Of course, they would accuse him of such a villainous act. He'd gone there to make sure law and order prevailed. Beatrice Walker had a right to civility, but as always, he now found himself the center of gossip.

The door swung open again, and Nina fluttered in. His sister's fair cheeks were high in color. "Who's that woman in the blue drawing room sleeping on the chaise lounge? And why didn't anyone tell me Dr. Clark was here?" She touched her temple. "I'm sure I feel a headache coming on. He could have attended me."

James gritted his teeth. Nina's fascination with the doctor and every other male disconcerted him. He'd left London a year ago and come to his country estate, not only to design and oversee the installation of the new hydronic water system, but to keep an eye on his wayward sister.

Anthony's eyes grew round. His brother sprang to his feet. "A woman? Good God, James, it's not true what they're saying, is it?"

"Blister it, Anthony. You know I would never harm a woman."

His brother's face turned red. "Yes, I apologize. I don't know what I was thinking."

James took a deep breath. "I have work to do, so if you'll both be on your way."

"But who's that woman?" Nina repeated.

Standing, James set a hand on his sister's back and ushered her to the door, motioning Anthony to follow. "It appears she is our houseguest. Tell Langley to task one of the footmen with carrying her to the bedchamber next to mine." It would be the best way to ensure Anthony didn't visit her. He shepherded his siblings over the threshold.

"The room next to yours," his siblings said in unison.

"Yes," he replied, closing the door on their gaping mouths.

Caroline opened her eyes and bolted upright in the massive canopied bed. The dim room spun. She cupped her head and tried to steady the sensation. As the spinning slowed, she glanced about the bedchamber. A lamp set atop the high, carved mantel cast weak light over the elegant mahogany furnishings and lilac-colored bedding. Her gown, petticoat, corset, and stockings were draped over the back of a chintz-covered chair near the hearth.

She gazed down at herself. The only items she wore were her chemise and drawers. Heat flooded her cheeks. Who'd removed her garments? She remembered a gentleman. Broad shouldered with a disapproving scowl. Had he undressed her? The thought made the warmth burning her face travel to her ears.

Somewhere in the house a distant clock struck twice.

Two in the morning! She needed to get home. Mrs. Roth would be worried senseless. The housekeeper was the only member of Father's staff who knew she'd traveled to Helmsford to listen to Beatrice Walker's speech. Though the woman didn't know Caroline was the journalist Mr. C. M. Smith. No one knew that secret. And if her chaperones for the season arrived in London and found her gone, cousins Anne and Charles might notify Scotland Yard, or worse send a message to Father in Paris.

A snore broke the silence.

Grasping the counterpane to her chest, Caroline's gaze swung toward the sound. A plump, elderly maid, wearing a mobcap and starched pinafore, sat in a corner chair, her chin resting on her sizable bosom.

Would the woman stop her from leaving? Best not to find out.

Trying not to make a sound, Caroline slipped from the mattress. Her legs wobbled. She grabbed the bedpost, waited for the shaking in her knees to cease, then quietly dressed. Her fingers fumbled on the hook of her chatelaine at her waist. Her small coin purse was missing. She jabbed her hand into the side pocket of her gown. Her fingers curled around the small money pouch.

Thank goodness. She needed the funds to return home.

The maid let loose another snore. This one so loud the woman started, and her eyes fluttered open.

Caroline stood like a pillar until the servant's lashes drifted closed. On her tiptoes, she crept from the room and padded down the long, dark corridor. The residence seemed as vast as Windsor Castle. Ahead, moonlight shone through a Palladian window to highlight a wide curving stairway with a wrought iron banister.

She set her hand on the rail and peered at the entry hall and front door below. The window sent light glistening off a black and white marble floor. She trudged down the steps. Partway there, a fine sheen of perspiration prickled her skin. Gripping the handrail tighter, she rested her cheek against the cool plaster wall.

Nearly there. Just a few more steps.

Her feet settled on the last tread, then the marble floor. Her toes curled against the cold stone. She lifted her hem. Where were her shoes?

Oh goodness, her brain was muddled. She needed to return to the bedchamber, yet the stairs looked as daunting as Mount Vesuvius. A pair of boots stood by the front entrance. Too large, by half, but . . . She picked them up and grasped the door handle.

Behind her someone cleared his throat.

Heart beating fast, she wheeled around and clutched the boots to her chest.

Several feet away, the stern-faced gentleman from the rally leaned idly against an open doorway. He wore no neckcloth or coat and the top buttons of his white shirt were unfastened. Light from inside the room spilled onto him, highlighting the muscled contours of his chest. He folded his arms over his torso.

The movement drew her attention to the thick sinew exposed by his rolled-up sleeves. She'd never seen so much male skin. She jerked her gaze to his face. The subtle light amplified the bristles that shadowed his jaw and his black tousled hair.

"Are you going somewhere, madam?" His regard settled on her bare toes, peeking out of her hem, before shifting to the boots she held. "Somehow I wouldn't have taken you for a thief."

"I would have sent recompense once I arrived home."

"And home is in London?"

She nodded, finding it difficult to speak as her mouth grew drier.

"Did you intend to walk all the way there?"

She shook her head, unsure what her fuddled brain intended. Surely, the cabby was long gone.

"I assure you, leave now and you will have to do so, for there are no trains departing the station at this hour." He stepped toward her, his stockinged feet soundless. Even without shoes, he was exceedingly tall, dwarfing her five-foot-five-inch frame.

The absence of his scowl, along with the vitality of his chiseled, muscular body made him look younger than she'd originally thought, perhaps no more than thirty.

As if the Earth shifted beneath her, the room tipped sideways. She braced a palm on the wall.

"Do you feel dizzy?" The gentleman closed the short distance between them. One of his large hands curled about her elbow.

Yes. Her surroundings were spinning as if she sat on a toy top. The boots slipped from her grasp and landed on the floor with a thud. As her legs folded beneath her, she felt herself falling.

He swept her up and cradled her against his body, like one would a small child. "Careful. I've got you." His voice held a soothing texture—an almost hypnotic cadence.

"I need to leave."

"You need to recover. You can leave in a day or two, if well enough." He climbed the stairs.

She forced her weighted lids to stay open. "That will be too late. By this time next month, I shall be in a convent."

The motion of his feet moving up the stairs stopped. "You are to join a religious order?"

When her stern Father found out about this he'd definitely send her to the nuns in Oxfordshire. She nodded.

He continued up the steps.

Caroline closed her heavy-lidded eyes. The stranger's body thrummed with incredible strength. He could overpower her if he wished, yet a sense of safeness, which seemed to contradict the whole situation, drifted through her. She stopped fighting the grogginess that tugged at her and nestled deeper against him.

James peered at the woman sleeping in his arms. When he'd seen her standing in that unruly crowd, her cheeks flushed, her remarkable green eyes wide, he'd thought her quite lovely. But now, with her long brown hair flowing free, lovely seemed too weak a word. He studied her fair, unblemished skin, her shapely eyebrows, and her mouth, which looked warm and supple.

A nun? Dr. Clark had said she'd asked for her veil. It all made sense. Bad enough when he'd thought her some governess in her drab black. Perhaps he should send Anthony to their home in London. If she hadn't taken her vow of chastity yet, his brother might find her a challenge too hard to resist.

How had a woman with temper enough to strike a man with her umbrella decided to join a religious order? And what the deuce was a nun doing at Beatrice Walker's speech? Moreover, she'd tried to abscond with his boots. The only thing godly about her was her angelic face.

As he moved down the corridor, she made a soft, feminine noise. Her palm slipped under his open shirt and skimmed up his bare chest.

Blood pooled in his groin. Damnation, he'd been too long without a woman's touch. He'd be lucky if God didn't strike him dead over his body's unsavory reaction.

James opened the bedchamber door. The maid he'd tasked with keeping an eye on the woman snored loudly in a chair. Best not to wake the servant now. If anyone saw him carrying his young houseguest back to her bed, it would lead to a misconception.

Quietly, he laid her down and pulled the counterpane to her chin. Straightening, he gazed about, then strode through the sitting room that connected this bedchamber to his. The room the woman slept in held too many memories of Henrietta. He'd not entered it since before his wife's death.

He closed the door behind him and stripped off his shirt. Fisting the fabric in his hand, he brought it to his nose. The soft scent of the woman's rose-scented skin drifted off it.

Perhaps both he and his brother should go away.

The following morning as the sun inched above the horizon, James prompted his gelding through the parklands of Trent Hall. Unable to sleep, he'd dressed and saddled his horse. Throughout the night, varied concerns had raced through his mind. Anthony, Nina, Georgie, and the woman had all fought for precedence. He understood his thoughts centering on his siblings—he wished to protect them—but why his houseguest's health should disrupt his sleep, he wasn't sure.

Today, he'd insist she send a note to her family informing them she'd fallen and now recuperated at Trent Hall. He'd make sure she mentioned that he, Lord Huntington, was in residence.

That would send her family scurrying to Essex to collect her posthaste. The rumors that he'd murdered his wife reached far and wide. A family with strong moral convictions wouldn't want their innocent female staying under the same roof as him.

He increased the pressure of his knees against the horse's flanks and the animal cantered to the stables. James leapt down and ran a hand over Thor's neck. "Good boy."

A groom darted forward to take the reins.

"Make sure you clean his hooves, Wilson, and give him a treat."

As he walked toward the house, James studied the hue of the early morning sky—a watercolor of blue and pink. Today promised to be pleasant with a cool breeze. He and his workmen would tackle the new ditches for his water system. Perhaps he could convince Anthony to join them. The hard work would serve his brother well. The lad couldn't spend all his time acting the alley cat at the Hog and Thistle.

Inside his residence, James tugged off his muddy boots and set them on the shoe mat. He strode to the stairs, relishing the early morning hours when all remained peaceful, before the bustle of servants and the complexities of life descended on him. At present, the servants were busy belowstairs. Not even Langley rushed forward to divest him of his riding coat. The butler knew better.

Solitude would prevail for at least. . .
We hope you are enjoying the book so far. To continue reading...
Never Kiss A Notorious Marquess
Renee Ann Miller
Copyright © 2022 All Rights Reserved
Also in this series
Also by this author