Book info
Sample
Audiobook
Media
Author updates
Lists
Synopsis
'An epic tale that never loses sight of the raw experience of the hero. I loved Napoleon's Spy' Simon Scarrow
'Napoleon's Spy is a tour de force on an epic scale' Douglas Jackson
'Exciting, immersive, well researched and great fun.' Giles Kristian


Russia, 1812. Has France finally met its match?

On the eve of the invasion of Russia, half-French, half-English Matthieu Carrey finds himself in the ranks of Napoleon's five hundred thousand strong army. With Tsar Alexander seemingly ill-prepared, a French victory seems certain. The Grande Armée will obliterate everything in its path.

Carrey's purpose is less clear. Blackmailed into becoming a spy in the emperor's army, he hopes to follow his lover, a French actress who has gone to work in the Moscow theatre.

As supplies grow scarce and temperatures plummet, the Grande Armée begins to crumble. Caught up in the maelstrom of war, Carrey embarks on an epic journey, while the Russians circle like hungry wolves.

Hundreds of miles lie between Carrey and safety.
To reach it seems utterly impossible.
Release date: May 25, 2023
Publisher: Orion
Print pages: 432
* BingeBooks earns revenue from qualifying purchases as an Amazon Associate as well as from other retail partners.
Listen to a sample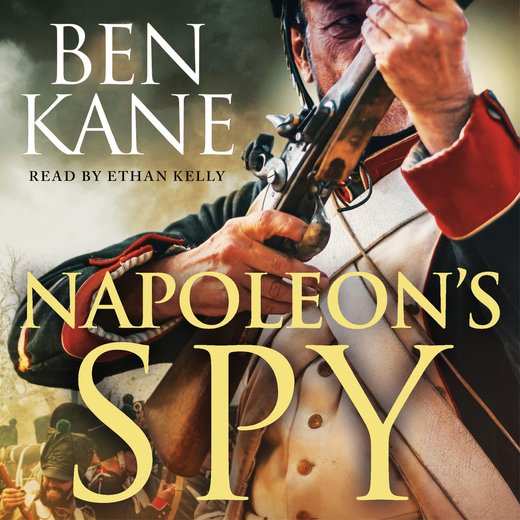 12:46:38
350.95 MB
9781409197935
May 25, 2023
Hachette UK
Napoleon's Spy
Ben Kane
'Richard the Lionheart's name echoes down the centuries as one of history's greatest warriors, and this book will immortalise him even more. A rip-roaring epic, filled with arrows and spattered with blood. Gird yourself with mail when you start'

Paul Finch, author of Strangers

'Ben's deeply authoritative depiction of the time is delivered in a deft manner. I was immersed in the detail of Rufus's life, with its heat and cold, its odours, foods, clothing, beats, politics and all the other minutiae of the age'

Simon Scarrow, author of the Eagles of the Empire series

'Kane's virtues as a writer of historical adventures – lively prose, thorough research, colourful action – are again apparent'

Nick Rennison, The Sunday Times

'Lionheart has plenty of betrayal, bloodshed and rich historical detail'

Martin Chilton, Independent

'Plenty of action, blood, scheming, hatred, stealth and politics here, if that's what you want in your read – and you know it is!'

Sunday Sport

'To read one of Ben Kane's astonishingly well-researched, bestselling novels is to know that you are, historically speaking, in safe hands'

Elizabeth Buchan, Daily Mail

'This is a stunningly visual and powerful read: Kane's power of des­cription is second to none . . . Perfect for anyone who is suffering from Game of Thrones withdrawal symptoms'

Helena Gumley-Mason, The Lady

'Fans of battle-heavy historical fiction will, justly, adore Clash of Empires. With its rounded historical characters and fascinating historical setting, it deserves a wider audience'

Antonia Senior, The Times

'Grabs you from the start and never lets go. Thrilling action combines with historical authenticity to summon up a whole world in a sweeping tale of politics and war. A triumph!'

Harry Sidebottom, author of the The Last Hour

'The word epic is overused to describe books, but with Clash of ­Empires it fits like a gladius in its scabbard. What Kane does, with such mastery, is place the big story – Rome vs Greece – in the background, while making this a story about ordinary men caught up in world-defining events. In short, I haven't enjoyed a book this much for ages. There aren't many writers today who could take on this story and do it well. There might be none who could do it better than Ben Kane'

Giles Kristian, author of Lancelot

'Exceptional. Kane's excelled once again in capturing the terror and the glory . . . of the ancient battlefield, and this story is one that's been begging for an expert hand for a long time'

Anthony Riches, author of the Empire series

'Carried off with panache and Kane's expansive, engaging, action-packed style. A complex, fraught, moving and passionate slice of history from one of our generation's most ambitious and engaging writers'

Manda Scott, author of the Boudica series

'It's a broad canvas Kane is painting on, but he does it with vivid colours and, like the Romans themselves, he can show great admiration for a Greek enemy and still kick them in the balls'

Robert Low, author of the Oathsworn series

'Ben Kane manages to marry broad narrative invention with detailed historical research . . . in taut, authoritative prose . . . his passion for the past, and for the craft of story-telling, shines from every page'

Toby Clements, author of the Kingmaker series

'This thrilling series opener delivers every cough, spit, curse and gush of blood to set up the mighty clash of the title. Can't really fault this one'

Jon Wise, Weekend Sport

'Ben Kane's new series explores the bloody final clash between ancient Greece and upstart Rome, focusing on soldiers and leaders from both worlds and telling the story of a bloody war with style'

Charlotte Heathcote, Sunday Express S Magazine

'A thumping good read. You can feel the earth tremble from the great battle scenes and feel the desperation of those caught up in the conflict. Kane's brilliant research weaves its way lightly throughout'

David Gilman, author of the Master of War series

From the west came the plaintive weoo of a curlew. A faint breeze rippled the dew-laden grass around me. I pulled my woollen cloak tighter and settled down into the sand. Atop a seaward-facing dune, my attention was fixed, as it had been since my arrival two hours before, on the water. There was insufficient light to discern any craft, but the flash from a tinder box – the signal I expected – would be visible. My ears were pricked; sound carried long distances. In my current line of business, avoiding the attention of revenue or naval vessels had a strong link to my chances of discovery or capture.

I heard the Frenchies muttering to each other. Instantly anxious – a far greater danger than His Majesty's navy was the local militia, hunting escaped prisoners of war – I twisted around and whispered, 'Calmez! Le bateau arrive bientôt.'

Reassured that the boat would come soon, they settled.

My conscience needled me. Rather than slumber peacefully in my blankets like most, here I was, engineering the escape of some of Napoleon's soldiers: enemies of Britain. I was a traitor, I told myself. At once the rebellious part of my character – that is to say, the French part – bridled. Britain might have been at war with France for most of the previous nineteen years, but I wanted no part of it.

My inner conflict was familiar. Born to an English mother and French father, my whole life had been spent not quite knowing who or what I was. Like many Royalists, my father had fled France not long after the Revolution. He had met and married my mother in Kent, where I had been raised. I spoke English like a local, and my surname, Carrey, did not scream 'Frenchman' either. That helped somewhat, but for reasons I could not explain, and quite unlike my brother and sister, I had never felt at home in England.

Bitterness tugged at me. Shame gnawed my insides. Lacking my usual daily cushion against these feelings – copious quantities of wine – and with time on my hands, I was unable to stop my mind from picking at the detail. I quickly reached a damning conclusion. Not feeling wholly English was not reasonable grounds to commit treason. It was my own fault that I was in this predicament.

I squirmed mentally, but I could not avoid the bald, ugly truth.

My love of gambling had brought me to this.

Keen to unhook myself from my own barb, I thought of the cha­rismatic Frenchman I had met five days since. He had a lot to do with my being here. But for him, I might still have been in the gutter in London. Credit exhausted, unable to make even a small payment towards the debts I had run up at my favoured betting salon, I had been roughed up by the owner's hired thugs. Unwilling to fight back because of what I had done to my brother years before, I had simply taken the beating.

Cowed, bruised, drunk, I had lain there for an hour or more before the Frenchman came to my aid. He had helped me up, and taken me to a nearby tavern, where he had seen to my cuts and bruises. Half won over by this unexpected kindness, I had gratefully accepted his offer of 'a sup of wine'. As I drank, he made polite conversation. He was an émigré, living with his family in London these past twenty years. His children were grown, two daughters married and with children of their own, one son, the youngest, working with him in the family company. He was in the cloth trade, the Frenchman said, and was on his way home when he had chanced upon me.

Taken in by his apparent candour, tongue loosened by the drink, I had laid out my own life story. How I had been well educated, and reaching manhood, brought like my brother into my father's importing business, where I had thought to die of boredom. How I had discovered wine, and then card games, dice and horse racing. Beginner's luck had seen me win large amounts – at least at first. My luck had turned, naturally, and I had taken to 'borrowing' funds from the family business's safe. 'I would have paid it back,' I had told the Frenchman, almost convinced I was telling the truth.

'Bien sûr,' he had murmured, refilling my cup. 'What happened after that?'

'My father paid my debts, and threw me onto the street,' I said, my shame too great to admit the tragic truth of it. My crime revealed when it came time for the end-of-year accounts, I had endured the humiliation of my father's disappointment and then that of his easily granted forgiveness. He had written off the monies I had taken from the business, and honoured my debts in full. All I had had to do in exchange was hang my head and promise never to gamble again as long as I lived.

I did not admit that less than a week had gone by before I fell back into my old ways. Nor did I relate how, arrogant, sure of my father's love, I had made no attempt to see if I was being followed. I remembered my welcome back into the salon, the toothy smiles and fresh credit. To the Frenchman, I mentioned only a pleasant, wine-fuelled evening losing money, and how when I emerged, late on in the day, my father had been waiting.

Mortally fuddled as I was that night with the Frenchman, even I had been unable to miss the whine in my voice as I complained about being disowned. Was it any surprise, I continued, that I had fallen further into debt? And as for the rates of interest charged on my debts, they were extortionate. A man had no chance of making good; it was one step forward and three back.

The Frenchman had nodded and smiled, and commiserated. He no longer spoke of himself, and selfish fool that I was, I had barely noticed. The wine continued to flow, and I, thirsting like a man deprived of it for a year, had thrown back glass after glass. Hours later, my new friend's mention of French prisoners of war, and the vast sums to be made in helping them escape, seemed not just acceptable, but appealing.

The next day, head pounding, body aching, it had been easy to let his generous offer keep my freshly sprung reservations at bay. Twenty pounds per man – with eight Frenchies requiring a boat right now – would provide me with a princely sum, and more than half what I owed. The landlord of the Shoreditch garret I rented and the salon's heavies would be placated for a time.

Already greedy, envisaging clearing my debts, I had nonetheless taken the Frenchman's assertion of plentiful work with a pinch of salt. Since my journey to Deal to find a boat, however, my opinion had changed. All the locals, it seemed, were either prepared to transport Frenchies over the Channel, or knew someone who was. Plenty of Englishmen took French gold and thought nothing of it. George Dowall, the ferryman whom I had engaged for tonight, winked and told me he had been at it for years. His casualness had eased the slight qualms I had felt at dealing with men who were regarded by most people as enemies.

I then travelled from Deal to Burntwick Island in the Thames ­Estuary, where I was to meet the Frenchies. Separated from the shore by mud flats, it was home to a local brandy-smuggling gang, and where escapees from the prison hulks gathered. The Frenchman's intelligence had been accurate; I found eight of his countrymen in a hovel rented from the smugglers. Journeying by night, hiding in hedgerows by day, I had led them the forty-plus miles to the east Kent coast without incident. By the time we reached Deal, I had grown confident, even cocky.

Feeling as if my charges had already made it back to France, and I the proud recipient of one hundred and sixty pounds, I stared out to sea. Miles to the east, where the flat calm water met the sky, there was a suggestion of brightness. I felt a prickle of unease. The cursed guinea boat should have been here by now. It was one thing to make some of the crossing in the daytime, quite another to embark in broad daylight, when anyone could spy us out. The nearest Martello tower was many miles away, but that did not mean it was safe. The primary duty of the local militia, the East Kents, was the defence of the local coastline. No doubt catching escaped Frenchies came a close second.

I thought of my childhood friend William Noble. When I had set off for London and the family business at the age of seventeen, he had joined the East Kents. We had seen each other but rarely since, and for more reasons than our geographical separation. There had been a quarrel over a girl. I shoved away that memory, determined not to dwell on the past. As far as I knew, William was still in the militia. I hoped he was nowhere nearby.

My attention returned to my current predicament. If the guinea boat did not arrive soon, I would have to lead the Frenchies back to the barn where they had spent the previous night and day. A mountain of problems would then face me: keeping their presence secret until I could secure another vessel, finding provisions without arousing suspicion, avoiding militia patrols; the list went on.

The relief that I felt, therefore, when a flash of white light winked at me from a quarter of a mile away, was considerable. It was amazing, I thought, fumbling for my flint and knife, how one spark could be visible from so far away. I struck the flint off the back of the blade, twice, thrice, hoping the men out on the water would see. I peered into the darkness, but still I could not make out the shape of the guinea boat. A moment later, two answering flashes told me my signal had been seen. My spirits rose. There was no time to lose. Rowed by a dozen men each side, the boat would soon reach the shallows.

I secreted flint and blade in a pocket and clambered to my feet. Remembering the pistol I had brought for protection, I shoved it back into my belt. 'Maintenant,' I called to the Frenchies, pitching my voice low. 'Venez, venez!'

Up they stood, eight of them. Bearded, unkempt, they wore ragtag clothes, part military uniform, part garments that had been begged, borrowed or stolen since their capture. I led the way down to the beach. At once we were in the open, and my belly clenched. Casting my gaze left and right along the strand, I laid a hand to the pistol. If I had hoped for solace from its wooden butt, I got none. I had never used the thing, indeed had not used any firearm since a fowling trip on the Thames Estuary years before.

I would not need it, I told myself, and pressed on. The guinea boat was visible now, the oarsmen slowing their stroke so the craft did not run aground.

'Who goes there?'

My heart lurched in my chest. I stopped. So did the Frenchies.

The shout had come from off to our right. Deal town lay in that direction, perhaps a mile and a half distant. I had expressed my doubts to George Dowall, asking if we should not embark further to the north, but he had laughed, and declared this was the best spot, and that he had not seen the East Kents in years.

'Stand, in the king's name!' The strident voice was perhaps a hundred yards away.

We were within musket range, I decided calmly, but in the darkness, we had little chance of being hit.

'Que devrions-nous faire?'

I said nothing.

The lead Frenchie grabbed my shoulder and repeated his question – what should we do?

To run back into the dunes risked separation, I decided, and in all likelihood, capture for most of my charges. That would rule out any further business from the Frenchman. Complete penury awaited me in that direction, therefore, and broken limbs – this was what the salon's heavies had promised – along with it.

'Au bateau!' I cried. 'Vite! Vite!'

'Stay where you are!'

'Courez!' I shouted, heaving the Frenchie past me. 'Run!'

A musket cracked. I caught its flash from the corner of my eye, heard the ball whistle past in the night. How close it had come, I could not tell, but fear gave me wings. As muzzle flashes lit the night and the peace was shredded by the roaring of muskets, I sprinted for the boat.

'Courez!' My bellow would have woken every person in Deal.

Water soaked into my shoes – soon it reached my calves – yet I did not slow. I slammed into the guinea boat, hurting my ribs on the planking. 'George?' I asked the figure in the prow.

'That be you, Master Matthew?' His voice was as calm as a man bidding his neighbour good morn.

'Yes!'

'Brought company, you did. Get they Frenchies onboard if we're not to have a right set-to.'

The lead Frenchman, the one who had asked me what we should do, was already by my side. Willing hands reached out, heaving him aboard. 'Vite!' I cried, even as a second came hurtling in.

'After them, men!' It was the militia's officer. 'There is the boat!'

I felt a prickle of recognition, but then another Frenchie arrived, and three more. I could see the seventh as well. Stepping away from the prow to try and see the last, and worrying about the militiamen, I pulled out my pistol.

'Best cock that piece, Matthew,' said George drily, 'unless you be planning to use it as a club.'

Grateful that he could not see my flushing cheeks, I drew back the hammer. God and all His saints, I thought, let me not have to shoot a fellow Englishman. There was time to feel the irony of how I had identified myself before the seventh Frenchie reached the boat.

'Où est le dernier homme?' I demanded.

'Je sais pas!' His fearful tone revealed that he was not about to help me look either. He climbed into the guinea boat even as George and a crewman jumped into the shallows.

The pair set their shoulders to the prow. With a great heave, they pushed the boat several feet back into the water. 'Ready, Master ­Matthew?' George asked.

Muskets barked. I saw flashes of light, one, two, three in a line perhaps twenty-five yards away. A ball struck the water near me. There was a hollow thump as another struck the boat. The other went I had no idea where. The officer was roaring at his men. I thought I heard him order them to fix bayonets. Again recognition tickled at me.

'We needs to go, master.' Finally, there was urgency in George's voice.

'Wait,' I barked. 'There is one man missing.'

'I will not wait, sir!'

I glanced back, and was relieved to see that he had not got into the boat – yet. I had no more than a few moments, though. Only a fool would stay where he was, and be caught. A lengthy gaol sentence awaited those who smuggled Frenchies over the Channel.

My eyes searching the darkness, my mouth tasting of bile, I went five paces towards the dunes. I held my pistol straight-armed out in front of me, as if I knew what to do with it. 'Venez-ici!' I called. 'Come here!'

So intent was I on spying out militiamen that I almost tripped over the crouching figure.

'Aidez-moi,' he said in a pain-racked, husky voice.

Helping him up, I threw my left arm around his back to grip the far side of his shirt. Together we took a step towards the boat, which thank merciful God, was still there. One of the Frenchies had clambered out, and was coming to our aid. Water splashed behind me, very close. A voice shouted 'Stop!' My flesh crawled. I could almost feel the steel of a bayonet ramming into my back.

We were within touching distance of the boat. The Frenchie reached out for his comrade's hand.

'Look out, master!' George cried.

'Get him in,' I ordered the helpful Frenchie, and relinquished my grip of the injured man.

I twisted towards him and kept turning; with the pistol in my right hand, I could aim more quickly that way. Not that I wanted to shoot it – the last thing I had intended this night was to shed another man's blood.

Imagine my utter horror, therefore, to find a militiaman almost upon me. Closer still was the fearful bayonet on the end of his musket. 'Bastard!' He jabbed it forward.

I did well to avoid his lunge, but he was already preparing to go at me again.

Utterly terrified, I did nothing. I could not turn my back on him, or he would gut me like a fish. Nor could I keep avoiding his attack. Judging by the shouts, his fellows would arrive any moment.

'Shoot 'im, master!' George's voice.

Dumbly, I stared down my arm, which was somehow pointing at the militiaman. At its end, in my white-knuckled fist, was the cocked pistol. My gaze went past it, to the fear-clenched militiaman's expression. He had hesitated, presuming I was about to shoot him, but I had not. Now, he was going to stab me – I could see it in his eyes.

Still my finger did not tighten on the trigger.

A belch of orange-yellow flame erupted at the edge of my vision. The thunder of the discharge deafened me, so close was it. The militiaman was punched back by the shot, his face a bloody ruin. He dropped like a marionette with cut strings.

The Frenchie who had fired was already gone, joining his fellows in the boat. 'Vite, monsieur,' he urged.

I lowered my pistol. Numb with shock and horror, I looked down at the water swirling around what had once been a man. The darkness concealed the blood.

'Master Matthew!'

I took a step backwards, then another.

Another figure appeared out of the darkness. Thick gold cuffs at the ends of his sleeves marked him out as an officer, as did the pistol in his hand.

Fresh anguish filled me. Of all the men it could have been, it was William Noble, my friend. There was no mistaking his angular shape, and his long, straight nose.

Perhaps blinded by the pistol's discharge, William tripped and fell over the corpse, landing face first in the knee-high water.

Voices called out in the night. Fresh flames belched as the militiamen fired in our direction.

I hesitated, torn with wanting to help my friend, who had a great fear of drowning, and aware that I needed to flee.

William came up spluttering, and recognised me. Bewilderment filled his honest face. Shock filled his voice. 'Matthew?'

I did not answer. I could not.

He raised his pistol, but it was soaking wet. With a curse, he hurled the thing in my direction.

I dodged it and backed away, towards the boat, even as he leaped up and came charging after me.

I was pulled aboard by strong hands. George fended off William with an oar as the crew bent their backs. We scythed forward into the waves. I slumped in the bottom of the boat, my ears ringing with William's accusing cry.

'You are a murderer, Matthew! A murderer!'

It was an easy crossing, with light winds and a calm sea. We sighted a Royal Navy vessel close to the French coast, but the speed of the guinea boat was such that it did not even attempt to give chase. The oarsmen cheered as George pronounced with grim satisfaction that it would be 'like setting a cow to race a hare'.

I was brooding, mind filled with images of the militiaman's face as it had been blown apart. The mood among the Frenchies was also muted, thanks to their wounded comrade. Shot in the upper abdomen, he had mercifully lapsed into unconsciousness by daybreak. Perhaps halfway across the Channel, he moaned once or twice, and died. A comrade – a friend, it seemed – set up a great wailing and crying, and had to be quieted by the others. A while after, they closed the dead man's eyes and folded his hands as if in prayer. Then they performed a haunting rendition of Le Chant du Départ, the French empire's anthem, several weeping as he sang.

The oarsmen, rough Kentishmen every last one, slowed their stroke to listen. Several bowed their heads in respect. It was a curious moment, the two sets of men – to all intents and purposes enemies – united in reverence for the dead.

I prayed for myself.

I also found my attention drawn to the body. As if to make up for what I had not seen before – I had never been to a public hanging, for example – my eyes were drawn to the pathetic, limp shape on the bottom of the boat. His blood had mixed with the bilge water, turning it the colour of dilute wine. It slopped to and fro against his pale face. At least he had a face, I thought, stomach turning, not like the militiaman back at the beach.

The Frenchie who had shot him, a big, moustachioed officer from Bordeaux, took my fascinated attention for guilt, or sorrow.

'It is not your fault he died, monsieur.' He gave the others a baleful look, but none would meet his gaze. His eyes returned to mine. 'At least you tried to help him, which is more than you can say for this lot.'

I nodded. I would not speak my real mind. That the wretch would have died anyway. That if I had left him to die, the militiaman would still be alive, and better yet, that William would not think me a murderer. Never, I decided, had an attempt to save a man's life been more futile, and borne such bitter fruit. I turned my head to look at the low, rolling coastline of France, thinking, if I go back to England, I will have to live as a fugitive, at constant risk of ending my life dancing at the end of a rope.

I was startled – and disgusted – by a devilish voice in my head. Abandon England, and my debts could be forgotten. The relief I felt from this was brief. Exile meant never seeing my family again. Of more immediate concern, however, was landing in France, where I would be regarded as an enemy. There were aged relations somewhere in Normandy, but I had never met them. My father had spoken of an old friend in Paris from time to time, a Monsieur Dupont, but I had only a vague idea of where he lived.

I laid a surreptitious hand to the money belt hidden under my shirt. It held fifty-five gold guineas. The Frenchman had given me eighty; twenty had gone to George in down payment, and the rest had been spent on food and other sundries. Once I was given the balance of what I was owed, and George was paid off, I would be left with one hundred and fifteen guineas. It was a sizeable sum, and, if I was not robbed and did not lose it gambling, enough to live on for a year, perhaps two. Panic fluttered in my stomach, nonetheless. I had never envisaged living in France for a month, let alone for the rest of my life.

Maybe it would be better to return to England, I thought. Keep my head down for a while, not in Kent, obviously, and let the militiaman's death be forgotten. Mindful of my debts in London, I considered other cities to live in. Bristol was a place I had heard good things about. I imagined opening my own gambling salon there, under an assumed identity. Shame pricked me at the thought of abandoning the Carrey name.

I hardened my heart. This was no time for sentimentality. What was done was done, and I had to make the best of it. And in England at least there would be the possibility of seeing my family again, and making things right with my father. Although we were estranged, I had harboured hopes of a reconciliation.

'What be your intention, Master Matthew?' George asked as if he could read my mind. 'Will you come back with us, or bide in France awhile?'

I gave him a tight smile. He had heard me speaking with the escapees; he had an inkling of my heritage. 'England is my home.'

'Of course, master.' There was a note of apology in his voice. 'We won't linger then. Put these Frenchies ashore, and straight back out to sea. Us will be back in Kent by nightfall, eh lads?'

A chorus of assent came from the oarsmen.

George caught my eye, then whispered, 'Get your money now, master. You don't want to be asking the Frenchies for it with their feet on the beach.' Concealing the movement with his body, he mimed a running man with his fingers.

I nodded, grateful for the advice. Even as we talked, the coast had drawn nearer. It was perhaps three quarters of a mile off. The town of Calais was a dark smudge off to our right. Directly in front of our position, I could see a windmill close to the shore, and beside it, the tiny shape of a wagon. Miniature men heaved sacks of wheat down to other men, who with the heavy loads on their backs, walked towards the mill.

Easing past George, I asked the first Frenchie for his money. The rogue pretended not to understand, but when I told him he could swim the rest of the way, he handed over the coin soon enough. His fellows did the same; I secreted the gold in my waistband. I was in a quandary about the dead man. He would never return home, living at least, but I was entitled to the fee for his passage – and I needed it.

As I reached out to search the corpse, however, the moustachioed Frenchie spoke. 'He should not have to pay.' My protest died in my throat as he continued, 'He has a wife and children. The money should go to them.'

'And who will see to that?' I challenged.

'I will.' This was the man who had set up a great outcry. 'We are from the same village.'

I pretended to look satisfied. 'Very well.'

There was muttering and glowering aplenty from several of the Frenchies – in their eyes, I was now a corpse-robber – but I paid no heed. A well-feathered nest is the most comfortable. The woes of a French widow and her children were not my concern.

We came running into the shore on a gentle swell. The incline was slight, and the water shallow for quite a distance to the beach proper. 'Out you get, messieurs,' George ordered, indicating that the Frenchies should disembark. 'Bon voyage and all that.'

They needed no second telling. When four had jumped into the sea, the rest passed their comrade's corpse over. I flinched as his arm brushed against mine. The moustachioed Frenchie shook my hand; he was the last to climb out. He did not look back. The others, talking excitedly among themselves, did not either.

'Turn, boys,' said George.

With the ease of long practice, the men on the ports
We hope you are enjoying the book so far. To continue reading...
Napoleon's Spy
Ben Kane
Copyright © 2023 All Rights Reserved