Murder on the Poet's Walk
Book info
Sample
Audiobook
Media
Author updates
Lists
Synopsis
When corpses clutching poems begin turning up around Storyton Hall, resort manager Jane Steward is on the trail of someone exercising poetic license to kill . . .



As Jane eagerly anticipates the wedding of her best friend Eloise Alcott, Storyton Hall is overrun with poets in town to compete for a coveted greeting card contract. They're everywhere, scrawling verses on cocktail napkins in the reading rooms or seeking inspiration strolling the Poet's Walk, a series of trails named after famous authors. But the Tennyson Trail leads to a grim surprise: a woman's corpse drifting in a rowboat on a lake, a crumpled copy of "The Lady of Shallot" in her lifeless fist.



When a second body is discovered, also holding a page from a poetry book, a recurring MO emerges. Fortunately, Jane is well versed in sleuthing and won't rest until she gives the killer a taste of poetic justice . . .
Release date: September 27, 2022
Publisher: Kensington Books
Print pages: 304
* BingeBooks earns revenue from qualifying purchases as an Amazon Associate as well as from other retail partners.
Listen to a sample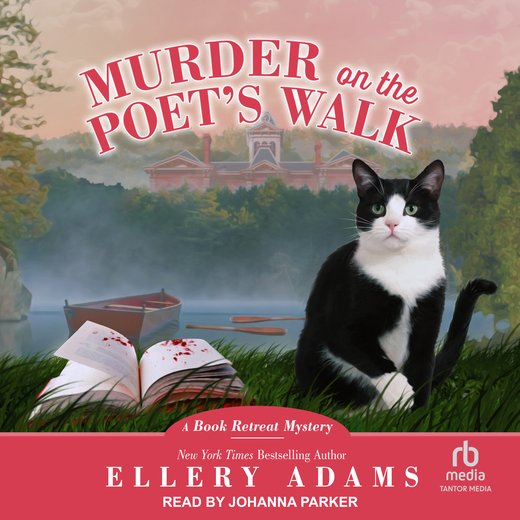 08:16:06
227.11 MB
September 27, 2022
Tantor Audio
2022
Murder on the Poet's Walk
Ellery Adams
Jane Steward always looked forward to afternoon tea, but never more so than today. She couldn't wait to share her exciting news with Uncle Aloysius and Aunt Octavia.

I hope I beat Mrs. Hubbard to the punch, she thought, hurrying out to the terrace. Mrs. Hubbard's culinary skills were exemplary, but the head cook of Storyton Hall also possessed a taste for gossip that was as insatiable as Aunt Octavia's sweet tooth.

Catching sight of the tea spread, Jane hoped her great-aunt wouldn't overindulge on sugary treats. The plucky octogenarian was the uncrowned regent of all she surveyed and tended to do exactly as she pleased, but she was also diabetic, which meant eating foods that were good for her health over those that felt good to eat.

"Hello, dear!" Aunt Octavia cried as Jane took a seat at the table reserved for the Steward family. "Don't these apple-cinnamon scones look glorious? Mrs. Hubbard is so clever. She put a rolled-up copy of Robert Frost's 'After Apple-Picking' inside our napkins. Should we each read a few lines in between bites?"

This suggestion was met by a pair of groans.

On the other side of the table, Jane's twin sons, Fitzgerald and Hemingway Steward, wore matching expressions of disapproval.

"That's a lovely idea," Jane said, plucking a turkey, Brie, and apple finger sandwich from the tray.

Uncle Aloysius beamed at his wife. "You should start, my dear. Your voice is pure poetry."

The twins rolled their eyes and sighed. Though Jane knew they wanted to eat and run, she wanted to savor such moments. During the workweek, this was their only chance to gather as a family. Jane's responsibilities as resort manager kept her busy from sunup to sundown—if not later—which is why afternoon tea was sacred to her. She'd miss it only if faced with a crisis.

Unfortunately, the luxury resort catering to bibliophiles from all corners of the globe had been plagued by one catastrophe after another. During her tenure as manager, she'd dealt with challenges that were part and parcel of running a country estate–turned–hotel. The upkeep of its aging structures and extensive grounds demanded a great deal of time and money, and as if that wasn't enough to worry about, Storyton Hall seemed to be a most favorable setting for murder and mayhem.

However, on this sultry afternoon in mid-August, Jane wasn't thinking about the numerous acts of violence that had occurred in her ancestral home. Her thoughts were of the future. Her sons would soon be heading back to school as middle schoolers, and her best friend, Eloise Alcott, was getting married in two weeks.

These weren't the only changes on the horizon either. The ruined folly was being rebuilt, and the orchard, which Jane was tentatively calling Chekov's Orchard, had finally been restored. The cherry and apple trees wouldn't bear fruit this year, but guests still loved to wander among the trees. The boughs provided welcome shade, and the soft grass muffled all sounds but the songs of insects and birds. Bees and butterflies drifted through the field of wildflowers dividing the orchard from the untamed forest. It was the perfect place to escape the oppressive heat and humidity.

"Mom?"

Jane started. She'd been gazing over Milton's Gardens and the great lawn toward the blue hills surrounding the village of Storyton and had been too lost in thought to realize that the table had gone quiet.

"You're meant to be picking apples, not gathering wool." Her eyes twinkling in amusement, Aunt Octavia tapped the Frost poem with a flamingo-pink nail that matched the flowers on her pink and green dress.

"Your turn, Mom," Fitz added impatiently.

"Did I ever tell you how sweet and cute you were as a toddler? Before you learned to talk?" Jane teased. Then, she read a few lines of Frost's poem aloud. " 'There were ten thousand thousand fruit to touch, cherish in hand, lift down, and not let fall.' "

She passed the poem to Hem, who raced through five lines before holding out the paper so that Fitz could recite the remaining six.

When Fitz was done, he popped an apple-sausage ball in his mouth. After chasing it down with a swallow of cider, he said, "It doesn't sound like a poem about apples. It sounds like a poem about being tired."

Looking pleased, Uncle Aloysius said, "Very perceptive."

"What gave you that idea?" asked Aunt Octavia.

Fitz dropped a spoonful of maple cream onto his scone. "He says he's overtired. And he mentions sleep a bunch of times."

"He has aches and pains too," Hem said, chiming in. "He sounds like you first thing in the morning, Mom."

Jane was tempted to throw a sausage ball at her son but restrained herself.

"If your mother wakes up with stiff joints, it's because she works so hard," Aunt Octavia said loyally. "And since we're on the topic of hard work, Mrs. Hubbard tells me that you two have taken excellent care of her kitchen and vegetable gardens. We're all very proud of how dedicated you've been to that job while also working on your jam business."

Fitz flashed his most winsome smile. "Thanks. Would you please pass the mini candy apples?"

"Only one treat at teatime," Jane reminded him.

"But we're growing boys," Hem parroted Mrs. Hubbard so perfectly that everyone laughed.

Uncle Aloysius doffed his fishing hat and used it to hide his face from Aunt Octavia as he leaned closer to Fitz and Hem. "If you boys were older, you might be more interested in poetry. Men have been wooing ladies with romantic poems for centuries."

The corners of Hem's mouth dipped down as he turned to Jane. "Do all the guests write love poetry?"

"No. They write all kinds of poems. A few are working on novels written entirely in verse, some are songwriters, and others write free-verse poems about everything and anything. Most of them are interested in writing short poems for greeting cards." She smiled at her sons. "You might not know it, but you've created poetry. Think of how many verses you've come up with about Broken Arm Bend. And that jingle you're working on for your jam business? That rhymes too. Songwriting is a close cousin to poetry."

"Maybe that's why I like hip-hop. Remember that song I played for you the last time we slept over?" Fitz directed his question at Aunt Octavia.

To Jane's utter astonishment, Aunt Octavia replied, "The one from A Tribe Called Quest? I most certainly do. Such clever wordplay."

"Was I there?" asked Uncle Aloysius. "I don't remember."

Seeing his confused expression, Aunt Octavia patted his hand and told him that he'd probably been in his study.

"I ran into two of the poets in the garden. We had a nice chat about nature and Whitman. I showed them one of his poems and told them we'd named our spa after him. We spoke all the way—" After a pause, he said, "I don't remember where I was headed, but it doesn't matter."

Jane and Aunt Octavia exchanged worried glances. Uncle Aloysius had been more forgetful as of late. He'd even gone fishing without his beloved hat. Her uncle was never without his fishing hat, much to Aunt Octavia's consternation, and when Jane drove down to the lake to return it to him, he touched the top of his head, clearly confounded to find that he wasn't already wearing it.

After the poets are gone, I should talk to Aunt Octavia about this. Doc Lydgate could pop over—just to be sure Uncle Aloysius is okay.

Hem gulped down the rest of his cider and swiped his napkin across his mouth. "Can we go back to the kitchens? Mrs. Hubbard needs more cucumbers for the dinner service."

As soon as Jane excused the twins, they leapt from the terrace with the nimbleness of two jungle cats and trotted down the path leading to the kitchens. Once they were out of sight, she turned back to Aunt Octavia and said, "I have news."

"Oh?"

"Tobias was working the deli counter at the Pickled Pig this morning," Jane said, referring to the village grocery store. "I've never seen a man slice salami with such gusto, but he has every reason to be happy."

Aunt Octavia leaned forward in her chair. "Does this have anything to do with his children's book?"

"In a way. His book launch is scheduled for the second Friday in September, but it doesn't look like he'll be able to have it at Run for Cover."

"Why ever not? What better place for a book launch than a bookstore?"

Jane grinned. "Because people have been calling Eloise for days, asking to buy tickets for the event."

"I didn't realize we needed to a ticket to attend Mr. Hogg's book launch. Such things should be free to the public. We wouldn't want to discourage future readers," Aunt Octavia grumbled.

"Neither does Eloise. She'd never dream of selling tickets, but apparently, Tobias has become a legitimate celebrity. No, not Tobias. Pig Newton is the celebrity. Hundreds of thousands of people follow him on social media. And now, thanks to the publicity, The Near-Sighted Pig has had so many preorders that it's already hit several bestseller lists. Tobias has offers from toy and clothing companies interested in producing merchandise featuring the pig from his book. A sweet little pig with glasses. I can just see backpacks and bedsheets. Poseable figures. The works!"

Aunt Octavia put her hand on her heart. "Are we about to witness the birth of a storybook icon? A pig as adored and revered as Wilbur?"

"I hope so. Tobias is a sweetheart, and his book is as heartwarming as they come. And even though his big brothers have teased him mercilessly, Barbara supported his writing dreams from the get-go. Imagine having two authors under one roof. Barbara's already writing two romance novels a year, and Tobias has tons of ideas for The Near-Sighted Pig series. Storyton has its own famous author couple."

"I wonder if he'll retire from the grocery business," Aunt Octavia mused.

"You can ask him at his book launch, seeing as it'll be taking place in Shakespeare's Theater. The Storyton Players are going to perform a puppet show, Mrs. Hubbard will whip up a few hundred pig cookies, and Eloise will handle the book sales."

Aunt Octavia glanced around. "I love it when we host creative types. At the moment, Storyton Hall is full of poets. I see them scribbling away in the reading rooms and the Henry James Library. I see them in the Anne of Green Gables Gazebo, the dining rooms, and the lobby. I don't think we've ever had such an industrious group of guests before. I can practically feel their energy. It's electric! Wouldn't you agree, Aloysius?"

"I would. In fact, when I was out on the lake, I saw a young man walking and writing in a little notebook at the same time. He was inches away from going in the drink but looked up just in time. After avoiding that mishap, he ended up wandering into a dense patch of poison ivy." He chuckled. "If you see a young man scratching his ankles this evening, that's the Poison Ivy Poet."

Jane laughed. "I can't really blame him for being zealous. He has to beat out fifty poets to win the greeting card contract."

While selecting a green apple macaron from the tiered cake stand, Aunt Octavia said, "I always wondered how a person made a living penning greeting card messages. Is the pay any good?"

"Not for freelancers. For every submission, they're lucky if they make enough to cover the cost of dinner and a movie. Sometimes, they're asked to submit original artwork in addition to a poem. But this new company, Current Mood Cards, wants to shake up the greeting card industry. Their slogan is 'cards for every situation,' and they're looking for a very versatile writer. Whoever wins will leave Storyton Hall with a signed contract containing more zeroes than most poets see in a lifetime."

Uncle Aloysius grunted. "I guess Robert Frost was wrong. He said, 'There's no money in poetry.' He also said, 'There's no poetry in money, either.' "

"Stuff and nonsense." Aunt Octavia gave a dismissive wave. "You never know what feeds a person's muse. Money, or the lack of it, can be an inspiration. Greed, envy, pain. Love and longing. Loss. Intense human emotions are what inspire poets."

Having finished her tea, Jane put down her cup and rested her hand on Aunt Octavia's hand. "Let's hope that intense emotion stays on the page. We've seen what happens when it can't be controlled."

"Yes, we most certainly have."

When Jane got to her feet, Uncle Aloysius followed suit. His eyes twinkled with mischief as he gave her arm a pat and said, "Don't worry, my girl. No one's hunched in a dark corner, scribbling, 'Roses are red, violets are blue. I'm a poet and a murderer too.' "

Don't tempt the fates, Jane wanted to say but didn't.

Instead, she gave her uncle a quick hug and turned away before he could see that his joke had failed to make her smile.

That evening, Jane met her book group, the Cover Girls, in the lobby.

Mabel, owner of La Grande Dame Clothing Boutique, stopped fanning herself with a copy of Amanda Gorman's "The Hill We Climb" long enough to greet Jane. "I am so glad this event is inside. Even Satan must be sweating. I honestly don't know how people survived without air-conditioning."

Mrs. Pratt, retired schoolteacher and romance novel aficionada, bobbed her head in agreement. "Women of a certain age and body type should be applauded every time we venture out from June to September. April is not the cruelest month. That's a tie between July and August."

"Humidity really messes with people's hair too. I get them red-carpet ready, and the second they leave the salon—bam!" Violet mimed an explosion around her head.

Phoebe shrugged. "I love summertime. Even if my business didn't depend on selling lots of gelato, I'd still love it because the days are so long. It's the only season I have enough time to work on my art and get a ton of reading in before bed."

"I like the summer too," said Betty, proprietress of the Cheshire Cat pub. "And this summer is even more magical because of Eloise's wedding."

Mrs. Pratt craned her head. "Where is our bride?"

Jane checked her watch. "Running late. I'd better explain how this wine party is supposed to work. I can fill her in later."

Violet raised her hand. "Do we get to taste-test everything? You know, so we can be knowledgeable hostesses?"

Jane laughed. "Of course. It's billed as a wine-and-cheese event, but Mrs. Hubbard had the kitchen staff make enough food to feed the whole village."

"Better than a roomful of drunk poets," said Mrs. Pratt.

Jane couldn't argue with that. She led the Cover Girls to a round table with a sign reading SHELLEY'S SYRAH and pointed at one of the wine bottles on the table.

"Each table features a wine named after a famous poet. Each poet wrote about wine or the act of drinking. For example, Percy Shelley wrote a poem called 'Fragment: The Vine-Shroud.' His table has a Syrah and foods to complement the wine, like smoked Gouda, black olives, and dark chocolate bacon."

"I need a piece of that," Mabel said, hungrily eyeing the platter.

"We'll eat as soon as we finish the tour." Jane walked to the next station. "Okay, so here's Pablo Neruda's pinot noir. This wine is being served with pear slices topped with goat cheese, mushrooms stuffed with salami and garlic, and barbecue pork skewers. The table near the grandfather clock is Emily Dickinson's zinfandel. The strawberry ricotta bruschetta is amazing, and the spicy shrimp wontons aren't too shabby either."

Phoebe held up a book of poems by Mary Oliver. "What about my girl? Does she have a table?"

"Yep. Mary Oliver's merlot. Her wine is paired with Parmesan potato skins, lamb kebobs, and teriyaki chicken wings."

At that moment, the door to the staff corridor flew open, and Eloise stepped into the lobby. "I'm so sorry! For being late, for using the staff hall, for looking like a hot mess."

Eloise's maxi dress was a sunflower print on a field of cobalt. The blue brought out her eyes. Her face was gently sun-kissed, and her honey-colored hair was gathered in a loose bun. She was a vision of casual elegance.

"Ha! Hot mess is me at five in the morning after staying up to read one more chapter that turned into ten," murmured Mrs. Pratt.

Mabel put an arm around Mrs. Pratt's waist and said, "We can't let lack of sleep get us down, Eugenia. At our age, we might not get back up!"

"Didn't you hear? Fifty is the new thirty," Betty told Mabel.

"You're here!" Jane beckoned for Eloise to join them. "I was just showing everyone the poets' tables. I'm asking each of you to keep an eye on the food and wine at your assigned station. We want to make sure all the guests have plenty to eat or drink, but not too much to drink. Butterworth and Sterling will be here as well, so if any of the poets go from tiddled to tap-shackled, let one of them know."

"Are those synonyms for tipsy and totally drunk?" asked Phoebe.

"Yes, and if you don't want to hear more of where those came from, don't ask Sinclair about the poetry trivia contest. I put him in charge of coming up with the questions," Jane said, referring to Storyton Hall's head librarian.

Having finished her instructions, Jane asked her friends to follow her to the Walt Whitman Spa.

The spa had closed an hour early, allowing Storyton Hall staff members to set up an intimate cocktail party just for Jane's book club.

"How lovely!" Betty exclaimed as she entered the spa's tranquil lobby.

Candles flickered on a crowded buffet table, soft music floated through speakers concealed by potted palms, and a floor-to-ceiling waterfall cascaded over teal tiles on the back wall.

Eloise looked at Jane. "You know how to spoil us."

"I know how to thank my friends for helping me out. How many times have you showed up for book club only to end up as co-hostesses at one of the hotel's random parties?"

Violet examined the wine bottles in the center of their table. "You say that like it's a bad thing. My social life only has a life because of you and your parties."

"And we get to have so much fun with our clothes," added Phoebe. "In just one season, we might go from being Great Gatsby flappers to fairy-tale characters to famous detectives with a ton of cocktail and tea parties in between."

Jane volunteered to pour wine while her friends helped themselves to food. She then filled a plate for herself and took the empty chair between Mrs. Pratt and Eloise.

"You're not still dieting, are you?" she asked, gesturing at the meager amount of food on Eloise's plate.

She sighed. "Not intentionally. I don't know if it's nerves or what, but I'm just not hungry."

"That's a problem I never have," said Mrs. Pratt. "But one of the delights of being a mature woman in a mature relationship is accepting who you are and how you look. Luckily, Roger loves food just as much as I do. I may have to put some of that dark chocolate bacon in my purse for him."

Jane grinned at her. "I think we can find you a better doggie bag than that. Okay, ladies. Tonight, we'll be sipping a cabernet sauvignon from Cliff Lede, aptly named Poetry. While I was searching for the perfect wine for us, I learned there's a sign on Highway Twenty-Nine in Napa Valley that says, 'And the wine is bottled poetry.' Shall we see if Robert Louis Stevenson was right?"

She raised her glass, and her friends followed suit.

"I can definitely taste berries," Mabel said after her first sip.

Phoebe nodded. "Blackberries, maybe? And vanilla."

"We're just so posh," Anna said in an exaggerated British accent.

The Cover Girls sipped wine and tasted one delicious dish after another. Finally, Jane tapped her wineglass with a clean spoon. Hearing the gentle chime, her friends fell silent.

"Should we go around the table and read our favorite lines?"

The other women murmured their assent and bent to collect the books of poetry they'd stored under their chairs. The group often selected books based on activities and events occurring at Storyton Hall, and this time was no exception. Instead of reading the work of one poet, however, they'd agreed to read the works of different poets. They'd each picked out one poem to share with their friends.

The first poems they heard were Amanda Gorman's "The Miracle of Morning," Mary Oliver's "Song for Autumn," and Maya Angelou's "Life Doesn't Frighten Me."

As the women read aloud, the words grew wings. They flitted like moths, soared like birds of prey, and darted like bats. Sentences hummed like dragonflies or sighed like a moth alighting on a moonflower.

After pausing to discuss the first round of poems, the Cover Girls heard Emily Dickinson's "'Hope' is the thing with feathers" and Joy Harjo's "An American Sunrise."

Jane completed the circle by reading "Belly Dancer." Penned by her favorite poet, Diane Wakoski, the words danced around the center of the table, conjuring images of a woman in silk pantaloons, swaying and clinking her finger cymbals.

When the poem came to an end, the Cover Girls exchanged looks of contentment.

Mabel said, "Before this week, I wasn't sure if I liked poetry. I guess I do, because this has been a wonderful experience."

"I can't imagine how hard it must be to pack a whole story into a few dozen lines," added Violet. "I have new respect for the writers we're about to meet."

The other women echoed this sentiment. Except for Mrs. Pratt, that is.

Holding up a warning finger, she said, "Don't forget that we've met sketchy writers before. And by sketchy, I mean dangerous."

It was true. From the moment Jane had become the resort manager, her ancestral home had been plagued by violence. From petty theft to premeditated murder, she'd seen it all. She had yet to fully recover from the traumatic events that occurred when a famous cooking show had decided to film at Storyton Hall. She'd been so excited by the idea of hosting a group of celebrity chefs—and receiving a large check for her trouble—that she hadn't stopped to consider the possible ramifications.

And the ramifications had been significant.

Jane hoped she'd learned from her mistakes. Following the cooking show disaster, she refused several lucrative offers, including one from a group of medieval lifestyle enthusiasts interested in hosting a jousting tournament, a canine protection coalition that wanted to train dogs on the premises, the Society of Political Impersonators, the League of Extraterrestrial Communicators, and the National Association of Mimes, Clowns, and Ventriloquists.

Poets are dreamers, she reminded herself. If the worst thing they do is drink too much wine, I'll count myself lucky.

"For tonight, we just need to be our friendly selves and provide a steady flow of wine—and by 'flow,' I mean a gentle stream," Jane said.

Anna gleefully rubbed her hands together. "This is going to be fun."

As it turned out, she was right. All the poets, the Current Mood Card Company VIPs, and the Cover Girls had a ball.

But as dark fell and the flow of wine became a trickle, the guests wandered off to order cocktails from the Ian Fleming Lounge or to seek the comfort of their beds.

Jane was ready to kick off her shoes, put on her pajamas, and spend t. . .
We hope you are enjoying the book so far. To continue reading...
Murder on the Poet's Walk
Ellery Adams
Copyright © 2022 All Rights Reserved
Also in this series
Also by this author