Murder Comes to Call
Available in:
eBook
Paperback
Audiobook
Hardcover
Book info
Sample
Audiobook
Media
Author updates
Lists
Synopsis
The lean years following World War I can lead to desperate acts--even in the quiet English village of Walmsley Parva. When a series of burglaries seems to culminate in murder, brash American Beryl Helliwell and proper, buttoned up Brit Edwina Davenport (and her dog, Crumpet) are eager to solve the case in Jessica Ellicott's fourth Beryl and Edwina Mystery...

World-renowned adventuress Beryl Helliwell cited for "reckless" motoring? Why, the very idea! Constable Gibbs just has it in for her. The solution? Charm the magistrate, of course. But days after Beryl's appearance before the bench, she and Edwina pay a visit to the magistrate only to find his home ransacked and the man himself lying dead at the bottom of a grand staircase.

Given the state of the house, his death appears to be connected to a rash of robberies in the village. Declan O'Shea, the handsome helper Beryl hired to assist their aged gardener Simpkins, falls under suspicion after having had his own run-in with the magistrate--but mostly, Beryl believes, because he's Irish.

While unofficially looking into the magistrate's murder, the ladies are hired in their official capacity as private inquiry agents to find census reports that have gone missing. Is someone trying to hide something from the census takers--and could that theft have anything to do with the magistrate's death? Beryl and Edwina are once again in fine form as they engage in a little reckless sleuthing to bring these assorted mysteries to a speedy conclusion...
Release date: October 27, 2020
Publisher: Kensington Books
Print pages: 304
* BingeBooks earns revenue from qualifying purchases as an Amazon Associate as well as from other retail partners.
Listen to a sample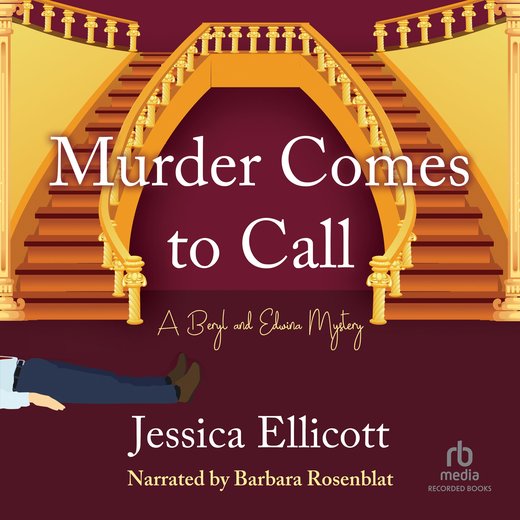 09:48:15
269.29 MB
October 27, 2020
Recorded Books
Murder Comes to Call
Jessica Ellicott
Beryl Helliwell was not in the habit of being put out. In fact, she usually took new circumstances in stride. For the most part, she felt that experiences most others found irritating were simply opportunities to learn something new. Either about herself, about a foreign culture, or about the way one's fellow man comported him or herself under duress. But as she gazed about the magistrates' court, she felt a sense of unexpected effrontery. Never could she have imagined being called upon to answer a charge of reckless motoring.

In most of the places in the world Beryl visited, her daring feats of speed were encouraged and, more often than not, covered by the press, which described her heroics with glowing accolades. Her mind boggled, yes, simply boggled, at the notion of being required to justify her prowess behind the wheel. She could put it down only to professional rivalry on the part of Constable Doris Gibbs.

Nothing else could possibly explain it. When Constable Gibbs had flagged her down at the side of the road, Beryl had naturally assumed the police officer was desirous of procuring a lift. Beryl had never been so astonished in her life than when the constable had produced a citation pad and commenced to fill it in.

Which was why she found herself on a fine June day withindoors, simply sitting in the local magistrates' court, awaiting her turn before the bench. The room felt stuffy and overheated. Warm rays from the sun slanted through the window and filled the chamber with light. Workingmen with battered hats and scuffed boots piled into the chairs set out about the room. Next to her, a man smelling decidedly of barnyard shifted nervously from one buttock to the other. Most proceedings held little interest. Poachers, mischief-makers, and those involved in youthful high jinks paraded before the bench without much drama.

"Declan O'Shea, please approach the bench," a voice boomed from the front of the room. What Beryl considered a fine specimen of a young man rose from his seat at the far side of the court. With his head of glossy black hair held high, he stepped before the bench and came to a stop in a wide stance, as if bracing himself.

Throughout the proceedings Beryl had taken some interest in the role her friend Charles Jarvis played. Charles held the distinction of being the only solicitor in the village of Walmsley Parva. Charles seemed to be acting in an advisory capacity to the magistrate. She hoped that with Charles involved in the proceedings, she might have a real chance of getting off lightly. From the scowl on the magistrate's face, it did not look as though the young man standing in front of him had any chance of doing so.

"I see here you are charged with disorderly conduct and simple assault as well as public drunkenness," the magistrate, Gordon Faraday, announced upon glancing at the papers in front of him. "What have you to say for yourself?"

"I say it was all made up," Declan O'Shea said. Beryl leaned forward as she caught the lilt in his voice. Not only was the young man handsome, but he also had just the sort of accent that never failed to catch her attention. If she had to guess, she would say that Declan O'Shea had not long quit Ireland.

"According to Constable Gibbs, you were seen shouting at a fellow member of the public just outside the pub on Tuesday last." The magistrate shuffled his papers and adjusted the pair of wire-rimmed spectacles perched across the bridge of his nose. "She reports you stank of liquor and were exceedingly abusive when approached."

"I had just left the pub, so it would have been surprising if the smell of liquor had not been on my breath," Declan O'Shea said.

Beryl watched with interest as the magistrate's face became suffused with color. He was by no means a young man and tended strongly towards corpulence. Beryl wondered if her case would be dismissed should the magistrate succumb to some sort of apoplectic fit. She decided such hopes were unworthy of her and returned her attention to the scene unfolding before the bench.

"I caution you to consider how you speak to your betters. Although I must say, I would expect nothing less than this sort of arrogant and unprincipled behavior from one such as yourself. After all, has anyone ever heard of an Irishman who doesn't stink of liquor and cause trouble wherever he goes?" Magistrate Faraday seemed to be addressing the courtroom as a whole.

Beryl was not surprised at the reaction of the assembled crowd. Laughter and cheers rippled through the room. Beryl heard a number of ethnic slurs bandied about.

The political climate in Ireland was tumultuous, to say the least. People in England, by and large, did not hold the Irish population in high esteem under the best of circumstances, and talks of Irish independence had done little to raise their opinion of them. Still, such obvious prejudice from the court left Beryl feeling rebellious herself. As an American, she had very little patience with the idea of the British telling any other country it belonged to them. She was relieved to see a flicker of discomfort cross Charles Jarvis's face. He leaned towards the magistrate and whispered something in his ear.

Magistrate Faraday shook his head at Charles and returned his attention to the accused. "I'm sentencing you to a two-pound fine, to be paid in full a fortnight from today. What's the next case?" he said, turning to Charles once more.

"Where am I supposed to get two pounds in a fortnight?" Declan O'Shea shouted. "I barely earn enough to keep body and soul together. There's nothing left over for things like fines."

"There certainly seems to be enough left over to pay for spirits at the pub," the magistrate said. "I suggest you curtail your drinking and whatever other debauchery you get up to. If you don't pay the fine in a fortnight, you will serve time in jail."

"It won't matter how I cut expenses. I don't earn enough to pay off such a large fine so quickly. You just have it in for me, don't you?" Declan O'Shea said. The young man began waving his arms about wildly in the air. He took two steps towards the bench. The magistrate slid his spectacles down his nose and peered over the top of them from behind the relative safety of his ornate wooden barrier.

"I can double it if I have any sense that you are threatening an officer of the court." The magistrate cocked one shaggy eyebrow, as if daring the young Irishman to deliver an impertinent retort or to launch into a physical altercation.

Beryl released a deep breath, hardly aware she had been holding it. There was something very compelling about the plight of the young man. Beryl thought it had more to do with the unfair treatment she felt he was receiving than any swayed emotion she may have felt on account of his good looks. At least she hoped that was the case.

Declan O'Shea shook his head silently, as if he did not trust himself to reply. The magistrate barked out that he was dismissed and called for the next case, which happened to be Beryl's own. As she rose, she managed to catch the young man's eye. He slowed his step as she approached the bench to take his place in front of it. As they passed, she paused and leaned towards him and whispered for him to wait for her in front of the court building. For her trouble, she perceived the briefest of nods before he passed on.

Beryl had dressed carefully for the occasion. She generally preferred clothing of a dramatic variety, and today was no exception. Clothed from head to toe in a daring scarlet silk trouser ensemble with a floating duster jacket, a smart driving cap, and matching leather gloves, she felt she looked the part of a supremely competent motorist. She donned her brightest smile and trained it at the magistrate. Even from across the bench, she could feel him softening under the warmth of her smile.

Although Beryl was not a vain woman, she was well aware that her appearance played a part in her success. The newspapers seemed to be far more interested in featuring photographs of attractive and stylish women in their pages than they did more conservative and modest specimens. So, Beryl had cultivated a persona that had served her extraordinarily well for years. Brighter colors, daring hairdos, and exaggerated American warmth were part of her reputation. She saw no reason to hold back now.

"Miss Helliwell, I see you have been charged with excessive speed and dangerous motoring. I assume you have a good reason to have been clipping along at such a shocking rate of speed," the magistrate said.

"But of course I have, Your Honor," Beryl said, not quite sure that it was the way to address a magistrate.

"Well, what is it, then?" the magistrate stated, leaning forward.

Beryl could feel the other assembled persons in the courtroom leaning forward, as well. Not for the first time, she found herself the only woman in a room. She had shocked her dear friend Edwina by frequenting the Dove and Duck, Walmsley Parva's local pub, where she frequently found herself in the very same state of affairs. But it wasn't just withindoors that she found herself the sole female amongst a gaggle of men. When one spent one's life building a reputation as a daredevil adventuress, one tended to suffer from a lack of feminine companionship. She had undertaken safaris, Arctic treks, and hot-air ballooning escapades without other members of the fair sex. If there was one thing Beryl knew, it was how to play to this sort of an audience.

"I had just gotten my automobile back from Blackburn's garage. The engine had been playing up a bit, and there was no way to be sure things were corrected without putting the old bus through its paces," Beryl said, turning towards the rest of the courtroom, as if to include them in her assessment of the situation. "I couldn't very well do that by poking along at a snail's pace, now could I?" she asked, batting her long eyelashes at the magistrate.

"Although that very well may be true, Constable Gibbs cited you with exceeding the speed by at least ten miles per hour. By my calculations, that would put you at an astonishing clip of forty-five miles per hour," the magistrate said, his face once more suffusing with color.

"I can't see how Constable Gibbs could have any real sense of how fast I was going, as she was simply standing on the side of the road. In my experience, those who stand about stationary always feel that those who are moving are doing so far more quickly than they really are," Beryl said.

"Are you saying that the constable has falsified this report?" the magistrate asked.

"I am suggesting no such thing. I am simply stating that the constable has no possible way of knowing exactly how fast I was going. I doubt very much I had exceeded the speed limit by ten miles per hour," Beryl said.

"So, you deny the charge that you were driving recklessly?" the magistrate asked.

"I never drive recklessly, not in the least," Beryl said. "In fact, I would go on record as saying I am the most capable and qualified driver in the entire district. Although I have set many a record for land speed, I have never been involved in a motoring accident. At least not one that was my fault."

Beryl could hear whispers and guffaws swelling up behind her. It was one thing to be accused of exceeding the posted speed. It was quite another to be called incompetent. Upon that subject she could not rest easy. Beryl was always happy to be called foolhardy, but she certainly did not care to be called incapable.

"I like a woman with a bit of spirit," the magistrate said. "Are you prepared to prove your motoring prowess?" Beryl noticed a twinkle in the magistrate's eyes and felt good about her chances of avoiding a fine. Even though she and her dear friend Edwina Davenport were on far sounder financial footing than they had been in the recent past, she still did not enjoy the idea of forking over some of their hard-earned cash for something so insulting as a speeding fine.

"What did you have in mind?" Beryl asked, giving her long eyelashes an extra bat. Although she had no intention of pursuing a romantic entanglement with the magistrate and all his many chins, she saw no reason not to stroke his ego as he came to a decision.

"I should think the matter could be easily settled by you offering me a lift when the proceedings are complete for the day. It is only about half a mile out of the village to reach Groveton Hall, but I should think it would prove sufficient to test your abilities behind the wheel," the magistrate said.

From the lecherous look in the magistrate's eyes, Beryl was quite certain that should she accept his offer, she would be wise to insist that he occupy a spot on the backseat of her automobile while she remained in the driver's seat. It would be wiser still to insist on a chaperone of some sort. Preferably his wife. Unfortunately, she did not appear to be at hand.

"A sort of road test is what you're suggesting?" Beryl asked.

"I suppose that it is."

"Or even a trial by combat. Of course, I shall have to request a witness to the proceedings," Beryl said.

The magistrate looked visibly deflated. "And who do you suggest?" he asked.

"I should think that the most impartial observer and certainly the most trustworthy would be your legal advisor, Mr. Charles Jarvis," Beryl said. Charles sat up a little straighter in his chair. His normally erect posture took on an even stiffer look. Charles, Beryl happened to know, was a great fan of motorcars and was always eager to accept her suggestion of a ride out into the country. "After all, you would want someone to support your rather unorthodox manner of meting out justice, would you not?"

"Quite right." Magistrate Faraday turned towards Charles and cleared his throat. "I assume you have no engagements that will keep you from accompanying us at the close of court this afternoon. A bachelor like yourself is the captain of his own time, isn't he?"

"I would be happy to oblige," Charles said, the slightest trace of a smile enlivening his slim face.

The magistrate dismissed her with instructions to meet him in front of the courthouse in an hour's time. She gave him a final dazzling smile before turning to face the rest of the audience in the court. She nodded and winked at those assembled, hoping the magistrate would be in a good enough mood to go easy on all the rest of them. Adjusting her hat, she strode out of the courtroom with her head held high.

As she stepped out into the bright sunshine, she looked up and down the street for Declan O'Shea. She caught sight of him at the corner, grinding a cigarette stub out beneath his foot. Beryl stepped quickly down the courthouse steps, then sauntered towards the young man, giving him enough time to enjoy her approach. Even though Beryl was at an age when many women began to give up on the pursuit of romance, she did not think it was in her best interest to do so. Not only was it good for her celebrity to be considered attractive and glamorous, but she also had no interest in being put out to pasture on any front just yet. In fact, she oftentimes felt as though her real purpose in life had just gotten under way.

Only months before, she and her finishing-school friend Edwina had become reacquainted and, through a bizarre set of circumstances, had decided to open a private enquiry agency. Beryl found that she and Edwina had a knack for solving cases together, and slowly but surely, their business was growing. Financially, the pickings were still quite slim, but thanks to an influx of funding from a silent partner, their fortunes appeared to be on the rise.

Beryl had made her name for herself by cavorting about the globe as a solo transcontinental pilot, a race-car driver, and even a hot-air balloonist. But nothing she had turned her hand to before had given her the same sense of excitement and accomplishment that tracking down criminals seemed to do.

Beryl suspected her contentment with her new undertaking had as much to do with renewing her friendship with Edwina as it did with the aspects of the business itself. There was something about sharing adventures with a true companion that made them all the more worthwhile.

Declan O'Shea looked like he could use a bit of company himself. He did not look like a happy man. When he noticed her approaching, he swept his tweed cap from his head and sketched a slight bow.

"Now, what could I have possibly done to warrant the attention of the famous Beryl Helliwell?" he said as she came to a stop in front of him.

"I am always eager to assist my fellow man, especially if I feel he has been maligned. Don't you know Americans always root for the underdog?" she said. "But if I had to say exactly what caught my attention, I would have to confess it was your accent."

"I rather like yours, as well," he said with a wink. Deep dimples appeared on either side of his mouth as he smiled. "So, tell me what you had in mind to help me with my problem. You don't need me to join a crew planning to rob a bank, do you?"

"Although that does sound intriguing, I find that my efforts are firmly on the side of upholding the law at present rather than breaking it," Beryl lied. Even though she and Edwina were firmly committed to bringing criminals to justice, she was not above using somewhat illegal means to do so.

"Well, I can't think of any legal means of earning that much money that quickly," he said. He drew out a pack of cigarettes and offered one to Beryl. She shook her platinum head. Smoking had never been something that appealed to her.

"You look like a man with a strong back," she said, flicking her gaze brazenly over his taut form. "Have you ever done any gardening?"

Declan struck a match and lit his cigarette, drawing in a deep breath, before responding. "I don't know a turnip from a tulip, but I have a strong back, that's true. And I know how to dig, how to trundle a barrow, and how to show up on time."

Beryl reached into her small handbag and withdrew a calling card. She offered it to Declan before wondering if he could read it.

"The Beeches, Windhurst Lane, Walmsley Parva," he read aloud. "Is this a place that needs someone to oblige in the garden? It sounds a bit too posh for someone who knows next to nothing about plants."

"We already have a gardener, but he could use the help of a younger man. He and my business partner, Edwina, have some ambitious plans to renovate the gardens around the property, and we've been looking for someone such as yourself to do some of the grunt work. If Simpkins likes the look of you, you could earn the money you need for your fine in short order," Beryl said.

"Much obliged, miss," Declan said. "When would you like for me to stop by for Simpkins to decide if he approves of me?"

"I would have said straightaway, but I find that I am unfortunately engaged in the transportation of the magistrate to his home after the close of court today. Shall we say tomorrow morning?" Beryl asked.

"I'll call on him tomorrow, then." Declan tipped his hat and strode away without a backwards glance.

When her jobbing gardener, Simpkins, had come into an unexpected and decidedly vulgar quantity of money by way of an unexpected inheritance three weeks earlier, Edwina had feared his newfound wealth would change the status quo at the Beeches for the worse. However, since becoming a man of significant means, Simpkins had found only two ways to display his wealth. Rather than being known as someone who couldn't quite reach his pockets, he had become famous for standing rounds for the other tipplers down at the Dove and Duck.

Edwina knew of this only because Beryl had remarked upon it one evening, before heading out to the local watering hole herself. Edwina never stepped foot in the place. Whilst she had become someone far less concerned with what society thought of her than she had ever been before, there were some standards she was not inclined to abandon.

That being said, it gave her no small degree of satisfaction to consider the astonished look that would surely be on the face of her mother's ghost should that paragon of society look down on the antics her daughter had been up to recently. It gave her a thrill every time she remembered that she had become a private enquiry agent and had proved to be quite a successful one.

Which brought to mind the second indulgence in which Simpkins seemed determined to partake. From her seat behind her desk in the morning room, a space she had commandeered recently as the center of business operations, she could hear the sound of a newfangled carpet cleaner being piloted about the hallway carpet runner by a woman Simpkins had hired to do the heavier aspects of the housekeeping. Since moving into one of the spare bedrooms at the Beeches, he had insisted on contributing to the household finances.

Simpkins, being a lifelong gardener, had not stopped at applying his generosity withindoors. As soon as he had been assured that his inheritance was forthcoming, Simpkins had set about making plans for renovating the gardens at the Beeches. His father had been the head gardener on the property when Simpkins was a boy, and Simpkins had grown up with Edwina's mother. Edwina had only recently come to realize how profoundly affected Simpkins had been by the reduction in fortunes the Great War had laid at her feet.

Between the death duties the government required after she lost each of her parents as well as her brother and the fact that her shares were no longer performing in a way one could even optimistically call paltry, Edwina had simply not had the financial wherewithal to maintain the staff required to keep the gardens in trim.

She had herself felt agonies of remorse every time she saw the overgrown shrubberies and the herbaceous borders in need of weeding, but she had not realized how distressed such things had made Simpkins. She had always attributed his lackadaisical attitude to sheer indolence, but she had come to wonder if rather it was that he had felt helpless and overwhelmed. Since he had come into money, he had completely thrown himself into the renovation project. Unfortunately, despite the amount of money he had to spend on the place, it was proving difficult to find willing workers to assist with his schemes.

Although everyone seemed to be facing difficult finances, the working class, from which strong backs and eager hands were to be found, had also been seriously affected by the aftermath of war. Not only had so many young men been lost on the battlefield, those who had returned were often in no shape physically to perform such duties. Even those young men who were capable of hard labor had discovered they vastly preferred working in factories to working the land or remaining in service to those who considered themselves their betters.

Edwina could not blame them. So many of society's conventions had been shaken off in the past few years that Edwina could hardly remember how life had been before. That is, until she heard the aspirating machine switch off, followed by a discreet knocking on her door.

"What is it, Beddoes?" Edwina asked after inviting the maid to enter the morning room.

"There's a man at the door to see you, miss," she said. "He insisted on speaking to the head of the household."

"Do you think he is here on business?" Edwina said. She peered down at her diary but did not notice any appointments scheduled for the day. In fact, whilst she was very proud of their accomplishments, the sad truth of the matter was they were not teeming with clients at present. She was rather afraid it might be some time before another problem in the village required solving. After all, it was not as though Walmsley Parva was a steaming hotbed of criminal activity.

"He didn't say, miss. He's just asked to speak with the head of the household." Beddoes lowered her voice. "He seemed rather official."

"Then I suppose you'd best show him in. . .
We hope you are enjoying the book so far. To continue reading...
Murder Comes to Call
Jessica Ellicott
Copyright © 2022 All Rights Reserved
Also in this series
Also by this author