Mrs. Morris and the Ghost
Book info
Sample
Audiobook
Media
Author updates
Lists
Synopsis
Charlene Morris knew Salem, Massachusetts, had a spooky reputation. But when she decided to open her B&B there, she expected guests-not ghosts . . .
A grieving young widow, Charlene needed a new start-so she bought a historic mansion, sight unseen, and drove from Chicago to New England to start turning it into a bed-and-breakfast. On her first night in the house, she awakens to find a handsome man with startling blue eyes in her bedroom. Terror turns to utter disbelief when he politely introduces himself as Jack Strathmore-and explains that he used to live here-when he was alive. He firmly believes that someone pushed him down the stairs three years ago, and he won't be able to leave until someone figures out who. If Charlene wants to get her business up and running in time for the Halloween tourist rush, and get this haunting house guest out of the way, she'll have to investigate. Though truth be told, this ghost is starting to grow on her . . .
Release date: July 30, 2019
Publisher: Kensington Books
Print pages: 336
* BingeBooks earns revenue from qualifying purchases as an Amazon Associate as well as from other retail partners.
Listen to a sample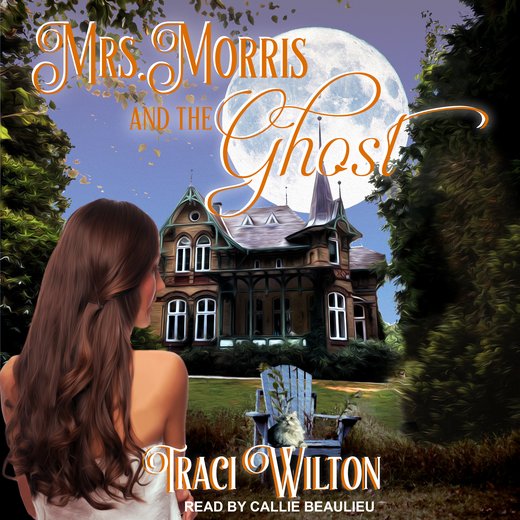 09:29:16
260.6 MB
July 30, 2019
Tantor Audio
2019
Mrs. Morris and the Ghost
Traci Wilton
Charlene Morris may be impulsive sometimes, but crazy she was not. Yes, buying an 8,000-square-foot estate in Salem, Massachusetts, sight unseen, might seem extreme, but she'd needed a clean break after her husband's tragic death, something new to take her mind off the pain and loneliness of losing her soul mate.

Two days ago, she'd packed up her Honda Pilot and left Chicago. She'd spent the night in Philadelphia and had been on the road since four this morning. Now, rounding the last corner on Crown Point Road, Charlene caught sight of the widow's walk in the distance, the top of the brick-red roof. Parking at the end of the flagstone driveway, Charlene peered over the dashboard toward the house. Holy smokes. Slate-gray timbers, double polished-oak doors, and a beautiful old-fashioned porch.

Charlene turned off the ignition and leaped out of the car. Breathing deep, she took in the blooming late-summer flowers and the hint of salt from Salem Harbor. The sky was cerulean blue with the occasional billowing white clouds. She touched her heart-shaped diamond stud earrings—the last gift Jared had given her before his car accident—and laughed out loud. "Oh, hon. You should see this!"

The vast property's mature oaks showed early signs of orange and red. A sweeping lawn graced the front of the Victorian façade, which had been built around the original structure that dated from the late 1700s. Almost exactly like the online pictures, which was fortunate since she'd created business cards using the image of the estate: CHARLENE'S—SALEM'S MOST ELEGANT BED AND BREAKFAST.

Hunching her shoulders against the cool ocean breeze, Charlene's sneakers slipped on the grass as she raced to the back of the house. A weathered wooden swing hung from a large oak tree, and a long, rectangular, wooden deck with an overhang wrapped the back. She could see herself reading, sipping iced tea on warm, sunny days, or drinking cocoa when it snowed.

She imagined children laughing and running, playing tag among the trees. Her smile faded. She and Jared had wanted kids. Two at least. But after so many failed attempts, they'd eventually stopped trying. Secretly, she'd hoped that once she quit fretting about getting pregnant, it might happen on its own. Now . . . it was too late.

No regrets. Charlene embraced this new beginning with all her heart.

Car tires crunched on flagstone and joy rushed through her, hoping that it would be Mr. Harvey. By the time she'd rounded the house, he stood beside his maroon Chrysler with SALEM REALTY on the door panel. He headed toward her with a broad, toothy smile on his round face. He wore a beige plaid suit jacket, a cheap toupee, and was shorter than her by at least four inches, making him around five feet five.

He shook her hand. "Mrs. Morris. I'm Ernie Harvey, so pleased to meet you!" He continued the vigorous motion with his right hand, causing his hairpiece to slip. "I hope you've had time to get acquainted with our charming city?"

"It's nice to meet you as well, and no, I just arrived."

"Oh, you'll have to see the Witch Trial Museum and The House of Seven Gables." His tiny blue eyes were swallowed up in his face. "We have such a lively history here. And you must brush up on it as your guests will want to know everything about the original witch hunts. It just never gets old."

Charlene took her hand back with a laugh. "I will, but right now I'm dying to peek inside." She'd told him her plans to open a bed and breakfast just to make sure there was no problem with zoning. She glanced back at her new home. The thought that it was really, truly hers sent a thrill down her spine. "I've been reading up on Salem's fascinating history for the past several months."

She'd also put together a profitable marketing plan, and if all went well she'd own the house lock, stock, and barrel within ten years. As a savvy advertising executive, she saw the possibilities and figured she was sitting on a small, underpriced gold mine.

"Well, let's not waste time." Ernie squinted in the direction of the house. "Let me show you your new home and then be gone. It's a substantial property that I'll let you explore mostly on your own. If you don't mind," he added with another toothy grin. He dabbed at perspiration on his forehead with a white paper napkin.

Strange. It was not a particularly warm late-September morning—only seventy degrees. Charlene was comfortable in jeans and a teal-blue tee, her long dark hair pulled back in a ponytail, so it would be out of her way while unpacking.

Ernie Harvey had an unusual gait, high and bouncy as he skipped along the path toward the wide porch, where four Adirondack chairs waited invitingly on either side of the impressive wooden double doors. Feeling kind of bouncy herself, she trailed him, one step behind. She held her breath as he unlocked the right side, pushed it open, and stepped aside to allow her in.

She exhaled in a rush. She'd been concerned that perhaps Mr. Harvey had fudged the photos he'd sent—but no, this was magnificent! There was the stunning stairway that led up to the third floor and the widow's walk. Open galleries on the second and third floors were railed with ornate wooden carvings, stained in golden oak.

"This is unbelievable. It's more than I dared hope." She put her palm over her fluttering heart. "I feel almost guilty, as though I stole the place."

"Oh, don't, my dear. You paid a good price. A fair price. Not that I want to talk down a property, mind you, but this has been on and off the market for years." His blue eyes dimmed for an instant and his gaze darted around nervously.

Before she could ask why, he said, "I hope you will have a long and happy life here." He looked up the staircase and around the enormous, vacant interior. "As you can see, the dining room is to the right, with the chandelier we discussed, and the living room to the left—with the fireplace."

Charlene walked in, the polished wood slick beneath the soles of her sneakers. The house had been professionally cleaned for her arrival.

Mr. Harvey pulled out a large skeleton key, along with several smaller ones, and handed them to her. "The skeleton key will lock the main doors; the others are marked for the bedrooms. I think it's self-explanatory, but if you wish, I could walk you through it." Balancing on his heels, Mr. Harvey rocked back and forth and remained rooted in the doorway.

Obviously, the poor man had other things to do, and Charlene looked forward to taking her time as she explored her house. "That won't be necessary. I'm sure I can figure it out on my own."

"Yes, well"—he cleared his throat—"the bedrooms on the upper floors go right and left off the central staircase. Your suite is behind the kitchen, down the corridor to the right. It's very spacious and can be rented separately—if you decide you don't want to inhabit the home yourself." He dabbed his upper lip and took a step back, onto the front porch—it needed a fresh coat of white paint but seemed in good repair.

"It won't be rented. I'm going to love it here. I already do," she told him with a smile. What an odd little man. "Thank you, Mr. Harvey." She touched his arm. "Thanks for everything."

"Wonderful. Well, I'll be going." He put a hand on the open door. "You stay safe now, my dear. If you need anything, you have my number. Feel free to call."

And then he was gone with a two-finger salute. He drove away from the house with a single beep of his car horn and the crunch of gravel.

Giving in to her rush of feelings, she let out a yip of glee. Goodbye, Chicago! Hello, Salem! And God bless those poor witches who'd made this place famous.

She tore up the stairwell, eager to see it all. Like a child instead of a forty-two-year-old woman, Charlene rushed from one room to the next. The thump of her feet created an echo in the empty halls and she made a mental note to order carpet runners.

On the second floor were four large suites, which would be perfect for couples or families. The next floor had three single rooms, all facing the front lawn and an open field across the street. The final stairs led up to the widow's walk that wrapped around the entire home, giving views in every direction. There was an antique brass stand missing the telescope, but even without it, she could see historic Hamilton Hall, the Peabody Essex Museum, and in the distance the thin line of the Atlantic.

She descended one flight of stairs to the first single bedroom on the left and stepped inside. Ivory walls with dark timber frames around the door and window. No closet, so she'd have to make sure each room had a wardrobe. Feeling a chill down her nape, she shivered and turned quickly, peering behind her. She had the distinct feeling of being watched.

She rubbed her arms. Had Mr. Harvey come back? Crossing the wooden floor to the window, she peeked down to the curb and saw no sign of his car. Alone. With Jared gone, she should be used to it, but the hairs on her arms raised, nerve endings on high alert.

Charlene chided herself—just because other people came to Salem for witch stories, didn't mean she bought into the hocus-pocus. She was here to create a home, away from Chicago and all those poignant, heartbreaking memories of her sweet, wonderful husband. It also put considerable distance between her and her overbearing mother.

She ran down the stairs to the main floor, which spilled to an expansive foyer, and turned left, to the long, narrow kitchen. Inlaid shelves left room for knickknacks and there was even a butler's pantry.

Hope burned bright as she unlocked the door to her private suite. She'd bought a new bedroom set, complete with mattress, for her new beginning, and decided this room would be the first to make homey. The rest of the house was in excellent shape, and she couldn't wait to put her personal stamp on things and really make the place hers.

Pushing open the door, a moldy, stale smell assaulted her senses. "Oh no!" The unpleasant odor had to be gone before nightfall, or there was no way she'd be able to sleep here. And if there was an actual leak? A mold problem? The idea of sleeping upstairs with all those empty rooms didn't appeal to her at all. To be comfortable they needed furnishings, linen, and most of all—people!

Disappointment hit her hard as she surveyed the three rooms. The living area led onto the porch, a bedroom, and bathroom.

Two old-fashioned single-pane picture windows were framed with heavy lace drapes. She unlatched the lock and dug her sneakers into the wooden floor, lifting the frame a mere three inches.

Sweat covered her brow. These hadn't been used in years. She could benefit from a stronger set of arms—good thing the movers were coming in a few hours. If the rooms weren't habitable, she might need to put her new bed upstairs for the time being, and that thought gave her strength. With a last push and shove, the second window cracked open an inch.

"Ha." She swiped the grime off her hands with satisfaction, grabbed a bottle of water, and then opened the door to the back porch and sat down on the top step. "Don't worry about the little things." Where she slept the first night was not a big deal.

Her plan was to get this enormous place fully furnished and open for business by Halloween. It would take a lot of hard work, but she'd never been afraid of that. Matter-of-fact, she embraced it. Halloween in Salem was the busiest time of the year, and to have every room rented out would be an enormous start, a boost to her bank account, and it was completely doable. I can make this happen.

She'd budgeted for a full-time gardener, a housekeeper, and cook, and would need the occasional handyman, but the rest she intended to do herself.

Right, Jared? I can do this, can't I? Tears welled as her earlier euphoria collapsed under the weight of reality. She'd invested every last penny to get this property. It's this or bust. Oh, Jared, help me, honey. I need your support, I always did.

She heard a noise coming from the purple mountain laurel shrubs at the end of the property, and stood up to get a better look. Probably a squirrel, she told herself. No reason to get jumpy. She hoped it wasn't a raccoon. They could be real pests, getting into attics or chimneys. Or a bat. The house hadn't been occupied for some time.

Hearing it again, she shivered with apprehension and searched the trees that lined her lawn, then turned to the open door at her back. Was there someone there? Watching her?

No. Get a grip. She was tired from all that driving, her energy low. Her imagination was running rampant, and she'd always had a very inventive mind. That's why she and Jared had made such a good team. Both at work and at home.

She'd been the risk taker, the visionary, while her husband had taken care of the nickels and dimes. Now she had to do both, and not get rattled. If she heard a noise there had to be a logical reason.

Charlene didn't believe in ghosts, but she knew enough about bad people. A security system should be installed right away—on the plus side, if she couldn't open the windows, no one else could either.

Realizing she still had a few hours before the delivery truck arrived, Charlene made a second tour of the house with a yellow legal pad and a pen. She started on the third floor with the smaller bedrooms, figuring where the furniture she'd bought could go. She had double twin beds from 1850 with new mattresses. A metal frame from 1890 that fit a queen-sized bed. The eaves on the third smallest bedroom still left room for the full-sized wooden frame on the truck.

Her self-imposed schedule to open at Halloween was tight, but she'd prepared by shopping ahead as best she could. A month was plenty of time to fill the place.

The second-floor bedrooms were covered in nubby beige wool and she noticed depressions in some of the carpets, as if heavy furniture had marked the spot. She'd bought a mahogany bedroom suite from 1857 that had a matching armoire and a secretary desk. She took the dimensions for curtains and wrote it on her pad of paper. The pull-down shades didn't provide the cozy feel she was aiming for.

"A desk for the other bedrooms would be good," she said aloud, adding that below carpet runners in her neat print. Keeping her hand on the rich golden railing leading from the bedrooms to the foyer, she felt energized. Would there be furniture in the detached garage next to the house? Or in the basement? She'd had a dollhouse as a kid, but this was way better.

Opening the door to the basement, Charlene expected a single bulb with a beaded metal chain but was pleasantly surprised by modern recessed lighting above the steep wooden stairs going down, and flipped the wall switch.

Growing up in Chicago, her parents' basement had been filled with cobwebs and cracks—the moldy smell and damp had kept her out of there. When she and Jared bought their house on the hill, the basement had thin slits in the cement to allow light, but it wasn't a usable space, other than for storage.

She'd expected this to be the same, but instead, one of the owners in the last century had created the ultimate man-cave. Her laugh echoed. Rocks the size of dessert plates had been polished to onyx, and rich woods in varying shades from gold to black paneled the far wall of the rectangular room.

To the right was the water heater and pipes beneath the house, screened with lattice so the eye was drawn to the rest of the basement on the left. The cement floor had been covered in octagon-shaped pavers. Racks in the same lattice pattern as the screen waited to be filled with bottles of wine.

The wall connecting just beneath the stairs had been covered with plywood, as if the project hadn't been completed. No windows lit the area, so without the light, it would be pitch-dark and a possible hazard to her guests.

Charlene went back upstairs to the kitchen and checked the time on her iPhone. "Another hour before the truck." Charlene remembered a small grocery store at the bottom of the hill and decided to get a few supplies. Beer for the movers, and wine for her. "And lunch."

She'd just finished her tuna fish sandwich when the moving truck appeared. Two big, burly workers wearing cargo pants and T-shirts that showed their beefy arms and substantial waistlines stomped up the porch steps. Swiping her hand along the rear of her jeans, she opened the right side of the double front doors in greeting. "Hi! I'm Charlene."

"Mike," the younger of the two said. His arms were tattooed, and his dark hair slicked back into a thick braid.

"Rick." The older man had a large nose and a full dark blond beard.

She'd labeled everything for the movers but without seeing the interior of the home, she'd worked off of specs and now prayed everything would fit. "What's coming off the truck first?" she asked.

Mike consulted a sheet he'd pulled from his back pocket. "The master bedroom set."

"My suite." She hoped the smell had dissipated enough that she'd be able to sleep tonight in her new bed. On the road since four this morning, she was starting to run on fumes. "That will be on this main floor, at the end of the hall just beyond the kitchen."

Eager to see what was there, Charlene hurried down the stairs to the rear of the moving truck. "How was the drive?" She was in no rush to make the road trip again and had already decided that she'd fly back to Chicago to visit her parents . . . whenever she had the time to go.

"Fifteen hours straight through, but we switch off in shifts," Mike told her. "Once we're done here, we'll pick up a load in Boston for delivery in Chicago—that's our home base."

Supporting the entrepreneurial spirit, she'd gone with a local, family-owned moving company.

"What about this, ma'am?" Rick gestured to a bubble-wrapped oval slab.

She'd discovered the antique formal dining table at a consignment shop for less than three hundred bucks. "That's the dining room. If you could please center the table under the chandelier? There's a sideboard I'd like against the far wall that matches it."

"Will do, ma'am." Rick's eyes flickered down the length of her, as if checking her out. "You plan on living here all by yourself?"

"With my guests," she answered, wondering if he was flirting. "Call me Charlene, both of you." Even if he was, she wasn't interested. She glanced down at her bare wedding ring finger. She had a plan, and it didn't call for a man.

She cradled an antique lamp with a cut-glass vase and a lace canopy in her arms, while Mike brought in a box labeled Master. Leading him down the long hallway through the kitchen, she pushed open the door to her living area. "This is the sitting room, and it's a little musty smelling in here. Do you mind opening the windows for me? I barely managed to crack it an inch."

"Sure thing." Mike easily opened the single pane, waiting to hear the catch of the lock before he let go of the frame. "You might want to get screens, so you can leave them open. At least until the smell goes away."

"On my list." Which just kept getting longer. "I'm opening up a bed and breakfast."

"Cool idea! When do you open for business?"

Charlene spoke with confidence she didn't entirely feel. "Halloween."

He eyed the enormous house and grinned. "Halloween in Salem. Way spookier than in Chicago. All you need is a ghost."

A breeze fluttered the lace curtain. "Well, right now I'm more worried about a mold issue. Thanks for opening the window."

Mike checked the window frames. "I do a little carpentry on the side and these aren't warped or anything. I bet the smell was just an old house being closed up for a while."

Her shoulders bowed with relief. "Thanks. Hope you're right." She pointed to the closed door. "Now, the bedroom is through there—and if you don't mind, I'd like that window open too. In here, I have a love seat, a matching armchair, and a wall unit for my shelves of books. Also the forty-inch TV."

"No problem." Whistling, Mike walked away, his braid sliding against his broad back. She stuck her hands in the back pockets of her jeans and breathed out. Once she had her furniture arranged the house would begin to feel like a home. It was a beautiful place for her to live, a charming city just a mile away. She'd be so busy there would be no time to grieve for her husband. No time to be lonely.

Once the delivery men had gone—Rick's handshake a tad too familiar—she traipsed around the main floor, eyeing the place as a stranger might.

She'd found the two matching sofas with a flowered yellow and rose print at an estate sale, along with a four by four square mahogany coffee table—the grouping faced the ornate fireplace.

A mirror, Charlene thought, tapping her lower lip with her forefinger, or a painting? The empty space above the mantel cried for something large. Being a nautical town, she could find a nice seascape that would fit. But a mirror would be more elegant in this setting—and worth the cost. She let out a sigh, pulled her pen and paper from her back pocket, and added mirror to the list. Cha-ching.

"You knew this," she said aloud, dragging two John Henry Belter–style chairs in laminated rosewood and yellow brocade closer to the fireplace—she stepped back to view the arrangement. Originals were in the thousand-dollar range. "And who got them for a hundred bucks each? Oh yeah . . ." She'd learned fast that estate sales were the way to go. And even back in the 1800s they'd had cheaper knockoffs.

She surveyed the room with a critical eye. More chairs and a small rosewood table would create another seating area. Charlene envisioned her guests finding a cozy nook to read. There was space for a bar behind the dining room, where people could meet for a pre-dinner drink. A piano would also be nice . . . but she was getting ahead of herself. All this would take time and money. Time, she had. Money, she didn't.

Her stomach rumbled, and she checked her phone. Six o'clock. No wonder she was hungry. She quickly went into her rooms, breathed deep—the bad smell was fading, thank goodness—and showered in the white claw-foot tub with a white and blue checkered curtain. The single head felt like a spa on her sore muscles. The faucet screeched when she turned the hot water off.

Steam fogged the mirror—oval, steel frame, and no medicine cabinet, she noted. She might want to buy one, again, when she had the money. She swiped a circular space clean with her palm.

She'd kept her hair wrapped in a towel and now loosed it, letting her dark brown waves free. Hazel eyes, a thin, oval-shaped face, her cheekbones stood out, making her realize how much weight she'd lost after Jared was gone. A little blush and she'd be fine—or would she? Her diamond studs caught the light, and she swallowed the ache in her throat. "Jared, if only you could be here with me. Life would be perfect, but how, how . . ." her voice cracked, "could it ever be again?"

Facing the mirror, she looked at herself crossly. "Stop it. Stop it right now. You will be fine. You didn't cross thousands of miles to bring this all up again. It's a new beginning. Now begin it!"

Remembering an Italian place in the same strip as the little grocery store, she decided that pasta and a glass of red was just what she needed. She flipped on the television to a local station where the anchorwoman predicted a cold front, and stepped into her closet.

This would be her first impression meet. . .
We hope you are enjoying the book so far. To continue reading...
Mrs. Morris and the Ghost
Traci Wilton
Copyright © 2023 All Rights Reserved
Also in this series
Also by this author