Book info
Sample
Audiobook
Media
Author updates
Lists
Synopsis
Set during the heroism and heartbreak of World War I, and in an occupied France in an alternative timeline, Sarah Adlakha's Midnight on the Marne explores the responsibilities love lays on us and the rippling impact of our choices.

France, 1918. Nurse Marcelle Marchand has important secrets to keep. Her role as a spy has made her both feared and revered, but it has also put her in extreme danger from the approaching German army.

American soldier George Mountcastle feels an instant connection to the young nurse. But in times of war, love must wait. Soon, George and his best friend Philip are fighting for their lives during the Second Battle of the Marne, where George prevents Philip from a daring act that might have won the battle at the cost of his own life.

On the run from a victorious Germany, George and Marcelle begin a new life with Philip and Marcelle's twin sister, Rosalie, in a brutally occupied France. Together, this self-made family navigates oppression, near starvation, and unfathomable loss, finding love and joy in unexpected moments.

Years pass, and tragedy strikes, sending George on a course that could change the past and rewrite history. Playing with time is a tricky thing. If he chooses to alter history, he will surely change his own future—and perhaps not for the better.

A Macmillan Audio production from Forge Books.
Release date: August 9, 2022
Publisher: Tom Doherty Associates
Print pages: 320
* BingeBooks earns revenue from qualifying purchases as an Amazon Associate as well as from other retail partners.
Listen to a sample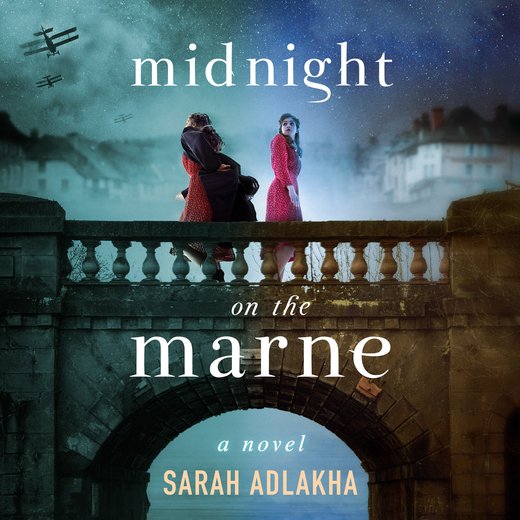 10:45:52
295.67 MB
9781250856159
August 9, 2022
Macmillan Audio
Midnight on the Marne
Sarah Adlakha
MARCELLE
Soissons, France
May 1991
The diary arrived on a Monday. It was old, the pages worn, and the words faded. Even with her strongest reading glasses, Marcelle couldn't pick out more than a phrase or two. English was a language she rarely read, though it was one of many she spoke.
The package had come from America, bound in a roll of tape that had barely managed to hold it together as it had traveled across the ocean to reach her. The author, a man Marcelle hadn't seen in over seventy years, was dead, and while she had often thought they would meet again one day, life had other plans for them both.
There were other treasures in the box: newspaper clippings, photos, letters. If she'd been ten years younger, Marcelle would have already pored over them, but ninety-four years had taken a toll on her eyes, and, like everything else in her life, reading was something she couldn't do for herself. Instead, she waited patiently for five days, for Friday, for the day her daughter would arrive from Paris.
Liliane had offered to read the diary to her, but this was not something Marcelle wanted to share with her caregiver. Not an hour of Marcelle's day passed without company. Daytime caregivers. Nighttime nurses. Doctors. Therapists. Dietitians. Gabriel had secured only the best for his mother, the guilt he felt over his absence in her life softened only by the level of care he could provide for her.
Juliette, on the other hand, didn't have the financial means to help with caregivers and specialists. When she had finally given up trying to move Marcelle in with her, she had insisted they at least spend the weekends together. Marcelle's only daughter divided her time between a Paris apartment during the week, where her days were spent with her daughter and her grandchildren, and Soissons during the weekends with her mother. It wasn't an easy commute, especially for a woman nearing seventy, the ninety-minute drive taking her over roads that were starting to resemble the speedways they had heard about in Germany. But Marcelle had refused to abandon her home in Soissons. She wouldn't do that until it was time to join her husband and her sister and her parents in the cemetery behind the cathedral square.
"Bonjour, Maman." Juliette leaned in and planted a kiss on Marcelle's cheek before she sank down onto the sofa beside her. She was right on time, as usual. "What are you doing inside? It is such a lovely day; I expected to find you in the garden."
Marcelle nodded toward the box on the table before them. "I got a package on Monday. I thought you could help me with it. My eyes, you know."
"A package?" Juliette pulled the box on the table closer, her eyes scanning over the shipping label. "America? Who do you know in America?"
"An old friend," Marcelle replied, not sure how to explain to her daughter who George had been to her, not even sure how to explain it to herself. She had met him on only two occasions, but what he had done for her, and what she had felt for him, was nothing she could put into words.
"A man friend?" Juliette pulled an aged photograph from inside the box before turning it over to read the inscription on the back. "George Mountcastle," she said. "He was a very handsome soldier. I did not know you had an American boyfriend before Papa."
The tremor in Marcelle's hands worsened as she took the photo from her daughter and squinted at the image. It was no use. The face staring back at her was as blurred as the one that had lived inside her memory for over seven decades. "He was not a boyfriend."
Juliette rifled through the box, past the newspaper clippings, and the letters, and the keepsakes. "This one looks like a movie star," she said, pulling out another photograph and reading from the back of it. "Philip Foster. Was he a boyfriend, too?"
"My goodness, Juliette." Marcelle shook her head and sighed. "There were no boyfriends. And I do not remember any Philip."
Juliette laughed as she tucked the photo back into the box before pulling out a yellowed newspaper clipping. "How about this one?" she asked, scanning over the article. "Max Neumann. He was a German. Do you remember him?"
"No … I do not think so … but maybe…" Marcelle shook her head again, frustrated. Her memory had started failing her years ago. Names she couldn't put with faces. Places that seemed both familiar and foreign at once. The term "Alzheimer's" had been tossed around lately, but Marcelle refused to listen. She would not allow her mind to be taken by a disease that had been named after a German. She was simply old; her mind was tired.
"It was a long time ago, Maman." Juliette refolded the article and placed it back into the box before closing the top. She was a perceptive woman, always in tune with the people around her and sensitive to their emotions. Nothing like her brother. "How about a cup of tea in the garden?"
Marcelle's rose garden was almost as famous as her mother's had once been. Her mother had lost interest in gardening after the first war with the Germans, upon returning home to Soissons from Paris and finding nothing but rubble and weeds. Marcelle had planted a new garden to go with the home they had rebuilt when the Germans had surrendered, a place where her mother could spend the rest of her days surrounded by a symphony of colors and the budding of new life. It was a mercy that her mother had passed before the Second World War, before the color had been drained from their lives once more. It would have destroyed her.
Marcelle's teacup rattled against the saucer as she tried to place it onto the table beside her wheelchair. The garden was in full bloom, and as she watched a plump bumblebee bounce from bud to bud, she found herself defenseless against the memories that washed over her.
"It was the summer of 1918," she said, as Juliette took the cup from her hands. "That was when I met him."
"Maman, you don't have to do this." Juliette waved away her mother's words. "There is no reason for you to go back there."
Marcelle's daughter was no stranger to war, or to German occupation. They rarely spoke of the war they had lived through together, and Marcelle had never shared her experiences of the first war with her daughter. The Forgotten War. It was hard to believe a war that had toppled four imperial dynasties could be forgotten.
"You should know what happened," Marcelle replied. "Once I am gone, there will be no one left to tell it."
Juliette pulled the diary from beneath her chair and held it up in front of her mother. "It is all in here," she said. "I took a glance through this while I was preparing the tea, and it looks like this man, George, has already told your story."
"What could he know about my story?" Marcelle huffed. "He barely knew me."
"Shall we find out?" Juliette opened the journal and held it up so Marcelle could see that one lone sentence was scrawled across the middle of the front page. She squinted out of habit, but the ink ran together. "It reads, the real story of The Great War."
Juliette turned the page, and Marcelle listened as her daughter brought life to the words and awakened memories that had long ago been put to sleep. The night the Germans had bombed Soissons at the start of the war in 1914. The cellar beneath her father's store where they'd taken shelter. The train station in Montmirail where she and her sister had volunteered as nurses.
"How is this possible?" Marcelle whispered, interrupting her daughter's reading. "How could this man know all these things about me? I never told him any of this."
"Do you want me to stop, Maman?"
Marcelle didn't have an answer for her. There were moments in the story of her life that she had fought to erase from her mind, but there were also moments of joy that had escaped her memory unknowingly, gifts that were being given back to her through her daughter's words.
"Maman!" Juliette gasped as her eyes bounced over the pages before her. "Were you a spy?"
It was a secret she had kept for seventy years, her husband guarding it well for her. He'd understood why they couldn't share it with her sister or her parents after the war. She smiled at her daughter and nodded in response.
"Did Papa know?" Juliette asked, and again, Marcelle nodded. "Why wouldn't you tell us this, Maman? This is remarkable."
"It was a long time ago, Juliette. And it was not as glamorous as it sounds."
As her daughter flipped through the diary, the fog began to lift from Marcelle's clouded memories. She could see George, the man who'd written the words on those pages; she could feel the sun warming her skin on the day they'd first met; she could hear his voice as he'd delivered the message that would save her life. Perhaps it was a mistake giving that journal to her daughter. Perhaps those memories should have been buried with the people who'd made them.
"Maman." Tears glistened in Juliette's eyes when she looked up at Marcelle after skimming through a few more pages, an equal amount of sorrow and disbelief battling through her features. "How could you keep all of this from us?"
"All of what?"
"That you were a prisoner in a German war camp."
"I was never…" Marcelle tripped over her thoughts, trying to find a sliver of truth in her daughter's words. "That is not right," she finally managed. "I was never a prisoner in a war camp."
"But it says right here." Juliette pointed at the page, at a cluster of indecipherable words. "You were captured and taken to a prison in Jaulgonne."
"No, that did not … it almost happened … but…" Marcelle had imagined that scenario so many times in her life, what might have happened if George hadn't stopped her, that it often felt like a real memory. But it wasn't real. Was it?
"It says right here," Juliette continued. "After the Germans won the battle at the Marne River … in July 1918…" Juliette skimmed through the pages, reciting disjointed pieces of a story that felt strangely familiar, but one that Marcelle knew was false. "… they marched into Paris…"
"No. That is not true, Juliette. I was there. It was July of 1918. We had been at war for four years, and the Americans had just joined the fight. We held the Germans back at the Marne River. They never got to Paris. Our troops pushed them back until they surrendered a few months later. I was there." Marcelle pointed to the journal in her daughter's hands, remembering the celebrations in the streets when the Germans had surrendered. The music. The laughter. The dancing. The day George had come back. "It did not happen this way," she whispered, unable to still the worsening tremor in her hands. "The Germans did not take Paris."
"I'm sorry, Maman." Juliette closed the book and returned it to the spot beneath her chair before reaching out to her mother. "Maybe this was not a good idea," she said, pressing her hand into Marcelle's. "I did not realize it was a made-up story."
Was it a made-up story? Was it fabricated by a man who had known things about Marcelle that were impossible for him to know? It didn't happen that way, did it? But if it was made up, why did it feel so true?
"Could you start from the beginning again?" Marcelle asked, before clearing her throat and forcing a calm into her voice. "I would like to hear the entire story."
Great Britain to their west. The boys would be home before Christmas. She was sure of it.
The sun continued to sink outside the window, but Marcelle waited until the sky had almost succumbed to darkness before she wrapped a shawl around her shoulders and walked the short distance from their home to her father's store down the street. The shop was empty when she arrived, so she followed the soft light filtering in from above as it guided her down the stairs to the cellar. The jewelry box was the first thing she noticed. It sat on the wooden table against the far wall of the room, looking out of place by the sacks of food that had been tossed down beside it: potatoes, flour, sugar, beans.
"Que fais-tu?" Marcelle asked. What are you doing?
From a darkened corner just beyond the light's reach, her mother stepped forward.
"Nothing, dear," she said. "Just tidying up. Doing some rearranging."
"Stop lying to her, Eva." The wine bottles clinked as her father stacked them beneath the wooden table, his temper in full bloom. "She is practically a woman. We need everyone's help here. Stop trying to shelter her from this."
"Shelter me from what?" Marcelle stepped forward, eyeing her sister, who was handing the bottles to their father. Rosalie was an obedient girl. Despite sharing their mother's womb and every minute of their lives thereafter, they had so little in common.
Marcelle was five when she had first realized they were special. She had seen her reflection in her mother's mirror at home, so she knew it was the same as her sister's, but it was not until her mother had taken them to the river for a picnic on their fifth birthday, and she'd seen their reflections side by side in the pool of water, that she had really understood what they were: two different versions of the same person.
Marcelle was the achiever. Nothing was beyond her reach. She was one of the few girls in Soissons to complete her second-level examinations, and she excelled in her studies, eager to learn every nuance of history and language and mathematics. Her plans had once included making the one-hundred-kilometer trek southwest to Paris upon her eighteenth birthday to find work as a teacher. She had never shared that dream with anyone. Her parents would have discouraged it, and by the time her second-level examinations had rolled around, she had already fallen for Pierre.
Rosalie, by contrast, was the pleaser. She was a quiet and serious girl, sullen, to a certain extent, especially since talk of war had arrived at their doorstep. Life was a chore for Rosalie, a tedious undertaking that required following all the rules in all the right order. She would never have dreamed of running off to Paris without their father's permission. She did what was expected of her.
"Come, dear," her mother said, smoothing her hair back and pinning the strays into place before gripping Marcelle's elbow. "Let's get you back home. The air down here is not good for you."
"No." Marcelle pulled her shoulders back and straightened her spine, pressing her heels firmly into the soft earthen floor and standing almost as tall as her mother. "I demand to know what is going on here."
"You demand to know?" Her father almost banged his head on one of the low-hanging beams of the ceiling when he spun around. "You are a little girl with her head in the clouds. Open your eyes if you want to see what is happening here. The Germans are coming. If they have not already killed your brothers or taken them hostage, they will do so tomorrow. And then they will be here. They will destroy our town and take what they want, and we will be at their mercy."
Marcelle stepped back at the assault of his words.
"You want to know what we are doing here?" he continued. "We are trying to survive. We are trying to save our family. And your sister is the only child I have left who is strong enough to help me do that."
"Mon Dieu, Gabriel!" Her mother stepped between them, wrapping an arm around Marcelle and forcing her up the stairs. The light from outside was muted when they crested the final step and entered the store, and it wasn't until Marcelle looked around that she spotted the crisscrossed mesh that had been taped to the windows. She hadn't noticed it when she had entered just moments earlier, or the bare shelves, or the silence.
The streets were empty. The men who spent their afternoons smoking and arguing and laughing outside of the store were missing, the women who shuffled arm in arm from shop to shop were gone, and the children who chased the dogs from one side of the cobblestone street to the other were nowhere to be seen. When had this happened?
"What is that?" Marcelle pointed to the mesh that was taped to the windows.
"It is to prevent glass from shattering and spraying into the store." Her mother hesitated before she continued. "If the Germans shell us, we need to be prepared."
Marcelle simply nodded and followed her mother home in silence. She sat on the mattress she shared with her sister, the one her brothers had once shared, and tried not to imagine where they might be now. She tried not to think about Pierre and the letters she had already written to him. She tried not to hear their voices or see their faces. She tried, but her father's words would not leave her: If they have not already killed your brothers …
She didn't come out for supper that night. Her mother tried to take her some bread, but Marcelle refused to eat. She refused to speak or change her clothes or acknowledge her sister when she came to bed. Her father was right. She was a naïve little girl with her head in the clouds. She had refused to see the signs all around her. She had sent the men in her life off to war believing they would return safely to her.
But hadn't they deserved that?
For all she knew, her father was mistaken. He was not the Almighty; he could not possibly know their fates. He was a man like any other man, and Marcelle would keep her head bowed in prayer to the heavenly Father, who did know the fates of all men, the Father who could perform miracles and was the only One who could deliver her brothers and her fiancé from evil.
---
The thunder started shortly before dawn. Marcelle didn't realize she'd fallen asleep until the booming in the distance woke her. The storm was far enough away that the rains would not reach them for at least another hour, so she pulled the quilt her grandmother had made and gifted to her parents on their wedding day up under her chin and curled into a tight ball. She would sleep until daylight stole the darkness.
The rains never came that day, because the thunder was not born from the heavens. To the west, the sky remained a cerulean blue, but to the east, a haze of smoke floated above the horizon where men were killing men and families were fleeing for their survival.
Rosalie was the one to drag her out of bed and hand her a bag so she could pack two days' worth of clothing. Marcelle followed her back to their father's store and down the cellar stairs to where their family would wait out the long days ahead. She didn't argue with her sister. She didn't argue with anyone. She stepped in line and did as she was told, clutching her grandmother's quilt to her chest as she watched some of the men from town help move mattresses to the cellar.
Monsieur Fournier was one of the men. Pierre's father was forty-six, just like Marcelle's, and they had both avoided being sent to the front by the grace of age. Soissons seemed to be shrinking by the day. The absence of the young men was made more obvious by the disappearance of families who had fled toward Paris as the Germans neared. Marcelle had overheard her father discussing similar plans with Pierre's father, but Monsieur Fournier wasn't ready for it yet; he was worried his daughters would not be strong enough. As she sank down onto the mattress beside her mother, who was cutting an apple and portioning the pieces onto plates for the men, Marcelle wondered if her own father felt the same way about her.
"Do you think I am weak?" Marcelle reached over and slipped one of the apple slices into her mouth before her mother could swat her hand away.
"I think this world does not suit you," her mother replied, replacing the apple slice before moving the plate out of Marcelle's reach.
"Is that why you tried to shelter me from it? Because I am not strong enough?"
"Not at all. You are stronger than you give yourself credit for." She took a bite of the last apple slice before handing the rest to Marcelle. "Your father does not think you are weak, either. He is simply trying to protect you, and he is worried that you are not as careful as your sister. You speak up when the world expects you to be quiet. This could get you into trouble one day. You do not have your brothers to protect you anymore."
"But I heard some of the men talking earlier, and they said there is still a chance that the boys are alive out there."
Her mother nodded. "I hope they are right," she said. "There is no greater sorrow than losing a child." She squeezed Marcelle's hand before she continued. "You will be such a beautiful mother one day."
It was not until late in the night that Marcelle really thought about her mother's words. The thunder grew louder as the shells rained down around them, and, while silence filled the space between blasts, Marcelle knew that no one slept.
She couldn't stop hearing her mother's words: You will be such a beautiful mother one day. Did she really believe that? Or did she think that cellar would be their tomb?
The night stretched on indefinitely. Pierre's parents had taken refuge with them, along with their two young daughters, Lina and Marie, who whispered to each other in English until the lanterns were extinguished. Marcelle wondered what they were saying. Were they comforting each other? Were they scared? They were shy children, always giggling when Marcelle came around. Pierre's grandmother was British and had insisted that her grandchildren be raised to speak English, but Marcelle had never heard either girl speak French, and she often wondered if they even knew how.
The cellar was only large enough for four mattresses since Marcelle's father had refused to move the wine bottles or the wooden table against the far wall. Sleeping conditions were tight, to say the least, and though no one made a sound all night, Marcelle felt certain it wasn't because anyone slept. It wasn't until her father pulled the cellar hatch open, and a current of fresh air swept in around them awakening all the stagnant fears and anxieties that had festered throughout the night, that anyone stirred.
Marcelle clambered up the cellar stairs after her father, so desperate for air that she didn't even bother with shoes. A glint of sunlight reflected off a fractured window that had not survived the night, and before she could blink away the glare, she knew she had made a grave mistake by following him.
German.
The man standing beside her was speaking German. She recognized his voice and understood his words, but she couldn't force a breath into her lungs, and the tunneling of her vision was threatening to land her on the ground at his feet.
"Hier spricht niemand Deutsch." No one speaks German here.
Monsieur Bauer. It was her German teacher from school, lying to the German soldier by his side about one of his most accomplished students. He had written that on her final evaluation not even two months earlier: Mlle. Marchand is gifted in conversational German. She is one of the most accomplished students I have had the pleasure of instructing. He was the one who had told Marcelle about the all-girl schools in the bigger cities and the boardinghouses for unmarried women who dedicated their lives to the education of children, the one who had placed those dreams of independence in her head all those years ago. He had not been happy when Marcelle's attentions had shifted from school to Pierre.
"Monsieur Marchand," he said, addressing Marcelle's father in French and gesturing to the German soldier accompanying him. "Hauptmann Krause here has asked that all citizens of Soissons be present outside the cathedral at midday today for an important announcement. He has also commanded anyone who speaks German to come forward and assist as a translator for his troops who will be billeting in the homes along this street. I have already informed him that no one in your family speaks German and that your house is available for his troops."
Marcelle's father nodded along to Monsieur Bauer's words, skillfully avoiding the gaze of the German soldier, who, judging from the medals weighing down his coat, must have been someone very important.
Marcelle could feel the man's eyes on her. She hadn't thought to pin her hair up before leaving the cellar, and she wasn't even sure she had buttoned her blouse up around her neck. She felt exposed and vulnerable, and despite the chilled morning air, beads of sweat formed on her upper lip. She stood frozen in place, her senses heightened like a doe caught in the sights of a wolf, wondering if the predator beside her was waiting for her to bolt, if he delighted in the chase.
"Oui, Monsieur Bauer." Marcelle's father nudged her back toward the cellar. "Our house is open for the troops. We will gladly take comfort in the cellar, and I will be certain to spread the word about the meeting at the cathedral today. Merci."
Marcelle didn't notice the musty stench of the cellar when she descended the stairs, or the darkness that enveloped them when her father closed the hatch. The cold of the tomb-like stone walls and the dampness that endlessly clung to them was a welcome relief. It wasn't until her father lit the oil lamp that she had to face her consequences.
"You will be more careful from now on." His voice never rose above a whisper, but venom laced his words. Marcelle did not fault him for it. She had been reckless. She had not been paying attention, but she would not make that mistake again.
"Oui, Papa," she mumbled, ducking into the shadows and feeling her way to the mattress she shared with her sister.
The glow of the oil lamp reached only as far as the adults who gathered around it, her parents and Pierre's. From the periphery, Marcelle and Rosalie watched its shadows dance across their faces, unmasking the fear they tried so desperately to hide. The cellar wasn't big enough for privacy.
Plans were being made. Besides the meeting at the cathedral square, there were supplies to gather and families to visit and meals to be made. ...
We hope you are enjoying the book so far. To continue reading...
Midnight on the Marne
Sarah Adlakha
Copyright © 2022 All Rights Reserved