Meet Me Under the Mistletoe
Book info
Sample
Audiobook
Media
Author updates
Lists
Synopsis
Don't miss the Christmas wedding of the year, in Meet Me Under the Mistletoe, by the bestselling author of The Twelve Dates of Christmas, Jenny Bayliss.

'Jenny Bayliss is the queen of uplifting, funny, smart romantic comedies.' – Freya Sampson, author of The Last Library

A winter wedding of school friends should be the highlight of Nory Noel's festive calendar. But that group has long since drifted apart, and Nory is dreading the lavish, week-long affair. Still, she supposes, being the only single person means she gets a king-size bed in the idyllic castle venue all to herself.

As the champagne flows, the years roll back and soon the air is alive with old sparks and old tensions. Desperate for a moment of peace, Nory escapes and crashes into Isaac, the castle's gardener – and her former school rival.

Nory and Isaac have more in common these days than they could ever have imagined. But as she steals more time away to spend with him, Isaac reveals an astonishing secret about his past. Nory is in a unique position to help right this wrong – but uncovering the truth might mean pushing Isaac away once more . . .

Praise for Jenny Bayliss:

'If you need help getting into the festive spirit, this is the book for you.' - Good Housekeeping

'Full of quirky characters, this book will restore anyone's faith that it's never too late for a second chance at love or, indeed, life.' - Sophie Cousens, bestselling author of This Time Next Year

'Sparkly and romantic' - My Weekly
Release date: September 27, 2022
Publisher: G.P. Putnam's Sons
Print pages: 432
* BingeBooks earns revenue from qualifying purchases as an Amazon Associate as well as from other retail partners.
Listen to a sample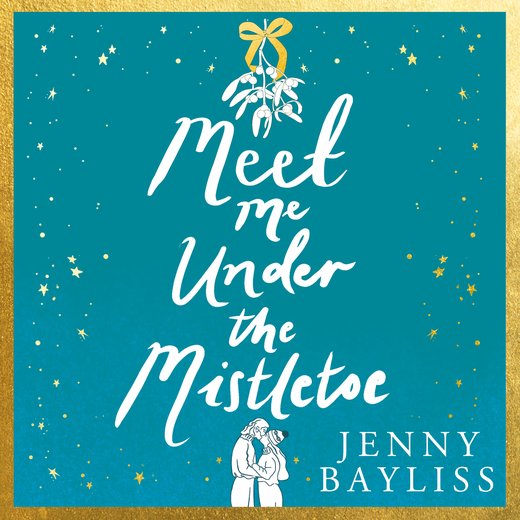 11:26:59
314.49 MB
9781529088274
November 10, 2022
Pan Macmillan
Meet Me Under the Mistletoe
Jenny Bayliss
One

Shepherd Market is old London. Two small squares of ye olde quaint shop fronts and pubs, some dating back to the 1700s, nestle unconcerned among the steel and glass monoliths of their descendants. A peculiar vibe of village camaraderie and tourism pulses through the tiny neighborhood; doors open with tinkling bells into welcomingly dark shops, and people mingle in the street, strangers and friends passing the time. And it is here, sandwiched between a tailor and a bistro, that Elinor Noel-Nory to those who know her best-runs her secondhand bookshop, Serendipitous Seconds, with her right-hand man, Andrew.

The woman in the long blue floral coat with curly gray hair flowing to her waist had been leafing through a book of prints by the Dutch Old Masters for nearly twenty minutes, and Nory was beginning to twitch. One of the only downsides, so far as Nory could see, to spending your life surrounded by beautiful books was that people kept wanting to buy your favorites.

Andrew pushed a mug of coffee into her hand.

"Stop staring," he hissed. "You'll put her off the sale."

Nory narrowed her eyes and stared harder. "That is one of the most comprehensive books we have on the Old Masters, still lifes," she whispered. "The quality of the prints is exquisite. They don't print books on that kind of paper anymore."

"Which is reflected in the price tag, which is why we need this sale. Now stop intimidating our only customer and help me decipher this inventory."

She allowed herself to be led away to the large mahogany desk at the back of the shop. Andrew was on an eternal quest to try to keep track of the vast and eclectic jumble of books for which they had long since run out of shelf and stacking space. Nory didn't feel that the alchemy of bringing books together with readers could be contained in a spreadsheet.

Face-to-face sales may not have been her strong suit, but Nory had a gift for finding rare and beautiful books and matching them with owners who would treasure them forever. It was like she could feel the books calling to her. She could sift through a box of dime-a-dozen titles and find the hidden gem. Not only that, but she would instantly know who the book was destined for. Andrew called her the book whisperer. And it was this talent that kept people coming back for more. In her desk drawer, she had a small leatherbound book with the names of all her repeat customers and the books they had purchased. When a fresh consignment of titles arrived at the shop, she would reach for the book of names, fingers tingling with the promise of matches to be made; book love was a magical thing.

Matilda murmured in her papoose, which was attached to Andrew's front. Matilda was four months old now and Nory wondered how long Andrew could continue to carry her around for hours at a time without developing a stoop. Matilda spent two days in the shop with Andrew and three days at home with his husband, Seb, who worked in graphic design. In January, Matilda would start at nursery and Andrew was already fretting.

The woman in the floral coat began to walk toward the desk, zigzagging slightly as she negotiated the piles of books on tables and footstools, organized in an order known only to Nory, and Nory felt herself tense. Andrew rested a steadying hand on her shoulder.

It wasn't that she was against selling books-this was, after all, her chosen profession-it was that she felt a particular affinity with anything botanical, in particular botanical art, and she had collected some rather fabulous books on the subject, which she was loath to part with. She guessed that's what you got for growing up in a family-run nursery business; her whole family was plant obsessed.

The woman placed the tome-a collection of the works of Rachel Ruysch-with due reverence on the desk, and Nory thawed slightly; perhaps she was the right owner for this book after all.

"Can you do anything on the price?" she asked.

Nory made a face like she was thinking about it. "It's a very rare reproduction. I think it's priced more than fairly."

You did not, in Nory opinion, haggle where the Old Masters were concerned. The woman eyed her.

Andrew, with Matilda snuffling contentedly into his chest, leaned over and asked, "I wonder if this book could be the first in our ten percent discount Christmas offer?" in a terribly polite voice that only Nory knew actually meant Make the goddamned sale!

The woman's eyes widened briefly, and she raised one eyebrow expectantly at Nory. Nory smiled.

"Of course, how silly of me to forget the Christmas discount! Let's round it down to three hundred and twenty-five pounds exactly."

"Wonderful!" exclaimed the woman. She began immediately to rummage around in her handbag, while Andrew whisked the book-which Nory had been wistfully stroking-out of Nory's reach to wrap it.

Andrew handed the book, enveloped in thick brown parchment paper and secured with string, to Nory, and Nory held it out to the woman. The woman took it, but Nory held on. Suddenly she couldn't seem to make her hands unclench. The woman tugged and Nory resisted. The woman smiled uncertainly and tugged again. Reluctantly Nory let go, and the woman hurried out of the shop, apparently fearing Nory might give chase. In fairness, if Ameerah hadn't ambled in at that moment and flung herself into one of the old chesterfield armchairs in the reading corner, she might have.

Ameerah was wearing a black floor-length military coat, undone to reveal a tailored black skirt suit that nipped in at the waist and a brilliant white shirt with a ruffle down either side of the buttons. Her knee-high, stilettoed black boots squeaked as she crossed her legs elegantly and settled her gaze first on Nory and then Andrew.

"Hello, my darlings. Coffee's on the way." She smiled, her teeth as white as her shirt, standing out against her dark skin.

Where Ameerah was tall and Marlene Dietrich sleek, Nory was five foot five at a pinch with decidedly Rubenesque proportions. Nory had a heart-shaped face with high cheekbones, emphasized by almost permanently rosy cheeks; if she were an actress she would surely be typecast as a buxom wench. Her shoulder-length hair, like her eyes, was a mixture of browns, golds, and ambers that caught the light. Her friend Jenna had once said that Nory had the coloring of a tortoiseshell cat. Nory had decided there were far worse animals to be likened to.

Nory checked her watch. "Shouldn't you be in court, defending the defenseless?" she asked.

"The case was adjourned until the morning."

"Lucky us," said Andrew slyly.

"Don't pretend you're not delighted to see me," said Ameerah. "Now, bring my goddaughter over here so that I can coo over her."

"Actually, Ameerah, Matilda is my goddaughter."

"Yes, but we're best friends, so she's my goddaughter by proxy."

Nory couldn't argue with that.

The bell jingled, and Hannah, the owner of Delizioso Coffee, came in bearing three cardboard cups, steaming in the cold air.

"Thank you, Hannah," said Nory, taking the cups. "You didn't need to bring them over, I would have come and got them."

"It's no bother. We're quiet at the moment. The lull before the lunch rush. Lots of people are talking about your window display. It's quite a hit."

Andrew beamed. This year's Christmas window design had been his idea: a three-foot plump and jolly Father Christmas sat in a rocking chair, reading, his half-moon glasses slipped to the end of his nose. Around him were piles of well-loved books and vintage Christmas titles propped up, covers facing outward. This morning they had sold a particularly crusty-looking copy of The Little Match Girl from the display.

"Let's hope it brings the customers in," said Nory.

"If she can bear to actually part with the books," added Andrew. He was kneeling at Ameerah's feet, the papoose still attached to him while Ameerah poured adoration upon his daughter. Having men at her feet, even gay men, was something Ameerah was used to.

Hannah left, and Nory began searching for a book to fill the hole on the shelf left by the one just purchased-an unfilled bookshelf was a sad shelf indeed. She wandered over to a pile of leatherbound tomes sitting on an antique dining chair with a frayed red velvet seat. She knew exactly what she was looking for and gave a little hum of satisfaction when she found it: a book celebrating paintings by Maria Sibylla Merian. Nory carefully extricated it from the stack and stroked the cover. The antique chair creaked in gratitude at having some weight lifted from it. She gently opened the book and began to turn the pages, feeling a sense of deep contentment as her eyes roamed over paintings that were as familiar to her as her own face. Nory had studied literature and art history at university and had written her final dissertation on the forgotten female artists of the golden age; Merian's work had featured heavily.

"Stop fawning over that tatty old book and drink your coffee," called Ameerah.

"Don't listen to her," Nory comedy-whispered to the book, closing it and slipping it into the space left by the latest sale. Ameerah had very little appreciation for anything that came before the 1990s, and that included her boyfriends. Nory sat down on an old wooden milking stool she'd found in the basement when she'd taken over the shop, and sipped her coffee.

Serendipitous Seconds had more than its fair share of cozy nooks and each was filled with a comfortable old chair of some description. In Nory's opinion, book buying should never be rushed; she wanted her customers to feel they could sit and get to know a book before they purchased.

"Andrew, I've had another email from Jenna to say that Nory is dragging her heels about the house party. We're supposed to arrive on the twenty-ninth of November-that's this Sunday! Your employer is being unconscionably difficult. Talk to her."

"I've tried, believe me. She's being very resistant."

"I am here, you know! And I'm not being difficult, I'm going to the wedding, and I've offered to help with prep in any way I can. I just don't know if I ought to go to the house party first."

"But it won't be the same without you. The whole point is that we have the old gang together again, just us, before all the other guests arrive. When was the last time we were all properly together?"

"You know when," said Nory.

A familiar pang of sorrow coiled around her ribs, making her chest tighten. They had been such a tight group at school. It had seemed unthinkable they could ever drift apart. But of course, they did. Until Tristan's death had brought them back together in the worst possible way.

"Exactly," said Ameerah more softly. "And we said we wouldn't drift apart again."

"We haven't. I keep in contact with everyone... well, almost everyone." Nory frowned as a memory of her and Guy, in flagrante, flashed into her mind.

"Yes, but not all together at the same time! Come on, Nory, we're the shits and giggles gang, remember? You have to come, or we'll be another member down." She pulled a sad face and then said: "Don't make me benzodiazepine your tea."
 
"For someone who works in law, you have a decidedly squiffy moral compass," Andrew noted.

"My client list is long and varied and each one brings its own education." Ameerah winked.

"Christmas is our busiest time of year; I can't just go galivanting off for a jolly in a castle," Nory reasoned.

"It's not just any old castle, it's Robinwood Castle, the playground of our youth. And it's not just any old jolly either. It's a week spent with our oldest and dearest friends."

Ameerah made a compelling case. It wasn't that Nory didn't desperately want to spend time with her friends, but it was complicated, and these days she tried to avoid complicated where possible. Still, she was running out of excuses.

"Also, I've had sex with the groom," she countered.

Ameerah threw her head back and laughed. "We've all had sex with the groom, Nory!"

This was probably true. The very exclusive private school to which Nory had won a scholarship had been somewhat isolated, and as such provided a rather small pool in which its horny teenage students could experiment sexually; so, the girls and boys of Braddon-Hartmead made sure they swam every inch of it. Charles, the groom, had been generally known to be an absolute hound in the sixth form. Beneath his yearbook picture, the quote read: Most likely to become a porn star. He'd become an investment banker.

"Are you bringing Dev?" Nory asked.

"Yes. Man-Barbie will be accompanying me for the purposes of being eye candy and heroically good in the sack."

Dev Chakrabarti was Ameerah's latest boyfriend, a model who was the darling of British Vogue photographers and a well-known figure on the catwalk at the Milan, Paris, London, and New York Fashion Weeks. Ameerah was fond of saying she had neither the time nor the space in her life for men who had something to say, she merely wanted them to look good and fuck better.

"It doesn't seem fair that he should be a nice person and attractive and good in bed. There must be something wrong with him," said Nory, screwing up her button nose.

Nory had met Dev several times now and found him to be very good company, quite different from the vacuous men Ameerah usually dated.

"There is," Ameerah said, stretching and yawning. "He's a man-Barbie."

"I think Dev has hidden depths. You simply won't give him the chance to show you. Did you know he has a degree in politics and international relations?"

"What?" Ameerah was taken aback. "Who? Dev?"

"Are you objectifying a man, Ameerah? I'm shocked." Andrew smiled wickedly.

Ameerah pulled a face at him. "Andrew, darling, I have been objectified since the day I grew these." She paused to poke out her boobs and prod them in turn. "Do you think men see me in my barrister getup and think 'Gosh, she looks like a clever well-read woman'? No, they look at me and think, 'What's she got under those robes,' and assume I must have slept my way to the top. That is, if they don't first mistake me for a defendant."

"Cynical much?" asked Andrew.

"Tell me I'm wrong," said Ameerah fiercely.

Andrew put his hands up in surrender.

"Does that mean we ought to behave as badly as men?" Nory queried.

"Oh, I'm sick of having to be the better person. Why is it always down to women to act like grown-ups and lead by example? I want to equal rights to objectification."

"Well, objectification aside, if hypothetically, I do come to the house party, I'll be the only person without a plus-one. I'll be the proverbial third wheel."

"Are you not enough as you are?" queried Andrew, one eyebrow raised archly. "Do you need a man by your side in order to feel complete?"

"Certainly not!" Nory was indignant.

"Then you should be perfectly happy to attend as a One," he smiled triumphantly.

"I'm worried about the shop." This was a small lie.

Andrew, who had up left his position beside Ameerah's throne and begun to re-alphabetise the middle-grade children's section, turned with his hands on hips.

"And what am I?" he asked. "Chopped liver?"

"Andrew, you know what Christmas is like here. I can't leave you to cope on your own."

"I'll get Seb to come in. He's helped out before."

"And what about Matilda?"

"Well naturally she'll come too. We can take turns to carry her in the papoose. She'll love having both her parents with her all day."

"As if that baby isn't spoiled enough," said Ameerah.

"How can you spoil a four-month-old baby?" asked Andrew. "All they want is cuddles, love and food; pretty basic requirements for any human really."

"I only saw my parents at weddings and funerals, didn't do me any harm," said Ameerah mirthlessly.

"I rest my case," Andrew remarked, giving Ameerah a side-eye.

Ameerah had been a boarder at Braddon-Hartmead from age eleven and been raised by a nanny before that; she was only slightly exaggerating how little of her childhood she had spent with her parents. Whereas Elinor's family lived in the village down the hill from the school, so she only boarded Monday to Friday.

"What about Mugwort?" asked Nory.

Mugwort was her cat. He was seventeen years old and only had three legs, since he'd lost one in during an altercation with a Deliveroo bike two years ago. Mugwort had decided, rather wisely, that he would become a housecat after that.

Andrew crossed the room and laid his hand on Nory's arm. "Nory," he said. "We'll have Mugwort, he's no bother and he knows his way around our place. Go and have some fun! Your shop and your feline will be fine."

"Andrew, that's really very sweet of you but you've got enough going on, you really don't need an elderly, disabled cat moving in."

"We've got Seb's mother coming to stay for the whole of December. What's one more cantankerous cat into the mix?"

Ameerah stretched out her long legs and her boots creaked.

"There we are," she said. "All your stupid protestations have been quashed. You're coming!"
We hope you are enjoying the book so far. To continue reading...
Meet Me Under the Mistletoe
Jenny Bayliss
Copyright © 2023 All Rights Reserved