Master of Space and Time
Available in:
eBook
Paperback
Audiobook
Hardcover
Book info
Sample
Audiobook
Media
Author updates
Lists
Synopsis
Madcap inventor Harry Gerber is hopeless when it comes to surviving in the real world. So he uses his genius to twist the laws of science and create his own tailor-made universe. Assisted by his straight-men co-conspirators, Joe Fletcher and the comely Sondra Tupperware, and powered by gluons—the stuff that holds our very atoms together—Gerber creates a blunzer, enabling him to change the very nature of reality.
From a mirror-image world where sluglike parasites make slaves of humanity, to trees and bushes that grow fries and pork chops, to a rain of fish, Master of Space and Time takes listeners on the ultimate joyride. But once the gluons at the core of Harry's creation run out, disaster looms for Harry and his friends.
High physics and high jinks combine for a wild voyage that blurs the line between science and magic.
Release date: February 24, 2005
Publisher: Running Press
Print pages: 288
* BingeBooks earns revenue from qualifying purchases as an Amazon Associate as well as from other retail partners.
Listen to a sample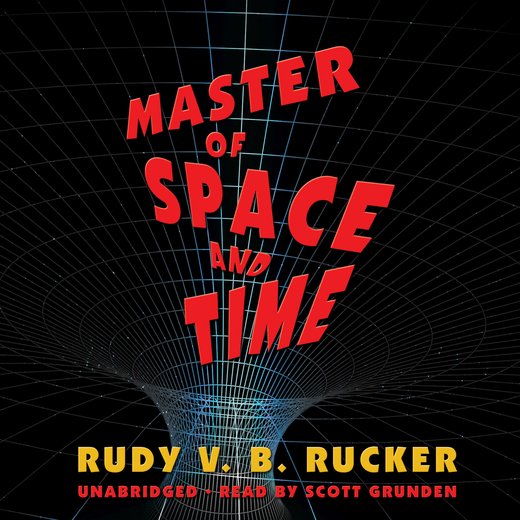 06:02:35
165.99 MB
9781481551137
January 1, 2006
Blackstone Audio
1984
Master of Space and Time
Rudy Rucker
MY screen began flashing. I had the console rigged to measure quitting time to the nanosecond. Softech had a flexitime system, which meant that you could quit for the week after putting in forty hours. A few quick keypunches and I'd logged off for the weekend. I yawned and looked around the too-familiar room. I was pretty old to be working this hard. A couple of years ago I'd had it made—my own company and my own signature on the paychecks. But now . . .

"Finished so soon, Dr. Fletcher?"

It was my supervisor, an angular young blond woman named Susan Lacey. Dr. Lacey. No one used first names at Softech. Company policy.

"No, I'm not finished. But I've clocked in my forty hours. It's Friday afternoon."

She flashed her human-relations smile. "It's two forty-seven, Dr. Fletcher. I don't have to tell you that they're in an awful rush for your program. You know how anxious they do get."

They. Lacey was always talking about her higher-ups as if it were her and me against some abstract impersonal them. It was her way of trying to win my sympathy, even though she was a slave driver. A pathetically transparent con job. I wished I could be my own boss again; I was too good for this noise.

"Don't worry." I snapped shut my briefcase. "The deadline's only Wednesday, you know. I'll bring the thing in under the wire. I always do."

All around me, my coworkers were still tapping away at their terminals. I was the only one with the nerve to take flexitime seriously. I'd never move up the Softech corporate ladder this way, but so what? All I needed from them was a steady paycheck. Soon I'd find a way to get my engineering firm back on its feet. I gave Lacey a curt nod and headed for the parking lot.

It was a hot day in late September. Buzzing around the trash cans were hornets, drunk with a summer's fatness. My car was the biggest on the lot—I had a black and white 1956 Buick, black on the bottom and white on top. Little Serena called it Dada's saddle shoe. I'd bought it just before Fletcher & Company went bankrupt, as a final present to myself. The guy I'd bought it from had gotten it off the original owner, a little old lady who only drove it to church, no lie.

As I unlocked my big old bomb, I noticed some things moving around in there. Bees? The biggest one was perched right on top of the white plastic steering wheel. But that was no bee. A wave of strangeness swept over me—a thick, airless feeling as if the world had suddenly turned into a giant movie set.

Harry Gerber was sitting on my steering wheel. He was two inches tall. A much smaller version of him was perched on the gearshift as well. And the tiny dots darting around on my dashboard—something told me they were a flock of yet tinier Harrys. All of them wore gray polyester suits, white shirts, and no neckties. Oh, my. Who else but Harry?

Harry Gerber: the out-of-it genius who'd been the inventor at Fletcher & Co. We'd had some wild times together, Harry and me. But now I hadn't seen him for over a year. He'd had a big fight with my wife Nancy—something about overpopulation and world hunger—and after that we'd drifted apart. He lived in New Brunswick, New Jersey, and I lived twenty miles away, in Princeton.

The little figure on the steering wheel hailed me with a cheerful wave of its tiny arm. "Hey, Fletch! Pretty slick, huh?" He sounded like Mickey Mouse.

I glanced over my shoulder to see if anyone from Softech was watching. Buzzing hornets and thick, sweet sun. I got in my car and closed the door. I took the thumb-sized Harry off my steering wheel and set him down on the dashboard. The smaller Harrys moved right along with him. They all stood there in a row, staring at me.

"Why all the copies, Harry?"

"I'm real, and the others are correction terms," said the thumb-sized man. "A convergent series of echoes. You've been reading The Cat in the Hat Comes Back, haven't you?"

"Yeah, I was reading it to Serena last night." I didn't bother asking how Harry knew. "You must be thinking about the scene where the Cat has a smaller cat in his Hat, and the smaller cat has a yet smaller cat in his hat, and the yet smaller cat has a still smaller cat, and so on forever, right?"

"You're a rational man, Fletcher. Watch this!" Each of the little Harrys squatted down by the next smaller one. The big one—the thumb-sized Harry—stuck some fingers in his mouth and attempted a sharp whistle. It came out as a wet hiss. But this was enough.

The smallest Harry I could see, a speck-sized one, jumped into the coat pocket of the next larger one, a flea-sized Harry. The flea-sized Harry jumped into the coat pocket of the ant-sized Harry. The ant-sized Harry jumped into the coat pocket of the thumb-sized Harry. They nested themselves together like Chinese boxes. I wondered how many levels there were.

"You like it better now?"

"I like it better."

"Aren't you going to ask me how I got this way?"

"I figure you'll tell me—if you can." A frustrating aspect of Harry's inventions was that he rarely understood how they worked. He was like some drunken chef who never writes down a recipe. This idiosyncrasy of Harry's had prevented Fletcher & Company from getting patents on any of his inventions, and had eventually made people unwilling to contract with us.

"I needed your encouragement, Fletcher. I've come back here to make sure you really are going to see me tomorrow. I remember that when you showed up tomorrow you'd seen me tiny in your car."

This was a very strange mixture of tenses. I thought for a minute, then got the picture. "You mean you're from the future? You've invented time travel?"

The little man on the dashboard glowed with pride. "Time travel's nothing compared to what I'm going to do. I'm master of space and time, Fletch."

I fought back a laugh. Dumpy, rope-lipped Harry, the king of creation? "Do you write that with capital letters, Harry? Master of Space and Time?"

"It's not funny. I could kill you right now if I wanted to. But you're the one who'll give me the idea to build the blunzer. You have to come see me tomorrow. I'll be at the shop. Tomorrow we get the parts, and Sunday night we build the machine."

"I suppose you want money?" I looked around the car, expecting to spot a holocaster. This had to be some kind of trick.

"Money? As I recall, you took two thousand out of your bank account. And you can stop looking around like that, Fletcher. This is for real. I'm master of space and time."

"Prove it. Do something weird. Put me—put me in an infinite regress."

"I knew you'd say that. You're so anal, Fletcher. Too much math. Here, you can light this to get back out."

The little figure tossed something at me. A tiny stick of dynamite, bright red and with a wispy unlit fuse. Something went funny with the time just then; it was like my time line branched right off from reality. Instead of hitting me in the face, the little stick of dynamite just hung there in midair, barely moving. Meanwhile, Harry was shrinking, moving away from me in some unknown dimension. Everything was getting dark and Harry's voice was too faint and high to understand.

Then Harry was all gone, and the world went black, blacker than night, zero photons black. I fumbled around, found the controls, and turned on my headlights. I could see outside, but I couldn't figure out what I was looking at. My car seemed to be resting on black felt, and ahead of the car was a soft, horizontally grooved wall. There was more black cloth to the left of me, and to the right there was a cliff with a big white pole swooping up from its edge. White plastic with sebaceous cracks. The scene made no sense whatsoever.

Although my dome light wasn't on, the inside of my car was lit up. I glanced around to find the cause. Resting on the seat next to me, there was a sort of toy car, a scale-model 1956 Buick with blazing headlights. The headlights were aimed at my corduroy-clad right leg. It looked as if the little car even had a toy driver. I put my hand on it, then drew back with a scream.

Just as my thumb touched the wraparound windshield of the model car, a giant's hand had swooped down out of the darkness to press its hamlike thumb against my own windshield! When I withdrew my hand, the giant followed suit.

I leaned down to peer into the model car's side window. It was lit up in there, too. I could make out a very strange sight. Sitting on the front seat of the model car was a still smaller model car. And peering into the window of the still smaller model was a thumb-sized little copy of me, Joseph Fletcher. The hair on my neck prickled as I realized that, staring in through my own car's window, there must be the eye of a giant Joe Fletcher.

I whirled around, hoping to see the giant's eye, but he turned as fast as I did. All I could see of him was the cheek of his huge head. He had whirled to stare out the window of his car, the giant car on whose seat my own car was resting. I could see beyond his cheek and out his window—out there was the head of a yet larger giant, and so on and on, forever up and down. I was embedded in a doubly infinite regress. Why on earth had I asked for this? And how had Harry done it? I had to escape!

I flung open my car door, jumped out, and found myself on the seat of the giant's car. When I looked out the giant's car door, I could see the giant, standing on the seat of a yet larger car, and staring out at the yet larger giant. Looking back into my own car, I could see the little model on the seat, and the thumb-sized Fletcher standing next to it and staring back in at the ant-sized Fletcher on the model's seat. No matter how fast I turned, I could never see myself face to face.

I threw myself back into my car and turned on the radio. Static crackled from my speaker and from the endless speakers beyond and within my car. Static, and then a voice, a strangely familiar voice.

THE RED GLUONS ONLY WORK ONCE," said the radio.

"Hi?" I called questioningly. The giant Fletcher outside roared along, and from the tiny car on the seat came thumb-sized Fletcher's squeak: "Hi?"

"USE BLUE GLUONS THE SECOND TIME."

"What's your name?"

"IT'S A TYPE OF EXCLUSION PRINCIPLE."

"Please help me get out."

"LIGHT THE FUSE."

Silence fell. After a minute I flicked off the radio. Just then something bounced off my cheek. It was the miniature dynamite stick that Harry had thrown at me—how long ago? Time was all messed up.

I picked up the dynamite and struck a match. The larger and smaller Fletchers did the same thing. I lit the fuse and tossed the dynamite out the window. A tiny, tiny version of it flew out the window of the model car on the seat next to me. I braced myself.

The dynamites all blew at once, and I saw stars: cartoon stars and wacky spirals. When the dust settled, I was back where I'd started, at the crazed white plastic steering wheel of my Buick in the Softech parking lot. A square of sunlight lay on my lap, heavy and insistent. I turned the ignition to ON and fired up the big V-8.

WHEN I pulled into the driveway, my two-year-old daughter Serena was out in the front yard flailing at something with my fishing rod. She was holding the rod by the tip and slamming the reel down on the ground.

"Dada!" she cried. "Wiggle whack crawly bug!" Something moved in the grass, and Serena whipped my rod back for a real knockout punch. The fiberglass snapped, and the piece with the reel flew over to crash on my Buick's shiny hood.

I got out of the car and tried to just walk on past her. I was definitely ripe for my Friday-afternoon beer. But Serena was too fast for me. She put herself between me and the house.

"Bad crawly bug!" She pointed with the tip of my broken rod. "Try bite Serena!"

I gave a heavy sigh and went over to look. Serena was hell on insects. A badly mashed stag beetle was lying in the grass. I was relieved that it wasn't a little Harry.

"Where's Mommy, Serena?"

"Mama lie down."

"Were you a good girl today?"

"Babby bite." She held out her hand to show me a tiny cut on her forefinger.

"The neighbor's baby bit you? What were you doing to it?"

"Playing. Babby bite. Mary Jo wash."

Mary Jo was the name of the woman next door. Serena liked to go over and pick on her baby. "Was Mary Jo mad at you?"

"Mary Jo wash." Serena showed me her finger again. The cut certainly did look clean.

"How nice of Mary Jo to wash your cut. I just hope her baby doesn't have rabies." I patted Serena on the head. She was a brat, but she was mine. "Would you like a candy?"

"Yus."

"Here." I found a linty cough drop in my pants pocket. "Now don't bother that baby any more. And put my fishing rod away."

"Bug gone."

"I'm going inside to see Mommy now, Serena. Be good." I walked into our crummy house, still brooding over Harry's message. There could be money in this, big money.

I found Nancy flaked out on our double bed with a stack of old People magazines and an overflowing ashtray. The TV was going full blast in the other room. I closed the door.

"God, Joey, I have such a backache today. And this morning Serena—"

"Yeah, I've had a rough day myself. Is there any beer?"

"Do you think you could rub my back a little?"

"If you move the ashtray. You know I don't like you to smoke in our bedroom."

"Then why don't you buy a couch for the living room. I hate living like this. We might as well be in a trailer park."

When we'd first married, we'd had a much nicer home. But I'd lost it when Fletcher & Company went bankrupt. The house we rented now was a low-ceilinged three-room tract home: two bedrooms and a kitchen-dining-living room. Looking out the bedroom window, I could see fifty-three houses exactly like ours (one Sunday afternoon I'd counted them). Our development was a reclaimed marsh with woods all around it.

"I'm going to go see Harry tomorrow. I think he's invented something new."

"Don't give him any money, Joseph. I mean it. We need that money for our Christmas trip."

"What trip?"

"Don't you ever listen to anything I tell you?"

"Look, I'm going to get a beer. You want one?"

"How about my back rub?"

Nancy was lying on her stomach. I sat on the backs of he. . .
We hope you are enjoying the book so far. To continue reading...
Master of Space and Time
Rudy Rucker
Copyright © 2023 All Rights Reserved