Make Up Break Up
Available in:
eBook
Hardcover
Paperback
Audiobook
Book info
Sample
Audiobook
Media
Author updates
Synopsis
The sparkling and heartfelt romantic comedy debut from Lily Menon, Make Up Break Up….

Love, romance, second chances, fairy-tale endings…these are the things Annika Dev believes in. Her app, Make Up, has been called the "Google Translate for failing relationships."

High efficiency break-ups, flashy start-ups, penthouses, fast cars…these are the things Hudson Craft believes in. His app, Break Up, is known as the "Uber for break-ups." It's wildly successful—and anathema to Annika's life philosophy.

Which wouldn't be a problem if they'd gone their separate ways after that summer fling in Las Vegas, never to see each other again. Unfortunately for Annika, Hudson's moving not just into her office building, but into the office right next to hers. And he'll be competing at the prestigious EPIC investment pitch contest: A contest Annika needs to win if she wants to keep Make Up afloat. As if it's not bad enough seeing his irritatingly perfect face on magazine covers when her own business is failing. As if knowing he stole her idea and twisted it into something vile—and monumentally more successful—didn't already make her stomach churn.

As the two rival app developers clash again and again—and again—Annika finds herself drawn into Hudson Craft's fast-paced, high velocity, utterly shallow world. Only, from up close, he doesn't seem all that shallow. Could it be that everything she thought about Hudson is completely wrong? Could the creator of Break Up teach her what true love's really about?
Release date: February 2, 2021
Publisher: St. Martin's Publishing Group
Print pages: 352
* BingeBooks earns revenue from qualifying purchases as an Amazon Associate as well as from other retail partners.
Listen to a sample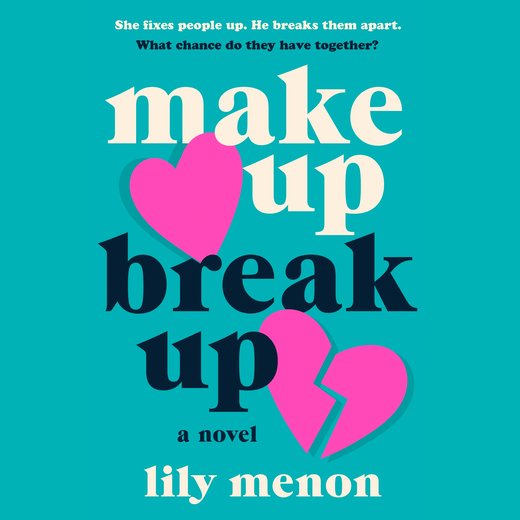 09:15:37
254.35 MB
9781250794567
February 2, 2021
Macmillan Audio
Make Up Break Up
Lily Menon
chapter one


"Detest" was a very strong word. So were "abhor" and "despise" and "loathe." Annika, being a pacifist, preferred a different term—something her yoga teacher had said that struck a much more civil chord.

"I am elementally unaligned with you, Hudson Craft," she muttered, staring at his picture on the Tech Buzz magazine website. Her right hand was curled so tightly around her wireless mouse that the opalescent white plastic creaked in protest. "Completely and utterly elementally unaligned."

They were calling him "the hottest tech entrepreneur who doesn't believe in true love." It was like a train wreck you couldn't help but stare at. A gratuitously handsome, Harvard-educated, blond train wreck who had (probably) stolen her idea.

Also, that magazine feature was supposed to be hers.

When the journalist had called to interview Annika, she'd assumed she was going to be the feature. Instead, this was her big mention: "'Relationships are the new frontier as far as the tech sector goes,' a local businesswoman agrees."

That was it. That was all of it. Not only was there no mention of her business, Make Up, at all but Annika had been reduced to an anonymous "local businesswoman," just propping up Hudson Craft in all his amazing amazingness.

"Arrrrghhhh." Annika reached into her desk drawer to browse her stable of stress tools, all neatly organized using drawer separators. Mini Zen garden? Multicolored breathing sphere? Singing bowl? No, today called for something much more basic.

She grabbed the unicorn-zombie-shaped stress ball she'd lovingly named ZeeZee (he'd been a white elephant gift from one of her friends at yoga; when you squeezed him, his green brains squirted out between your fingers) and shut her drawer slightly harder than she meant to.

Spoil the ending to his book, Annika said to herself, aggressively kneading ZeeZee's brain. Designer virus to his email address. Glitter bomb that'll take days to rinse out of his stupid golden hair. She hadn't seen him since Las Vegas last year, but she could renew their acquaintance in a way he wouldn't easily forget.

Glancing away from the laptop screen, she let her gaze fall on the newest letter from the bank, lying facedown on her desk under an old teacup. Just like that, Annika's anger was momentarily swallowed by a wave of anxiety.

The idea of running her own business had always held a glow for Annika. Make Up was supposed to have been her fairy tale. She'd never dreamed of a big, fancy wedding. She'd never wanted the handsome prince or the cherub-cheeked children or the home with a yard in some ritzy Los Angeles suburb. She remembered being six years old and dressing up as Indra Nooyi, then Pepsi CEO, longtime business badass, for Halloween. No one had gotten her costume, but she didn't care. All she'd ever wanted was to be her own boss. As a four-year-old, that meant ordering Daddy around the house while wearing his suit jacket that hung to her ankles. As she got older, the dream morphed from bossing her dad around to running a company that made a difference in people's lives.

Annika stood, smoothed down her black tulip skirt, and paced her tiny twenty-sixth-floor office, still throttling ZeeZee. Her gaze lingered on the tufted velvet settee in a trendy but sophisticated plum color; the original art from LA artist Cleo Sanders, which made a statement without being gauche; the giant metal sign she'd commissioned to wrap around the walls.

MAKE UP

HAPPILY EVER AFTER, REDUX

She looked out the floor-to-ceiling windows at the bustling city below. She'd thought being in downtown LA would put her right in the middle of the action, that it would make her easily accessible to beta testers for the app—most of whom would come from the university—and to other businesses that Make Up might want to collaborate with. It was expensive, but the payout would be totally worth it.

So Annika had borrowed money from the bank and signed away her life on her zillion-dollar-a-month lease.

It worked for a time. Make Up had seemed to be touched by magic—the grant she'd won last year had been the first one she'd applied for. She had innovation, a kick-ass developer, and a relentless hunger to change the world. The deep-learning prototype was supposed to have been ready for release within six months at the latest. But that's not how things had worked out.

When Annika came up with the idea for Make Up about a year ago, she and her developer (and best friend extraordinaire), June Stewart, had designed the perfect app to help people translate their words in a way their partners would understand. The app would bridge the gap created by poorly spoken words and misunderstandings. No one had ever done that before, and that's what the Young Entrepreneur's Foundation had seen—the future, a vision, a brilliant prospect. That's why they'd given her the grant.

The bank didn't see any of those things. It saw someone who was delinquent, someone who was cash-poor, and that was all that mattered. Annika squeezed poor, beleaguered ZeeZee until his zombified unicorn brains bulged through the gaps between her fingers.

"Good morning! Did you see all those boxes in the empty office next door? I think we're getting new neighbors really soon."

Annika turned to face her best friend/partner in crime, who'd just walked in the front doors. The way she described June really just depended on the day. Annika took a deep breath and attempted a breezy tone that would conceal her roiling inner turmoil. "Hey! Yeah, I think they're moving in—" She eyed the armload of shopping bags June was carrying. "Really? It's barely past ten."

June widened her blue eyes in what she probably thought was an innocent way. "Bloomingdale's was having a sale. Besides, shopping helps me calm down. I needed it for our big meeting this morning." She was dressed in her usual flamboyant work attire: six-inch-high, leopard-print Jimmy Choos and a hot pink, one-shoulder silk dress. Her blond hair was styled in an intricate crown braid, the kind Annika could never do without the help of thirteen hair stylists.

Annika glanced down at her own understated-yet-classy burgundy peplum top, tulip skirt, and patent vegan leather sling-backs, her heart sinking. They were so different; they presented completely incohesive images of the company. The bank manager was going to think they were two flaky young women who couldn't get their shit together.

"You know," June said, studying Annika's expression. "We're totally going to win over this McManor guy. I can be the wild, creative one and you'll be the more controlled, sensible one. A little bit of yin and yang working together." She stuffed her bags in the tiny supply closet and went to sit in her (leopard-print) office chair, which was two feet away from Annika's. After sweeping a bunch of Star Wars–themed Funkos out of the way, she put her feet up and began tapping at her phone.

It didn't surprise Annika that June had read her mind so well. A friendship that had survived college-roommate status took on certain magical powers. "Mm hmm."

"What?" June looked up from her phone. "You don't think so?"

Annika sank into her own ergonomic chair, tossed ZeeZee
onto the desk, and put her head in her hands. "No, I really
don't, June. This is going to be a disaster. I can feel it. You
know how strong my sixth sense is."


"It's not going to be a disaster!" Annika peeked at June from
between her fingers as June continued speaking. "McManor's
going to see that we make a dynamic, forward-thinking
team
and that we have what it takes to get our little cash flow problem
under control. And he'll give you an extension on your loans. A big one. Everyone's finances are a train wreck these
days, not just yours."


Annika sat up straight and smiled bleakly. "It's funny you
say that. I was just thinking what a massive train wreck Hudson
Craft is before you got here." For obvious reasons, she left
out the part about thinking of him as a handsome train wreck.
There was no need to cloud the issue. Besides, June had eyes.
She knew what Hudson Craft looked like.


"Uh oh." June fired up her Millennium Falcon–skinned
laptop. "Is he in another article?"


"Just emailed you the link."


She heard June click a few times, and then gasp in satisfying
outrage. "Tech Buzz? You were supposed to get the Tech
Buzz article. That journalist said it'd be about you!"


Annika drummed her fingers on the desk. "Read the headline;
it gets better."


"No!" June cried again. "You're 'Mr. Relationshape: The
debonair twenty-five-
year-
old
with the GQ smile who's changing
the shape and nature of relationships!'"


Annika raised an eyebrow.


"Well, uh—except
I guess you'd be Miss Relationshape,
and you're twenty-four.
And I'd say you're more charming than
debonair." June paused thoughtfully. "Also, your smile is more
Yoga Journal than GQ. I knew I should've called my cousin. I'm
pretty sure he has a friend at Tech Buzz."


Annika sighed. "It wouldn't have helped. Breaking people
up is way sexier than helping them make up."


"But his business model is built on tears and heartbreak. If
someone I was dating paid a 'terminator' to break up with me
for him?" June mimed her head exploding. "Oh hell no."


Annika couldn't help the disdain from creeping into her voice as she read out loud from the article. "'It's better than being
ghosted.' " She looked up from her screen at June. "So—the
options are being broken up with by a random 'terminator' or
being ghosted? What about being kind enough to let someone
down easily?"

June shook her head. "He's a complete and total ass-face,
Annika. That's the only explanation."

Annika picked up ZeeZee again and pulled on the zombie
stress ball's wart-studded
nose. "I don't like to say I hate people,
but I think I actually viscerally hate Hudson Craft. Like, I
hate every single thing he stands for."

June gave her a look. Damn. That was the problem with
having a best friend who'd been your college roommate and
was now practically your business partner: They knew way, way
too much. "You don't like to say you hate people? What about
Fishdick Felix?"


"Who?" Annika screwed up her nose. Then her expression
cleared. "Oh, you mean that guy in the freshman dorms who
used to microwave fish sticks in the kitchen? Everyone hated
him."


"Do you need a refresher?" June held up her fingers one by
one. "Rehan Shah, your lab partner who chewed his gum wrong?"


"It was ridiculously noisy."
"Mm hmm. Adrian Westinger, who always said, 'GRAAAIIIINS'
like a zombie to make fun of your vegetarianism? He was a
jerk, but I'm pretty sure you used the word 'hate' with him, too—"

"Okay, I get it, I get it." Annika threw ZeeZee at June, who
caught it midair and threw it back in one fluid motion. "So
maybe I've hated a few more people than I thought . . ."


June laughed. "You're ruled by emotion. Messy, conflicting
emotion. Just admit it."

Annika looked past her friend into the hallway outside the
office. "Well, I'm feeling a lot of messy, conflicting emotion
right now." She wiped her palms on her skirt and tossed Zee-
Zee back into her stress drawer. "Because I think Mr. McManor
from the Bank of California is walking up."



Annika had never met Mr. McManor in person before. He
turned out to be one of those extremely tidy, precise people
who likely arranged their silverware drawers for fun on weekends
and had a pair of monogrammed socks for every day of the
week. He kept pushing up his little round glasses as he spoke,
probably because his nose was so tiny. Annika was afraid they'd
go tumbling right off his face if he made too sudden a movement.
Thankfully, he was placid to the point of seeming half-dead,
so sudden movements didn't seem to be a concern.


"Well." He sat very still on a floral-patterned
accent chair,
clutching his briefcase tightly on his lap. "I'm afraid the news
isn't good, Ms. Dev. You are what we call 'grotesquely delinquent'
on your accounts. Thoroughly overleveraged."

Grotesquely delinquent? Annika caught June's eye. She had
the feeling he'd made that up on the spot just to be spiteful.
"Be that as it may, Mr. McManor, I believe if you'd just listen to
this short presentation we've prepared . . ." She nodded at June,
who hopped up to her laptop and began queueing up the Power-
Point slides. "You see, Mr. McManor, Make Up is not just a
burgeoning young business. It's a statement about the greater
good in life, about our basic humanity. The need to belong
somewhere, the need to connect with another human being,
the need to—"

"Press on." Mr. McManor waved a hand. "We need to press
on. I'm sorry, but the time for last-ditch
efforts has passed."


Annika stared into his dead-fish
eyes. Coldly unsympathetic.
And the bank he'd sworn his ruthless allegiance to owned both
her business loan and the building where she worked. Awesome.
"But . . . I sent you a payment. Last month."

"Ah, yes." Mr. McManor consulted his notes quickly. "Your
payment of four hundred eighty dollars and . . . seventy-four
cents
does not come close to overcoming your rather monstrous debt,
I'm afraid."


"I can keep making payments." Annika spoke firmly, willing
him to see the capability in her eyes, the passion, the fire, the
willingness to do whatever it took to keep Make Up running. "I
can make up the back rent; I just need more time. It's a temporary
cash flow problem."


"Isn't it better that you have a tenant here who's willing to
work with you, Mr. McManor?" June perched on the edge of
the desk. "Better the devil you know than the devil you don't,
that's what my mama always says."


"Firstly, your back rent is only part of the problem. Catching
up with rent has nothing to do with your business loan, on
which you also owe quite a substantial sum of money. And secondly,
we've had plenty of interest in the space, as it turns out.
From people who would be able to afford the rent rather easily."


June narrowed her blue eyes. "Like who?"


"Gwyneth Paltrow's first cousin."


Annika blinked. "What?"


"We've been approached by a representative for Gwyneth
Paltrow. Her first cousin wants to rent out this space for an interior
design business she's launching. She's willing to prepay
the first six months." Mr. McManor stood, brushed his suit off, and walked to the Make Up sign on the wall. The one Annika
had been so proud to order. The one that had her feeling like
she'd made it, that she'd achieved the dream, that she was
unstoppable.

He turned to her, his eyes flat and distant behind those
little round glasses. On anyone else, Annika might have admired
them for their chic Harry Potter vibe. A beam of sunlight
from the window lay in a stripe on his balding head, but
he didn't seem to notice. "Unless you completely resolve your
delinquency, including late fees and penalty interest, Ms. Dev,
the news isn't going to be good."


"Before you go," June said. "Who's moving in next door?
Are you managing their loan, too? Because maybe we'll tell
them how you treated us."


Mr. McManor looked at her like she was an idiot. "Why,
that is privileged client information, Ms. Stewart, and as such,
is undivulgeable to you."


"That is so not a word," June muttered.


Annika drummed her fingers on her desk. "Interesting.
But you did divulge that Gwyneth's cousin wants this space.
Doesn't that violate some kind of confidentiality?"


Mr. McManor turned bright pink. "That was rather gauche,"
he said after a long pause. "I was simply . . . excited. I've been
an admirer of Ms. Paltrow since her masterful performance in
Emma."


"Excited?" Annika stared at him. "You're excited right now?"


Mr. McManor cleared his throat and stood up straighter, a
flash of annoyance dancing across his features. It was the most
animated she'd seen him in the twenty minutes he'd been
there. "Ms. Dev, I suggest you do some serious thinking about
your next steps. Good day." He walked away primly, his shiny black shoes whispering on the industrial carpet as he headed to
the elevators.


"Why does he try to talk all British when he's not British?"
June said in disgust.


"He wants us out of here." Annika sat back heavily as the
full impact of his words crashed into her. She smiled bleakly
at June. "Do you know how much we have in the business account
right now? Less than five thousand dollars. Do you know
how much we owe?" She shook her head and thought, I am
the boss. I will not cry. I will also not say how much I hate Mr.
McManor. "It's over, June."


"Sweet pea—"
June squatted so they were eye to eye. "Let
me give you the money. I know you're probably going to argue,
but please just think about it. I'd really feel good about being
able to help you out. Maybe I could be, like, an investor."


A fact not well-known
(because June did her best to hide it)
was that Violetta "June" Stewart was the only daughter of extremely
wealthy movie producers. Needless to say, she didn't really
need this job. June had a trust fund and lots of high-powered
connections. The only reason she'd come on board was because
she wanted to help Annika. Annika couldn't afford to pay her
what she was really worth, but June never complained, either out
of loyalty or pity. Annika was in no position to turn down, either.


Annika shook her head and squeezed her longtime friend's
hand. "That's really, really sweet of you, Junebug. But . . . no.
Thank you, but no. I can't take your money."


June sighed. They'd had this conversation many times before,
and she knew not to expect a different outcome. Still, she
was June. And that, Annika supposed, meant she had to try.


Giving up, June flopped down to sit cross-legged
on the
floor. Even while wearing a tight dress and skyscraper heels, she somehow managed to look more graceful than Annika, who
was sitting in a chair. "What about your dad, then?"


Annika's dad was one of the leading anesthesiologists in the
country. He was regularly paid to travel to various conferences
and give talks because apparently, he knew more about putting
people to sleep than anyone else did. Annika didn't get the
specifics—she
just knew she never wanted to do what he did.


That fact had almost broken his heart.


Annika still remembered her dad's face when she'd gone
to him eight months earlier to tell him that, in addition to the
grant money she'd won, the bank loan had also come through,
and that Make Up was going to be an actual business. He'd
stared at her for a long moment, scotch in hand, and then said
in his deep bass voice, "But what about medical school?"


She'd graduated from UCLA two years earlier, but her dad
had never let go of the dream that his only child would come
to her senses and decide to follow in the family footsteps after
all. Annika was all he had in this world—both
his physician
parents were dead, and Annika's mom, who'd been a pediatrician,
had passed away shortly after Annika was born. Her dad
was desperate for her to continue the family trade. Never mind
that the thought of slicing into a cadaver made Annika want to
suck down his unconscious-making
chemicals just to escape.


Come to think of it, after he'd asked her about medical
school, Annika had gotten kind of cocky. She'd raised an eyebrow
and said in a very you wanna throw down? tone, "Just wait.
In three months when my face is plastered across magazines
in every newsstand between here and the hospital, you'll be
singing a different tune." In her defense, things had been on
the come-up
then. She'd had no idea that fate would kick her
in the ass just a few months later.

God, how embarrassing.


Annika nibbled on her lower lip. Far below them, a car
honked in the perpetual LA traffic.


"What are you thinking?" June prompted, playing with
the Baby Yoda figurine on her desk Annika had given her last
Christmas.


"Well—don't
get me wrong." Annika got up and began pacing,
wearing a path from her desk to the window. "I believe
in us. We can bring in a profit if we work our asses off. Our
cash flow issues would be a thing of the past. But there's a part
of me that's so worried I'm kidding myself—this
tiny, heckling
voice that just won't shut up. I expected the app to be ready for
release way before now—no
offense, I know you're working as
hard as you can—and
that hasn't happened. What if I've lost
my fire?"


June's clear blue eyes stared right back at her. "You haven't.
This is just nerves talking. You can't let McStick-Up-
His-
Ass
win, Annika."


Annika walked over to her desk and pulled ZeeZee out
again. Her heart was beginning to pound. "It's not just him.
It's Hudson Craft, too. Do you know how demoralizing it is
that some dude with excessively gelled hair and a toothpaste-ad
smile can just come in and have everybody buzzing with
his cruel, thoughtless app? Meanwhile, Make Up is going to
change the way we look at technology and its use in interpersonal
spaces, and we don't even get a one-line
mention in that
article? Do you know how absolutely, exquisitely infuriating
that is?" Annika smacked ZeeZee face-first
into the desk. He
made a satisfyingly squelchy sound on impact, the force rattling
the framed pictures of June, her dad, and the Make Up
office that were all lined up neatly next to her laptop.

June thrust a finger at her. "There it is! Stay with that feeling.
And don't forget, Hudson's a thief."


Annika couldn't believe he'd turned out to be such a jerk.
When they'd met at a conference in Vegas last summer, they'd
laughed at how desperate everyone was to be done with the
conference so they could get to the real reason they were there:
the blackjack tables. They'd bonded right away because they
were both virtually the same age, from LA, and interested in
starting a business soon. And later, they'd . . . well. That wasn't
important.


What was important was that after she returned from Vegas,
she'd found herself thinking about him often. She'd even considered
reaching out to him. Until, that is, he began popping
up in tech magazines and articles more and more frequently,
talking about his new app, Break Up. That was when she realized
he'd stolen her idea—or
at least a kernel of it. "He didn't
steal my whole idea. All the lawyers I called were very specific
about that. He was probably influenced by it, which isn't a
crime."


"Okay, so he was influenced by it. It's still totally shitty that
a nasty app like his is getting all this attention."


Annika studied her best friend's flushed cheeks, her bright
eyes. She felt her own temper rise another notch. "You know
what? You're right. Local businesswoman agrees—he
is a total
ass, just like Mr. McMannerless. They're both douchebags who
think they can just push us around. Well, they can't. We're not
going to run off crying. We're here to fight."


"Yeah!" June said, pumping a Baby Yoda–wielding fist
above her head.


"We can totally do this." Back in her chair, Annika spun
around in a purposeful circle.

"Yeah, we can. How can I help? No task is too small."


"Really?" Annika hesitated. "Would you mind getting a
whiteboard from Staples, then? It's been on my to-do
list forever.
I feel like I need to write stuff down where we can see it every
day and be inspired. Like, for instance, we need to get ready
for EPIC next month. Let's get some ideas flowing about that."
EPIC—the
Entrepreneurs Pitching Investors Conference—was
their one big chance to turn things around.


"Yes! I have a really good feeling about EPIC." June
clapped her hands and made for the handbag hanging on the
back of her chair. "I'll go get the whiteboard, and meanwhile,
you just keep thinking."


"I will." Annika hopped up again and paced faster than
before. June was right; the anger helped her think. God, she
should have embraced her dark—uh,
hotheaded—side
a long
time ago.


"None of that yogi crap!" June called over her shoulder as
she headed into the elevator. "Stay mad!"



Copyright © 2021 by Lily Menon
We hope you are enjoying the book so far. To continue reading...
Make Up Break Up
Lily Menon
Copyright © 2021 All Rights Reserved