Book info
Sample
Audiobook
Media
Author updates
Lists
Synopsis
In the new thriller featuring hostage rescue expert Jonathan Grave, New York Times and USA Today bestselling author John Gilstrap takes listeners on an action-packed thrill ride from the wilds of Montana to the streets of Mexico, as a sniper attack turns wilderness hunters into the hunted and Grave's enemies stalk him with a vengeance . . .



Hostage rescue expert Jonathan Grave and his fellow special-ops veteran, Boxers, are hunting in Montana when shots ring out, and they realize they've become the prey for assassins. In the crosshairs of unseen shooters, cut off from all communication, with the wind at a blood-freezing chill, the nightmare is just beginning. Because Jonathan and Boxers aren't the only ones under fire.



Back in Fisherman's Cove, Virginia, Jonathan's Security Solutions team is fighting for their lives too. A vicious onslaught is clearing the way for a much bigger game by eliminating anyone in the way. If Jonathan and Boxers can make it out of the wilderness alive, the real war will begin.
Release date: June 28, 2022
Publisher: Pinnacle Books
Print pages: 512
* BingeBooks earns revenue from qualifying purchases as an Amazon Associate as well as from other retail partners.
Listen to a sample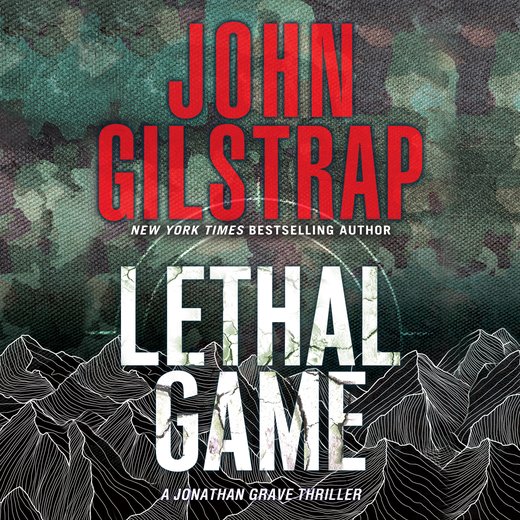 10:07:42
278.2 MB
June 28, 2022
HighBridge Audio
2022
Lethal Game
John Gilstrap
Jonathan Grave hadn't moved in nearly three hours. He sat at the base of a towering cedar tree, his knees pulled up to his chest, his rifle draped across his lap as he scanned the sloped bank on the other side of the river for sign of his prey. The November Montana air felt clear and sweet. Not yet cold by local standards, weather reports predicted that the mercury would dance around fifteen degrees after dark—about where it was when he'd started out this morning.

Somewhere in the woods on Jonathan's left, his giant friend, coworker, and Army buddy Brian Van de Muelebroecke—a.k.a. Boxers—presumably was scanning his own horizon.

Jonathan was certain he'd seen a bull elk along the far side of the river, but by the time he'd settled into position for a shot, the beast had disappeared into the trees. The elk hadn't run, though. Jonathan took that as evidence that he wasn't spooked. There was a good chance, then, that the bull—or one of the cows he was no doubt trying to impress with his big rack of antlers—might follow the same trail back this way. Jonathan had allotted five days for this hunt, and today was only the first. He had plenty of time to show patience.

This was his favorite part of any hunt. He didn't get enough silence in his life these days. Sometimes solitude worked against him, dredging up images and events that he'd rather forget, but so far, the demons had all stayed away. He considered those demons to be an occupational hazard, having spent so much time in nasty places do nasty chores to protect innocents from nasty people.

In many ways, on a hunt like this, pulling the trigger and dropping the animal was a letdown. Not that he felt guilty about filling his freezer with two hundred pounds of deliciousness, but because the gunshot marked the end of the silence.

The radio in the pocket of his chest rig popped as it broke squelch. "Scorpion, Big Guy."

He and Boxers had had those radio handles since their Army days with the Unit, and old times died hard.

Jonathan reached under the blaze orange vest he wore over his camo'd chest rig and keyed the mic. "Go ahead," he whispered. God had blessed elk with amazing ears. He didn't want to waste these past hours by making noise.

"Gotta take a break, Boss," Boxers said. "We got a visitor. We're coming your way."

Boxers knew better than to break a moment like this, so whoever the visitor was, it had to be important. Smart money said it was a game warden. Jonathan muttered a curse under his breath as he flexed his knees, straightened his back, and stood. He let his Vortex Viper binoculars fall against his chest by their lanyard and slung his rifle. "Are you coming to me or are we meeting in the middle?"

"We'll come to you."

As he waited, Jonathan brought his binoculars back up to his eyes and scanned the opposite bank again. Believing with all his soul that Murphy and his law ruled the universe, he knew that if Mr. Elk were going to make a surprise appearance, it would be now, when Jonathan was out of position, or in a few minutes, when he'd be locked in conversation.

Rustling leaves and heavy footsteps preceded Boxers' arrival with exactly the person Jonathan had been expecting. The game warden looked to be little more than a kid—maybe twenty-five—and he carried himself with the stern authority of street cop. Topped with a wide-brimmed cowboy hat, the warden wore the standard uniform of the Montana Fish Wildlife and Parks Department—a khaki shirt and blue jeans, along with a Sam Browne belt packed with a big Glock, handcuffs, and enough spare mags to engage a militia.

Jonathan adjusted his rifle on his shoulder, put a smile on his face, and walked toward the others. "We can't be in trouble yet," he said, offering his hand. "We haven't been here long enough."

The warden looked at Jonathan's hand, then tucked his thumbs into the armholes of his ballistic armor. The name SIMONSEN was stitched into a patch that was Velcro'd onto the vest.

Jonathan didn't appreciate being dissed by a child, but he also didn't want to get sideways with the one agency in Montana that could turn this adventure into something unpleasant. He decided to roll with it and see what the guy wanted.

"Are you from DC, too?" Simonsen asked.

"Nope. Virginia."

"He said you two are hunting together." Simonsen flicked a thumb at Boxers.

"We traveled together," Jonathan said. "Not sure we're exactly hunting together, with him being a couple hundred yards away. Have we done something wrong?"

"I don't know," Simonsen said. "Have you?"

Boxers made a sound and rolled his eyes.

Simonsen turned on him. "Did you just growl at me? Get around with your friend, where I can see both of you. Let me see some identification."

Jonathan reached around to his back pocket for his wallet. "I've got my nonresident hunting permit, too," he said as fished out his driver's license and handed it over. "But it's on my phone." Every bit of information on the license was fiction.

Simonsen held the license with two fingers on his left hand while he jotted the information into a skinny, lined reporter's notebook. "Won the permit lottery, did you?" he asked as he wrote.

"Been trying for years and finally struck. Both of us did." Elk licenses were distributed by lottery every April 1, and they cost nearly one thousand dollars to get.

"How'd you get here?"

"We flew."

"What airline?"

Jonathan hesitated. There was no inoffensive way to say the next part. "I have my own plane."

"How many stops between home and here?"

"None."

"Not even a fuel stop?"

This was all beginning to sound strangely intrusive. "Not even," Jonathan said. "My plane has the range."

"And a lot more," Boxers said. As the designated pilot for their team and the man who had speck'd out the two planes that comprised Jonathan's fleet, he showed a parent's pride.

Simonsen handed back the driver's license. "I'll see your permit now."

Jonathan returned his license and wallet to his back pocket and pushed his hand into his left front pocket for his phone. The fictional identity on the permit matched that on the driver's license.

Simonsen pointed at the binoculars hanging from the strap around Jonathan's neck. "I guess that a man who can afford his own plane has plenty of scratch for those eight-hundred-dollar field glasses."

They were only six hundred, but Jonathan let it go. He pulled up the electronic image of his permit, but Simonsen barely looked at it. "Put it away," Simonsen said. "I figure if you were that ready to show me, I got no reason to look." He nodded to Jonathan's slung rifle. "What're you shooting?"

"MR seven-six-two," Jonathan said. "It's the civilian version of—"

"The Heckler and Koch four-seventeen. Yeah, I know. Same as your tall buddy." Simonsen's mood lightened as he spoke of weaponry. "I carried the four-sixteen over in the shit pile." He glanced at Jonathan, then gave Boxers a long look. "You guys serve?"

"A long time," Jonathan said. "Been out for a few years, though."

"Why are you wearing body armor?"

"I'm not," Jonathan said. "Just the plate carrier. Easiest way to keep the essentials at hand."

Simonsen pointed to the camo-patterned rucksack that rested against the base of a tree. "You and your buddy dress together every morning?"

"That was the best Uncle Sam could buy. Why try to improve on it?" This whole interview felt two clicks too adversarial.

"What would I find if I opened it?"

"Socks, shirts, some underwear. Can I ask why you're so curious about Boxers and me?"

"You guys are drivin' a Suburban, right? A rental?"

"Yep."

"The way you parked it up there," Simonsen said. "Most people when they hunt, they just pull off to the side of the road and go at it. You folks tried to hide your vehicle. Pulling it into the trees, well off the road." His eyes narrowed. "Mind tellin' me why?"

Jonathan had no idea why. It was just the way they'd parked. He looked to Big Guy for help.

"Old habits die hard, I guess," Boxers said. "I never like leaving a vehicle too close to the road."

"It's the way poachers behave," Simonsen said. "I didn't have a lot else to do, so I thought I'd seek you out and find you." He pointed briefly to Boxers' boots. "Them size fifties make tracking pretty easy. I saw where you guys split from each other, so I followed the easy one first."

Now it made sense. Sort of. "You walked all this way just to ask questions?" Jonathan said. "That must be two miles."

"Every bit of three," Simonsen corrected. "It's my job and my pleasure to arrest poachers. Not everyone has the patience to wait the years it can take to win the permit lottery."

Jonathan had grown tired of the jaw flapping. "Are we free to go?"

"As far as I'm concerned. Unless you need to confess to something."

Jonathan chuckled. If only the warden knew what Jonathan could confess about the last many years. "I've got a question for you about elk. This is my first time with game this big. Is this spot—"

Simonsen's vest dimpled, and he made a burping sound as he sat down hard. He was still moving when the sound of a gunshot reached them.

"Shit!" Jonathan and Boxers said it together. They reacted instantly—reflexively—by likewise dropping to the ground and crawling for cover. Jonathan had just dived behind another cedar when a bullet tore through it at what would have been the level of his head if he hadn't ducked. The report reached them about a second later.

"You okay, Boss?" Boxers asked.

"Fine. You?"

"Peachy. Who'd you piss off this time?"

Simonsen had been hit hard, drilled through his center of mass. He'd collapsed onto his back, staring up at the flawless sky. Jonathan had no idea whether he was dead or alive, but he knew he was unacceptably exposed.

"Cover me," Jonathan said. "I'm going to pull him to cover."

"He's dead."

"We don't know that."

Jonathan watched as Boxers shifted his butt around so he could better stabilize his rifle. "You do what you want," Big Guy said, "but I don't think Ranger Rick is the shooter's target."

"Why?"

"Watch. Keep an eye on the slope on the other side of the river." Without any warning, Boxers darted back into the clear for half a second and then ducked back behind cover. A bullet tore into the trees behind where he would have been, accentuated after the fact by the sound of the rifle's report.

"Big Guy!" Jonathan yelled. "What the hell?"

Boxers had made himself small—as if that were possible—behind his tree. "Did you see muzzle flashes?"

"Seriously?"

"I told you to watch the other side."

Jonathan settled in deeper behind his cover and tried to think. The fact that the shooter had not anchored his kill of the game warden with another shot made it clear—well, mostly clear—that Simonsen was not his intended target. That left only the two of them.

"What do you figure the time delay between the impact and the report?" he asked Boxers.

"I give it about a second."

"That's what I got. Speed of sound is three hundred forty meters per second, right?"

"Three forty-three," Boxers corrected

"What's that, three hundred seventy-five yards?"

"Give or take."

Jonathan pulled his laser range finder from its pocket on his vest and scanned the other slope. The trees were thick and the hill was steep. At the three-fifty- to three-seventy-five-yard mark, the woods were especially thick.

"I don't see a spot at that range where he could get a shot off without hitting another tree," he observed aloud. This was not a long shot for a talented sniper, but it was a challenging range for a hunter. Even twigs and leaves can make a difference in the flight path of the bullet.

Maybe that's what happened.

"Hey, Boss," Boxers said. "Take a look at the rock ledge about ten meters to the left of the massive red tree."

Jonathan pulled the range finder away to locate the landmark with his bare eyes and then brought it up again. An outcropping of rocks rose from the trees. From it, a shooter could have a clear field of fire. Mother Nature had built a perfect sniper's nest—an elevated platform for taking the shot and lots of cover in the event of return fire. And it was at the right distance.

"Okay," Jonathan said. "Now that I know where to look, jump out again and I'll watch for the muzzle flash."

"I already rode that horse," Boxers said. "I believe it is your turn."

It was hard to argue the logic. Besides, since Big Guy's stunt had clearly been a ruse to get the guy to show himself, the shooter would be foolish to fall for the same trick a second time. "He's probably moved on to get a different angle," Jonathan said.

"Definitely," Boxers agreed. Neither of them moved.

"You're still going to make me do this, aren't you? After all the good times we've had together."

"Nah," Big Guy said. "I'm not making you do anything. I don't mind sittin' here till dark. It'll get damned cold, though."

Jonathan peered through the range finder again. He supposed there were other options. They could just pound the outcropping with a shit-ton of ammo, but if they did that and the bad guy wasn't there, that would just reduce the bullets available to them to fight off the real attacker.

"Well, shit," Jonathan said. "I'm gonna do this thing, okay?"

"If you insist."

"But I'm not going to just duck in and out. I'm going to make a dash for that thick oak on the other side of the warden." He was betting on the fact that the shooter wasn't good enough to lead his target effectively.

"Want me to keep his head down?" Big Guy asked.

"That'd defeat the purpose, wouldn't it? I mean, the whole point is to get him to show himself."

"You're right," Boxers said. "I was just testing your commitment. What about that orange vest?"

"I'll keep it on for the mad dash. It'll add to his temptation to shoot."

"Good thinking," Boxers said. "I'd hustle, though, if I were you. Sometimes you run like a girl when you're scared."

"I hate you."

Boxers answered with a loud smooching sound.

"I'm counting it down," Jonathan said. "Three . . . two . . . one . . ." He launched himself into the opening at what would have been zero if he'd continued the cadence. He sprinted out into the clearing, bent low at the waist to create as small a target as possible, and beelined to cover behind the stout hardwood. As Jonathan passed Simonsen, a quick glance showed that his eyes were fixed and lifeless.

As Jonathan slid into place, Boxers opened up with a barrage of ten shots.

"Did he shoot at me?" Jonathan shouted after Big Guy was done.

"Negative, but I saw a flash. I figured it for the lens of a rifle scope."

"Game warden's dead," Jonathan said.

"I told you he would be."

Now that they could eyeball each other across the clearing, Jonathan tugged at the lapel of his blaze orange vest and unzipped it. This was not a time for high visibility. As he shrugged out of it, Boxers did the same.

"Well, this is exciting," Big Guy said. "What do you want to do next?"

The stamp in the cornerstone declared to the world that Godfrey's Hardware established its Fisherman's Cove roots in 1959, but to Gail Bonneville's eye, it might as well have been a hundred years earlier. Ike Godfrey, the third-generation proprietor, sported a beard that would have made ZZ Top jealous. The color of dirty snow, his whiskers extended to the top of his prominent belly, which itself strained the seams and suspenders of his ever-present denim coveralls. With the approach of cold weather, he'd only recently replaced the ever-present faded T-shirt he wore underneath with an ever-present three-button Henley.

If the faded portraits on the wall inside the front door were accurate, Ike was the image of both his father and grandfather. Gail was too new to Fisherman's Cove to remember either one, but she'd heard that every generation of Godfreys had served valiantly in their generations' wars and lived well into their nineties.

A bell slapped against the glass as Gail pulled the door open. She stepped aside to let Venice Alexander enter ahead of her. Spelling be damned, the correct pronunciation for her colleague's name was "Ven-EE-chay." It had something to do with a teenage temper tantrum, and the moniker had stuck.

Ike greeted them with a big smile and a little wave. "I know I'm blessed when two beauties enter my store at the same time," he said. As he approached, he wiped his hands on a rag that he conjured from his back pocket. His Popeye forearms bore wartime tattoos that Gail didn't understand yet respected, nonetheless. "How are my favorite private eyes doing today?"

"Only one of us is a PI.," Venice corrected. "I'm just an IT nerd."

Gail suppressed a laugh at Venice's understatement. In reality, that IT nerd was one of the most feared hackers on the planet. Of course, no one was allowed to know that. In a town this size, where everyone knew everything about everybody else—or at least thought they did—it suited Gail's and Venice's purposes for the world to believe that their employer, Security Solutions, was a plain vanilla private investigations firm, when, in fact, it was much more than that.

"And I'm more of a manager than an investigator," Gail said. Hey, if the meme of the day was understatement, why shouldn't she do her part?

"What can I do for you?" Ike asked.

"It's that time of year," Venice said. "RezHouse needs new batteries for the smoke detectors."

"Standard nine-volts?"

"I need thirty of them," Venice said.

Ike gave a low whistle. "I remember when there were only a few students," he said. Then he laughed. "Okay, I remember when there were no students at all."

Resurrection House stood on the grounds of the mansion where Jonathan and Venice had both grown up, albeit with him in the nice part and she in the servants' quarters. Those were the days when Digger went by Jonny and his last name was Gravenow. The days before his father, Simon, had finally been caught doing the things that had made him rich on his way to earning a life stretch in a SuperMax. Today, the mansion served as home for Venice, her son, Roman, and for Mama Alexander. Modern academic buildings and dormitories on the mansion's land served as Resurrection House, a boarding school for the children of incarcerated parents.

In a kind of temper tantrum of his own, Jonathan had years before deeded the land to St. Katherine's Catholic Church for one dollar on the single condition that it be used for the purpose he dictated. Since then, the school had lived off of charitable funds raised through the RezHouse Foundation, which was subsidized with hundreds of thousands of dollars in contributions from Jonathan's own pockets.

"If it's for the school, the batteries are on the house," Ike said. "And don't waste your breath arguing."

He spun on his heel and led them farther back into the store, into the canyons of shelves that were stuffed with everything from hammers and saws to garden furniture. Bullets to arrows to firearms. Gail felt confident that if they looked hard enough, they'd find elements of Grandpa's original inventory buried in the stacks somewhere.

Gail loved the place. Keep your big-box hardware emporiums. It was worth a few extra bucks to deal with people who knew not just where everything was inside the store but also how to work every piece of equipment they sold.

Venice's order stripped the spinning display rack's supply of two-pack nine-volt batteries.

"We have to stay on schedule with these things," Venice explained. "You can't let the batteries go low and start chirping. It always happens at two in the morning, and it takes forever to find out which one is the problem."

Ike agreed. "I tell people all the time, when you replace one, replace them all. Saves a lot of heartache."

They carried their armfuls of battery booty to the front counter, where Ike produced what looked like a paper lunch bag from underneath and shook it open. "This should hold them all," he said. "By the way, when does the gala happen this year?" The RezHouse Foundation hosted a fundraiser every year at the Kennedy Center in Washington, DC, and Ike was a regular.

Gail groaned. She'd come along on the trip to the hardware store to take a break from office drudgery, but now that Venice was dialed into a RezHouse confab, she knew that the visit would extend an extra ten minutes. She excused herself to dig a little deeper into the museum that was the stock on the shelves.

As she approached the front window, a display of coiled-spring leg-holder traps caught her attention. Gail wasn't a hunter. She didn't mind that Digger and Boxers were off on their critter-kill in Montana, but she didn't understand the allure of meeting your food before you ate it. These traps, though, sized for everything from foxes to bears, were cruel. If you're going to kill a thing, kill it. She saw no need to torture it first. That's why she favored snap traps for mice over the "humanitarian" glue traps that drove little Mickey to rip off his own hide as he struggled to get away.

A glance out the front window made her stop perusing and pulled her closer to the glass.

A green Toyota pickup truck sat parked across the road and down a ways to the right. The driver sat behind the wheel, and the waft of exhaust from the tailpipe told her that the engine was running. Something about this wasn't right.

Before joining on with Digger's team, Gail had been a sheriff in Indiana, and before that, she'd been an operator on the FBI's HRT—Hostage Rescue Team. Some elements of training never dim. This was the second time she'd seen this vehicle today. The first was when it was parked near a stop sign at the base of Church Street, outside the converted firehouse that served as the offices for Security Solutions. She'd noticed it then because the vehicle was occupied and running, but she'd dismissed her concern because there were a thousand reasons for an idling truck to be curbed in the middle of town.

Out here, though, Godfrey's was the only business within a hundred-yard stretch of road, and she and Venice were the only people in the store.

"Hey, Ven?" Gail called.

"I know, we're almost ready to go," Venice replied.

"I need you to come over, please. Ike, you, too, if you don't mind."

Ten seconds later, they were with her at the window. "Does that vehicle look familiar to either of you?"

"It's a pretty generic truck," Ike said.

"I don't recognize it," Venice said. "Why?"

Gail explained about seeing it across from the office.

"Are you sure it's the same one?" Ike asked. "How many green pickups must there be?"

"There's no reason for him to be sitting there," Gail said. "Unusual means potentially dangerous."

Ike scoffed. "You have any idea how many vehicles drive up and down this road every day?"

"How many park and watch your door?" Venice asked. She turned to Gail. "Do you want to call Doug Kramer?" He was the chief of police for Fisherman's Cove.

That was probably the smart move, but Gail didn't want to pull that trigger just yet. Though Doug and Digger had grown up together, a cop was a cop, and so much of what Security Solutions did fell outside the rule of law that she didn't want to invite eyes and ears that didn't need to be there.

"If it turns out to be nothing, that will be embarrassing," Gail explained.

"I'll call him if you'd rather," Ike said.

"Not yet."

"You look like you have a plan," Venice said.

It wasn't the first time that Gail had been outed for her lack of a poker face. "Sort of," she said. "Are you carrying your pistol?" she asked Venice.

"It's in the car."

Of course it was. Venice had a carry permit and she had a weapon, but she never liked having it around. Gail pressed her elbow against the grip of the holstered Glock 19 on her right hip, under her coat.

Ike produced a .38 snubby from the front pocket of his overalls. "Use mine if you want. What are you thinking?"

Gail explained.

After they'd finished listening, Venice said, "So, you want to use Ike and me as bait."

"A distraction," Gail corrected.

"Why don't I just go out and confront the son of a bitch?" Ike offered.

"I don't want to put you in the middle of our troubles," Gail said.

"If he's up to no good, how do you know I'm not the target?"

"Because he started at our office," Gail said. "It's the nature of our business that we sometimes piss people off. I'm thinking this might be one of those people."

"Angry that he got his windows peeped into?" Ike quipped.

Gail let that go. She was thinking more along the lines of the Chechen terrorists they'd crossed, the Russian plots they'd spoiled, or even the politicians whose careers they'd destroyed over the years.

"Something like that," Gail said. "Just be as nonchalant as you can manage. Keep an eye on him without looking like you're doing it."

"I don't like you out there by yourself," Venice said.

"If I need help, you'll be close."

"You're a tough gal," Ike said. "I lik. . .
We hope you are enjoying the book so far. To continue reading...
Lethal Game
John Gilstrap
Copyright © 2022 All Rights Reserved
Also in this series
Also by this author