Book info
Sample
Audiobook
Media
Author updates
Lists
Synopsis
Once, Leah Riehl prayed for a husband. The man she loved chose another, wanting the children that Leah cant provide. But shes found a measure of peace, keeping house for her brother, Simon, and teaching in a nearby town. Now though, Simons debts to an Englisher gambling ring have left Leah with a desperate dilemmaand a surprising offer from her scarred, reclusive neighbor. Jebadiah King needs to marry in order to claim his family farm. A union, for appearances only, will help them both. Jeb knows his scars make him a less than ideal husband, but he can be a useful one. Its the least that Leah deserves. But despite the promises he made to himself, Jeb cant help longing for his lovely, warmhearted new wife. His first marriage brought heartbreak, but Leahs gentle smiles spark hope again. Are they willing to take the leap that love requiresand open themselves to all the challenges and joy a true marriage could bring?
Release date: August 25, 2020
Publisher: Kensington
Print pages: 352
* BingeBooks earns revenue from qualifying purchases as an Amazon Associate as well as from other retail partners.
Listen to a sample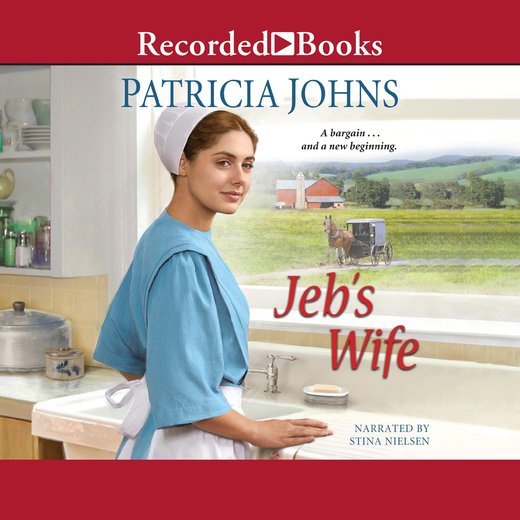 09:37:43
264.47 MB
August 25, 2020
Recorded Books
Jeb's Wife
Patricia Johns
"Rebecca's far enough along in her pregnancy that she's showing," Rosmanda said, nudging the plate of shortbread cookies toward Leah. "I'm sorry to be the one to tell you, but you'd notice it on Service Sunday. She's not exactly being modest about it. It's as if she refuses to let her dresses out until the last minute. I'd tell her that it's not proper, but it isn't my place. She'd got a mamm of her own. All I can say is, I'm much further along than she is, and I'm perfectly capable of letting a dress out. And as for my girls, I'll make sure they act with more propriety than that."

Leah forced a weak smile, but she didn't touch the plate of cookies. It wasn't right to be talking behind someone's back—but sometimes an update was necessary so she could smother her natural reaction to seeing her ex-fiancé's new wife. Leah had been gone for eight months while she taught school in another community, and a lot had changed.

"You have a few years yet before you have to worry about your girls," Leah said with a short laugh. "They're only four."

"I'm thinking ahead," Rosmanda replied, but humor didn't glimmer in her eyes. She was serious.

"The thing is, Matthew wanted children," Leah said. "At least he's getting them."

It was the kindest thing Leah could think of to say. Matthew had broken her heart and tossed her aside, then immediately begun courting a girl just off her Rumspringa.

"That isn't your fault," Rosmanda said, lowering her voice. "Leah, I don't know why God allowed you to be born with a malformed uterus, but it isn't fair to cast aside a woman because she can't give birth."

"Maybe it is fair." Leah shrugged. "Matthew wanted children—what Amish man doesn't? And I can't give that! So, if he knew what he wanted, and we weren't married yet, he wasn't in the wrong. Technically."

"So he's married himself an eighteen-year-old wife," Rosmanda said, and she shook her head. "I don't mean to degrade her. She's family, after all. Rebecca is beautiful, sweet, and from what my husband says, she's a good cook. But she's young, and Matthew is—how old is he now?"

"Twenty-five," Leah replied woodenly.

Leah was thirty, and dating a boy five years younger than her had already been a stretch. She'd prayed for a husband since she was a young teenager. And now that she was advancing into her old maid status, she'd thought that Matthew was the answer to her prayer—her reward for patient waiting. God rewarded the good girls, didn't he? He worked miracles. He made a way. But her wedding had never happened. He'd dumped her, and she'd accepted a teaching position that would allow her to get out of town to try to heal from the breakup.

"Rebecca's only eighteen . . ." Rosmanda grimaced. "When you're eighteen you think you're ready to take on marriage and children, but you're not quite so grown-up as you think. She married a man who'd been dating another woman for three years. And no one warned her that there would be complicated feelings left between you and Matthew."

"I don't want to hold him back," Leah said. "She has nothing to worry from me."

"I might have wanted to hold her back!" Rosmanda retorted. "I've told you about Mary Beiler, haven't I? Many a girl plows ahead with a marriage and lives to regret it. I didn't want that for Rebecca. But she's related to my husband, and I'm just an in-law there."

"Matthew made his choice," Leah replied.

"Did you know that Matthew's been asking about you?" Rosmanda replied. "And spending a whole lot of time with your brother."

"They're good friends," she replied. "They have been for years. And if he still cares what becomes of me, maybe I should be glad that some of his feelings might have been genuine."

Rosmanda sighed. "And I also know you, Leah. I'm not saying Rebecca has anything to worry from you. . . . You're a good woman, and he's officially off-limits. But that doesn't mean this will be easy on Rebecca."

And maybe it wouldn't be, but Rebecca had won. She had Matthew as her husband, and she was pregnant with his child. Uncomfortable or not, Rebecca would survive just fine.

The side door opened, and four-year-old Hannah came into the kitchen, followed by her twin sister, Susanna. They weren't quite identical twins, but it was close. Hannah had always been just a little bit blonder than her sister, and right now, their dresses were covered in dirt from the garden and their bare feet were brown with soil. Rosmanda heaved a sigh.

"Little girls need to stay clean," Rosmanda said, rising to her feet, her own pregnant belly doming out in front of her as she rose. "We'll have to wash your dresses now, and that's even more work for your mamm!"

"Sorry, Mamm . . ." Hannah wiped her dirty hands down the sides of her dress, and Leah couldn't help but smile. The girls started toward their mother.

"No, no!" Rosmanda said. "Stay right there. I don't need dirty footprints all over the house."

Those girls were a handful, and in a matter of months, Rosmanda would have a new baby to add to the mix.

"I should get back home," Leah said, standing, too. "Thank you for the chat."

Rosmanda grabbed a cloth from the sink and shot Leah an apologetic smile. "So soon? You've hardly eaten a thing."

Leah didn't have much appetite anyway.

"I've got to start dinner for my brother, and I can't be holding you up either," Leah said. "I'll see you again soon, I'm sure."

Leah smoothed her hand over Hannah's hair as she passed the girl on her way to the door. Kinner . . . she'd never have any babies of her own, and there was a part of her heart that ached when she saw her friend's little girls. This was the goal for an Amish woman—to marry and have a family of her own. Leah hadn't managed to do either of those things, and at the age of thirty, her chance at any domestic joys were past. It was best to admit it and face the truth.

Outside in the warm June sunlight, Rosmanda's husband, Levi, helped Leah hitch up the buggy. Rosmanda and Levi Lapp lived on two acres of land near the town of Abundance and a short buggy ride from the Amish schoolhouse. That would be convenient for them when the girls were old enough to start school. They had family concerns . . . and they were fortunate. Other women were married, having babies, raising kids. And Rebecca was already round with her pregnancy. That mental image was an uncomfortable one, and Rosmanda's warning had been well-meant.

No one had written to tell Leah. That was how pity worked, though. People smiled sadly and kept their mouths shut. Was that the point she was at now—being pitied?

Maybe she was grateful not to have had that thought of Matthew's impending fatherhood the last few months. And maybe she wasn't, because it meant that she was beyond hope in the community's eyes.

When the buggy was hitched and Leah had hoisted herself up onto the seat, Levi gave Leah a friendly wave.

"Thank you, Levi," she said. "It's much appreciated."

"Take care now," he said, giving her a nod, and she flicked the reins and the horse set out for home.

The sun was high and bees droned around the wildflowers that grew up out of the ditch beside the road. Coming back to Abundance for the summer was more work than teaching in Rimstone. She'd have canning to do to refill their pantry, herbs to dry, a thorough cleaning of their little house to accomplish, too. Her brother, Simon, had been working at an RV manufacturer in town, but he'd been laid off, so his money had dried up. Besides, he was a man, and he only did as much women's work as would keep him fed and clothed in her absence. Finding a wife might be prudent for her brother, except he'd made a bad name for himself already with his worldly ways and the daughters in Abundance stayed clear of him.

Leah felt more responsible for Simon than most. Their parents died in a buggy accident when Leah was sixteen, so she'd skipped her Rumspringa and raised her eight-year-old brother the best she knew how.

And this was the result. She'd done her best, but Leah had obviously failed him. So, while she never would have kinner of her own, she'd already raised her brother, and she'd had her chance to make a good man of him. But Simon's grief over their parents' death had taken him in a different direction, and she hadn't been able to drag him back.

Her mind was moving ahead to dinner, though. Simon liked her fried chicken, and this being her second day back in the community, she wanted to make something special they could enjoy together. They'd stopped by the grocery store when her brother picked her up from the bus station, so the cupboards were stocked once more, and she was looking forward to cooking in her own kitchen again.

Leah enjoyed her teaching position in Rimstone, but she was a guest, and in Rimstone, it was Cherish Wittmer's kitchen. Cherish was warm, understanding, and the closest to a mother she'd had since her own mother's death ... but a woman of thirty needed some counter space to call her own.

The horse knew the way home and plodded steadily down the road toward the little house she'd rented on an Amish farm. The rental agreement was under her name, and she and Simon kept the bill paid between them. The horse turned into the drive without any need for her guidance, plodding past the main farmhouse. She looked over at the house, silent and empty at this time of day. But then, the most they ever saw from that house was a kerosene light in the kitchen after dark. Two widowers used to run this farm together—Peter and Jebadiah King. Uncle and nephew. They acted as landlords for the cottage, too, but the older of them had passed away, and now it was just Jebadiah, a scarred and mysterious man, running the farm alone.

Leah had never seen much of him. Peter had been the friendlier of the two. Jeb kept to himself, but there were rumors enough that passed through the community in waves every time they were reminded of his existence. Jeb made her uneasy—he always had. He was tall, muscular, and badly scarred from a barn fire. His halting gait was recognizable from a distance, and it always gave her a shudder.

As Leah approached their rented, one-story cottage, she saw a buggy pulled up next to the house. And there was Jeb, reaching up and steadying her brother as he climbed down from the seat.

Simon moved slowly, and he wasn't wearing his hat. Simon looked toward her, and she saw smears of blood under his nose and mashed, bruised skin around one eye. Her heart skipped a beat and then hammered hard to catch up.

"Simon?" she called, and she pulled her buggy up short, tied off the reins, then jumped down. She lifted her skirt to keep it from tangling with her legs as she ran toward him.

"Hey, sis . . ." Simon grimaced as he took a step toward the house. "It's not as bad as it looks—"

"I find that hard to believe," she said, but her voice didn't sound as firm as she would have liked. "Simon, what happened to you?"

Simon leaned on the larger man, and she turned her attention to her brother's rescuer. Jeb was about forty, and he stood head and shoulders taller than Simon. The burn scars went down one side of his face, then disappeared under his beard. His neck and left arm were burned, too, and his limp suggested the burns hadn't stopped there. Jeb adjusted his grip on Simon's shoulder.

"Nothing, nothing . . ." Simon murmured. "Don't worry about it. Just a misunderstanding."

"Yah?" Leah looked toward Jeb. "What happened to him? I want the truth."

"I found him like this, walking by the side of the road on my way home from town," Jeb replied, but when he looked down at Simon, his gaze lacked proper sympathy.

"Simon!" Her voice was rising, and she couldn't help it. "Who did this?"

"What are you going to do, drag them off by their ears?" her brother muttered. It was a jab at her job as a schoolmistress, but she wasn't amused. She was about to retort when Jeb cut in.

"Who do you owe money to?" Jeb interjected, pinning Simon with a hard stare.

"Some men . . . it's nothing—"

"It's enough to have yourself beaten like a tough steak," Jeb retorted. "So I'm thinking this isn't legal. That leaves gambling and booze, and you don't smell like alcohol."

Leah's gaze whipped between them. Jeb was only voicing what she was already thinking.

Simon grimaced. "It was a sure thing. I thought I'd beat him. I had the perfect hand, and I was so sure he was bluffing . . ."

Leah took her brother under the other arm and she and Jeb both helped him into the cottage. She could feel Jeb's wrist brushing against her waist. When they got him inside, he hobbled to a kitchen chair and Leah stepped back. Jeb seemed to fill up more of the small kitchen than both she and Simon combined. Simon winced as he lifted his shirt to inspect his bruised ribs, and Leah went straight for the sink.

"How much do you owe this time?" Leah asked, turning on the water and putting a fresh cloth under the flow.

"How much did you make for teaching?" Simon asked instead.

"Enough to pay my room and board in Rimstone, and keep our rent paid. Not a penny more than that," she retorted. "How much have you got saved?"

Simon didn't answer, and maybe she should have expected that much. Simon didn't save, he spent. Besides, they weren't alone.

"How much do you owe?" she repeated. This was a more important question, and she wrung out the cloth and came over to where her brother sat. She dabbed at the blood beneath his battered nose. Whoever had done this to him was a monster, and she had to hold back tears as she dabbed at his swollen flesh.

"Fifty thousand," her brother said.

The breath whooshed out of her lungs, and for a moment, the room felt like it was spinning. A strong hand caught her elbow and lowered her into a kitchen chair. She looked up to see Jeb standing over her, his expression granite. But there was something close to sympathy shining in his dark eyes. He pulled his hand away and she sucked in a wavering breath.

"Fifty thousand dollars?" Leah breathed. "Simon, where on earth are we going to get that kind of money?"

Jeb should leave—he knew that. He wanted to leave, in fact. Everything inside him wanted to bolt for the door and get some space again, but when Leah had blanched like that and just about fainted, he didn't have a whole lot of choice.

He went to the sink and opened two cupboards before he found the glasses. There were a few dishes inside, but not many. Jeb couldn't boast much more in his own cupboards. He and Katie had started out with some proper dishes, but after her death, he and his uncle had broken them one by one through their own clumsiness and he was down to an assorted few.

Jeb grabbed a water glass and filled it from the tap, then returned to the table. Leah was ashen, her lips almost as white as her cheeks, and when he handed her the glass, her gaze fell to his scarred hand with the puckered, stretched skin. She licked her lips uncomfortably. He still wasn't used to this reaction—the revulsion. He placed it on the table next to her and pulled his hand behind his back and out of sight.

He knew what he looked like now—his face was worse than his arm and hand were, and his left leg was probably the worst of all. Kinner stared if they saw him on the road, clinging to their mamms' aprons, and they burst into tears if they were faced with him in an aisle in the farm supply store and didn't have an easy escape.

"Thank you," Leah said, a beat too late.

Jeb didn't answer.

His hip ached, and the skin on his arm was so tight that he couldn't fully extend it. He'd worked on that alone in his room, pushing past the point of comfort, grunting with pain—but something had happened to the tendons in that fire and they'd shrunk. He wasn't going to be the man he was before ever again.

Simon sat at the table and wiped blood from his nose on the back of one hand. He might be beaten up, but he'd heal up all right. Jeb's damage was more permanent ... and, he dared to say, it went deeper. He'd lost his wife and his naïve optimism all in one tragic accident. He'd gained both these scars and his freedom from a marriage to a woman who loathed him . . .

And he hated that he was relieved.

"We'll figure out the money," Simon said to his sister. "We always do."

"You mean I always do!" Leah's voice shook, and Jeb looked over at Leah. Her color hadn't come back yet, and she looked exhausted.

Jeb took the cloth from her fingers and he turned to Simon. The younger man's gaze jerked up in surprise, but Jeb put a solid hand on his shoulder to keep him put and carefully wiped the blood and dust from his face.

When Jeb had seen Simon stumbling down the road, his hat missing and blood dribbling from his face, he'd felt about how Leah looked right now. This was bad—and if whoever he owed was willing to give this kind of message, it wouldn't stop either. But what could he do? He'd pulled his buggy to a stop and helped Simon up onto the seat. There would be blood splats Jeb would have to hose off his buggy floorboards before the day was out.

But there was no confusion as to what had happened ... and fifty thousand dollars wouldn't be easy to come by.

Jeb finished wiping off Simon's face, then he crossed his arms, looking the young man up and down. "Your leg—what happened there?"

"It's my knee," Simon said. "It'll be okay—"

It very likely required a hospital visit, but that cost money, too. Jeb sighed, then crouched down in front of Simon and gently felt the joint in question. There was a fair amount of swelling, but nothing felt broken or dislocated.

"Who did this?" Jeb asked, his voice low.

Simon didn't answer, and Jeb's anger started to rise. This was no game, and the idiot might end up dead in a ditch next time if he kept trying to play with whatever Englisher crooks he was associating with.

"Just some people. I'll get them the money—" Simon said after a moment.

"How?" Jeb demanded. "You're going to make your sister come up with it?"

Leah cleared her throat. "It's okay, Jeb. My brother and I will discuss it."

He doubted she had the cash. A man leaning on a woman like that—it put a bad taste in his mouth.

"You should go talk to the bishop," Jeb said. "Maybe the community can step in—"

"They've already threatened to discipline me," Simon said, his words slurring past his swollen mouth. "We're not going to the bishop."

Leah looked away, and her expression was grim. She was a woman very much on her own—single and trying to fix problems too big for any solitary person. Jeb might like his privacy, but there were times when a community could be of help. He wasn't blind to that.

"You just inherited this farm, didn't you?" Simon asked after a beat of silence. "Your uncle Peter just passed, and you were named heir. I know that."

Leah looked over at Jeb in surprise, and he felt the heat hit his face. That was private business, and he preferred to keep it that way. But apparently word was out. He had his own problems at the moment—namely, finding a new home.

"Yah, I was named heir, but there are a few complications there," Jeb replied. "Peter stipulated that I had to be married within four weeks of his passing in order for me to inherit, so my cousin, Menno, will get this land."

It had been a cruel stipulation, because Peter knew exactly why Jeb wouldn't remarry after his wife's death, free or not.

"Do you have any savings?" Simon pressed.

"Simon, stop that!" Leah seemed to be getting her color back. "I'm sorry about your uncle, Jeb. And I'm sorry for how callous Simon is being. My brother isn't himself right now—"

"Yah, I know," Jeb said.

"I did hear about the funeral," Leah added. "And I was going to send a letter of condolence, but—"

No, she hadn't been. That was a lie he was willing to forgive.

"It's fine," he said, and he headed to the sink to rinse out the cloth. "The funeral was very nice. The community did well by him."

"God rest his soul," she murmured.

"God rest his soul," he echoed, then wrung out the cloth and tossed it toward Simon. "Put that under your nose." Then he turned to Leah. "If I were you, I'd bandage up his knee nice and tight. I got kicked hard by a horse once, and that's what helped most. Do you have any steak in the house?"

Leah shrugged weakly. "I've got an old sheet to use for bandages, but no steak at the moment."

"I have one in the icebox at home. It was going to be my supper, but you can have it for his face."

It was something. Someone had to help her. Simon had some of Jeb's sympathy for the pain he was in right now, but he'd brought that punishment on himself, the young fool. But Leah was caught in the middle, and she was doing her best to provide for herself without a husband.

"I'll bring you some dinner," Leah said. "And then you won't go hungry. If that's okay with you."

"Yah. A fair trade," he agreed. "Thank you."

A woman's cooking ... it had been a very long time since he'd had some.

Simon adjusted himself in his chair, leaning forward as he nursed his nose. Leah looked uncomfortable, her gaze flickering toward Jeb uncertainly. Right. He wasn't exactly welcome here.

"I should go," Jeb said, and he turned toward the door. Leah stood up and followed him.

"Jeb—" she started, and he glanced back. She closed the distance between them, tipping her face up to look him in the eye. He saw her slight recoil as her gaze moved over those scars. "What do you know about what my brother has been up to?"

Jeb glanced back at the young man. He wasn't about to keep his secrets, and if Simon hated him for it, so be it.

"He's been gambling with some dangerous Englishers," Jeb said. "They do this kind of thing when a man hasn't paid up. I can only imagine how long that debt has been growing." Jeb rubbed his good hand over his beard. "I saw him with a black eye and a sprained wrist once, and another time with a bloody nose. So this isn't the first time he's been beaten up."

"And no one thought to tell me," she breathed.

"He's an adult."

"He's my brother!" she snapped, but her chin quivered. Was she angry at him for not writing to tell her? As if staying in communication with his late uncle's renters was his responsibility.

Jeb had bigger problems.

"Really?" was all he said.

She licked her lips. "If you could maybe keep me informed of what he's up to—" she started, but the words evaporated on her lips when she saw his face. Were his feelings about her brother that obvious? Or was it just the scarring that stopped her like that?

"I won't be here," he reminded her. "Menno will inherit this land, remember? I'm sure my cousin will be happy to keep you on as renters. It's income, right? So, if you want someone to keep an eye on him, you'd have to talk to Menno."

Leah nodded, and tears misted her eyes. Blast. It wasn't just a beautiful woman crying that soft. . .
We hope you are enjoying the book so far. To continue reading...
Jeb's Wife
Patricia Johns
Copyright © 2022 All Rights Reserved