Book info
Sample
Audiobook
Media
Author updates
Lists
Synopsis
From New York Times bestselling author Jason June comes a moving and hilarious sex-positive teen rom-com about the complexities of first loves, first hookups, and first heartbreaks—and how to stay true to yourself while embracing what you never saw coming, that's perfect for fans of Sandhya Menon and Becky Albertalli. 
There's one thing Jay Collier knows for sure—he's a statistical anomaly as the only out gay kid in his small rural Washington town. While all his friends can't stop talking about their heterosexual hookups and relationships, Jay can only dream of his own firsts, compiling a romance to-do list of all the things he hopes to one day experience—his Gay Agenda.
Then, against all odds, Jay's family moves to Seattle and he starts his senior year at a new high school with a thriving LGBTQIA+ community. For the first time ever, Jay feels like he's found where he truly belongs. But as Jay begins crossing items off his list, he'll soon be torn between his heart and his hormones, his old friends and his new ones . . . because after all, life and love don't always go according to plan. 
Release date: June 1, 2021
Publisher: HarperTeen
Print pages: 368
* BingeBooks earns revenue from qualifying purchases as an Amazon Associate as well as from other retail partners.
Listen to a sample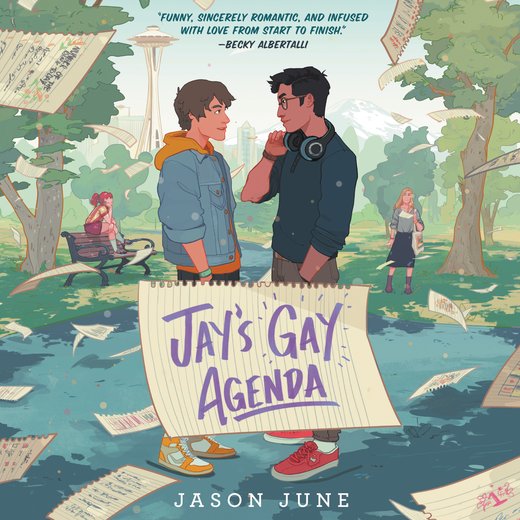 09:05:04
249.53 MB
9780063015180
June 1, 2021
HarperCollins
Jay's Gay Agenda
Jason June
0.
Start a Gay Agenda
I'm not exactly sure what the stats are on people realizing they're gay because of pop stars, but for me it was 100 percent. It was the summer before ninth grade, when my best friend Lu's aunt Carol took us to a Shawn Mendes concert in Portland. Seeing Shawn gyrating onstage with a light blue guitar strapped across his shoulder did something to my heart and my . . . down there . . . that couldn't be denied. It was like a superpowered magnet was pulling me toward Shawn and nowhere else. I was surrounded by literally thousands of girls, and not a single one of them would have been able to grab my attention. Not even Lu. I finally knew what Shawn meant about being in stitches without someone's kisses, and I screamed just as loud as anyone else in that stadium for kisses from another boy.
I mean, there had been moments before when I'd wondered. Like when I got that twist in my gut every time Derrick, the cute cashier at the Riverton Diner, smiled at me, or when my nether regions twitched when Dad and I watched football players line up in seriously tight pants during Monday Night Football. I should have known way sooner that I was gay considering I still have no idea how football actually works. But for whatever reason, it was at that concert, looking at Shawn, that something in me unlocked, and I for sure for sure knew. It was the most clarity I'd ever had on something in my entire life.
That night during the car ride home, I couldn't stop thinking about what it would be like for Shawn to throw that guitar from his body and wrap me in his arms.
When we crossed the border from Oregon back into Washington, my pop-star-fantasy-filled silence was finally noticed.
"You okay, Jay?" Lu asked. "You're really quiet."
"Yeah, no, I'm totally okay," I said. My heart raced. I was about to say something out loud that I'd never said before. "I like boys."
"Who wouldn't after a show like that?" Aunt Carol said, the glitter on her homemade concert shirt catching my eye in the rearview mirror.
"No, I mean." I cleared my throat. "I'm gay."
Lu squeezed my hand from her spot next to me in the back seat. "We knew what you meant. We love you, whether you like boys, girls, or any other human."
"I love you too," I whispered, a little stunned at coming out, a little shocked at how quickly the convo turned to me going on the next girls' shopping trip, and immensely relieved that there wasn't any backlash over my sexuality.
The whole thing was very anticlimactic.
Soon after, I made a list—my preferred method of organization—of everybody else I needed to come out to.
Come Out to Crew
Mom (will take it the easiest and probably buy rainbow shirts for the whole family)
Grandma and Grandpa (Gpa might not get it, but Gma will insist she just wants me to be happy)
The entire school (could result in pitchfork-wielding protests in front of our log cabin)
Dad (huge unknown—can't tell if his strong silent type is toxically masculine or open and accepting)
Mom and my grandparents went exactly as expected, while nobody at Riverton High seemed surprised. They were like, "He loves to talk about the makeup artistry of the contestants on RuPaul's Drag Race; of course he's gay." It felt weird that my classmates boxed me into a stereotype, but their assessment was correct, technically. At least they were cool with me, even though our school was in a farming community and about half the kids were Mormon, another 45 percent some type of ProteBaptatholic (short for Protestant, Baptist, and Catholic; there are so many church groups at Riverton, it's hard to keep up), and the remaining 5 percent of us were just like, Um, hi, I don't know what makes this world tick, but I don't think it's a magical being in the sky.
There was this one instance when Greg Ratford came up to me at my locker and said, "I don't believe in your lifestyle, and I just wanted you to know." I told Lu, and she instantly shrugged it off, saying, "The Rat is an asshole," and everyone working in the journalism lab with her agreed. So we were all on the same page that the Rat was a jerk and I could go on being me. That was the biggest extent of any school drama. I mean, we'd all been going to Riverton since kindergarten and had gotten to know each other pretty well since we were only a class of seventy-seven students. Even if nobody threw a Pride parade in my honor, I guess my classmates felt like I was part of the family, and coming out didn't change that.
The most nerve-racking part was telling Dad. We were in the living room of our tiny log cabin, Dad watching Monday Night Football while I went through the most recent pictures posted on Instagram under #instagay. Normally that would keep me very at attention due to all the muscly guys in Speedos or posting gym selfies. But I wasn't paying attention to what I was liking. Instead, I was going back and forth about when the best time to come out to Dad would be. Was it better to tell him during a commercial break? No, that's when he went to the bathroom. Yelling this news through the door while Dad sat on the toilet didn't feel like the right moment for revealing my sexuality. Maybe I could tell him during halftime, but would he really be paying attention if he was as distracted by cheerleaders as I was by football players in tight pants?
Even though I had already told so many other people, I was worried about Dad the most. He's the most stereotypical "guy": he loves football, he fixes cars for a living, he even built our home with his own bare hands. I didn't want to be the kind of person who assumed the worst, but I'd read so many horror stories online about kids getting dumped by their hypermasculine fathers. Even though I was pretty sure Dad wouldn't do that to me, there was still a tiny seed of doubt.
Without thinking, I let out a huge sigh. Dad turned down the volume on the game and asked, "Something wrong, Jay?"
That had to be a sign from some deity (or Michelle Obama or whoever brings all of humanity together) and as good a lead-in as any to spill the rainbow-colored beans. "I was just stressing about how to tell you that . . . I'm gay."
Dad didn't skip a beat. "I knew it." He said it with such matter-of-fact certainty that I was a little offended he hadn't brought it up earlier. "Now's a good time to talk about safe sex. Just because you can't get a girl pregnant doesn't mean you can't get an STD."
I buried my face in one of Mom's hideous floral throw pillows. "Ew, Dad, gross!"
"Gross is chlamydia. Which is entirely preventable." He got up, grabbed a banana, and proceeded to walk me through how to put on a condom.
So, it turns out I really had nothing at all to worry about in my coming-out journey. Except for the fact that I was all alone. Well, I was surrounded by people, but they were all straight. I got a lot of attention for being the gay kid, but pointing out how I was different just made me feel that much more lonely. Not one other person at RHS, in all four grades, came out after I did freshman year. At first, I thought that maybe my coming out would give other people the courage to do so too. I was certain in no time I would be the president of the GSA and have the perfect boyfriend. We'd have movie marathons on the weekends where he'd wrap me up in his arms, which were larger than average due to all the time he spent playing football.
After a whole semester of freshman year with nobody else coming out and my poster of KJ Apa being the closest thing I had to a boyfriend, I googled statistics about the queer community. I found out that 75 percent of queer youth say their communities accept them, and the US Census Bureau named Provincetown, Massachusetts, the gayest city in America. But since I don't live in Massachusetts, what grabbed my attention was a Gallup poll that said 4.1 percent of the adult population identified as LGBTQ. While we weren't quite adults yet, that would mean that out of the seventy-seven students in my class, at least three of us should be queer. But I was the only one.
I figured I would just have to let it go, but then another study said 8 percent of all high school students in America identified as LGBTQ. WTFrack? (Growing up in a heavily religious community has given me a habit of avoiding the word fuck that I can't shake.) That meant that at least six kids in my grade alone should be siblings in pride, and that in our whole school of 260 kids, twenty should be waving a rainbow flag with me (and that's rounding down from 20.8, because how can you have .8 of a person? Maybe Greg Ratford is .8 of a person because he doesn't have a heart). Statistically speaking, twenty kids should be queer in school, and I was the only out one?
The odds weren't ever in my favor.
There's an LGBTQ group in Spokane, the closest city to Riverton, Washington, but it's an hour-and-a-half drive away, and the logistics of working out how to get back and forth with no car were too much. There wasn't even anyone out at our rival high school, Deer Park, which was just thirty minutes away. So I was left as the sole out gay boy in a hundred-mile radius. I spent a lot of time bingeing queer culture like RuPaul's Drag Race and Real Housewives and talking about it with other gays online, but all the episodes of Catfish I watched warned me against trying to meet them IRL. I will admit, I downloaded the Grindr app once and lied about my age just to see if anyone around was secretly out on the internet. The only person I found was someone who looked suspiciously like Jebediah Smith. He ran the only gas station in Riverton and I swear was always eating fried gizzards when I went in to grab a Diet Dr Pepper. There was no way I could ever kiss a guy with gizzard breath, let alone one who was forty years older than me.
It blew my mind that I had never, not once come into contact with another out gay guy. Or a lesbian. Or someone bisexual, or trans, or on the queer spectrum at all. Where were all the people who allegedly identified as LGBTQ?
In trying to keep up the hope that I would organically meet another gay someday, I became a little obsessed with statistics and weird facts about things that happened against all odds. I kept a running list of my favorites, like a lady who's been struck by lightning four times, or a man who got stranded at sea twice in one day, rescued both times, but lost his camera in the second attempt only to have it wash ashore with his pictures intact four years later. These things should never, ever have happened. The deeper I dug, the more I was convinced if all this other stuff could happen, I'd have to meet a gay guy, statistically speaking.
All that time researching stats online about the queer community led me to a lot of sites explaining the history of the gay rights movement. A ton of articles talked about the Gay Agenda—a slogan people against the queer community reference, as if all nonheterosexuals have some master plan to take over the world. As I waited and waited for somebody else to come out, and all my straight friends had relationship milestones like losing their virginity one by one, I made an ongoing list of all the stuff I wanted to do once I finally came into contact with another gay. My Gay Agenda.
Jay's Gay Agenda
Meet another gay kid. Somewhere, anywhere . . . please!
Go on a date with a boy and hold hands within the first ninety minutes.
Go to a dance with a boy and have my first kiss slow dancing to Shawn Mendes.
Have a boyfriend, one who likes to wrap me up in his arms and let me be little spoon.
Fall in love with a boy, but wait for him to say it first so I don't seem too desperate.
Make out, with tongue, and hard enough that I'd get a little burn from his stubble.
See another penis besides my own, IRL, and do fun things with it!
Lose. My. Virginity!
As you can see, the first items were from my sweet, innocent freshman mind: hand-holding, going on a date, maybe even—GASP!—a first kiss during a slow dance. But then my hormones became a hurricane raging inside me, and everyone else in my class became a permanent resident of SexTown. There was constant talk from the girls about stubble rashes and when to say the L-word or how to give blow jobs without teeth, so the ideas for what could happen when I met this fantasy gay became a little more . . . intimate.
Heading into my senior year, not a single item had been crossed off that list. Almost eighteen whole years on this planet, and I'd never even had a first kiss.
But my odds were about to change.
1.
Get Insulted by Your BFF
Burger grease isn't exactly an exceptionally inspiring smell, but it would have to do. Riverton Diner was the only place to meet in my little country hometown, and Lu had just gotten off her shift. Besides, fast-food smell was the least of my problems: I needed to find someone who I could actually date so I wouldn't be the Forever Third Wheel to Lu and her ever-present tumor—I mean boyfriend—Chip. They both sat across from me in our red-and-white booth while we chewed cheeseburgers and guessed gays.
"What about Ian Rukowski?" Lu asked. "Clara says he told her he's going to sign up to audition for the fall play. He's never been in a play before. Why the sudden interest?"
"You can't be serious," I said. "Just because somebody likes theater doesn't make them gay."
I'd had this conversation a lot in Riverton. Just because a preponderance of gay people like things like theater or Real Housewives doesn't mean every single gay person is a fan of them. But, because I watched all those things so I could be a part of the queer community online, my point usually got brushed away.
"Well, he likes theater and he's gay," Chip said, stabbing a french fry in my direction with each he for emphasis.
"He is sitting right here," I said. That's the problem with the phrase third wheel. It's not like you're all three equally noticed and needed and rolling along on the ground, like a tricycle. Third Wheels are really Spare Tires. Only pulled out of some forgotten compartment in the trunk of your car when another tire decides you get to see the light of day.
"Jay is totally right." Silver stars flashed on top of neon-green nails as Lu threw up her manicured hands. "I'm just grasping at straws and fell back on a tired trope."
"Why is it tired?" Chip asked. "All I'm saying is sometimes there's truth to a stereotype. It doesn't make it bad; it just makes it a statement of fact."
I face-palmed, my hand hitting my forehead with just enough impact to make my swooped bangs whoosh with dramatic yet cute effect. Too bad my signature move was entirely wasted on oblivious Chip.
"Okay, look." I pumped the straw in my Diet Dr Pepper. The same eee er eee er sound would probably be made if I pumped it through Chip's ear and into his brainless head. "Sure, sometimes stereotypes can have a tiny bit of truth. Do I have a ton of Miley Cyrus in my Drown Out the Bus playlist? Yes. Have I listened to a lot more Miley than most straight members of the football team? Judging by their bonfire playlists, also yes. But gay people are just as varied as straight people. There are straight guys who love Miley Cyrus and gay guys who love . . ."
Crap. Think, Jay, think. Selena? No. Demi? No. Britney? Dammit!
Chip's lips pinched into a satisfied smirk. "You can't think of any singer who's not a former Disney star, can you?"
I shook my head, cursing Chip's smug grin while he waved his french fry like a magic wand.
"All I'm saying is," Chip continued, "maybe wave that gaydar over Ryan and see if anything beeps."
"Ian," Lu and I said together.
Lu grabbed Chip's hand and laced their fingers. Her ivory skin made his perfect golden tan stand out, giving me yet another reason to curse him. My whole body ached with lobster-red sunburn. I was failing in my summer goal to turn my white, vampire-worthy paleness into a bronze beach body.
"Hey, baby," Lu crooned to Chip, and I instantly cringed. Isn't the whole point of dating getting to use your very unbabyish bodies in super-not-G-rated activities? "I know you're just trying to help, but I think we got this covered."
I still didn't understand how my best friend could date somebody so . . . well, ignorant. Especially when she couldn't stand the outdated chatter of some of the old ladies who visit Tough as Nails (or TAN for short), the nail salon where her aunt works. Lu always talked about how Esther Anderson said her granddaughter was finally getting married just before she turned into an "old maid" at twenty-four, or how Ruth Mortimer thinks it's "uncouth" for women to wear tank tops. Lu, meanwhile, uncovered the gender pay gap for our district's bus drivers in an article for the school paper. And she volunteered to help get the first female president elected to our school board. Yet here she was, dating Chip, who said things like "wave that gaydar" and probably couldn't spell feminism if he tried.
I tried not to blame Lu. Everybody in our grade paired up with someone for the summer, and the matches weren't always expected. I knew as well as anybody you can't help who you're attracted to. I just wished I could find somebody who was attracted to me so I wouldn't have to be the Forever Spare Tire.
"Anyway," I said, "while I do appreciate a good theatrical performance, I don't want to be onstage or anything. Besides, I'm only one data point of gays who like theater. And Mr. Frederickson always says you can't establish a trend with just one data point."
Lu rolled her eyes. "Do not go all statistics on us."
"But it's true!" I said. "If you could tell me the sexuality of the majority of the guys in every theater production ever put on by a high school drama department, then we'd have enough data for a trend. You don't know a lot of guys in theater, do you, Chip? But I know that Bruce Miller, Dalton Preston, Johnny Hayes, and Shawn Shapiro are all in drama, and they're straight. And I know the most important detail: who's auditioning for the lead role in Annie Get Your Gun."
"Who?" Lu asked. She drummed her nails against the table. She always does that when someone has information she doesn't know but really wants. It's her tell—the way I know she's interested even if she sometimes acts above high school gossip since Chip goes to Spokane Community College.
"Alicia Thomas," I said. "You know Ian's had a crush on her since sixth grade. Clearly he's trying to get closer to her by auditioning for the show."
I could read Lu like a book. Her oval face was so expressive, her flaming-red hair practically changed shades with her emotions, and she always displayed her moods with new nail art. Normally, it was something I loved most about her, how transparent she was. But this time, when her whole body slumped, it felt wrong. She shouldn't have this dramatic of a reaction to Ian pining after Alicia.
"Well, this is just great," Lu said. "Where are we going to find you a date for the Blue Bluff Hoedown now?"
"What do you mean?" I asked. "We always go to the hoedown together."
"Yeah," Lu mumbled. Her nail clacking picked right back up. Clickclickclickclickclick. Clickclickclickclickclick. She also does that when she's anxious.
Chip chomped on his last bite of cheeseburger, his eyes darting between us. He was normally so cool, calm, and smugly collected. Now the nervousness radiating off him was so thick, I could chew on it like he did to that Belly Buster.
"I think I'll let you two handle this alone," Chip said. "Talk to you later, babe." He pecked Lu on the cheek, his mouth still full, and got out of there faster than you can say awkward moment.
"Lu?"
Lu wouldn't take her eyes off the greasy basket of fries between us. "It's just that Chip wants to take me to the hoedown this year, and I . . ." No matter how hard I tried I couldn't get her to look me in the eye. "I want to go with him too." Clickclickclickclickclick.
Images of our past epic hoedown costumes flashed before my eyes.
Hoedown Highlights
An electrical outlet and phone charger for the Power Couples theme. (Complete with a Lite-Brite thunderbolt that would light up any time Lu plugged into me.)
Netflix and Chill for Perfect Pairs. (I wore a cardboard computer screen with a scene of the Netflix homepage while Lu went as that ice princess from Frozen. She could even step into my costume and would spontaneously burst into "Let It Go.")
Peanut butter and jelly for Inseparable. (In which we wore giant foam toast costumes that people could spread brown and purple paint all over.)
In Riverton, the Blue Bluff Hoedown and couples' costume contest is bigger than Halloween, homecoming, prom, and all other holidays combined. People go all out, dressing their best, downing Blue Bluff Orchard's world-famous apple cider, and dancing to twangy yet catchy country music all night long. Lu and I had won the award for Best Costume—and the thousand-dollar cash prize that came with it—three years in a row. The theme for this year's hoedown would be announced just after school started, and then we were going to plan the frack out of our outfits to make sure our winning streak went unbroken. I already had a page decked out in my notebook labeled COMPLETE COSTUME DOMINATION for upcoming ideas to list.
I should have seen this coming. Lu'd fallen for Chip hard and fast, canceling so many of our summer traditions just to have alone time with her boyfriend. We hadn't once gone to Silverwood Theme Park in Idaho to ride roller coasters like we had every summer; she made Pig Out in the Park a date night with Chip, leaving me to wander the hundreds of food vendors alone; and she bailed on Hoopfest, where we ogled athletes, so she could see Chip play guitar at the same café he played in three times a week. The hoedown was the one tradition I thought she wouldn't mess with for a guy she'd known for only a month and a half. It was our thing.
"It's our senior year." I could barely choke out the words. "We're supposed to finish out high school with one more couples' costume. The one to rule them all."
"Just because I'm obsessed with the movies doesn't mean a Lord of the Rings reference is going to change my mind." Lu knew me too well. "You're just making this harder." Clickclickclickclickclick. "I'm going with Chip. Now that college—"
"Community college," I snapped.
"Don't be a jerk." Lu wagged a fry at me just like Chip had. Gawd, they were that couple who adopted each other's mannerisms. "Now that college has started back up for Chip, I hardly get to see him anymore. With classes and studying he can't drive out here as much as he did before, and you know I can't drive to him because"—her voice dropped, and she looked over her shoulder to make sure no one was listening—"because Carol sold our car."
I sucked in a breath. Here's a sad stat: half of all people in Riverton lived below the poverty line, and Lu was one of them. A new nail salon opened up in Deer Park last year that was modern, always had available chairs and technicians, and offered champagne or espresso with their services. All the RHS kids went there. Aunt Carol tried to get the TAN owner, Leslie Lovett, to update, but she was in her seventies and wasn't up for the challenge. This left the old ladies at Riverton Trailer Community as the salon's main clientele. As morbid as it sounds, they were getting older and dying, bringing Tough as Nails closer to death with them. The past year was especially slow, and Leslie had cut the store hours by half, meaning Aunt Carol's wages were cut in half too. She'd had to sell their car just the week before to pay rent on their single-wide trailer. Whenever Lu brought it up it made my gut bubble with worry, but she refused to let me ask how she was doing.
"It's really important to me that Chip is my date to the hoedown," Lu said. "I know having him around has switched up our routine, but Chip has helped take my mind off all the shit that's going down for Aunt Carol and me. Honestly, that prize money for the costume contest could help us out. But just because Chip is going doesn't mean that you and I can't still plan a costume together that will kick ass. It's just that Chip and I will be wearing it. If the rules allowed for a three-person costume, you know I would be all for that, but they don't. Plus, since I was the one with all the romance this summer, maybe my love luck will rub off and I'll be able to find you a date. That way, when I want to do-si-do with Chip, you're not left out."
The bubbles in my gut went from worried to pissed in .2 seconds. Lu wasn't just Spare Tire–ing me. She was slamming the trunk so hard I'd never be found again. And shoving it in my face that she'd had all these relationship milestones while I hadn't. Who did she think she was, saying that she would find me a date?
"Oh, because you finding your first boyfriend six weeks ago makes you some kind of expert?" Although, TBH, she kind of was an expert. Chip was technically her first boyfriend, but Lu had dated a lot of people and had her first kiss when we were in sixth grade. But that didn't mean she got to imply the reason I had never been with another guy was my fault. "I can find a date on my own, thank you very much."
Lu's eyes went so wide I could see the harsh fluorescent lights reflected in them. "No, Jay, I didn't mean it like that."
"You know what?" I stood up so fast I got light-headed, spots creeping in at the corners of my vision. "You and Chip have a nice time."
I burst out of the diner. In that moment, I understood why so many people stormed off set during reality TV reunion specials.
It felt good.
2.
Win the Gay Lottery
My phone buzzed with texts from Lu as soon as I got home.
OF COURSE you can find a man on your own.
I didn't mean it like that.
Really, I'm so sorry.
Meet me at the salon? I've got a pedicure with your name on it.
I could practically hear her nails drumming against the TAN front desk. Leslie gives Lu and Aunt Carol a 50 percent friends-and-family discount, and Lu knows how much I love a good pedicure with my nails shined and buffed. But I wasn't in the mood to let her off so easily (and even though I was pissed, I wouldn't let her pay for my own pedicure when money was so tight). I needed time to adjust to the idea that we weren't going to the hoedown together. I could still go, but even if I did end up finding a date against all odds, why would Chip even want to go to the hoedown to begin with? It didn't make any sense. He always thought he was too cool for school, never laughing at any of our jokes or appreciating anything that remotely smelled of fitting in. He only ever wore black, he only ever watched documentary films, and he constantly berated me for drinking Diet Dr Pepper.
I let out a sigh so huge my bangs moved.
"Something you need to tell me?" Dad asked.
"What the frack!" I jumped hard enough to send my backpack flying from my shoulder.
"Didn't mean to scare you. But last time you sighed that big, you came out." Dad got up from his recliner in the living room and walked the two steps into the kitchen to grab a beer from the refrigerator. Dad built our tiny log home, and he's "got the calluses to prove it," as he always tells anyone who asks. He's such a hands-on kind of guy. His dream was always to live in a log home in the country because "nothing can clean the mind better than clean air." It is pretty out here, but the uninterrupted sea of trees out our living room window has turned from pretty to depressing. I recently learned that trees can flourish on six out of seven continents (sorry, Antarctica), yet not even one other boy who likes to kiss boys can grow anywhere on this side of the state.
"What are you doing home?" I asked. It was only three fifteen. Dad usually didn't get off work from Riverton Motor Repair until five thirty.
Dad cracked open his Bud Light. "I quit my job today." He took a few gulps, then went back to his recliner and nonchalantly pulled the handle so the footrest sprang up. Then he turned on SportsCenter, continuing to act like he hadn't just dropped a huge bomb. Was this what a midlife crisis looked like? He seemed pretty content for a guy who no longer had a job.
"Are—are you okay?" I sat down on the love seat, the only other piece of furniture that could fit in the tiny living room besides the recliner.
"Yup." Dad could be a man of infuriatingly few words.
"Are you having a nervous breakdown? You're not about to go streaking through the woods like Larry Gott­lieb did on his alpaca farm, are you?"
Dad just gave me his pointed look that said, What do you think?
I threw my hands up. "What? You're not telling me anything, so I can only assume the worst."
Dad took another swallow of beer. His Adam's apple bobbed up and down as he glued his eyes to the TV. And his eyelids didn't budge one bit as he avoided my gaze.
I grabbed the remote and hit Mute. "What is it? What aren't you telling me?"
"Son, if you don't want to be grounded for the rest of senior year, you'll give me that remote back right now." Dad held out his hand, palm up.
"Fine." I caved and gave back the remote. "But what's going on?"
"Your mother will tell you when she gets home, Jaybird. Quit chirping."
"You know, I wouldn't have to be chirping so much if you would just answer my question."
Dad turned up the volume on the TV, the sportscasters' voices blaring through the cabin. "Everything is all right. Let me enjoy my early retirement."
My fingers itched to text Lu and tell her my dad was officially losing it. But I didn't want to forgive her just yet. And it would only make me even more mad at her if I called and she didn't pick up because she was busy with that friend-stealing douche. It only hit home the fact that I was alone. I didn't have a boyfriend to rely on, or a best friend to share all my worries with, because she was spending time with her boyfriend.
All I could do was march the four steps down the hall into my room and try to fool around on our outrageously slow country internet. But I couldn't focus on my laptop with how angry I was at Lu, how confused I was by Dad, and how annoyed I was by the sounds of ESPN. Dad may have built our house, but he left little pockets in between the logs, so you could hear everything happening in any part of the house at all times. It meant I had to watch every PornTube clip with no sound, so while I can imagine sex clearly, I'm still not sure what kind of noises you're supposed to make.
While Dad sat back and enjoyed football, I spent three torturous hours obsessing over what could possibly be going on.
Dad's Breakdown Began Because . . .
He got fired and is too hurt or manly or something to admit it.
He is having a stroke and I should immediately call 9-1-1.
Body-snatchers are real and Dad has been replaced by some alien villain.
We won the lottery, so Dad doesn't need to work anymore, but he doesn't want to tell me so that I don't become some entitled trust-fund kid.
Oh gawd, Mom and Dad are getting divorced and Dad is slowly slipping into beer-soaked despair.
I finally heard Mom come in through the front door, so I raced into the living room. She had a rotisserie chicken and potato salad in her hands from the Fresh Savings grocery store she managed in Deer Park. This was totally normal seeing as how rotisserie chicken was the five-dollar deal on Thursdays. She was also holding a bottle of champagne. Totally not normal. And it wasn't just any champagne: it was Veuve Clicquot. I may technically be a country boy by location, but I'm not a country boy at heart. I know from all the bottles I've seen popped on VH1 that Veuve Clicquot is pretty fancy, not like the bottles of Barefoot Bubbly Mom usually brought home for her book clubs. Fancy champagne could only mean we were about to celebrate. So no job firings, no strokes, no alien invaders, and no divorce. That only left the lottery. Were we about to become millionaires?
I grabbed the bottle from Mom's hand. "Okay, what's going on? Nobody's getting any champagne until somebody talks."
Mom set down the chicken and potato salad so she could cross her arms and glare at Dad. "Rick, you didn't tell him?"
"I wanted to wait until you were home." Dad got out of his recliner and wrapped Mom in a big hug. "Congratulations," he said, then dipped and kissed her in that overly dramatic movie way that involves way-too-long lip-to-lip contact and side-to-side face motion. It looked like he was trying to unscrew Mom's head from her neck using only his mouth.
"Gross." To distract myself, I attempted opening my very first bottle of champagne. I unwrapped the foil at the top of the bottle, twisted off the wire basket thingy underneath, and the cork immediately shot out. Even the thunk of the cork hitting the ceiling didn't make my parents stop kissing. They were so disgustingly in love with each other. I mean, it's great, but there's only so much one kid can handle.
What did grab their attention was the golden bubbly that fizzed out of the bottle and onto their shoes.
"Frack!" I yelped, and lunged for the paper towel roll.
"What do you think you're doing?" Dad snatched the bottle, which was now less than half full, from my hand. Champagne should come with instructions. "You know there's no drinking until you're twenty-one!" He was always such a stickler for the rules.
"It's only fair," I said. "How else am I supposed to stomach watching you suck Mom's face off?"
Mom whacked the back of my head. "Don't be disgusting."
"I'm the disgusting one? I'm not the one dripping in someone else's saliva right now."
Dad grabbed two wineglasses out of the cabinet and filled them with champagne. Perfectly, I might add, with the fizz just barely touching the rim of the glass before gently bubbling back down in a luxurious golden haze. It's so embarrassing when your mechanic dad is fancier than you are. He handed a glass to Mom, then turned to me and said, "I think you're just jealous."
"Ew."
Now Mom whacked Dad. "You two are derailing the celebration. I've been promoted!"
Mom's worked at Fresh Savings since before I was born, climbing the grocery store ladder from cashier to head of the meat department to general manager.
"Mom!" I wrapped my arms around her, not caring that a little bit of champagne sloshed out of her glass and landed on my favorite jean jacket. "That's amazing!"
"I'm so proud of you, Tami," Dad said, engulfing us both in a family group hug. Sometimes I got included in their disgusting lovey-dovey-ness. I would never tell them that I actually kind of like it. Doubly so since I'd been left out over the summer while everybody—even Lu—went into Heterosexual Hookup Mode.
Dad let go and grabbed the second glass of champagne. He toasted Mom, rudely leaving me with no drink and a ton of questions. "But wait," I said. "What position is higher than general manager? President?"
Mom swallowed her champagne and gave Dad a look. One of those looks that's meaningful and significant and holds entire conversations without a single word being spoken. That's great for them and all, but it completely left me in the dark. I was even a Spare Tire to my parents.
"What is it?!" I yelled.
Dad walked into the living room and leaned back in his recliner while Mom grabbed my hand and led me to the love seat. It was impossible to sit on that thing with another person without your knees cramming together. The discomfort of Mom's surprisingly knobby knee jamming into mine almost matched the discomfort at how long she was taking to give me some answers.
"Here's the thing," Mom said. "I've been promoted from general manager to district manager. I'll be overseeing all the Fresh Savings locations in Washington and Oregon, and my office is going to be located in Seattle, which means—"
"We're moving," I interrupted. My heart stopped.
Words gushed out of Mom. "Yes, and I'm so, so sorry that you have to move in your senior year. I didn't want to tell you before now in case the promotion didn't pan out and I got you worked up for no reason. But I got the job today, and this is a really big opportunity for us. I'll be making three times what I'm making now. I know it's such a hard thing to leave your friends and classmates behind that you've been with since kindergarten, and if this opportunity would be waiting in a year, you know I would put it off. But I figured since you're going to college next year anyway, this might not be so bad, right?"
I was stunned. I didn't know what to say. My initial reaction was to run to my room and grab the Gay Agenda so I could start adding more Seattle-specific references to each item. Things like, Get caught in a torrential downpour and dramatically kiss a boy or See if date with cute guy is offered as part of Amazon Prime seeing as how Amazon is based there.
We sat in silence, Mom and Dad totally oblivious to the Pride parade running through my mind. They kept giving each other worried glances.
"Jay," Dad finally said, his forehead sweaty. "Are you all right?"
"EEEEEEEEEEE!" I squealed louder than I had at that Shawn Mendes concert. "Are you kidding?" I jumped up and pulled Mom with me. "I'll get to meet gays! Like, actual living, breathing guys who are interested in other living, breathing guys. I'll get to know what holding someone's hand is like, or that infuriatingly long movie make-out you two do way too much!"
No more being the sole gay boy in a school full of sex-crazed students. No more awkwardly fidgeting my thumbs and having nothing to contribute while my friends—especially Lu—talked about their relationship milestones. I was finally going to the big city where I'd get to have milestones of my own. It wouldn't matter that I didn't have a car, because public transportation in Seattle is epic, and I could take myself to any LGBTQ gathering I wanted. In the very immediate future, I'd be meeting the person who owned the first set of lips that would ever be pressed against mine who wasn't my grandma. I could finally have a boyfriend. I'd have items crossed off my Gay Agenda in no time!
"Ohmigawd, number eight could be off the list!"
Mom cocked her head to the side. "What?"
"Nothing, sorry." This was not the right time to discuss my virginity with Mom. It would never be the right time to discuss my virginity with Mom.
"THIS IS THE BEST NEWS!" I screamed.
Dad wiped his forehead. "Phew! I didn't want to talk about it without your mother here because I thought you'd freak out."
I lunged toward Dad and hugged him. "I am freaking out!" I lunged back toward Mom. "Thank you, thank you, thank you! When do we leave?"
"I start in three weeks, just after Labor Day," Mom said. "We have to pack everything up here as soon as we can, rent a U-Haul, and move into a new place over there. It's a lot in so little time."
"I've got the to-do list covered," I said.
Jay's New Gay Life Pack and Prep List
Pack all your clothes and prioritize the jeans that make your butt look the best.
Load up all hair products to keep bangs swooshy and swoon-worthy.
DO NOT forget your AJ Kapa poster.
"I'm so relieved you're excited," Mom said. "I was sure you'd hate the timing of this with your eighteenth birthday coming up. Not getting to spend it with Lu."
She looked at me tentatively, like maybe the reminder of leaving my best friend behind would ruin the moment and I'd collapse in a heap of drama. But it's not like I'd had a huge celebration planned anyway. Lu and I would have taken Dad's truck into Spokane to go to the county fair like we usually did. But this year, I was sure I would have had to stomach a side of Chip with my elephant ears and chili dogs. Being their Spare Tire would only have made my eighteenth birthday the worst one yet.
"Don't worry about it," I said, squeezing Mom's shoulder for emphasis. "This is the best birthday gift ever."
I'd gone nearly eighteen years in an LGBTQuarantine, despite the stats throwing it in my face that there should be someone else around who identified as queer. But in just a few weeks, I'd be moving to a metropolitan mecca of gays, where I'd be virtually surrounded by people like me.
The odds of winning the lottery are one in fourteen million. Even though my suspicions were wrong and we hadn't won the money, I still felt like I'd won the gay jackpot.
We hope you are enjoying the book so far. To continue reading...
Jay's Gay Agenda
Jason June
Copyright © 2023 All Rights Reserved