Book info
Sample
Audiobook
Media
Author updates
Lists
Synopsis
The highly acclaimed author of Accidentally Engaged delivers a delightful rom-com of one woman trying to shed her perfect image at a destination wedding with hilarious—and moving—results, perfect for fans of Abby Jimenez and Jasmine Guillory.

Jana Suleiman has never really fit in—everyone always sees her as too aloof, too cool, too perfect. The one time she stepped out of her comfort zone she ended up with a broken heart and a baby on the way. Aaaand lesson learned. Now she's a bridesmaid for a destination wedding in Serengeti National Park, and almost everyone she knows will be there. Her five-year-old daughter. Her mom. Her friends. Even her potential new boss. And of course (because who doesn't love surprises!) her gorgeous-but-not-to-be-trusted ex.

Fortunately, Anil Malek is a great dad, even if Jana hasn't quite forgiven him for lying to her all those years ago. Determined to show he has no effect on her whatsoever, she and the bridesmaids concoct a go-wild list to get Jana through the week. Sing karaoke? Sure. Perform their high school dance routine in front of strangers? Okay. But the more she lets down her guard, the less protection she has against her attraction to Anil. And Jana soon realizes it's one thing to walk on the wild side . . . and quite another to fall for her ex all over again.
Release date: May 22, 2023
Publisher: Grand Central Publishing
Print pages: 368
* BingeBooks earns revenue from qualifying purchases as an Amazon Associate as well as from other retail partners.
Listen to a sample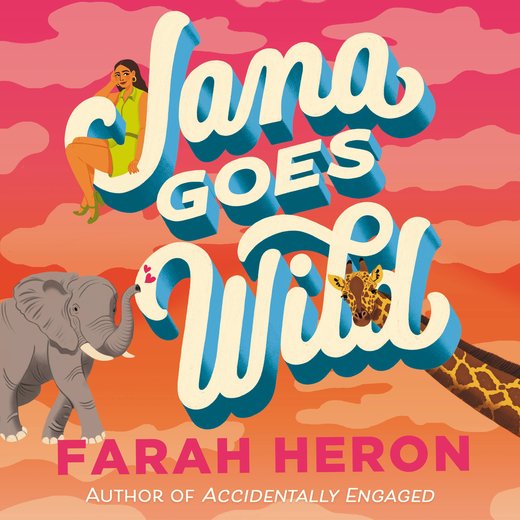 11:38:05
319.57 MB
9781668630143
May 2, 2023
Hachette Audio
Jana Goes Wild
Farah Heron
Chapter 1

Five Years Earlier, Washington, D.C., USA

Jana Suleiman was perfect. Or, at least, that's what everyone had assumed her entire life. And they assumed that perfection came easily for her. In reality, Jana had found it incredibly hard to live up to those almost unattainable expectations. That didn't stop her from trying, though, because being a high-achieving, righteous, moral, and principled person was all she knew.

But after waking up incandescently happy for the first time in her memory, Jana wondered if she should have shed her perfect image a long time ago. Because right now, doing something a little unexpected, a little out of character, and a little bit bad felt soooo good.

It was extremely early in the morning to be having this epiphany, but Jana was jet-lagged and a bit sore from the exuberant activities the night before (really, from a week and a half of the best sex of her life). She admired the toned, naked back of Anil Malek, the person who had been the catalyst for this discovery that her comfort zone was way too stifling. Lazily rolling onto her side, she wrapped herself around him tightly.

"You woke me up," he said, voice raspy with sleep. Despite his words, Jana knew he wasn't complaining. Their "relationship" was only in its infancy, but they both knew there was always something better to do together than sleep.

"It's not early. The sun's up. I'm still on London time, anyway. I don't have to go into the office today. What do you want to do?"

She and Anil had been traveling together for twelve days now and were currently in Washington, D.C., Anil's hometown and the base for the agency where Jana worked. This was technically a business trip for Jana. She'd been working the last few months on opening a new maternal health clinic in Tajikistan. When Anil Malek turned up there to visit an old friend who happened to be Jana's boss, no one, least of all Jana herself, expected Anil would join her on the next leg of her trip to London. Or that they'd start a hard-and-fast fling while there. Between her meetings, she and Anil went to museums, galleries, and antique shops during the day and spent their nights in bed in a tiny London hotel room.

Now Jana would be in D.C. for a month, settled into an extended-stay hotel where she assumed Anil would be spending a lot of time, too—since his actual home was a few hours away in Virginia. She'd never had a more fulfilling, more satisfying, more fun business trip in her life. She kissed the back of Anil's neck softly.

In one smooth motion, Anil rolled over and lifted Jana on top of him. She loved it when he did that. He was a big man…big and built. He could lift her in his arms with seemingly no exertion. He could pin her against a wall and devour her. And he had. Many times.

Jana adjusted herself so she was straddling his firm stomach, ignoring the twinge of pain from her protesting hips. It was no wonder—she hadn't asked so much of her body quite like this since…well, since ever.

Resting her hands on his shoulders, she leaned down and kissed him briefly. His hands skimmed her thighs and landed on her hips. That ever-present mischievous twinkle in his eyes was there. It was amazing that someone like this—someone so…alive—wanted to be with Jana Suleiman, the woman who always played it safe.

"Well, we could always take in one of the Smithsonian museums," he said. "Or a park?"

Jana shook her head. "We did the British Museum and the Victoria and Albert in London…I'm about done with shrines to colonization."

Anil laughed as his hands trailed up Jana's ribcage, sending a delicious shiver up her spine.

"Galleries? We could go shopping or take a tour of the historical sites." His wide hands were spread over her breasts now, thumbs teasing her nipples, making her back arch. He knew exactly what he was doing to her. "Or we could stay in," he suggested. "I'm sure we can find something to occupy our time."

She laughed, letting her head fall so her shoulder-length hair skimmed Anil's face. His hands slid up her back so he could pull her down for a thorough, all-consuming kiss.

Jana had never felt anything like this before. True, they'd had a lot of sex in the last few days, but that's not all this relationship was. They were very different people—he was clearly more of an extrovert and could talk happily to every person in a room, while Jana preferred to retreat to a corner or read a book at home. But when they were alone, it was so easy between them. They'd talked for hours about their work in the development field. About their goals of bringing grassroots-style microdevelopment to a larger scale, and about how lifting women and girls could help entire communities. Jana had never been so in sync with anyone else about development philosophies and politics or even history and art. And she never felt her usual awkwardness with him.

But it was when they were like this, skin to skin, in the tiny bubble they'd brought with them from Central Asia to London, and now D.C., that Jana felt positive she'd found her soul mate—the one person in the world who saw her actual self. And loved her for her.

Not that he'd said he loved her yet. Neither had she…but she was on the way there.

Leaving her comfort zone—doing exactly what no one would expect Jana Suleiman to do—was the best thing she ever did. She shifted again, this time reaching over to the nightstand and getting a condom out of the drawer. Everything for Jana fell into place when she and Anil were alone, so why waste that time at galleries or museums?

*  *  *

After a few more blissful days in D.C., Jana and Anil were in an upscale Mexican restaurant gorging on beef barbacoa and the best ceviche she'd ever had. She'd wanted a margarita, too, but all her recent flights had led to a small sinus infection, and her antibiotics didn't play well with alcohol. Jana had eaten amazing meals all over the world, and she was delighted that Anil was as big a fan of exploring cultures by eating as she was.

"I went to a restaurant on a beach in Cancún once that only served ceviche," he said.

"That sounds like heaven." Jana scooped some of the bright, citrusy diced fish onto a fresh tortilla chip.

"By the way," he said, smiling, "my mom called today to tell me how much she liked you."

Jana grinned. She'd been nervous about meeting Anil's parents at brunch the day before—it seemed too soon to get families involved in their relationship. But she was so glad she went. Anil's parents were warm, funny, and clearly so proud of his work. They'd asked Jana about her job and told the cutest stories about Anil as a child. Jana felt like she knew him better after seeing how much his family adored him.

"Your parents dote on you."

He nodded. "I'm the golden son. Only-child syndrome. Your mom must be the same with you?"

Jana shook her head. "No…I…Mom and I aren't really close. I haven't lived at home since I was eighteen—not for more than a few months at least."

"Must have been hard for her—her only child moving out not long after her husband died."

Jana shrugged. "Mom has a very busy social life. Don't get me wrong—she's thrilled when I'm home so she can show me off. But sometimes I think the idea of me means more to her than the actual person." That sounded so bleak. Jana regretted saying it almost the moment it came out of her mouth. Right after seeing his perfect little family, she wasn't sure she wanted to delve into her dysfunctional one. She changed the subject. "Your family must love having you nearby, though. You're about an hour-and-a-half drive to their place, right?"

He nodded. "Yeah, about that."

"Could I see your home sometime?" she asked.

"Of course, but it's really not much to see." He sighed. "I really should sell it soon. Not sure why I'm hanging on to it. It's a dull little house in an even duller little town."

The house seemed a bit of a sore spot for him. And she could guess why.

"You bought it with Nadia, right?"

He nodded but didn't say anything more.

Jana knew that Anil had been married before, but he didn't talk much about his ex-wife. There were no pictures of her in his parents' house. She had no idea how long ago the divorce was, or why the marriage ended. Which, fair. They were building something—and even if it felt so real now, Jana knew they had time.

"We should order more ceviche," Jana said. "They had shrimp on the menu, right?"

*  *  *

At the office the next day, Jana was editing a proposal to add a mental health day clinic to the health center in Tajikistan, when her phone buzzed with a WhatsApp message.

Unknown: Stay the fuck away from my sister's husband.

Jana stared at the message. What the hell? Was someone trolling her? Was this a bad joke? She wrote back.

Jana: Who is this?

Another message came through calling Jana a series of expletives and accusing her of sleeping with a married man.

Nausea built in Jana's stomach. Anil was not married…He had told her he was divorced…

Jana didn't know what to say. With blurry eyes, she texted back.

Jana: I think you're mistaken.

Unknown: I don't know what he told you, but Anil Malek is married to my sister. Not divorced. Not separated. Married.

Another screenful of profanity flashed on her phone. Jana blocked the number.

Could this be true? She'd been with Anil almost twenty-four hours a day for two weeks now—save for when she was at work. She'd been with him on three continents. She'd met his parents. She'd slept wrapped around him every night.

But…what did she really know about him? He hadn't introduced her to any of his friends in D.C. this week. He clearly didn't want her to come to his house in Virginia. Wouldn't his parents have said something if he was married? What did he tell them about her? He hadn't introduced Jana as a girlfriend or a holiday fling…just a friend and colleague in his field. But that seemed normal to Jana—South Asian parents sometimes leaped too quickly from dating to marriage, and Jana assumed he wanted to wait until they were together longer before telling his parents the true nature of their relationship. But maybe he didn't tell them because he had a wife waiting at home.

What did Jana know about Anil Malek at all?

Jana closed her eyes. She knew she was falling in love with him. And maybe love was a little blind.

She picked up her phone again—not to call Anil, but to message Rasheed, the manager of the project in Tajikistan. The one who Anil had been visiting when this relationship started.

Jana: Rasheed, is Anil married?

It was the middle of the night in Tajikistan. Jana wasn't expecting an answer. But he responded.

Rasheed: Have you asked him that question?

Jana: Rasheed, please. I'm asking you.

She'd only known Rasheed for a few months, but she'd thought they were friends. Friendly, at least. She trusted him.

Rasheed: The answer is complicated.

Jana felt like she was going to throw up.

Jana: The answer is yes, then.

There was a long pause before Rasheed answered.

Rasheed: Yes, he's married.

Jana threw her phone onto the desk and ran to the bathroom, where she did throw up. Then she cried…for a long, long time.

Anil had many excuses when she confronted him later that night in her hotel room. He said his marriage was complicated. That he and Nadia were effectively separated. That it was long past over. But all Jana could think of was her phone lighting up with the worst names possible when Nadia's sister had messaged her.

Jana gritted her teeth. "Does her family know it's over? Does she?"

When he didn't answer, Jana asked Anil to leave. He tried to object again, begging Jana to let him explain, but Jana was done. She didn't want to hear it.

He finally left. And she threw up again.

That was the end of the best relationship Jana had ever had. The one that should have been forever. How pathetic. It had all been an illusion. He was married. And Jana was a fool. She'd stepped out of her comfort zone and taken a risk with the charming, charismatic, sexy man who'd looked at her like she was more than just perfect Jana Suleiman. Like she was a person who was worth getting closer to. And look what she'd gotten out of it.

Her eyes blurry with tears, Jana blocked Anil Malek from her phone. Thankfully, it had only been two weeks. They lived in different cities—countries, even—so it wouldn't take much to never see him again. She could avoid him professionally. She could put this whole mess…this affair…behind her and pretend it never happened. She'd learned her lesson. Comfort zones were comfortable for a reason.

After two more weeks, Jana's heart had mostly mended, but she was still throwing up regularly. When she saw two pink lines after peeing on a stick, she realized she wasn't quite done with Anil Malek after all.

Chapter 2

Present day, Toronto, Canada

Do you think airport security will confiscate samosas?" Jana's mother, Rashida Suleiman, called out the moment Jana walked into her mother's townhouse. Jana was balancing two pizza boxes, her purse, and her planner in her arms.

Jana frowned as she dropped the pizza boxes on the table near the door. "I don't know. I thought they only confiscated liquids. Samosas are solid." She really hoped security wouldn't take their samosas. Their already stressful holiday would be infinitely more frustrating for Jana if they didn't have a stash of her mother's samosas on hand.

"I'll make the filling dryer to be safe," Mom said from the kitchen.

Jana kicked off her job interview shoes and beige blazer, cringing when she noticed that the living/dining room had fallen into complete chaos while she'd been gone. The mess made her eye twitch, but what did she expect? Her daughter, Imani, and her mother were clearly still packing. They were all leaving tomorrow for a two-week vacation in Tanzania for a family friend's wedding in which Jana was a bridesmaid and Imani the flower girl. Jana was a seasoned traveler, but she was usually alone or with colleagues for overseas flights, not with her mother and four-year-old daughter.

The scent of daal and maybe kheema in the air told Jana that Mom was making more than just samosas. She took the pizza boxes to the kitchen, where she found her mom stirring a tiny pot filled with ghee, curry leaves, chilies, and spices.

Jana shook her head. "Why are you making all this? I told you I was picking up pizza tonight." Mom wasn't capable of making a small amount of food. "Airport security will confiscate daal. That's a liquid."

Mom poured the hot ghee and spices into the pot of daal. "This is all for the freezer. Won't we be happy to have home-cooked food waiting for us when we get back? I made two dozen samosas. That should be enough for the trip, right?"

Mom's cheddar-and-potato samosas, just one of her many Indian fusion recipes, were the only thing Imani would eat with no cajoling. "Hope so. Don't really want to be lugging more than that from hotel to hotel."

"How was the job interview?" Mom asked.

"It went well, I hope," Jana said, taking a handful of peanuts from the jar on the counter, then popping one in her mouth. She'd just come from her second interview at Think Canada for her dream job—working with Think affiliates to plan development projects around the world. Jana really thought she had a good chance. The executive director, Dr. Lopez, was a brilliant, kind man who reminded Jana a bit of her father, and she'd love to work with him.

She wanted this role so much. She desperately needed a change professionally. But best of all? She'd be doing it all from Toronto. No more traveling. She could be right here, at home, when Imani started junior kindergarten in the fall.

Mom smiled. "I told you my prayers would be answered. So great that Rohan found that job for you."

Jana's good friend, and the groom at the upcoming wedding, had learned about this position long before the job was publicly posted, which gave Jana the time to polish her resume and gather references.

Jana rubbed the back of her neck. "I may have made a mistake. I slipped and mentioned I'm a single mother, and he made some comments about how he values family. With all the short-term contracts on my resume, he probably thinks I'm a terrible mom."

Mom shook her head. "Nah. Divorce is common these days. This isn't like back home."

Jana gave her mother a raised-eyebrow stare. "Mom, I'm not divorced. I've never been married." Which is a fact she'd reminded her mother of countless times. She sighed. "The director also said he was looking for a dynamic, vibrant addition to a close-knit team." Jana wasn't sure anyone had ever described her as vibrant. Capable, brilliant, accomplished, yes, but not vibrant.

Mom shrugged. "So be vibrant."

"It's not like I can just flip a switch and be someone else." She peeked into the disaster of a living room. "What's the cyclone all about?" She'd finished her own packing the day before, but Imani insisted she wanted to pick her own clothes for the trip.

Mom snorted. "Your daughter is apparently having a fashion emergency."

Jana frowned. "Does it have to be such a messy emergency?"

"She's four, Jana," Mom said pointedly. "Things are allowed to be messy for four-year-olds."

Sometimes Imani seemed four going on fourteen. Jana went into the living room to her daughter, who was sitting on the floor in the middle of all the clothes and toys. Imani beamed at Jana and immediately started talking as if her mother had been with her all afternoon. That's just how Imani was. Jana had sometimes been gone weeks, and once even months, without seeing her daughter in person, and Imani would always carry on as if they'd never been apart. It killed Jana, though. She really hoped Imani wasn't masking distress about her mother being away so much.

"I don't understand why I can't bring all the dresses," Imani said, looking at the piles of folded clothes surrounding her. "Kamila Aunty said I need lots of pretty things for the wedding."

Jana squeezed into the few inches of clean floor next to her daughter and kissed the top of her head. Imani was wearing a zebra-print sundress, and her curly hair was escaping the French braids Mom had done in the morning.

"Why aren't you doing this in your room?" Jana asked.

"Nanima said to pack here because she's cooking."

"How many dresses do you have here?"

"Thirty-seven," Imani said with wide, solemn eyes. Imani was usually a cheerful, playful child. Her personality resembled her father's in many ways but especially in her extroversion and easygoing nature. But Imani took fashion and her dresses very seriously. Jana often wondered how exactly this outgoing and completely fabulous little person came from her uterus.

Jana reached for her planner and showed Imani the month spread with the days they would be gone colored in yellow. "Well…we'll be gone for sixteen days, but I don't think you need a fresh dress each day. And sometimes you might want to wear pants or shorts."

Imani looked scandalized at that suggestion. Jana laughed. "Okay, but you have new lehengas for the wedding events. How about eight dresses?"

Imani thought about it. "Ten?" she offered.

"Okay, ten."

"Can I bring more dresses when we go to Disneyland?"

Jana smiled. "We're going to Disney World, sweetie. It's in Florida…where Kassim Uncle lives in the winter, remember?" Well, they were going to Disney if Jana got a new job. Jana was waiting to buy the tickets, but as far as Imani knew, the trip was happening. "Did you pack pajamas?"

Imani's little face scrunched up in thought. "I need sixteen pajamas?"

Jana laughed again and scooped up her daughter and put her on her lap. After giving her a tight hug, she smoothed Imani's hair. "How about we finish packing together? Then after we clean up, we can eat pizza."

Imani jumped off Jana's lap and ran toward the kitchen. "There's pizza?" Jana winced as the clothes fell into even more disarray.

Jana resisted the urge to chase after her. First, she needed to tidy this mess.

*  *  *

The first leg of the trip, an overnight flight from Toronto to Amsterdam, was, well, long. And about as easy as one would expect an economy flight to be with a cranky four-year-old who refused to sleep on the plane. Or eat. Thank goodness for Mom's samosas, because Imani wouldn't eat anything the airline provided, including the cute kid's meal Jana had preordered. Jana finally managed to get her daughter to understand how to make the in-flight entertainment work, but then Imani was so delighted that there was so much Peppa Pig available that Jana doubted that the girl would close her eyes on the flight at all.

Traveling was usually effortless for Jana, since she went abroad for work so often, but she hadn't been on a trip with Imani before. At least not a trip as long, or as far, as this one. Hopefully things would be better once they got to Tanzania.

Jana was not looking forward to the actual wedding. At least she'd been able to skip the four-day bachelorette party extravaganza in Amsterdam first, thanks to that job interview at Think. Jana felt out of place during normal parties—a wedding where she would be on display as a member of the bridal party may as well be a den of snakes to an introvert like her. But after the wedding, they were all going on a safari trip through several national parks, and Jana was excited to show Imani the African animals that she'd recently become obsessed with.

And truth be told, Jana could use the vacation. She'd been job hunting for a month now, since her last contract position ended. It was the cycle of Jana's life—get a new contract to launch a development project somewhere in the world, work from home planning the project, go on site for a few weeks or longer to oversee the launch, then come home and look for the next contract. Jana loved that she could make lasting impacts in regions that needed it most, but the cycle was exhausting. The job at Think was permanent. And in Toronto, with little travel. If she got it, both Jana and Imani would have more stability. They could do trips like this more often, just like Jana had traveled with her parents when she was young.

But she wasn't sure that being in the wedding party would feel like a vacation. Jana had been quite surprised when Kamila had asked her to be a bridesmaid. Jana was actually closer to Kamila's fiancé, Rohan, and despite the fact that she and Kamila were friends now, they hadn't always been.

Jana knew she often rubbed people the wrong way. That her introversion and her, well…awkwardness around people were seen as curt or pretentious. But most of the time, she just didn't know what to say or how to fit in with others. It was like everyone spoke some social language that she'd never learned. She used to have a few close friends whom she'd known since university, but not since Imani was born. She was fine, though. Jana wasn't really a social person. She had Imani, and that was enough. She hoped to stay on the sidelines at this wedding. Be there to support Rohan and Kamila and get some good, quality alone time with her daughter. She needed this recharge.

But after getting no sleep at all on the seven-hour flight, Jana was sore, cranky, and tired by the time they landed. Imani was even worse. Mom had slept on the plane, so at least she had a bit of spring in her step.

They had a few hours to kill in Schiphol Airport in Amsterdam before their evening flight to Tanzania. The rest of the bridal party, who'd been in Amsterdam for a few days, was booked on the same flight to Africa, so Kamila had messaged her that they would all see each other in the airport. Jana would have preferred not to have to socialize while she was feeling like such crap. She didn't have much of a choice, though.

Jana, her mother, and Imani were navigating the busy hallway of the airport toward the gate for their next flight when Imani suddenly shrieked.

Jana instinctively reached for her daughter. She didn't know whether to drop to the floor, run for cover, or inspect Imani for injuries. Jana realized, in horror, what her daughter had screamed about the moment Imani broke free from her arms and started running.

Imani was leaping straight into the arms of her father. Anil Malek.

Ugh.

Chapter 3

What are you doing here?" Jana asked as she caught up with her daughter, who was now in Anil's arms and hugging him, her little legs kicking with joy. Imani was a complete daddy's girl.

Anil Malek flashed his always charming, never irritable smile at Jana. His charcoal gray T-shirt was stretched over his solid arms, and he had a leather bag hanging off his shoulder. Jana cringed when she saw #GROOMSPLATOON printed on his shirt. He was clearly here as part of a wedding party. Maybe it was someone else's wedding? Amsterdam was a popular bachelor party spot.

"Last-minute change of plans," he said. "I shuffled some meetings around and extended my project timetable so I could be one of Rohan's groomsmen. I hated missing the wedding of two of my closest friends."

Jana tried to ignore the pounding of her heart in her throat. Of course he did. The man was nothing if not adaptable. "And you didn't tell us because…"

He smiled at Imani. "I wanted to surprise Mini," he said, using the nickname he'd given Imani as an infant. He rubbed her back, then tickled her stomach. Imani shrieked with glee again.

"How wonderful!" Mom beamed at Anil. She was as happy to see him as Imani was. "Now you can all be together as a family for this trip!"

Jana didn't glare at her mother. There was no point. She did glare at Anil, though—not that he noticed. He was currently listening intently to Imani as she told him all about Peppa Pig's trip to Italy.

Jana couldn't be that surprised he was here. Months ago, when Kamila had asked Jana to be in her wedding party, she'd also asked Jana if it would be okay if Rohan asked Anil to be a groomsman. Rohan and Anil had gone to university together and had become close again since Anil permanently moved to Toronto to be near Imani. But when Jana looked at Anil's schedule on their co-parenting app, she saw that the timing of the wedding conflicted with his long-planned trip to D.C. to start a nonprofit there. So Jana confirmed to Kamila that she'd be honored to st. . .
We hope you are enjoying the book so far. To continue reading...
Jana Goes Wild
Farah Heron
Copyright © 2023 All Rights Reserved