Book info
Sample
Audiobook
Media
Author updates
Lists
Synopsis
The Kaul siblings battle rival clans for honor and control over an East Asia-inspired fantasy metropolis in Jade Legacy, the page-turning conclusion to the Green Bone Saga.

"Lee's series will stand as a pillar of epic fantasy and family drama." —Library Journal (starred review)
Jade, the mysterious and magical substance once exclusive to the Green Bone warriors of Kekon, is now coveted throughout the world. Everyone wants access to the supernatural abilities it provides, from traditional forces such as governments, mercenaries, and criminal kingpins, to modern players, including doctors, athletes, and movie studios. As the struggle over the control of jade grows ever larger and more deadly, the Kaul family, and the ancient ways of the Kekonese Green Bones, will never be the same.

Battered by war and tragedy, the Kauls are plagued by resentments and old wounds as their adversaries are on the ascent and their country is riven by dangerous factions and foreign interference. The clan must discern allies from enemies, set aside bloody rivalries, and make terrible sacrifices… but even the unbreakable bonds of blood and loyalty may not be enough to ensure the survival of the Green Bone clans and the nation they are sworn to protect.
 
Praise for the Green Bone Saga:

"Jade City has it all: a beautifully realized setting, a great cast of characters, and dramatic action scenes. What a fun, gripping read!" —Ann Leckie, winner of the Hugo, Nebula, and Arthur C. Clarke Award Awards
 
"Stylish and action-packed, full of ambitious families and guilt-ridden loves..." —Ken Liu, winner of the Hugo, Nebula, and World Fantasy Awards

"An instantly absorbing tale of blood, honor, family, and magic, spiced with unexpectedly tender character beats."—NPR
 
The Green Bone Saga
Jade City
Jade War
Jade Legacy
Release date: November 30, 2021
Publisher: Orbit
Print pages: 736
* BingeBooks earns revenue from qualifying purchases as an Amazon Associate as well as from other retail partners.
Listen to a sample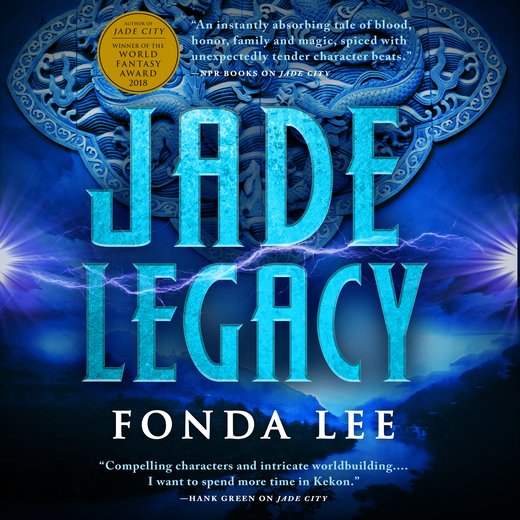 28:29:28
782.55 MB
9781668600559
November 30, 2021
Hachette Audio
Jade Legacy
Fonda Lee
The Double Double hotel and casino was an unlikely place to incite revolution. It was merely a convenient target because Bero worked there and knew how to get past security. While the city of Janloon shivered at the sudden onset of the coldest, wettest winter in decades, the bright lights and clamor of the gambling floor continued unabated at all hours, pouring money from high rollers and foreign tourists into the coffers of the No Peak clan. That would not be the case today.

At ten minutes to noon, Bero pushed a luggage cart with three suitcases across the casino floor and into an elevator. Three businessmen in the elevator were carrying on a heated conversation. "The Mountain is offering me a tribute rate that's fifteen percent lower. The Kauls can't match that," grumbled a bald man in a blue suit. "Yet they're still expecting me to compete with the foreign chain stores that are popping up like weeds because of the trade deals they've pushed on the country."

His colleague grimaced. "Would you rather pay tribute to Ayt Mada, though?"

"Ayt's a power-hungry murderer, but so what? They all are. She did what she had to do, to keep the Mountain clan in line," said the tanned third businessman. "At least she puts Kekonese interests first, and now that she's finally named an heir, I think—"

The elevator door, which had begun to close, opened again and two foreigners stepped inside, taking up the remaining space next to Bero's luggage cart. They were in plainclothes, but they didn't seem like tourists. The three businessmen stopped talking and eyed the strangers with polite suspicion. Janloon was crawling with foreign corporate and government agents these days.

The elevator descended to the parking level and opened with a quiet ping. When all the other occupants had exited, Bero rolled the luggage cart and its contents into the parking lot and looked at his watch. Green Bones of the No Peak clan kept a close eye on the lucrative betting houses of Poor Man's Road, but there were only so many of them patrolling the district. Eiten, the former Fist who'd given Bero his job at the Double Double, was not in today. After weeks of timing the security shifts, Bero knew that at precisely noon, none of the clan's other jade warriors would be on the premises either. Of course, once the commotion started, they would arrive in short order, so speed was vital.

A van pulled into the parking space next to Bero. Tadino jumped out of the driver's seat; Otonyo and Guriho got out of the rear. Bero did not particularly like the three Oortokons, with their foreign accents and ugly Ygutanian clothes, especially Tadino, who had the sharp bark and narrow face of a rat terrier. Nevertheless, they were the only people Bero had met who hated the Green Bone clans as much as he did, who wanted to see them come crashing down.

"Didn't get stopped or questioned at all," Tadino crowed. Even if they had been, there were no weapons or other suspicious items in the van. Bero pulled the suitcases off the luggage cart and threw them open on the ground. Guriho, Otonyo, and Tadino pulled out the contents: gas masks, spray paint, crowbars, handguns, and tear gas grenades.

When they were fully equipped, Bero used his employee key to get them into the stairwell next to the elevators. At the top of the stairs, he unlocked the upper set of doors, letting them out into the carpeted hallway behind the casino's kitchen.

Tadino grinned and pulled the gas mask over his face. Guriho and Otonyo clapped each other on the back and did the same, Guriho struggling for a moment to stuff his long beard under the seal of the mask. They didn't glance back at Bero as they rushed down the hall. Otonyo rolled one of the tear gas canisters into the kitchen and Tadino hurled another one onto the casino floor, where it began to hiss and spew its contents. Bero flattened himself out of sight against the door of the stairwell as the shouting began, followed by sounds of coughing, gagging, and stampeding feet. A gunshot went off, and noise erupted in earnest—cries of alarm above the toppling of dishes and furniture, the breaking of glass, the metallic banging of emergency exits, and the rapid whap of the casino's revolving doors as the patrons of the Double Double fled choking from the premises, spilling in a panicked rush from the dim warm comfort of their games tables onto the main strip of Poor Man's Road.

Bero wrapped a bandana over his nose and mouth and peered around the corner of the stairwell. He could still hear an awful lot of noise, but it was hard to see anything through the smoke. Part of him wished he was out there causing chaos with the others—firing into the air, swinging a crowbar into the glass bar tops, defacing the walls and furniture. The damage would be repaired, but it would cost No Peak. It would humiliate them and make a statement that couldn't be ignored. Bero scowled. He was more daring and thick-blooded than any of the others. He'd done things that would make those Oortokon mongrels piss themselves.

He pulled his head back into the stairwell and shut the door. He had nothing to prove by going out there. If the Green Bones showed up, they would smash the legs of the fools they caught. Enough close calls had made Bero value his limbs. At one time, he'd possessed jade of his own and enough shine to keep him flush with money, but that wasn't the case anymore. He hated the clans, but he needed this job.

The door banged open and the three men staggered into the stairwell, their eyes wild and bright, hair sweaty and chests heaving for breath. Bero hurried with them back down to the parking level. He went out first, ducking behind a corner as the nearby elevator opened and disgorged half a dozen escaping floor and kitchen staff members. When they were gone, Bero hit the emergency stop button in the elevator to prevent it from going back up, then he let the men out of the stairwell. They tore off their masks and threw their gear into the suitcases. "Lie low for two weeks and meet back at the Little Persimmon," Guriho reminded them as they got back into the van. The vehicle peeled out of the parking lot, leaving Bero alone.

Bero wheeled the suitcases and their damning contents to the garbage chute and dumped them. He made sure his employee uniform was straight and unstained, then he walked out of the parking lot and went on his regular lunch break. When he returned thirty minutes later, there were two police cars and a fire truck parked outside of the Double Double, as well as three No Peak Green Bones walking around, angrily surveying the damage. Stranded hotel guests shivered on the sidewalk, waiting to be let back into their rooms. Bero stuffed his hands into his pockets and waited with them, hiding his smile at the red message spray-painted across the interior width of the casino's front glass doors: THE FUTURE IS CLANLESS.

the sixth year, first month

Kaul Hiloshudon studied the six businessmen dining with him and hoped he would not have to kill any of them. They were gathered in the largest private room in the Twice Lucky restaurant and there was still plenty of food on the table, but he had little appetite. Taking the lives of enemies was something Hilo could do without hesitation, but these were men of his own clan, who he knew and had been friendly with to some extent in the past. No Peak needed every loyal member.

"How's your wife's health, Kaul-jen?" asked the Lantern Man Fuyin Kan, bringing the rest of the casual conversation around the table to an awkward pause.

Hilo didn't lose his smile, but the warmth left his eyes as he met the man's gaze across the table. "Recovery takes time, but she's doing better. Thank you for asking."

Fuyin said, "That's good to hear. There's nothing more important than the health and safety of our families, after all. May the gods shine favor on No Peak." He raised a glass of hoji in Hilo's direction and the other businessmen echoed him and followed suit.

Fuyin was not a typical jadeless Lantern Man. He wore two jade rings, jade studs in his ears, and an elaborate jade buckle on his belt. A former Fist, he'd left the military side of No Peak fifteen years ago to run his family's retail business. Despite the man's words of polite concern, Hilo could Perceive Fuyin's jade aura as a thick roiling cloud, bristling with unmistakable resentment and suspicion.

Hilo pushed aside his plate and sat back as waiters removed empty dishes and refilled cups of tea. He didn't look at Shae sitting next to him, but he could sense the tautness in her aura. She didn't appear to have eaten much either. There was no more putting off the conversation.

"I've invited you all here because my Weather Man tells me you have concerns that need to be brought up and answered directly by me as Pillar," Hilo said. "You're all respected and valued Lantern Men in the clan, so of course, I want to talk things through and solve problems before they become serious misunderstandings."

It was not Fuyin, but the bald man next to him, Mr. Tino, who spoke up first. He was an old-timer in the clan, a friend of Hilo's late grandfather. "Kaul-jen," Tino said, "given the economy today and the competition we face not only from rivals in the Mountain clan but also foreign companies, we've repeatedly asked the Weather Man's office for lower tribute rates. As I'm sure you remember, No Peak raised tribute to fight the clan war, but hasn't substantially lowered it for six years."

"We're still fighting the clan war, even if it's not out in the open," Hilo reminded him. "The Mountain intends to conquer us sooner or later. We've kept tribute at a reasonable level for everyone and used the money to strengthen the clan as the Weather Man sees fit."

Shae sat forward at his mention and said, "We have to grow No Peak's capabilities if we hope to prevail against our enemies. We've been upgrading technology systems, expanding Kaul Dushuron Academy to be able to train more Green Bones, and building up our overseas offices and businesses." The Weather Man's chief of staff, Woon Papidonwa, immediately handed her a file folder. Shae opened it and began to extract a sheaf of papers. "I can show you the clan's budget for the coming year and exactly where the tribute income is being—"

Another Lantern Man, the darkly tanned Mr. Eho, waved down the gesture impatiently. "I don't doubt you're spending the money. The problem is how you're spending it. No Peak continues chasing business in Espenia, which will surely harm our country in the long run." He avoided looking at the Weather Man, who he'd disapproved of on previous occasions. "Young people are too influenced by foreign ways. That's why you see more crime and social problems these days. What happened last week at the Double Double casino, for example. Disgraceful. And the hooligans responsible weren't caught."

Hilo's eyes narrowed at Eho's lecturing tone. "If you want to blame someone for crime, think about how many barukan gang members the Mountain clan has brought into the country to pad their ranks. But that's beside the point. I know the Mountain is undercutting us, offering you lower tribute rates, and suddenly you feel it's unfair to pay your usual amount when it seems you could do better." The uncomfortable silence that answered him was ample confirmation. Several of the Lantern Men were studiously avoiding his stare.

Fuyin Kan, however, did not look away.

"Switching allegiance would be a drastic and difficult decision," Fuyin said. It would not only affect a Lantern Man's finances, but where he chose to live, which martial school his children could attend, his social connections, and who his friends and enemies would be. "We don't want to go that far, which is why we've come as a group hoping for accommodation."

The rest of the Lantern Men sat forward in agreement. Fuyin had let others speak first, but it was apparent that he was the leader among them, as Hilo had suspected. This is going to end badly. Hilo felt certain of this, but nevertheless, he said, "We can't lower tribute right away. I can give you my word as Pillar that as our overseas businesses grow, we'll share that benefit with the whole clan. The Weather Man's office will adjust your tribute downward in stages, over the next five years." He had no idea if that made financial sense, but it sounded reasonable. Since Shae's aura didn't begin to surge with ire toward him, he assumed she could get it done.

Fuyin shook his head. "That's hardly any compromise at all. We've all agreed that it would be only fair for No Peak to match the Mountain's offer. And we believe strongly that there needs to be a change in the direction of the clan. An end to growing business overseas and focusing instead on defending our interests at home."

Shae's jade aura rippled with consternation, but she spoke firmly. "If we lower tribute payments while also giving up on our fastest growing source of revenue, the clan would lose money on both ends. We'd be setting ourselves up to be destroyed."

Some of the Lantern Men muttered at this, but Fuyin spread his hands. "The Mountain is doing fine. Are you saying the No Peak clan can't do the same? If so, can you blame us if we decide to act together for the sake of our futures?"

It did not sound like a threat, but it was. Fuyin had gathered together half a dozen disaffected Lantern Men and now he was saying that if No Peak refused to meet their collective demands, they would defect en masse to the Mountain clan. Even Shae had no immediate reply to such daring extortion.

An anger weighty with disappointment settled over Hilo. "Fuyin-jen," he said, fixing all his attention on the former Fist and ignoring the other men in the room, "why would you come here to ask me for anything, when you've already turned to the Mountain? Is it on Ayt Mada's orders that you're trying to drag these other people down with you?"

Fuyin's expression became a blank wall. "What are you talking about?"

"You've been paying tribute to the Mountain clan for months. I can show everyone the proof that Maik Tar dug up—or you can admit it rather than lie to my face." Hilo's words were spoken calmly but with unmistakable cold portent. "You're not just a Lantern Man like these others. You're a Green Bone who's betrayed his clan oaths."

Complete silence fell across the table. The oblivious burble of noise from the rest of the Twice Lucky beyond the sliding doors seemed cacophonous. The other Lantern Men edged back in their seats, the color draining from their faces, as Fuyin slowly stood. "You accuse me of betraying the clan? I was a first-rank Fist when you were still an insolent boy in the Academy. You're the one, Kaul Hiloshudon, who's betrayed all of us."

The bitterness Hilo had sensed in Fuyin's aura swelled into a storm, and the careful veneer of politeness he'd maintained until now fell away. "My father built a thriving business out of nothing but his sweat and grit and the patronage of the clan. Thank the gods he's no longer alive to see his company pushed out of the market, all because you've opened up our country to foreigners like a whore opening her legs." Fuyin's voice thickened and trembled. "My son admired you so much and wanted to be just like you. He was only twenty years old, barely a Finger for six months, when he was killed for nothing, in a clan war that would never have happened under your brother or grandfather. You have the arrogance to expect my allegiance? No, Kaul-jen, you're a pup of a Pillar, and your sister licks Espenian boots. I owe nothing to you."

Hilo did not speak for an uncharacteristically long moment. He could Perceive the thudding heartbeats and held breaths all around him, especially Shae's, but they seemed distant compared to the sensation of building pressure in his hands and head. At last he said, "Fuyin-jen, I can see that the hardships you've suffered have made you hate me, but you were wrong to let yourself be used by Ayt Mada." He stood to face the man. "You could've come to talk to me at any point if you were so unhappy. Whether it's business trouble that's making you feel like giving up on life, or if you can't forgive me for the death of your son, you could've asked to leave honorably, maybe even to form your own small clan in another part of the country. Because of your family's good standing and past sacrifice, I would've allowed that. You shouldn't have defected to the Mountain, and you shouldn't have swept others along with you by trying to damage No Peak with this fucking charade."

Fuyin straightened to his full height. He was taller than the Pillar, in his forties but still in excellent physical shape, known for training with much younger Green Bones. "You suggest I should've begged to leave the city I was born in, to live like a worthless outcast? Do you expect me to cut off my ear now to grovel for my own life? Never." The man's face hardened with terrible resolve. "Kaul Hiloshudon, Pillar of No Peak, I offer you a clean blade."

A murmur of stunned apprehension traveled through the room. No one had challenged Kaul Hilo to a duel in years. Fuyin said, "Name the place and wea—"

"I refuse." Hilo's words stopped the air in the room. The Pillar's famous temper came into his face. "You're a traitor. You don't deserve a duel. I'm sorry for your son and your misfortune in business, but many of us suffer terrible tragedy in our lives yet we don't break our brotherly oaths."

Fuyin was nonplussed for a moment. Even Shae and Woon stared at Hilo in surprise. To anyone's knowledge, Kaul Hiloshudon had never turned down a personal challenge. Fuyin rocked back on his heels in disbelief. "You're a coward," he spat.

"I'm the Pillar of the clan," Hilo said. "I'd be foolish not to assume you're still a capable fighter, Fuyin-jen. Maybe you have nothing to live for anymore, but I can't afford to risk any injuries that might make me take time away from my family and responsibilities." Hilo frowned at his own words, aware that he was explaining his refusal to himself more than Fuyin. "If you want to keep your life, you can give what you own to the clan and accept exile from Kekon. Otherwise, I can grant you a death of consequence, with a blade in your hand. That's all."

As Hilo spoke, the door to the room slid open and Juen Nu, the Horn of No Peak, came in with Maik Tar and Iyn Ro. The three Green Bones had been waiting downstairs on Hilo's orders, prepared to enter if they Perceived any threat from the men at the table. Mr. Tino and Mr. Eho edged away from Fuyin with wide eyes, as if he'd become a ticking explosive. Fuyin's eyes darted and his hands twitched as he stood alone. Juen, Maik, and Iyn began to walk around the large round table toward him from either side. None of the Lantern Men they passed dared to leave their seats.

Shae began to stand, her aura crackling with alarm. The Weather Man had called together these Lantern Men for what was supposed to be a conciliatory business lunch that was about to turn into an execution. "Hilo," she hissed, loudly enough to be heard. "It's not right to do it here like this. Let—"

No one heard the rest of her suggestion because Fuyin yanked a compact pistol from a concealed waistband holster and began firing.

Tar reacted at once, raising a Deflection in front of the Pillar that sent the small-caliber rounds straight up into the dining room's ceiling, knocking out two of the hanging lights. Woon seized Shae by the arm and pulled her behind him. Juen and Iyn pushed the other Lantern Men to the ground. Fuyin Kan dropped his gun and hurled himself Light, clearing the span of the dining table in one snarling bound, his drawn talon knife seeking Hilo's throat.

Hilo met the attack, hopping Light onto the table and catching Fuyin's elbow, jamming his momentum and the trajectory of his weapon. Shoving back hard into his opponent's center of gravity, he unbalanced Fuyin as soon as the man's grip on Lightness faltered and his feet touched the table. The former Fist stumbled, but threw a lethal Channeling strike that narrowly glanced off Hilo's Steel as the Pillar twisted his torso, pivoting sharply and dragging the other man forward with his rotation. Fuyin's foot caught a bowl half-full of cooling soup as he went staggering headlong toward the edge of the table. Plates, glasses, and food went flying from under their feet.

Many years ago, when he was a teenager in the Academy, Hilo had done balance and Lightness drills by sparring opponents on thin ledges and wobbly platforms. At the time, he thought the exercises silly. Fights happened on asphalt and concrete, not on logs over waterfalls like one might see in movies. On the dais of the dining table, he entertained a fractional second remembrance of his instructors lecturing him that no Green Bone, no matter how well prepared, is assured of choosing ideal conditions. Tangled close, with both of them tipping forward, Hilo's left hand darted up and encircled Fuyin's head from behind as if it were a relayball he were preparing to pass. The talon knife that appeared in his right hand came up in a flash and sank into Fuyin's throat. Gripping the man's hair, he pushed Fuyin's face onto the table and his neck further onto the blade as he landed on his knees with a crash of broken plates. Hilo tore the knife upward with all his Strength, severing the windpipe.

Fuyin thrashed for a second, scattering more objects off the table before he lay still, the pool of blood under his chin spreading in a dark stain across the red tablecloth and mingling with the spilled soup broth and chunks of strewn food. Hilo got down off the dining table. It had all happened in less than a minute, and his hearing was still muffled from the gunshots in the enclosed space. When he spoke to the remaining five Lantern Men, who were picking themselves up off the ground, he couldn't be sure if he was yelling or talking normally. "Is there anyone else who has a personal grievance, or is so dissatisfied that he wants to take up Fuyin's demands?"

The Lantern Men climbed to their feet meekly. Mr. Eho looked at Fuyin's body and swallowed noisily before touching his clasped hands to his forehead and bending in a deep salute to the Pillar. "Kaul-jen, I'm embarrassed to say I went along with Fuyin out of financial selfishness. I knew nothing of his shocking and abhorrent treachery to the clan. I'm grateful and perfectly happy with your suggested compromise on tribute rates."

"Same with me, Kaul-jen," said Mr. Tino quickly, brushing off his pants. "Forgive my foolishness. I thought Fuyin was standing up for all of us, but now I see that I was wrong to trust him. We're fortunate you saw through him right away." The other Lantern Men nodded shamefacedly, reiterating their steadfast allegiance to the clan.

Hilo stifled a desire to have each of them soundly beaten before demanding they cut off their ears in front of him to retain their patronage. But he didn't think the businessmen had thick enough blood to handle that, and with Fuyin's body still on the table, he'd already made his point. There would be little to gain in cowing them further, besides the satisfaction. Hilo turned away in disgust. "Get them out of here," he said to his Fists.

Iyn Ro escorted the chastised Lantern Men out of the building. They were only too eager to leave, casting brief, nervous glances backward as they departed. A few of them might indeed be repentant or worried enough to come back with their ears in boxes, but Hilo didn't care. In his opinion, jadeless Lantern Men could never be counted on. Protected by aisho and motivated by money, they expected strength and protection from a patron clan but would switch allegiance for their own benefit and survival. Ayt couldn't be blamed for trying her best to steal them.

Juen said, "I'd better go talk to Mr. Une and calm everything down." The sounds of gunshots and violence had surely disrupted the Twice Lucky's lunch hour and agitated the old restaurateur. After the Horn had left, Tar threw his arm over Hilo's shoulders and said with mock petulance, "You took him down too quickly, Hilo-jen. I'm your Pillarman, couldn't you have let me earn even a bit of his green?"

Hilo scowled over sourly at Fuyin's sprawled body without returning his brother-in-law's grin. "Take his jade for the clan," he said. "I don't feel like wearing it, not when I know his son died for No Peak while I was Horn." He started for the door.

Shae blocked his path, her jade aura rasping against his with displeasure. "You're going to walk out of here without saying anything else?" she demanded.

Hilo's nostrils flared at the tone of her voice. "What else do you want me to say? You told me we had to have this meeting to sort things out with those grumbling Lantern Men. They're not grumbling anymore, are they?"

"Don't you think we should've talked beforehand if you were planning to execute Fuyin in front of everyone? Why didn't you tell me you had proof that he turned to the Mountain?"

"Because I didn't," he snapped. "I had a feeling. When I saw his reaction, then I knew for sure. He already had a grudge, so it's no wonder Ayt got to him. He was determined to die and bring me to the grave with him." Despite knowing this, Hilo could not help but take the treason of a former Fist personally. Fuyin's accusations rattled in his head and he wanted to get out of the room, away from the man's body.

He began to push past Shae, but she moved into his path again. "This isn't good, Hilo," she insisted. "Executing a traitor might keep people in line for a while, but it doesn't solve the problems that made those Lantern Men turn against us in the first place. We haven't been talking about the issues the way a Pillar and Weather Man ought to."

Hilo bared his teeth as he leaned over his sister. "You want to talk to me as Weather Man? Then do the Weather Man's job. Tell me how the fuck the Mountain is outspending us and stealing our businesses with tribute rates that we know are unsustainable. Tell me how we stop them and win. If you can't tell me that, then spare me your godsdamned lectures."

Shae opened her mouth to retort, then shut it again so hard he heard the snap of her back teeth coming together. She glowered at him, face flushed with aggravation. Woon, who'd been hovering nearby, put a hand on the Weather Man's shoulder and drew her back as Hilo finally barged out of the room.

Juen was still in conversation with an anxious Mr. Une, so Hilo was spared any of the aging restaurateur's hand-wringing or brow mopping. Some of the usual lunch crowd at the Twice Lucky had cleared out during the brief spate of violence, perhaps worried it might spill out into the rest of the restaurant, or spooked by last week's attack by anarchists at the Double Double casino. Others, however, were loitering nearby. At Hilo's appearance, they muttered respectfully, touching their foreheads and trying to get a glimpse past him into the room with the body, craning their necks with the sort of morbid curiosity afforded to spectacular automobile crashes and burning buildings. By evening, word would be out all over Janloon that Fuyin Kan was dead, a traitor to his clan.

Hilo went out the front doors and got into the driver's seat of the Duchesse Signa. He had his own parking spot at the Twice Lucky, guarded every time he dined there. Tar followed him out and tapped the passenger-side window, leaning his arms through when Hilo rolled down the glass. "Where are you going?" the Pillarman asked, with a grumpiness that might've been protective concern or merely displeasure at being left behind.

"I'm going to take a drive, to clear my head," Hilo said, putting the key in the ignition. "Just help Juen and Iyn clean things up here." There were times Hilo would hesitate to leave Maik Tar and Iyn Ro together in handling clan matters, on account of their wildly hot and cold relationship, but they were getting along right now. "And get ready for your trip to Port Massy. It's going to be cold over there; bring warm clothes. You got everything else you need? Tickets, passport, and everything?"

"Yeah, sure," his brother-in-law said.

"I'll be back home in a couple hours." He left Tar in the parking lot, looking vaguely forlorn in the rearview mirror as he watched the Duchesse drive away.

Hilo drove for half an hour in no particular direction, blasting the heater in defiance of the icy air pressing down on the city like a cold towel against the skin. The streets were uncommonly subdued, Janloon's bright colors washed out by a gray and sunless sky. People were excited that snow was falling in the mountains.

He found himself, without any real thought, driving into the Docks and pulling up in front of the Lilac Divine Gentleman's Club. A lot of things had changed in Janloon over the years, but the Lilac Divine was not one of them. It was, Hilo mused wryly, a reliable business unthreatened by modern times or foreign competition. A valet took his car, and as soon as he stepped through the door, Mrs. Sugo, the Lantern Man proprietor, greeted him with a smile that struck Hilo as patently false. She never showed him any discourte
We hope you are enjoying the book so far. To continue reading...
Jade Legacy
Fonda Lee
Copyright © 2022 All Rights Reserved