Book info
Sample
Audiobook
Media
Author updates
Lists
Synopsis
Feisty senior sleuth Isabel Puddles—Lake Michigan's answer to Miss Marple—strikes out for new territory across the pond in the newest cozy mystery by veteran TV writer M. V. Byrne.



Isabel has crafted a life she loves in her Lake Michigan hometown, but she's eager to use her golden years to make up for missed opportunities. That's why she's traveling to England for the first time to visit her pen pal, Teddy Mansfield, an acclaimed mystery writer who lives just outside the village of Mousehole, Cornwall. First impressions are charming—Isabel is staying in the guest cottage on the grounds of Teddy's beautiful country manor, and Mousehole is home to an assortment of characters as colorful as any in Teddy's books.



Teddy's housekeeper, Tuppence, is a dab hand at baking—her scones are regularly runner-up in the village bake-off, and this year she's determined to scoop top prize. But it appears that other, possibly more dangerous rivalries have been brewing in Mousehole. And when a resident is found pushing up daisies in a flowerbed, Isabel is drawn into an investigation that will require all of her newly honed skills to solve—and to survive . . .
Release date: November 29, 2022
Publisher: Kensington Books
Print pages: 352
* BingeBooks earns revenue from qualifying purchases as an Amazon Associate as well as from other retail partners.
Listen to a sample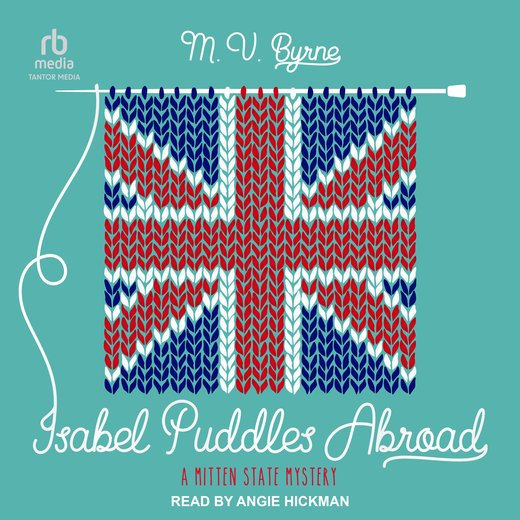 10:00:39
274.96 MB
November 29, 2022
Tantor Audio
2022
Isabel Puddles Abroad
M.V. Byrne
The first day of spring arrived in Isabel Puddles's hometown of Gull Harbor, Michigan, with about a foot of snow on the ground and more on the way. But that wasn't unusual. The weather along Lake Michigan didn't pay much attention to the calendar, so Isabel never bothered putting her warm clothes away until she got her first mosquito bite. Only then could she be sure summer had arrived.

Easter Sunday was approaching, so she was meeting her best friend, Frances, for breakfast at their usual breakfast haunt, the Land's End, to discuss the menu for Easter dinner, although Isabel didn't see that there was much to discuss. It's Easter. You bake a ham, scallop some potatoes, devil some eggs, and call it a day, as far as she was concerned. But Frances had called the night before to say she wanted to "shake things up a little this year," which made Isabel more than a little nervous. Frances had a true talent for baking, but cooking was, to be kind, a challenge. Unfortunately, her limited abilities on that front didn't stop her from experimenting with dishes and techniques some trained chefs might shy away from. And when she did, things could go very Lucy Ricardo, very quickly. Her husband, Hank, was about as meat-and-potatoes as a man could be, so his wife's forays into gourmet cooking were completely lost on him. In fact, he once accused her of deliberately sabotaging her overly ambitious culinary endeavors just so he would have to take her out to dinner after yet another of her epic fails. Knowing Frances as she did, Isabel thought Hank might be on to something with that theory.

When it came to holiday menus, Isabel Puddles was a traditionalist. Forgoing ham at Easter was tantamount to skipping turkey on Thanksgiving. Frances's pending Easter dinner "shake-up" brought back memories of the Thanksgiving her cousin Freddie decided he was going to "shake things up a little," too, and deep-fry the turkey. Carol, his wife, begged him not to do it, but Freddie was on a mission. He had seen it on some cooking show and was sure it was going to revolutionize turkey preparation forever. Because it was a cold and rainy afternoon, he set up the operation in the garage, and in less than an hour he had nearly set the garage and the house on fire and turned a perfectly good turkey into something resembling a large charcoal briquette with legs. Luckily Carol had anticipated some such catastrophe and secretly put another bird in the oven, so Thanksgiving dinner proceeded as planned, although Freddie had to eat a little crow with his turkey that year.

All Frances would say about the reasoning behind her plan for a shake-up was that she felt ham was overdone and that it was time to try something "new and different." Again, not words you want to hear coming out of Frances Spitler's mouth when the topic is meal planning. Isabel didn't want to rain on her Easter parade, but she planned to lobby pretty hard to keep things simple and keep ham on the menu.

When she was a girl, Isabel and her father drove out to Billy Bartles's farm every year on Good Friday to pick up one of his succulent, maple-smoked hams for Easter dinner. She continued that tradition with her own kids until one year she went out to the Bartles farm to pick up her ham and made eye contact with one of his hogs on her way out to the smokehouse. Ham was off the menu that year, and she convinced her late husband, Carl, and the kids—Carly and Charlie—that going to Pizza Hut for Easter dinner would be a nice change of pace.

A months-long pork moratorium in the Puddles household followed, involving a lot of turkey bacon for breakfast and fish for dinner. Charlie, a member of his high school debate team and a serious bacon enthusiast, finally called his mother out on what he referred to as selective reasoning. "We're still killing and eating what were once living creatures. Fish, turkey, a pig . . . Can you please explain the difference?" he said sadly while holding up a limp piece of turkey bacon.

"Fish and turkeys don't have eyelashes. Once you've had Wilbur the pig bat his eyes at you on your way to pick up his cousin's maple-smoked rump, it changes things," Charlie's mother responded in her defense.

By the following Easter her disturbing encounter at the farm had faded from memory, at least somewhat, but she did start having Mr. Bartles deliver his Easter hams to the Puddles household on Good Fridays to avoid any future guilt-provoking barnyard run-ins.

Mr. Bartles was long dead, and those maple-smoked hams were a thing of the past, but Isabel was adamant that a baked ham should still be the cornerstone of any Easter dinner, this year and every year, so she walked into the Land's End that morning determined to steer Frances away from a potential culinary calamity. But it turned out her Easter menu was not top of mind for Frances, who remained hidden behind her newspaper until Isabel sat down, and she collapsed the paper into her lap. "Harold Stover's dead."

Whenever she picked up the morning newspaper, Frances turned to the obituaries the way some people might turn to the comics, and with about the same level of enthusiasm. She had somehow managed to turn longevity into a competition, and she liked to know where she stood at all times.

"What do you mean, he's dead?" a shocked Isabel asked.

"I mean he's no longer living," Frances clarified.

"But I just saw him at the bank a few days ago," Isabel said, still stunned by the news. "We said hello and had a nice chat. He looked the picture of health!"

"Well that picture faded," Frances said casually.

"But how?"

"Doesn't say."

"Had to be something very sudden. We would have heard if he'd been ill." Isabel shook her head sadly. Harold Stover owned a local flooring company and was a well-known businessman in Kentwater County. He and Isabel had been in tenth-grade algebra together.

Kayla arrived with coffee, flipped Isabel's cup over onto its saucer and began to pour. "Morning, Izzy . . . So do you think Harold's wife did him in?"

Isabel's jaw dropped open. "Where in the world did you come up with that?" She then followed Kayla's eyes across the table to Frances. "Are you spreading that ridiculous rumor around, Frances Spitler?"

"Have you met that woman? She's as cold as they come. And, according to my sources, she's having an affair with one of Harold's employees," Frances offered, as though cold-blooded premeditated murder were a foregone conclusion.

"She's not my favorite person," Isabel admitted. "I did see her reduce a bag boy at the Kroger to tears recently because he gave her paper when she asked for plastic. But that doesn't make her a murderer. You really shouldn't be making such wild accusations with no basis in fact."

"Can't let facts get in the way of a good story," Frances replied with a chuckle.

"You shouldn't be making light of his death either. Poor Harold," Isabel scolded.

"He used to come in here from time to time. Such a nice man," Kayla said sadly.

Isabel was ready to lighten the mood. "Can we please talk about something more pleasant, like maybe the menu for Easter dinner? Wasn't that the plan? Now, I assume I'm bringing my usual deviled eggs and banana pudding for dessert?"

Frances reached into her purse and pulled out a paper clipping. "Yes, please. And here's what I want to do for our main course."

Isabel took out her reading glasses and reached for the clipping. "Pheasant à l'orange? Seriously, Frances?"

"Hank shot six of them last season and they've been out in my garage deep freezer ever since. I think out of respect for the birds the least we can do is eat them, don't you?"

"I agree with the sentiment. If you're somebody who gets their kicks out of shooting such beautiful birds you should either eat them or give them to somebody who will. But not for Easter dinner."

"Why not? Too fancy? Maybe it's time those hayseed in-laws of mine stepped outside the box."

"Depends what they're stepping into, Frances. How many are coming for dinner?"

"Oh, I don't know. Ten? Maybe twelve this year? They keep reproducing."

Isabel took a breath and shrugged. "I've never cooked pheasant. Or eaten it, for that matter. But they aren't very big. With only six birds, that's going to make for a very light supper."

"Perfect! Then maybe they won't want to come back next year!"

"I'm not going to tell you what to make for dinner, Frances. You're the hostess. I'm just a guest. But if you don't mind, I'd like to bring along a ham for backup."

"Not exactly a vote of confidence, but suit yourself, Iz," Frances replied as she snatched back the clipping.

After the breakfast rush was over, Kayla sat down with her two favorite customers and a freshly baked cinnamon roll, a Land's End specialty. They all immediately began to pick at it, and after a bit of local news and gossip in between bites, Isabel decided it was time to make an important announcement. "So, girls . . . you remember my English friend, Teddy?" They both smiled and nodded. "And you remember he invited me to come and visit him in England?"

Frances was all ears. "And?"

"And I've decided to take him up on it. I'm going to jolly old England!" She let her big news settle while she tore off another piece of cinnamon roll, dunked it in her coffee, and popped it into her mouth.

"By yourself ?" Frances asked with alarm.

"Yes, by myself. Teddy said he'll pick me up at the airport and give me the grand tour of London, then we'll drive to his country house in Cornwall."

"Where's Cornwall?" Kayla asked.

"It's in the southwest part of England. It's supposed to be absolutely gorgeous, especially in the spring."

Frances looked concerned, which Isabel found puzzling. "What's wrong? You're the one who's been promoting this relationship with Teddy. Which by the way is nothing more than a lovely friendship and I have every expectation will remain so. And if you'll remember, you're the one who introduced us in the first place, Frances! I thought you'd be happy to hear I was going."

Kayla was quick to chime in. "Well, I'm happy you're going, Isabel. I think it's very exciting! I'd love to see where Harry Potter's from!" Isabel was pretty sure Kayla knew Harry Potter was a fictional character, but not a hundred percent.

True to form, Frances had already formulated a strong opinion about Isabel's trip abroad. "I do approve of you getting better acquainted with Teddy, but here in Gull Harbor, not off in some foreign country you know nothing about!"

"I do speak the language, Frances." Isabel found her concern touching, but also slightly annoying.

"And what do we really know about this Teddy character anyway?" Frances said as she began building her case against the trip.

"Oh, here we go . . . You mean other than him being a well-known mystery writer who is so devoted to the memory of his late wife that he wears her wedding band on a chain around his neck, has two corgis named Fred and Ginger, and loves to garden? I think we can safely assume he is not the reincarnation of Jack the Ripper."

"Ha! How do we know how his wife died? And who knows what he might have in store for you after he gets you alone in his country house."

"I don't think country house requires air quotes, Frances. It's a house he owns in the country and has for many years. I've seen pictures. It's like something out of a storybook. I'll be staying in the guest cottage, just FYI, and I'll be staying in a hotel, alone, while we're in London. I can assure you there is nothing untoward afoot. And I'm disappointed in you for suggesting that there would be. Teddy is a perfect gentleman."

Kayla was still eager to show her support for Isabel's trip. "I only met Teddy the one time. Same day as you did, Isabel, but I thought he was absolutely charming."

Frances shook her head. "The best ones are always charming."

Isabel was almost afraid to ask. "The best what?"

"Serial killers . . . Let's just hope tulip bulbs aren't the only things he has buried in that garden of his."

"Oh, for the love of—"

"And Ted Bundy was quite the gentleman. And a real charmer too, by the way. The man wrote poetry!" Frances was on a roll.

Isabel rolled her eyes and took a sip of coffee. "You are too much."

"I'm worried about you, Iz, that's all! You're my dearest friend in the world and I don't think it's a good idea for you to go gallivanting off to Europe all by yourself." Frances stopped to take a breath. "I think I should probably go with you."

Isabel laughed. "I'm too old to gallivant, Frances. I don't think my knees could handle it. And you're sweet to be concerned, but you needn't be. I'm a big girl. And, not to be rude, but you weren't invited."

"Have you told Carly and Charlie their mother is off to a country she's never been to, to meet a man she barely knows, to stay in his country house?" Again with the air quotes.

"Yes. And they are fully supportive. Charlie's handling my travel arrangements, and Carly's helping me pick out a new travel wardrobe online."

Frances let out a heavy sigh of defeat. "It just feels so far away."

"It is far away, Frances. But it's not like I'm being dropped into the middle of the Amazon rain forest. It's England. It's where my great-grandfather Peabody came from!"

"Well, I can see you've made up your mind, so I guess I'll just drop it." Isabel knew that was highly unlikely. "I still think I should chaperone, but I'm certainly not one to pry into your business."

Isabel barely avoided a coffee spit take. Frances had been prying into her business since kindergarten and showed no signs of letting up. "Yes, that's one thing I've always loved about you, Frances. You're so good about minding your own business."

Frances ignored the remark. "When do you plan on leaving? And how long will you be gone?"

"I'll be gone the first two weeks of May. I told Freddie I'd be back in time to help him get ready for our Memorial Day sale."

"And the dogs?" Frances asked, searching for a hitch in the plan.

"Ginny and Grady are coming to stay at the lake and dog-sit for me. And they're taking me to the airport. So everything is squared away." Ginny was Isabel's cousin, and Grady, once the Kentwater County sheriff, was her new husband.

The front door jingled. Isabel, Frances, and Kayla all turned to look and were immediately stunned into silence. Harold Stover and his wife had just walked in the door. Harold smiled and waved. "Yes, ladies, it's me! I'm still on the right side of the dirt!" Nobody said a word. "They've got a new fella doing the obits down at the Gazette. He had me mixed up with ol' Harold Stater, who passed a day or two ago."

"Oh, no." Isabel said sadly. "Harry Stater died? He was such a lovely man. That's a shame."

"Sorry to disappoint you, Isabel!" Harold laughed as he pulled a chair out for his wife, who seemed quite disinterested in the conversation.

Frances leaned forward and whispered to Isabel. "You want to see disappointed, take a look at the wife."

Isabel smiled at Harold. "That's not what I meant, Harold. I'm thrilled you're still alive. But poor Harry Stater."

"Well, he was ninety-seven. It gets a lot of 'em, Iz," Harold said as he casually opened the menu.

After Isabel and Frances finished their breakfast, they paid their checks, waved goodbye to Kayla, and congratulated Harold on their way out for still being alive.

"And where are you off to now, Mrs. Spitler?" Isabel asked, as she opened her tote bag and began fishing for her keys.

"I've got to take my mother-in-law grocery shopping," Frances answered with a noticeable lack of enthusiasm.

"Well, that's very nice of you," Isabel replied, still digging for her keys.

"I didn't volunteer. I'd rather be put to death. But Hank seems to think we need to keep the old gal fed. And what about you, Mrs. Puddles?"

"I'm off to the hardware," Isabel replied after finally locating her keys. Isabel was still working part-time at her cousin Freddie's hardware store, which was less a job than it was a family tradition. She'd been working at the store on and off since high school; first for her uncle Handy, and now for his son, Freddie, who was more like a brother to her. "I'll catch up with you later, Frances," Isabel said as she climbed into her van, then yelled back, "and be nice to your mother-in-law, Frances! Someone's going to have to keep you fed in your old age too!" Frances just rolled her eyes and waved her off.

Although she still had her office above the store—one that Freddie was nice enough to redo for her when she received her private investigator's license—today the Isabel Puddles Private Investigation Agency was pretty much defunct. All that was left to do was scratch the lettering off the frosted-glass door. After successfully closing the Bachmeier case, Isabel had decided, in a moment of clarity, that private investigating was not a career path she wanted to travel any longer. And although she had been encouraged to go back to college after solving the Jonasson murder case to pursue a degree in criminal justice, she had officially stepped off that path too. Yes, she did seem to have a flair for solving crimes, and murders did seem to be her sweet spot, but she had come to find it all just too depressing. Waiting around for a murder to solve seemed like a pretty ghoulish way to earn a living.

When Isabel and her late husband, Carl, went away to college together, just out of high school, her plan was to study literature and get her teaching degree. But that plan was put on hold when Carly came along. And after Charlie was born, the plan was never re-implemented. It may have taken a while, but after a few decades she was finally back on track. Today she was taking classes online and pursuing a degree in literary studies at Michigan State, the university she had gone to those first two years. No more classes in bullet-wound analysis or crime-scene technology or blood-spatter patterns or looking at gruesome photographs of murder victims. Although she did find her criminal psychology classes interesting, Isabel now felt she knew everything she needed or wanted to know about the criminal mind.

The moment she made the final decision to leave the criminal justice program, Isabel felt a tremendous sense of relief, but she was still determined to complete her college degree. So in only a matter of weeks she was a student again, and was now studying something that left her feeling happy and hopeful about human nature, instead of disheartened and disillusioned about how evil people could sometimes be.

The world of literature—English and American, mostly—had always been a passion for her. Reading classic literary works provided her with a window into history, another passion of hers, and it exposed her to a whole world outside Gull Harbor without her ever needing a passport. But Isabel Puddles was a woman who knew her limits. Many of the other "great works"—in her mind, a subjective term if ever there was one—left her scratching her head. Her decision to take an ancient literature class was a particular disaster. Bring up Homer and The Iliad or The Odyssey, and she practically broke into hives. After slogging through as much of it as she could endure, and understanding none of it, she finally dropped the class. "I'm not a quitter," she told her kids in their weekly phone chat, "but I'm not a masochist either."

Carly supported her mother's decision to drop the class and reminded her about the time she had supported her when she walked out of tenth-grade biology after refusing to dissect a frog. Charlie then took his mother back to her unwillingness to support his efforts to drop eleventh-grade shop class when the curriculum turned to fixing automobile transmissions. "The likelihood of me ever fixing a transmission was about the same as Carly ever having to do emergency surgery on a frog. I thought it was a pretty egregious double standard at the time, and I still do today."

Isabel laughed. "You're absolutely right. I was being selfish, and I'm sorry for that. I just remember thinking at the time that having a kid who could fix a transmission would be a lot handier than having one who could extract a frog's liver. But I do think it's time to let it go, honey."

When Teddy's last letter arrived, gently reminding Isabel that his invitation to visit him was still standing, she happened to have just completed a literary history class on eighteenth-century English writers. It had to be a sign, she told herself. So before talking herself out of it, and before Frances caught the scent and talked her out of it, she immediately wrote Teddy back, thanked him for his gracious invitation, and accepted.

The whole time the letter sat in her mailbox with the red flag up, alerting her mailman, Barney, that she had outgoing mail, she wrestled with her decision. More than once when she looked out her kitchen window and saw the flag still up, she stopped herself from running out and grabbing it. But after leashing up Jackpot and Corky to take them for a lunchtime walk, she opened the front door to see that the red flag was down. Barney had come and gone, and Isabel Puddles was going abroad.

One of her lifetime dreams—to visit England—was about to come true, and she could hardly believe it. From that day forward she teetered between excitement and anxiousness. This was the most adventurous thing Isabel had ever done in her life, and she was doing it alone. But Teddy would be waiting for her at the other end, so she knew she was in good hands.

When she walked into the hardware, Isabel found Cousin Freddie in a particularly chatty mood while ringing up a customer she didn't recognize. After quietly walking behind the counter and grabbing her red apron, she pulled it over her head, tied it up, and got busy with her ritual straightening of the counter while waiting for Freddie to finish the transaction. "Who was that?" she asked after the front door closed behind the man.

"I have no idea," Freddie answered with an odd lilt in his voice, closing the cash register drawer with a flourish. "How are you today, Cousin?" Freddie asked, grabbing her in a bear hug.

After he released her, Isabel looked up at him somewhat suspiciously. "Why are you in such a good mood today, Freddie? I've never seen you so excited about selling a pair of fifteen-dollar garden sheers."

"Oh, it's not that! Although fifteen bucks is better than a kick in the teeth. I'll tell you why I'm so excited. I just found out Frank has appendicitis! He's going in for surgery in a couple days and he'll be laid up for the next month or two! Three, knowing Frank!"

Isabel was taken aback by her normally kindhearted cousin's callousness regarding the illness of the stock boy who had worked for him for two decades. Despite Frank's never coming close to attaining the status of being "a keeper" in her opinion, Freddie continued to keep him. But that was a personnel matter, so she stayed out of it. She knew Freddie must have his reasons for keeping him around, although, again, in her view there were plenty more reasons not to. Frank was lazy, grumpy, showed zero initiative, and did nothing unless he was asked, and he usually had to be asked twice. And when he finally did do it, he never did it very well, so Isabel or Freddie would end up having to redo it. Freddie once grumbled, "It's like having a milk cow in the barn you have to feed every day but it never gives you any milk." Isabel thought it was a pretty apt analogy. But what bugged her most about Frank was the man's chronic negativity. Make a passing comment to him about what a beautiful sunny day it was, and twenty seconds later you'd be talking about some uncle of his losing an ear to skin cancer. Still, whatever her personal feelings were, she would never wish serious illness and major surgery on him.

"That's not even the best part!" Freddie continued gleefully.

"Good Lord, Freddie! Listen to yourself! What, are his kidneys failing too? Is that what has you so giddy?"

"Oh, Isabel, stop being ridiculous," Freddie chuckled. "No! Not five minutes after I got off the phone with Frank's mother, who called to share this terrible news—"

"The term terrible news is not, as a rule, accompanied by an ear-to-ear grin!" Isabel scolded.

Freddie took a breath. "As I was saying, not five minutes later, who do you think called, but Andy! He wants to come back to work for the summer!"

Andy was the college student and stock clerk extraordinaire who had worked at the store the summer before. Not that Frank needed anybody to make him look bad, because he did a pretty great job of that himself, but Andy hammered the final nail into that coffin. Andy knew right where to find that hammer and nail too, whereas Frank still wouldn't be able to tell you what aisle hammers or nails were on after twenty years. He could, however, rattle off about a dozen different spots within the store and in lawn and garden where you could hide out and take a nap.

Isabel couldn't help herself. She smiled. "Well, it's not like appendicitis is a death sentence. Pretty simple surgery,. . .
We hope you are enjoying the book so far. To continue reading...
Isabel Puddles Abroad
M.V. Byrne
Copyright © 2023 All Rights Reserved