Into the Deep
The spark between them flares and begins playing havoc with their lives and relationships.
Book info
Sample
Audiobook
Media
Author updates
Lists
Synopsis
Charley Redford was just an ordinary girl until Jake Caplin moved to her small town in Indiana and convinced her she was extraordinary. Almost from day one Jake pulled Charley into the deep and promised he was right there with her. But when a tragic incident darkened Jake's life, he waded out into the shallows and left Charley behind.



Almost four years later Charley thinks she's moved on. That is until she takes a study year abroad in Edinburgh and bumps into none other than Jake Caplin at a party with his new girlfriend. The bad-boy-turned-good attempts to convince Charley to forgive him, and as her best friend starts spending time with Jake's, Charley calls a truce, only to find herself tumbling back into a friendship with him.



As they grow closer, the spark between them flares and begins playing havoc with their lives and relationships. When jealousy and longing rear their destructive heads, Charley and Jake struggle to come to grips with what they mean to one another.
And even if they work it out, there is no guarantee Charley will ever trust Jake to lead her back into the deep . . .
Release date: August 9, 2013
Print pages: 315
* BingeBooks earns revenue from qualifying purchases as an Amazon Associate as well as from other retail partners.
Listen to a sample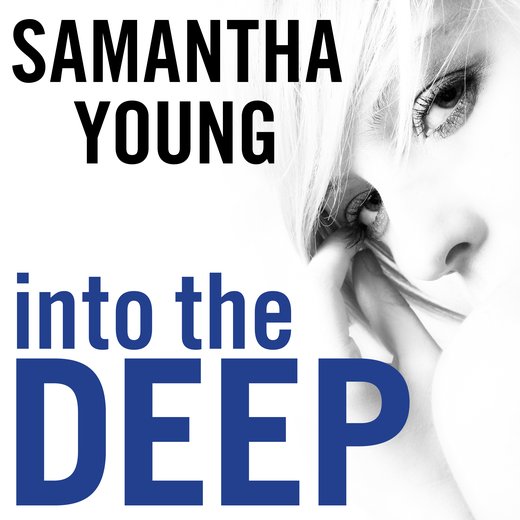 08:43:33
239.67 MB
November 25, 2013
Tantor Audio
2013
Into the Deep
Samantha Young
Chapter One
Edinburgh, September 2012
"Did you go food shopping yet? Is the food expensive? Do you understand what half of it is?"
I swallowed my laughter. "Mom, I'm in Scotland, not the Amazon."
"I know but they eat things we wouldn't dare eat."
She sounded so horrified I couldn't help my dry retort. "They're not cannibals."
A spray of soda shot past my eyeline and I twisted to see my best friend Claudia choking on Diet Coke as she listened to my side of the conversation. We were sitting in the kitchen of our student apartment, our butts on the comfortable, but still weird, waiting room chairs that had been supplied in our common room/kitchen. Our backs were to the wide floor-to-ceiling window that looked out over the courtyard of our building, the sun hitting the glass and prickling our skin with its heat. Everything about the room was clean, fresh, and hardwearing. The accommodation was basic but it was warm and safe and a million times better than I'd been led to believe it would be.
"So dramatic, Charley. I'm just saying, the food is a little different," Mom continued. "I want to make sure you're eating right."
Whether I was in Edinburgh or back home in Indiana, my mom always wanted to make sure I was eating right. This was because I couldn't cook. Delia Redford was an awesome cook and baker, as was her oldest daughter, Andrea, so she took the fact that her youngest (that would be me) couldn't so much as boil pasta without screwing it up as a personal failure on her part. Luckily for me, I could read and work an oven so frozen dinners kept me from starvation.
"Mom, they eat pretty much what we eat mostly because … you know … they're people."
"Except their chocolate is better," Claudia muttered, nibbling on a bar of Dairy Milk.
I frowned at her. "That's a matter of opinion."
"What's a matter of opinion?" Mom asked curiously. "Is Claudia there? Is she eating right?"
My lips twitched. "Mom wants to know if you're eating right?"
Claudia nodded and mumbled around a mouthful of chocolate. "Never better." She waved her fingers and swallowed, "Hi, Delia Mom!"
Mom laughed. "Tell her I say hi back."
"Mom says hi back."
"Your father told me to tell you that the two of you have to check in every day."
I grimaced. "You didn't make Andie check in every day when she was in Dublin."
"We didn't have to make Andie check in every day. You, however, have always got so much going on it's a wonder we hear from you at all."
"Well, it's not like I'm smoking crack, Mom. I'm studying and organizing sh—stuff."
Her tone turned sharp. "Were you going to say shit?"
"Would I, a grown woman of twenty years old, dare to curse in front of my mother?"
She harrumphed.
I sighed. "Mom, we're not calling you every day. It's too expensive. And I don't have time to Skype with you every day. I'll send emails when I can during the week and we'll set up a Skype chat once a week, okay?"
"You don't have to make it sound like a chore."
"Momma, I love you. It's not a chore. I am going to miss you too … but I've been gone two days. Please give me a chance to miss you."
At her soft chuckle, I relaxed. "I'm just worried. You're my baby and Claud is my adopted baby."
"We'll be fine. But we've got to go. It's induction week and Claudia and I have some things we need to do before classes start. I'll email you soon."
"But you didn't answer my question about food."
"We went food shopping. Our fridge, our freezer, and our cupboards are packed full."
"With what?"
"Food, Mom."
"What kind of food?"
I threw an exasperated "help me" look at Claudia and she instantly cried out in mock pain.
"What was that?"
"Got to go, Mom. Claudia is going into sugar shock." I hung up and grinned at my laughing friend. "I should switch it off before she calls back."
We jumped as the phone buzzed in my hand but when I looked down, it read, "Andie Calling."
"I cannot catch a break. Hello," I answered.
"Hello to you too," Andie said. "You've been gone two days. You don't write, you don't call …"
"I just got off the phone with Mom two seconds ago."
"Right. How'd that go? Did she give you the food chat?"
"Did you get that too?"
"When I did my study abroad? Yeah. I think she thinks non-Americans aren't from Planet Earth and that they somehow subsist on weird alien food that our bodies can't process."
"Yeah, I'm getting that."
"So? Do you like Edinburgh?"
"So far. It is weird being so far from home, but it's a beautiful city."
"How's Claudia?"
"Enjoying the chocolate."
"It's not as good as ours."
"That's what I said!"
"You're both wrong," Claudia interjected as she got up to put her chocolate wrappers in the trash. "Now can you tell your sister you'll call her back? If we stay here any longer, I'm going to smash your phone."
"I heard," Andie said. I could practically hear her rolling her eyes. "I need to get to work anyway. It's early here, remember. It's early and the first thing I do is phone my baby sister to see how she is and it's an expensive long-distance call but does she care?"
I laughed. "I care. I do. I just don't have time to fully appreciate it. Claudia has an abnormal hatred for our perfectly nice apartment and I brought her back here for lunch. I'm pretty sure she's going to break out in hives."
"Well, we wouldn't want that. Speak soon, Supergirl."
"Later." I switched off the phone and gave Claudia a look. "That was rude."
"This," she gestured to the room, "is not an apartment. It's a common room with a hallway outside that leads to five identical rooms with fire doors that lock."
"There's also a bathroom that locks. I'd call that an improvement upon most student accommodations."
"You're funny."
"And you're spoiled."
Claudia narrowed her eyes. "I miss our apartment. It's bright and airy. We have a balcony. Plus, there are only two of us living there."
I'd heard this ever since Claudia laid eyes on the new place, so I ignored it and led her out of the kitchen, stopping at my bedroom door to make sure it was locked.
Back home we were juniors at Purdue in Indianapolis, and since Claudia's parents were loaded, we lived in a nice apartment in West Lafayette, about a ten-minute drive from campus. There was no way I'd be able to afford anything like it if it weren't for Claud. I joked that she was spoiled, but I only meant it in a material sense. Yeah, she was used to nice things but her life was a rich kid's cliché—absentee parents who couldn't give a crap what she did. They threw money at her instead of love and expected her to be grateful. Instead of letting it eat away at her, Claudia embraced the people who showed her real affection and offered fierce loyalty in return.
We'd met freshman year and hit it off. I liked her and not because of her money, and she liked me because she said I was the most honest person she'd ever met. When I took Claudia home for Thanksgiving, meeting my family cemented our friendship. My mom and dad treated her like their kid and fussed over her (which she secretly loved). Even Andie bestowed overbearing elder sisterly condescension upon her (which Claudia also secretly loved).
I didn't come from money. We lived in a small town called Lanton, just a little over two hours northwest of Indianapolis. My dad owned the local garage and my mom owned a florist. We did okay. The only reason they could afford to send their daughters to good schools and even offer them a chance on a placement abroad was because of my mom's aunt Cecilia. Cecilia had married a very wealthy pharmaceuticals guy and when he died, she got all his money. Now, Cecilia liked to spend that money, so by the time she died, she didn't have a whole lot left. She had, however, always doted on Andie and me, and had put some cake away in a trust fund for our education.
As to Claudia's grumbling over the apartment, I was guessing it was just a front for her nerves. We were excited but a little scared of being in a foreign country by ourselves for the school year, but where I admitted it and moved on, Claudia found something to bitch about so she didn't have to think about her anxiety.
Because we were older students but would be taking some freshman classes, we were housed with three British students who were our age but only just starting college. Our roommates had met and bonded a full day before we arrived, so Claud and I would have to work a little bit harder to establish a friendship with them. Hopefully, we'd get around to that. For now, we were still trying to get organized before classes, determined to get to know the city as quickly as possible.
"It'll get better once we're settled and meet more people," I promised Claudia as we stepped out of the apartment. "There are a couple of people from Purdue living across the courtyard. We could get to know them."
"If we didn't get to know them over there, why would we here?"
"Well, that's a spiffy attitude."
"Spiffy? Really?"
I laughed to myself as we walked down the stairs, but that laughter cut off abruptly as we hit the second floor. Claudia didn't ask me what I was doing. In fact, there was utter silence behind me, so I guessed she was drooling too.
In the middle of the landing, sticking a photocopied poster high on the wall, stood a seriously hot guy. His shirt had ridden up as he raised his arms above his head, flashing us a glimpse of golden skin and great abs. The shirt encased the perfect V torso, and his ratty jeans encased the perfect ass. A hot tribal tattoo covered one roped forearm and as he caught sight of us out of the corner of his eye, I mentally sighed. His grin was awesome—slightly crooked, definitely flirtatious, and belly-whoosh-worthy. It was a great match to his beautiful light gray eyes, chiseled jawline covered in sexy scruff, and thick, messy, dark blond hair that was just dying for female fingers to get a hold of it.
"Hey, guys," he greeted us in a rough voice, his American accent welcome and familiar.
Claudia pushed gently passed me and walked casually toward him. I smiled at the sway in her hips as she approached him. So did he, his eyes glued to that sway.
My friend was gorgeous. And gorgeous in that unbelievably classy, this-girl-is-used-to-the-finer-things-in-life way. A lot of guys back home were intimidated by her, and if they weren't, they assumed she was something she wasn't and treated her like a vapid socialite who'd be more impressed with the size of their trust fund than if they could make her laugh. So, unfortunately, despite being exceptionally pretty, Claudia was lonely in the romance department.
We hope you are enjoying the book so far. To continue reading...
Into the Deep
Samantha Young
Copyright © 2023 All Rights Reserved