Flash sale
$2.99 $9.99
Starts:
Oct 20, 2021
Ends:
Nov 30, 2021
Prices may change without notice. Check price before purchase.
Book info
Sample
Audiobook
Media
Author updates
Lists
Synopsis
Victoria and Owen are bitter rivals.
Nora and Luke are friends online.
Who would believe these two couples have anything in common?

Of all the decisions brilliant lawyer Victoria Clemenceaux has made in her life, an unforgettable one-night stand with her opposing counsel Owen Pohl is either the worst...or the best.

One thing is certain: these long-standing rivals aren't going to let their searing attraction stop them from winning the biggest case of their careers. Thankfully Victoria and Owen have someone to vent to about their nemeses. But they have no idea that their online 'friends', Nora and Luke, are the very people they hate in real life.

As Nora and Luke grow closer online, and Victoria and Owen find their undeniable attraction harder to resist, the lines between love and hate blur. When the truth comes out, will their online chemistry work in the real world, or will their constant rivalry sever their connection?
***
Rave Reviews:

'Everything you love about romantic comedy - hilarious, sharply observed, smart, and sexy as hell. I adored this book!' Rachel Hawkins, New York Times bestselling author

'Smart, sexy, and feminist, I Love You, I Hate You is a delightful love letter to internet friends and Nora Ephron. Elizabeth Davis just became an auto-buy author for me' Annette Christie

'Complete You've Got Mail magic! Davis's humor made this steamy, feisty rom-com a delight to read . . . a must read for fans of Nora Ephron rom-coms!' Denise Williams

All's fair in love and law... You've Got Mail meets Dating You/Hating You by Christina Lauren and The Hating Game by Sally Thorne in this sizzling rom-com debut - readers love it!

'A five-star read . . . the best read of the year, if you like your rom coms witty and sweet then you need this story in your life' 5* reader review

'Elizabeth Davis's way of writing romance is perfect . . . Amazing characters and writing, 5/5 stars!' 5* reader review

'Everything I wanted and more! Their chemistry was perfect . . . If only I could go back in time and read this book for the first time again' 5* reader review

Release date: October 12, 2021
Publisher: Headline
Print pages: 256
* BingeBooks earns revenue from qualifying purchases as an Amazon Associate as well as from other retail partners.
Listen to a sample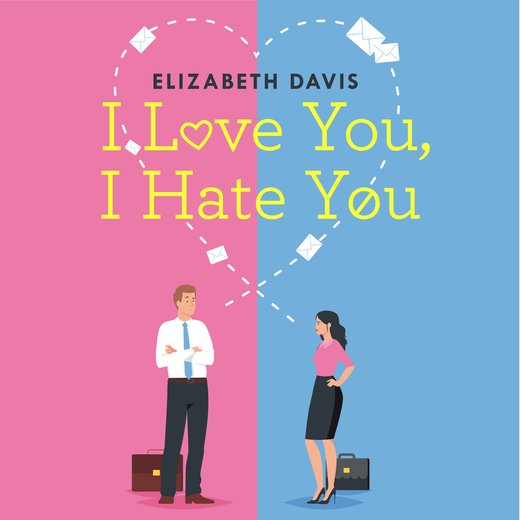 07:25:18
203.85 MB
9781472283467
October 12, 2021
Hachette UK
I Love You, I Hate You
Elizabeth Davis
Present Day

Victoria dropped her head back against the wall and Owen's lips found her collarbone. Of all the decisions she had made in her life, this one was either the worst or the best. Years of enmity, all undone by one searing kiss. One of his hands spanned her waist and the other laced with hers. He pinned her hand above her head, his knee pressed tightly between her thighs. She kept making soft, needy noises she would find embarrassing if she was capable of coherent thought, but right now she was too far gone to care.

For the last two years, Victoria had loathed every single thing about Owen Pohl. His stupid red hair, his stupid self-satisfied grin, his stupid habit of leaning back in his chair while she made her arguments, looking for all the world like he was relaxing on a park bench instead of sitting in front of a goddamn judge. He was too casual, too laid-back, too insouciant for their profession, always on the edge of being too disheveled for an attorney, and everything about him said privileged. She hated him, even as tonight threatened to turn everything upside down. He was easily the most obnoxious person in her life, but she also might explode if he didn't kiss her right fucking now.

His gaze bored into her and he tugged his tie loose. Victoria swallowed hard, the silence suddenly too heavy for her to process. "You chickening out on me?" she challenged, lifting her chin.

His eyes darkened and the smirk deepened. Her stomach coiled; he threaded his fingers through her hair and gripped it just hard enough to sting. "Only if you are, Vee," he growled. She surged forward to kiss him because kissing was easier than seeing him look at her like that. Besides, if they were kissing he couldn't call her Vee in that tone of voice again, because that was dangerous.

Because holy shit did she like the way it sounded. Normally, if Owen bothered to address her at all, he called her Your Majesty, or perhaps Queen Victoria if he was feeling like taking his life into his hands. In court it was always opposing counsel or Ms. Clemenceaux, but tonight was the first time he'd called her anything even resembling her first name and Victoria wasn't about to let herself think about how much she enjoyed it. She sternly reminded herself this was just another way of working out their aggression like they did in the courtroom, just with a martini and a half in her system and two old-fashioneds in his.

Owen withdrew his hand from her bare skin and she actually whimpered, which only served to make him grin in almost predatory triumph. Apparently, hooking up with Owen was just like fighting him in court; a battle of wills with no surrender. He moved and she matched him beat for beat, both of them unwilling to give a single inch as they stripped each other bare. Before she had a second to catch her breath Owen spun her and jerked her against him, arm secured around her waist to keep her pinned, her back against his chest.

Four hours ago, if someone had told Victoria she would be nearly incoherent with want, on the verge of begging Owen for more, deeper, more as he delicately traced her folds with his fingertips, she would have laughed in their face, but now she was putty in his unfortunately competent hands. She twisted her head and met him in a messy kiss, more teeth and tongue than anything else, and he urged her onto the mattress, watching her with a soft smile that did something strange to her heart.

Owen had a nice smile when he wasn't mocking her. It was bright and almost boyish, the sort of smile that clichéd writers claimed could light up a room. He cupped her face delicately, thumb sweeping back and forth along her cheekbone, and she rolled them over so she could press their lips together.

Victoria was very rarely ever without words. Being a litigator meant being quick on her feet, and she was quickest with Owen sitting across from her. But now her gift failed her, every snarky retort withering away when she looked into his eyes. She had never seen him like this, sincere and open and hovering on the edge of vulnerable. And then he was inside her, fingers flexing on her thighs as she lowered herself onto him.

It was good. Too good, actually, for what this was supposed to be, and she forced herself to ignore the way her heart softened as she looked down at him. She snapped her hips, driving them both inexorably towards their peak. His gaze was heavy on her skin as she touched herself, his cock filling her so perfectly it didn't take long before she was coming, falling apart with a sharp keen that had him groaning. The pleasure rolled through her, each crest sparked by the way he moved inside her, deeper and deeper, and then he was pulsing, coming with a harsh sigh that she felt in her bones.

She stilled, his hands resting on her waist, and let her dark hair fall forward. Owen reached up and brushed it back, his palm curving around her cheek tenderly, and Victoria recognized that The Moment had come. She had gotten very good at noticing when a case balanced on a knife's edge, when one wrong move could make the difference between victory and defeat, when a judge was poised to throw a case out or hand her a massive win. She knew how to turn those moments to her advantage, which was how she was already in-house counsel for a major corporation before her twenty-ninth birthday. Recognizing The Moment and seizing it in her favor was her specialty. And here was, unmistakably, A Moment.

She could lean down and kiss him, like she wanted to, which would lead to her lying down next to him, letting his arm draw her closer as she rested her cheek above his pounding heart. She would probably drift off, lulled by her orgasm and the reassuring thump of his heartbeat, and wake up tomorrow morning tangled in Owen Pohl's arms, not nearly hungover enough to blame it on the alcohol. There would be an awkward goodbye and he would probably text her to make sure she got home okay, because despite her disdain for him he seemed like the type who tried to at least seem like he cared.

Or she could leave now and maintain some semblance of dignity. They had a status quo established, and leaving would preserve that balance. And because Victoria always chose dignity above whatever soft noises her heart kept making, she straightened. Owen slid out of her and the part of her that whispered don't leave felt a slight sense of loss, but the rest of her—the part that kept her shit together—told her she was making the right choice.

Victoria sat on the edge of his bed and found her bra while he threw away the condom. Owen smoothed his hand down her spine and rolled to his side. "Stay," he said in a sex-roughened voice that had her almost considering listening to him.

But the thought of waking up next to him and seeing the annoyed expression on his face when he wasn't addled from coming stiffened her resolve. She had withstood enough of his barbs in the courtroom to know exactly how it would go, and beneath her polished exterior she was far more delicate than he assumed. "Ha, right," she said sarcastically.

She risked a glance over her shoulder and watched his face shutter. She almost felt bad, but then he barked out a laugh. "Sorry for assuming you would do anything so plebeian as cuddle after sex, Your Majesty," he said in that tone that got under her skin.

"Screw you." She found her underwear and stepped into them, shimmying them up her hips.

"Just did, but give me fifteen minutes and I can service you again."

Victoria bunched her hands in her dress to keep from punching him and tugged it on. She should have walked out of the bar the second he offered to buy her a drink, but she had been feeling rather maudlin after a case ended with yet another result that was clearly biased in her company's favor. But even being maudlin into too many martinis was better than this. She smoothed her skirt down as best she could and stepped into her heels, all while Owen lay on his back, hands tucked behind his head.

"You're not even going to walk me out, are you?" she snarled, even though it was giving him far too easy of an opening. But fighting with Owen came as naturally as breathing, and for a second there she was worried they were slipping into something softer.

"Pretty sure you know where the door is. Don't let the cat out when you leave," he said, bored with her already. He reached for his phone and blue light lit up his face. The asshole was already on social media, like she hadn't just seen his O face.

She stood in his doorway and considered unveiling a torrent of insults that would reduce him to cinders, but that would mean prolonging this interaction and she had already let down far too much of her guard with him. Instead she stalked out of his bedroom and down the stairs to his back door, where her purse was tossed on top of a jumble of boots, bags of cat litter, and an old bicycle tire. What a fucking mess, she thought, angrily tapping at her ride-share app. Fortunately, a car was only two minutes away, so she went outside to wait, grateful for the warm summer air.

Victoria wrapped her arms around herself and paced back and forth in front of Owen's 1930s bungalow, refusing to look up at the dormer and see if his light was still on. She kept her phone clutched in her fingers, desperately checking the progress of her driver, and perched momentarily on the retaining wall lining his sidewalk. But then she was up and pacing again, back and forth in front of his walk like the Energizer Bunny until her ride pulled up.

Safely ensconced in the cool backseat she opened up her Twitter app. She would have seen an alert from Luke if he'd DMed her, but she had been running on pure adrenaline and alcohol for the last few hours and could have overlooked it.

But no, no new messages waiting for her. She wrinkled her nose, because Luke almost always messaged her in the evening. It was silly to be disappointed, especially given what she'd just been up to, but her heart sank all the same. She looked forward to their nightly chats, their anonymity allowing her to be more honest with him than she had ever been with anyone. Plus, a message from Luke would be a welcome distraction from the way Owen's scent was lingering on her skin, musky and male and far more appealing than she cared to admit. The car rumbled onto the freeway, the Minneapolis skyline bright in front of her, and her phone pinged with a new Twitter notification.

A familiar bolt of excitement shot through her and she opened it immediately.

@Lukethebarnyardcat

Do you ever have a day that's going really, really well—impossibly well—and then it all goes to shit? Because I just did

Sometimes, it was eerie how well they understood each other. And sometimes they would have days like this—mirrors of each other, twisted only slightly in reflection.

@Noraephronwasagenius

Yes, actually. Although today started shitty, got unexpectedly better, and then went straight to hell.

@Lukethebarnyardcat

Fuck, I'm sorry

At least we had shitty days together?

Victoria couldn't help it. She smiled to herself. Whenever Luke messaged, her day got a little bit brighter. She settled back more comfortably and started to type.

Owen twisted the handle on his shower and water hissed out, splashing cold against the tile before warming up. He was about to step in when his phone rattled against the counter with a reply from Nora.

@Noraephronwasagenius

What is it about the universe? Is it conspiring against us?

@Lukethebarnyardcat

I think it is, yeah

Thank god we have each other, right?

He stepped into the scalding hot water and closed his eyes. Today had not gone the way he thought it would. He was supposed to meet a potential client for drinks at Whistle and Plum, only to get an email canceling just as the bartender handed over his old-fashioned. He should have gone home, but when he spotted the one and only Victoria Clemenceaux, looking glum halfway through her martini, he changed his mind.

Yes, it was petty of him, but he liked riling her up. She had such a picture-perfect facade, from her iron-straight dark hair—hair that he now very inconveniently knew was softer than silk—to her perfectly manicured nails. Nothing ever ruffled Victoria; not objections to her line of questioning, not reprimands from judges, not a sudden squall on a hot summer day. Nothing, it turned out, except for him. He discovered his talent for getting under her skin early on, and he had kept on antagonizing her partly because he liked her fire and partly because, deep down, Owen was sort of a dick.

He should have walked away tonight but instead he found himself leaning against the bar next to Victoria, goading her into snapping back at him and then eventually buying her a second drink, because he never did know when to cut his losses. And somehow they went from snarling at each other at the bar to trading heated kisses in the dingy hallway to the bathroom, and from there it was short work to call a car and stumble into his bed.

He initially figured he could handle it, but the moment he saw Victoria sprawled out on his pillow, eyes hazy and lips swollen from his kisses, he realized he was in way over his head. There was something powerful about seeing the implacable Victoria at the absolute limit of her control, and it made his heart do things it rarely bothered to do.

But of course he would be cursed to only get a glimpse of her like that, and of course he would be foolish enough to think it marked a shift in their relationship. Of course he would be the dumb, sentimental type who thought the Ice Queen would want to spend the night with him, rather than fuck him and leave. He'd covered as best he could, but the moment his front door slammed shut he forced himself out of bed to shower, because otherwise he'd just lie in bed, breathing in her lingering scent and feeling shitty about himself.

At least he had Nora. He wasn't sure what he had with Nora, exactly, since all he knew was a nickname and a general location, but he was damn sure it was more real than whatever had just happened with Victoria. Nora was warm and funny, and while she shared a certain sharpness with Victoria, Nora's wit was leavened by a humor and kindness that was utterly foreign to Victoria. Plus, Nora had alluded to growing up poor with a single mom—picture a less genteel Gilmore Girls, she said once—and Victoria clearly came from money. Victoria's clothes were frequently nicer and better tailored than Ashley's, and Owen's stepmother didn't exactly pinch pennies. Between that and an in-house position at Smorgasbord, one of the largest mid-range grocery chains in the United States, straight out of law school, which was a job you only got if you knew exactly the right people, he could tell Victoria grew up at least as rich as he had, if not more so.

Owen let the hot water beat down on his shoulder blades to erase the memory of Victoria's teeth and nails on his skin. He reached for the shampoo and hesitated, and then cursed himself for being so stupidly mushy as to not want to wash her away completely. This was Victoria Fucking Clemenceaux he was dealing with here, not someone he actually liked. She was cold and robotic and sure, maybe there were a few more things he wanted to do with her, but those were all sex things, not romantic things.

Part of him wondered if he should gently broach the idea of meeting with Nora again, even though she had soundly shut him down the one and only time he tried. He wondered if Nora was worried he wouldn't think she was attractive and considered telling her he didn't give a shit what she looked like, but then realized it very well might be the other way around: she was worried he wasn't attractive. Or maybe she wasn't who she said she was at all, and he'd gone and fallen in love with a cisgender man, which wasn't really a dealbreaker for him so much as something he'd like to know about himself if it was a possibility. A simple selfie-exchange could fix all of that, but that would be breaking her anonymity rule, so he had to be content with simply knowing that somewhere out there, there was a woman named Nora who knew him better than he knew himself.

He'd just never actually met her.

Direct Messages: Luke @Lukethebarnyardcat

@Noraephronwasagenius

Have we done most embarrassing moments yet? I feel like we have, but I also feel like I would remember mocking yours, and I don't.

@Lukethebarnyardcat

My most embarrassing moment is probably in college when I got drunk and tried to prove to a pretty girl that I was a hockey superstar. I am not, and it turns out I'm actually very bad at skating while drunk. Long story short I now have a cap on one of my front teeth

@Noraephronwasagenius

OMG

Did you cry? I might have cried.

@Lukethebarnyardcat

NO

Okay maybe a little



One of the many good things about Victoria's job, aside from the salary, was she didn't have to see Owen Pohl very often. He was a nuisance, to be sure, but unless one of his numerous lawsuits made it through layers and layers of red tape, she rarely had to deal with him head on. It would be even easier if she didn't secretly agree with him, but that was irrelevant. Her job was to defend Smorgasbord Corporation from lawsuits, full stop, regardless of her personal opinions. Smorgasbord was an enormous company, having cornered the market on not-super-cheap-but-also-not-expensive groceries in the United States, and they paid her handsomely to make sure no lawsuit filed against them made it to litigation. Smorgasbord was proud of its completely undeserved reputation as a socially conscious company. No, she wasn't making a difference in the world, but Victoria hadn't gone into law for anything so idealistic as that. She went into law because she needed the money.

She had grown up semi-nomadic, her childhood spent floating from small Minnesotan town to small Minnesotan town while her mother worked whatever job she could find. Kimmy had a habit of falling behind on the rent, less because she was irresponsible and more because being poor was fucking hard. Sometimes her job was standing on the line at a meatpacking plant or working as cashier at Smorgasbord, and sometimes it was cleaning scummy motels just off the interstate. As a result, Victoria spent her early years in a series of crappy apartments, run-down duplexes, and the occasional trailer park where the winters weren't just cold, they were d. . .
We hope you are enjoying the book so far. To continue reading...
I Love You, I Hate You
Elizabeth Davis
Copyright © 2021 All Rights Reserved