How to Kill Your Family: A Novel
Available in:
eBook
Paperback
Audiobook
Hardcover
Book info
Sample
Audiobook
Media
Author updates
Lists
Synopsis
THE #1 SUNDAY TIMES BESTSELLER
'I loved this book' RICHARD OSMAN
'An antiheroine able to best villainous male protagonists such as Patrick Bateman any day' OBSERVER
'Chilling, but also laugh-out-loud funny. Another corker' SUNDAY TELEGRAPH
They say you can't choose your family. But you can kill them.
Meet Grace Bernard.
Daughter, sister, serial killer…
Grace has lost everything.
And she will stop at nothing to get revenge.
–––––––––––––––––––––––––––––-
'I've struggled to recover my reading mojo since lockdown. This turned out to be the thing that sparked it back to life… Funny, sharp, dark and twisted, Grace is a character I found myself rooting for even as she committed the most vile misdeeds' JOJO MOYES
'Funny and furious and strangely uplifting. Grace is a bitter and beguiling anti-hero with a keen eye for social analysis – even in her most grisly deeds, you never stop rooting for her' PANDORA SYKES
'Deliciously addictive…brilliantly executed' i PAPER
'Addictive… Grace Bernard is one of the most intriguing and bewitching protagonists I've read in years' EMMA GANNON
'A funny, compulsive read about family dysfunction and the media's obsession with murder' SUNDAY TIMES STYLE
'You'll be gripped… Grace's emotional detachment throughout will give you chills' Rated 5 stars by COSMOPOLITAN
⭐⭐⭐⭐⭐
'Hilarious and dark' ELLE
'Ironic twists and caustic commentary on everything from liberal guilt to the consumerist con that is "selfcare" sharpen this debut novel' OBSERVER
'Brilliantly tongue-in-cheek stuff from the Vogue columnist' IRISH INDEPENDENT
'Witty, waspish satire of a murderer with no regrets' GRAZIA
'Original, funny, unique and such a refreshing read' PRIMA
'A deliciously dark debut novel' RED
'One very entertaining read' WOMAN'S WAY
How To Kill Your Family was number 1 in the Sunday Times paperback chart on 26/04/2022
Release date: August 2, 2022
Publisher: The Overlook Press
Print pages: 368
* BingeBooks earns revenue from qualifying purchases as an Amazon Associate as well as from other retail partners.
Listen to a sample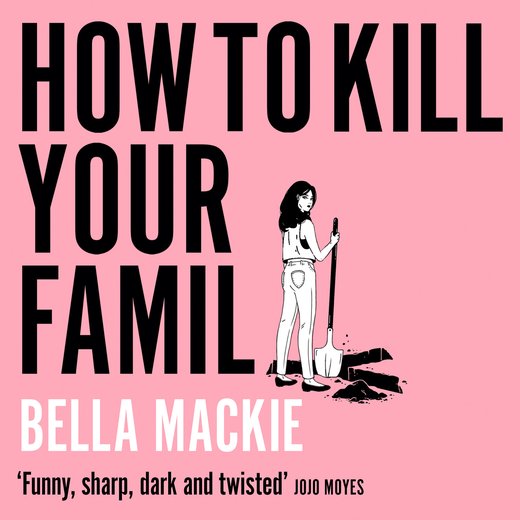 10:49:36
297.37 MB
9780008365936
July 22, 2021
HarperCollins UK
How to Kill Your Family: A Novel
Bella Mackie
CHAPTER ONE
I step off the plane and encounter that glorious blast of hot air that British people always dramatically exclaim at when they land somewhere hot and remember that much of the rest of the world enjoys a climate which doesn't just veer between grey and cold. I'm adept at moving through airports quickly, and today that's especially true, since I'm keen to avoid the man I had the misfortune of sitting next to during the flight. Amir introduced himself the moment I'd finished putting my seatbelt on. A guy in his mid-thirties, he was wearing a shirt which was stretched desperately over his almost comical pectoral muscles, and he'd inexplicably paired it with shiny tracksuit bottoms. The worst part of his outfit, the cherry on the whole mess, was the pair of sliders he had on instead of shoes. Gucci pool shoes, with matching socks. Jesus. I considered asking the hostess if I could sit somewhere else, but she was nowhere to be found and I was already trapped between the embellished he-man and the window as the plane started to taxi.
Amir was on his way to Puerto Banús, as was I, although I would never have told him so. He was 38, did something with nightclubs, and was fond of saying that he liked to 'go large'. I closed my eyes as he bored on about the Marbella lifestyle, and told me about the challenges of having his favourite cars shipped over for the summer season. Despite my body language, my aisle mate didn't let up, forcing me to finally engage. I was going to visit my best friend, I told him. No, she wasn't in Puerto Banús, but further inland, and we were unlikely to venture into town to experience the delights of the 'Glitter' nightclub.
'Do you need a car?' the man-mountain asked me. 'I could give you a sick one to ride around in, just let me know and I'll sort you out with a nice Merc for your holidays.' As politely as I could, I declined, before firmly announcing that I needed to get some work done before we landed.
As we started our descent, Amir saw his opportunity and reminded me to shut my laptop. Once again, I was drawn into conversation, remembering to be careful not to mention my name or give him any personal information. I was furious at this attention, having deliberately dressed in black trousers, a shirt, and no makeup for the flight so as to draw as little notice as possible. No jewellery, no personal touches, nothing that might stand out in a person's mind were they to be questioned. Not that they would be, I'm just a young girl going on holiday in Marbella, like so many others this summer.
The flight was all Amir can have of me, and even that was taken not given. So now I'm squeezing past people, flashing smiles as I push to the front of the passport queue and head straight for baggage reclaim. I position myself behind a pillar as the room fills up, and look down at my phone. A few minutes later, I see my bag and grab it, before turning on my heels and walking purposefully towards the exit. And then I have a thought and stop in my tracks.
I'm leaning by the railings outside the airport when Amir emerges. His face brightens as he sucks his stomach in and puffs up his chest.
'I was looking for you!' he says, and I note the bright gold watch as he gesticulates.
'Yeah, sorry, I'm in such a rush to get to my friend in time for lunch, but I couldn't leave without saying goodbye,' I reply.
'Well let's have that night out, gimme your digits, and we'll link.' Absolutely not a chance, but I have to keep him sweet if I'm to get what I want from this.
'I've got a new phone, Amir, can't remember the number for the life of me. Tell you what, you give me yours and I'll be in touch,' I smile and touch his arm lightly. After I've stored it and declined his offer of a lift, I wave goodbye.
'Amir,' I call, as he walks away, 'that offer of a car, is it still on?'
* * *
I arrive at my rented apartment just under two hours later, a fairly pain-free drive from the airport in my hire car. I found it on Airbnb and arranged to pay the landlady in cash so as not to have a record under my name. She was fine with a private booking when I said I'd pay double. It's painfully expensive, especially in the high season, but I only have this week booked off work and I'm keen to get on with my plan, so I'm throwing money at the problem. The flat is tiny and stifling, the aesthetic is very much reminiscent of an Eighties cosmetic clinic but with added china dolls. I'm desperate to see the ocean and stretch my legs, but I have a limited time here, and there's work to be done.
I've done my research, as much as you can do on two old bigots who have an inconsiderately minimal online presence, and I've got a good idea where they'll be tonight. It seems, from the little I could glean from Kathleen's Facebook page (the poor love has a public account, blessings be that old people do not understand privacy settings), that between feeling angry at the amount of Spanish people living in Spain, the Artemis seniors spend most of their time shuffling between a restaurant called Villa Bianca, which is right on the waterfront, and a casino called Dinero just outside of town. I've booked a table at the restaurant for dinner.
Let me be clear here. I have no idea what I am doing. I'm 24, I've been thinking about how to best avenge my mother for many years now, and this is the biggest step I've taken so far. Mostly, I've been working my way up the career ladder, saving money, researching the family and trying to get myself into a position where I can get closer to them. It's been helpful, but mundane. Of course, I'm willing to make these sacrifices in order to get nearer to my end goals, but my God it's hard to pretend I care about customer surveys and participate in the optional (read mandatory) team-bonding drinks on Fridays. If I'd known I'd have to drink Jägerbombs with people who willingly work in marketing, I'd have given myself more time to research trepanation first. Maybe that's why I'm rushing this big move, desperate to prove to myself that I've made inroads and can do what I've been saying I will since I was 13. And yet, I am woefully underprepared. I envisaged that by the time I got to Marbella, I'd have a firm plan in place, carefully plotted my route, the timings, and have invested in an incredible disguise. Instead, I am holed up in a flat which smells like your family hamster died underneath a wardrobe and your mother didn't know what the smell was and has been going mad with the bleach for six months. I have a plan in my mind, but no idea whether I'll be able to pull it off. I have a wig that I bought at a cosmetics shop in Finsbury Park, which looked convincing enough under the store strip lighting, but appears worryingly flammable in the Spanish sun. Despite this free-floating anxiety about my lack of preparation, excitement spreads through me. As I fix my wig and apply my makeup, I feel as though I'm getting ready for a brilliant date, and not at all like I'm on the way to kill my grandparents.
* * *
That was overly dramatic of course. I'm not going to kill them tonight, that would be foolish. I need to see them, listen to their conversation, see if they drop any hints about their plans this week. I need to drive the route to their villa a few times, and importantly, I need to pick up the promised car from Amir. That car is either a sign that I am stupidly chaotic and should postpone my plans, or it was a little gift from some unknown deity. Let's see which!
I decided long ago that Kathleen and Jeremy Artemis would be the first to leave us. This was for several reasons really, the first being that they're old so it doesn't matter as much. Old people who do nothing but drain their pensions and stultify in their favourite armchairs isn't a brilliant advertisement for humanity in my opinion. Great that we've worked out how to make people live longer with medical intervention and healthier lifestyles, unfortunately they will become useless bed blockers who get more and more mean-spirited until they are nothing more than bigoted beasts of burden living in the room you wanted to make a study.
Don't be shocked, I know you think it too. Enjoy your life and shuffle off this coil around 70, only the very boring would want to live to be 100 – the only reward an impersonal and brief letter from the Queen. So really I'm doing everyone a favour. They are old and disposable, and they live staggeringly useless lives. Wine at lunch, naps, a trip to the boutiques in town to buy hideous jewellery and gaudy watches. He golfs, she spends a lot of her time getting things injected into her face, which has had the strange effect of making her look like a very old toddler. A waste of life, and that's all before I tell you just how racist they are. Oh fuck it, you can imagine. They live in Marbella and yet they speak no Spanish, there you go. No more explanation needed.
Of course, I have skin in this game. I'm not Harold Shipman, merrily going around killing off as many geriatrics as I can. I only want to kill two of them, the rest are safe to keep watching Emmerdale and buying terrible presents for grandchildren who resent their boring visits. These people are technically my grandparents, though I've never met them and they have never bought me as much as a Toblerone. But they do know about me.
Let me explain. I wasn't aware of this for many years, imagining that my father Simon had successfully kept me a secret, but my mother's friend Helene was in London for a visit recently, and over a bottle of wine, she confessed that she'd paid them a visit shortly before she left for Paris all those years ago. She felt like she was letting my beautiful mother down by leaving me. Poor dead Marie. Helene did the only thing she could think to do to ameliorate the guilt. She looked them up online, and found their London address on Companies House. I was almost climbing across the table to hear what they'd said to her, to commit this new information to memory. I'd been to their house before many times of course, before they'd moved to Spain full-time. I'd spent hours outside, watching, waiting, occasionally following their chauffeur-driven car when they went out. But speaking to them was a whole new level, and I was half impressed with Helene, and half furious that she'd never told me about this meeting before.
She was clearly reluctant to tell me just how bad the encounter was, not meeting my eyes when she explained they initially slammed the door shut when she told them who she was. She didn't leave though, and eventually they let her in and coldly disclosed that they knew all about me and my 'ghastly' mother. My ears started to buzz as I let that sink in, and I scratched at my neck, waiting for the lump in my throat I knew would appear any second. They knew about me from the start, Helene explained, when their 'poor' son turned up unexpectedly late one night and, pacing the living room, confessed that he'd got into some trouble. According to Jeremy, who did most of the talking while Kathleen sat rigidly on the sofa sipping a large gin and tonic, Simon had asked how he should tell his wife, Janine, and told his father that some financial provision would have to be made for me.
'So he did want to do the right thing in some way,' Helene said, almost apologetically, as she drunk her wine and fiddled with her hair. I ignored the comment, and told her to carry on. I had no interest in entertaining that man's pathetic attempts to salve his conscience.
Jeremy proudly told Helene that he and his wife had spent several hours shutting this idea down, making him see that Marie had done it deliberately for money, warning him that Janine would never recover. 'Simon made a foolish mistake, as many young men do,' he had told Helene, 'and I'm sorry that this young girl has to grow up without parents, but many people have faced worse. I myself lost my mother at a young age, and I didn't go around looking for handouts from strangers.' Helene said that she argued back, shouting that Marie had not gone out to trap their son, and trying to explain that she had not known how wealthy he was, or that he was married for that matter, until much later. But they would hear none of it. 'That girl tried to ruin my son for money,' shouted Kathleen, suddenly rising from her seat. 'If you think your friend's daughter is going to start all this nonsense up again, you're as foolish as she was.' And that was pretty much that. According to Helene, who had downed her wine and was now gesticulating furiously, Kathleen had suddenly started sobbing and hitting her husband on the chest. He had grabbed her hands and forcefully pushed her back down onto the sofa, before turning back to Helene, who was standing, slightly stunned, by the door. 'You've upset my wife and ruined our evening. I want you out of my house, and don't even think about trying this crap with my son. We'll have lawyers on you so fast you'll be fucking homeless before you've seen us in court.'
'I was shaking a bit by then,' said Helene, 'because he suddenly looked mad. His eyes were bulging and his carefully combed silver hair was flying about. And the weirdest thing was that his accent had completely changed. When he first spoke to me, he sounded like a proper English gentleman, but by the time I left, his voice was rough and hard and he reminded me of the market traders I used to know in the town where I grew up. I'm sorry. I tried, but I thought his parents might be nicer, more sympathetic. I thought they'd want to know their beautiful granddaughter, for God's sake! But no. They've done well for themselves, but underneath it all, Grace, they are thugs.'
So they're old, they're mean and they take up precious space in the world. And all of this would be reason enough to help them meet their end in a more unpleasant way than might have originally been on the cards. But if I'm totally honest, it's mainly because they knew. They knew about my mother. They knew about me. And they didn't just flap their hands and do nothing, they actively lobbied their son, blaming Marie, Helene, the clubs, his friends who led him astray. They blamed everyone but Simon. He shirked his responsibilities as a father and his family helped him do it. I thought they were living their lives unaware that their son had rejected his child and left her mother struggling. But they wanted it that way. And in the end, that's what swung the decision. They die first.
* * *
I get to the beach restaurant at 6 p.m., assuming that like most old people, my grandparents eat early. I've asked for a spot on the terrace, but it turns out that the restaurant is much bigger than it looked online, and I'm anxious that I'll be too far away from them to glean anything useful. I order a glass of white wine (I like my wine; the Latimers always made sure they drank the good stuff, I chose a Rioja), and force myself to open up the book I've brought with me so it won't look too obvious when I start eavesdropping. I'd chosen The Count of Monte Cristo, which was far too on the nose, but I'd thought it funny when I was packing. I don't have to wait long for the Artemis party to arrive. Barely past page one, I see activity out of the corner of my eye. Two waiters are escorting four elderly people past the bar and towards the terrace. I stay still, not allowing myself to look up, but sensing that they are coming closer. A loud female voice: 'No, not that table, Andreas, it's in direct sunlight. Put us over there.' The party turns and moves to the other end of the space. Fuck you, Kathleen.
Once they're settled in their seats and have ordered drinks, all of which takes an age, with complaints about the wind, and a dither about what to choose, I permit myself a quick scan of the scene. The ageing Artemises are facing me, their friends opposite them. Kathleen has had a blowdry that would leave Joan Collins spitting blood. Her hair is pale blonde, and has a structure, not a style, set so rigidly that the wind she worried about won't dare to touch it. The cosmetic work on her face is visible from some distance, and her eyes have been deliberately given a slightly startled look which I think is meant to be coquettish but makes her look demented. She's wearing a beige tunic over beige trousers, with her obscenely large Chanel bag resting on the table. Her neck is adorned with a large string of . . . I can't make out the stone but I can safely assume they aren't cubic zirconia. I have the luxury of a little staring, since they're all engrossed in the menu. I'm wondering if there's anything of me in this dissatisfied-looking woman when she lifts her hands up and clasps them together and I see her nails. Pointed, painted in a classic pillar box red. There we are, Kathleen. My hands, holding my forgotten book, are long and slim, unlike hers. But my nails, my nails are bright red and pointed too.
After a few minutes pretending to be immersed in my book, I call the waiter over and ask to move out of the direct sunshine. Not a moment too soon, since I have a sneaking suspicion that this wig could melt at any moment. The terrace is busy, but not full, and I'm taken to a table just behind that of my targets. Much better. I want to hear what they're talking about. I won't learn anything insightful or interesting about their characters, they're too closed-minded for that, but I might get an idea of their plans for the week. I'm only here for five more days, all the holiday I could take, so time is tight. I order another glass of wine, and some assorted tapas, and open my book up again. Jeremy is looking at me, in a way that all women recognise. The old goat is sizing me up, appreciating my youth, not realising for a second just how pathetic he looks. I smile for a brief moment, in part because it's amusing to see my grandfather checking me out, and partly to make him think I'm charmed. The moment is interrupted by waiters bringing their food. No order was taken, but upon seeing the dishes I'm not surprised. Steak and fries for the whole party. It must be the only thing on the menu they go for. Steak and fries, never straying into foreign territory, never doing anything different, being small, turning nasty. And I got all of that just from steak, imagine what I could learn from their bookshelves. I'm kidding, they won't have any books in their house.
They drone on about friends at the golf club, discussing someone called Brian who disgraced himself at the recent charity auction (poor Brian, imagine the shame of being cast out by the elderly ex-pat community). Kathleen and the other woman dining, who looks a lot like Kathleen but with more girth and a smaller Chanel, move on to slagging off a hairdresser who takes too long and couldn't fit her friend in last Monday. My attention is wandering. I want to learn everything I can, but by God these people don't make it easy.
Can I have one more glass of wine, or will that sabotage this fact-finding mission? Fuck it. Glass of wine ordered, I pick at the remnants of my tapas. Perhaps the group I'm watching had the right idea when it came to the steak. The food I ordered is confusingly rubbery, and looks less like it came from the sea and more like it was grown in a warehouse off a motorway. The group in front of me have ordered coffee, and Kathleen is fussing over a stain on Jeremy's tie, which looks as though it's a club tie of some sort. I bet Jeremy is a Freemason, it would just fit. Fat friend's husband is asking when they will next be at the casino, and mentions a drinks event this coming Thursday.
'Yes we'll be there,' says Jeremy sharply, brushing Kathleen's proffered napkin away. 'We're having dinner with the Beresfords at 7.30, and we'll drop in on the way back.'
WHERE ARE YOU HAVING DINNER, I want to scream, but they don't elaborate. Instead, Jeremy asks for the bill by brusquely beckoning the waiter. The other man at the table grabs the saucer the moment it comes, and does a nod towards my grandparents.
'We must get this, I'm sure it's our turn – no please, I insist.' A gold card is thrown down, and Jeremy barely responds, instead looking over at me again. This time I look away. I don't want him to mark me, or know my face too well. I'm not worried, I assume he spends a lot of time looking at women young enough to be his granddaughter. Perhaps fewer who actually are, but with Simon's track record, who could ever be sure?
As they leave, I notice Jeremy's tie properly. I was wrong, not Freemasons. A print in green and yellow, with the letters 'RC'. A quick google tells me it's the official tie for the Regency Club, a private members' establishment in Mayfair, opened in 1788 for men, royal, and wealthy, to consort without their wives. I almost laugh. I know where you started life, Jeremy. In a two-room dwelling in Bethnal Green, with a seamstress mother and a father who fucked off and ended up who knows where before you were five. Simon has talked about it in interviews with pride, as a sign of how hard your family has worked to rise in the world. So here you are in your tie, imagining it shows your pedigree – the one you bought for yourself. Admirable to some, perhaps. Even to me, since I'm trying to do the same thing – climb out of poverty, get away from my starting offer in life. But I know you. I know your hatred of your roots, whatever the story you've spun since. You saw it in me, and when asked to help your own flesh and blood out of a similar situation, you ran. Helene was right. You're just a thug, and your private clubs and your expensive clothes don't do much to conceal that. But wear your tie. Thursday isn't far away.
I walk back to my rooms, taking in the main promenade in Puerto Banús as I go. The boutiques are filled with women holding up embellished dresses in the mirror and chatting to their friends. Teenage girls stroll past engrossed in a discussion about their tans. I wonder if I'd have been one of these empty shells had I grown up within the folds of the Artemis family. I read books, I follow world affairs, I have opinions on more than just shoes and golf clubs. I am better than these people, that's not in doubt. But they look happy despite their ignorance. Perhaps because of it. What is there to worry about? None of these idiots are thinking about climate change, they're wondering what to wear on the yacht tomorrow. But it's fascinating to watch, and I only have a short time to see it. Once I've done my job, I won't be coming back to this playground for the diamanté class. Perhaps I should buy a memento. I look at the shop windows, with their overpriced tat. I have neither the money nor the desire to buy a fur-cuffed kaftan, even as a silly joke. Besides, I think I know what my keepsake will be, and it won't cost me a thing.
The next day, after a quick run along the beach, I drive to their house. It's a large villa in a secure complex, hidden away from the unwashed masses and guarded by big gates and a bored security officer in a hut, who I imagine is supposed to check who visitors are, but lets me through with a wave when I say I'm here from the boutique Afterdark to drop off a dress for Mrs Lyle at number 8. I guessed that there would be a fairly steady stream of deliveries for the bored ladies alone in their pristine villas, always ordering a new outfit, or demanding a nail technician visit at short notice. I didn't say I was going to the Artemis household. I don't want there to be an obvious link, just in case questions are asked later.
Their house, number 9, is almost identical to numbers 8 and 10. White stucco, terracotta tiles leading up to the door. Palm trees on either side of the porch. Perfect green lawn, even in this scorching heat. I guess hosepipe bans don't apply when you live in a compound away from normal society. I take my foot off the pedal and roll by, but there's nothing to see really. There's nobody in sight on these wide avenues, not a dog walker or a mother and buggy. ...
We hope you are enjoying the book so far. To continue reading...
How to Kill Your Family: A Novel
Bella Mackie
Copyright © 2022 All Rights Reserved