Hold Fast Through the Fire
Book info
Sample
Audiobook
Media
Author updates
Lists
Synopsis
The Near-Earth Orbital Guard (Neo-G)—inspired by the real-life mission of the Coast Guard—patrols and protects the solar system. Now the crew of Zuma's Ghost must contend with personnel changes and a powerful cabal hellbent on dominating the trade lanes in this fast-paced, action-packed follow-up to A Pale Light in the Black.

Zuma's Ghost has won the Boarding Games for the second straight year. The crew—led by the unparalleled ability of Jenks in the cage, the brilliant pairing of Ma and Max in the pilot seats, the technical savvy of Sapphi, and the sword skills of Tamago and Rosa—has all come together to form an unstoppable team. Until it all comes apart.
Their commander and Master Chief are both retiring. Which means Jenks is getting promoted, a new commander is joining them, and a fresh-faced spacer is arriving to shake up their perfect dynamics. And while not being able to threepeat is on their minds, the more important thing is how they're going to fulfill their mission in the black.
After a plea deal transforms a twenty-year ore-mining sentence into NeoG service, Spacer Chae Ho-ki earns a spot on the team. But there's more to Chae that the crew doesn't know, and they must hide a secret that could endanger everyone they love—as well as their new teammates—if it got out. At the same time, a seemingly untouchable coalition is attempting to take over trade with the Trappist colonies and start a war with the NeoG. When the crew of Zuma's Ghost gets involved, they end up as targets of this ruthless enemy.
With new members aboard, will the team grow stronger this time around? Will they be able to win the games? And, more important, will they be able to surmount threats from both without and within?
Release date: July 27, 2021
Publisher: Harper Voyager
Print pages: 432
* BingeBooks earns revenue from qualifying purchases as an Amazon Associate as well as from other retail partners.
Listen to a sample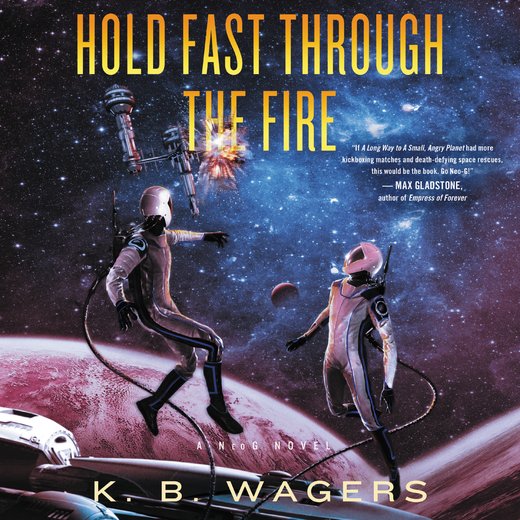 13:26:58
369.42 MB
9780062940407
July 27, 2021
HarperCollins
Hold Fast Through the Fire
K.B. Wagers
The music in the bar thumped up through the floor into the feet of Chief Petty Officer Altandai Khan. She danced, eyes closed and a smile on her mouth. The lower level of Drinking Games was packed with people celebrating the NeoG's victory.
Jenks was currently pleasantly buzzed and happily smashed between two handsome men. She didn't even care that she'd cried like a baby in front of everyone when Commander Rosa Martín had gotten on the fucking bar and announced her promotion to chief.
This was a perfect ending to a perfect day. She hummed and pulled Senior Chief Luis Armstrong in for a kiss.
"She's going to be this smug all night, isn't she?" Lieutenant Tivo Parsikov asked from behind her right shoulder, raising his voice to be heard over the music.
"That's Jenks," Luis replied to the Navy officer. "You get used to it."
"I kicked your ass." Jenks leaned her head back against Tivo's chest and grinned up at him. "He kicked your ass, even though he lost." She pointed her finger at Luis. "And my girl Max kicked your ass even if she lost on points. So I get to be smug. If you ever manage to beat me and become the champion, then I will allow you to lord it over me for as long as it takes me to defeat you once again. Until then . . ."
"You're fucking insufferable." But Tivo smiled down at her when he said it, the humor carrying into his blue-gray eyes—one ringed with an impressive bruise, courtesy of Max. "I am going to beat you one of these days."
"It'll never happen, but you're cute when you try, so don't stop." She turned around and pressed against him, sighing when his hands tightened on her waist. "I want another drink and then I want you boys to take me to bed."
"That's the first sensible thing you've said in a while," Tivo murmured as he picked her up and kissed her.
"I am occasionally sensible. Don't tell anyone."
"That is the weirdest trio."
Commander Nika Vagin blinked and looked away from the pair of women in the corner sitting with their heads close together. "Who is?"
"Your sister and her—" Commander Stephan Yevchenko gestured with a grin. "Whatever is going on there."
"I prefer not to think of my sister and her relationships, for obvious reasons." He slanted a glance in Jenks's direction, then sighed and glared at Stephan, ignoring the fact that the Intel officer's mouth was twitching into a rare full smile.
"You're enjoying giving me crap about my sister," Nika said.
"Well, that's now part of it, but I can also poke you about the fact that you've spent most of the night mooning over Carmichael if it makes you feel better."
That stung worse than the subject of his sister's relationships. Suspicious, he said, "Do you just enjoy seeing me miserable?"
"You know I don't. You also know you could fix this if you just went and talked to her," Stephan said.
"This is not a better topic than my sister." Nika took a drink of his beer.
He'd always been on good terms with Stephan, despite their rivalry in the sword ring, but the past year of working out of the Intelligence Division while he recovered had tipped things into a comfortable friendship. Enough that he could tease back in the hope it would deflect Stephan's laser focus away from the fact that Nika was, in fact, mooning over one Lieutenant Maxine Carmichael. "Let's try this one: How's your nonexistent love life going?"
"The same. Just how I like it." The handsome brunette picked up his own beer. "I enjoy my work, Nika, and I choose to devote my time to it. I haven't ever felt the need to be with someone, and if I did it wouldn't be fair to ask them to put up with my obsession."
"Don't you get lonely?" The question slipped out before Nika could stop it, and he only just managed not to glance Max's way again.
"I don't, but not every ace is like me, Nika. Remember that." Stephan chuckled. "For starters, I'm aromantic on top of it. I knew a long time ago I wasn't ever going to fall in love with someone. I have the NeoG. I have you all. That's enough for me. I like my quiet and I like having my own timetable without having to answer to anyone." Stephan drained his beer. "Speaking of, I've got a flight back to London to catch and an early morning meeting. Go talk to Max, Nik. Sitting here and staring at her is creepy."
"You're not my boss."
"I will be if you don't accept Hoboins's offer to go back to the Interceptors." Stephan patted Nika on the shoulder and tipped his head to the side. "But even without that, I'm also your friend. Go talk to her."
When he'd first met Max almost two years ago, Nika had been on his way to Trappist and she'd been taking his place on Zuma's Ghost. Nika had left her a letter, mostly out of a sense of tradition, but also because he'd been intrigued by the quiet, uncertain lieutenant from the very first moment they'd met.
That one letter had turned into emails and then vid-coms, and when he'd been hurt in the explosion, Max's face had been the first thing he'd seen when he woke.
He'd been lost from that moment on. No, that was a lie. He'd been lost from the beginning. Nika had always picked his relationships with ease, knew himself well enough to know that he could fall hard and fast, but he loved the rush of it all. It was worth the pain of having to say goodbye when it was time to move on.
He glanced back at Jenks. By contrast, his little sister was so careful with her heart. She loved everyone, and in doing so loved no one. It was easier for it to be "fun and done," to steal her phrase.
There was something about Luis's quiet patience, though, and possibly Tivo's as well, that had slipped past her defenses. Even if the latter had come onto the scene only a year ago when Jenks had sparred—in the ring and out of it—with the Navy fighter, and Nika still wasn't sure if there was more to that part of the relationship beyond the sex.
He dragged that line of thought up short and sighed.
"You have issues, Vagin," he muttered. "Seriously." He looked to where Max sat with Rosa and sighed again. It seemed like Jenks's attitudes were changing. Maybe his should, too. Maybe it was time to put in the effort rather than walking away.
Everything had been going fine with Max, or so he'd thought, but a week before the Games she had stopped talking to him. Nika told himself it was because she was focused on winning and everything would be okay on the other side.
It wasn't.
He had a feeling if Maxine Carmichael was left to her own devices, she'd let whatever was between them suffocate like a flame in a vacuum. Nika didn't want to live with himself if he let that happen before he found out whether she truly wanted this to be over or she was just unsure of what to do with her feelings.
Be honest, the voice in his brain whispered, you don't want to lose her.
He didn't. But he didn't want to lose her friendship more, and no matter what happened, he would walk away from the rest of it if that's what she wanted. So he made himself get up and move across the crowded bar.
"Hey."
Max's head snapped up at the sound of his voice and he recognized that familiar panicked look in her brown eyes.
"Nika! I was just leaving, you can have my seat." Rosa was up and out of her chair before Max could protest.
"Traitor," Max muttered at Rosa's back, and then she forced a smile onto her face. "Hey, Nika."
He considered making an excuse, letting her have her space—she was clearly uncomfortable with him around. However, something pushed him down into the space Rosa had abandoned. "I know this isn't the best time to do this, but maybe we should just get it all out in the air," he said, watching her. Max was looking down at the table instead of at him. "I need to give Admiral Hoboins an answer tomorrow and I would like your input on this, but if you won't talk to me, that's kind of difficult to do." It was part statement, part question.
"Nika. I don't want to tell you what to do with your life." She traced a finger over the tattoo of Pluto that now decorated her right forearm. Nika still couldn't believe his sister had been able to talk the reserved lieutenant into something so impulsive, but matching Pluto tattoos somehow seemed very like the two of them.
That friendship had shocked everyone—everyone but Nika. Max and Jenks were as opposite as you could get, and yet it worked. Some of that had to be Jenks's gratitude for Max saving her life, but Nika was sure it was more than that.
Just like he was sure that what he and Max could have was more than . . . whatever they had right now. Which was why Max being on the defensive upset him so much.
I'm the one who should be afraid, he thought. She's the smart one. The good officer. The better family. What have I got to offer her?
"I'm not looking for you to tell me, but I do want to know how you feel about it all. It would change things for me to come back to Zuma." Now she lifted her head and the look of pain in her brown eyes sliced through him. "The NeoG doesn't have rules against relationships within the Interceptor teams, but I understand if that's too much for you."
Max rubbed a hand over her heart and took a deep breath before she spoke. "Nika, I value your friendship and I don't want to lose it. I have really enjoyed our time together. But with everything that's happening, I just thought it would be best—" She fumbled, the words failing her, and she squeezed her eyes shut. "I don't know what I'm doing. You know I'm terrible at this."
"Max, do you want to end this?"
The sob escaped before she slapped a hand to her mouth, and Nika pulled her into a hug when she leaned into him.
"I don't know. I don't know what to do. I'm sorry. I'm such a mess. This isn't fair to you at all." She was crying in public, which he knew she hated. Even more than his sister, if that was possible. Max couldn't get past the idea that had been hammered into her: Carmichaels did not cry in public.
"It's all right," he said, because he couldn't think of anything else to say.
"It's really not all right."
Nika pressed his cheek to the top of her head. "Max, I don't know what I want, either, as far as my career goes. I enjoyed working with Stephan, but the chance to be out there again is—"
"Nika! Did you make Max cry? We are supposed to be celebrating."
Great timing, Jenks.
Nika let go of Max and turned, surprised by the fury on his sister's face as Max covered her eyes with a hand.
"Jenks, not now," Nika pleaded.
"Damn right, now," she said.
He groaned and looked at Luis and Tivo standing behind his sister like a pair of hulking sentinels. "You two want to do something about this?" He was referring to his sister, but they didn't take it that way.
"Depends. Did you make Max cry?"
It was an interesting thing to see the frown on the Navy lieutenant's face and the slight narrowing of his eyes. Luis he could understand, but when had Parsikov become protective of Max?
When your sister did, idiot. Because Jenks has the gravitational pull of a black hole and everyone ends up in her orbit.
Maybe that's why he ended up with that shiner.
Nika could see it clear as daylight now. It was like Tivo to try to take it easy on Max in the cage—consciously or not—and end up with a fist in the face for his mistake.
Stephan's lessons have rubbed off on me.
Max peeked out from between her fingers. "Oh my god. He didn't, Tiv. I'm fine."
"All right." Tivo winked at Max, grabbed Jenks around the waist, and tossed her over his shoulder.
"But Max—"
"She's fine," Tivo said, and then her further shouts of protest were lost to the noise of the crowd. Luis gave Nika a nod and then followed the pair.
"Max." Nika brushed his fingers over the back of her hand and she reluctantly dropped it into her lap. "You want to go outside?" he asked. "Get some air?"
They somehow slipped out of Drinking Games without being accosted by dozens of well-wishers, though Max found herself caught between hoping and fearing someone would delay their path out into the cool night air. It had been bad enough in public, but to discuss this in private . . . it might be too much.
And yet, she let him pull her along.
Nika had taken her right hand with his left—his real hand. She hated that description, tried so hard not to use it, but she also noticed that he didn't touch her much with his right.
She'd barely been able to tell the difference when he was cupping her face. The skin on the prosthetic had been slightly cooler, but it had flexed in time with the left.
Be honest, Max, your thoughts weren't exactly focused on assessing the differences anyway.
That was the truth. She'd been too wound up, was still wound up as they walked along the mostly deserted streets of the Games village.
She'd fucked this up.
You always do this. Try too hard and push people away. When are you ever going to learn? Her father's voice in her head stung.
"Get out of your head, Max."
The order from Nika was gentle, accompanied by a tug of her hand, and she looked at him. He was pointing across the street, one blond eyebrow raised in question.
She nodded and followed him across to the park. "You're good at this," she said as they settled onto a bench, picking up a stray reddish leaf and spinning it between her fingers. "Dealing with me, that is."
"Max, I don't 'deal' with you. I—"
"Let me say this? Before I lose my nerve?" She could only hold his gaze for a moment before looking back at the leaf. "I spent the first part of my life being told what to do, what to think, how to act. My father, my mother, they—my input was not requested, and on the rare occasion I got up the courage to offer it, it was dismissed. That was the price of being a Carmichael."
It was surprisingly easy to say that now. To acknowledge who she was and where she'd come from. The Carmichaels were one of the most powerful families in existence, thanks in part to their control of LifeEx, the essential life-extending drug that provided humanity with protection as they explored the stars, but also because of their long-standing history of service to the Coalition of Human Nations government and the Navy.
A history Max had walked away from to go into the NeoG.
Nika nodded but stayed silent. She appreciated that from him. How he knew she was taking the long way around back to the conversation they'd left in the bar. He didn't push. Didn't tell her to get to the point.
Perhaps because of this, Max let herself lean into him, resting her head on his shoulder as she tried to untangle her own messy thoughts. "I don't trust easily, you know that."
"You seem to trust my sister well enough."
His tone was filled with humor and she laughed. "Jenks is pure. Oh god, do not tell her I said that."
It was Nika's turn to laugh, and Max buried her face into his chest for a moment.
"You know what I mean, though," she said. "Jenks doesn't pretend. She tells you if you fuck up. She tells you when you do things right. It's easy."
"I get that. You don't trust me?"
"I don't know you."
"Okay."
Max sat up and rubbed at her face. She was doing this wrong—again. The hurt Nika was trying to hide had bled through his words. "Emails and vid-coms aren't the same as real life, right? Rosa and I spent two years working together; I don't even think of her as Commander Martín, she's my friend. I am hoping it will be that way with you, too, even though—" She sighed. "I know that's not how this is supposed to work, and—"
"Max, is that you talking, or your parents?"
It was such a simple question, but it hit right at the heart of what she was feeling, like one of Jenks's side thrusts, and it stole Max's breath in much the same way. "I don't know," she said. Nika waited patiently for an answer while she floundered.
He'd been doing that—just listening to her—for over a year. Letting her find her feet, be herself. Always supportive and there for her. She was reasonably sure it wasn't the case with Nika, but in her old life, patience and kindness had always meant the other person was expecting something in return.
"I'm not being patient and kind because I'm expecting something from you. I do it because I care about you."
His slightly sharp reply made her realize she'd said that last thought out loud, and Max forced her eyes away from the leaf to look at him.
"I know. Or, at least, I know I should know that. I also know I've mangled this. I should have trusted you not to be the same as my parents and to actually be interested in my opinion. I don't know why I thought not talking to you at all would somehow make it easier. I'm sorry."
"Max." He smiled and slid his hand over her back, pulling her closer to his side. "I don't need an apology here. I just want to know what's going on in your head."
"I want to know what you want, Nika."
She could tell the response shocked him, and she continued before he could interrupt. "You have really enjoyed working with Intel. That's been clear enough from your letters and when you talk about it. I don't want you coming back to the Interceptors just because you think it would make me happy. Does that make sense?"
"It does. And you're not wrong. I have enjoyed being attached to Intel, I just—as strange as it may sound, I miss being out there with all of you. I want to make this work. And I think we can, Max. If you want to try, I'm game. If you don't, I can either stay here or we can just be friends."
She felt her heart constrict, a quick beat of relief for a fear she hadn't even fully realized. This past year had meant a lot to her on so many levels, but the loss of this unexpected joy in her life would have hurt. It was, in the end, a surprisingly easy decision to make.
"Talk to Hoboins. You have a place with the Interceptors, Nika. You belong with us out in the black. I value you and I don't want to run just because that's what I've done in the past. I want to at least try," she said. That, she could say to him. "Just promise me we'll stay friends no matter what?"
"I promise." He leaned in, pressing his forehead to hers.
Max smiled back, hoping Nika didn't see the worry she couldn't quite seem to banish from the shadows. The worry that promises in her world were something so rarely kept, and all too often broken.
We hope you are enjoying the book so far. To continue reading...
Hold Fast Through the Fire
K.B. Wagers
Copyright © 2021 All Rights Reserved