Book info
Sample
Audiobook
Media
Author updates
Lists
Synopsis
For the Rangers, the best defense is always...more offense.
As an overwhelming army of skeletons, wraiths, ghouls, and other dark creatures - all serving a powerful undead sorcerer - advance against Forward Operating Base Hawthorn, the Rangers must now do what they do best: Go on the extreme offense.   
It's time to Hit and Fade. Attack, withdraw, and outmaneuver the enemy. 
PFC Talker, attached to the weapons team section of a Ranger recon patrol led by Captain Knife Hand, recounts the harrowing attempt to destabilize this surreal and horrific nightmare force with everything the snipers, master breachers, and stone-cold killers of the Ranger regiment have in their bag of lethal tricks. 
Abating, channelizing, and leading the enemy into a series of devastating traps involving everything from kinetically violent ambushes to immensely explosive crater munitions, the Rangers strike at the enemy as death personified, fading like ghosts only when the dead are dead once again. 
When facing Rangers, even nightmares are afraid. 
Purchase this action-packed second installment in the Forgotten Ruin series today!
Release date: April 1, 2021
Publisher: WarGate Books
Print pages: 360
* BingeBooks earns revenue from qualifying purchases as an Amazon Associate as well as from other retail partners.
Listen to a sample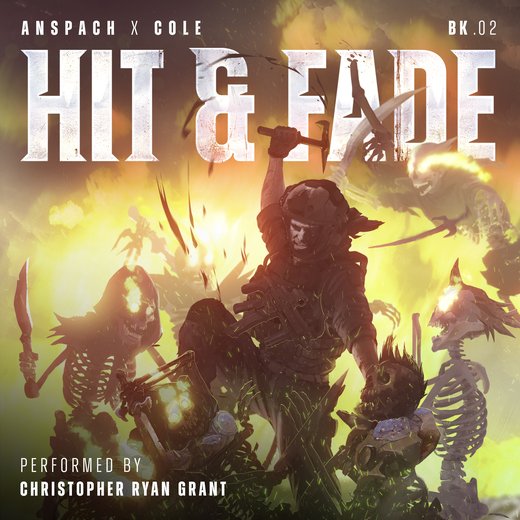 11:37:19
319.22 MB
9781669693758
June 6, 2021
WarGate Books
Hit & Fade
Jason Anspach
Chapter One
The Army of the Dead walked straight into our ambush east of Fortress Hawthorn. That's what the FOB is called now. "Fortress" Hawthorn. Despite it being officially known as Forward Operating Base Hawthorn as was originally intended when the fifty detachments of various special operations groups came forward through time from Area 51. A one-way mission to save western civilization from a rampaging nano-plague destroying the very fabric of said civilization. Apparently, we overshot the temporal insertion point and stuck the landing, sorta, about ten thousand years too late. Said civilization is now basically something straight out of Tolkien, or Dungeons & Dragons. Which we've all now gotten a lot more familiar with thanks to our resident expert and fledgling hedge wizard, the infamous PFC Kennedy.
But the Rangers just call it the FOB.
The first of our explosives to ruin the leading elements of the Army of the Dead advancing on us, claymore mines the recaptured Forge back at Hawthorn had cranked out in the weeks after we'd retaken it from King Triton, were fired by Ranger Sergeant Kang down there with the scouts and Captain Knife Hand's assaulters. It was close to midnight when the front rank of bony warriors, carrying rotting shields and spears, eyes glowing malevolently in the deep night mist, advanced into our ambush—only to get ruined by the daisy-chained claymores' sudden eruption.
Above us, a cloud-shrouded moon cast a wan yellow light over the battlefield. The night was hot and spring was coming on full now. The pilots who'd gotten us here in the grounded C-17 back at Ranger Alamo, using their meteorology skills, had guessed it was going to be a long hot summer ahead of us. And an early one at that. But there was a cold shiver in the dark on your exposed skin that you couldn't quite explain when you saw the dead advancing rank after rank. The bone warriors carrying spear and shield. Other darker creatures barely seen. The lower areas of the earth were graveyard cool and misty—so maybe that was it.
Still, the brutal, unrelenting cold of our almost last stand back at Ranger Alamo was gone now. But not the horrors. There wasn't a night that some Ranger didn't wake up out of a tormented sleep breathing heavy, sidearm scanning the dark and looking for orcs and ogres to ventilate.
I was sweating in the hour leading up to the attack, despite the night and the mist. Kurtz had us humping hard to get the two-forty and all its ammo up to the top of a small hill that overlooked the area where we'd channel the advancing echelons of the Army of the Dead into further fun and games the Rangers had planned at a bend in a riverbed. If the approaching Army of the Dead continued on their current course track, they'd enter it for a brief period. It was decided by the captain we'd kill them there.
And I was sweating. Not because of fear.
No, not at all.
"Firing," whispered Sergeant Kang over the comm as he detonated the mines. And eight daisy-chained claymores spat thousands of steel balls all across the front line of what even I was still finding it hard to believe I was seeing through my night vision device. Skeletons. Warrior skeletons. Ancient warriors like something out of the Bronze or Iron Ages. Worked breastplates of molded plate or rotting scales, green and tarnished, stamped with the markings of fabled armies fallen in battles long, long ago. Leather cuirasses on some. Rotting boots. Helms with broken horns. Missing teeth. Tattered leather kilts. Beads and charms dangling from bone wrists. Enigmatic holy signs and primal torcs black with grave dirt or from a funeral pyre long ago on some forgotten battlefield far from here, draped about the spine where the throat should be. Where it rises to connect to a bone white skull that seems filled with malevolent purpose and diabolical intelligence. Malignantly so. Walking skeletons like something out of a Ray Harryhausen clay-model Sinbad epic from the 1960s.
Above, the sliver of moon gave enough light to strengthen our NVGs, making the night vision devices perform exceptionally well as we sprang our trap and watched the advancing elements get rocked by our initial high-explosive opening bid in the game we were about to play. The air was still and hot in the moments before the fight began as we lay there in the tall sharp grass waiting for it all to go down.
I was thinking a hot cup of coffee would be nice right about now. Except my canteen only had cold coffee I'd brewed during the long silent and windy afternoon of preparation. Still, I was happy knowing I had some, rather than none. The Rangers all around me were practically levitating to get their kill on. I was too. Just… y'know with coffee.
At least I didn't say that part out loud.
Tanner spat some dip and muttered, "And… here we go."
The army advancing on us, if you could call it that, these walking nightmare Halloween horrors, had come through the tall brush, stumbling lifelessly down into the opening of the dead river and the small line of hills that faced the remains of the old sandy wash. Swords, axes, spears, scimitars forever at the ready to strike out in unholy fury once more. Each bony warrior was carrying at least three weapons. Our drone above tried to get a handle on just how much we were facing. But it struggled due to… interference we weren't totally sure the source of at the moment.
Yeah, tonight was a hit. Ranger style. We were gonna cause some mayhem and break stuff. An ambush on our part. But it was really also a probe. We were trying to find stuff out. The scouts had already been out here a week, forward of our current position. Sergeant Hardt, Hard as he was known, and the scouts had been observing and gathering without making contact and getting in over their heads.
Now it was time to test. See how much the enemy could take… and how much they could deal. Tonight, getting in over our heads was part of the plan. And knowing how much was coming at the dead, I felt pretty confident they were going to have their work cut out for them if they thought they were gonna push us.
Yeah, I'm the veteran of all of two battles. Two battles in which I've mostly just helped out. So, take everything I say with a grain of salt. I wanted things to go our way and so I was willing to believe they would. In hindsight that might have been a mistake on my part.
As I said before, sue me. I can live with my errors. I'm the guy with coffee in his thermos. A lot of these Rangers just have water. Who would you rather be? Me, I'd rather be me. Coffee for the win.
Just before the terrific chain of explosions went off, they—the dead—moved graveyard silent as they advanced, rank upon rank. Their bones didn't rattle. Their gear barely made any noise as though what they'd learned in life as once fearsome warriors about battle and sneak attacks had followed them into undeath. I guess skills are skills regardless of your current eternal status in the afterlife. I was too far away to detect the barest sound even with augmented hearing protection on and that was my first impression of our enemy: they moved like things that must've once known what they were doing when it came to cutting throats and overcoming ramparts.
They were death coming at you with a knife and no intention of misusing every opportunity to their advantage.
"Be real nice if that old wizard man was around and all, Sergente," Private Soprano muttered as he smoothed the belt feed on the two-forty. Kurtz hissed, "Shut up," and things were silent as we waited for our turn to engage. But, yeah, Vandahar had just disappeared in the lead up to this operation and everyone was wondering where he'd gone off to. A guy who could stop giants and toss lighting and fireballs came in handy. Even to the Rangers.
In life, the Army of the Dead must've been real mean motor scooters, if you know what I'm saying. Now they were the vanguard of a much larger force closing in on our fortress three days to our west. FOB Hawthorn. Our home base. Our last stand. Protect at all costs. The captain had called this a no-fail mission. Meaning we needed to get it done as there wasn't much of a chance for our survival if we didn't. No fail means you are to expend every resource, including your own life, to ensure mission success. And that mission: derail the Army of the Dead before they reach the FOB.
Drone recon had identified the force to our east a week ago. The identification had not been easy because these things weren't alive and so they weren't throwing thermal signatures. Also, the software was having a hard time recognizing them. The Baroness theorized that even though they were human, they were missing the nodal points of recognition that flesh provided, which messed with the software's ability to locate the enemy and tell us something meaningful about them. The Baroness and Josh Penderly, the Forge tech, were working on an update even though coding software was neither of their specialties. In the meantime, the drones, despite running night vision and thermal with excellent cameras, couldn't precisely pick out the skeletal warriors as they came into our area of operations east of the fortress. Still, it was clear that something, something big covering several miles, winding like the tail of a giant mythical serpent through a dark forest thick with canopy cover, was closing in on us like an army on the move. Separate elements possibly moving miles apart but moving in cohesion to support each other.
It was also clear that they were aiming straight for FOB Hawthorn.
They were coming for us.
"That looks exactly like ISIS when they came out of Iraq to hit the Kurds in Syria, sir," said the sergeant major. "Back before Iran lit up. Big convoys and large elements moving independently like some combined arms attack straight out of the World War Two playbook."
That was bad.
"Best guess I can make via the feed," said the pretty blond co-pilot of the C-17 we'd come in on and who was now our chief drone operator, "is we're facing at least something along the lines of twenty thousand strength. Emphasis on at least, sir."
Then she added, "And if I'm wrong it's because the numbers are probably much higher. That's the way I'd play it, sir. Aim on the high side for tactical planning." That's what she told the detachment ground force commander during our briefing for the lead-up to this mission. Captain Knife Hand is the GFC. The ground force commander.
We are currently one hundred and fifty-seven Rangers and flight crew. Along with Penderly and the Baroness. And Jabba. The goblin prisoner Kurtz's weapons squad turned into their own dog. Sorta.
Regardless of whatever movie you've seen, a little over one hundred and fifty rangers aren't great odds against twenty thousand ground troops making a direct beeline for your position with loads of ill will and weapons to back up the threat. Those are not odds. Those are massacre numbers.
And we can't di di mao, beat feet, or Get Out of Dodgeistan. Or whatever you want to call it. Why? Because the Forge ain't going nowhere. It's staying at FOB Hawthorn, specifically at the Barad Nulla, the large dark tower at the back of the fortress, right up against the edge of the crag with the long drop atop which the fortress sits. It's eight thousand pounds, the Forge. We have nothing to move it with. And the Forge is what keeps us armed, and very dangerous. Without it we're down to sticks and stones.
Rangers like Sergeant Thor would like to try for the local available weapons high score. The rest of us are happy with our machine guns and high ex. We like the odds. To Thor though, Bronze Age hand-to-hand combat is the new extreme adventure sport he never knew about and is dying to try. Among Rangers, he is not unusual in this regard. Most of the Rangers understand that sentiment on some level. They feel the same way about the homemade garrotes they all carry. They're always looking to add that achievement to their list of how they've killed their enemies. They're pros that way.
But again, there are odds to consider here. Even though we're all learning how to fight with hand weapons and bows, courtesy of the Shadow Elf boys—or the Lost Boys, as me and the sergeant major call 'em—without modern firearms like the MK18 carbine, our sidearms, the two-forty medium machine gun, the SAW two-four-nine light machine gun, the M320 grenade launcher, and of course the Carl Gustaf, and even our mortars, the Rangers aren't as deadly as they generally like to be. Which is very.
Don't get me wrong. They will be highly motivated with their tomahawks, the endless amounts of knives they all seem to carry, and even their FAST helmets should they need to be, but modern firearms do tend to make a difference in the grand scheme of no-holds-barred total warfare.
Plus, the Forge can make all kinds of explosives, which is where the Ranger master breachers really have all their fun.
"Arrows have little effect against the undead," contributed Vandahar the Wizard, from the shadows back at the briefing before we'd decided to conduct our first ambush against this new foe. Before he'd up and disappeared.
Foe. Words like that come more naturally now. I think Vandahar is rubbing off on me. He speaks English as well as we do, but his is rather grandiloquent in its usage. I know. Pot meet kettle. Anyway, his tone from the shadows of our briefing room back at Hawthorn, along with his old and weathered face, with the crooked long nose illuminated by the bright orange of the soft firelight… it was kind and almost helpful despite the hopelessness of his comment. He nursed his pipe to life and seemed to be musing to himself about something other than the briefing and its dire news.
There was a brief interval of silence after the wizard spoke. Always. I'd noticed that. Every time he spoke, there was a pause afterward as the command team digested what he'd just said, then waited for more info about this world from what was undoubtedly our most valuable source—the enigmatic wizard who'd rescued us from the giant Cloodmoor. Generally, there was no further information forthcoming after these bits of wisdom and random observations, and the meeting would simply pick up where it left off. Our endless planning for the destruction of others would resume.
This time the wizard's observation and our silence ended with Captain Knife Hand stepping into the projection of the drone's feed and finishing the meeting with what we were gonna do to the Army of the Dead coming at us.
The castle walls were still breached from the Rangers' attack on the main gate and outer defensive towers two weeks prior. The Forge could crank out all kinds of equipment and modern gear, anything really, but it couldn't just throw up thick stone walls and put them in place to defend us. That had to be done by hand. And it wasn't like the Rangers were modern medieval engineers.
Besides, as has been noted previously… Rangers hate digging. They hate building stuff even more. They pretty much just wanna run around and shoot stuff by surprise.
"We're going out there," began Captain Knife Hand, the drone feed washing across his tired face in gray-green night vision. The Rangers call it Kill TV. "We're going to do what Rangers do best: hit and fade. Destabilize the enemy attack and get the enemy to react to something other than their current objective. Focus them off the FOB and lead them to a series of kill zones to attrit their numbers and make direct engagement more manageable. Then… we're going to lay the hate, Rangers."
Lay the hate is Ranger for shooting stuff. A lot. And really, I mean a lot.
So now we're out here getting ready to do just that, as Sergeant Kang, down there with the assaulting element, triggers the ambush with a string of claymores. I'm there on the small hill with Kurtz and his weapons squad getting ready to lay the hate on the skeletons walking into the Rangers' kill zone. This is our first look at them up close. We knew they were coming, them and other things we'd only seen strange shadowy glimpses of that frankly gave me the willies. Even on Kill TV. And I'd seen some things since getting here to the Ruin. But these, these were like nothing I'd ever seen before. These things moved among the dead coming our way, and they were hard for a sane and rational mind to accept. Just looking at them messed with your head and made you think about things like never ever feeling safe again.
They made the dark a lot darker.
Yet as scary as these dark behemoths and many-tentacled things coming at us were, I'd have been even more afraid if I were them. That is, if they're even capable of fear. Because the Rangers were about to get it on ambush-style, which is their main jam. That defense back on the island we inserted on? Rangers don't like defense. I'm pretty sure Rangers think excessive offense is the best defense for pretty much every situation. But even then, when very much on defense, they managed to ruin about five thousand well-organized enemy ground troops. Hulking trolls. Raging ogres. Slavering infantry orcs. Goblins too, and a bunch of other weirdos along for the ride and now rotting into skeletons picked over by carrion-eating scavengers on that river-bound island. The Rangers fought for their lives and did 'em all. I was there. And there are a lot of corpses attesting to how serious the Rangers play defense when they're forced to.
Now that we're doing offense, the Rangers are practically ecstatic, in their own stoic, dip-spitting way, about ruining the enemy on their home ground with all the kinds of high-explosive fun they've got planned. The master breachers are like mad scientists with the younger, or more junior, Rangers gathered around them, learning the liturgy of boom.
I accept my place among them. The Rangers. I mostly do languages, and some intel, but they consider me one of them. It's a privilege. But now I've come to understand… it's also a burden. It means you gotta live it. Every day. You gotta be worthy. You gotta Ranger straight up.
Tanner says, "Every day you prove you're still here, Talker, is proof every day you're still here."
That pretty much sums up a spot in a Ranger unit.
You earn the scroll you wear on your shoulder every day. And all-night-march long. That has been made clear to me by every NCO at almost every possible opportunity. As if they, the unit NCOs, all mentally agreed that the fact of my being a Ranger needed to be made clear to me beyond any chance of misunderstanding. PT runs around Hawthorn and down into the rocky crag, sweating and slipping on wet stone. Range time with standards well beyond "just hit the target." Night marches out to this operation, carrying all the weapons, ammunition, and explosives we could hump. In the dark. Every halt, "Time to live it, PFC" was what I got told as the NCOs checked our columns, did endless headcounts, and made sure we moved according to patrol skills.
The problem wasn't that I wasn't one of them. The problem was that I didn't feel worthy of the scroll on my shoulder. I'd had a shortened RASP to get ready for this one-way trip into this fantasy apocalyptic future that was the Ruin. RASP was the Ranger indoctrination program to get you ready to serve in a Ranger battalion. But I'd never been part of one of the three battalions where you had to earn your position every day, which is what made you the most Ranger of Rangering.
Tanner says, "That's what they do, Talk. They tell ya the truth about being a Ranger every day. Whether you like it or not. It's up to you to believe it by just paying the rent to be there. Did I mention you gotta do it every day? Every day in the Ranger battalion the rent comes due."
Yeah. You did. Everyone does. Time to live it, PFC.
The claymores detonate and ruin a lot of skeletons down there in the sandy wash we've selected for our first ambush against the advancing column of skeletal infantry. Bone-white skulls disintegrate as metal balls firing away from the exploding claymores detonate FRONT TOWARD ENEMY and devastate their line in a sudden explosive moment. Later we learn that is a kill. Headshot on a skeleton. We've already been told it. Now we learn it. Taking out a skelly skull is gonna get you a kill right there, so it ain't an empty skull riding atop that skeletal warrior. Magic or something inside. Vandahar calls it Na-No. But it's not like they, the bone warriors, have vital organs that can be ruined by outgoing smoking rounds from our MK18 carbines or the two-forties' grazing fire. Or even tungsten mini-balls accelerating through bony frames at twenty-four hundred feet per second. "Get the skull, get the kill," chant the NCOs during marksmanship training at a range we'd set up in FOB Hawthorn after Vandahar and Last of Autumn told us how to kill the various types of undead.
The next fastest way to kill a normal enemy, if anything in the Ruin can be said to be a normal enemy, involves vital organs. Puncture a lung. Ruin the heart. Destroy the kidneys or slice the intestines and let the guts spill out. We saw that against the orcs serving King Triton when they tried to take us out back at Ranger Alamo after we first got here. They were taught the error of their ways. They learned not to mess with Rangers no matter who's pushing you to do so. Now they're all dead. That island smelled like a bag of death after three days of fighting the Rangers.
But skeletons? Nope. They ain't got hearts or blood. No pump and pipes to take out, as Chief Rapp likes to say. So, it's headshots every time.
As Tanner remarked, "Everything's harder then, Sarn't, ain't it? We gotta shoot 'em in the head while they're just wobbling back and forth advancing and trying to stab us with them and about twenty thousand of their undead buddies. Just wanna get that straight for the record and all. It's harder this time?"
Kurtz smoked Tanner after range training like a cheap cigar because counseling statements and Article 15s take time, even if we'd brought along the paperwork. Time just isn't a thing we have here in the Ruin.
Weapons. High-ex. Belts and magazines full of ammo. Those we got.
Time… no got.
Later, after Tanner had gotten smoked for pointing out we were facing leveled-up enemies that were harder to kill than the last bunch, he told me, "See, Talk, just cuz you gotta live the scroll life, don't mean you can't complain about it. Every so often—just a little. We're all thinking it. So, one of us has to mouth off, and the NCOs get to lock it down for everyone to see. Blows off steam and tells it like it is. They know. We know. Then we let it go and straight-up Ranger. It's a little game we all play. The good NCOs want you to do it. They know it needs to happen. Especially when the odds get steep. And to me… things are gettin' real steep right about now."
I thought about this as I stood over his near-lifeless body once Kurtz had finished PT'ing Tanner near to death.
"So that's your job around here, is it?" I asked Tanner as he sat there gasping and trying to get fluid into his system without throwing up after Kurtz had white line drilled him into oblivion. "You tell the truth and call fire on yourself for everyone to release some pressure?"
He smiled and lit a cigarette. The NCOs hate smokes. Tanner kept finding them, nonetheless. Word was Penderly was using the Forge to crank 'em out on the sly between batches of ammunition and explosives. It really can make almost anything.
"Yeah, pretty much, Talk. That's what I see as my mission here. Someone's gotta do it, man. Might as well be me."
What we see in the aftermath of the suddenly thunderous explosion of eight claymores detonating all at once, distributed for maximum violence and lethality, is that we took down about an eighth of the force moving straight through our kill zone. Which is just a small fraction of the enemy moving around out there in the dark and headed straight at the FOB.
"Shoulda killed 'em all," mutters Kurtz bitterly to no one in the defining aftermath as too many skeletons keep moving through the destruction.
What I'm looking at is close to another three hundred skeletons still moving straight toward us, charging now as though they sense exactly where we're at. Weapons held high to crush. Spears thrust forward to stab and gouge. And they're coming for us now. All this despite their ruined skeletal warrior brethren crawling forward with what bony appendages still work. Daggers between their chattering teeth, or spears in one of their remaining hands that really look like claws. Rustling through the tall grass like weird bone serpents slithering through the night to bite and kill. Dragging flopping spines and disintegrating rib cages. Hollow dark eyes glaring murder in our night vision.
They're moving fast. Really fast in fact. And they look ready to get it on.
This ain't like zombies on TV shows, which are really just low-paid background actors weaving back and forth so the stars can play super gun hero with endless rounds, no reloads, and headshots in the most difficult of situations. These bone warriors we're facing in the reality of now are streaking straight toward us, roaring, I kid you not, like the waves of an angry sea of undeath. A ragged hissed and hushed roar that grows to a hell chorus of unseen dark and angry ocean as they charge.
The captain, who's running the ambush down next to Kang and off to our right where Hardt's scouts are ready to light up any stragglers with the crossfire from our two-forty, orders us to unload.
Specialist Rico opens with the two-forty, traversing the gun from left to right, sweeping the dead and curing them of unlife in high-dose 7.62. A huge field of fire, the two-forty thunders in short savage bursts and ruins the approaching war skelly line. Large rounds moving at twenty-four hundred feet per second smash bone-white skulls, explode grungy tibias, and shatter femurs long devoid of flesh and bleached white by the relentless sun of forgotten battlefields that were never cleared. Or possibly from the feasting of maggots and worms in shallow graves or corpse piles such fields are often adorned with in this ruined wasteland of a world.
Some might have been burned in funeral pyres even. That would seem to be a thing here. Feels like that kinda place.
Our ambush had a reason. Their main body was still behind this force, but like I said, we had yet to actually see what we were facing. So, the decision was made to hit them and see what combat with them turned into, exactly. Other than the drone freaking out and not being able to track the large kinetic disturbances slowly making their way toward the FOB, we had no real intel. And that was what we needed right now.
The scouts had observed and identified the terrain. Now we needed to bleed the enemy. And develop more intel along the way.
That's what we were doing now. Developing intel, as they say.
Captain Knife Hand and Chief Rapp made the call to take a small strike force out and hit the lead element to see what we did to them with our weapons. Watch how they reacted. Attempt to discern some type of command-and-control structure and how they communicated. Chief Rapp said, "Beat the grass and startle the snakes." The Ranger NCOs who lived and breathed doctrine and creed like it was a bodily function chanted, "A light strike raid to test enemy defenses is a critical component of long-range reconnaissance and of Ranger methodology."
The Green Beret said it was in the Senryaku. Or the Thirty-Six Strategies. Tomato, tomahto.
I had no idea. I did languages. And I was betting the skeletons didn't talk in any kind of language. Which made me, once again, useless. Good thing I had coffee. I had two pounds of it in my ruck besides all the extra gear the NCOs had us carrying. 'Cause I'm a junkie and my addiction is real, man.
"So that's a no-go on the claymores, Sarn't," shouted Tanner as he started engaging the first skellies with his carbine to make the push up onto our hill, advancing despite voluminous outgoing fire from the two-forty. Sergeant Kurtz directed fire as Soprano managed the belts. He told Brumm, Tanner, and me to watch security. Meaning we're to keep the two-forty from getting flanked, as it was the anchor of the ambush.
I was here because I was basically intel for the sergeant major. And also, because I'd been able to locate the captain in were-tiger form after the battle to take Fortress Hawthorn from the scumbag Navy SEAL-turned-vampire Chief McCluskey. Or the FOB, as it was now known. I'd been able to communicate with the captain via what the wizard Vandahar told me was called psionics. More about that later. Apparently, the remnants of the nano-plague that caused us to go forward in time to try and save the world in the first place were still messing with things ten thousand years later. Changing things, and people. Us. Me and Captain Knife Hand. And others probably. Doing its revealing work, as Autumn put it. Officially Last of Autumn. But whenever we had the chance to steal a few awkward moments together, it was just Autumn. She insisted.
"When it is… just you and I… call me Autumn." And then she smiled like she had in the vision I'd had of the two of us on a boat, a small old sailing boat, heading south toward the cities of men. A good vision. Even though I didn't know how to sail, I'm a learner. There's no denying that if you've read enough of this account.
"Was that—what I saw—was that psionics?" I asked her. "Can I see the future?"
She shook her head. Our time was always short. As the Shadow Elf queen, she was subject to many demands made by the Shadow Elves that had now begun to appear from their long and distant wanderings and hidings. Now that at least the Tumna Haudh was back in their possession. "Maybe magic," she said haltingly. "Or just… just… hope, Talker. Which is its own kind of magic. That's what Old Vandahar Halbard says. He says to me, Last of Autumn, he asks me whether I'd have magic or hope. And I'll always take hope. That is how the old man says things really are."
We were speaking in Tolkien now. I was better at it. Getting better all the time. They, the Shadow Elves, called it High Speech. The language of the lost Dragon Elves. An imaginary language made up by an old World War One veteran turned linguistics scholar at Oxford who decided to make up the greatest fantasy books ever written because he'd invented a language and needed a story for it. Needed something to explain it all, or something. That made sense to me. The language part.
The story… maybe when I was old and retired. I thought a lot about time. And how much we had. One time I told Tanner what was on my mind regarding Autumn and me. He didn't respond directly, but he had an opinion about time. Which of course… is Tanner. He has something for everything.
"Time's weird, Talk," Tanner said to me one time when we had guard at the front gate of FOB Hawthorn. It was late at night and we were just talking to keep warm because it was the last of the very cold winter nights of the Ruin according to the Shadow Elves. "Real weird. Kelsey, my second…"—second stripper wife, I remind myself as I listen— "… I loved her something crazy, man. I did, Talk. But when she sold all my TA-50 gear at the pawn shop off base for meth, I hated her guts a whole bunch. First sergeant was ready to take me on a run out in the woods and I was pretty sure I wasn't never comin' back from that one. Kurtz and Brumm went into the pawn shop and bought it all back even though the guy didn't want to sell it. But they can be… convincing that way. They were worse on me than the first sergeant afterward. Worse probably than the captain at the gate from what I've heard. How'd you find him, Talk? After he became the man-tiger-murder-thing?"
That hadn't been pleasant.
After the captain went on an orc-killing spree during our attack to take the fortress, killing the enemy, thankfully he went off into the deep forests below as we cleared out the last of the fortress's defenders. We could hear him roaring and thrashing about down there like some savage and wild animal none of us was too keen to meet. The sergeant major took me along, and we went and found him with Vandahar's help.
"Don't get too close to him in his current form," the old wizard murmured as we tracked the Captain, wondering why we'd even attempt such a thing. Tracking an angry wild animal. "Everyone's an enemy to a beast," whispered the wizard once more as we closed on the dangerous thing our Ground Force Commander had become in order to save his company.
My mind could hear his thoughts in the deep gully we found him down in. They were like the thoughts of a savage hungry animal. But he was still in there, even if he didn't know it. This was psionics, and I think Vandahar was helping me in some way to do it as we got close. Even though we couldn't see him, I was able to get through to the captain from a short distance away and tell him we were friends. The animal he was roared and growled, and the hairs on the back of my neck stood straight up. I can honestly tell you I never felt so exposed and vulnerable in my entire life.
A tiger is a killer. That might be one of the truest things I've ever said or written down. You get in the presence of one and you'll know it for the truth it is. Its energy is otherworldly compared to human experience. He could have charged us and ripped us to shreds despite my rifle, the sergeant major's passion for homicide, and whatever mighty magic Vandahar could whip up out of his old, gnarled staff in the seconds we had. He could have. But I heard him, the captain, down in there. The captain was still conscious on some level, and he was yelling for me, for all of us, to stay back from him. A warning—or a threat. At the time I wasn't too sure. And so, we waited. Tense moments down in that too-close gully with a man-tiger deciding which one he was first. Trusting that the captain would come out on top. Trusting, or hoping.
In time, he calmed down and appeared as a man, the were-tiger form hidden. And we returned to the FOB. Simple as that.
And Vandahar explained that our captain was a man who, under extreme stress… could become a tiger. A vicious killer. But worse.
He was still our commander. The Rangers wouldn't have had it any other way. Chief Rapp examined him the morning he came back, and even if Chief Rapp had medically removed him from command, the Rangers would have ignored Rapp and followed their commander. Captain Knife Hand had taken them through the worst and weirdest battle any of them had ever faced. He'd continue to lead, taking them all the way now, or they wouldn't go. I'd heard that enough times in the hushed silence of the morning as we watched the small tower near the front gate where Chief Rapp had set up an aid station. Waiting to find out the news…
Vandahar later explained to the command team what caused the change into animal form and how it could be mitigated. The short answer was stress. Extreme stress would cause the captain to change into that other more terrible form. And that could be dangerous for everyone. But the wizard suspected that because the captain was a man of great discipline, extremely so, he might learn to control it. "And even mayhaps use it for good," mused the wizard darkly. As ever, he was nursing his long-stemmed pipe and filling the low ceilings of the outer defensive structures where we met and planned within the FOB, with fragrant smoke rings.
The captain said nothing in the silence that followed. It was the sergeant major who quietly reassured everyone that the man we knew as Ranger Captain Harwood, ground force commander of the detachment and Forward Operating Base Hawthorn, had faced intense situations few of us ever would. He had faith in our commander and so we should also.
"He's the guy you want when you gotta run toward the gunfire, PFC," the sergeant major quietly told me during one of our regular coffee debriefs.
So, we did. We had faith in our captain. That was that. Our leader could become a were-tiger capable of ruthless, rampaging murder. We hoped he would use that on our behalf. A point here, and it was just an observation I kept to myself and thought about later, but the Rangers seemed to have a much easier time than normal people would in accepting that their captain was a supernatural killer. In civilian life, academia, and in the jobs I'd taken in order to pay for more academia, I'd been part of the group collective. I'd watched as said group reacted, with silent outrage or whispering horror, to anything they found nonconformist. A temper tantrum by the boss or dean. Bad behavior by a co-worker. Civilians overreacted to these things, making drama where there was actually none. I suspected this happened just to fill up the silence of boring workdays. Or to create an opportunity for personal advancement. Or to keep the bubble-think zeitgeist clean of foreign independent thought contamination. But here the Rangers were easily accepting one of their own as some kind of supernatural killer. Why? Because they were killers too. They understood him on some level they could deal with. Rangers are selected for aggressiveness. They are predators. Knife Hand was still one of them. Just supernaturally so.
If you asked them, I honestly think they would all tell you they wanted some of whatever the captain had taken that had caused such a "sweet" transformation.
"That'd be lit, Talk," I heard Specialist Rico say one time while doing maintenance on the two-forty. "Go Wolverine and all. All of us get that stuff and we'd do just fine here. We don't need firearms after that. Just cut 'em up good and stuff. Problem'll be finding were-tiger chicks, know what I mean?"
Everyone knew what Rico meant.
The captain had their trust. But the sergeant major wanted to make sure we had options. Just in case.
"You're going out there on this ambush, Talker," said the sergeant major as we geared up for the night marches to intercept the advancing force, carrying as much ammo as we could do. "You talk him down if he starts changing. Or warn him to get clear if he can't control it. He'll do it. He'll listen. He'll do anything for those boys. Even if it means throwin' himself off a rocky cliff to avoid killing 'em when he goes berserk and all."
Now, as the ambush went sideways and the enemy charged forward, we would find out if it would come to that. If Captain Knife Hand would become Captain Were-Tiger. Some of the Rangers probably hoped he would—get out there and lay the hate. But I would try to help him avoid that outcome. We needed him as a commander more than we needed him as the vicious beast that slumbered uneasily within.
Our mortars came in next. These were small mortars. Sixty-millimeter. Portable and not the big heavy eighty-ones that were hard to hump and needed a whole team. The captain had already plotted the target reference points, and the teams dropped rounds all over his initial plot for the field that was our kill zone.
Adjustments to fire would come next.
Things were happening fast, though it felt like I was watching all of it in slow-mo. The running hush-roaring skeletons waving axes, swords, and spears had reached the hill in various states of dismemberment and were continuing their charge into the face of overwhelming fire. Their unhinged jaws wide; glowing eye sockets like the fires of some hell they watched us from in damnation.
Barrel change on the two-forty as it went forbidden popsicle after three hundred rounds. Outgoing fire from the scouts, down there and close to the skeletons, came in next. Hardt's shooters started nailing the skeletons in the sandy wash with crossfire from a small rise, a bank of dirt, sand, and deadfall off to the left.
"Headshots. Headshots. Headshots. Anything else is a no-go," called out the captain over the net. Rounds that hit the skeletons anywhere else didn't do much but maybe slow them down. Hit and ruined, they still crawled fast like muttering rattling sidewinders moving through the dirt with nothing but severely bad intentions. Hissing raspy murder and coming for us with ancient rusty weapons.
On the far side of the ambush was the dark forest the skeletons had been moving through for the past week. Last of Autumn had informed us this was the Charwood itself. The wild and dark forest that stretched across the vast expanses of the Savage Lands, or what we would have once called Western Europe, mainly southern France.
It was from this forest that a sudden rain of arrows whistled through the night and slammed into the small gully the Rangers in Captain Knife Hand's force were using for cover to conduct the 'L' of our ambush. A moment later another storm front of arrows raced across the face of the moon, again falling down among the Rangers.
"Gun up!" shouted Rico, immediately re-engaging at extremely close quarters. A line of skeletons with axes and swords crested the hill and the gunner ran a stitch of bright fire straight across their rotten armored rank, disintegrating many of them at close range, exploding skulls and vaporizing weathered bone and weapons at just the last second. Rico swearing and shouting, "Feed me, Soprano!"
Soprano echoed with an unneeded "Si, Specialist" as he fed the machine gunner a new belt of ammo, his movements precise like he was running a sewing machine of death. With his other assault-gloved hand he swept and organized the spent brass and linkage as an arrow almost pinned his hand to the dirt, assault glove or no.
Kurtz dropped grenade rounds with his launcher close in, trying to take out the last of the front rank surging the hill's base now.
Out there along the back of the wash, the first mortars in full effect began to explode among the main body of our attackers, throwing skeletal troopers in every direction, or just disappearing them on the spot as sand and loose bone dirt-fountained up into the sweaty night.
Behind me and to the right I could see Brumm, stalking our flanks with his two-four-nine squad automatic weapon, strapped and ready to deal with any surprises we hadn't counted on. That was smart. This whole thing was nothing but the unknown. This was really a recon by force. And we were in it for sure. Not deep but standing there and being utterly useless let me see it for what it was. We'd just brushed up against a leviathan. Swimming in dark and unknown waters. We'd touched its skin in this first attack. That was what it felt like now. Whether that was the psionics talking, or just me, I don't know. But I had the feeling we had just ticked off something very old, very ancient even, and very, very angry.
Below, at least a hundred and fifty skeletons that had survived the claymores, the two-forty fire, and the crossfire from the scouts, suddenly turned, shrieked like unholy sandpaper relentlessly grinding, and charged our left flank. Right where Knife Hand and the assaulters were directing fire from down close. And at the same moment as this sudden charge of the armored undead warriors went off, a new player entered the field from out of the trees at the far end of the bend. I saw the shadow rider out there as all hell broke loose. Entering the battlefield atop a dark horse at a lazy walk. A cold shiver was sent across my skin and arms as I first caught sight of him.
Brumm opened up with the SAW, hosing unseen foes we hadn't counted on coming at us from another direction. We were about to get pushed on the left flank.
The shadow figure out there in the middle of the battle rode a dust-gray horse with red blazing eyes. Those eyes glowed with hate. Brighter than the dull dots in the foot troops' bony skulls and much more brightly than the nothing-blackness orbs in the eye sockets of the rider atop. Red because they spectrum-hued impossibly in night vision and showed as red. As though I'd suddenly switched to thermal overlay. That was impossible. But it was there all the same as I studied the light-absorbing figure. The rider. The Dark Rider as I would come to call him. He carried a long sword and wore a ragged cloak that looked more like a grave shroud than anything else.
"Jackpot in play," called out Kurtz over the net. Jackpot was Ranger-speak for any kind of high-value target. Kurtz had seen the rider while directing the two-forty fire, and though we didn't then know what he, or it, was, the thing had to at least be some kind of singular unit if not an enemy commander.
There was no return comm from the captain and Sergeant Hardt. I chanced a look over the side of the hill and saw that the Rangers down there were burning ammo danger close in response to the sudden counterattack by the enemy through our assaulter element. Some were even fighting hand-to-hand swinging tomahawks in wide killing arcs, while others were firing point-blank into the enemy charge to push it back. It was chaos. It should have been over. For us.
But those were Rangers down there. They didn't care if they shot their enemies down bunches of times. Keep moving and they'd keep killing. They didn't flinch even when suddenly the enemy were in and all over, and even among them.
They worked their weapons, falling back by meters in fire teams as they pulled off the bank and gave ground using the thick trees to cover from the swarms of indirect arrow fire. Bleeding the enemy advance as the skeleton warriors, swinging axes and swords, came rampaging through the tall still grass beyond the gully on that side. Surging forward. The Rangers rocked them with outgoing 5.56 and solid shooting. Glowing white skulls exploded in night vision. The skeletons fell before they could reach the tall stands of trees within the dark forest.
Kurtz took over comm with the mortars and adjusted fire on the war chief on the nightmare black horse out there. An HVT, yes. But more than that, maybe these things were hive-minded and taking out commanders might stall their assault. That theory had been discussed. Vandahar could neither confirm nor deny leader assassination would have this effect.
"The ways of necromancy are most foul and ancient," the wizard claimed. "They are the ways of the Saur. And along that way… lies only death, Rangers."
Thirty seconds later, as the two-forty tried to suppress the unseen archers out in the trees at the far end of the ambush, the ghostly smoking mortar rounds, seen like dying angels falling toward earth in our NVGs, rained down on the mounted figure out there in the dry riverbed bend.
The Dark Rider.
The first mortar exploded nearby and sent sand and rock in every direction. The horse beneath the shadow rider shrieked in angry terror. Even over the noise of the battle I heard its whinnying panic, high and clear, and it made my blood run cold. A second mortar round bracketed the first, ruining a stunted tree nearby. Splintered wood fragmented toward the forest dark, but the Dark Rider merely waited calmly for destruction to rain down on him. Or it.
And then the creature whom we'd later all come to call the Dark Rider raised one bony hand. Suddenly the falling rounds Kurtz was adjusting exploded a good twenty feet over its head, mounted and all, creating an umbrella of destruction. An invisible shield that defied our artillery to harm the being.
When the smoke and dust cleared, the Dark Rider was unhurt, as was its horse, though the near-skeletal mount reared and whinnied in terrible fear, its hateful eyes still glowing in the dark gray-green of night vision. Even through the explosion of falling artillery, the horse's terror was truly a horrible thing to listen to. It was suffering and enraged. And it seemed to echo across the canyon that separates life and death and pierce right into your soul as you heard it.
It was then, as I watched, listening unwillingly to the nightmare animal's soul-piercing cries, that the rider turned its head. To face me. And in that moment, I could feel its cold nightmare gaze looking straight at me across all the destruction of the battlefield. Even though it had only deep blank sockets where its eyes should have been. Even though an entire battle lay between us.
"Sarn't," said Brumm, who'd come up from the flanks and was breathing heavily. "We got problems on the left."
We hope you are enjoying the book so far. To continue reading...
Copyright © 2023 All Rights Reserved
Also in this series
Also by this author