Hide
Available in:
eBook
Paperback
Audiobook
Hardcover
Book info
Sample
Audiobook
Media
Author updates
Lists
Synopsis
NATIONAL BESTSELLER • A high-stakes hide-and-seek competition turns deadly in this dark supernatural thriller from New York Times bestselling author Kiersten White.
 
"The suspenseful plot combines elements of Thomas Tryon's classic Harvest Home, Netflix's Squid Game, and the social commentary of Jordan Peele's film oeuvre and mixes these with a revelatory pacing reminiscent of Spielberg's Jaws."—Booklist

The challenge: Spend a week hiding in an abandoned amusement park and don't get caught.

The prize: enough money to change everything.

Even though everyone is desperate to win—to seize a dream future or escape a haunting past—Mack is sure she can beat her competitors. All she has to do is hide, and she's an expert at that.

It's the reason she's alive and her family isn't.

But as the people around her begin disappearing one by one, Mack realizes that this competition is even more sinister than she imagined, and that together might be the only way to survive.

Fourteen competitors. Seven days. Everywhere to hide but nowhere to run.

Come out, come out, wherever you are.
Release date: May 24, 2022
Publisher: Del Rey
Print pages: 256
* BingeBooks earns revenue from qualifying purchases as an Amazon Associate as well as from other retail partners.
Listen to a sample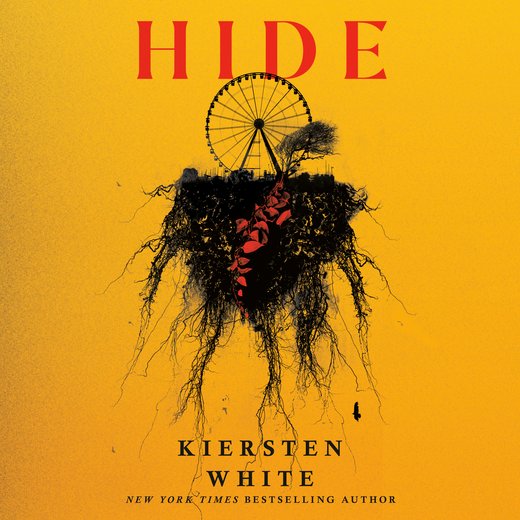 08:09:28
224.07 MB
9780593606186
May 24, 2022
Penguin Random House
Hide
Kiersten White
he Amazement Park opened in 1953.
get lost in the fun! posters advertised, and it was true: Crowds surged through the gates in the morning and didn't stumble out again until the sun had set, and spotlights at the exit guided them free. The maps were useless, the You Are Here guides impossible to find. It was a park designed to swallow. Trees loomed over lush grounds. Signature topiary lined every walled and wandering path, adding to the sense of wonder. Roller coasters, swings, carousels, games, houses of love and fun and terror—though the house at the very center was always closed for refurbishment.
The park was open from mid-May until early September. whites only was on signs in the early years, heavily implied when such a thing became harder to officially declare. And, for one week every seven years, it was free. The gates would swing wide, and the summer migrant workers and distant relatives of the wealthy townsfolk, normally too poor to enjoy something designed purely for escape, would wander in, wide-eyed. There were no ticket sales, no attendance numbers, just a joyfully packed park.
In 1974, during the free week, a prominent businessman from upstate decided to visit. He hadn't been invited, but he was considering investing since a cousin-of-a-cousin owned the park. He wanted to see the attractions for himself first, though. He brought along his wife and two children and made it a holiday.
Their little girl, five, was never seen again.
One of the migrant workers was arrested for her murder, but the negative publicity left a stain that didn't wash out. So the Amazement Park closed its gates.
Eventually, the rumors died. The plants grew. Nature slowly co-opted the buildings, the rides, the roller coasters. What didn't crumble rusted, and what didn't rust leaned, and what didn't lean sagged under the weight of ivy and neglect.
Somewhere, very close to the center—the house that was always closed, where few ever even got, owing to the odd layout of the park—a shoe had caught on the low branches of a topiary. Unchecked, the verdant beast slowly grew higher and higher until the shoe was eye level.
It was patent leather, dulled and cracked with weather and time. The perfect size for a five-year-old foot.
It takes money to make money, her dad used to say.
He also once said Come out, come out, wherever you are,dragging the knife along the wall as music to accompany the dying gasps of her sister. Mack might have imagined the gasps, though. Who could say.
She couldn't, and even if she could, she wouldn't.
She's not saying anything right now, either, sitting across from the manager. The meeting was mandatory, a "shelter requirement," though she's been here several months now and this is the first one.
"Come on, Mackenzie. Help me help you." The woman's smile is painted on like her cheekbones and eyebrows, and just as artfully. Her expression doesn't shift at all in the face of Mack's silence. It's impressive. Does she do stamina reps in the quiet dark of her bedroom, lifting the corners of her lips over and over, careful not to disrupt her eyes?
The manager clasps her hands together, fingernails painted dark red. "I'll be honest with you. Things are going to change around here. I believe that we can help only those willing to help themselves. These shelters have stagnated—no hope, no progress. How can we live in a society without progress?"
The voice is animated, but the eyes remain untouched by the sentiments or the smile. Expressionless. Like they're hidden behind something. Mack feels an odd affinity for this woman, alongside an instinctive wariness. But she disagrees. The point of a shelter isn't progress. It's shelter.
"I've looked at your file." The woman gestures to a blank manila folder on the desk. Mack suspects it's empty. She hopes it is. "It's bad luck you're here. I understand. No social safety net to fall back on. A few months without a job, without rent, and it's hard to dig yourself out. You need to move on with your life. Contribute to humanity. All you need is a little good luck first."
"Donation bins could use tampons more than luck." Mack's voice is soft and dry with disuse.
The woman cracks, something triumphant behind her eyes. Mack shouldn't have spoken. The woman holds up an envelope. "It just so happens, some luck has come in the mail. Whether it's good is really up to you. Right now, it's an opportunity. And I think you're perfect for it."
Mack has never been perfect for anything in her life. Perfectfeels like a foreign word, stiff and uncomfortable. But maybe it's a job. A little money to get presentable and she'll have an actual chance. As long as they don't pry. As long as they don't look too closely. She could make it work.
She takes the sheet of paper the woman slides across the desk. It's thick. It feels expensive. Mack is suddenly aware of her hands—her bitten fingernails, her shiny burned palms, her ragged cuticles. If she sets down the paper, will she leave a smudge? It's hard to be embarrassed at this point in her life, but the idea wriggles beneath her skin.
She's so worried about leaving a fingerprint—one that will somehow count against her in this imaginary job interview—that it takes her several seconds to process what she's reading.
"Is this a joke?" she whispers.
The woman's smile doesn't budge. "I know it sounds like one. But I assure you it's legitimate."
"Who told you?"
Finally, the woman's cheeks relax, and her eyebrows draw close. "What do you mean? Who told me what? That it's legitimate?"
About me, Mack thinks. Who told you about me? But the woman's confusion can't be feigned. Can it? If she can paint on a face, can she paint on emotions, too? Mack drops the letter. There are no fingerprints. But the words have left smudges across her mind.
"Why are you giving this to me?" Mack knows how lost she sounds, how scared, but she can't help it. "Why me?"
The woman laughs, a single dismissive burst. "I know it seems silly. The Olly Olly Oxen Free Hide-and-Seek Tournament. It's a children's game, for god's sake. But it's a chance to win fifty thousand dollars, Mackenzie. You could use that to actually move up in the world. You're young. You're intelligent. You're not a thief, you're not an addict. You shouldn't be here."
No one should be here. They all still are.
The woman leans forward intently. "It's run by an athletic company, Ox Extreme Sports. I can put in a good word and get you registered. There's no guarantee you'd win, but—I think you have a shot. It's more about endurance than anything else. Besides, you strike me as someone who's good at hiding."
Mack's chair scrapes back, jarring them both. But Mack can't be in this room, can't think, not while she's being looked at. Not while she's being seen. The woman doesn't know about Mack's history, and still, somehow she knows.
"Can I think about it," Mack states. It's not a question.
"Of course. But let me know by tomorrow. If you don't want the spot, I'm sure someone else will. It's a lot of money, Mackenzie. For a silly game!" The woman laughs again. "I'd enter it myself, but I can't go more than twenty minutes without needing to pee." She waits for Mack to laugh, too.
She's still waiting as Mack slides out through the door, not even a whisper in her wake.
Everything about the shelter is designed to remind them that nothing is theirs. There are no lockers. No alcoves. No closets. No bedrooms. In a featureless box of a space, the ceiling looming so far overhead a bird lives in the beams, there are cots. Each has the same stiff white sheets and scratchy blankets. The area beneath the cots is to be kept clear at all times. They are not allowed to use the same cot more than two nights in a row. Anything not cleared by nine a.m. will be confiscated and thrown out, so they can't even leave their meager possessions on the cot that is not theirs.
When the cots are all filled, Mack is as good as hidden. She's small. She's quiet. But now she feels as though a spotlight has been trained on her. Everyone else has already cleared out for the day. Some will go to whatever work they've found. Several will sit outside on the sidewalk until they're allowed back in at four p.m. The rest, who knows. Mack doesn't ask. Mack doesn't tell. Because she goes somewhere she doesn't want any of them to know about, either.
Hidden behind a half wall, choked with the scent of burning dust, an old water heater sizzles and rages. She has permanent shiny burns on her hands from where she scales the water heater, wedges herself between walls, and shimmies up.
The bird in the beams she has named Bert. It's been building a nest, finding scraps of trash, even hair. But what is it building it for? How will it find a mate, have eggs? Won't it live forever alone, safe and protected in the dusty dark up there? Mack lies on her stomach all day, three beams over from Bert, just existing. Patient and empty like the nest. And then when it's four p.m., she shimmies down and joins the weary throng claiming a cot that will never be their own.
She'll be able to think up in her spot by the bird, safe and hidden. But she has until tomorrow to decide. Maybe she won't think until then.
She stops midstride.
All the cots are stripped. Including the one she used last night. The one she left her pack on because she wasn't allowed to bring anything into her mandatory meeting. For security reasons.
Her pack is gone, which means she now owns only what she's wearing. Which means she can't even wash her clothes without standing over the sink, naked. And what public restroom will let her do that? She'll be noticed. She'll be seen.
She knows better than to ask the women who run the shelter to return her bag. They won't, and she'll be labeled trouble. Her time here is over. She can't sink beneath what little security she already had. She's seen what it looks like, what it costs.
Olly olly oxen free. A gradual corruption of the phrase "All ye outs come free." But nothing is ever free.
In the office, the blond woman's smile has not dropped a single millimeter, as though she was waiting. As though she knew.
"Okay," Mack whispers. "I'll do it." Come out, come out, wherever you are, he sings in her head.
She won't. She'll win.
And after all, her life doesn't depend on it this time.
Fourteen competitors. Seven days. The list is set. Arrangements have been made for delivery inside the park—food, gas for the generator, blankets and cots and whatever else is needed. Supplies have been gathered for outside the park. Cellphone jammers. Movies and books for the interminable wait. Power washers for the inevitable ending.
The list is distributed, along with photos. Everyone is expected to memorize it. Few do. The competitors are tacked onto the wall at Ray's diner one by one. No one is supposed to bet on the outcome—it's strictly against the rules—but it doesn't stop them from ranking, making predictions, picking a favorite. The competitors can be divided into two groups.
Those who are best described as aspiring:
A social media fitness model
A graffiti artist
A YouTube prank-show host
An app developer-slash-house sitter
A jewelry designer-slash-dog walker
A zealous CrossFit instructor
An actress with severe food allergies
Those who are best described as stalled:
A writer with severe people allergies
A boy equal parts banished and lost
The kindest gas station attendant in Pocatello, Idaho
A veteran
A solar panel salesman
An eternal intern
And Mack, who is nobody, if she has her way
---
Seventeen hours on a bus to another bus to a third bus to a glorified minivan, and finally Mack is delivered to the middle of the middle of nowhere. She often wonders which is more anonymous: a big city with so many people to notice that no one notices anyone, or the empty countryside where no one lives. Stepping off the van into a swirl of dust, greeted by no one, she suspects the former. She can see for what feels like miles in either direction down the road. Which means she can be seen, as well.
If she doesn't win, will they give her a bus ticket back? Or will she be stuck here? She doesn't even know where here is, unsure what state she's in. It's green, wildly so, with huge trees and droning insects. It seems flat, but she can't see beyond the road or the trees.
She sits on the side of the road, clutching the Ox Extreme Sports duffel bag she was given. It contains seven shirts and four pairs of pants. They're all a weary shade of black. New but already faded, somehow. They feel familiar.
There's also a toiletries kit, which feels like a tender mercy. There were several granola bars and a bottle of water, but those disappeared a few hours into the seventeen she spent getting here. Hungry is hungry. No point in stretching out what she has when she can have the luxury of a full stomach once.
After an hour, her unease sharpens, pulling ever tighter. No one has come. The trees loom at her back. The road stretches, empty.
Has the game already begun? Has she already lost?
It could be worse. She's endless miles from where she knows, but she has clothes. Toothpaste, a toothbrush, deodorant, a comb. A sturdy bag. She's technically ahead of where she was before.
The protest of a much-abused automobile suspension greets her long before another van pulls up. She's resigned. It's here either to pick her up—found!—or to deliver her to the actual game.
It spews out three people and then unceremoniously continues along the infinite road. Two women and a man. A boy, really, Mack gets the sense. He can't be much younger than she is, and he's far taller, but something—the boyish part in his hair, the round face, the long-sleeved white button-up worn tucked into ill-fitting, cheap navy slacks—suggests he was dressed by someone else.
One of the women is put together with an artist's attention to detail. She is as much makeup and hair product as she is person, and Mack is dazzled by the visual perfection. It's almost hard to look at her. The other woman wears a black tank top over baggy cargo pants. She limps slightly as she shifts off the road and next to Mack.
The limping woman, her buzzed head emphasizing her large dark eyes, regards Mack without shame. The beautiful woman doesn't regard Mack at all. She scowls at her phone, holding it ever higher as though reception could be found that way. And the boy looks everywhere but at the women he is with. A fine sheen of sweat is on his forehead, wet spots at his armpits. He looks ready to flee.
Someone here is more terrified than Mack. It's comforting.
"Fucking kill me, there's really no reception," the beautiful woman finally says, still clutching her phone as some sort of talisman. "Lighting is too harsh, anyway." For the first time, she looks at Mack, who has shifted farther back from the road, almost to the tree line. "Did they tell you anything?"
Mack shakes her head. When the van picked her up at the bus station, the driver had only said, "Oxen Free?" He even asked her what it was, but she mumbled an answer and pretended to fall asleep.
"Ava," the woman with the buzzed head says.
"What?" the beautiful woman snaps.
"Ava."
The beautiful woman throws both hands in the air. "What?"
The buzzed woman lifts an eyebrow, patience wearing thin. "We didn't talk in the van, so I'm introducing myself. I'm Ava.And you are…"
Finally, the beautiful woman relaxes, snorting a laugh. "God, sorry, I'm such a bitch when I'm hungry. I'm Ava, too. That's why I was confused."
"May the best Ava win, Ava Two." Buzzed Ava's wry smile shows dimples deep enough to get lost in.
"I intend to." Beautiful Ava's tone is more playful than vicious. She retreats into the trees, snapping several selfies. Buzzed Ava turns to Mack expectantly.
"Mack." Mack offers her name as a complete sentence, hoping it will be accepted as such.
Buzzed Ava sits on the ground, stretching one leg easily in front of herself and manually positioning the other. "Good to meet you, Mack. I hope I beat you, and it's not personal."
Mack doesn't answer. It's a competition. Of course they want to win.
Buzzed Ava nods toward the boy, who has crossed the road and is standing on the other side, staring resolutely away from them. His shoulders are turned inward, his posture less anticipation than defeat. Already.
"That's LeGrand. He got picked up the same time as me, before Ava Two. When I took off my jacket, he twitched so hard looking away, I thought he'd break his neck. Poor kid is terrified of women. Might give him an edge. He'll be so desperate to avoid seeing us, he'll never come out."
"I think he's gay." Beautiful Ava sits on the ground next to buzzed Ava. Beautiful Ava is slender and bony. Buzzed Ava is thicker, strong looking. Mack admires and envies the line of her shoulders, the heft of her core. Her looks challenge in a different way than beautiful Ava's, but both draw attention.
Mack's own hair is cut short enough that she could be a guy, or she could be a girl. She wears oversize shirts and baggy pants, hands shoved in pockets to throw her shoulders forward and hide her breasts. Ava and Ava hide nothing.
Mack thinks she'll beat both of them.
"Not gay," buzzed Ava says, pulling up a long strand of grass and holding it to her mouth. She blows on it, but no sound comes out. "If he's that scared of female skin, he's gotta be interested." She leans back, squinting toward Mack. "What's your story?" There's something equal parts playful and appraising in the way a single bold eyebrow raises.
None of these people are Mack's friends. No one is her friend. No one will be. She can play nice and hope a mumbled answer satisfies buzzed Ava, but she doesn't think it will. So she goes for the other tactic.
"Fuck off," Mack answers.
Beautiful Ava scowls, offended by proxy. Buzzed Ava's look shifts, but not in a threatened or angry way. "Cool." She turns back to the road.
Mack retreats further into the shade, but in spite of her dismissal, both Avas eventually join her there. The sun is relentless and droning, like the insects around them. After an hour or two, another van bumps along to them. Beautiful Ava runs up to greet it, but it's the same story. Hired and dropping off. Over the course of the day, three more vans come until finally there are fourteen people waiting. They all seem around the same age, midtwenties, give or take a few years.
Mack feels more at ease now. With so many people there—several of whom are desperate to establish dominance and be noticed, talking and laughing loudly—she barely registers. Except to buzzed Ava, who brazenly stares at her and winks whenever caught.
When the last van pulls away, everyone looks down the road, waiting.
---
Five hours later and the mood has shifted considerably. Everyone is sweaty. There's nowhere to sit but the ground. No phones work. No one has any food or water—though one expertly muscled man increases monetary offers for food by the hour. One of the women, a brunette who looks like a toothpaste commercial with her dazzlingly white smile, cries. Several vow to leave scathing reviews of the experience online. A couple of the men suggest walking down the road to find the nearest town, but the fear of missing the competition keeps them in place. Everyone is short-tempered and angry. Except LeGrand, who stays at a distance, looking utterly lost, buzzed Ava, who is taking a nap with her arms for a pillow, and Mack, who knows she's two full days from being too hungry to function. A ghost of a smile haunts her face.
She can win this.
As the gentle bruise of evening spreads, a bus arrives. Apologies are delivered with water bottles and sandwiches. Their hostess, a woman well past middle age with a jewel-toned pantsuit and hair that exists in defiance of gravity, is so genuinely excited to greet them it's hard to hold the scheduling mix-up against her. ...
We hope you are enjoying the book so far. To continue reading...
Hide
Kiersten White
Copyright © 2022 All Rights Reserved