Book info
Sample
Audiobook
Media
Author updates
Lists
Synopsis
Aspiring filmmaker June Masterson has high hopes for her first documentary, the true story of the disappearance of famed mystery author Greer Larkin. June learned about the vanishing at age fourteen, locked down on her family's isolated commune. Now, the deeper she digs into the project, the darker the story gets.

Everyone has a theory. Greer's mother, Blanche, and her best friend, Rachel, believe that Greer's fiancé, Jonathan, is the culprit. Greer's agent is convinced that Greer committed suicide after a debilitating bout of writer's block. And Jonathan claims it was either Greer's controlling mother or Rachel, whose attachment to Greer went way beyond friendship.

In desperation, Rachel gives June a suitcase full of Greer's most personal writings in hopes of finding proof against Jonathan. Then Rachel turns up dead. As June pores over Greer's writings, she makes a devastating discovery that could finally reveal the truth about the author's fate. But now, June finds herself in the sights of a killer who'll stop at nothing to keep their darkest secret
Release date: June 7, 2022
Publisher: Crooked Lane Books
Print pages: 320
* BingeBooks earns revenue from qualifying purchases as an Amazon Associate as well as from other retail partners.
Listen to a sample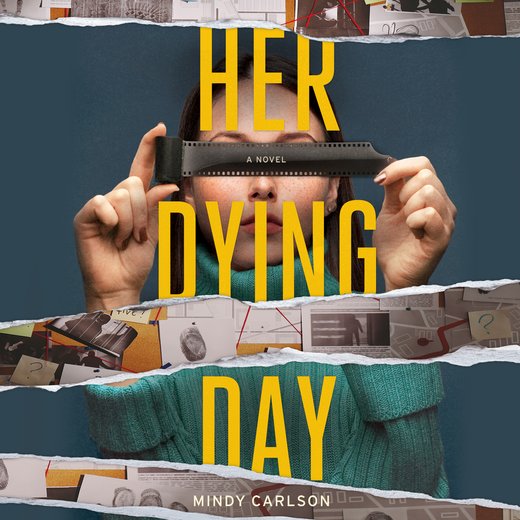 09:15:02
254.09 MB
June 7, 2022
Dreamscape Media
Her Dying Day
Mindy Carlson
If you've never been stuck under the bed while your lover has sex with his wife, I suggest you skip it. It's no trip to Disneyland.
And how did I end up staring at his wife's navy blue pumps while their king-sized bed squeaked rhythmically above me? Sheer stupidity.
Rule Number One when you're sleeping with your married advisor is to never sleep with said advisor at his actual house. Keep it in the office, your place, or a cheap motel that takes cash and fake names. Rule Number Two: Never believe him when he says his wife will be gone for the entire weekend. Wives are never gone for the whole weekend. Overnight at most—so you'd better be out of there by ten-a-m-sharp the next day.
There is no Rule Number Three, and, really, I should have been smart enough to stick to Rule Number One, so that Rule Number Two wouldn't have to exist. But I'm not. Clearly.
So here I am, sticking it out in silence while she calls out his name in raptured passion.
"Paul! Oh, yes, Paul! Paul!"
Awkward.
I can't be mad at Martha's shouts of euphoria. I'd done the same thing two hours ago.
I should probably feel something like shame rather than resigned impatience while counting the squeaks of the mattress springs. My mother would have been ashamed of me, carrying on with a married man for the last year. You weren't raised that way, she'd say.
Well, I wasn't raised to do a lot of things—like live my own life, have hair shorter than my shoulders, and reside within six miles of my nearest neighbor—but look at me now. I'm
in New York City, in my own tiny apartment, and about to become the biggest documentary filmmaker since Michael Moore.
201. 202. 203.
Squeak. Squeak. Squeak.
Okay, so there was one other thing that kept me not so patiently silent under that bed with those luxurious high-count Egyptian cotton sheets—the knowledge that Paul didn't really love her. His marriage to Martha was one of necessity. She was emotionally fragile. Depressed. She depended on Paul's presence to keep her from being swallowed by her own darkness. She might even kill herself if he left, he said.
Not that I was urging him to leave. I was happy with the freedom we'd found with each other. He was free to live his life and, more importantly, I was free to live my own, without rules, regulations, or tethers. The opposite of how I'd grown up.
Or as opposite as I could make it.
Paul calls me Pear Blossom, and I don't even have the urge to smack him for it, like I would anyone else who dared call me the horrible name my hippie-dippy parents christened me. Actually, my full name is Pear Blossom Jubilee Masterson. Awful, right? Doesn't it just scream, "My parents smoked their brains out on dope and started a commune"?
Lord. How do I even begin to explain my parents? It's tempting to tell everyone they'd died. No one wants to hear about dead parents.
They're not dead. They're very much alive and a pain in the neck.
Right after I was born, my parents decided they'd had enough of capitalistic, corporate America. They walked away from everything—family, money, careers—to set up a commune in the middle of the Adirondack Mountains. Well, they hadn't walked away from their entire family. They'd convinced Mom's little sister, Bev, and her husband to join them in the pure, piney air of upper New York State.
No, we—they—aren't a cult, though my parents do exude a level of energy about keeping isolated that would make religious fanatics look lazy. They never leave the commune. Ever. Instead, Aunt Bev and Uncle Chuck do all the shopping and sell the yarn we made from our Angora goats at the farmers market.
And then there were our names. I got the worst of it with Pear Blossom Jubilee. My cousins got saddled with Meadow Rowan Nokomis and Tecumseh Sage Archer, but they can actually use part of their names and still fit into the "normal" world, so it's not so bad for them.
I prefer to go by June. It's true that June is also the month I was born, but when the elderly secretary in the registrar's office got confused by my long, hippie name and called me June during my college orientation, I didn't correct her. June. Such a nice, normal, short name. Almost everyone calls me June now.
Except Paul. He's called me Pear Blossom ever since he became my advisor last year in the documentary film program at the New York Film School. He told me he liked how exotic it sounded. How it was irresistible to him.
There was something irresistible about him to me too.
He gave me shivers every time I thought about him. Sure, I knew having an affair with a married man was at the very top of the list of Bad Ideas. But he was so … Paul. Funny, warm, witty, cosmopolitan, well-educated. And if I had to put up with his wife, so be it. It's not like I was in a rush to be married.
Squeak. Squeak. Squeak.
"Paul! Yes! Paul!"
I rolled my eyes. Would this never end?
Moments earlier, he'd given me permission to change my thesis topic. Again. No one ever gets to change their topic more than once and I had just changed mine for an unheard-of third time. But I finally had a topic I could feel passionate about!
He'd sighed as I traced out hearts on his chest. "What's your idea now?" he'd asked, a bemused twist to his lips.
"The disappearance of Greer Larkin," I'd said, breathlessly anticipating his response.
"The mystery writer?" He'd risen up onto his elbows to get a better look at my face.
"Yes," I'd said, bouncing onto him and grinning down into his wonderfully warm blue eyes. "She won five Edgar awards and had seven novels on the Times bestseller list before she was twenty-four. She was a prodigy! She'd just released her best book to date, was engaged—about to be married even—and then she disappeared without a trace. Poof! No one has found a body. And," I'd gone on, the excitement mounting, "this will be the twenty-year anniversary of her disappearance. The timing is perfect."
This was the topic I was born to research.
I'm not normally a true crime kind of girl. I don't read the books. Don't watch the movies or listen to the podcasts. No one would confuse me with a Murderino. But this was different. This was Greer Larkin. She's my generation's Agatha Christie. I mean, the woman single-handedly saved me from abject loneliness when I was trapped in my family's commune as a child.
I owed her.
Frankly, I couldn't believe I hadn't picked this topic right off the bat. It was like I'd been choosing topics a Good Girl would work on, and waiting for permission to take on a topic as dark as an unsolved murder.
"Fine," he'd finally said. "You can change your topic to Greer Larkin, but Pear Blossom," he'd warned, growing uncharacteristically serious, "this is the last time. We are five months from graduation and, as your advisor, I cannot let you switch your topic again."
"I promise," I'd vowed, crossing my naked breast, trying not to squeal with delight. "Think of it as a second Christmas present."
I'd been about to give him another belated Christmas gift when we'd heard the front door slam, announcing Martha's early arrival home.
Which is why I ended up under the bed, planning my first interviews, waiting for the squeaking to stop, and for Paul to suggest to Martha they go out to Chez Marc for a late dinner.
It was eight by the time they left and I could ease myself out from under the bed, get dressed, and leave. My apartment was dark and the fridge was empty. Paul and I had intended to get Thai food.
New Rule Number Three: Always eat first.
I punched in the number for Tina's Thai and ordered a curry before sitting down at my laptop to outline my to-do list for my newest topic.
"What Happened to Greer Larkin?"
---
"I cannot believe you were under the bed the whole time." Meadow's voice was full of disbelief and horror.
"It's not like I could just walk out. She was above me."
"You know that sleeping with your advisor is wrong, right? I mean, like, wrong-wrong."
I shrugged. "In theory. It's not like I want to break up their marriage. This is fun for right now." Plus, I like him. For real.
"And I can't believe you're changing your topic. Again," she said.
Meadow liked order and routine. She hadn't minded getting up at five in the morning every day for goat chores. It was a comfortable routine to her. I, on the other hand, now made it my mission to never be out of bed before nine if I could help it. So I could see why my flightiness around my thesis topic worried and frustrated her. Plus, she's never understood
my obsession with Greer Larkin. Which is fine, because I never understood why she didn't want to find out what happened. I didn't hold it against her.
"I love Greer Larkin's books! The crazy mystery around her disappearance will make a perfect topic. This one I'm sticking with. For sure."
Meadow's brow puckered in the way that always made guilt bubble up inside me. She was concerned I was never going to graduate and find a real job. She was dismayed that I couldn't ever seem to stick with anything—majors, boyfriends, favorite ice cream flavors. (Did you know there are more flavors than vanilla, chocolate, and strawberry?) Her concern was sweet, but exasperating.
I couldn't blame her. Even I worried sometimes about my mercurial habits. Only sometimes, though. I liked choice. Liked being able to change my mind whenever I felt like it. I'd had little chance to experience either in the commune. Instead, I'd found that choice and freedom in Greer Larkin's books.
So how could I not leap at my chance to investigate what happened to Greer? I'd been obsessed since I was fourteen.
This case had everything you would need for a dynamite movie—a famous person who'd vanished into thin air, a fiancé people didn't like, a domineering mother, and a feuding best friend. And money. Lots and lots of money.
Meadow liked to take me out for dinner once a month. It was her version of a wellness check, but in more tasteful surroundings. I didn't mind. I was living on student loans, a scholarship, a bit of Paul's charity, and several credit cards, so I wasn't about to turn down a free meal.
Meadow was the responsible one of us kids. Always had been. As a teenager, I'd sneak out of the house at night to head into town with her next to me telling me how dangerous and risky we were being, like my own personal Jiminy Cricket.
Her brother Sage was a blend of the two of us. Whereas I was a rebellious free spirit and Meadow was the steady, responsible one, Sage was the crusader. Currently, he was in Sudan, working in a refugee camp for Doctors Without Borders. A responsible guy who couldn't wait to see the leeward side of the mountain.
When I escaped to New York, I'd vowed I would never speak to my family again. Our parents had a very strict policy about mixing with outside society: Don't. We were barely let off the property. We'd been homeschooled, and I'd never even seen a dentist or doctor until I went to college. Can you say "neglect"? Our parents told us the world was a
dangerous place, that we could only be protected and safe if we never left the commune. I'd hated it. No. I'd loathed it.
I'd been a prisoner—and Meadow had been the one to unlock the door. She talked to me about college. She helped me get my admissions tests taken and applications completed. She gathered my documents and mailed them out to colleges.
While I kept the rest of my family out of my life, I couldn't cut Meadow out. She was more than a cousin—she was a sister, and my best and only friend. Plus, sometimes you needed to talk to someone who knew what it was like to have been raised in a commune in the middle of the Adirondack Mountains with your parents and an aunt and uncle. Turns out not many people can identify with that lifestyle.
There wasn't much I wouldn't do for Meadow.
"You always promise and you never do," Meadow said.
I gave her a cheeky grin. "Sure, I do," I said. "I promised never to get caught when we would sneak into town, and we never did."
"So," Meadow said and sighed. "Why Greer Larkin, of all people?"
"Oh, please," I said, rolling my eyes. "She's just, like, one of the best mystery writers of all time. Right up there with Agatha Christie."
"Agatha Christie wrote a hundred books. Greer wrote, what? Six?"
"Agatha wrote seventy-four novels, but still. Greer wasn't around as long as Dame Agatha. Just think of what she could have done! She started when she was fourteen. Do you remember how old I was when I made my first film?"
"Was it fourteen?" Meadow said, but of course she knew—she'd heard this story before. She was trying to be polite instead of snarky, and was mostly succeeding.
"Yes. And Greer was fourteen when she got her first novel published. Then at sixteen it was turned into a movie. Just think of where I could be right now if I'd been given the same kind of free rein. I could've been a wunderkind," I said.
"'I coulda been a contender,'" Meadow quipped.
Now it was my turn to sigh. I hoped it sounded grouchy enough that she got that her humor was unappreciated. Steven Spielberg's mom helped him make films when he was twelve years old. You know what my mom did when she discovered my first film on a battered old camera I'd found in the attic? She burned them both in the yard. What kind of mother does that?
I stabbed into my lamb korma with a fury that would have cracked the plate if I'd missed. And then I smiled with the grim satisfaction of knowing how horrified my parents
would be that I was eating meat.
Suck it, Mom and Dad.
I noticed Meadow only picking at her food, a sure sign she had her own issues. Maybe that's why she was taking it easy on my flakiness? Girl trouble?
Meadow was in a semiserious relationship with a graphic designer named Faye. From our dinner last month, I got the feeling that Meadow would like this to be more "serious" and less "semi." Maybe that didn't go so well. Shoot. I really liked Faye.
I was about to ask how Faye was doing when Meadow broke the silence first. "Your parents would like you to call," she said.
"Ah," I said, in as neutral a voice as I could manage.
"What does that mean?" she asked, defensive.
It means there's no fucking way I'm going to call them. Ever.
But what I said was, "It means I hear they want to talk, but there is no way I'm calling them."
"They love you. They just want to see that you're okay."
"I am not calling them," I repeated. "Just report back to them as usual that I am still a fuck-up, I have one new tattoo, and am still sleeping with my advisor."
Meadow's eyes grew wide and an indignant sneer twisted her mouth. "I would never tell them that. I'll tell them that you're fine and still mad."
"That's almost the truth," I said.
"So you're not mad anymore?" Meadow said, the question tinged with hope.
"I'm almost fine."
Meadow sighed again. She does a lot of sighing when I'm around. I like to think of myself as her excuse for deep breathing exercises.
"You know," she said, her lawyer voice revving up like she was about to address a jury. "You can't just cut your family off for the rest of your life. Are they wacko? Yes. But they are your parents, your aunt and uncle. Family is too important to shut the door on them forever. What they did was in your best interest."
HA!
"How's Faye?" I asked, making a deliberate left turn in the conversation.
"Well, that was blunter than normal," she said. I shrugged, not at all sorry, and she shook her head. "She's fine. We have a date tomorrow. Dinner with friends. Next week she's showing some of her art at a gallery in Brooklyn."
Impressive. Meadow had mentioned Faye wanted to break out of her graphic design mold to show off some of her more personal art, but I always thought Faye lacked the egotistical confidence of a true artist. It made her shy about her work. "That sounds amazing," I said. "Tell her good luck."
"I was hoping you'd come. It's next Friday. It's going to be a lot of Faye's artsy friends. I don't really know them. Plus, she's going to be schmoozing. I want to know at least one other person there."
Her eyes were wide and a little scared. Meadow is never scared. Not really. Not even when she was whispering all the horrible things our parents would do to us when they caught us sneaking back into our houses. I really didn't want to go to Faye's gallery opening, but I could never say no to Meadow.
"Sure. Do you care if I bring Paul?"
A fleeting look of disappointment crossed Meadow's face, but she recovered and said brightly, "Sure! But even if he can't come, I really need you to be there. Okay, Pear?"
"Okay," I said. "I promise."
We hope you are enjoying the book so far. To continue reading...
Her Dying Day
Mindy Carlson
Copyright © 2022 All Rights Reserved