Book info
Sample
Audiobook
Media
Author updates
Lists
Synopsis
Much is lost, but hope in one man remains . . .
In a shocking betrayal, Captain Rolo has vaporized the supercarrier Immortal with a nuclear warhead, all but wiping out the Vanguard army. Little does he know that King Xavier and the surviving Hell Diver and Cazador teams from Brisbane were not aboard.
In Panama, Outpost Gateway has suffered a very different disaster: attack by carnivorous vines. Director Rodger Mintel sent out a desperate SOS as the voracious coils rip into the bunker.
At the Vanguard Islands, Charmer has framed Michael Everhart for two murders. Michael's wife, Layla, is frantic to prove his innocence as evidence against him mounts.
Back in Queensland, knights of the Coral Castle dragged captive Hell Diver Kade Long to their leader, known as the Forerunner, before locking him in a cell in the Coral Castle.
The truth of what happened at Brisbane is spreading, and so is radiation from the nuclear blast. The fallout threatens everything in its path, putting the Coral Castle and X's remaining forces in dire peril.
Release date: February 28, 2023
* BingeBooks earns revenue from qualifying purchases as an Amazon Associate as well as from other retail partners.
Listen to a sample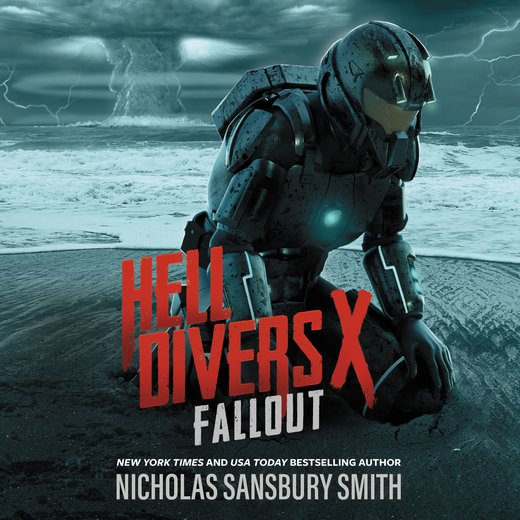 12:58:52
356.55 MB
9781665020947
February 28, 2023
Blackstone Audio
Hell Divers X: Fallout
Nicholas Sansbury Smith
PROLOGUE
TWENTY-ONE YEARS AGO . . .
The Hive carved through altocumulus clouds twenty thousand feet above the surface. The nuclear-powered helium airship flew south, toward a zone never explored since the bombs of World War III turned the planet into a wasteland and created ongoing electrical storms that blotted out the sun.
Two hundred forty years had passed since civilization ended. For most of the 1,042 survivors living aboard the airship, the past wasn't a daily thought. Most passengers didn't think about the Old World at all—only how to survive another day on the airship.
But not everyone aboard remained in the dark about conditions on the surface. The Hell Diver teams knew exactly what was down there on that blasted surface.
In the launch bay of the airship, Hell Diver Xavier "X" Rodriguez sneaked a nip of shine from his flask and slipped it back into his locker while his best friend and fellow diver Aaron Everhart pulled on his chest armor rig.
"I saw that," Aaron called out.
"What?" X asked.
Aaron secured the side clips and turned his blue eyes on X. There was no judgment there today, just disappointment.
"Sorry, man, just taking the edge off," X said.
"You always say that."
Aaron snapped the last closure on his chest rig and went to the crate, guarded by two militia soldiers, in the center of the launch bay. The soldiers took out a key and opened it, then retreated to the double doors, where they waited with crossbows cradled.
X and Aaron pulled out weapons and ammunition from the cache normally stored in the airship's armory.
Each diver took a blaster—a sawed-off double-barreled shotgun with a third barrel for a flare. X picked out his favorite assault rifle. It had a scratched barrel, and duct tape on the grip. He stuffed extra magazines into the carrier vest over his armor.
Aaron pulled out a bolt-action rifle and slotted rounds into a bandolier draped like a sash over one shoulder.
Both divers stuffed extra shotgun shells into every pouch and pocket. Where they were diving, they just might need every round.
Normally X didn't feel predive jitters. He had eighty-one jumps under his belt, most of them in green zones—areas where radiation was minimal and the biggest concerns were failed chutes in the air, and sinkholes on the surface.
But today was different. Today they were diving into a yellow zone that no one had seen for over two centuries.
If Aaron was nervous, he wasn't showing it. The tall, lean diver ran through the checklist—if anything wasn't working right, now was the last chance to fix it.
"You good?" X asked.
"Just another jump into paradise, right?"
"Not exactly," called out a voice.
Both men straightened as Captain Maria Ash strode across the room, moving fast and with purpose, as usual.
"We're moving into position now," said the captain. "Our surface sensors are sending back some disturbing data."
"This isn't a yellow zone, is it?" X asked.
The captain shook her head. "The electrical storms are minimal, but the surface has high radiation," she said. "That's why I'm here: to give you the choice."
X almost laughed. He knew there was no choice. Hell Divers never had a choice. If they refused to dive, humanity died. If they died on the surface, humanity died.
The only way to survive was to dive.
Aaron looked at X, commander of their four-man team.
"I'll go; you stay," X said to Aaron.
"Nah, you know I can't let you go alone."
"You got Tin to worry about. I got myself."
"He's my kid, but he's your godson."
"Yeah, but a boy needs his father."
X looked back to the captain.
"So, you want to let us in on what this mission is?" he asked. She pulled out a tablet, clicked on the screen, and handed it over.
Aaron leaned down to look at the location of an Old World hospital.
"Medicine?" X asked.
"Not just any," Maria said. She brought up a new image. "This is a vaccine called Redotal, which I believe will eradicate the cough."
X and Aaron exchanged a look.
The airship was in the middle of a pandemic as a virus they called simply "the cough" ripped through both the upper and lower passenger decks.
"You find this, and you'll give us a second chance to continue sailing until the storms clear or we find a new home," Maria said.
"I'm in," Aaron said.
"I'm the commander—" X started to say.
"Tin's not immune to the cough, Xavier. I'm coming with you, for his future and for everyone else's."
Captain Ash held each man's gaze in turn, then lowered her head slightly in a rare display of emotion. In the glow of the lights, X saw the strain in her features. A cancer survivor, she looked older than her five decades, and he could tell she had more than her physical health weighing on her mind.
"I always thought it would be a storm, or perhaps engine failure, that sent us crashing to the surface like so many of the other airships since the war," she said. "But now this virus threatens our population just as much, if not more."
"Just one question," X said. "If this medicine is a couple of centuries old, it's gotta be past its prime."
"Stored in liquid nitrogen at minus 196 degrees Celsius—three-quarters of the way down to absolute zero. It'll be as fresh as the day it was made."
"I'll find . . ." X's eyes darted to Aaron. "We will find the medicine. Don't worry, Captain."
"I know you will," she said, with another rare form of emotional expression: a smile. "Be careful down there. You are two of our last heroes."
They moved over to the launch tubes, normally operated by technicians who were absent today due to the mission's secrecy. The two militia guards escorted the weapons cache and Captain Ash out of the bay.
X held up a gloved fist like an Old World boxer. "Let's save the world again, man."
"Don't let that juice get you cocky."
"Never, boss."
Aaron cinched his helmet and climbed down into his launch tube. X did the same, smelling the worn plastic and the lingering scent of the cleaning solution he'd used on his visor.
The heads-up display (HUD) flickered online, a small green subscreen showing both his and Aaron's life-support systems.
The dive clock blinked on: 2:00. Two minutes.
The warning siren blared as X looked down at the glass exit hatch beneath his feet. Wispy clouds drifted under his boots.
Red light bathed his pod, and he hit a button on his wrist computer to turn on his helmet lights.
Sixty, fifty-nine, fifty-eight . . .
X checked his HUD as the digital map of their dive came up. Once he confirmed all systems were online, he double-checked his rifle strap and gear—all snug.
Featherlight and strong as a sword. Featherlight and strong as a sword.
He squeezed his fists, but the alarm drowned out the cracking knuckles.
Twenty-nine, twenty-eight, twenty-seven . . .
The red faded away, replaced by a cool blue that did little to relieve X's anxiety. He wasn't worried about dying; he was worried about failing.
He had already lost his wife to cancer, and with a third of the ship sick, this was the most important dive of his career.
His headset clicked on, and the soothing voice of Captain Ash surged into his ear.
"Good luck, X and Aaron. You are the best of us," she said. "Good luck and dive safe."
"We dive so humanity survives," X and Aaron said simultaneously over the comms.
Ten, nine, eight . . .
X looked down just as the glass hatch whispered open. He tucked his arms by his sides and slid out into the dark clouds. For a moment, he had the sense of being truly as light as a feather, as if his body no longer belonged to him. Then his guts caught up and his blood warmed, prickling across his skin.
One hundred eighty pounds of flesh and bone, in addition to the hundred pounds of armor and gear, plummeted toward the dead surface.
He spread his arms and legs out through the puffy altocumulus. A single blue light glowed to the east, where Aaron fell at the same rate.
A little farther east, a fork of lightning arrowed through the black sky.
"Raptor Two, you see that?" X said over the comm.
Static crackled into his earpiece, hardly audible over the whistle of wind across his armor. In the green hue of his night vision, he searched for Aaron, but the other diver had vanished now.
X checked his HUD and saw the green dot representing the man he trusted most in life—a man who had stood by his side through the dark times. Aaron was there when X struggled with drinking. He was there when his wife died, and after, when the drinking got worse and resulted in more risk-taking on missions.
Some of the other thirty Hell Divers on the airship liked to joke that X had a death wish. He didn't correct them; maybe he did.
"Too close for comfort," Aaron finally replied. "You thinking what I'm thinking?"
"Race ya," X said.
Bringing his arms against his sides, X rotated head down, rocketing earthward in what they called a suicide dive. It was the fastest survivable way to the surface, but crazy dangerous when the electronics went out.
So far, so good, X thought.
His HUD displayed the data he relied on during a dive: 15,005 feet; 134 mph velocity; 8 degrees Fahrenheit; 105 beats per minute.
X remained calm as he dived, his eyes flitting from his HUD to the shelf of clouds. He bit down on his mouth guard as he got batted around in a pocket of turbulence.
"God damn it," he grumbled. Strong as a sword . . .
Experience took over and X regained control, spreading his arms and legs out again before pulling back into a delta shape.
At eight thousand feet, the electronics suddenly went haywire, the data scrambling across his HUD and then winking off altogether.
"Son of a bitch!"
His shout was lost in the howling wind. Aaron wouldn't be able to hear him anyway. They both were now deaf and blind.
With his night-vision goggles offline, X could see only the blue glow of his battery pack and the lights from his helmet. They surrounded his body like a halo around a comet as he streaked toward the surface.
This wasn't the first time his equipment had fritzed out in an electrical storm, and that was why X had taught himself to calculate his altitude and velocity without the help of his sensors.
Aaron would be doing the same thing, looking for any sign of the surface before they smacked into it.
Flashes of lightning gilded the horizon, capturing the outline of a cloud in the beetle shape of the Hive.
X looked away as he broke through another wind shear, the turbulence tugging him in all directions. He stiffened his back, flexed his muscles, and used his arms to hold his position.
Thunder boomed so close his bones rattled.
He watched his HUD for a glimpse of his altitude. He tried to calculate the distance since he'd last seen it, but doing math while the wind beat him like a drum was nearly impossible.
Lightning flared to the east, where he'd last seen Aaron.
Every hair on his body rose up, and every muscle fiber seemed to tense.
"Aaron!" X shouted. "Aaron, do you copy?"
Static crackled over the comm.
X put his altitude at around two thousand feet or a bit higher. He began to come out of the nosedive in anticipation of pulling his chute.
Just as he fought back into a stable falling position, the HUD winked back on.
His heart skipped at the altitude reading of 1,500 feet.
"Oh shit!" he shouted. He bumped his NVGs back on with his chin and saw the wasteland burst into view.
To the east, X saw a glowing object falling far slower than he was. Aaron had already deployed his parachute.
"X!" the voice surged over the comm. "Pull your chute!"
X pulled the pilot chute, released it.
He expected to feel the suspension lines become taut and the sensation of being pulled skyward, but instead, he kept falling.
"You got to be fucking kidding me," X muttered. He pulled his reserve. "Please work."
The low-porosity reserve chute fired out, and the lines snapped taut.
He let out the breath he had been holding and took a moment to study their drop zone.
The Old World city was much smaller than the megacities they were used to diving into. It was much warmer here, too, almost eighty degrees.
Instead of the typical snowy ground, he saw mounds of sand.
They were in a desert, below the border of the former United States, deep in the land once known as Mexico.
But the terrain wasn't all desert. X spotted some sort of flora carpeting the outskirts of the city, some of it encroaching on the decayed structures. As he drifted earthward under his canopy, he raised his rifle scope to his visor and zoomed in on what looked like large snakes.
Not snakes, he realized. Vines.
"You seeing this?" X asked Aaron over the comm.
"Yeah. Never seen anything like it before."
There were trees also, towering structures with skeletal limbs that curled at the tips like melting candles.
"My God," Aaron said.
X didn't believe in God, because he didn't believe any supreme being would allow the world and all its animals, plants, and marine life to shrivel and die. And like most places, this Old World city was dead. Nothing except for mutant beasts could survive this radiation.
After securing his rifle, X grabbed both toggles to steer his canopy toward the hospital at the western edge of the town. A warning sensor beeped, and a new reading came on his HUD. He took his left hand off the toggle to grab the duct-taped grip of his rifle. His heart was ticking faster now than during the dive.
Aaron sailed overhead toward the drop zone—the roof of the hospital. X was low enough now that he could see that it wasn't going to work.
There was no rooftop.
"Follow me to a new DZ," X said over the comm.
He toggled over to a field outside the hospital, where the foundations of buildings poked out of the dust and sand. X guided his chute down, pulled on the toggles to slow his descent, and bent his knees slightly.
As the ground rose up to meet his boots, he performed a two-stage flare. He hit the ground hard, raising a puff of dust. He ran out the momentum, and with no wind on the ground, he easily kept his balance.
Halting, he went down on one knee, raised his rifle, and held security while Aaron floated down to the surface. Another cloud of dust billowed up where he touched down.
X scanned the structures all around them—mostly just foundations, which made spotting the three-story hospital easy. It seemed to be the only building still upright.
The area hadn't been hit by one of the nuclear warheads, but it had burned. Everything was charred, which made X worry the medicine would be destroyed if it hadn't already been looted.
X didn't see anything moving, but other divers had told him of camouflaged desert beasts—creatures that looked like stone, and man-size reptiles that could blend in with their surroundings.
Aaron packed his chute and brought up his rifle to cover X. Five minutes later, they had their gear slung over their backs and were moving out.
"Radiation is in the red," X said. "You all buttoned up?"
"Suit integrity is one hundred percent. You?"
"Same."
Side by side, the two men advanced through the ruins, along a street buried under a layer of dust and sand. X knew it was a road only by the rusted, windowless vehicles parked there.
They passed a rotting brown hospital sign.
X turned to watch their six, backpedaling while Aaron took point.
After crossing through the first block, they came to a road covered in vines. The creepers tendriled around the burned husks of vehicles and over ruined foundations.
Aaron kept going, but X walked over to one of the bloated red vines with spiky, twisted stems.
"Don't touch it," Aaron said.
X hurried to catch up with his partner.
It was as deathly silent as interstellar space.
Around the hospital, the vegetation thickened as if the structure itself were providing it nourishment. X and Aaron both halted at the edge of the property.
Vines curled out of the rooftop.
X bumped off his night vision, using the sporadic lightning flashes to see the mutant cladding of ropy red vines that enveloped the rooftop.
"This is remarkable," Aaron said.
"Not exactly the way I'd describe it," X said. "Come on, we need to find a way in."
X checked his radiation gauge and found it unchanged. As long as he didn't puncture his suit, he would be fine for an hour or two.
They brought up their weapons and slogged through the sand toward the building. Normally, X didn't like wind on the surface, but about now a nice gust to cover their tracks would be most welcome.
A cracking noise stopped X midstride. The hair prickled on his neck.
He moved his finger to the trigger.
Aaron turned. "What?"
X brought a finger to the mouth of his helmet to indicate silence.
The two men slowly played their rifle barrels over the blasted landscape where thick ropes of vine lay coiled like anaconda snakes, their hard skin covered in strangely curved barbs.
X scanned twice for any camouflaged beasts hiding amid the vegetation. Seeing nothing, he signaled to advance.
They crossed through a lot where vehicles stood parked on bare wheels, their tires long since rotted out and the bodies rusted to thin, fragmented shells.
The building was in much better condition. One door remained at the emergency entrance. X went straight for it, entering a lobby with overturned chairs.
Most of the hospital seemed to have been spared from the flames that wiped this small town out. He made his way down a corridor framed with hospital beds. It wasn't until they got to the emergency wing that they saw the first bodies.
Two corpses lay in the hall, covered in dust, their clothing tattered over bodies mummified in the dry desert air.
X moved around the bodies and headed for the pharmacy, hoping the meds were still in their cryo–storage containers. Time after time, when they found supplies or nuclear fuel cells for their ship, they had gone bad over the 240 years since the bombs dropped. He prayed this was not one of those times.
Still, X pushed on, shining his helmet lights down the corridors. Vines grew over the ceiling and walls, the spiked barbs coming within mere feet of his armor.
Thirty minutes later, they found the pharmacy, its door propped open. At first, he thought raiders had hit this place already, but looking closer, he saw it wasn't people who had opened it.
Vines had burst out from the inside, forcing the double doors open.
X stepped over broken glass, some shards crunching under his boots. Aaron followed him inside, carefully stepping over the vines on the floor.
They entered a lobby with a counter. Beyond it were shelves, most of them stocked with generic medicines. X walked around the desk and started down an aisle. Pill jars and boxes littered the dusty floor.
He made his way to another open door, which led into what should have been an airtight room.
At the entrance, he froze.
"What?" Aaron asked.
X shined his light on two armored bodies.
Aaron walked over. "Holy shit, are those . . ."
"Hell Divers," X said.
The two men walked into the room, stopping about five feet from the armored corpses. They were both covered in some sort of gray-green moss.
X crouched down and shined his light on the helmets. Broken visors gave a view of bare skulls.
"Makes no sense," X said. "How could they be more decayed than the bodies in the hall?"
"I was wondering the same thing," Aaron said. He stepped around them and went to the cases on the shelves while X examined the skeletal remains.
He reached out with a gloved hand and touched an arm. The simple touch moved the armor, and the bone snapped, some of it turning to powder.
X practically fell on his butt in surprise. "What the hell?"
Aaron stood in front of a crate. "Leave them alone and come help me," he said.
X got up and noted the same mosslike substance clinging to the walls and ceiling.
"I'm not seeing any Redotal," Aaron said.
X pulled out his knife and cracked open a lock on a drawer. He pulled it out to find vacuum-sealed bottles, but not what they were searching for.
As they scoured the room, X heard the cracking sound again. Aaron froze too.
As X waited, he saw a door like that of a walk-in freezer. It was marked with an R.
"Found it," he whispered. "It's been in thermal isolation for two and a half centuries."
"Let's hope it worked," Aaron said.
"We're gonna find out."
X opened the door and searched until he found the medicine. Under his helmet light, he held up one of the bottles, confirming it was what they had come for. He carefully secured the bottles in a pouch.
On the way out, X picked up the pace as they walked past the dead divers. He wasn't sure who they were, only that they weren't from the Hive.
X hurried down the corridor, almost tripping on a vine. He hopped over it and then stopped.
Aaron kept going.
"Hold on," X said.
"What now?"
"That wasn't here earlier."
"So?"
"So if it wasn't here earlier, how'd it get here? I didn't put it there. Did you?"
"It moved."
"Vines move?"
"I don't know, man, come on, let's get gone . . ."
X backed away when the same cracking came again, this time behind him.
"X . . ." Aaron began to say. He turned and accidentally stepped on a vine, crushing it under his boot. Red liquid trickled out.
"Watch out," X said, pulling Aaron back just as the barbs on the vine began to burst. Pink mist puffed into the air. The cloud expanded right toward them, moving fast.
"Run!" X said.
They both took off down the hall. They could hear more barbs popping behind them, trailing them. X ran hard, but the sound grew nearer. He looked over his shoulder as barbs on the vines clinging to ceiling and walls burst, releasing yet more of the pink mist.
"Faster!" he shouted.
He leaped over vines that were now actively snaking their way across the corridor. One sagged down from the ceiling and tried to catch him in a loop. Another peeled off a wall and shot toward his leg.
They made it back to the hallway where the two corpses lay. The pink mist grew denser, darkening into a bloody red swirl as it enwrapped the bodies.
X shined his lights on the remains and was astonished to see the mummified flesh consumed in seconds, leaving nothing but clean, white bone.
Aaron stopped to look, but X yanked on his arm, pulling him into a hospital room. "Follow me!" he shouted.
X shouldered through a broken window, knocking out the remaining shards of glass. He fell three feet onto the sand, landing hard on his side.
His shoulder hurt, but it was the warning sensor in his helmet that made him almost piss himself. Data rolled across the HUD. Suit compromised . . . He had minutes to get out of here.
Aaron helped X up, and they dashed across the sand, away from the hospital building, hopping over the writhing, grasping vines.
More of the little pink explosions puffed into the air. X risked a backward glance to see an entire cloud of red, venting up from the top of the hospital.
"We have to get into the sky!" Aaron shouted.
X looked up at the lightning storm above them, then noticed that the radiation warning on his HUD had elevated. The readings were going up as the pink cloud rose above the hospital.
X didn't hesitate another second. Reaching over his shoulder, he activated his booster. Aaron did the same, and two balloons fired into the sky, quickly filling with helium. X grabbed his toggles as his boots swung up off the ground.
The storm of red reached out toward them, tendrils of spores swirling upward. The radiation gauge chirped louder.
X watched in horror as he shot upward toward the threat of lightning. He was stuck between a radioactive cloud and the electrical storms.
Heart pounding, he slowed his breathing and searched for Aaron. He was floating twenty feet away, his balloon pulling him higher.
"We're good, man, we're good," Aaron said over the comms.
Lightning flashed around them on the long ascent back to the airship. X watched for it in the darkness. Ice crystals formed on his helmet as he rose higher.
The radiation warnings finally ceased at two thousand feet. He looked down at the tear in his suit, praying he hadn't gotten a lethal dose.
Only time would tell.
For now, he was returning in one piece, with medicine to help save the sickest people on the ship.
X looked up as salvation hovered over them. The bay doors of the beetle-shaped airship opened, swallowing Aaron and his balloon. X floated up next to join him in the silo-shaped chamber.
A door sealed under their boots. The platform rose up as another door opened above them. Overhead, a plastic dome lowered from the launch bay to seal them inside. Chemical spray hissed out of jets on the platform, covering them both in white foam.
They turned with their arms out, leaving no square inch untreated.
Fifteen minutes later, the decon process was complete, and water rinsed off the chemicals.
The dome pulled away to a single person standing in the launch bay in a CBRN suit.
"We found it," X said.
"There was something down there," Aaron said. "Vines that move, and a radioactive mist that . . ."
Captain Ash listened but gave no visible reaction. It was almost as if she already knew about it.
"Well done," she said. "You saved a lot of lives today."
X and Aaron threw up a salute.
"Tell no one about what you saw down there," she said on her way out. "That's an order, divers."
ONE
The dream had come to King Xavier Rodriguez the past two times he rested his eyes. He let out a groan as he sat up in a briefing room on the CIC of the assault ship Frog, where he had fallen asleep from pure exhaustion.
As he stirred awake in his chair, he recalled the dive to the hospital all those years ago. He'd thought the carnivorous vines were a fluke of nature, but now he wondered if this was what had killed everyone else who ventured to the Panama Canal over the past two centuries.
X replayed Rodger's SOS message on a tablet.
"Help! Vines . . . coming through the walls . . . They're turning people . . ."
There was little doubt in his mind what had happened at the outpost. And X held out scant hope that Rodger or anyone else had made it out of there alive. The bunker wouldn't have saved them; it would have doomed them.
X got up and opened the hatch to the CIC. The place bustled with activity. He strode through, ignoring salutes, to stand at the remaining window. The broken ones had been sealed off to keep out rain and radiation.
Outside, he could see a shoreline littered with wrecked boats. The Frog was anchored off the northwestern shore of Fraser Island, adjacent to Kangaroo Island and 184 miles from Brisbane.
Seeing all those wrecks, X had decided to anchor the amphibious assault ship here for repairs, hoping some of those vessels contained what they needed to get her seaworthy again.
They had fled north to escape the radioactive fallout after Captain Rolo nuked the supercarrier Immortal. Almost two days had passed since then, and X was still in a homicidal rage.
For now, they were far enough from the fallout, they were safe to make repairs. First they had to find the parts. Behind him, the remaining crew worked swiftly to identify what was needed. The damaged ship had a slew of issues.
Waiting for a full briefing, X was getting more frustrated by the minute.
Over the years, he had experienced many betrayals and lies from superior officers. That list included Leon Jordan, former captain of the Hive, who had left X stranded on the surface for nearly a decade. Up until two days ago, that betrayal had topped the list. But Captain Rolo had officially surpassed Jordan.
The spineless old bastard was the king of betrayers.
Nuking the supercarrier hadn't just destroyed their most valuable ship. It had also killed hundreds of innocent soldiers and sailors. With one single bomb, Captain Rolo had all but wiped out the Vanguard military.
Eevi, Timothy, and other sky people loyal to X would have tried to stop him from this, and while X wanted to hope they were still alive, he didn't see how that was possible. Rolo would never have left anyone alive to tell the story.
No matter how much X thought about what had happened, he still couldn't quite wrap his head around it. These were sky people they had rescued from the machines. What could lead someone to such an evil act against the very people who had saved his life?
The answer was simple, though. Atrocities throughout history had the same cause: greed and fear.
The sky people from Tanzania had survived unfathomable horrors at the machine camp. They were rescued and brought to a paradise they would do anything to keep. And that meant Michael and everyone else back at the islands were in danger too.
But this wasn't over. Rolo hadn't won.
Not with breath still in the king's lungs, and blood pumping through his body. X would return to the islands and make Rolo, Charmer, and anyone else who had supported them pay with their lives.
He blinked the sleep from his eyes and went to General Forge, talking in Spanish with Captain Two Skulls across the room.
"Give me some good news," X said.
Captain Two Skulls and General Forge exchanged a look.
"What?" X asked. "You can't fix the ship?"
Forge looked uncertain. "Sir, we have a list of parts, and we think we can fix the ship, but . . ."
"But what?"
X looked to Two Skulls.
"What the fuck aren't you telling me?" asked the king.
"Sir, we don't have the fuel to get back to the Vanguard Islands," Forge said.
"You're just telling me this now?"
"There was a leak. We lost more on the way here."
"So we find more, or we find a new ship," X said. "Shit, I'll swim if I have to."
Forge and Two Skulls both looked at him but said nothing.
He knew how crazy he sounded.
These two men had just lost most of their troops, but neither of them was acting like a damned child. Hell, X wouldn't be surprised if they were both silently questioning his leadership. After all, it was his actions that had given Rolo the opportunity to nearly destroy them.
"I'm sorry," X said. "Let's get an advance team together to start looking for the parts. We'll find the fuel."
"I volunteer to lead the salvage mission."
X turned toward the voice of Magnolia.
She was dressed in her Hell Diver suit and armor, with her helmet tucked under one arm. Her electric eyes seemed to flash as she looked at X.
He could say no, but perhaps getting her off the ship was a good thing.
Or perhaps the wastes will take her, too . . .
"Captain Two Skulls, keep me updated on the status of the ship," X said. "General Forge, send out your best scouts to see what's out there and what kind of parts we can find. Mags, you come with me."
He left the CIC and headed belowdecks, straight to the sickbay.
It wasn't a complete shock to see Lieutenant Slayer up from his bed and talking with Sergeant Blackburn. The two remaining Barracudas were still on the mend from their near-death battle a week ago with the beast living on the submarine, but the color had finally returned to their faces.
Blackburn had his blond hair slicked back, and Slayer had a freshly shaved head.
"Attention," someone said.
The medical staff and both Barracudas saluted X.
"As you were," X said. "You should be resting, gentlemen."
Slayer heaved a sigh. "After what happened, hard to rest, sir."
"I understand. That's why I'm here. I need you and Sergeant Blackburn to make sure you're doing everything you can to get better."
X glanced at Magnolia, then back to the soldiers.
"We're going to need every able body for what comes next," he said.
"We'll be ready to fight," Slayer said.
Blackburn gave a stern nod.
"Good, but for now keep resting," X said. "That's an order."
He pressed on with Magnolia into the medical bay until they located Corporal Valeria. She had a clipboard like the one the Cazador scribe Imulah used, and was reading a chart.
"Corporal," X said.
She turned and smiled. "Ah, King Xavier, you come for Miles, yes?" she said in her heavily accented voice.
She put the clipboard back on a slot on the bulkhead and walked over to a secure hatch. It opened to a small room with a prison cell on one side, occupied by Jo-Jo. The monkey lay curled up on the deck, her injured arm wrapped in a bandage.
Miles slept in a cage facing the barred-off cell, or so X thought. The dog lifted his nose and sniffed the air. He tried to get up, struggled.
X went over and bent down in front of the cage. "It's okay, boy."
"His ACL need time for recovery. Otherwise, he berry good," said Valeria.
"And Jo-Jo?" X asked.
"She makes a remarkable recovery so far, King Xavier." Valeria walked over to the cell. "She ready when you need her."
"How about now?"
Valeria turned to X. "Now?"
"We need her for a mission."
Jo-Jo stirred in the cell, and the oval black eyes looked up. She let out a grunt, then got up with her front knuckles.
Miles wagged his tail and licked at the metal gate of his cage.
"Can I let him out?" X asked.
"Sí, sí," Valeria said.
X unlocked the gate, and Miles nudged up against him. After a quick hug, the husky went over to Jo-Jo, who reached out her paw.
Magnolia cleared her throat. "Sir, can I ask you why I'm here . . ."
"Meet me in the cargo hold and gather the other Hell Divers," X said.
He kept his eyes on the animals as Magnolia left.
Jo-Jo was three times the size she had been when Ada found her in the wastes. The thought hurt his heart with a reminder of yet another person dear to him that he had lost over the years.
And that was why X could never give up. None of those deaths should be in vain.
"Get Jo-Jo ready to head outside, just in case," X said to Valeria.
"And Miles?"
"He stays put."
X bent down to scratch his dog behind the ears. He hated doing it, but Miles needed to heal, and right now X needed to lead without worrying about his best friend getting hurt while following him around the ship.
The king stood and made his way through the medical bay. He gave Slayer and Blackburn a wide berth so they didn't need to salute. It didn't matter—the men got up and came to attention.
"Rest," X growled.
He didn't stop until he got to the cargo hold where the Hell Divers had stored their gear from Brisbane. The APC was right where they had left it, decontaminated from radiation and the toxic jungle they had driven through.
A single technician worked on the vehicle. Hell Divers Edgar Cervantes, Jorge "Gran Jefe" Mata, and Sofia Walters were helping. Tia was here too, talking to Magnolia. This was all that remained of the Hell Divers now that they had lost Arlo and Kade.
X stood in the entry hatch for a minute, again feeling the overwhelming sense of loss. It struck him how many times he had stood in the launch bay of the airship Vanguard when it was the Hive, staring at the lockers once occupied by men and women he had known and loved.
"Gather round," X called out.
The unsuspecting divers rushed over to stand stiffly in front of X. His gaze swept over them. Edgar seemed collected, and Sofia too, but Tia was a mess after losing Kade. Magnolia also seemed to be holding on by a thread after getting news about Rodger's likely death.
But now was not the time to mourn or mope. He needed them functioning at 100 percent.
"I won't lie to you," X said. "Things are critical on this ship. ...
We hope you are enjoying the book so far. To continue reading...
Hell Divers X: Fallout
Nicholas Sansbury Smith
Copyright © 2023 All Rights Reserved