Book info
Sample
Audiobook
Media
Author updates
Lists
Synopsis
The first English translation of celebrated Swiss-German novelist Sibylle Berg, Grime is a manifesto for fury, escape, and individual revolt…
Release date: December 27, 2022
Publisher: St. Martin's Publishing Group
Print pages: 496
* BingeBooks earns revenue from qualifying purchases as an Amazon Associate as well as from other retail partners.
Listen to a sample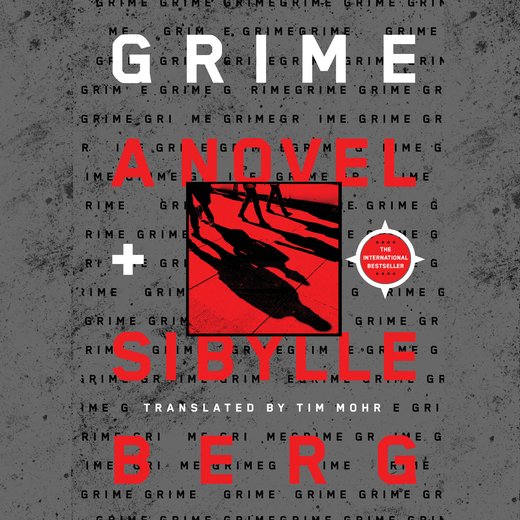 17:37:36
484.15 MB
9780593672105
December 27, 2022
Penguin Random House
Grime
Sibylle Berg
THE MILLENNIUM

began lousy.

There was no Y2K bug.

There were no fucking catastrophes.

The thing is, the citizens of the Western world had been looking forward to something finally happening after the hopelessly dull 1990s. Something not tied to a financial crisis; those only offered a bit of titillation for investment bankers as their bodies plunged the last few meters toward impact on the pavement and they wondered: Will my super sculpted body splatter on the sidewalk just like some fat, white, loser's body? Or will it bounce back up into the air?

The new millennium had a title. It was. ADHD. And beneath the title, in italics, stood: WE'RE RESTRUCTURING SHIT.

It was the era when Facebook got big. When a lot of older people thought that idiotic site was the internet.

It was the era of mass hoaxes, mass manipulation. Unbelievably quickly, people became addicted to Likes from strangers. Even more quickly, young people got addicted to a kind of excitement made up of a mix of bullying, violence, sex, and bullshit.

It was the era when genuine human cruelty was supplemented virtually.

When the yearning for understanding gave way to the rage of the ignorant.

Never before had there been so many conspiracy theories spreading online like wildfire. The Vatican, the Koch brothers, the Mont Pelerin Society, the Club of Rome, the reptilian elite, the flat-earthers—with the complications of the world seemingly increasing by the day, so too did the population's desire for a god of thunder.

It was the era before something.

It's always the era before something.

Then later, after the new millennium had gotten warmed up a bit, there had indeed been a collective event that united people in a sense of excitement: an airplane flew into the Pentagon and left a large hole in the building that looked like someone had dug a tunnel in a sand castle with a wet hand. Two other planes landed in skyscrapers. The skyscrapers imploded, and again people jumped out of windows.

It was the millennium during which doubt overcame the global population. And it became normal to mistrust the state and intelligence services, the press and academics, the weather, books, vaccines, scientists, and women.

The new millennium brought an array of unbeatable benefits for people lucky enough to have been born just then. All over the globe, people's lives improved. Or so it was said. People lived longer and more happily, more received education, infants survived infancy. Markets had made it all happen. Hooray for markets.

There were a few losers. They'd either been unlucky or hadn't tried hard enough to succeed. Everyone could make something of their life. As long as they wanted to. Brilliant.

They extracted fossil fuels. Natural gas and oil were extracted from the seabed with hydraulic fracking. Stuxnet—the computer virus—slowed down the Iranian nuclear program. Blockchain, which would render banks redundant, was invented. As was the e-bomb. The world was reorganized, the West fought to retain its importance. In the East, China, Russia, Japan, and Korea united to redefine markets.

Voice recognition was introduced for computers. AI wasn't yet a mainstream topic. People had mobile phones. They took pictures of themselves. They had things to do. Nonstop.

This is the story of



DON

THREAT POTENTIAL: high

ETHNICITY: indistinct shades of nonwhite

INTERESTS: grime music, karate, sweets

SEXUALITY: probable homosexual

SOCIAL CONDUCT: unsocial

FAMILIAL CONNECTIONS: 1 brother, 1 mother, father—occasionally, but mostly not

It begins in Rochdale.

Fucking Rochdale. A place that needed to be preserved and put on display in a museum as a warning about thoughtless development. A brass plaque: "This is how people live in the new millennium if they are not suitable to market conditions."

A catchment basin for the superfluous. A pool of non–genetically modified rejects.

So, right, Rochdale. A shithole near Manchester. Known for the consistency of its weather. Bad, that is. Rochdale, according to evaluations, had already been the most depressing city in the United Kingdom for five years running. A municipal embodiment of brain damage is definitely not conducive to consumption, so the city had found itself in a fight for its very existence. For decades. Like thousands of cities in the Western world that all resembled each other: brick buildings, crumbling streets and a derelict cinema, shuttered post offices, shuttered supermarkets. Nobody needs those things anymore, because it's the internet era. You can stream any film. And buy all essential foodstuffs, meaning margarine and white bread. Delivered in cardboard boxes. Though the residents might as well have sprinkled wallpaper with salt and devoured that.

Among the relatively limited circle of objectophiles, Rochdale was known for its seven social housing towers. Consequently you'd see them creeping furtively around the towers, excitedly licking the peeling facades. There was always something happening at the Seven Sisters, which was the buildings' unofficial name. And it usually had to do with the demise of a resident. Don envied the people who got to live there. They had more interesting lives. More interesting than hers, which took place in a totally ordinary social housing complex a few minutes away. In the Seven Sisters the drug trade was run on a grand scale, family members killed each other, and time and again people jumped or—let's say—slipped out of upper-story windows. Don had never seen a dead body at that point and was convinced that the sight of one would reveal a great secret. Perhaps it would open its eyes, the corpse, and in the manner of a helmet-haired BBC reporter ask: "So, just what is it like for a young person"—pausing, considering the best way to phrase it—"to grow up in this city?" Don would act as if she were thinking the question over and then say: "You know, people all regard the life they know as normal. You just don't know anything else. I was born here and never questioned the city or its shabbiness. It's just the way it is, like the bad weather, like the boring school holidays, I never gave any thought to the fact that other places exist. Or put it this way: I know that it's claimed online that other places supposedly exist."

The corpse would persist—"Is your manner of speaking really appropriate for a child?"—before reverting to being dead again.

Don was no longer an extension of her parents but an autonomous person. She was no longer scared when her mother wasn't around, no longer searched her face for signs of trouble, no longer asked herself how she could please her mother. In short, Don no longer asked herself what she could do in order to finally feel loved. Don did better without this total emotional dependency.

If she were older and more convinced of her own importance she would have mumbled things like: "I'm perfectly capable of being on my own." But nobody asked her, because Don was so young that adults did not yet see her as a person. Despite the fact that everything was already there. The feelings, the thoughts, the loneliness. There just weren't familiar compartments into which to sort the feelings.

Don didn't regard the early years of her life as having been awful. Maybe a little bleak, though back then she didn't know the right word to express that. Maybe a little dreary and dull, as is normal during the transition from childhood to youth, when you sense that something will change but you're not sure what. Don had music.

Grime seemed to have been invented just for her. Don didn't know who had invented it or from what components—that was the stuff of discussions between young men who were able to project an aura of invincibility by deploying insider terminology—

Don just knew the music sounded the way she wished to feel. Angry and dangerous. Grime stars had the best sneakers, chains, and cars. They were someone. They'd made it. They were heroes.

Grime played all day in the neighborhood. The music suited the attitude toward life. Though children wouldn't talk about having an attitude toward life—it was just their life. When you're grown-up you numb rising feelings with drugs, when you're young you listen to music. And then numb yourself with drugs. Grime was raging, filthy music for children leading filthy lives. Don listened to grime in bed, in the bath, outdoors. The great outdoors.

So—

In front of the window a lamp, rain or something similar, or maybe the window was just dirty. The flat occupied the first and second floors. You could, if you had completely lost your mind, call the whole thing a town house.

A very, very small, shabby town house. It consisted of two small rooms with a view of an outdoor concrete seating area and a metal fence. Once while watching TV it occurred to Don that something was missing from all the foreign movies: metal fences. They existed in such manic frequency only in England. Every few meters. Red, green, blue, whatever, didn't matter as long as it was fencing and it was metal. Every fucking thing was isolated from life by fences—schools, parks, kindergartens, fire alarms. It wasn't clear whether they were supposed to make citizens feel safe, offering a sense of safe harbor in turbulent times, or they were just thrown up as colorful accents amid all the gray. Don wished for a fence around her bed to keep away her brother. To whom she wasn't particularly close.

Beyond the fence, outside, there was a path along which, just a few meters from her window, other residents of the block moved as if they were using imaginary walkers. It was relatively dark, and oddly damp, but Don didn't notice back then. That there was always a draft seemed normal. Her mother was still somewhat together, she did her best to play family, though it was a bit awkward, as if she were building a dollhouse out of mud.

That everything could get worse didn't seem like a possibility at the time. Not to a child, since fear of the future is a pastime of the aged, who don't have any future anyway. Back then Don's world was fine, except for the fact that she didn't have a fence around her bed, or, better yet, a little room in the basement where she could lock up her brother. The brother whined. He was probably pissing the bed again. Don almost thought she could

Hear the urine running out of him and

Don was—

Furious.

Many couldn't manage it. To muster such a righteous rage. Most of the older people who hung around Don's city were numb and tired and squatted in corners and barely had enough energy to lift their heads. Once in a while they'd be fed. But their stomachs couldn't tolerate it, this solid food in an empty existence, and they'd throw up, only to be too weak to lift their heads out of the vomit. Most of the people Don encountered were old. That was no wonder at seven—or nearly seven. Or nearly eight, but, of course, older looking. Or at least believing she looked older. Don's hair grew straight up. Her eyes were crooked and dark, and Don was little, even for a nearly seven- or eight-year-old. She was little and furious. Don's rage was so ever-present in her daily routine that she would never think of saying: "Fucking hell, am I pissed off today." She knew no other condition. She'd been furious since birth. Or at least as early as she could remember. She hated the world where she had to live. Which was a few square meters large.

She hated this world and refused to come to terms with it. She had no relationship with her place in it, or rather the place allotted to her by virtue of her birth, with the preordained path set out for her, that would start with a poor education. In the event she survived that step without accidentally getting caught up in a stabbing, then would follow an attempt to secure an apprenticeship.

Not getting an apprenticeship, sitting around in government agencies and applying for welfare benefits, getting no benefits because some document or other is missing; coming home to find her mother has hung herself, leaving the apartment, landing in some kind of shelter for young women, getting pregnant, getting beat up by someone for getting pregnant, giving up the baby for adoption, or not, it didn't matter. She'd wait for an apartment in a social housing complex, start to drink and smoke crack and watch TV, staring at other people's pseudo lives, aka life as it's supposed to be. Light-skinned people who drink tea in their gardens and do honest work with their skillful hands. They fall in love, the people on TV. And then comes: fucking violin music.

In Don's world nobody fell in love. The people in her city hated each other or clung to each other because of a sense of panic they all felt, though nobody could say where it came from, this unease. They had apartments after all. Most of them. They had food. A kind of food.

Don read a lot, understood little, but still far more than an adult would think possible of a so-called child. Don felt:

Rage.

Are you serious? This pile of shit that you plunked down here? "Watch it! That's what's left. It might not be great, but it's yours. This is the earth that we've eaten bare, this is your neighborhood, your city, which serves the purpose of housing workers so they can produce some useless shit that nobody needs. Got it? It doesn't require anything of the people in your city except to vote for right-wing nationalist idiots who always have an answer to the question of who is to blame."

When people know who's to blame, they feel better, because then divine justice is restored. And there's a target for their hate. In Don's city you hated foreigners. Period. Don's city, that she would never leave, where she would waste away her entire life. Where it would end, though actually it was already over even before it began, because she was born in the wrong place. To the wrong parents, and on top of it all the weather was wretched. Had anyone asked her? Had anyone asked her to take part in these proceedings, run according to rules she had no say in? What human obligation was she fulfilling with her stay here, shitting among the eight billion people—or, by the time the thought was finished, perhaps it was nine billion—who were crawling around looking to see if they could conjure up some sort of advantage somehow. Who all wanted—something.

Life was a gift.

This unbelievably stupid saying hung in the damp kitchens of the slum residents, embroidered on pink wall hangings. What happened if you rejected it? What if you just weren't interested in this gift in the form in which it was intended for you? Nobody escaped their surroundings through work. There was no work anymore anyway.

It was impossible to attain better living conditions, there was simply no space available in a world where the few were intent on keeping the many at bay.

"Why did you do that?" You want to ask the old people. "Why give birth to children you hate because they're loud, because they're losers—from the word go, because you can see yourselves and your miserable childhoods in them, because you know you're going to screw it up, just like your parents did and your parents' parents did, by passing on this hopeless existence?

"What's the point? Leaving the children in their own urine at the foot of the bed where you're passed out drunk or fucking somebody? You get off on their tiny bones that are so easily broken, on the feeling of finally having power over somebody who's scared of you, and then you look at the children, hazily, and hate them for their neediness, that's so much like your own. You were never helped either, not by anyone.

"Your dull brains get some sort of satisfaction from tormenting your children, do they? You'll show them, eh? The people lording over you. The ones who turned you away, pushed you from the city centers where they drive around in elegant electric cars and speak of an ever more prosperous future.

"You could go on strike. But from what, since you don't do anything? Nobody would care. You could start an armed resistance, but—you don't have the energy. Or the weapons. And no idea whom to aim them at. So you just lie there. With your face in your vomit.

"Why are there still men wandering around freely out there who don't want to be fathers, they just want to turn up to fuck or to beat women, beat them to death, before they slump into the corner and say: This isn't what I wanted. You didn't want any of this? It just so happens that it stinks outside and it rains nonstop. And that from the very first moment everyone has to be afraid of everyone else, because they have this so-called survival instinct. Nobody can bear it."

Don couldn't bear it.

And

Refused to accept her preordained role as scum.

And

Wasn't going to wait for love anymore.

Wasn't going to wait for something like a future to sprout in front of her door. Nothing would ever grow here, it was a desert left behind by the elderly, along with these so-called living—living?—conditions. And yes, for fuck's sake, Don was passive-aggressive, she was female, she couldn't do any better. Was she supposed to take testosterone injections just to get more enraged, was she supposed to shoot herself up with hormones to try to convince herself she was smarter than she was, and that she ruled the world?
We hope you are enjoying the book so far. To continue reading...
Grime
Sibylle Berg
Copyright © 2023 All Rights Reserved