Book info
Sample
Audiobook
Media
Author updates
Lists
Synopsis
With its hipster-run Portland food truck pod and focus on real-world social issues like homelessness, gentrification, school affordability, and bicycle commuting, this third Ground Rules Mystery is a fresh, modern cozy featuring coffee barista Sage Caplin. She's ready to take a shot at a new side hustle—her boyfriend's gaming company—until a programmer's pranks get him burned . . .



To top off her coffee business, Sage is now helping out with her boyfriend Bax's gaming company. Conveniently for Sage, it's located next door to her Ground Rules Roastery. That makes it easy for her to pitch in with Bax's employee team-building event. The plan is to boost morale with a scavenger hunt. And it seems to be going well—until Robbie, a programmer known for being a prankster, turns up dead in Sage's roastery . . .



There are two suspects so far: Sage, who has no idea how the victim ended up in her space; and Bax, who was allegedly spotted arguing with Robbie the day before. But could it be a disgruntled employee? After all, Robbie's sense of humor was known to have rubbed some coworkers the wrong way. Now, it's up to Sage to find the culprit—before another life grinds to a halt.
Release date: May 23, 2023
Publisher: Kensington Books
Print pages: 256
* BingeBooks earns revenue from qualifying purchases as an Amazon Associate as well as from other retail partners.
Listen to a sample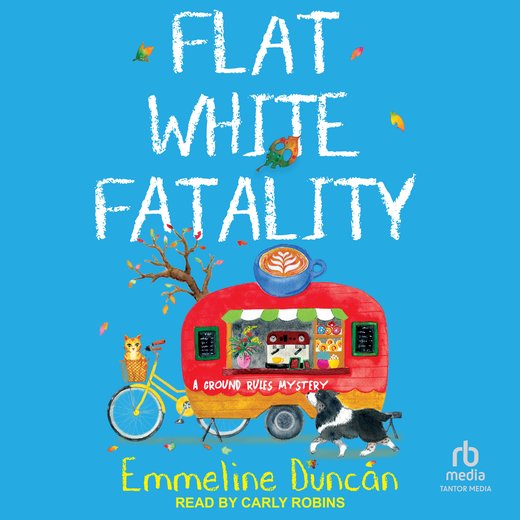 07:03:56
194.07 MB
June 20, 2023
Tantor Audio
2023
Flat White Fatality
Emmeline Duncan
It is a truth acknowledged by coffee aficionados that nothing is ever as good as your first cup in the morning. But as I tested the new batch of our newest blend, a light roast we'd jokingly dubbed "Concrete Blonde," and the name stuck, I decided sometimes your second cup could be life changing.

Just in case, I poured myself a third cup.

Still perfect.

One of my baristas, Kendall, grinned as he wiped down the espresso machine after making a mocha for a customer. "Do you and that coffee need to go get a room?"

"Based on my developing level of commitment with this coffee, I'm thinking marriage."

Kendall poured his own cup and sniffed the coffee to test the aroma in a coffee snob–approved fashion before taking a sip. His usual low-key vibe felt comforting, like nothing could shake him, not even world-class coffee. Although I knew he was the sort of guy who cares deeply but approaches life pragmatically. It's one of the reasons I love having him as a barista. Barely anything fazes him.

And Kendall brews a mean cup of coffee.

Except I should say "kind cup of coffee," since he's not mean unless provoked. Even then, it's less cruel and more principled.

"Okay, I understand why you had a dopey look in your eyes while you drank this," Kendall said.

We chatted about how to brand it until the calendar on my phone beeped an alert. "I have to motor," I said. From the half smile that flashed on Kendall's face, he'd gotten the joke. I unlocked my bike from its spot chained up behind the Ground Rules cart and headed out.

But I paused before leaving the Rail Yard. The cart, with its teal awning and accents, has a retro-throwback feel that I love. And now, it was time to check on the next phase of the Ground Rules plan for world coffee domination.

When I left the cart, I swung by the Button Building, aka the micro-restaurant development that would eventually house the first brick-and-mortar Ground Rules shop. The shell of the building was up, but it would be a while before the interior was fully built out. But as I chatted with the contractor and architect and walked with them through the space that would eventually be our shop, I felt like I could see the future.

And the future was going to be well-caffeinated but also light and airy with big windows, white subway tiles, a long bar made of reclaimed oak perfect for patrons to sit at while lingering over an espresso, a handful of café tables, and polished concrete floors. Plus, an order window from the street as a nod to our coffee cart roots that would hopefully attract commuters, dog walkers, and people on the go.

I swapped my borrowed hard hat for my bike helmet and cycled toward the Ground Rules headquarters.

When my business partner, Harley Yamazaki, and I had rented space in SE Portland for our roastery, I hadn't known how perfectly it would work out. The area was ideal: we had plenty of room to set up the roaster and store coffee beans as they degassed. Plus, storage space for our bagged coffee during the brief time between packaging the beans and sending them out into the world. The location was an easy bicycle ride from the Rail Yard and central. Like we were in the heart of the city, sending out our coffee to all six quadrants of Portland and the world beyond. (Yes, six quadrants. As we say, we like to keep Portland weird.)

Our neighbors in the building looked like a true Portland mix of people passionate about their businesses. A gym. A seamstress specializing in bespoke and repurposed clothing. A woodworking shop that made custom furniture and, when their door was open, made the hallway smell faintly of pine dust.

But, most importantly, a video game development company named the Grumpy Sasquatch Studio was next door to the roastery.

We hadn't been in the building for very long when I took coffee to our next-door neighbors, who were rarely grumpy, even when everyone was stressed during deadlines.

I'd met Bax—actually named Lukas Evans Baxter but no one called him that—the co-owner of the studio, and even though I didn't realize it, the universe had clicked a puzzle piece into the landscape of my life. 'Course, it took me a while to know it.

Then, a while back, Bax asked me to do motion-capture work for his new video game in production. It turned out I'd partially inspired the basis for the game. Bax acted all starry-eyed when he told me about the concept. It involved some sort of urban fantasy world with a magical blonde who righted wrongs and solved mysteries. She didn't back down from anyone.

I couldn't say no, even though I'd been tempted because: I'm busy working on world coffee domination. So, after a brief negotiation, I'd started dressing up in motion-capture gear a few afternoons a week. My small but reliable roster of fantastic baristas kept my coffee cart chugging along when I was in Grumpy Sasquatch Studio, wearing what was basically a black onesie with sensors on it, acting out scenes and choreographed movements that the game designers were using to render me as a video game character. Yesterday, after working with a choreographer, I'd done a series of fighting moves, and she was scheduled to come back periodically over the next few weeks.

Yesterday was also supposed to be my first payday. But it hadn't shown up, so I needed to stop by the studio's office manager to troubleshoot the problem.

When I entered Grumpy Sasquatch Studio, I turned to the short hallway leading to a handful of private offices, including the office manager's domain. But Bax's office had its own gravitational pull, and I had to pop my head in.

He was still dressed in his typical workday unofficial uniform of jeans and a T-shirt, today covered with a charcoal cotton sweater. But I knew he'd mix up his attire later today with the rest of his crew.

Bax glanced up as I entered. His face softened from focused to a smile. "How's the Button Building looking?"

"Like someday, it will be a real coffee shop!"

We chatted for a moment, then I walked over to Elaine's office, which felt like a different world compared to Bax's. His office has personal touches. A photo of his son on his desk. Framed video game posters on the calm green walls, and a couch under the window.

Elaine's office is all business. Her desk faces the door, and there's a hard wooden seat for visitors, giving it the feeling of a principal's office. One wall has file cabinets, and a second has a console table in institutional gray. The only personal touch is a small succulent on the corner of her desk. Elaine matches the ambiance, and she always dressed in what I term motherly business casual. She favors capris year-round and loose tunics in classic colors versus most of the office's dress code of jeans and graphic T-shirts.

I knocked on her doorframe, as the door was open, even though she was meeting with Noah Parkes, one of the "sasquatches" I now worked with sometimes. If I had to guess, I'd put his age in his early thirties. He was intense when he worked, but he also joined the weekly office no-drop bicycle rides, meaning the group never leaves a rider behind. I'd seen him spring into action and fix flat tires with a calm efficiency and sense of humor as he got the group ready to restart.

"Oh, Sage, come on in. We're done here," Elaine said.

Noah stood up from the wooden chair. "So, it's all taken care of?"

"Yep, you can head back to work," Elaine said. She sounded like a bone-weary mother dealing with a horde of teenagers.

Noah nodded at me as he passed. "See you in a bit!"

It was my turn to slide into the hardback chair, which wasn't comfortable enough to make anyone want to linger. Like Noah, I left the door open, implying this wasn't too sensitive of a conversation.

Elaine handed me an envelope. "The payment problem was a bit of a miscommunication. We set everything up for automatic payment, but everyone's first and last checks are always hard copies."

I tucked the envelope into my messenger bag. "That makes sense." We had the same process at Ground Rules. How I got paid didn't matter to me; I planned to funnel all of my motion-capture payments into my avocado toast fund (which some people prefer to call a rainy day fund).

"I'm not sure where the confusion came from. Maybe because it feels like you've been here forever, even if you only recently became an official employee. I've been paying your coffee invoices for forever, it feels like," Elaine said. Her words felt bland, and I wondered what she was truly feeling, deep inside. And I wondered if Elaine intended her comment about me being around to be a criticism since it felt slightly judgy. But she also looked like she needed either a nap or a week away on a beach with a book and no responsibilities. So maybe I was reading more into an off-hand comment than I should.

And the studio had been one of Ground Rules's first corporate accounts, and since they were next door, one of the easiest to service.

"Are you excited for today?" I asked.

A frown slid across Elaine's face before a more neutral look covered her face. She forced herself to smile. "It's not quite to my taste, but I'll join everyone, of course. It's certainly a creative celebration."

"Ah, so today's not quite your cup of coffee?" I said.

My joke didn't change the expression on Elaine's face, but a laugh sounded from the doorway behind me. "That's our Elaine," Lindsey Barlow, Bax's business partner, said. "One of the things I love about our company is how welcoming we are with diverse viewpoints. And the event today is optional for everyone, of course. But by not participating, you'll miss out on some killer snacks."

"Oh, hi, birthday girl!" I said.

Lindsey had opted for a vintage-inspired shirtwaist dress with a matching cardigan to celebrate her annual celebration of another orbit around the sun. As long as I'd known her, she'd embraced natural hair, and she'd recently taken to box braids with dark purple beads at the end. She's always stylish in a way I'd love to be. Although it's hard to bring an A-game clothing sense to a job that involves regularly taking unexpected baths in coffee.

Lindsey smiled at me. "Thank you! If you're done with Elaine, I have a few things to go over before starting the festivities. I need her usual help cutting through bs to keep this place moving smoothly."

"I cede the floor," I said and stood up. As I shuffled past Lindsey, I got a whiff of her perfume, which featured notes of cinnamon and cherry.

"See you on the flip side," Lindsey said and shut the door softly after I left.

So I chilled on the couch in Bax's office until it was go-time.

For once, I wasn't the only person at Grumpy Sasquatch Studio dressed in a goofy costume.

Everyone here had changed from their usual office attire into duck costumes. It was part of a team-building game involving us waddling around town, solving scavenger hunt clues, and, presumably, cementing solid work friendships. As we walked around Portland, people would hopefully know we were playing a game. However, I suspected they'd think we were hard-core University of Oregon fans showing our love for the Ducks.

Me being part of the team builder felt amusing, but hey, I even had an official Grumpy Sasquatch paycheck in my bag. It still felt weird to be an employee, considering I was dating the co-owner. But he'd been so persuasive, and I was enjoying the motion-capture work.

Speak of Prince Charming. Bax paused beside me. He grinned at me, and I felt a bit warm inside. "Aren't you the cutest duckling in the room," he said.

Lindsey walked up. She's about an inch shorter than Bax, with a rangy build and an ever-present mischievous twinkle in her eyes.

"I'll get this started in a minute. I assume you have a partner in crime picked out?" Lindsey said.

Bax nodded his head at me. "I'm partnered with the coffee angel," he said. Bax wore the hood of his duck costume up and looked absolutely ridiculous. But the costumes, which were basically onesies, looked silly on everyone. Thankfully, the October day was brisk, 'cause the onesies would've been murder in the summer heat, which extends into late September.

A voice spoke from behind us.

"How do I look?" From the Australian accent, I knew without looking that Robbie Kayle had spoken. I turned and held in a laugh.

Robbie had somehow found a white goose costume and emerged in it, butterfly-like, from a cocoon of ducks.

A couple of people chuckled. A few people stared with expressions I couldn't quite decipher. But I thought I also caught a mix of annoyance and indifference.

"Looks like one of the groups will be a mixed fowl matchup," Lindsey said. "Hopefully, it doesn't lead to fowl play."

"You mean worse than the rubber chicken Robbie left in your desk drawer this morning?" someone asked.

Of course, Robbie had tried to pull a prank on Lindsey for her birthday.

"I wanted to partner with Sage," Robbie said. She put her arm around my shoulder, giving me the whiff of coconut, bananas, and a nutty scent I couldn't quite place. At 5' 6", Robbie was about five inches taller than me. She was slightly overdue to get her blond roots touched up, showing light brown hair underneath, but it worked with her carefully styled beach waves. Everything about Robbie seemed purposeful. Including her upscale jeans and trendy wardrobe with a touch of surfer chic sourced from hip and higher-end shops that, I assumed, her programming job helped her afford.

Robbie must have also been thinking about hair. "What shade of blond do you aim for? Sunflower? Champagne?" She touched a lock of my hair where it rested on my shoulder. I'd blow-dried my hair this morning and left it down for once instead of pulling it into a ponytail.

"This is my natural color, although I did play around with dyeing it darker when I was a teen."

"Really," Robbie said, like I was lying about not bleaching my hair.

"It's one perk of having two blond parents." Hair wasn't the only thing I'd inherited from my parents. Neither are particularly tall, and both have blue eyes. But that's where their similarity ends, as my father lives by a strict moral code, and my mother is amoral at best, if not the villain of her own life story. Although I'm sure if you asked her, she'd assume she's the hero.

One of the other programmers, Wyatt Tornsey, stepped up to Lindsey. His duck hood was around his neck, so I could see his spiky brown hair that always stood on end. Kat and a couple other members of his work team followed along behind him, like birds of a feather flocking together.

Wyatt handed Lindsey a box with a silver ribbon wrapped around it. "This is from the dev group," he said. "Kat found it, and we all agreed it was the perfect gift."

"You guys didn't have to buy me anything," Lindsey said. But she looked delighted as she untied the bow. Lindsey opened the gift to find a tiara with rhinestone stars. She laughed, put the box down, and carefully settled the tiara over her braids.

"It's the closest thing we found to a crown," Wyatt said.

"I love it!" The tiara sparkled in the overhead lights.

"It's your birthday. Why are you the one staying in the office?" Robbie asked.

"The birthday gift I'd planned is the acknowledgment I'm the puppet master, and you're all going to play the game I spent the last few weeks organizing," Lindsey said. "And Sage made me dairy-free brownies. I can't leave because I can't stop eating them."

Bax laughed. Lindsey looked at him, and they shared a silent moment that showed their decades-long friendship.

Robbie sang out, "Why was she born so beautiful? Why was she born at all? Because she had no say in it, no say in it all!"

Everyone stared at Robbie. Her song sounded vaguely familiar, and my brain whirled as I tried to place it.

"Okay," Kat finally said.

"It's the Australian birthday song. You've heard it before, right?" Robbie said.

"I've read about it before," Wyatt said. "It went semi-viral when an Australian didn't realize how unique the lyrics are if you're not expecting it."

"One of the birthday songs in Russia has the lyrics, 'and I play the accordion for all to see. It's a pity that (my) birthday is only once a year,' " Kat said.

I noticed the accent that frequently shaded Kat's voice.

Robbie snorted.

"Is there a story behind the Russian song?" Lindsey asked. I sensed the subtle rebuke directed toward Robbie in her voice. I wasn't the only one who'd noticed the occasional animosity Robbie sent Kat's way. I'd yet to see Kat react; she'd always acted like she hadn't noticed. But I suspected, deep down, Kat cared.

"It's from a movie about Gena the crocodile," Kat said. "It involves accordions."

"Interesting, we'll need to talk about this more later," Lindsey said. She got everyone settled into teams. Raoul and Addison had already partnered up, while Wyatt Tornsey and Noah Parkes had decided to work together.

"I'll join Wyatt and Noah," Robbie said. "They'll need my help."

"You're welcome to join us, Kat," Raoul said. He'd done the math and realized Kat was the odd duck out.

"Or us," Bax added.

As they talked, Robbie made eye contact with me. "You baked something for Lindsey? That's a mistake. I'd never become the staff baker."

"I'm sure you could find a way to turn it into a great practical joke." Would anyone be brave enough to eat something Robbie had made? One of my favorite aspects of running my own coffee company is that experimenting with flavors is part of the job. However, there's a reason I buy my pastries from a beloved local shop.

"True, think of the jokes! But no, being the person everyone turns to for cakes turns you into the office mom. No one will take you seriously professionally, but they'll act pissed if you forget their birthday. It's not worth it. I'd rather keep these guys on their toes." She blinked. One of her green eyes looked slightly red and watery.

"You okay?" I asked.

"Stupid contact lens." She smiled, but it felt like one of the log videos shown on TV during the holidays. It looks festive, but there's no warmth to it.

But maybe I'm biased since I can never decide how I truly feel about Robbie. I want to like her. But something inside tells me to keep up an invisible wall between us.

"Luckily, I'm just here as a favor to Bax. And baking is fun. I mean, there's a reason I didn't start a bakery, but it's nice to be able to make something special for Lindsey for her birthday." Especially since she had some food issues and avoided dairy.

Lindsey clapped her hands. "Okay, everyone! You have your teams, and I will give each of you a clue to start. You will visit eight destinations total, and the first person to visit all eight and arrive at the final spot will win. You won't be working on the clues in the same order, so don't think you can just follow another team and try to pip them at the end."

"What's the prize?" Robbie asked. "A raise?"

"Don't you wish you knew," Lindsey said. "So may the best flock win!" I groaned at the pun, then thought I saw a flash of annoyance in Lindsey's eyes as she glanced toward Robbie, then looked away.

"You ready, team?" Bax asked Kat and me.

"I have been ready since the day I was born," Kat said.

I wondered if she'd meant she'd "been born ready."

Robbie started blinking hard as she stood with Wyatt and Noah. One . . .
We hope you are enjoying the book so far. To continue reading...
Flat White Fatality
Emmeline Duncan
Copyright © 2023 All Rights Reserved