Book info
Sample
Audiobook
Media
Author updates
Lists
Synopsis
The third and final instalment in Sean Grigsby's rip-roaring firefighters-meetdragons fantasy series
In the final book of the Smoke Eaters series, the New United States Army has taken over, plunging America into a full-on dragon apocalypse. Smoke eaters—the dragon fighters with the uncanny ability to breathe smoke—once the only
protection against the firesome beasts, have been outlawed and have had no choice but to go into hiding to avoid being captured by the power-hungry soldiers.
Guiellermo Contreras is a private in the NUSA. But when he is accused of being a smoke eater, his only option is to flee. He escapes and sets out on his own mission to find the heroes who disappeared years before. But in his search for
hope, what he discovers is something unthinkable. It's going to take more than a few renegade smoke eaters to stop the army who are hell bent on raising … hell.
Release date: June 22, 2021
Publisher: Angry Robot
Print pages: 320
* BingeBooks earns revenue from qualifying purchases as an Amazon Associate as well as from other retail partners.
Listen to a sample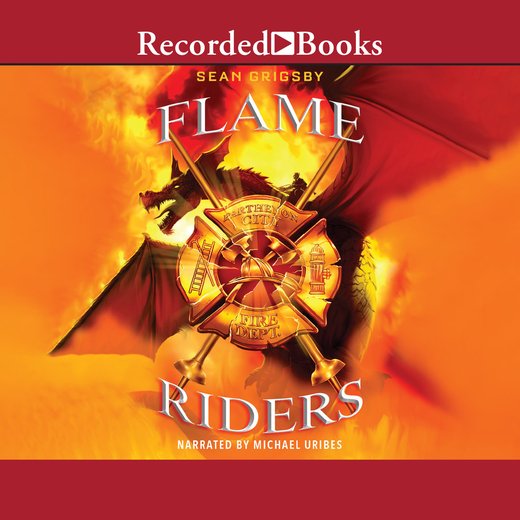 08:10:43
224.64 MB
June 22, 2021
Recorded Books
2021
Flame Riders
Sean Grigsby
CHAPTER 1
There were about a dozen of them huddled in front of me, writhing together like snakes in a pit. By the light of my plasma lantern, their collective breaths rose like smoke against the cold. They all watched me quietly, waiting to see if I would take the bait. Of course I would bite. I'd run out of things to talk about.
"Tell us a story, Gilly."
The platoon always put me on what they called "brat duty." I didn't like the term or the job, but I was good with kids, so it was my duty to babysit while Colonel Calhoun and the others met with the town's adults to discuss business.
Calhoun called it business. I called it a shakedown, but only to myself. Dragon work accounted for maybe ten percent of what we did every day. Mostly we just roamed from settlement to settlement collecting our dues.
The kids in this town ranged in ages from as young as four all the way up to ten or twelve. They all looked like they could use a bath, but none of them wore rags or went barefoot. It may have been the apocalypse, but these were still American kids. No matter the hardships they endured on a day-to-day basis, their parents would have rather had their eyes gouged out by wraiths than to have their kids go without a t-shirt and sneakers.
The kid closest to me, a little girl who'd told me her name was Shequoia – the one who'd asked for a story – was wearing a pair of green Jesson Dragon Stompers. The shoes had to be older than she was. I knew because I used to have a pair myself when they first came out in stores. They were manufactured for only a year in 2119, and were quickly pulled from stock after a public outcry claimed an insensitivity to the dragon problem.
Everything was second- or third-hand nowadays. Shequoia's parents either found the Jessons in a dump or had saved their own original pair, thinking of the child they would have one day and what they'd wear when society tanked.
Shequoia's pair were raggedy as hell. As she sat on the ground, tapping them together, I noticed a big hole worn into the sole of the right sneaker and a loose heel on the left. Unless her parents had another set of shoes ready for her, they'd have to go scavenge or trade for some in another month or so. Kids grow like weeds at that age.
"A story?" I asked.
"Yeah!" all the kids said, keeping their voices down like I'd asked them to. "Come on, Gilly. Please?"
My name is Guillermo Contreras, but since that's usually a mouthful for children, I'd told them to call me Gilly. Only my family called me that, and no one in the New US Army addressed me as such. To my fellow soldiers, I was simply Contreras, the lowest guy on the totem pole, taker of all shit and unwanted duties.
I grabbed a stool that had been leaning against a shelf of dried goods and laid my rifle in its place. My sergeant had told me to take the kids into the storeroom while the adults talked, and you can bet I caught the implication of his statement. I was just a kid to everyone in the platoon, even though I was twenty years old and grown enough to die like any of them. My sergeant wasn't an adult. He wasn't even human.
Squatting onto the stool, I patted my knees and tried to think of some interesting tale to keep the kids busy. "A story. Hm. Well, I can tell you about the dragon we were tracking last week. It was a Wyvern that spits acid."
"No," all the kids groaned.
"We don't like the Army," one freckle-faced boy was brave enough to say.
Me neither, I thought.
"Okay, then." I looked around the darkened room as I tried to remember any fairy tales or fables I knew well enough to stumble through.
Towns like this – Wraith's End, they called it – didn't have much infrastructure or electricity. They were all powered by generators. There was no more Feed for news and television, no screened entertainment. No cities or any semblance of modern civilization. People were lucky if they had paper books and they eventually used them for toilet paper.
The few comforts society had held onto after the dragons emerged were quickly burned away after the New US Army took over dragon-slaying. NUSA wasn't connected in any way to the old American military aside from using the same lingo and looking the part. No one used the word "mercenaries" but I wasn't so naive I didn't see the truth. But even I, as a modern barbarian, was as much at their mercy as civilians.
I looked back to the door to make sure my sergeant or, worse, Colonel Calhoun, wouldn't stomp into the storeroom to hear what I was about to say next. Back to the kids, I hunched forward a bit. "Have you guys ever heard about the smoke eaters?"
A whispered ooh flitted through my tiny, captive audience.
I smiled. It was my favorite subject, but the only one I couldn't openly discuss. "The smoke eaters were a special group of people who could breathe dragon smoke and handle heat that would melt most people's faces off."
Shequoia twisted her face in disgust.
"They were heroes," I said. "They wore armored power suits that closed around their bodies and protected them from dragon teeth and claws. The smoke eaters could jump fifty feet into the air, shoot lasers out of one arm and fire-snuffing foam out of the other. And some of them even had laser swords they used to kill dragons as fast as you can blink."
Some of the kids blinked rapidly to see exactly how fast that was.
"Just like firefighters back in the day, they would ride out in big trucks with flashing lights and sirens, always ready to help those in need if a dragon attacked."
A little girl wearing a too-big Minnesota Maulers jersey raised her hand. "Did they fight wraiths, too?"
"You bet they did," I said. "They cleared dragon nests and caught wraiths with a special remote so no more dragons would show up in an area. They did it all. And the best smoke eater to have ever lived was a captain out of Ohio named Naveena Jendal. Do you want to see something?"
"Yeah!"
I knew they would.
Now, I could have been in huge trouble just talking to these kids about my holoreader. The New US Army confiscated all electronic devices from civilians and it was considered bad form to flaunt such things in front of them. Only soldiers were allowed to have holoreaders for official duties, but "official duties" usually meant watching old movies and recording videos of them hazing the platoon's FNG. That stood for "fucking new guy," and that had been me for the better part of a year.
I could at least say, with a clear conscience, that I'd had this particular holoreader since Christmas two years before, and I received it from my parents. I didn't rip it out of some twelve year-old's hands like the other soldiers.
"You have to keep this a secret," I said. "You promise?"
They nodded their heads, waiting to see what I was going to show them.
I flicked a finger across the reader's screen. A hologram rose into the air above the kids' heads: a blue-tinged, still image of a woman wearing one of the power suits I'd described. She was roaring and charging. On her head was a helmet that looked much like the ones firefighters used to wear, with added cheek guards. This wasn't your everyday hard hat. This was a smoke eater helmet. A bronze dragon sat at the top, its jaws holding a shield that read "Parthenon City."
Flames, caught in frozen motion, raged around the woman as she held her laser sword above her head. The laser sword protruded from her suit's right arm. It was the brightest part of the photo. In the bottom corner, a dragon spread its jaws wide, a ball of fire cresting out of its mouth. Its scaly skin was purple and it had at least fifteen horns curling from the top of its head in a nest of sharp points.
A few of the younger kids started crying.
"Hey," I said, "it's okay. Don't be scared. This is an old image of Captain Jendal. It's not happening right now. It's just a picture, a hologram. That dragon isn't really here."
"She looks scary too," Shequoia said.
"I know," I couldn't help smiling. Naveena Jendal was my personal hero. "But you have to be scarier than the dragons if you're going to fight them. That's what I want all of you to learn today if you don't learn anything else. You can't let the dragons and wraiths scare you. You have to be meaner than they are."
"But we don't breathe dragon smoke," a little blonde girl said.
"Maybe not," I said, "but that doesn't mean you can't do anything. You can listen to your parents. Do what you can to help everyone around you, not just yourself. Don't let the monsters make you scared."
"And what about monsters who are people?" Shequoia asked.
That melted away my smile. "That's a little tougher."
"What happened to the smoke eaters?" a little boy asked.
I leaned back on the stool and sighed, mourning something I never had a chance to know. "They were disbanded. Cities all across the country put a stop to their organization and turned dragon-fighting over to the New US Army."
"So there aren't any more smoke eaters?" Shequoia asked. Her eyes sparkled in the light of the hologram.
"There might be," I said. "But they stay hidden. The Army's longest-running job was arresting smokies who were still slaying in small towns. Now, if they find anybody who shows signs of being a smoke eater, they send them away to a prison in Ohio. Some people out there right now are smoke eaters and they don't even know it."
The door to the storeroom burst open. A bulky droid carrying a rifle marched in and scanned its red eyes over the kids before turning to me. He'd been constructed to look like a metallic bodybuilder, but apparently his manufacturer had also wanted to carve his face into something less intimidating. The result was something altogether more horrendous, and his voice was always cranked to maximum volume. "Private Contreras, get your saggy, brown ass outside and bring those squirming ankle biters with you."
"Yes, sergeant," I said.
Sergeant 5-90 looked one more time at the children huddled on the dirty ground before twisting his torso and marching outside on his clanky, tree trunk legs.
What was I doing with my life? This wasn't what I signed up for. Join the NUSA, see the world! Yeah, and the world was an ashen wasteland where I was relegated to wrangling a group of scared babies at gunpoint.
I guess it was a lack of alternatives and a desire to get out of my hometown that made me sign up. Sometimes I wished I would wake up one morning and realize it had all been a dream and I was back in Peoria, Illinois, and not freezing my ass off in Wisconsin. Granted, I'd still be cold in the Prairie State, but there's a warmth that family and a familiar place provide that you can't find anywhere else. Maybe I'd been worried that warmth would smother me to death some day.
The kids crawled into the corner farthest from the door. They looked at me as if I would tell them they could stay in the storeroom. Unfortunately, the droid was my superior and I had to do what he ordered if I didn't want to face punishment. And that could have been anything between being dragged by cables behind a spider tank or a swift placement in front of a firing squad.
I rose from the stool and grabbed my rifle. "It's okay, guys. Let's go outside. I'm sure me and the rest of the soldiers will be gone soon."
They moved to stand behind me, gathering in a clump.
We walked out into the cold afternoon, where the light was too bright and gray for my liking. Spring was a long way off. All the adults of Wraith's End stood facing us. Their faces were a mix of anger and fear. Some of their looks were directed at me, and that sat with me as well as a gallon of bleach in my stomach. I could only surmise the business meeting hadn't gone too well.
Behind them, our platoon's two spider tanks hummed and sent waves of heat into the air from their exhaust grates. The tanks only had four stiff legs they used to skitter over every type of terrain like waterbugs. But they still looked like spiders, so the name stuck.
Wraith's End was designated a town only because it was what you called a group of people struggling together to survive out in the ashes. It used to be a normal suburban street. Some of the houses still stood, barely. The asphalt had given way to dirt, but you could still see a few chunks of it here and there, lines and patterns of what used to be. The people of Wraith's End had built shelters out of metal sheets and boards, placing them alongside the still-standing houses, creating a sort of town square around the place we were gathered.
"Okie dokie," Colonel Calhoun bellowed. He paced in front of the town's adults with hands at his hips and his large ion pistol holstered close. "Now we've got everyone here."
The rest of my platoon surrounded the grown-ups in a semi-circle, rifles drawn.
"You can't bleed a turnip," a townswoman said, shaking her head, breathing heavy through her nose.
"I can," Calhoun said. "And if I can't, I'll find something else to bleed. Line up those kids, Contreras."
It was rare for the Colonel to address me directly. It took me a second to realize what was happening and I didn't move until all the soldiers' and townspeople's eyes fell on me. The muscles in Calhoun's temples tensed under his beret, making it seem like rodents were moving under the buzzed, gray hair at the sides of his head.
"Yes… sir," I said. I turned to the kids. Shequoia was clinging to the back of my coat. "I need you all side by side, facing your parents."
The kids did as I asked, though several of them were sobbing and the one I had to carry to the end of the line refused to unlatch himself from my arms. I had to pry him away, though I ran a hand over his head to show there were no hard feelings. I didn't blame the kids for being nervous. Something in the air didn't feel right. This wasn't normal procedure.
"Kids," Calhoun said, "your parents are telling me they have no rations or any other resources they can contribute to the cause. I say that's a filthy lie."
A man in a brown bomber jacket mumbled something, but a soldier prodded him with the end of a rifle and shut him up.
"Now," Calhoun continued, "a lesser man would just take everything in your storeroom and leave you to face the rest of the winter without food or a means to fend off the dragons. But I am above such larcenous activities. We have a symbiotic relationship. Towns like you provide us with resources, and we provide you with protection. It's a balance."
The colonel had to be crazy if he thought the kids would understand half the words he'd just said, but I knew it was all theatrics. He was really talking to the adults, and using the kids as a springboard for his message, really digging his hooks into the parents' skin. The adults behind Calhoun tensed and some of them struggled to hold back tears in their eyes. I felt for them, but it wasn't helping their kids any.
Buck up, I thought.
Calhoun took a big whiff of winter air, puffing up his chest and stretching the front of his fatigues. "I won't do anything to interrupt that balance we have, but I will do everything in my power to maintain it. By my estimation, little babies, your parents are hiding things from us and if they can't be honest about the supplies they have, they won't be honest with us about anything else, so it got me thinking."
I held my rifle a little closer to my chest, raising the barrel as far away from the kids as possible without drawing attention. It was never a good thing when Colonel Calhoun put his thinking cap on. And that was saying something, considering his ridiculous burgundy beret.
"Hiding things," Calhoun said. "They are hiding something. And what would they want to hide?"
No one answered. I couldn't think of anything myself. I thought this was just a showy way to shove these poor people around as an example. I didn't even think Calhoun had an answer, but he suddenly came to attention and barked, "Sergeant Five-Ninety!"
My droid sergeant, carrying his rifle in a count four position, leapt from where he stood and landed in the muddy snow in front of Calhoun. "Yes, Colonel."
"Relinquish your rifle."
"Sir, yes, sir." Sergeant 5-90 performed a few sweeping moves of the rifle before handing Calhoun the weapon.
As tense as the situation was, I couldn't help thinking, What a show-off.
"Sergeant," Calhoun said. "Please engage your flamethrower at the minimum setting and approach the first child in line at the far left."
All of the adults behind Calhoun shouted, but two of them were more upset than the others. They had to be Shequoia's parents, because she was the one Sergeant 5-90 walked toward. Shequoia screamed and backed away from the droid, who ejected a small stream of fire from its left forearm. Flames had to be about half a foot long.
"Private Contreras," Calhoun said. "Restrain that girl and hold her hand out, palm down."
My gut wanted to stay right where it was but the rest of my body moved forward, my hands slinging my rifle onto my back. I wasn't sure if other soldiers ever experienced the same thing, but I always got a sick feeling when it came to following orders, and it came over me stronger than usual right then.
Join the NUSA, terrorize children!
I placed myself behind Shequoia, put my hands on her shoulders. I wanted to tell her everything was going to be fine. But I couldn't. Because they weren't. I grabbed her arm and held out her hand. She fought me, wriggled and tried to pull away, but I was too strong.
"Let me go, Gilly!" she shouted.
"The only thing anyone would want to hide from us," Calhoun said, "the only thing I can think of, is a smoke eater. Well, we have ways of finding out who that might be. We'll start with each of your children first, then we'll make our way through the rest of you."
Sergeant 5-90 stood there, waiting in front of Shequoia. He hadn't been given the directive and would wait until kingdom come until Calhoun told him to do anything else. I felt just as much a robot, standing there with a scared little girl kicking at my shins.
"Sergeant," Calhoun said, "place your flame under that child's hand."
The adults were restless, pressing against the invisible line the armed soldiers had placed around them. The two drivers deep inside the spider tanks ejected their topside guns, turrets that looked like the tanks had grown lethal antennae. That got the crowd to settle, though their angry voices grew louder.
The droid sergeant stepped forward, close enough to where I could feel the heat from the flames flickering out of his arm. Shequoia was crying, screaming. I felt like she would melt in my arms as soon as the fire touched her palm. Even fire smaller than that could have set the world alight. Instead, they lit something inside me.
Sergeant 5-90 took another step.
"No!" I turned Shequoia away and grabbed my sergeant's arm, shoving the flames back with my bare hand. The heat cut my palm like a jagged dagger. I closed my eyes, convinced my winter fatigues would catch fire and that would be the end of my tour. I really hadn't planned it out too well.
Sergeant 5-90 ripped his arm away from me, killed the flames, swung his other arm around, and grabbed me by the throat. He lifted me off the ground, where my boots were dangling just above the snow. It was like being at the mercy of one of those claw games at an arcade. Breathing was a struggle, and if my sergeant squeezed any tighter, I'd have been decapitated.
Shequoia ran toward the group of adults and fell into her parents' arms. They all cried, dropping to their knees. She'd passed Calhoun on the way. The colonel gave her a brief, annoyed side eye but let her go. He was more interested in me at that point, marching over with his hands crossed behind his back.
Sergeant 5-90 twisted my head so that I had no choice but to face the colonel. ...
We hope you are enjoying the book so far. To continue reading...
Flame Riders
Sean Grigsby
Copyright © 2023 All Rights Reserved