Five for a Dollar
April showers bring murder!
Book info
Sample
Audiobook
Media
Author updates
Lists
Synopsis
April showers bring murder!
Donations are pouring in for the charity yard sale, but as Kay and her friends sort through the glassware and gently used appliances, they discover a real skull in a box of old Halloween decorations.
The find re-opens a years-old missing person case, giving a local family closure but opening up a trunk-load of questions.
Kay is on the job, digging into a cold case that someone never wanted brought to light.
Release date: April 25, 2022
Publisher: Libby Howard
* BingeBooks earns revenue from qualifying purchases as an Amazon Associate as well as from other retail partners.
Listen to a sample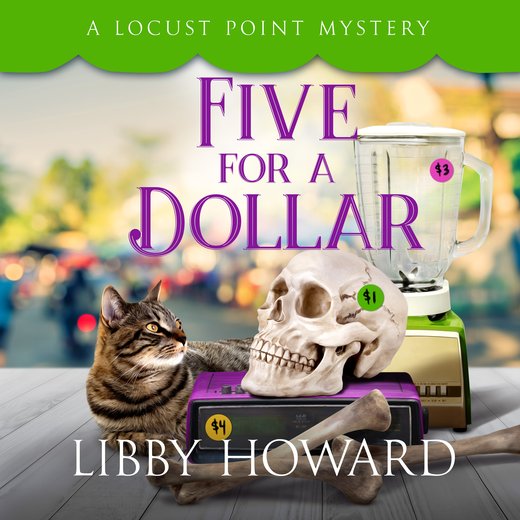 06:53:07
189.12 MB
9798368959382
April 26, 2023
Libby Howard
Five for a Dollar
Libby Howard
Chapter 1
The doorbell rang. Cagney began a frenzy of barking, her nails clattering on the hardwood as she tore down the stairs. I raced from the kitchen, dodging boxes and trying to keep Cagney from escaping as I opened the door just a crack to see who it was.
Bert Peter stood on my porch, surrounded by more boxes. He looked down at the brown dog with the black mask trying to squeeze past my legs and grinned.
"Back, Cagney. Get back," I scolded, reaching down to grab her collar with one hand while I opened the door with the other.
"I've got these boxes for the sale," Bert told me before nodding toward the dog. "Is she going to run out?"
"I'll hold her." I scooted Cagney over to the side, told the dog to sit, then held her collar—just in case the excitement of a new visitor overwhelmed her three obedience lessons.
Cagney's tail and rear end wiggled at light speed, but she kept the sit as Bert brought the boxes in and set them with the others in the foyer.
"You've got a lot here," he commented. "Should raise a decent amount of money."
"I hope so." There were more boxes than just those stacked in the foyer. My dining room and parlor were packed, and there were at least two dozen more out in the garage. The town had really come together for the charity yard sale, and I was thrilled—thrilled, aside for the fact that my house had somehow become the collection and staging area of the event.
After the success of Suzette's fundraiser, Matt Poffenberger had roped my friends and me into helping him with his spring charity event—a community yard sale where the proceeds would go toward a Habitat for Humanity project assisting elderly homeowners with much needed repairs. The organization had selected three recipients they decided were in the most need so we could highlight them when soliciting donations and advertising the event. One was a couple who needed a new roof, having somehow survived the winter with a blue tarp covering the rotted section. Another needed a new well pump and some plumbing work as they were having to bathe and fill their toilet tanks with buckets brought up from a nearby stream. The third had a collapsed front porch and window sills so rotted that duct tape was the only thing holding the windows in place.
I remembered how close I'd come to losing my own house just a year ago, how Eli's accident and years of disability had swallowed up our insurance payments, savings, retirement accounts, and even equity in our home. These elderly homeowners…they'd seen disaster after disaster. We were going to do all we could to ensure we raised enough money to provide these people with the home repairs they desperately needed.
"Are these from your uncle's house?" I asked Bert as he brought in the last box. His uncle, Harry Peter, had owned the house across the street from me. Bert had inherited it and although Bert had a home of his own, he'd been in and out of his uncle's house for the last year, going through all the belongings and doing repairs. Harry had been a hoarder, and I was sure the contents of his home would have supplied a dozen yard sales.
"These are from my neighbors in the development," he told me. "Although I did put a few things of Uncle Harry's in this last box. I've already gotten rid of most of his stuff. I'm hoping to list the house for sale next month."
"Wow. That's great," I managed to reply.
I had such mixed emotions at his words. Part of me longed for a new neighbor across the street. Maybe a family with children and pets of their own. I loved envisioning new owners loving the old Victorian and breathing new life into the house. But I still grieved Mr. Peter's death. I still saw the shadowy form of his ghost roaming the porch and passing across the curtainless windows. Taco still went over there daily and yowled at the front door, missing the man who'd always invited him into his home and fed him chicken sandwiches.
But it was time for the old house to be revitalized with new owners. I knew in my heart that Mr. Peter would have wanted that. And hopefully whoever bought the house wouldn't mind Taco pawing at their front door every evening.
"Do you need any help tagging and sorting all of this?" Bert waved a hand at the boxes. "The yard sale is Sunday, right?"
I nodded. "Sunday at the VFW. We're tagging and sorting everything at happy hour tomorrow. You're welcome to come and join in. There's always food plus beer and wine."
I figured that would be the best way to get through all of these boxes of donated items. Combining my traditional Friday after-work event with some work would take the pressure off me, Daisy, Kat, Suzette, and Olive doing everything on Saturday.
"Oh my gosh, Kay! I'm so sorry." Madison came thundering down the stairs, her noise-cancelling headphones around her neck. "I didn't hear the door. Or Cagney running out of my room."
"It's okay. You're doing homework." I smiled, knowing how hard she was studying for tomorrow's exam. Cagney alternated between her room and Henry's when they were doing homework, then tended to curl up in Judge Beck's bed at night. It wasn't the girl's responsibility to restrain Cagney. The dog was a member of our household now, and we were all making adjustments as well as trying to ensure the hound-mix's obedience lessons were reinforced in the home.
"Hi, Mr. Peter." Madison smiled at the man then turned toward the dog. "Come on, Cagney! Upstairs!"
The dog gave a joyful bark then bounded up the steps, Madison racing after her. The young woman was all long legs and long dark hair. I thought once more of how beautiful she was, the perfect blend of her mother and father's good looks and their tall, slim builds. The girl might bemoan being close to six feet tall at sixteen years old, but I envied her height, as well as her gorgeous hazel eyes—so much like her father's.
"Goodness, she's grown in the past year," Bert commented. "And Henry too. I really appreciated his help going through Uncle Harry's belongings, you know."
I did know, but it was nice how Bert valued Henry's assistance as well as the boy's enthusiastic research on the "antiquities" Bert's uncle had collected. Most of the stuff stacked up five rows deep in Harry Peter's house had been junk, but Henry had found a few items that had been worth enough to pay for the dumpster as well as some drywall repairs. Luckily the house had been paid off, and once sold, Bert would be able to recoup what he'd put into the place plus the considerable investment in time it had taken to clear it out and fix it up.
"I'll try to come by tomorrow night, but I might have to work," he added with a grimace. "Juggling my job with the house renovations has been a struggle. I'll be relieved when I'm done and it's sold. But I'll also be sad when I'm done and it's sold, you know?"
I absolutely knew. "I'll be sad when you're no longer across the street every night and on weekends. Please try to come by for Friday happy hours, though—even after your uncle's house is sold. You'll always be a neighbor and a friend, Bert."
The man's eyes misted a bit at my words. "Thanks for that. I'll admit that I alternated saying a few choice words at my uncle's departed spirit and reminiscing over the past with him while I worked on the place. It will be difficult to put that part of my life behind me for good, but I think it will help coming here and seeing new owners loving and enjoying the house as much as Uncle Harry did."
"Don't let Matt hear you saying anything about missing the work," I teased him. "Before you know it, you'll be renovating houses for one charity, and helping clear out hoarder houses for another."
He smiled, but looked thoughtful. "I've actually been thinking of volunteering to help hoarders go through their stuff. Over the past year I'd spent a lot of time wishing I'd been there more for Uncle Harry. I know he had issues besides his hoarding, but maybe if I'd visited more and been supportive instead of criticizing him, I could have made his last few years better. I might not have made much of a dent in his hoarding problem, but I could have at least let him know that I loved him and that he himself was more valuable than all the things in his house."
I appreciated the sentiment, but as much as I'd liked Harry Peter, the man wasn't without his flaws.
"Bert, your uncle threw a toaster at your head. I'm all for better and more forgiving relationships with our friends and family, but it goes both ways, and your uncle wasn't a saint."
He chuckled and shook his head. "Okay. You're right. Isn't it funny how a person's flaws all fade away once they're dead? How they do become almost saintly?"
It was true. My own parents and my husband had been pretty close to saintly while they were living, but I tried to remember that they were human. And I was human as well. We all had our bad moments, the things we'd said that we wished we could take back, the things we'd done that we wanted to undo. I believed the key was to love someone, to remember their good deeds and the happy times, but never to forget that none of us were perfect.
"That does seem to be the case." I walked him to the door. "But I was very fond of your uncle. And I'm fond of you too, Bert. You're always welcome here, and I hope you continue to stay in touch."
He smiled back at me as he opened the door. "I hope to. Thanks for your help this year, Kay. I'll see you soon."
I watched him head down the steps, a bit sad at the end of an era. Well, at the end of a year. Harry Peter was dead. All the appliances, boxes, and spare parts were gone from his yard and house. The property across the street still could use a decent landscaping and decorating hand, but it was all neatly trimmed grass, and freshly painted siding. A shadow slid along the porch, clearly visible to my eyes even in the daylight and I smiled.
Rest or wander in peace, Harry Peter, I thought. I also hoped his nephew Bert found some peace of his own as well.
We hope you are enjoying the book so far. To continue reading...
Five for a Dollar
Libby Howard
Copyright © 2023 All Rights Reserved
Also in this series
Also by this author