Fidelity
Available in:
eBook
Paperback
Audiobook
Hardcover
Book info
Sample
Audiobook
Media
Author updates
Lists
Synopsis
THE INTERNATIONAL BESTSELLER, NOW A NETFLIX ORIGINAL SERIES

'Erotically charged... this intimate and ultimately moving analysis of desire and the long-term legacy of betrayal deserves to be read: completely absorbing'
DAILY MAIL

'An absolute scorcher'
EVENING STANDARD

'A gripping novel exploring the tensions in an apparently idyllic marriage'
FINANCIAL TIMES

'Devotion thrilled me (I read it in one sitting), made me think, and moved me deeply. It manages to be as deep as any literature, and as irresistible as any gossip'
JONATHAN SAFRAN FOER

'Missiroli cuts right through to the darkness of our inner lives'
ROBERTO SAVIANO

Carlo and Margherita: a happily married couple in their mid-thirties. They are in love, but they also harbour desires that stray beyond the confines of their bedroom: Carlo longs for the quiet beauty of one of his students, Sofia; Margherita fantasises about her physiotherapist, Andrea.
Love, with its unassuming power, ultimately pulls them from the brink, but after eight years of repressed desires and the birth of a son, when the past resurfaces in the form of books sent anonymously, will love be enough to save them?
Release date: April 15, 2021
Publisher: Orion Publishing Group
Print pages: 256
* BingeBooks earns revenue from qualifying purchases as an Amazon Associate as well as from other retail partners.
Listen to a sample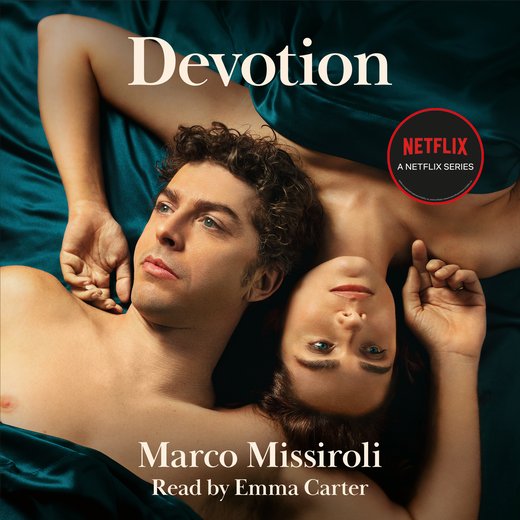 08:26:50
232.02 MB
9781474613385
April 19, 2021
Hachette UK
Fidelity
Marco Missiroli
Chapter One

'Your wife followed me.'

'My wife?'

'Yes. Here.' Sofia stared at him. 'Professor?'

He was watching the classroom door.

'I think she's in the courtyard.'

Carlo Pentecoste moved towards the window and recognised Margherita by her crimson coat, worn since the second day of spring. She was sitting on the low wall reading a book – still the Némirowsky – one leg crossed over the other, guarding her bag with one hand. It was the end of March, yet an unexpected light fog was passing through Milan.

Carlo turned towards his students. Sofia was taking her place in the second row and had pulled out her notebook and her almonds as usual. She looked younger than her twenty-two years, with her small face and the gentle movements that softened the unexpected curve of her hips. She looked at him with the same worry as when the Dean had called them into his office: they had been caught by a first-year in the ground-floor bathroom, his body covering hers, hands stroking neck. Something like that, anyway, because the fresher's version of the story had been one thing, then another, then several – all lending strength to the rumour that Professor Pentecoste and one of his students had had 'a close encounter of questionable nature'.

He didn't start the lesson. Instead, he put on his coat and left the classroom, took the stairs to the hall, stopped, and turned towards the bathroom. He'd come back there to clear things up, first with one of his colleagues, then again with the Dean. Both times he'd performed a re-enactment of what he referred to as 'the misunderstanding': entering the men's bathroom, pissing, stepping out into the shared area, the washing of the hands, of the face, the drying, hearing a thud from the women's toilet, noticing the door slightly ajar and finding his student, Sofia Casadei, almost unconscious. What did he mean by 'almost'? Well, he'd leaned over her and called her name several times, helping her to sit up and to her feet – he'd shown the Dean how – propping her up against the wall for a second. It had all been no more than a couple of minutes, then the girl had felt better and he'd helped her to the sinks: he'd never even noticed the first-year student.

He stopped just before heading towards his wife and checked his phone: no, Margherita had not warned him she'd be coming. He continued into the courtyard; she was still sitting there, reading.

'How did you know I was here?'

'Your coat is unmistakable.' He pointed to the classroom's window.

'I'm giving my tendons a rest. I was about to come up.' She closed the book and stood up. 'You forgot this.' She handed him a small bottle.

'You're here for my antihistamines?'

'Seeing you in that state last week was enough.'

'I don't like you tiring out your leg.'

'I took the metro.' She straightened his collar. 'If I were you I'd hold your class outside – the fog has its charm.'

'They get distracted.' He moved his hand to the lower part of her back just as he'd done when they'd first met, at his sister's dinner party. The curve there teased her athletic body. 'Do you want to come up? I have to get started.'

Margherita loved his hands; they were not the hands of a teacher. She let him help her with her bag, then walked with him to the entrance.

'Did you really come here for—'

She cut him off mid-sentence, pointing at the clock and gesturing him to hurry. He smiled at her and headed up.

As soon as she saw him disappear, Margherita let herself rest against the glass door and lowered her head. Why hadn't she had the courage to accompany him to his classroom? Why hadn't she had the guts, as her mother said, to cross the threshold and head towards that bathroom? And why was she shaking now? She left, slowly; she didn't want to go but forced herself to reach the main road. She passed the university gates and buttoned up her coat. She stopped in her tracks and closed her eyes, looking for something to anchor herself to, to contain the dejection; she brought herself to think about the fifty minutes awaiting her, the appointment that made her feel so different every time. Different and threatened. She'd write it down in her diary under Physio but really she meant 'adventure'. She clung to that feeling like an antidote to her insecurity as she left the university behind her and headed to the taxi stand. Her leg had been hurting since she'd woken up. The pain tortured her from pelvis to knee and had first appeared after a jog in the gym three months earlier. Since then, she'd been thinking about the many details that saddened her: gym shoes substituting her high heels, having to give up on visiting potential properties without lifts, not being able to run after a small child.

She pulled out her phone and saw a message from the owner of Corso Concordia: I signed, dear Margherita. Now it's up to you, and one from her colleague – the agency had received the keys to start the sale. There was a missed call from her mother. She ignored it and kept her phone in her hand, managing not to open Facebook. Every time she looked at Sofia Casadei's profile there her head swarmed with strange ideas – the café where she worked, the bar where she had breakfast in the morning, her neighbourhood, heading in that vague direction. She reached the taxi queue, gave a driver the FisioLab address, Via Cappuccini 6, and finally relaxed by leaning against the car seat and closing her eyes. The driver suggested taking a longer route – there were roadworks on the inner ring road; she said it was fine and then stopped thinking. She peered out of the window every now and then, at Milan and the people on the pavement and the porters in front of the buildings. Then she remembered her mother; she called her back and got a reply on the first ring. 'Mum.'

'I was about to call the plumber.'

'What happened?'

'That,' she took a deep breath, 'that fucking boiler.'

'Well, hello.'

'Oh, you know I've always liked swearing, but your father was of the opinion that a woman's mouth needs to be clean.' She went quiet. 'Anyway, I wanted to ask about the property in Via Concordia.'

'I just got a message.'

'And?'

'There's no lift but it's interesting. I'm sending Carlo to look at it before putting it up in the agency.'

'And your leg?'

'Mum, what would you do if you had a bad feeling?'

'It's hurting, I knew it.'

'What would you do?'

'What kind of "bad feeling"?'

'A suspicion.'

'A suspicion is a piece of evidence.'

'We're not on Real Crime, Mum.'

'It's life, sweetheart.' She hesitated, then, 'Do you want to tell me what this is all about?'

'I'm here, got to go.'

'Darling,' she cleared her throat, 'you can clear up all of your suspicions at the appointment tomorrow.'

'Oh God.'

Her mother snorted. 'You've been meaning to go for months and I went through a lot of trouble to arrange it for you: half past ten, Via Vigevano 18, ring the F bell.'

'Remind me again how you talked me into this?'

'Because Dino Buzzati used to go there. Write it on your hand.'

'And you write down my mother-in-law's birthday.'

'I'm not coming.'

'Oh yes you are.'

'Oh no I'm not. And you're coming by to see your mother sooner or later, but only if you want to.'

Her mother had stayed awake for three days after burying her husband, sitting in the armchair where he used to read the papers on Sunday mornings. Then she'd said, 'Who am I going to cook for now?', and for a while she'd refused to talk about that man who had got them both used to routines – flea markets, Tex Willer comics, 'being proper'. He'd been a man of silences and the mother and daughter had replaced his quietness with constant chatter, bickering with each other, phone calls, a forced kind of liveliness.

She paid the driver and got out in front of FisioLab. She was uncomfortably warm but knew it was due to her impatience. She opened up her bag and checked her swimming costume, body wash, towel, comb. She gave her name at the reception and headed to the changing rooms, put on her swimming costume – she'd bought a new one after realising what type of therapy she'd have to go through – slipped back into her gym shorts, tied up her hair, picked up her phone and earphones and headed out again, worried that the beautician had rushed the job. She picked up the water bottle that the centre gifted its customers and stepped into the gym area of the clinic.

Andrea was always on time and that day was no different. He shook her hand and asked her how the pain had been. She always replied with 'Ups and downs', and let herself go to the sound of the privacy screen snapping shut. She'd got used to sharing that space with a serious-looking twenty-six-year-old whose job it was to soothe her chronic inflammation. He asked her to lie down; she touched the band of her shorts and looked at him, he nodded and she removed them. Andrea took the medical equipment and placed it on the inside of her thigh, running it up towards the crotch, applying the appropriate pressure on her pubic region. When this happened, Margherita focused on one corner of the screen, forcing herself to breathe slowly. The warm-up – as he called it – lasted the ten minutes it took her to overcome the embarrassment. Then she'd let go.

The firm touch of Andrea released her every time, the wisdom in his fingers, the low gaze. She averted hers too, except for when – like now – he went to move her costume a little further: it was the instant in which Margherita expected to find some form of forbidden arousal, beyond what would be considered professional. She'd try feeling his tentative fingers as they pressed down on her pubis, looking for the tendon. He'd press with his thumb, his middle finger, sometimes his index, almost digging into the skin. During the first session he'd explained what would happen throughout the therapy: the anti-inflammatory machines, the thinning effect of the hand massages, the exercises she would be expected to do in the gym. She would need twenty-five sessions, on top of check-ups and ultrasounds, for a total of two thousand eight hundred and twenty euros. She could barely afford that; she'd tried with the public health services but felt lost in the unending waits, eventually conceding to the choice that her father would've called easy. Easy was paying three thousand euros for a physiotherapist; easy was receiving an Interrail pass as a teenager despite not being among the top students in her class; easy was settling for an estate agent's job with an architect's degree. Easy, probably, was mixing up physiotherapy sessions with lust.

And now that she was being touched by her physio with the right intensity in a liminal space, waiting to tell him exactly where the painful spot was, Margherita went back to that place: her husband, the bathroom door, university building 5, ground-floor ladies' bathroom. That had been the painful spot for the past two months. She avoided the full force of the thought, as she'd learned to do in the past couple of weeks, turning the tables completely. Had she been an affectionate, caring daughter, willing to listen? She could have been infinitely less than she was. Was she a proper estate agent, someone who didn't abuse her time between visits? She could have easily abused that time. Was she a patient who would never fall for the expertise of three fingers? She could have let go. Every time the thought of that bathroom appeared, she could subvert her own instinct and move away from suspicions.

Andrea asked her if the pain stopped in the exact spot he was massaging. All she had to say was 'A little more to the right' to realise her fantasy. Andrea would've slipped a little to the right and the effect would've been immediate: pleasure, for God's sake.

'A little more to the left,' she said.

He moved. 'Does the pain get worse at night?'

'Depends on the day.'

'Are you doing your exercises?'

'Depends on the day.' She shifted her weight on the bed. 'I'm usually a very committed woman.'

'All women say that.'

'All women?'

'Then they back down.'

'How so?'

'They don't actually face the issue.' He pushed a little harder. 'It's got thicker in this spot – can you feel it?'

She fell quiet. She was all the women that crowded that place: the outfit bought for the occasion, the pearls on her ears and the flat in the city centre, a questionable husband, the lure of temptation.

'I can feel you love your job, Andrea.'

He lessened the pressure.

'I mean, you're very good. Do they all tell you you're very good?'

'It happens.' He moved away and around the bed, massaged the lower part of her leg with his fingers and made his way back up, slowly.

Margherita felt him move closer to her groin, harpooning the tendon inch by inch. She allowed herself to think about his skills in bed. Brutal, maybe; definitely inexperienced. For a moment she thought of the two empty properties she could've taken him to: Viale Sabotino 3, the flat they couldn't rent because of the excessive property fees, and Via Bazzini 18, the three-roomer with a small hot tub.

'More to the right,' she suddenly gasped, surprising herself.

He slowed down. 'To the right?'

'Just a little.'

He knew that it was the wrong direction. He was already pinching the tendon between his fingertips, holding the precise painful spot. More to the right was risky, except for a subtle move: lowering his little finger to feel the warmth, the moistness, the difference to the touch, then raising it again, without ever interrupting his work. He'd never done it, but his colleagues had shown him the exact execution needed to maintain the professional façade. Every time a new case of adductor tendonitis showed up and the patient was interesting, they'd squabble over who'd get her.

Margherita was his patient because of her seeming invisibility. A pretty woman, almost muted. Yet she'd revealed a body full of surprises: and not for the muscular harmony, or sensual strong legs, or smooth hips; the revelation was in how she offered her tendon and joints and all of herself for those fifty minutes of therapeutic tension. He loved the silences of that woman, which allowed him to focus on his work: Margherita gave the impression of not having any thoughts until she suddenly had several. So he never looked at her, almost scared of surprising her during one of those flashes of her mind. He preferred taking in her scent: she had a smell of something he'd never encountered – almost milky – and it stuck to him until he got into the shower.

He checked his watch, five minutes left. He helped her flex her leg and asked her where the pain got worse when she did so, realised he needed to loosen a small hamstring contracture. He rested her ankle on his shoulder and pressed on the underside of her thigh, pinching the muscle group, digging in once he felt the knot. He heard her moan as she'd done during their first sessions: it was definitely a moan and not a yelp. Be patient, he told her, and dug in once more to hear that moan which suggested something else entirely. Was he just like his colleagues? He moved, light and fast, until his arm started going numb. He rested her leg back onto the bed. 'Go use the elliptical machine for a while, then Alice will help you with your exercises.'

'Alice?'

'I need to leave early today. But you need to come in again tomorrow, there's an inflammation here I don't like.'

'So soon?'

'If you can make it, yes.'

She thought about it. 'I can do nine.' She lifted her back and let her legs dangle. 'Where are you off to this afternoon?'

He started opening the screen.

'I'm sorry, you're right, it's none of my business.' She slipped her shorts back on. 'It's just that a free afternoon in Milan is unheard of.'

'Not that free.'

'Really?' Margherita grimaced with embarrassment. 'I'm sorry, I can't help myself.' She slid past him, setting herself on the elliptical in the machine area of the gym.

Andrea looked at her for a while longer, then headed to the changing room. He got dressed quickly, no longer thinking about her or any of his patients as he left FisioLab. He used to carry the bodies with him: how to fix them, how long it would take him, how to optimise each session. Then he'd learned to let them go, walking through the residential streets of Milan around Via Cappuccini, the sudden bustling of Corso Buenos Aires, the angry traffic of the ring road, Milano la complicata. Difficult was the adjective his teachers and everyone else had used to describe him since he was very young. Difficult: doesn't talk much. Difficult: doesn't listen. Difficult: he hit a classmate. Difficult: he abandoned his dog out of the blue. Difficult: never had a girlfriend, then too many, and the wrong kind. Difficult: Andrea Manfredi. And when his mother had said that her son was as difficult as Milan – difficult only when first glimpsed – he knew what it meant to be seen.

Now he needed this 'belonging', brushing past Villa Invernizzi and the improbable flamingos in its fountain, under the display of smog-blackened art nouveau buildings, walking back along the streets that ended up in Porta Venezia, with the queers and the blacks and the bourgeois all muddled together, following the tracks on Viale Piave, covered in fresh grass. He followed them for a mile – he had this habit of wandering with his hands in his pockets and his shoulders hunched, almost elegantly – reached Piazza Tricolore and took the number 9 to Porta Romana, a working-class neighbourhood before it became cool. He'd grown up there. For twenty-three years his parents had run the newsagent's in front of the church of Sant'Andrea. He'd studied for his physiotherapy degree in the newsagent's, working from dawn for six summers in a row and two full winters. He'd learned to carefully check the returns and carried out his personal aesthetic on the shelves: he'd slip in an intruder between the magazines, a Marvel comic or an animal special or a Panini album. His father let him do so, then tidied it up. His father was always tidying up, and today was no different: he was bent over a crate, stacking the Urania sci-fi books with care, to be sold for two euros apiece.

'I'm not coming,' he said, as he saw Andrea arrive.

'He's stubborn.' His mother stepped out of the newsagent's and gestured to him. Andrea took his father by the arm and helped him up. His eyes were watery and Andrea held him there as his mother handed over the folder with the medical documents.

'Let me know.'

They crossed the road and brushed past the church, huddled to each other as if cold, then the old man said, again, 'I'm not coming.'

'It took us two months to book this.'

'You sound like your mother.'

'It's just a check-up.'

'Don't insist.'

'Do it your way, then.'

He'd been doing it is his way since the customers of Bar Rock had found him on the ground in front of the shop, holding his left arm and moaning about the pain in his chest; he'd left the hospital with three bypasses, blaming the Vatican – not the Pope, but the bishops – and Inter – not Moratti, but the players – for his heart failure. Then he'd said 'The newsagent's.' And the doctors had agreed with him: only sleeping four hours per night most of his life had undermined the myocardium. So he'd started sleeping an extra hour, stopped ranting at the Sunday football on TV, stopped overdoing it, only taking four drags of his wife's Marlboro. He'd stopped being the breadwinner way before the change in priorities. Andrea would be fine. Maria would be fine. He had that single order: listen to no one but himself.

'Dad, give it a rest and go get checked.'

'Get another dog and leave me alone.'

Andrea followed him to the bench by the swings, half a step behind. They sat down. The sun was weakened by the fog and his father buttoned his polo shirt all the way up, drowning in his jeans, his legs swinging like pendul. . .
We hope you are enjoying the book so far. To continue reading...
Fidelity
Marco Missiroli
Copyright © 2022 All Rights Reserved