Book info
Sample
Audiobook
Media
Author updates
Lists
Synopsis
A sinister private detective agency, a shady shell corporation, and a dead friend—Rick Cahill is on his most dangerous mission yet
Private investigator Rick Cahill has been running from his past and chasing the truth his whole life. But his past is relentless—and so is his CTE, a disease caused by repeated head traumas that has attacked his body and his mind. As his CTE progresses, he realizes that the disease not only threatens his life but also endangers his family's wellbeing.
As Rick struggles to keep his family together, he does a favor for Sara Bhandari, a business contact. Then, Sara is murdered, and the police believe her to be yet another victim of a serial rapist who has been terrorizing greater San Diego. But Rick has reason to question their theory. Determined to find the truth at any cost, and against his wife's warnings, he investigates on his own.
Along the way, he bumps up against a sinister private investigative agency and a shady shell corporation that may be hiding more than company secrets. As Rick digs for the truth about Sara's death, he risks his own life and the lives of countless innocents caught in his relentless crusade. Ultimately, Rick must decide if his quest is worth the risk of losing his family forever.
Perfect for fans of Michael Connelly and John Sandford
Release date: November 15, 2022
Publisher: Oceanview Publishing
Print pages: 359
* BingeBooks earns revenue from qualifying purchases as an Amazon Associate as well as from other retail partners.
Listen to a sample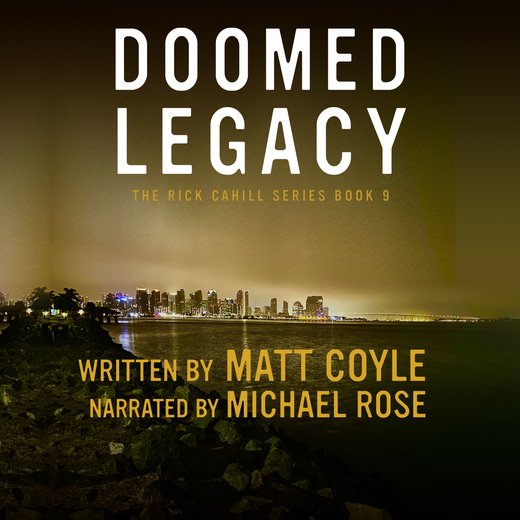 07:58:19
218.97 MB
9781608095995
January 3, 2023
Oceanview Publishing
Doomed Legacy
Matt Coyle
CHAPTER ONE
THE NIGHTS WERE the hardest. I slipped quietly out of bed at 2:33 a.m. Leah stirred, but didn't wake. She almost never did when I made my nightly sojourn into our baby's nursery. I slept light and we had a baby monitor, but that was the last line of defense, not the first. At least, to me. Midnight, my black Lab, followed me from the foot of our bed across the hall into Krista's bedroom. He lay down next to her crib like he did every night I snuck into her room. I hovered above and watched Krista sleep. In the dark, I listened for her breaths and worried about her dreams with each shuddered movement.
I ran my private investigative business out of the upstairs office in my home. Leah watched Krista downstairs during the day. I knew she was safe then. Nights were different. I worried when she was alone in her crib. Intellectually, I knew she was safe, but my life experiences told me no one was ever completely safe.
Especially at night.
Fourteen months after Krista's birth, I still marveled that God graced me with a child. My heart ached with love for her. The deepest, freest love I'd ever felt. She was a little towheaded miracle who had her mother's blue eyes and too much of my stubborn disposition. I worried about that slice of me inside her. The trait that had driven me to discover buried truths, that had almost gotten me killed more than once and brought collateral damage to others.
Each of Krista's breaths brought me joy and relief. But I fretted about her future. Every night. And wondered how long I'd remain a part of it.
Chronic traumatic encephalopathy. CTE, the pro football disease. A definitive diagnosis could only be made during an autopsy, but my neurologist was pretty certain that my years of football, boxing, and violence had caught up to me in the form of CTE. And it was progressing. Slowly, but I felt it in ways that I hid from Leah. The headaches remained but hadn't increased in severity or frequency over the last year. The good news. The bad was more frightening than the headaches and the occasional search for once familiar words while speaking.
The last couple months a barely controllable, irrational rage infected my brain and sizzled along the nerve synapses throughout my body. Its trigger was often just the micro irritations of everyday life. A driver who cut me off in traffic. An argument with Leah over having to travel on a background check instead of performing it from behind my computer in my home office. Krista dumping her food onto the floor from her high chair. Things that settled spirits let go as quickly as they arose.
I did not have a settled spirit. Even years before the CTE diagnosis, my soul was scarred from the shrapnel my actions had wrought. But those actions, those decisions came after consideration. Thought. This was new. Unrecognizable and malevolent. A fury unconnected to thought. And its reins loosened from my grasp a little more with each smothered internal explosion.
Too often that rage was aimed at those I loved. So far, I'd been able to swallow the rage. Feel my skin burn hot and anger crackle inside me. When that happened, I'd pull over my car, or leave the room, or go into the gym in my garage and pound the heavy bag. Run from the trigger until the rage burned itself out. Sometimes it only took a minute, sometimes thirty.
And each new episode scared me more than the last.
I stood and watched Krista and worried about the evil in the world and how it might find her. The evil I'd fought, and sometimes become, for what I deemed the greater good. Living by my father's code. Crossing over the line into the darkness, then fighting my way back to the light.
I worried about the evil without. And the evil within me. A doomed legacy. Would there come a day when rage from the darkness consumed me after Krista tossed her food onto the floor one more time and I wouldn't be able to smother it?
I prayed that the God who gave me Krista would somehow intervene before that happened.
I watched Krista until my legs tired from standing stalk still for too long. I fought the urge to bend down and kiss her forehead. I'd done it a few times before and each time she woke up. Sometimes frightened. That drove a stake through my heart and shame down my spine.
Caution won out and I went back across the hall to Leah and our bed. But not before I split the curtains and scanned the street below Krista's second-story window. Clear.
Midnight stayed behind in Krista's bedroom, as he often did. He'd become Krista's protector the second we brought her home from the hospital and he sniffed in her scent for the first time. No jealousy from divided attention. The same bond that he'd shown me ever since I brought him home from Ramona as an eight-week-old pup twelve years ago. He followed Krista around the house and the backyard during her teetering jaunts. With each knock on the front door or unknown visitor to the house, Midnight angled himself in front of Krista, head pointed at the potential danger, hackles at full spike.
Tonight, he let go a contented sigh as I left the room.
The fuzzy red number on the clock next to my bed read 3:07 a.m. when I slipped back under the covers.
"Rick." Leah's soft voice floated over my shoulder. "You have to let her sleep through the night. She's fine."
"I didn't wake her." I kept my back to Leah, but I felt the rustle of sheets as she turned to look at me.
"But you have before." The whisp of a rebuke in her voice.
I wasn't the only one keeping secrets. Leah knew about my nights standing sentinel over Krista's crib. And she'd kept it to herself.
"Why didn't you tell me you knew I checked on her?"
"At first, I thought it was sweet. You being yourself. Protective." Space between each sentence, like she was choosing her words carefully.
"It's not sweet anymore?" I kept my back to her. A barrier from the true me.
Leah didn't say anything for at least ten seconds. Finally, "It's become an obsession. One night last week after you didn't come back to bed for an hour, I walked to Krista's door and watched you. Midnight wagged his tail when he saw me, but you didn't even notice. You were almost in a trance. I know that need to protect comes from your heart, but I think you need to give Krista some space when she's asleep. She probably senses your presence watching her as she sleeps. You need to let her wake up in the middle of the night and know she's okay being alone in the dark."
The dark is where evil hid.
"You think I'm stunting her growth?" An edge to my voice I hadn't expected. A smoldering ember tipped over inside me.
"Of course not." Her voice, blunt. Harder than the words. "Not on purpose."
My mind scuttled for a blanket, a water hose, a fire extinguisher. Anything to smother the flicker burning inside me. But it caught the edge of dangling resentment and whooshed a flame along my skin before I could tamp it down. Red. Rage. Violence.
I shot my arm to the nightstand next to me and grabbed my glasses. Instead of the lamp, which in my mind, I had already hurled across the room. If I stayed in the bedroom any longer, I feared that a broken lamp would only be the beginning of my fury. I snapped the sheets off myself and sprang out of bed, grabbed a pair of shorts off the back of an armchair against the wall and was out the door before Leah's voice caught up to me.
"Where are you going?" A hissed whisper.
I shuffled down the stairs without a word. The movement scrambled Midnight into protection mode and he bolted out of Krista's room and followed me downstairs.
A plaintive yowl from Krista. The commotion had awakened her. She was alone in the dark. Battling Leah's test of independence. My instinct was to go upstairs and comfort her. The rage boiling inside me overrode instinct. I yanked on my shorts and jammed my feet into the cross-training shoes next to my recliner in the living room and bolted for the front door. Midnight close to my side, his ears perked in alert.
"Rick!" Leah's voice over Krista's wails.
"Stay!" I snapped at Midnight, stopping him dead in the foyer.
I whipped open the door, went through it, and slammed it shut all in one movement. My car sat in the driveway, but I'd left my keys inside. My hands clenched into fists, my face on fire. I bolted into a sprint. Down the street to the intersection. Shorts and shoes and rage. I turned left up the hill on Moraga Avenue. Arms, legs, and lungs pumping, still in a full sprint a hundred yards away from my house.
My arthritic knee throbbed and my lungs burned, but I continued to climb. After another hundred yards, lactic acid and lung capacity did what my will could not. With each gasp of breath and faltering stride, the rage ebbed from my body. And my mind.
I continued the push up the hill, straining against my physical limits. And the limits of my mortality. The cool night chilled the sweat pouring off my body. An inhuman stink emanated from my sweat glands. Feral. Savage. I finally broke down into a lopsided jog, my left knee swelling with each step. Moraga plateaued and I kept going. I didn't stop until I hit Clairemont Town Square.
If I ran back home, it would take me about fifteen minutes and add an extra half hour of ice to my knee. And Leah would undoubtedly still be awake. A discussion I wasn't ready to have. I didn't have a good explanation for my actions. And I wasn't ready to tell her the bad one, yet. The real one.
Before Krista was born, I vowed to myself that I'd never lie to Leah again. I'd hidden the presumed CTE diagnosis from her back then until the day I got out of jail. I'd been truthful with her ever since. Until the last couple of months when the red rage surfaced from years of accumulated concussive head injuries. And from the depths of my soul.
I'd told only my neurologist, who prescribed antidepressants. Selective serotonin uptake inhibitors. SSRIs. But the side effects had been more dangerous than the rage. To me. Lethargy or the other end of the scale, severe anxiety and agitation interspersed with suicidal urges. No more red rage but intense mood swings that were damaging my marriage. I quit the drugs cold. No more suicidal thoughts. But the rage returned. More intense than before.
Not telling Leah about the new violent progression of my disease was a lie of omission. The CTE affected her, too. Especially if I wouldn't be around to help raise Krista into her teens. Or, if I was going to be around and be a burden due to my mental deterioration. Or, worst of all, if I was going to be a threat to Krista and her. A ticking time bomb of rage I couldn't tamp down or run away from that could go off with the slightest provocation.
CHAPTER TWO
THE LIGHTS TO the house were off when I returned home a little after 4:00 a.m. Hopefully, Leah went back to bed. Midnight was waiting for me in the foyer when I opened the door. Leah stood ten feet behind him in the living room. Arms folded across her chest. The silhouette of a bathrobe around her body. Too dark to see her facial expression, but the body language said enough.
"I'm sorry." I was.
"I'm taking Krista up to Santa Barbara this morning after breakfast." Leah, arms still folded.
She took Krista to Santa Barbara, her hometown, about every five or six weeks. Her family was there as well as her design business, for which she'd brought in a partner after Krista was born here in San Diego. She was planning to open an office in her new adopted hometown once Krista turned two and a half or three.
I went with her and Krista to visit her family when my private investigative business would allow. Even though they weren't my biggest fans. Or fans at all. The family and I had a truce in regard to Krista, the namesake of Leah's murdered sister and my onetime partner on the Santa Barbara Police Force.
We were planning on all going up as a family the next week. Although, per my usual, I'd only stay a couple days then take the train home to San Diego alone. An unwritten rule of the truce I had with Leah's family.
"I thought we weren't going until next week."
"No, Krista and I are driving up this morning." Cold. The truth that the words didn't spell out clearly. I wasn't invited.
Midnight nuzzled his head under my right hand. Twelve years together had attuned him to my moods. He felt the tension in the room.
"I can meet you there on Saturday." I heard the plea in my own voice.
"It's better that you don't come up this time." Leah walked toward the staircase. I met her at the landing. Midnight at my hip the whole way.
"I'm sorry I took off. That was wrong." I gently put my hand on her forearm. "You were right about me watching Krista when she sleeps. I have to scale that back."
"So now you want to talk about it?" She put her hands on her hips. "You've been disappearing in a huff any time I want to talk for weeks and now you want to talk about it? At four in the morning? Do you want to talk about this now, too?"
Leah walked over to the foyer and turned on the light. She opened the hall closet and raised her hand up to the top shelf. And pulled down a gun. My Colt Python.
I didn't say anything.
"You told me you weren't going to do this anymore." Leah held the gun to her side, her index finger flat against the frame. She knew how to handle guns. She came from a cop family. "I understand you wanting to protect your family. But you can't keep hiding loaded guns all over the house. You have a gun safe for that."
"None of them are anywhere where Krista can reach them." I kept my voice low. "And the safe is upstairs. I might not have time to get up there and unlock it if someone breaches the house when I'm downstairs."
"Breaches the house? Our home isn't a war zone. You have us living in an armed camp." Blond eyebrows squinting down above Leah's blue eyes. None of the warmth in them that used to caress my soul when she looked at me. "This is not healthy, Rick. We have an alarm on the house and Midnight to warn us if someone tries to break in. And keeping the guns out of Krista's reach is not the point. Guns hidden in every room is paranoid. It makes me wonder about the mental health of the man I sleep next to every night. The father of my child."
The remark wounded me viscerally. A cut that slashed closer to the bone than she could have realized.
She brushed by me still holding my Colt Python down to her side and went upstairs. I let her go, to sleep alone for the rest of the night. So she wouldn't have to worry about the mental health of the man lying next to her.
I already worried about that on my own twenty-four hours a day.
Leah put on a happy face for Krista as she carried her out to the car later that morning. I put their suitcases in the back of Leah's Ford Escape. The only conversation at breakfast had been directed at Krista by Leah and me. Separately.
"Daddy has a lot of work to do, but we'll see him soon," Leah sing-songed to Krista as she put her in her car seat in the back of the SUV. Krista didn't understand all the words or their meaning, but we'd done this routine enough for her to probably understand that Daddy usually came with her and Mommy when he put suitcases in the back of the car.
Leah left the back seat door open for me to say goodbye to Krista and then got into the driver's seat. I bent down and looked my daughter in the eyes. The same blue eyes of her mother. Her wispy blond hair freshly combed by Leah. She looked more like her mother every day.
"I love you, Krista Cahill." A smile I didn't have to fake broke across my face. Krista smiled back and pumped her pudgy little arms in front of her.
"Dada."
My chest filled up and warmth spread across my body. It happened every time Krista smiled at me or said my name. I kissed her on the forehead. "Be a good girl for Mommy."
I closed the door and stood next to the driver's window, which was rolled up. Leah started the car, rolled the window down, and looked at me. Cold, hollow eyes again.
"Give me a call when you get to your parents' house, okay?" Our usual procedure when one of us had to travel without the other.
"I'll text." She rolled the window back up. No opportunity for negotiation. I had a weak hand anyway.
Leah backed out of the driveway and drove off. Krista's little face disappearing as I walked down the sidewalk waving. Leah made the right-hand turn onto Moraga Avenue and they were gone.
Despair sucked all the hope out of my body so quickly that I could almost hear a whoosh. I always felt lonely when Leah and Krista left or when I went out of town on business. But Leah and I had never parted on such bad terms before. This felt different. Open-ended. Broken.
We hope you are enjoying the book so far. To continue reading...
Copyright © 2023 All Rights Reserved