Did You Hear About Kitty Karr?
Book info
Sample
Audiobook
Media
Author updates
Lists
Synopsis
REESE'S BOOK CLUB MAY 2023 PICK

A multigenerational saga that traverses the glamour of old Hollywood and the seductive draw of modern-day showbiz

When Kitty Karr Tate, a White icon of the silver screen, dies and bequeaths her multimillion-dollar estate to the St. John sisters, three young, wealthy Black women, it prompts questions. Lots of questions.

A celebrity in her own right, Elise St. John would rather focus on sorting out Kitty's affairs than deal with the press. But what she discovers in one of Kitty's journals rocks her world harder than any other brewing scandal could—and between a cheating fiancé and the fallout from a controversial social media post, there are plenty.

The truth behind Kitty's ascent to stardom from her beginnings in the segregated South threatens to expose a web of unexpected family ties, debts owed, and debatable crimes that could, with one pull, unravel the all-American fabric of the St. John sisters and those closest to them.

As Elise digs deeper into Kitty's past, she must also turn the lens upon herself, confronting the gifts and burdens of her own choices and the power that the secrets of the dead hold over the living. Did You Hear About Kitty Karr? is a sprawling page-turner set against the backdrop of the Hollywood machine, an insightful and nuanced look at the inheritances of family, race, and gender—and the choices some women make to break free of them.

A Macmillan Audio production from Henry Holt and Company.
Release date: May 9, 2023
Publisher: Henry Holt and Co.
Print pages: 400
* BingeBooks earns revenue from qualifying purchases as an Amazon Associate as well as from other retail partners.
Listen to a sample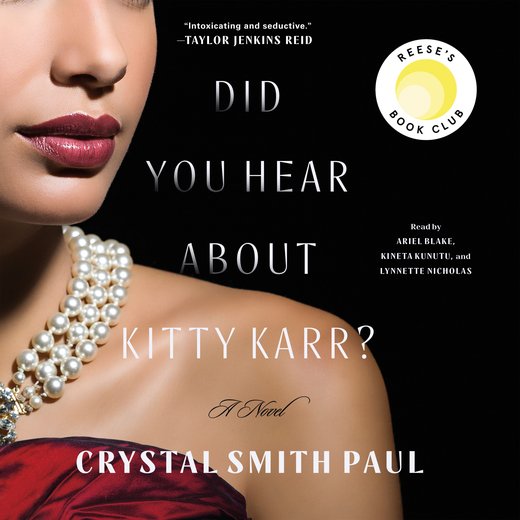 13:10:29
361.87 MB
9781250899422
May 2, 2023
Macmillan Audio
Did You Hear About Kitty Karr?
Crystal Smith Paul
Saturday morning, October 28, 2017
Elise never went to sleep, and she wasn't the only one. Her father was tucked away in his musical bunker. Her mother was pacing, hidden deep in the labyrinth, but every so often Elise could hear her feet kicking up gravel. Situated steps from the back porch of the St. John estate, the labyrinth was constructed of leafy green hedges and rose bushes that increased in height and girth further into the maze.
It was cloudy, and the only light was from the spokes of the Ferris wheel. It sat low on the fourth tier of their property, so only half of it was visible from the house. It was a gift, given to her mother more than two decades ago by a French director courting her for a film she ultimately declined. Her mother thought it was an eyesore but kept it for the sake of good conversation. Visitors likened it to a giant dream catcher, fitting considering that what and who lay behind its presence mirrored the collected, albeit programmed, wants of many. It was a symbol of celebrity, a club into which everyone wanted entry—a partition between gods and mortals. From the Perch, Elise did feel somewhat godly.
Not meant for sitting, the six-by-six wooden landing was situated below the apex of Elise's childhood home. Suspended amid the canopy of the thick sycamore branches, it was hidden from those on the ground but had an enchanted bird's-eye view of the four-tiered grounds and the entirety of Los Angeles below the hill upon which the St. John estate sat. That week it was Elise's refuge.
Sequestered for a week already, Elise found her stress now was compounded by her sisters' pending arrival. Physical proximity would force the closeness that only a shared childhood could bring. Everything had changed overnight, and she didn't know how to pretend with them that it hadn't. Elise could mimic emotions she didn't feel on command but had no ability to express the ones that were true.
She stayed on the Perch until her 6:00 am alarm for her workout, mandatory for her anxiety management. That morning she finished the entire hour and still felt unsettled.
She was sitting outside on the front door's single step, waiting, when Andy Davis, her driver and bodyguard of the last five years, arrived with her publicist and best friend by proximity since preschool, Rebecca Owens.
"Morning!" Rebecca handed her a Starbucks cup.
Elise frowned and placed it in the cup holder between them. "You know I hate Starbucks."
"Sorry, we didn't have time to get you the lavender latte you would have preferred."
"Bet you had time to FaceTime Gabe." Rebecca's longtime beau was on tour in Europe with one of the biggest rock bands in the world.
"So my relationship's going to be the theme of our last few months."
"Just stating facts." Elise caught Andy's eye in the rearview as they sailed through the twenty-foot-tall black iron gates of the estate. Fit for a castle, they had intricate designs of birds and trees etched in.
On the main street, the paparazzi, who usually waited in the enclave outside the Bel Air gates, spotted Andy and jumped into a van to follow.
Rebecca gestured toward them, raking her silver-painted nails through her thick mop of red hair. People stopped her every day to compliment its vibrancy. "The cameras are going to be aggressive. First photos will go for upwards of two hundred thousand dollars. Someone else should get Giovanni and Noele from the airport."
"Andy doesn't provide car service for the entire family," Elise said.
"Even picking you up—for a while, it may make sense to change drivers."
"I don't plan on leaving the gates. We don't want to feed the flame."
Rebecca's phone began to buzz. "No … we don't." Her voice trailed off as she read its screen.
"Is it Vogue?"
"My mom. I'll call her after the meeting." Rebecca and her mother, Alison, ran one of the most respected celebrity publicity firms in the industry. They represented the entire St. John family.
"Have you heard from them?"
Rebecca gave her a look. "Of course, they want you to talk about Kitty."
"I wouldn't know what to say."
"First things first," Rebecca said, as they drove through the security gates of Looking Glass Studios.
Elise sucked her teeth. "I feel like I've been summoned to the principal's office."
---
Elise and Rebecca walked into the studio conference room with their feet and arms in sync. Startled to find the sixteen-seat conference table full, they didn't break stride as they took the two remaining seats. All the executives behind Drag On were seated with their coffee mugs and ballpoint pens, ready to get their film's petite star, Elise St. John, in line. Elise sat in the empty end seat opposite the studio head, Tom. Rebecca sat on her right.
"Elise, good to see you, darling." Tom edged his pencil eraser across the glass as if there were a list written there. "How's February for the wedding?"
"That's in three months."
"We could have a wedding tomorrow if you wanted to." Susie, Elise's agent, sat in the middle of the table to Elise's right.
"But we don't," Rebecca quipped. It was clear it was the first time she was hearing this.
Susie ignored her, eyeing Tom. "The when is not so important as the effect on headlines." She was two decades older than both Elise and Rebecca and had never been impressed with Rebecca, whose childhood playmate had been her first and only client for the last ten years.
Tom used his hands to gesture. "Elise and Aaron set to marry on the heels of their Oscar-nominated—hopefully, winning—film. Good news won't hurt ticket sales."
Elise wanted to say how stupid it was but instead said, "Fine." It pained her to acquiesce, but with ten years of acting and five hundred million dollars in box office sales under her belt, Elise's life hadn't belonged to her in years. Sometimes the emotional restraint it took to conceal her unhappiness was just a hair away from masochism.
"We think it'll help." Tom stumbled over his words, surprised by her immediate agreement. "No one's talking about you two at all. You used to be the hottest couple in town." When they first met, Aaron Oliver had yet to have his breakout moment. Dating Elise got him thatrole, and their relationship became famous. In the three years since then, they'd starred opposite each other twice. Elise and Aaron owned a modest (aka four-bedroom) house behind a sliding gate in West Hollywood and had been engaged for a year.
"Couldn't go a day without seeing you two lip-locked." Tom's mouth moved as if he was about to say caliente, but instead, he merely extended his hands to open dialogue.
"There's plenty of skin in the film; people can go see it as many times as they'd like," Elise said.
Rebecca reminded everyone about Elise's February Vogue cover. "It'll be out early January, and we gave them exclusivity. The interview is Friday."
"That's only days before the Oscar nomination announcement," Susie said.
"Softening things now is crucial," Tom said.
"Fine." Rebecca sighed. "We're happy to try. Being nominated, and winning, is our primary goal." Elise had Golden Popcorn trophies and Viewer's Choice awards, but an Oscar win would be pivotal to her career.
"We welcome that, but Elise and Aaron, together, as a unit, were listed as an asset in the marketing of this thing. We need to ensure those benefits." Tom pushed his chair away from the table to cross his legs. His toes, visible in his worn Birkenstocks, looked as if they had never seen lotion—ever. "We're getting ready to do European press, so set a date and share it next week."
Elise pumped her fists in the air. "Five days till takeoff!"
A few execs clapped, which was enough for Tom. He kicked his feet in the air. "Good work, everybody!" He was gone before anyone could say thank you.
---
"Now the Internet's going to be flooded with hypothetical stories about my wedding, when it's supposed to be flooded with news about my movie," Elise complained in the car.
"Better than the Kitty talk," Rebecca said.
"Which they tap-danced around, even though that's really why they called the meeting."
"Right." Rebecca went back to her phone.
"It was disrespectful of them to pretend to ignore it. They could have at least extended their condolences."
"No one knows how to handle it," Rebecca said.
The death of eighty-one-year-old Kitty Karr Tate had dominated that week's news. It was no easy feat competing with politics, and the pause in presidential tweet reports spoke to the breadth of Kitty's legacy. She was an American icon, an Academy Award–winner, a writer, television star, and philanthropist. The tributes were numerous, and her films and decade-long-running television show shot to the top of digital sales.
With the praise came theories about her mysterious life and the circumstances of her demise. Kitty had become an urban legend postmortem, a Sunset Boulevard caricature who, rumor said, had committed suicide after years of seclusion. Kitty quit acting in her early fifties and, aside from a few rare public appearances, hadn't been photographed in more than twenty years.
Public conspiracy theories had exploded after news leaked that Kitty bequeathed her entire fortune—about six hundred million dollars—to Elise and her sisters, Giovanni and Noele. Really, it was closer to a billion; the reports got it wrong because the leaked documents only listed Kitty's personal assets. Her estate also included the inheritance from her late husband's parents and her husband's studio stock and royalties and real estate.
The St. Johns had issued a statement asking for privacy, but interest in the notoriously private family only quadrupled.
The world danced around the one question burning holes of curiosity in everyone's minds: Why had the White Hollywood icon given her fortune to the Black ("Black" being the key word) daughters of her costar in a sitcom that first aired almost fifty years ago? Some came right out and asked it, and social media was a cauldron of racist epithets; it was Meghan Markle hysteria times three. None of the sisters had been on the Internet in days because of it.
They didn't know what they were going to do with the money and, yes—thank you, Internet!—they all knew they didn't need it. Each daughter had been a multimillionaire from birth.
"So, did you know my grandmother is coming to Kitty's memorial?" Rebecca asked. At Kitty's request, the St. Johns were hosting a memorial and private auction the next evening at her home.
Elise shook her head. "I told you, Sarah took over the guest list." Her use of her mother's first name spoke to Elise's frustration.
"Kitty invited her. She got one of the cards. Isn't that funny?"
Kitty had written out twenty-five invitations to her own memorial service for her lawyer to mail after her death.
Elise looked at her now. "Why funny? Your grandma had to have been running in the same circles as Kitty."
"Funny she's never mentioned it to any of us before now. She told my mom they met back when Kitty was acting."
"See, there you go." Elise pushed open the car door as they stopped in front of the house. "Tell Vogue I'm sticking to the wedding and the film."
---
Elise paused at the kitchen door, surprised to see her sisters had already arrived. Their luggage littered the space as they munched from the charcuterie tray on the island. Giovanni, happy to flee cold Canada, had donned Bermuda jean shorts and a cropped, open-backed fuzzy violet sweater that displayed her ebony skin. Noele was in a royal-blue sweatsuit, more appropriate for the fickle October weather in LA.
Sarah was talking, accentuating every word with her hands. She'd been awake almost twenty-four hours, and Elise could see the rhythm of her mania, although to her sisters it probably looked like excitement.
It had been four years since the entire St. John family had been together. Days after Noele's NYU graduation, Giovanni, the middle daughter, had moved to Toronto to film what became a hit AMC show. Their parents, working through a battle in their marriage, took up residence in Paris by that December, granting Elise family separation and consequent career growth. Three or four out of the five gathered every few months or so during holidays, events, or times when their work obligations converged, but Noele's college graduation had rendered the St. John estate a true empty nest, and everyone but Elise had scattered.
A year ago, the sisters had all promised to come home to celebrate the thirtieth anniversary of their parents' legendary Halloween costume party. It was the occasion they all loved most and, for that reason, it almost felt as though Kitty had planned her passing now, knowing her neighbors, the St. Johns, would all be together.
Feeling a rush of tears, Elise turned from the kitchen entry and walked farther down the driveway to the backyard. The fog was low and thick, so she removed her heels before descending to the third tier of yard and through the vegetable garden that hid her father's studio.
Though the studio was made to look like a garden shed, the steel door was actually bulletproof. She punched in the keypad code and entered to find her father fingering a drum machine.
"Your daughters have arrived."
James didn't look up. "My daughters, huh?"
His bald head was brown like a walnut and shiny-smooth underneath the bright light above his workstation. He gestured to the drum machine. "I'm working." James was a producer who played fourteen instruments, wrote and arranged music, and had a vocal range from Maxwell to Barry White. His love for blues, jazz, and classical made his music complex and varied but somehow timeless.
Elise collapsed on the couch, staring at her father's self-portrait on the wall. Painted from a photograph of him at Zuma Beach back when he wore a beard, it commemorated his first days in Los Angeles as a paid musician. He would continue sleeping on the floor of a friend's apartment for another year, but it was the first time he realized he could—even as a Black man—make money doing what he loved.
He came to join her, scratching his gray beard shadow. "How was your meeting?"
"They didn't even mention her."
"I'm not sure why you expected them to."
"Even to Mom, it's like Kitty's death is a footnote. All she cares about is us being here."
"That's happiness for her. And for me."
"It's just—Mom would rather talk about anything else."
"Kitty wouldn't want us moping. There will be plenty of time for that tomorrow night."
Elise rolled her eyes. "Mom changed everything."
"It'll all be fine, honey, I promise."
"Do you think I should talk to Vogue about Kitty?"
"If Kitty didn't want a spectacle, she wouldn't have left you the money."
"It seems so unlike her."
"I know you idolized her, but she was human, I assure you."
"I know that," Elise pouted, resenting the truth that she clearly hadn't known Kitty as well as she thought.
"There are as many sides to the truth as people telling the story."
"How many sides do you think there are?"
"Baby, I don't know. Kitty lived a long life. She knew a lot of people."
She squinted her eyes at him, feeling as though he knew something more than he was admitting.
He laughed and used the arm rest of his chair to stand. "Let's go see my other babies. I also believe it's time for a cocktail."
Elise let him off the hook for siding with her mother, knowing he would never betray his allegiance to his wife for anyone.
---
"Welcome home, girls." James walked into the dining room with his arms open for hugs. Giovanni and Noele crashed into him. James was six foot three, and they both fit well beneath his chin.
"You look pretty," Giovanni said, hugging Elise. "I mean, with everything going on, you still look rested." Giovanni was the spitting image of their mother, her clone in beauty and talent. General consensus named her the prettiest of the three sisters, with a curvy body wanted for the cover of every men's magazine in America. Giovanni knew it, too; she was ever ready for a paparazzi shot. Even now, she wore full makeup.
The studio had been lucky to see Elise in some tinted moisturizer. Elise was, however, the most unusual-looking of the trio, with eyes that changed from dark blue to gray with her moods. They'd been steel gray for weeks now, unenthused by life.
"I don't feel rested."
Noele embraced her next. "Missed you." She smelled sweet, like the amber-honey hue of her complexion. Despite their span in skin tone, among the three, Elise and Noele looked most alike. Perfect mixes of their parents' best features, they had their father's big, wide-set eyes, their mother's signature Cupid's-bow lips, and her thick, dark-brown hair that reddened in parts in the sun. Elise kissed her sister's cheek and tousled her hair. Elise flat-ironed her own hair, but Noele liked hers natural and wild.
"How's Aaron?" Sarah asked Elise while holding out her empty glass for another mimosa. "I'm sorry he couldn't join us."
She wasn't; it was an inquiry about when she would see him. "He's filming, Mom."
"Is everything all right?" Sarah asked, noticing her tone.
Elise compiled a bagel, lox, and veggies to make a sandwich. "It is." Elise stole an I-told-you-so look at James. Her mother always assumed that anything wrong with her had to do with Aaron. Under the circumstances, it was both annoying and offensive. She handed her mother her replenished flute. "Can I get you anything else?"
Sarah shook her head hard. "I had a full breakfast this morning." The family waited, knowing she would list the details. "Half a cup of oatmeal with a drizzle of maple syrup and three strawberries."
"Three, huh?" Noele said. "Save some for someone else."
"Mom, it's almost noon."
Sarah went back to her agenda. "What did the studio want to discuss?"
Elise sighed, hoping her mother would get the hint that she didn't want to talk. "The European press tour." She fisted some brownie bites, then poured herself an inch of whiskey before opting for the chair on the other side of her father.
"Are they asking about Kitty?" Giovanni tried to sound casual, but Elise could tell she was asking for the benefit of their mother.
"Not yet."
Sarah gestured around the room, able to accommodate a hundred standing people. "Isn't it beautiful in here this time of day?" It was. The crystals on the three-tiered chandelier, hanging fourteen feet high, reflected rainbows onto the white walls, surrounding them as though they were at a disco party. Their mother was an ethereal beauty, like the rainbows decorating the space. She was the stereotype of what one would expect of one of the most famous, beautiful, and celebrated actresses in the world. She'd starred in more than thirty films, graced the covers of most magazines, and was in the double digits for award nominations. She exuded excellence from her pores.
Elise's sisters smiled, as if it was only the fourth or fifth time she'd said this.
"I wish we were enjoying it under different circumstances," Elise said.
James, taking over, peeked around a vase at Noele. "We can have a lot more family time if Noele decides to move back home." He winked to liven the mood.
"Dad, I'm going to law school."
As the fighter of the trio, eight years in New York had molded Noele into someone confident enough to think she knew who she was. Being older, Elise knew she didn't but saved her lectures. If the smiles and shared meals posted on her private Instagram account were any indication, Noele was satisfied with her life.
"Baby, I'm happy you want to help people, but—"
"What could you possibly have to say to that, Dad?" Noele said.
"You're fortunate enough to be able to buy your own law firm and have them all work pro bono."
"So, then I'd have time to take singing lessons again, right?"
James looked at Elise. "Who said anything about her singing?"
Elise, not in the mood to translate, kept eating. However happy Noele appeared, she was sensitive about this subject. Her voice was indeed a gift, and Elise, like everyone (though only their father voiced his opinion), thought it was going to waste. Still, Elise admired Noele's resolute commitment to building a life outside of her family—though she wondered how the next few days might change that.
"I know what you were thinking," Noele said.
James laughed at his youngest, who thought she was the smartest person in every room. "You're wrong." He pointed his fork at Noele. "You want to be a lawyer? Be a lawyer. As long as you get some good security."
"I could barely get to the airport." Noele passed her phone around the table for the visual. Noele had chosen New York University for the sake of anonymity, which came relatively easily because she had never been in show business. Her last name had stoked interest in her for the first couple of months, but she had moved somewhat anonymously for years—up until that week, of course.
"Where were you?" Sarah asked, frowning. "This view isn't from your place."
"Rebecca said first photos will go for upwards of two hundred thousand," Elise said.
"Everybody has to eat," James said.
"Stay at the apartment," Elise said. The St. Johns had an unknown residence on the Upper West Side.
"It's too far from my job," Noele said. "But I may have lost that already." She worked with domestic violence victims, and her being followed risked the victims' safety.
"Probably, with all the media attention," Giovanni agreed.
Elise sat back as the whiskey took effect, and Giovanni moved to business, as always. "So, my executive producer credit comes with a new arc." Now in its third season, the AMC period piece suspended boundaries of race and gender and had become very popular. Giovanni, who played a teacher at a boarding school in early-nineteenth-century New York City, would become a series regular that season.
"Not that you didn't deserve it ages ago, but good for you," Noele said. Their father tipped his head to second the sentiment.
"It feels good to have a say."
Giovanni was an Oscar-winning actress by the time she was thirteen but, at twenty-eight, still didn't have nearly the visibility of others without the same accolades nor time in the industry. Publicly, she chalked it up to resentment over her pedigree and simply worked harder; she had taken acting lessons every week for years. But the slight had nothing to do with her talent. Finally, "ethnic" was in, and while Giovanni should have been included in what felt like a trend, casting directors often still said she was too "exotic," not like a real Black girl.
"Will there be a love interest?" Noele said.
"Yes, finally!"
"I thought she already had something with one of the other teachers?" Giovanni gave Elise a look; it delighted Elise to see her blush. "What's his name?" Elise teased again. Her sister was, as few besides Elise knew, sleeping with said actor in real life.
"So it's a new story line?" Sarah exclaimed.
"We had our first kiss two episodes ago."
"I can't keep up," Sarah said, laughing.
Giovanni looked hurt, but only Noele watched Giovanni's show religiously.
"No one watches everything I do either," Elise said.
"It is a soap opera," Giovanni reasoned.
Moments later, Sarah's roaring laugh at Noele's impression of Giovanni in the show began to compete with Elise's stress as the cause of a deep, sense-dulling headache. Her joy got louder, and it was infectious. Their glee made Elise mad, and she started nibbling on her right middle finger, a long-standing nervous habit that prompted Sarah to scold her to stop.
Elise listened, but only because at that same moment, Sarah, reminded of something, left the room.
She returned with what had to be her favorite dessert: a lemon cake, punctured with lighted candles and bearing the words WELCOME HOME etched in white icing. Sarah awaited praise for her thoughtfulness. The table obliged as expected, and for Elise, the sentiment was genuine. Lemon cake had been Kitty's favorite too.
"To Kitty," she said, raising her glass.
James threw her a warning look, but she continued. "Remember she made all those cakes and pastries for our production of Alice in Wonderland?"
Her sisters' eyes lit up with the memory, only to be extinguished by their mother's fury.
"Yeah, and all of my cake platters got broken." Sarah's resentment bounced off the rainbowed walls. "Kitty had you all marching through that damned thicket with all my good china, like little servants."
We hope you are enjoying the book so far. To continue reading...
Did You Hear About Kitty Karr?
Crystal Smith Paul
Copyright © 2023 All Rights Reserved