Death of a Bookseller
Available in:
eBook
Paperback
Audiobook
Hardcover
Book info
Sample
Audiobook
Media
Author updates
Lists
Synopsis
Roach would rather be listening to the latest episode of her favorite true crime podcast than assisting the boring and predictable customers at her local branch of the bookstore Spines, where she's worked her entire adult life. A serious true crime junkie, Roach looks down her nose at the pumpkin-spice-latte-drinking casual fans who only became interested in the genre once it got trendy. But when Laura, a pretty and charismatic children's bookseller, arrives to help rejuvenate the struggling bookstore branch, Roach recognizes in her an unexpected kindred spirit.



Despite their common interest in true crime, Laura keeps her distance from Roach, resisting the other woman's overtures of friendship. Undeterred, Roach learns everything she can about her new colleague, eventually uncovering Laura's traumatic family history. When Roach realizes that she may have come across her very own true crime story, interest swiftly blooms into a dangerous obsession.



A darkly funny suspense novel, Death of a Bookseller raises ethical questions about the fervor for true crime and how we handle stories that don't belong to us.
Release date: April 25, 2023
Publisher: Scarlet
Print pages: 378
* BingeBooks earns revenue from qualifying purchases as an Amazon Associate as well as from other retail partners.
Listen to a sample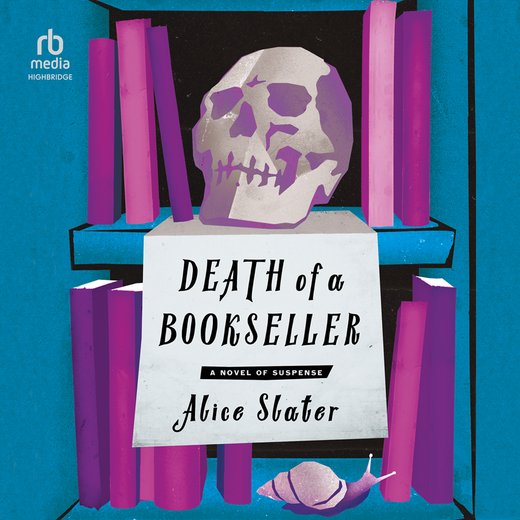 11:31:10
316.41 MB
9781529385366
April 25, 2023
HighBridge Audio
2023
Death of a Bookseller
Alice Slater
PROLOGUE
Laura Bunting. Her name was garden parties and Wimbledon and royal weddings. It was chintzy tea rooms, Blitz spirit, and bric-a-brac for sale in bright church halls. It was coconut shies and bake sales and guess-the-weight-of-the-fucking-cake.
Pale skin, blonde bob, hazel eyes. Curvy, around five foot four in flats. A scatter of chocolate moles on her chest, neck, and arms. A silver stud in her left nostril, a pinprick scar from a healed piercing on the right side of her lower lip. Her upper arms and calves were inked with faded, clichéd tattoos: an anchor, a mermaid, a rose in bloom; a pair of swallows in flight, one on each shoulder, swooping towards her heart; a posy of lavender on her inner wrist.
Laura, with her vintage tea dresses, her berets, her crimson lipstick. Hand-rolled cigarettes, rose oil perfume that lingered.
Laura, with her poetry.
Laura, with her tragedy.
Oh, how the rest of the team just loved their precious Laura. There was nothing she wouldn't do, no section she couldn't wrangle. Business? A pleasure. History? Easy. Even the dullest jobs were transformed into breezy tasks when Laura did them: she cleared trollies, she priced up boxes of pocket-money toys, she shelved the most obscure books.
She turned the Sunday morning vacuuming into a quick, light-footed waltz around the shop floor, flipping off the hoover to chat and laugh with booksellers as she passed. It seemed like she had something to say to everyone, some little in-joke or snippet of news that made her think of them. She slotted in so neatly, like she'd been away for a long time and the shop was pleased to have her back.
We had a connection, although she was too arrogant to lean into it. With me, she was just curt nods and clipped words and pursed lips, a frank look of dislike plastered over her face. She shrugged off my attempts to bond, took no interest in our shared history. In fact, she spent most of our shifts together looking straight through me, walking past the till without so much as a glance in my direction.
By Christmas, Laura Bunting was gone. And it was my fault.
SEPTEMBER 2019
ROACH
The neon lights that topped the dome of Brixton Academy glowed like the projectile vomit from The Exorcist. It was a little after six and the normies were already queueing, a thick vein that snaked around the corner and into the growing darkness, past overflowing industrial bins, stacks of crushed cardboard boxes, and slicks of piss that trickled into the gutter.
Clots of women chatted as they checked their lipstick in hand-mirrors and snapped cheerful, blank-eyed selfies. They were the kind of girls who felt a shiver of excitement as summer gave way to autumn, when Starbucks launched their seasonal menu, and it was time to wear scarves, tights, and leather boots. Pumpkin Spice Girls loved true crime podcasts these days. True crime was mainstream, and PSGs loved to clap their hands over anything that was quirky-but-mainstream. Drag queens, Halloween, astrology. That kind of shit.
The Murder Girls drew a different energy to the metal bands I usually went to see at Brixton Academy, where the crowd was rougher, tougher. I felt more at home surrounded by battered biker jackets and combat boots than I did with Zara dresses and publishing tote bags.
I joined the back of the queue behind two student types, plain girls with long limp hair dressed in ironic charity shop chic. One wore an oversized tartan shirt and ugly '80s glasses that reminded me of Jeffrey Dahmer, while the other wore a black T-shirt that said I wonder if serial killers think about me as much as I think about them? in girly pink calligraphy.
"If they do Ted Bundy," Dahmer Glasses said to the other, "I'll fucking die."
"They did Ted Bundy," her friend replied. "Like, two years ago."
"Yeah, but so much has happened since then."
So much had happened since when? I bristled. Ted Bundy was dead, executed by electric chair by the state of Florida in 1989. These fake fans had no idea what they were talking about. I made a derisive scoffing noise and, startled by the interruption, they turned to look at me. They shared matching looks of distaste as they took in my purple hair, my clothes, my whole dark vibe.
"What?" Dahmer Glasses snapped.
"Ted Bundy died," I explained slowly, like she was very stupid, "like, thirty years ago."
They exchanged uneasy glances, and then Dahmer Glasses said: "So?"
"So, realistically, how much more could have happened to a dead man?" I was being sarcastic, but then something occurred to me. What if there had been a development—a fresh angle, or some new information, and I'd missed it? With a flutter of excitement, I took a step towards her. "Wait, has something happened? Have they connected him to a cold case?"
"I was talking about the film," she said, taking a step back. Her friend brightened as I deflated.
"Ah, Zac Efron!"
"Exactly!"
With that established, they turned their backs on me and continued their conversation about Extremely Wicked, Shockingly Evil and Vile at a much lower volume. I wished I had a friend with me, a partner in crime to make the whole thing more bearable. I'd mutter something like, "Hope they cover Zac Efron!" in a silly girly voice and we'd stifle our mean laughter.
Instead, I plugged in my headphones to listen to yesterday's episode again. I usually listened to every episode twice because I always missed stuff the first time around. The Murder Girls never scripted their shows, so there was always an edge of spontaneity, and each live show was unique. They only ever posted one live episode per tour, so if you weren't at every show, you'd never know what you'd missed from the others. The only way to catch everything—every joke and every anecdote, every story and every detail of every murder—was to go to as many shows as possible. I'd always wanted to follow them on tour, maybe catch them in Birmingham or Manchester as well as London, but the tickets cost a bomb and I never had the cash to book more than one at a time.
The queue shifted forward as fans started to trickle into the venue. When I reached the front, I held out my phone to the bouncer, at least six foot two with a shaved head, who scanned my e-ticket. A wiry woman with a lined face and a dyed red ponytail patted me down. She peeked into my bag in case I was trying to sneak in a bottle of Prosecco, or whatever basic crap normies drink when they're trying to have a good time.
Before I could think about trailing them, the Bundy simps vanished into the crowd. Although their vapid chat was enough to make my brain atrophy, I liked to follow people. The force consumed me, as Bundy himself said, and it gave me a sense of purpose to walk in someone else's shadow. Sometimes, I'd follow customers around the shop, just to see how long I could track them. Sometimes, I'd follow strangers in the street, just to see what they were doing, where they were going. Where they lived.
I felt conspicuously alone as I made my way through the foyer. The air smelled like Lush, sweet and
cloying, a mingling of perfumes and body sprays, hair products and creams. Bubbly women clustered together, with mini bottles of pink wine and plastic cups from the bar, calling to one another, throwing their arms around each other in performative displays of affection. I caught snippets of conversation as I squeezed between cliques. They name-dropped high-profile serial killers like friends, like influencers, like pop stars.
"Nilsen? I'm sick of him."
"Everyone's done Manson this year."
"If they do Jack the Ripper, I swear to God I'll kill myself."
"We're due a good Gein."
Over at the merch stand, a huge display of T-shirts had attracted a hum of fans, buzzing like bluebottles over a shallow grave. I joined the scrum, used my elbows, trod on feet, twisted between friends, and forced my way to the front. I came away with two Murder Girls T-shirts, an enamel pin badge, a postcard set and a beanie hat—a good score. The merch always sold out before the end of the show. The total came to over seventy quid, but this was an early Christmas present to myself and, for once, I had the money ready to spend. I pressed through the crowd to the auditorium, showed my e-ticket to a young woman with an undercut on the door and was pointed to the right-hand side of the stalls. At the bar, I stopped for a couple cans of Dark Fruits and then found my seat, wedged between two women who both took one look and turned away to chat to their friends. Fuck those bitches. I settled in, snapped open my first can, and took a sweet sip of dark berry cider.
The Murder Girls came onstage a little before seven-thirty to rapturous applause. Claudia was beautiful in crushed black velvet, her long red curls shimmering copper under the spotlights. She waved both arms high above her head, and old-fashioned leg-of-mutton sleeves puffed from her shoulders like those of a Victorian widow. Sarah played the rebel in a white T-shirt with rolled-up sleeves that showed off her tattoos; she wore yellow tartan jeans and unlaced Doc Martens, black with yellow stitches. I made a mental note to look for a pair of boots just like that on eBay: black with yellow stitches, properly battered and worn in. The crowd wolf-whistled and whooped, and the noise ricocheted around the old theatre while the girls smiled and waved, blinking against the bright lights of the stage.
"Rock 'n' roll," Sarah yelled in her deep Southern drawl, extending her index and little fingers into an ironic sign of the horns. "What's up, London!"
The audience clapped, cheered, screamed. The Murder Girls soaked up their love, basked in it for a moment, and then settled themselves for the show, perched on high stools on either side of a table set with their notes, bottles of water, and beers.
Live shows always started the same: a breezy chat about their trip, anecdotes and in-jokes that reflected the sisterly nature of their bond. Just a little colour to summarise how the tour was going, as though their fans weren't following their every move online.
"So, listen," Sarah said, leaning forward and speaking into her microphone with a conspiratorial lilt. She paused for effect, and then asked: "Y'all ever heard of the Stow Strangler?"
The room erupted into a cascade of applause and a thrill of recognition shuddered through me, an electric current strong enough to reanimate the dead. I sat up straighter, leaned forward in my seat and fought against a desperate urge to raise my hand: me, yes, me, I have.
Sarah took the lead on this one. She got a few things wrong, but I forgave her because she was from New Orleans and didn't understand that London had boroughs, not districts or wards, and that we called it the Tube, not the subway. There was also some confusion about Walthamstow Village, which they seemed to think was an actual village outside of London, instead of just a particularly picturesque, residential part of Walthamstow.
But she got the meat of
of the story right, and that's what mattered. She told the whole thing methodically: it was June 2009, the weather dry and warm. By summer's end, five women were dead, each attacked by a stranger, strangled to death with a ligature looped around their throats.
They glossed over each of the dead women's lives, and I fidgeted in my seat, waiting for the good bit. Who they were and where they came from and how they ended up in Walthamstow Village late at night didn't really matter, it all blurred into one—but I snapped to attention as the girls detailed each death meticulously: broken fingernails, bruises, signs of a struggle.
The first was found by an early morning dog walker in Saint Mary's churchyard, laid out to rest as though she were sleeping on one of the old, cracked tombs. The second was found by late-night revellers on the patch of grass opposite the Ancient House, a timber-framed home built in the fifteenth century. The third was sprawled on the church path that snaked behind Vestry House, then another was found in the churchyard, this time propped against the church itself.
"Can we just pause to talk about how awesome these place names are?" Claudia said, glowing with the absurdity of it all.
"Right? Like, Vinegar Alley?" said Sarah. "What is this, plague times?"
It was all coming back to me—the quiet streets, the crack of high heels on stone, the air thick with the threat of summer rain as night crawled over the horizon. We grew up quickly that summer. At fourteen, I was learning how to move through the world as a woman, to study the shadows, to look over my shoulder, to scan the streets for strangers who might be lurking behind parked cars or hiding in bushes.
"Vulnerable women, right?" Sarah said with cold authority. "Women who'd been let down by society and let down by the state, and then they were let down by the cops who didn't give enough of a shit about their deaths to investigate them properly. They were let down by every single institution that was meant to lift them up."
"But everything changed," Claudia said, her eyes shining, "when the Stow Strangler attacked Karina Cordovan."
Karina Cordovan, the last Stow Strangler victim, was discovered slumped down Vinegar Alley, the ligature still wrapped around her throat. Karina Cordovan wasn't homeless, or an alcoholic, or an addict, or a sex worker. She was a local businesswoman, a mother, an active member of the community, out for a late-night run. The death of Karina Cordovan marked the end of the killings and the start of the investigation.
"Suddenly, it's like everyone realised maybe they should try to catch this fucker before he kills anyone else," said Sarah.
She put forward a theory about where the investigation went wrong—the stop and start of it, the lack of interest, the bumbling police and the scandal with the fumbled CCTV, the confusion about whether it was the same man behind all five murders. Claudia took the role of devil's advocate, picking holes in Sarah's argument. It was a lighthearted debate, explored from every angle, even though the conclusion was foregone—we knew it was Lee Frost, we knew he was a police officer, we knew that he got life in prison for the murder of Karina Cordovan and three of the four other victims, that he was rotting behind bars in HMP Frankland. At this, some girls clapped and cheered as though they were hearing the story for the first time—a frank display of ignorance that embarrassed me. Any true crime fan worth their salt knew this story.
"For me, it comes down to this," Sarah said in her conclusion voice—slow, deliberate, commanding. Had it already been an hour? She placed her empty beer bottle on the table and stood up to address her audience. "In 2009, a woman lost her life, and the cops didn't do shit to find the man who did it 'cause they didn't think she mattered. And by not catching that fuckin' asshole sooner, another woman lost her life, and then a third, and then a fourth, and then finally a fif
th. Four more women lost their lives, four more families were torn apart."
A few boos and jeers bloomed from the braying crowd.
"That fuckin' asshole has kids," she said, her kohl-lined eyes glittering with a minor threat of tears that would never break because although she was passionate, her conviction was stronger than her sadness. "He still gets to see them grow up, he gets to have Christmases and birthdays, and, one day? He may even be free to kill again."
A tingle of pleasure shivered through my body. I leaned forward in my seat, ready to mouth along to the final words of every show.
"But listen, you piece of shit, you fuckin' asshole," she said, now repeating a variation of the mantra that concluded each episode. "So long as we live and breathe, we will never stop talking about what you did. You will never be free and we will never forget, and—" Sarah raised a hand in the air, fingers curled into the sign of the horns once more, and we all took a deep, collective breath to shout the last five words in unison: "we'll—see—you—in—hell!"
Applause thundered through the theatre, a storm of it, a pounding of hands, a stampede of feet. Women whooped, women jeered, women screamed, and I was there with them, whooping and jeering and screaming too, part of the crowd, united by the moment.
"We are the Murder Girls!" Claudia shouted into the mic, her voice knelling like a bell through the din. "And you've been gorgeous! Love you, London, thank you and goodnight!"
The applause swelled to a crescendo, and when a thatch of girls near the front jumped to their feet, I joined them in a standing ovation, smacking my hands together until my palms were hot and stinging, stamping my feet until it felt as though the entire auditorium would collapse under the weight of our love, our passion, our thirst for justice.
LAURA
I make myself a wholesome breakfast to undo some of last night's damage. Freshly squeezed orange juice, black coffee. A soft-poached egg, with half an avocado spread on sourdough, topped with plenty of cracked black pepper. A zingy squeeze of lime over the avo, and a splash of hot sauce on the egg, because I crave the sting of it, the burn.
In the shower, I turn the temperature up until the water is as hot as I can bear. A violet shampoo keeps the brassiness of my hair at bay, and a thick conditioner that smells like a vanilla milkshake keeps it soft. I exfoliate with a tropical body wash on a bath mitt, and when I step out of the spray, the steam that rises from my skin smells sweet as a smoothie, just the way I like it. It's cold, but it's too early to switch the heating on. Last year, I made it all the way to Christmas.
I dry off and smooth an almond-scented moisturiser over my arms and legs. Picturing my day unspooling, I flip through my rail of dresses and skirts, choosing an outfit with care. I need to be comfortable and flexible, but stylish too. A black and white striped Bardot top that shows off my collarbones, a scarlet skirt, sheer black tights, forest-green flats, and a green beret that's a perfect match for my shoes. Nice and neat and well put together. I blow-dry my hair, apply light makeup and dab a little rose oil behind each ear so that everyone I greet today will be met with the warming, welcoming floral scent of love.
In an ink-stained tote bag, I pack everything I need for an easy, organised day: phone and charger, purse, door keys, lipstick, lip balm, hand cream, lighter, tobacco, and Rizla rolling papers. I'm currently working on a poem, so I bring everything I need for that too: the source material, my poetry notebook, Post-it notes, and a couple pencils. I pick a can of sugar-free, locally produced cherry seltzer, and a Tupperware of orzo salad for my lunch. Sharona may want to go out for lunch, but I can always leave the salad in the fridge for tomorrow.
Before I go, I press my fingertips into the soil of my monstera, checking for moisture. It feels a little too dry for my liking, so I fill a delicate glass mister with tap water and spritz the crumbly soil. While I'm here, I water the rest of the plants that line the windowsill too. Pretty, leafy things that filter the air and make my cramped galley kitchen look and feel like a bright little greenhouse.
I set off early, making the most of the morning sun while it's still with us, before the wretched winter skies take over. Walking to work makes a nice change. I stroll through the park and listen to a retro playlist of American folk, and as Joni Mitchell sings about heading home, I think about the rhythm of my feet on the cracked path, and of Patti Smith walking through the streets of New York, and of Joan Didion in Sacramento, and how each footstep is another connection between me and my neighbourhood, the streets on which I learned to ride a bike, where I walked hand in hand with my mother, and that despite all the pain, and the loss, and the grief, I'm tethered to Walthamstow because she still exists in the fabric of it, a ghost imprinted on every familiar sight. She knew these streets, these trees, these bricks, these bollards. These paving stones remember the bounce of her running shoes. I still can't quite bring myself to walk past her old shop, even though it's changed hands at least three times in the last decade, so I take the long way round instead.
When I reach the mouth of Walthamstow Market, I stop to roll a cigarette, which I think is very French of me, and then take a meander past the fruit and veg stalls, the cries of the market sellers as they call, "Pound a bowl, pound a bowl!" punctuating every step. Women in salwar kameez, colourful dupattas draped over their heads and shoulders, browse stalls selling discount cookware, knockoff designer perfume, silver jewellery, and reams of fabric, ribbon, and lace. The morning smells like the rotisserie chickens that turn slowly on spits, their skins already a golden shade of brown.
Bookshops have always felt like home. There were two independent bookshops on the high street when I was little. My mother and I called them "the Marble Shop" and "the Grown-up Shop." The Grown-up Shop was a general bookshop specialising in adult fiction and nonfiction alike. It was very beige—popcorn-coloured walls, a light biscuity carpet. All I knew then was that it was boring, full of adult books with dull covers, and that the Marble Shop was magical, a treasure trove of joy and colour. It sold children's books and toys, and the walls were painted a Cadbury purple and the bookcases were an electric orange, the cartoony palette of Nickelodeon.
The Marble Shop was owned by a man I thought of as elderly due to his grey hair, long wiry eyebrows and tufts that sprouted from each nostril, but who was probably only in his forties. He wore loose woven shirts, the same kind the hippy music teacher at school wore, and a little gold ring in his left earlobe. He always smelled like Juicy Fruit gum, and I liked him because he was happy to let me take a marble from his display with every book I bought. As much as I liked books, I was particularly fond of the huge spinner of marbles, which were my childhood currency. As my library grew, so did my marble collection. My favourite was totally clear with an iridescent patina, like a dragonfly's wing. I still have it somewhere, although I think of it as an homage to Margaret Atwood's Cat's Eye—the exact kind of book I'd never imagined I'd be drawn to as a child. Like blue cheese or anchovies, literary fiction was a taste that children had to grow into.
Spines Walthamstow is right at the end of the market, a deep burgundy shopfront squeezed between
a betting shop and a Costa. When I reach the bookshop, I stand for a minute and finish my cigarette, eyeing the tired window displays. Beyond the smudged glass, the books are sun-bleached and falling over, as though they haven't been updated in some time. A dead fly lies prone in the sun.
When this branch first opened, back in the late '90s, with its huge range and big windows full of discounted books, the Grown-up Shop couldn't compete and closed down within a couple years. Eventually the Marble Shop disappeared as well, although by the time it closed its doors, everything had changed. I was a different person, and I'd lost more than my interest in marbles.
ROACH
On my way to work, I listened to a podcast about an Indonesian serial killer who strangled women in a mystic ritual of his own devising. The hosts were a trio of loudmouthed men who cracked jokes and talked over one another as they pieced together the story. As a spiritual healer, women trusted Ahmad Suradji. They trusted him enough to follow him into the sugarcane fields that surrounded his home and let him bury them up to their waists. There, he strangled them, and reburied them with their faces pointing towards the place where he slept, in the hope that he could channel their energy and bolster his magical strength. Even though their final place of rest was either supine or prone, I imagined a field of skeletal dead women still buried up to the waist, their skulls turned towards him like flowers pointing to the sun.
It was chilly. Still buzzing from the live show, I'd dressed up a little in one of my new Murder Girls T-shirts, but if it was cold outside, it would be cold inside the bookshop too. I added a second layer in the form of a black shirt and attached a pin shaped like a bloody butcher knife to the lapel. Little details. Always make sure you're remembered for the right reasons. That's what my mum Jackie liked to say when I was little, although she usually hissed it as an admonition when I was doing something she didn't like in front of the regulars, like letting snails slime their way along my bare arm or talking with authority about cholera, bubonic plague, or leprosy with their children. I went through a big bacterial infections phase when I was a kid.
I've always had a thing for death. It started with Horrible Histories, books full of rot and squalor, bloody executions, and archaic medical practices that delighted and revolted me in equal measure. They were well-thumbed library books, and while my classmates seemed happy to flick through them for school projects and forget about them once they had what they needed, I dreamed of the gallows, of leeches and lobotomies. All children were morbid, but I wore it better.
As a little girl, I was often left out. I was rarely invited for tea at other girls' houses, and they didn't want me at their sleepovers due to my peculiar disposition. On the other hand, birthday parties were a numbers game for seven-year-olds, and I'd often find myself trapped at prissy little princess parties on Saturday afternoons.
I was always struck by how very present other children were in their homes. Swimming certificates and artwork pinned to the fridge with magnets shaped like fried eggs, ice lollies, letters of the alphabet. They had toys scattered on the floor, little bits of plastic underfoot, Barbies and stuffed animals stashed under the sofa, Disney DVDs stacked around the TV, yellow mackintoshes and sparkly jelly shoes and wellies shaped like frogs by the front door. There wasn't much room at home in the pub for jelly shoes and alphabites, and Jackie didn't take many photos of me, or display my artwork on our fridge. In fact, she tended to sweep me and my interests under the carpet.
It was lonely, but books made good company. My favourites were the Point Horror series because I desperately wanted to be a teenager. I understood that that was when you really started living, and being an American teenager appeared to come with a certain glamour. When I was a kid, it seemed like everything good happened in America, like cheerleading, and yearbooks, and proms, Satanism and the Manson family. I pictured myself hanging out at the mall, at the drive-in, at the ice-skating rink, with friends with names like Stacy and Chuck, and one of them would be murdered, and I'd go on dates with a boy with dark flashing eyes who would leave sinister messages for me to discover through increasingly complicated means: photos with the eyes scratched out, lipstick threats scrawled on the bathroom mirror, a rigged showerhead that sprayed fake blood.
As I walked, the sun battled through soft grey clouds the colour of crematory ash. Across the street, Abbi was walking towards me, her head bowed as she raked through her handbag. She worked at the travel agents, and we regularly passed each other on our way to work. She always did this little dance of aversion, as if I had any interest in talking to her about her bland boyfriend or her holiday plans or whatever normie bullshit she thought would make her interesting to me. I called her name and waved anyway, and she raised her eyes and offered a brittle nod in return.
Abbi's family home was on the same side street as the pub, and when we were kids her parents were regulars, although they seemed to prefer one of the more gentrified establishments now. When the murders began to hit the news in earnest, they were anxious about Abbi's safety and our mums made us promise to walk home together. For the last few weeks of the summer term, ...
We hope you are enjoying the book so far. To continue reading...
Death of a Bookseller
Alice Slater
Copyright © 2023 All Rights Reserved