Book info
Sample
Audiobook
Media
Author updates
Lists
Synopsis
Johnstone Country. Guns and Money. And Sometimes, Lawyers.



The long-awaited return of Smoke Jensen's son ignites a powder keg of problems for the town of Big Rock, Colorado. This time, it's personal—and definitely fatal . . .



DARK NIGHT IN BIG ROCK



Smoke Jensen is mighty proud of his son Louis for finishing law school. But he can't help being a little disappointed that Louis isn't returning to the Sugarloaf Ranch. Instead, he's setting up his own law practice in nearby Big Rock—a career choice that turns out to be every bit as dangerous as fending off cattle rustlers. The boy's first case lands him smack in the middle of a heated dispute between two riled-up ranchers over water rights. If Louis can't settle them down, the whole thing could blow up into a bloody range war. Then a scheming con man shows up in town to stir up trouble—and ends up dead. Now Louis has to defend his sister's boyfriend on murder charges. What's worse, the real killer is still out there. And he's ready to slaughter again . . .



Smoke Jensen's son may be a lawyer now. But if there's one thing he learned from his daddy, it's that in places like Big Rock, men live and die by one law alone: the law of the gun . . .
Release date: March 29, 2022
Publisher: Pinnacle Books
Print pages: 304
* BingeBooks earns revenue from qualifying purchases as an Amazon Associate as well as from other retail partners.
Listen to a sample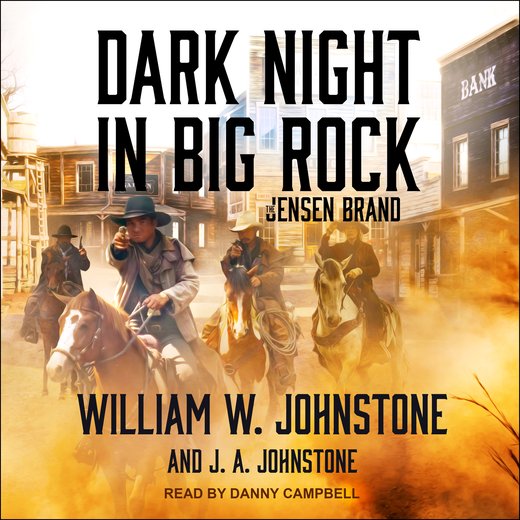 09:38:52
265 MB
March 29, 2022
Tantor Audio
2022
Dark Night in Big Rock
William W. Johnstone
Misery Springs, New Mexico Territory

The new century might be a couple of years old, but in this wide spot in the trail, nothing had changed because of that milestone. Just as they had for years, saddle horses stood tied at the hitch rail in front of Frenchy Lafors' Gay Paree Saloon, which was constructed of warped, unpainted planks and, despite the name, wasn't fancy enough for even the most squalid of Paris's slums.

Of course, that description fit all of Misery Springs, which did live up to its name. The pioneers who had founded the settlement hoped that the springs gushing out of a rocky bluff would be a never-ending source of good water, but they quickly discovered that the stuff smelled bad and tasted worse.

Still, the water wouldn't kill you to drink it, and in this mostly arid stretch of southern New Mexico Territory, that counted for something.

Six horsebackers and a man in a buggy arrived in Misery Springs on a blistering hot afternoon and came to a stop in front of the Gay Paree. The riders wore range clothes, but a close look at their hands revealed none of the calluses working cowboys usually displayed. Those supple hands, their hard-eyed faces, and the well-cared-for revolvers that rested in well-oiled holsters on their hips testified as to their true profession.

One of them, a sinewy man with a lantern jaw and a permanent squint in one eye, leaned over in his saddle and spoke to the buggy's occupant.

"You want to come in with us?"

The voice that replied was quiet and mild. "No, I believe I'll stay here in the shade. It's terribly hot, and the man we're looking for may not be here, after all."

"That fella back in Lordsburg said he was. Got kinfolks here, he said. Planned to stay for a while." The rider ran his eyes over the dismal surroundings and shook his head. "Kinfolks or not, if I ever got out of this place, I'd never come back, that's for sure."

"Perhaps the man in Lordsburg lied."

The rider snorted. "You know better than that. Once you start asking a fella questions, he don't lie for very long. The truth comes out in a hurry."

"Well, there is that. But I'll still remain here, out of the sun, until we're certain."

"Sure, that's fine." The rider swung down from his saddle and looped his reins around the hitch rail. "Come on, boys."

The other men dismounted, and all six of them trooped into the Gay Paree.

Frenchy Lafors had never been closer to Paris than New Orleans, and he didn't speak a word of French. His mother, who worked in one of the houses on Bourbon Street, named him Antoine and insisted that his father was a down-on-his-luck French nobleman who had somehow wound up in New Orleans and fallen in love with her before getting himself shot over a poker table. Growing up, the boy had called himself Tony, but that name never stuck. Frenchy did.

He'd decided that if he was going to have the name anyway, he might as well put it to good use. So he dressed well, slicked down his hair, grew one of those little mustaches that curled up on the ends, and learned how to gamble and woo the ladies.

The latter skill had prompted him to skedaddle from the Crescent City when a particularly jealous husband sent men to kill him and dump him in the Mississippi. The former had supported him until a good hand—and surprisingly an honest hand, at that—had won him this saloon. He had been here a couple of years. Misery Springs was a terrible place, but nobody bothered him. There was something to be said for that.

Frenchy was standing behind the bar when six men walked in. He caught his breath and pressed his palms against the hardwood. They reminded him of the men who'd come after him in New Orleans. This couldn't be his past catching up to him. Surely not after all this time.

He glanced down at the sawed-off shotgun resting on a shelf under the bar. If they came at him, he hoped that he'd have time to grab the scattergun and take a few of them with him.

But the man who seemed to be their leader just looked around the room and then headed for a table where four hombres were playing poker. Frenchy breathed a little easier, but only for a moment.

Then he started worrying that his place was about to be shot up, and while it might not be much, it was his, by Godfrey. He might have need of that scattergun after all.

But for now, he could afford to wait and see how things played out.

"Jake Farrell?"

Jake glanced up from the cards in his hand, annoyed at the interruption. "Yeah?"

"Need a few words with you."

"If you ain't blind, you can see I'm a mite busy right now."

The man who had spoken to him rested a hand on a gun butt. "Oh, I can see just fine. Well enough to shoot, anyway."

One of the other players, a fat little man who called himself the mayor of Misery Springs, cleared his throat. "I, ah, I'm sure we can postpone the rest of this hand if you need to speak to these gentlemen, Jake."

Nobody minded him declaring himself mayor because nobody else wanted the job of running an awful settlement like this, although running Misery Springs didn't really take much effort. Nothing happened here.

Until today, looked like. Six gun-hung strangers riding in didn't bode well for Misery Springs or anybody in it.

Jake knew that and decided he'd better tread pretty carefully. He had strayed over onto the wrong side of the law a few times. He knew what sort of men these were, just by the look of them.

Slowly, so as not to spook them with any sudden moves, he placed his cards facedown on the table and sat up straighter, an affable-looking man with curly fair hair under his thumbed-back Stetson.

"I'm Farrell." No point in denying it now. "I don't think we've met before. What can I do for you?"

"You know a man named Martin Delroy?"

So that was it. Farrell frowned slightly to make it look like he was thinking about the question before shaking his head.

"No, can't say as I do."

"Fella in Lordsburg told me you were acquainted with Delroy and that you'd headed in this direction."

"That hombre in Lordsburg made a mistake. I never heard of anybody named Delroy." Farrell smiled and shook his head again. "Sorry."

"Not as sorry as you're gonna be."

That open threat changed things. Jake had let this go as far as he could. His hand darted for the gun under his coat as he started up out of the chair.

The boss gun-wolf was faster. His left hand grabbed Jake's right wrist and stopped him from pulling iron. His right fist slammed into Jake's jaw and knocked him sideways out of the chair.

Two of the other men grabbed the poker table and upended it, sending money and cards flying. The rest stepped back a little and drew their guns to cover the people in the room. One of them leveled his Colt at the man behind the bar, who had started to reach for something under the hardwood.

"I wouldn't do that, mister."

The barkeep nodded, stepped back, and raised his hands. His jaw trembled, and that made the curled ends of his little mustache jump up and down.

Jake was groggy from the punch, but it hadn't knocked him out. He felt a hand reach inside his coat and take his gun. Then more hands took hold of him, hauled him to his feet, and shoved him toward the door. He stumbled and might have fallen, but the hands were there to steady him and force him to keep moving.

One of his captors pushed the batwings aside. Jake stepped out and squinted against the sunlight. The man who had hit him moved up beside him, looked around, and pointed to the livery stable owned by the mayor of Misery Springs.

"That place looks like it ought to do. Take him over there."

A couple of the men grabbed his arms and marched him toward the stable. As Jake's wits started to come back to him, he looked around and saw the leader talking to somebody in a buggy. The man climbed down from the vehicle, and he and the leader followed Jake and the others.

Even though the man from the buggy was small and dapperly dressed, something about him made a ball of fear explode in Jake's stomach. He didn't give a damn about Martin Delroy. Not selling out somebody you knew was one thing, commendable but not absolutely necessary, and certainly not at too great a cost. Whatever they wanted to know, Jake would tell them, right up front and as honestly as possible.

Thing of it was, he didn't know if that would be enough to satisfy the appetites of the man from the buggy.

The men inside the Gay Paree could hear the screams coming from the livery stable as they picked up the scattered cards and money and set the overturned table on its legs again.

Frenchy expected the screaming to stop after a few minutes. He didn't know Jake Farrell very well, but he didn't figure the man would hold out for long before he answered the strangers' questions.

When the shrieks continued for a quarter of an hour, though, Frenchy started to get sick to his stomach, and a little mad, too.

"We got to do something, by Godfrey. We can't just allow this to go on."

With a glum expression on his round face, the mayor shook his head. "You saw those men, Frenchy. No matter what they're doing, do you really want to tell them they have to stop?"

"But . . . but . . ." Frenchy drew in a deep breath. "If we all go—"

"We'll likely all get killed."

Frenchy couldn't argue with that. But neither could he forget all the taunts and bullying he had endured when he was growing up, the child of a prostitute. He looked at the scattergun under the bar, reached for it, then drew his hand back. If he walked up to the stable holding that weapon, more than likely the strangers would just shoot him on sight.

He had a pistol in his trousers pocket, a hammerless Smith & Wesson .32 caliber Safety First model, also sometimes known as a Lemon Squeezer because of its small size. He was pretty good with it and had shot two men in gunfights, maybe even killed them. He didn't know because he had rattled his hocks out of those places as fast as he could once the shooting was over. He didn't advertise that fact, because bragging about how good you were with a gun never failed to bring trouble.

The Lemon Squeezer's five-round cylinder was fully loaded. That wouldn't be enough to save his life if any gunplay ensued with the strangers, of course, but it was better than nothing. He stepped around the end of the bar and started toward the door.

"Frenchy, don't . . ."

"I can't just stand by and listen to it, Mr. Mayor. Anybody who wants to can come with me."

He pushed the batwings back and stepped outside. He didn't look behind him as he started toward the livery stable.

He didn't have to. He knew he was alone.

They saw him coming. A man stepped out and raised a hand to stop him.

"Best hold it right there, friend. This is none of your business."

A bubbling moan came from inside.

"You have no right to—"

The gunman raised a hand again to forestall Frenchy's protest. "Wait right here."

Frenchy didn't know what the man would do next, but he swallowed and nodded. The man disappeared into the shadowy livery barn. A moment later, the lean, squinty-eyed man who seemed to be the boss sauntered out.

"My friend says you're a mite upset about what's happening."

"It's not right. Whatever you want from him, Farrell's given it up by now."

"Somebody else has to be the judge of that, and as long as he's not satisfied . . ." The man's narrow shoulders rose and fell. The phony smile he had given Frenchy went away. "Now, here's the way it's gonna be. We're going to do what we came here to do, and then we're going to ride away. We can ride away without any other trouble, or we can ride away with bodies scattered around and every building in this Godforsaken hole burning." Again the shrug. "It's really up to you. But if you decide you have to start something . . . we'll finish it. I give you my word on that."

Frenchy stood there staring at the man as several tense seconds went by. Then everything went out of him in a long sigh.

"Nobody here knows Farrell all that well. And this is our home, miserable though it may be."

The phony smile came back. "Now, that's the smart way to be, amigo. You go on back to the saloon now, you hear?"

Frenchy nodded. As he started to turn away, another scream ripped from inside the stable. For half a second, Frenchy thought about jerking out that Smith & Wesson, spinning around, and squeezing some damn lemons.

Then he kept moving, his feet raising little puffs of dust as he plodded toward the Gay Paree. He hoped the squinty-eyed man kept his promise about not burning Misery Springs to the ground.

Big Rock, Colorado

Without taking her eyes off the traffic in the street, Sally Jensen said to her daughter, beside her on the buggy seat, "My goodness, Denise, you're squirming around like a six-year-old."

Denise Nicole Jensen—Denny to her father Smoke and certain friends—tugged at the lacy, high-necked collar of the stylish sky-blue dress she wore.

"I don't see why I couldn't have just worn my regular clothes and ridden horseback into town."

"On that wild Rocket horse?" Sally shook her head. "I don't think that would have been a good idea."

"Rocket's not wild. He's just . . . high-spirited. Sometimes he just needs a little room to run."

"Which he wouldn't have here in town."

Denny supposed her mother had a point. Big Rock's main street was fairly crowded as the buggy approached the big, redbrick train station at the end of it. Wagons and buggies were parked in front of the businesses along both sides of the street. Other vehicles moved here and there, as did men on horseback. And there were plenty of pedestrians, including men, women, children, and dogs. If she'd been mounted on Rocket and the black stallion took it in his head to run, that could mean trouble. Denny could control him most of the time, but not always.

"Maybe you're right about Rocket, but I didn't have to get all dressed up. It's just Louis."

Denny's voice held the disdain that most sisters felt for their brothers. She loved him, but he could be a stuffed shirt sometimes. She figured that tendency might be even worse now that he was coming home as a lawyer with a degree from Harvard.

"It's not just Louis," Sally responded as she brought the buggy to a halt at one of the hitch rails in front of the depot. "Melanie and Brad will be with him, too."

"Sure, but Melanie's not one to put on airs. And Brad's just a kid. He won't care whether I'm dressed up or not. In fact, he likes it when I'm wearing my usual duds and we can go riding."

"When we get back to the Sugarloaf, you can put on your usual duds. I know by now there's no point in arguing with you."

Denny smiled. "You just don't want me mentioning all the times you put on trousers and rode the range with Pa and Pearlie and the rest of the crew."

"You weren't around for that."

"No, but I've heard stories. Lots and lots of stories—"

"There's Mr. Morgan," Sally interrupted her. She nodded toward the young man approaching them.

"Mrs. Jensen," Conrad Morgan said as he swept off his flat-crowned black hat. "And Miss Jensen. Good day to both of you."

Denny didn't respond, but Sally said, "Hello, Conrad. How are you?"

"I'm fine. And I'll bet I know what brings you both to town. I heard that your brother's coming home, Denny."

"That's right," she allowed.

"I'm looking forward to meeting him. He was already back East at school before I came to Big Rock."

Conrad wasn't telling Denny anything she didn't already know. She remembered quite well when Conrad Morgan arrived in Big Rock with a business partner, both of them bent on opening up and restoring to operation with new-fangled methods a number of long-closed gold mines they had bought. That venture had caused all kinds of trouble, and the partner was long gone, but Conrad was still in town, and the mines were still producing ore. It looked like he would be staying in these parts as long as that was the case.

Having Conrad around wasn't too big a chore, she supposed. He was tall and broad-shouldered, with dark blond hair, blue eyes, and regular features that most women considered handsome. His clothes were expensive but not fancy: dark blue trousers tucked into high-topped black boots and a lighter blue work shirt. He had a black gun belt and holster buckled around his hips.

He was also incredibly rich, although that didn't mean much to Denny, who came from a family that owned one of the biggest, most successful ranches in Colorado and wasn't hurting for money at all.

Despite his advantages, Conrad wasn't the spoiled, pompous Eastern windbag he could have been. From what Denny had heard about him, in his younger days that description had fit him all too well, but tragedy and hardship had forced him to grow up. He came from good stock, too. His father was Frank Morgan.

Frank Morgan . . . Denny had heard her father speak of him. The Drifter, men sometimes called him. One of the fastest guns the West had ever seen. Some said the fastest. Denny didn't believe that for a second. Smoke Jensen was faster. But she would have hated to see the two men go up against each other in a fight. Smoke himself had said that he wouldn't want that, so it was a good thing the two of them were friends.

Conrad Morgan had inherited a lot of his father's gun-skill. Denny had seen proof of that with her own eyes. But she was another apple that hadn't fallen far from the tree. She could draw a gun faster and was a deadlier shot than all but a few people. Smoke and Frank Morgan were in that number who outclassed her when it came to gun-handling, for sure.

Conrad . . . ? Maybe. But she felt about him the same way Smoke felt about Frank. She wasn't certain she ever wanted to know who was faster.

And, for that matter, she mused now, she was pretty sure Conrad prompted a few feelings in her that her father never felt toward Frank Morgan!

Those thoughts went through her head in less than the blink of an eye. She pushed them away as Conrad went on, "That's a beautiful dress you're wearing today, Denny."

"You think so? I figured I ought to dress up a little, you know, to welcome Louis and his family home."

She saw her mother smiling, and willed Sally not to say anything about her earlier complaints.

Conrad put his hat back on and asked, "Where's Smoke?"

"He and Pearlie and Cal are riding in separately," Sally answered. "They'll be along soon."

"I was inside the station a few minutes ago, checking on some equipment that's supposed to arrive, and I was told that the train's running about an hour late. You two ladies might as well come over to Longmont's with me and have some tea while you wait, instead of sitting out here in the heat."

"Why, thank you for the invitation, Mr. Morgan. If we can have coffee instead of tea, I believe we'll take you up on it."

Denny resisted the impulse to kick her mother on the ankle for speaking for her like that. But, to tell the truth, some of Louis Longmont's superb Cajun coffee sounded pretty good right now.

Conrad stepped up to the buggy to help Sally down. Dress or no dress, Denny wasn't going to wait. She hopped down agilely on her side of the vehicle and then went around the back to join her mother and Conrad Morgan, who had taken the buggy horse's reins and was tying them to the hitch rail.

When he finished with that task, Conrad linked his left arm with Sally's right and then offered his right arm to Denny, who hesitated—but only for a second—before taking it. Arm in arm, the three of them strolled toward Longmont's, which was both a saloon, albeit a refined one, and one of Big Rock's finest restaurants.

The owner, Louis Longmont, had a long and storied career as a gambler and gunman before settling down in Big Rock, and more important, he was one of Smoke Jensen's oldest and staunchest friends. In fact, Smoke's own son had been named for him.

As the trio reached the boardwalk and started toward Longmont's, two men rounded the corner at the far end of the block and started toward them. One man walked slightly in front of the other. He was hatless, with lank, dark hair and dark stubble on his hard-planed cheeks. He wore a nondescript shirt and jeans, and his hands were held out in front of him, linked together by a short chain that ran between the cuffs snapped tight around his wrists.

The second man was a little smaller, compact but muscular, with slightly wavy brown hair under his light brown Stetson. His right hand rested on the walnut grip of a Colt revolver holstered on his hip. The badge of a Deputy United States Marshal was pinned to his butternut shirt. His young, handsome face was set in determined lines.

"Looks like Deputy Rogers has himself a prisoner," Conrad commented. "He must be taking that man to the station to put him on a train."

"Yes, I think I heard Smoke say something about that," Sally said. "I believe he's wanted in Utah. Brice arrested him last week, and he's been locked up in Monte's jail since then."

Neither small group had slowed, so the gap between them on the boardwalk was closing rapidly. Then Brice Rogers said, "Hold it, Fenner. Stop here and we'll move aside to give these folks some room."

The prisoner stopped and sneered back over his shoulder at Brice. "Figured you were in a hurry to get rid of me, Marshal."

"As soon as the train gets here, I'll be more than happy to turn you over to those guards Chief Marshal Long's sending from Denver to escort you to Salt Lake City. But until then you're in my charge, and I don't see any reason why we can't be courteous."

"Yeah, I wouldn't want to be impolite on my way to the gallows."

"That's enough."

The two men moved to the outer edge of the boardwalk. Brice lifted his left hand—the right had a habit of not straying far from the gun on his hip—and pinched the brim of his hat as he nodded to Denny and Sally.

"Ladies." Brice paused a second, then added, "Morgan."

"Hello, Deputy," Conrad said.

Denny was waiting for him to say something else. Since Conrad's arrival in Big Rock, some tension had grown up between him and Brice Rogers, and Denny knew that she was the cause of it.

In the past, she and Brice had carried on a sporadic, somewhat awkward romance that had developed as much from the two of them facing danger together and fighting side by side against deadly enemies, as from any real attraction. Then Conrad had come along and flirted shamelessly with her on numerous occasions . . . and she had responded in kind.

Brice knew that, and he was jealous. Conrad knew what had happened between Denny and Brice in the past, and he was jealous. Most of the girls Denny had grown up with in England and on the Continent would have been giddy with glee to have two such handsome suitors vying for them. Denny just felt vaguely annoyed by the situation most of the time. Annoyed with herself, too, for not knowing what she wanted to happen.

So she wouldn't have been surprised if the two young men had traded barbed comments. However, that didn't happen because the outlaw named Jess Fenner didn't give it a chance to.

Instead, Fenner lowered his shoulder and, with no more warning than that, lunged across the boardwalk and bulled into Conrad Morgan, driving him backward and knocking him loose from Denny and Sally. Fenner's cuffed hands shot forward, and one of them plucked the gun from the holster Conrad wore. He caught his balance and spun toward Brice as he shouted, "Now, boys, now!"

From the corner of his eye, Conrad saw three men on horseback who had been passing by in the street suddenly lunge their mounts toward the boardwalk as they yanked guns from holsters. One of them was leading a saddled, riderless horse. Conrad knew instantly that this was a planned attempt by Fenner's men to rescue the outlaw from custody.

It might work, too, because Brice Rogers would hesitate before starting any gunplay on the crowded boardwalk, especially with Denny and Sally Jensen right in the line of fire.

Fenner wouldn't be that cautious. He raised the gun he had taken from Conrad and pointed it toward Brice.

But then he fumbled with the weapon and yelled, "What the hell is this thing?"

Conrad had caught his balance by now after the collision with Fenner almost knocked him down. A split-second's glance was enough to tell him that Denny and Sally were all right for the moment.

He dived at Fenner from behind, tackling the outlaw around the waist and driving him off his feet.

At the same moment, the mounted outlaws opened fire, spraying bullets around wildly so that the people on the street and the boardwalk yelled and scrambled for cover.

Fenner hit the boardwalk hard with Conrad on top of him. That jolted the pistol out of his hand. It slid along the boardwalk. Conrad planted a knee in the small of Fenner's back, clubbed his hands together, and brought them down on the back of Fenner's head. That smashed the outlaw's face against the planks. His nose broke with an audible pop! and a spray of blood from both nostrils.

A bullet fired by one of the outlaws whined past Conrad's ear. He crawled over the half-conscious Fenner and sprang toward the pistol, reaching out to grasp its round wooden handle.

Meanwhile, Brice Rogers had drawn his Colt. As Conrad tackled Fenner, Brice called, "Stay back!" to Denny and Sally Jensen and turned toward the riders attacking from the street. They were shooting wild, but some of the bullets were coming too blasted close. Brice felt the wind-rip of one of them as it passed by his cheek.

An even bigger worry for him was that one of the slugs would strike Denny, Sally, or some other innocent bystander.

Brice dropped to one knee to make himself a smaller target. It was good that he did, because just then one of the shots found the crown of his hat and sent it flying off his head. He lined his sights on the outlaw who had almost ventilated him and squeezed the trigger. The Colt roared and bucked against his palm as flame spurted from the barrel.

The shot nicked the man's shoulder and caused him to twist in the saddle as he grimaced in pain. But it didn't put him down; in fact, it barely seemed to bother him as he swung his revolver toward Brice again. The gun boomed. Splinters flew from one of the posts supporting the awning over the boardwalk and stung Brice's cheek.

Brice fired again, and at the same time, a series of sharp cracks came from his right. He didn't have time to look in that direction to see if he was under attack from a new threat or if someone else was getting in on the fight. He squeezed off a third round just as the outlaw fired again.

The owlhoot's . . .
We hope you are enjoying the book so far. To continue reading...
Dark Night in Big Rock
William W. Johnstone
Copyright © 2022 All Rights Reserved
Also in this series
Also by this author