Book info
Sample
Audiobook
Media
Author updates
Lists
Synopsis
You meets To All the Boys I've Loved Before in this twisted, tragic love story that follows Holy Family High School's cutest couple—as told through the eyes of the classmate who's stalking them.
Laney Villanueva and Nico Fiore are the perfect couple: beautiful, popular, talented, and hopelessly in love. Everyone looks up to them at Holy Family High School.
But Rafi doesn't just admire them. She watches them. She's drawn to them.
Intent on becoming their closest friend, Rafi weaves her way into their lives. She starts small: taking photos of the senior class for the yearbook, joining Laney's club, and babysitting Nico's little sister. And it works—soon they invite her to parties, take her on joyrides, and ask her for favors. Rafi's actions quickly turn invasive, delving deeper and deeper until she's consumed by their most intimate secrets.
When tragedy strikes the young lovers, Rafi's obsession spirals, and she will do anything to keep the perfect couple together. Anything . . .
Release date: September 27, 2022
Publisher: HarperCollins
Print pages: 272
* BingeBooks earns revenue from qualifying purchases as an Amazon Associate as well as from other retail partners.
Listen to a sample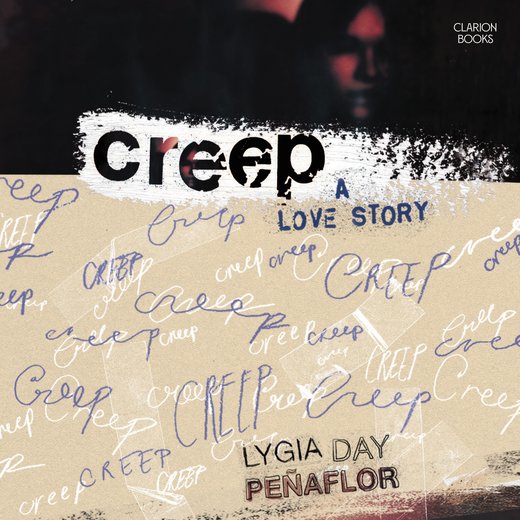 07:41:48
211.41 MB
9780063269828
September 27, 2022
HarperCollins
Creep: A Love Story
Lygia Day Penaflor
Laney Villanueva and Nico Fiore are here. They're walking toward me. She's holding books. Physics. Spanish. A tablet. He's carrying a black Jansport and wearing his purple sweatshirt that's ratty at the cuffs, the one he wears on cool mornings and carries home on warm afternoons. His eyes. Her smile. Their hands, tightly clasped, announce, Here we are!
The decals on the glass doors say, HOLY FAMILY HIGH SCHOOL: BE THE LIGHT! Every day I see those words. I stand behind this counter and stare at the letters backwards, and today is the day they finally make sense. BE THE LIGHT! Laney Villanueva and Nico Fiore shine.
Laney's in front of me wearing her Leadership Club polo shirt. This is the closest I've been to her since last spring when she stood behind me in line for confession. I listened to her and Anna Largo as they whispered. I wanted to hear what Laney was going to confess. I needed to know, had to know, couldn't live until I knew about her and Nico and the things they'd done together. Laney's sins must have been beautiful. But the whispers were about Anna's brother and his drinking. Anna's parents were running out of options. It was nothing important. It wasn't about Laney and Nico, their private selves, their vices, their secrets.
Laney Villanueva is happy and tan, even under this fluorescent lighting. "Hi," she says. There's a dimple in her left cheek because she's trying to kill me. "We're just getting in." She peeks at the principal's office. Through vertical blinds, we can see Father Philip on the telephone. Laney leans forward and says softly, "We were at the DMV." The scent of coconut shampoo clings to her wet black hair. I'm lightheaded from breathing her in.
Nico Fiore is rubbing her back. I can feel the even pressure of his fingers circling, I mean I can almost feel it, warm, comforting, tingly. I wonder if Laney is used to his touch or if it's distracting her at this very moment, even after ten months of being his girlfriend. She takes the quickest, slightest breath beneath his palm, only a flash of a response, but I see it, and I know what it means. Nico Fiore's touch will bring shivers until the end of time.
"We took the driver's test," Nico says. His sandy-colored hair is wet, too, and it smells the same as Laney's, of coconut and . . . what is it . . . something else . . . almond.
Laney has touched his hair. I've seen her touch it. She knows how soft and how thick it is. Just yesterday they were hugging out by the soccer field. I watched her squeeze the back of his head and curl her fingers into his scalp as he lifted her loafers off the grass. The wind blew, Laney's hair covered them both, and suddenly they were faceless, in their own separate world. I thought: this is autumn—it's the beginning of everything, not the end.
"You both took the driving test?" I ask. "I thought it was impossible to book an appointment." Seniors complain all the time, how they have to wait weeks for a test.
"I guess we just got lucky." Laney shrugs.
I squint at them. I've already seen them in and out of Nico's car. He already has a license. "Don't you drive a black Jeep?" I ask.
"Me? Uh. No," Nico says. "You must be thinking of someone else." He blinks. Even his eyelashes look wet. I picture him emerging from a swimming pool in slow motion, like in a commercial, his skin golden, his face upturned toward the sun.
"Oh," I say. "Probably. Sorry." They're lying about the DMV, and now so am I. We're in this together, the three of us, Laney and Nico and me.
I check on Father Philip, who's searching though his file cabinet. May he never find what he's looking for.
"Well," I tell Laney and Nico, "Mrs. Bardot stepped out for her coffee. But I can give you late passes."
Father Philip looks up at me for a split second.
"I just need to see the DMV papers," I say, in case Father Philip can hear.
"Okay . . ." Laney rifles through her tote bag, a puffy, quilted pouch with gold buckles and multiple compartments.
Item by item, she unpacks her life onto my counter. I want to run my fingers over Laney Villanueva's things: her fat yellow hair tie, a Ziploc bag of baby carrots, earbuds, her makeup pouch, index cards bound with a rubber band, highlighters in green and pink, a paperback Othello tabbed with multicolored Post-its, a handful of Luden's that click softly as they hit the surface, her fuzzy socks with pastel stripes. Her ballet slippers. Satin pointe shoes scuffed at the toes with lamb's wool bursting out from the insides. I can smell the leather soles and Laney's dried sweat. I want to bend them in my hands, feel the stiffness and the give. I have to—I can't help it—I reach out with my right hand and touch a ribbon with my pinky, its frayed end like a feather against my knuckle. I want to be her.
"I guess I must've lost the papers," Laney says.
I slide my hand away.
"I probably dropped them somewhere between the DMV and here." She sighs and begins to repack, tucking her pointe shoes away as she shakes her head.
"Darn." I want to keep Laney and Nico here with me for longer, for as long as I can. "Well . . . um . . ." I stall.
Their eyes—hers, dark dark brown, and his, shiny bright hazel—hang on my answer. "Did you guys pass the test?" I say finally. "Because I can copy your temp licenses to put on file."
Nico has a zit on his chin, a small pink bump that's higher and pinker in the center. It will break through tomorrow. Whenever I see Nico Fiore from across the cafeteria, it's as if I'm watching him on television. He grows taller and broader every season, and his hair goes from neat to shaggy and then neat again. His friends revolve around him. They move in and out of his
storyline. Here, at arm's length, Nico Fiore is better than a TV character. He's real. I could reach out and feel his chest. He's flesh and blood and flaws. A real boy with a pimple.
"No. Neither of us passed," the real boy says, avoiding eye contact. The real boy isn't used to lying; he isn't good at it.
"I'm sorry." I stand as still as can be. I don't want to let Laney Villanueva and Nico Fiore go.
"We're terrible drivers," Nico says, looking sweetly at Laney, as if he's proud of how terrible they are.
"It was the parallel parking." Laney unfolds her hands to place them parallel. Her nails are trim and manicured with clear polish. "I didn't know what I was doing." Nico watches as Laney skews her hands perpendicular.
"That's okay. Neither did I." Nico and Laney lock eyes—dark and dark to hazel and hazel.
Suddenly, I disappear—I'm invisible to them.
"I hear that's always the killer. . . ." I say, although I no longer exist. "The, uh, parallel parking."
It's just him and her now, and the flyaway hairs that Nico is tucking behind Laney's ear. He's savoring the task, as if each strand is a reason he loves her. "It's all right, though," he says softly. "It was only our first time."
Laney leans on her elbows and tilts her head to look up at him. She's gone now, she's lost in him.
He gazes back at her. "We'll get it right. Don't worry."
She closes her eyes slowly, she inhales, her body rises.
Nico traces the outline of Laney's face with his thumb. It's over for him. He's gone, too. He's lost in her.
"We just have to retake it, right?" he's whispering to her now. As I watch them, I slip deep inside the folds of a secret. "We'll have to do it a bunch of times."
They've done it.
They slept together.
They did it just this morning for the very first time. An hour ago they were in bed, under the covers and wrapped up in each other. And then they were in the shower together, flushed and sore in tender places, laughing over what they'd just done. Then they came straight here. To me. Now I smell coconut and almond shampoo on her and on him. On them. The scent fills me to the brim. This is the biggest morning of their lives, and I'm the very first person to see them. It's a miracle to witness falling.
Love.
Laney blushes two shades redder. She drops her head and lets out a long breath. Her hair cascades onto my counter. Nico lowers his face and kisses her earlobe.
I'm done.
I'm gone.
I could watch them together all day, maybe forever. They're that beautiful.
I wish I could . . . I wish . . . I could reach my hand out. "I guess it's okay . . . this time," I say, finding my voice.
Laney lifts her head lazily and stretches. Nico shifts forward. I've broken their spell. It's my deepest regret.
"Just don't forget the test papers, next time you . . . retake it." I clear my throat.
Laney smiles dreamily at me. I stop breathing. "We won't forget next time," she says. "We promise."
We.
Laney Villanueva and Nico Fiore are a we. They wake every morning and fall asleep every night un-alone in the world. How does it feel? What is it like to have someone and to be someone in return?
"So, you'll stamp our late passes?" Nico asks.
It's the most ridiculous question that's ever been asked. I would stamp their passes to Emerald City, to Narnia, Terabithia, Disneyland, anywhere they want. Ask me to stamp anything, Nico Fiore, and I'll stamp it.
I lean back and peer at Father Philip again. He's looking out his window this time, gesturing as he talks on the phone.
"No problem." There's no other answer.
"Yay!" Laney springs up and down on her ballerina toes. "You're the best."
I am the best.
"Thank you so much, uh . . ." She scrunches her brow, trying to think of my name.
She feels bad for not knowing it. Don't feel bad, Laney. You are so sweet to care. I'm relieved she doesn't know me, she doesn't know the things I've done. I feel free. The past is in the past.
"Rafi," I tell her. "Rafaela. But it's Rafi. I'm a sophomore."
I went to your parents' dance studio when I was little, Laney, you wouldn't remember, there were so many of us. Your mom taught me jazz. I had a pink shoe bag with Tinker Bell on it. My hair was a short bob. I hated feeling like a tomboy. What I wanted was to be like you with your silky hair that fanned out as you spun during your solo to "The Climb." Your lyrical class was after mine. I used to watch you while I waited for Gran to pick me up. I prayed for her to be late.
All of us younger girls used to watch you. You must've known. You probably heard us scurrying across the dressing room, the zippers on our bags scraping against the wall as we elbowed each other for a better view. We would peer through the one-way glass as the opening chords of your music played. The tiniest girls, sweaty and sour-necked, tiptoed and hooked their fingers over the ledge. We knew, even then, that someday a gorgeous boy like Nico Fiore would love you.
You held your opening pose, your neck lengthened with the lift of your chin. The lean muscles in your arms and back stretched as you reached up with open palms, fingers spread. There was so much joy on your face. I remember that the most. You would've smiled whether we were watching you or not.
"Thank you, Rafi."
Laney Villanueva from Allegro Dance School knows my name. Now, in the hallways, if I say, "Hi, Laney," she can say, "Hi, Rafi," and she'll remember that I am the best.
"Seriously. Thanks for helping us out." Nico's face brightens. Slight creases form in the corners of his eyes as he breaks into a grin, this grin that Laney gets to see every day. No girl is luckier. "We owe you, okay?" Nico says.
My cheeks are hot. I can't look him in the eyes. His pupils are reeling me in. I have to turn away. He shouldn't be this kind—it's too much—it isn't fair.
"It's nothing." I write Nico's name and reason for lateness on a late pass: Nico Fiore / DMV TEST. I roll the rubber stamp on the ink pad. "You're welcome. Not a problem," I say, even though it's a big problem. I stamp Nico's card.
EXCUSED
I take my time writing Laney's late pass. I write her name in cursive, in loops and swirls, because even her name is pretty, like a vacation destination in the Philippines. Welcome to paradise: Laney Villanueva Island. I roll the stamp on the pad again, although it's still loaded with ink.
EXCUSED
I write the time on each card, giving them ten extra minutes for Nico to lean against the lockers like a sitcom boyfriend and wait for Laney to swap her books out.
"I gave you ten minutes," I tell them.
"Perfect," Nico says.
They'll have extra time to say whatever they need to say before wandering into class with thirty seconds left till the bell. When you're in love, ten minutes can mean the world. Isn't that what people always say? If we could only have ten more minutes together, I'd say everything. These ten minutes are a gift from me to them. Each word and each glance exchanged will be because of me. Say it all, Laney and Nico. Say everything.
Laney is waiting. I scan the counter, the mailboxes, the bulletin board. There must be something that will buy me another second with them. Here: the invitations I've been stuffing for Senior Banquet.
"Hang on." I lift the box. "You might want these, too," I tell them. "Family invitations to your ring night. They won't go out until the end of the week, but you can take some early so they don't run out on you."
"Great." Laney takes enough invitations for the both of them. We.
Nico smiles. "Cool."
I'm out of ideas, I have nothing left to keep them here, so I hold out their late passes, one in each hand. Laney and Nico give the papers a tug. I tighten my grip for a split second. Stay with
me, Laney Villanueva and Nico Fiore. Stay. There's something in Nico's eyes and in the way he wrinkles his forehead, a tinge of something. What is it? I need to let go.
Back off, back off.
I let go. I'm flooded with emptiness.
"Have a good day," Laney says.
I bite my lip, watching them turn away. "You too."
You two.
Don't go.
I feel the same loss as when Laney hit her final pose during "The Climb"—how I wished that song would play forever. "Have a good one." There's defeat in my voice that neither of them notices.
They walk away through the double doors: BE THE LIGHT!
I whisper, "Please, come back," as Nico lowers his arm over Laney's shoulders, where it belongs.
My eyes follow through the glass wall of the main office. Laney and Nico turn left toward the senior hallway, farther and farther from me.
Don't go.
Father Philip ends his phone call. He hangs up. He adjusts the receiver in the cradle. Silence. Coconut and almond lingers faintly. The minute hand on the clock clicks. Laney and Nico have nine minutes.
Say everything.
I hope you have a great Tuesday, Laney and Nico. In a couple hours, your hair will dry. In every class, you'll take notes and raise your hands. You'll submit homework papers and move through the halls, you'll laugh with friends, eat, drink. You'll attend Mass. It will seem like you're having an ordinary day. But all the while, you'll be thinking about your morning together. All week long. All month. All year. All life long . . . you will think about this morning.
I unwrap a single Luden's cough drop, one that I tucked up my sleeve after they tumbled from Laney's purse. I slide it into my mouth and roll my tongue over and around the increasing sweetness. Cherry.
We owe you, Nico said. But the truth is, the simple truth, is that there's nothing else you can give me, Laney Villanueva and Nico Fiore. I've never been part of anything purer.
It's over for me.
Over and out.
I'm lost in the autumn of them.
We hope you are enjoying the book so far. To continue reading...
Creep: A Love Story
Lygia Day Penaflor
Copyright © 2023 All Rights Reserved