Country Born
Available in:
eBook
Paperback
Audiobook
Hardcover
Book info
Sample
Audiobook
Media
Author updates
Lists
Synopsis
Sometimes love is just out of reach …

Rancher and military veteran J.P. McCall loves simple pleasures. The satisfaction of working his family's land. The freedom to come and go as he pleases. But ever since his two closest friends have married and started families of their own, J.P.
realizes what he's been missing. He's known plenty of women, but now he craves finding The One. And then Sara Worth comes crashing back into his life. She's his buddy's sister, the woman who was always out of reach.

Single mom Sara Worth has her hands full. After a disastrous early marriage, she is now writing bestselling books by day and caring for her two teenagers by night.

That doesn't leave a lot of me time. But when an innocent request for J.P.'s help leads to an unforgettable kiss, she's intrigued—and unsure. Giving love a second chance feels impossible. But when the man from Sara's past resurfaces,
threatening everything she holds dear, J.P. will do whatever it takes to protect the woman who's stealing his heart.
Release date: April 26, 2022
Publisher: HQN Books
Print pages: 384
* BingeBooks earns revenue from qualifying purchases as an Amazon Associate as well as from other retail partners.
Listen to a sample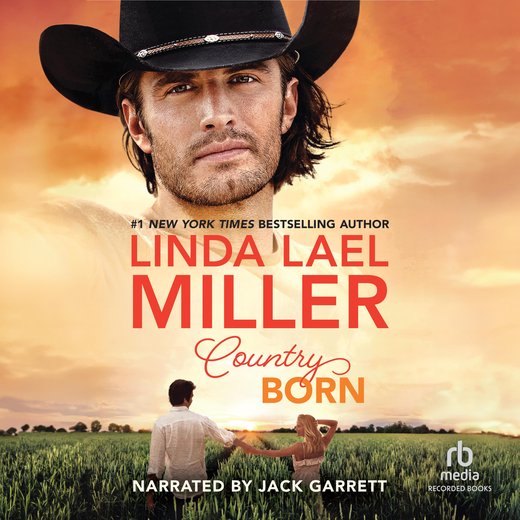 09:45:18
267.94 MB
April 26, 2022
Recorded Books
Country Born
Linda Lael Miller
CHAPTER ONE
SARA'S CALL HAD come through at 6:00 a.m. sharp, jolting J.P. McCall a little, even though he was a lifelong rancher and thus an early riser.
Sara was, after all, the sister of one of his two closest friends, Eli Garrett, the current sheriff of Wild Horse County, Montana, a man with a dangerous job, and it didn't help that she opened with a breathless, "This is an emergency, J.P."
"What is it?" he'd asked, hoarse with alarm. "What's going on?"
In moments like that, his PTSD, a relic of his tour of duty in Afghanistan, always spiked.
Fortunately, such moments were relatively rare. He still had the occasional nightmare, and sometimes, a loud unexpected noise triggered a dizzying rush of adrenaline, pure fight-or-flight.
When that happened, he went off by himself and breathed his way back to the real world.
"I've completely forgotten how it feels to ride a horse!" she blurted anxiously.
If J.P. hadn't thought as highly of Sara Worth as he did, he probably would have cut her off at the knees—and attractive knees they were—for scaring him half to death.
Sara, who wrote under the pen name Luke Cantrell, was the successful author of two Western thrillers, featuring a Clint Eastwood–type hero named Elliott Starr, with another book currently in the works, according to Eli.
Clearly, she did thorough research.
"Seriously, Sara? That's your emergency?" He'd sounded irritated, but in actuality he was swamped with relief. The county under Eli's jurisdiction was a peaceable place, for the most part, with a relatively low crime rate, considering its size, but it definitely had its share of losers and troublemakers.
Just last winter, Eli was taken by surprise in his own backyard, savagely attacked and very nearly killed.
Eli was a friend J.P. couldn't lose, like Cord Hollister, the third member of the rowdy triad. The three of them had been tight since kindergarten, and the bond between them ran deep, like the roots of an ancient tree tangled with bedrock.
They were more than friends; they were blood brothers.
There was a silence. A very awkward one.
J.P. had looked down at his retired service dog, Trooper, standing beside him in the tall dew-dampened grass between the barn and the house, instantly alert, ready for trouble.
"It's all right, boy," he'd told the dog. "At ease."
For several seconds after that, no one spoke.
Then, sounding chagrined, Sara had murmured, "Oops. I guess my enthusiasm for accuracy got away from me. I'm sorry if I worried you, J.P."
She knew about his combat injuries, of course, and the subsequent case of PTSD that, though mostly under control, still sneaked up on him at times.
As a child, Sara had been a tomboy, and she'd sometimes hung around with Eli and, by extension, J.P. and Cord. She'd garnered a lot of information along the way, having sat around campfires with her brother's friends, fished in Painted Pony creek with them, raced barefoot down rocky country roads with them, often winning.
For a while, after his honorable discharge from the military, he'd even had a crush on her. Might even have pursued a relationship with her, if she hadn't fallen for an outsider named Zachary Worth and eventually married him.
"I'm revising my manuscript," Sara had explained in a burst when J.P. didn't immediately respond to her apology. "Technically, it was due last week, and I just realized that the scenes where the characters are on horseback don't ring true at all. I know it sounds crazy, since I've already written two books in the same series, but there it is. It just doesn't feel right."
"Okay," he'd muttered, stretching out the word. He could let this go.
He just had to breathe.
And then breathe some more.
He had wondered why she'd come to him with the problem, instead of Cord, for instance. Cord was literally world-renowned for his methods of training both horses and riders. And then there was Emma Grant, Cord's wife Shallie's best friend, who ran a therapeutic riding academy and could therefore provide whatever instruction Sara needed.
"I know what you're thinking," Sara had rattled on. "I could have gotten a few quick lessons from Cord, or from Emma. Trouble is, the Hollisters are away, visiting Shallie's mom in Florida, and Emma has back-to-back classes booked, which leaves her with zero free time."
"All right," J.P. had finally capitulated. "Come on out to the ranch and we'll saddle up and ride."
Now, an hour later, here she was, standing in front of J.P.'s barn, clad in jeans, an old sweatshirt and boots that looked a little too new. Her dark hair, plaited into a single braid that reached almost to her slender waist, gleamed in the sunlight, and her silver-gray eyes were bright with eager determination.
With considerable help from J.P., she'd saddled Misty, a bay mare so tame that J.P.'s citified nieces, Becky and Robyn, rode her bareback whenever they visited the ranch.
His favorite gelding, Shiloh, was tacked up as well and ready to ride. Nickering and sidestepping with impatience.
"I insist on paying for your time, J.P.," Sara said, setting her jaw. "Don't even bother to argue the point—this is research and, as such, it's tax-deductible."
J.P. managed not to roll his eyes. "I'm not exactly short on money, Sara," he pointed out, with the slightest twitch of a grin tugging at one corner of his mouth.
He'd received a modest settlement from the government after being badly injured in Afghanistan, back in the day, and during the long months he'd spent recovering, he'd studied the stock market in depth and found that he had an uncanny knack for picking winners. Between that and his one-third stake in the family ranch, which he managed well, he was a wealthy man.
She was about to mount Misty, one booted foot already in the stirrup, both hands gripping the saddle horn, when she turned her head to look back at him over one shoulder. She smiled and something shifted inside J.P., sweet and poignant, soft as the brush of a moth's wing.
"Don't try to talk me out of it," she warned cheerfully. "I know you're bullheaded, J.P. McCall, but I'm a Garrett, remember. We're notoriously single-minded, as I'm sure you've noticed."
J.P. gave a rumbling chuckle, but he was still shaken. He wasn't a fanciful man, and this new element, whatever it was, left him off-balance—inwardly, anyway.
"We can argue all day," he pointed out, surprised that he sounded like his ordinary Montana-rancher self, "or we can ride."
"Let's get on with the research," Sara urged, grinning. Then she hoisted herself off the ground, left foot in the stirrup, right leg ready to swing over Misty's broad back.
J.P. did a little research of his own, watching her shapely blue-jeaned backside as she swung, somewhat laboriously, up into the saddle.
She settled herself, sunlight rimming her like a golden aura, and, looking up at her, J.P. was nearly blinded.
The phenomenon wasn't entirely physical, and that confounded him further.
It was ridiculous, reacting like this, he decided, annoyed with himself.
Sara was Eli's sister, his big sister.
She had two kids, courtesy of her no-good, long-gone husband.
And, though she must have had opportunities, she'd shown no interest—as far as J.P. knew, anyway—in finding another husband or even a boyfriend.
She seemed content to raise her son and daughter, write her books and take part in community projects with her friends.
But wasn't she ever lonely, in a crowd or by herself, at odd hours of the night?
J.P. certainly was, though he was more than reluctant to admit as much. Those bleak bouts, like the infrequent but fiery, bloody flashbacks he sometimes endured, were among the many things he liked to forget.
With no other blood kin—her and Eli's folks had died when Sara was in middle school, and a few years later their guardian and aunt, Abigail Garrett, had passed away as well—Sara had focused on her children.
She'd had some kind of falling-out with her former father-in-law, a very wealthy man who owned vast stretches of land around Painted Pony Creek but rarely spent time in his secluded castle of a mansion, and apparently severed any and all ties with her ex-husband's family.
Naturally, Eli had helped out as best he could, but he'd been busy in those days, finishing up at the police academy down in Phoenix and then starting his career as a deputy sheriff.
Sara had remained in Painted Pony Creek, missing out on college, but educating herself in a variety of creative ways. Until recently, she'd worked in a day-care facility, having stuck with the job in the early days when Eric and Hayley were little so she could be near them.
Always a voracious reader, Sara had eventually begun to write books of her own, pounding away at a keyboard before and after work, keeping her own counsel.
J.P., as close as he was to Eli, hadn't known about that part of her life until a few months ago, when her second novel had made a big splash in the marketplace. Even now, very few people knew that Luke Cantrell, purveyor of gritty historical thrillers, was really Sara Garrett Worth.
She'd landed an impressive multi-book contract after these successes—J.P. had no idea how much money she made, and it wouldn't have occurred to him to ask—but she still kept a low profile professionally, preferring to live quietly in Painted Pony Creek. Through Eli, J.P. knew she'd managed her money wisely, setting up trust funds for her kids, paying off her mortgage and making a few improvements to her brick ranch house in town.
Apparently, unlike many of the newly prosperous, Sara didn't seem interested in the usual trappings of wealth—world travel, costly jewelry, designer clothes, fancy houses and cars. Not that there was anything wrong with those things; people had the right to spend what they'd earned however they chose.
She was different, that's all.
Sara lived in the same house she'd bought after Zachary left her, using part of the inheritance she and Eli had shared following the death of their parents to make a substantial down payment. J.P. knew this about Sara, not because Eli had confided in him but because, in small communities like the Creek, people picked up on things like that, as if by osmosis.
It occurred to J.P., in those moments of daylight reflection, that he and Sara had a few things in common, at least when it came to how they spent—and didn't spend—their money.
Now, looking up at Sara, he realized that he'd known her better than he thought he had, though he'd never bothered to look too far beyond the obvious: sister of one of his two best friends, divorcée, mother of two and now bestselling author.
Why hadn't he taken more notice of her?
Well, he'd sure as hell taken notice of her now.
The question was, where did he go from here?
Should he follow his gut instinct and try to get to know Sara as a person rather than just a background character in his life story? Or should he leave her alone, spare her the drawbacks of getting involved with a man like him? A man with scars, inside and out.
"J.P.?" Sara asked, gazing down at him from within the halo gleaming around her. "Are you all right?"
"I'm fine," he lied somewhat gruffly.
With that, he turned to his gelding, swung up into the saddle and gathered the reins.
He gave Sara a sidelong look. "Let's go, Luke," he teased.
Now that he was mounted on Shiloh, he felt like himself again, firmly planted inside his body instead of slightly out of alignment with it.
Sara laughed. "Don't forget," she said, "I'm actually a greenhorn. A total fraud when it comes to boots-in-the-stirrups type stuff."
With a motion of his hand, J.P. saluted her. "I wouldn't go that far," he replied easily. Sara might not have a lot of confidence in herself as a rider, but she wasn't a raw beginner, either. He knew she'd ridden with Shallie on occasion and, like him, she'd helped out over at Emma Grant's stables, working with kids.
He let Sara lead the way, and she soon eased Misty into a gentle trot across the expanse of the rolling pastureland.
J.P. kept up, as did Trooper, who, though not as agile as he'd once been, seemed to be enjoying the fresh air, the rich green smell of good Montana grass and the earthy scent of fertile land. The famous big sky was a cloudless dome overhead, edged, in the distance, by timbered mountains.
This was home, this wide-open space.
This was the place he longed for whenever he was away, the place that had healed him, body and soul, after endless, painful months in a military hospital back East. He drew it in deep, like a soul-breath.
As the minutes passed, Sara seemed to relax in the saddle, loosening her grip on the reins, taking in her surroundings instead of focusing on the space between Misty's twitching ears.
They didn't speak; it didn't seem necessary out here, where the sky and the breeze and the whispering grass spoke in a language all their own.
When they reached Painted Pony creek, the broad stream for which the town was named, they let the horses drink.
Meanwhile, Trooper dashed up and down the muddy bank, chasing a handful of butterflies, as happy as any dog could wish to be.
Watching him, J.P. smiled. He loved that mutt, and he didn't care who knew it.
"I appreciate this, J.P.," Sara said quietly, leaning forward a little, causing the saddle leather to creak, and patting Misty's long sweaty neck.
"It's no big deal," J.P. answered. Though, God help him, it wasa big deal.
She drew a deep breath, seemed to relish it. "Sometimes I wish I'd raised Eric and Hayley in the country, instead of in town," she said.
He wanted to hear more. "Why?"
Sara raised her shoulders in a shrug-like motion, lowered them again. "I don't know, really, except that all this open space offers a special kind of freedom—no sidewalks, no paved parking lots, no traffic lights or crosswalks or supermarkets—"
"I guess it's coming back to you," J.P. observed.
She looked at him. "Growing up in the country?"
"That, and what it feels like to ride a horse," he said with a smile.
Sara and Eli's folks hadn't owned a big spread, like the Hollisters and the McCalls and a number of other families around Painted Pony Creek, but they'd raised their family outside of town, just the same. Before and after the loss of their parents, Sara and her brother had lived much as J.P. and Cord had, as kids, doing chores, swimming in the creek, riding and camping out, running barefoot through long hot summers.
She stared pensively at the creek then, watching it tumble and swirl past, on its way to join half a dozen larger streams, then rivers.
"There are a lot of things I wish I'd done differently," she said. "With the kids, I mean."
"Like what?"
Sara shook her head, and it seemed she was looking inward now. "Hayley will be fine—she's so even-tempered and practical—but I worry about Eric."
J.P. recalled the trouble Eric had gotten into a couple of years before, when he'd hooked up with a bunch of budding criminals, released some livestock, among other offenses, and wound up in trouble with the law. The kid had done some community service after he was caught and, as far as J.P. knew, straightened out. The boy looked up to his uncle, Eli, and that, along with Sara's tough love, had probably been his saving grace.
He might have ended up like his pal Freddie Lansing, though.
J.P. shuddered slightly, remembering the day he and Eli and Melba Summers, a deputy at the time, had found the Lansing kid dead, hanging from a rafter in an old barn right there on the McCall ranch.
Since then, J.P. had had the place bulldozed, the weathered boards and beams and shingles hauled away to be burned.
"Is there any particular reason to worry about Eric?" he asked carefully. It was none of his business, and he didn't want to cross any personal boundaries, but if Sara wanted someone to confide in, he was willing to listen.
Sara smiled, looking slightly wistful. "No, he's behaving well enough," she said. Then, with a rueful chuckle, she added, "For a teenager."
The horses had drunk their fill by then, and they were tossing their heads, ready to be on the move again. The land was their natural habitat, after all; maybe they had some kind of genetic memory, some recollection of ancient days before the West was settled, when they'd run free and wild.
Or maybe the mustangs, still wild and multiplying with every passing year, served to remind them of how life had been, once upon a time. Genetic memory of the equine variety.
"I guess I'm ready to head for home," Sara said. "I don't want to take up too much of your time, and I need to get back to my manuscript."
Privately, J.P. reflected that it hadn't taken the woman long to achieve her purpose, but he didn't comment. Back at the house, after he'd unsaddled the gelding and the mare and turned them out to graze with the rest of his horses, he'd probably go online, check the current status of the market, maybe make a few adjustments to his portfolio. Then he'd climb into his truck and make the fifteen-minute drive to his folks' corner of the ranch and the log A-frame they'd retired to, once J.P. took over the nuts and bolts of the family cattle operation.
The senior McCalls, John and Sylvia, were healthy, active and thoroughly independent, but J.P. liked to check on them every so often, just the same. His older sisters, Clare and Josie, lived in California and Virginia respectively, and they expected regular reports on the state of the parental units, via text or social media. They didn't entirely trust the pair to speak up if they needed help or simply wanted some company.
Sara brought J.P. back to the present moment with a soft, "Is it enough for you, this ranch, I mean? Maybe I'm overstepping here, but don't you get lonely?"
J.P. was surprised by the questions but, oddly, not offended. Now that Eli and Cord were both happily married, and starting families, lots of people probably wondered when he would follow suit. God knew his parents and sisters weren't shy about asking, though he always responded, with varying degrees of annoyance, that they ought to mind their own business.
"Everybody gets lonely sometimes," he replied after a few moments of silence.
The barn was in sight now, and the horses were picking up speed, ready to join the small herd grazing on tall sweet grass.
"I shouldn't have asked," Sara said quickly, obviously uncomfortable.
J.P. smiled, but sparely. "It's okay, Sara," he replied.
The truth was he did get lonely, especially at night, and he wanted a wife and family, too.
It was just that he wasn't willing to settle, when it came to love.
He dated a lot, mostly women from other towns, but marriage was something else. He wanted what his mom and dad had together, what Cord had with Shallie, and Eli had with Brynne—a true bond, so deep and so sacred that it seemed predestined, cosmic in scope.
So far, he hadn't met the right woman. In fact, he sometimes wondered if she was out there at all.
Or, assuming she was, if he'd be the right man for her.
He'd almost been a father once, though.
Nearly three years ago, on the proverbial dark and stormy night, he'd been engaged in a poker game with Eli and Cord, in the back room of Sully's Bar and Grill, when the door had burst inward and a skinny drowned rat of a girl had appeared out of nowhere.
She'd looked so much like Reba Shannon, the wild child who had nearly wrecked the trio of friends for good seventeen years before, that J.P. had thought, for a fraction of a second, that he was seeing an actual ghost.
Her name was Carly, she'd just hitchhiked halfway across the country, and she'd landed in their lives like a hand grenade with the pin pulled and announced, once the shock of her arrival had subsided a little, that one of the three of them—he, Eli or Cord—was her biological dad.
That long-ago summer of Carly's conception, when he and both his friends had fallen for Reba, ...
We hope you are enjoying the book so far. To continue reading...
Country Born
Linda Lael Miller
Copyright © 2022 All Rights Reserved