Claiming Sarah
Enlisting the help of Ace Security, Cole will stop at nothing to find the love of his life.
Book info
Sample
Audiobook
Media
Author updates
Lists
Synopsis
All defenses are down in the fifth Ace Security novel from New York Times bestselling author Susan Stoker.
Sarah Butler isn't flattered. She's angry and unnerved. She's been getting intimate gifts from a man she barely knows. Nothing threatening yet, but there's just a weird vibe she can't ignore. Her recourse is Ace Security. Their solution: self-defense lessons at Rock Hard Gym with a personal, hands-on instructor. One look at the bearded, tattooed, green-eyed alpha is enough to take Sarah's breath away.
Cole Johnson is definitely the man for the job. He's eager to train her. Eager to get closer. And when it comes to Sarah's instincts, Cole knows she's not imagining things. He's also not imagining the intense attraction between them-and his desire to protect her is growing. But so are Sarah's fears, the worst of which come true when she disappears.
Enlisting the help of Ace Security, Cole will stop at nothing to find the love of his life…before she vanishes forever.
Release date: September 10, 2019
Publisher: Montlake Romance
Print pages: 264
* BingeBooks earns revenue from qualifying purchases as an Amazon Associate as well as from other retail partners.
Listen to a sample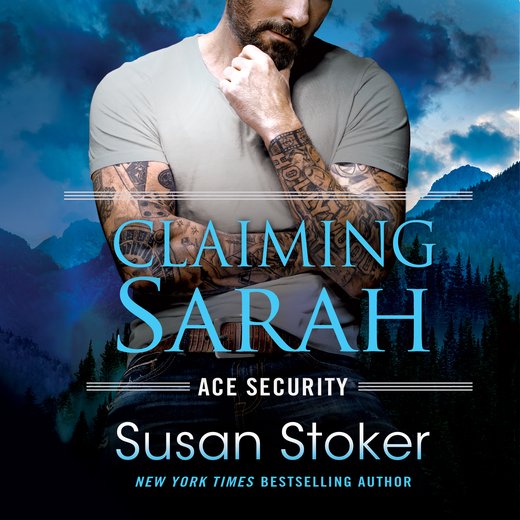 08:35:05
235.79 MB
9781978671607
September 10, 2019
Brilliance Audio
2019
Claiming Sarah
Susan Stoker
Chapter One
"I seriously don't have time for this shit."
Sarah winced, but kept her eyes on her purse sitting in her lap. She was exhausted after a grueling twelve-hour shift, but hadn't even considered calling off the meeting. She needed this.
She'd come into the Rock Hard Gym right on time and told the receptionist who she was and that she had an appointment with Cole Johnson. The young woman had looked surprised but told her to take a seat and she'd go talk to the man.
Sarah had sat on a surprisingly comfortable chair in the lobby of the gym as the receptionist walked past her, partway down a hallway to the left of the lobby, and entered an office.
She'd closed the door, but it didn't latch, making it easy for Sarah to hear the conversation between the woman and Cole.
"Is Trina around? Can she take this for me?"
"You said she could leave early today, remember? It's her birthday, and her boyfriend wanted to take her out."
"Damn. That's right. Where's the schedule?"
"Last I saw it, it was on the corner of your desk, but that was about five pounds of papers ago."
Sarah heard the humor in the college-aged woman's tone, but couldn't even muster enough energy to smile. The weight of the world seemed to be sitting on Sarah's shoulders, and she wasn't sure she could keep up her usual sunny disposition.
The man she had an appointment with and the receptionist continued speaking. "God, this place is a mess. How long is her appointment supposed to be for?"
"I think it's scheduled for an hour."
"Damn. I literally don't have an hour. I have an interview in thirty minutes."
The receptionist must have given him a reproachful look, because Cole said defensively, "Hey, I thought I was free. And besides, he couldn't come in until now because of his other part-time job."
"What do you want me to tell her?"
"Tell her I had an emergency come up, and see if she can reschedule."
Sarah had heard enough. The last thing she wanted was to be a burden to anyone. But she also wasn't going to sit around any longer and listen to this guy make up excuses and lies for why he didn't want to keep their appointment.
In order to prevent the poor receptionist from having to lie to her, Sarah quietly stood and headed for the front door of the gym. It was probably for the best anyway. It was getting dark outside, and she hated to be out and about after the sun went down. She didn't feel safe.
Not that she felt particularly safe any time of day anymore. She was pushing open the doors when she heard the receptionist call out her name. For once, Sarah didn't bother to be polite. She kept going without turning around.
Castle Rock, Colorado, was a pretty small town. The downtown area was eclectic and welcoming. There was a park at one end and a small Italian restaurant she'd heard wonderful things about. A coffee shop was across from Rock Hard Gym, and there was a bar called Rock 'N' Roll a few spaces down as well. Several other independently owned stores made up the rest of the downtown area.
Looking around, Sarah didn't see anyone lurking about. She took out her key chain and hooked her middle and pointer fingers through the eyeholes in the cute metal cat head. The pointed ears stuck out and would seriously hurt anyone who tried to grab her as she made her way to her car. One of the nurses at the hospital had the self-defense tool on her own key chain, and Sarah had ordered it the same day she'd seen it.
Hating that she felt so vulnerable and unsure—she never used to feel this way all the time—Sarah picked up her pace as she hurried toward the parking lot at the end of the block. Even though it wasn't quite dark yet, the overhead lights illuminated the sidewalk. Every step felt as if she were walking through molasses. She was exhausted after working all day and wanted nothing more than to climb into her bed and sleep for eight hours straight.
"Sarah! Wait!"
Surprised at the sound of someone calling her name, she turned and saw a man jogging down the sidewalk toward her.
She should've been running away rather than letting him approach. She didn't know him. Had never seen him before. She would've remembered if she had. But she could only stare as he got closer. He was taller than her five-seven by at least half a foot. He had black hair and a closely cropped beard. The focused attention in his green eyes kept her rooted to the spot.
He was wearing a pair of sweatpants and a black T-shirt with some sort of logo in white on the front. His arms were covered in tattoos, but she couldn't see what the designs were, as he was moving too quickly. His biceps bulged as he jogged toward her, and she had no doubt he was muscular all over.
Her fingers tightened on the modified brass knuckles in her fist, and she held her breath as he got nearer. She should've ignored him. Should've kept walking . . . but she was fascinated by how much he immediately reminded her of her father. Not necessarily in looks, but in the way he stared at her, as if she were the only person currently on the face of the earth. She hadn't been on the receiving end of a look like that in ages.
The first time she'd met her dad, when she was six, he'd gone to his knee in front of her and promised she'd be safe with him. Something about the look in his eyes had made her believe him on the spot.
And she was seeing the same promise in the eyes of the man coming toward her. That was crazy . . . wasn't it?
"Sarah, right? Sarah Butler?" the man asked as he stopped in front of her. Sarah nodded.
"I'm Cole Johnson." He held out his hand.
Sarah looked down at it and swallowed. She didn't want to do this, but she couldn't be rude. She uncurled her fingers from around the self-defense weapon and switched it to her left hand. Then she reached out and shook Cole's hand.
His fingers were warm, and she could feel the calluses on his palm as he gently pumped her hand. "I'm sorry," he said in a soft tone. "I'm assuming you overheard my conversation with Carrie."
It wasn't a question, but Sarah nodded anyway. Cole was still holding her hand, as if he were afraid the second he let go, she'd bolt.
"I've told her a million times to make sure my office door is shut when she comes in to talk to me, but obviously she forgot."
Sarah tugged on her hand and wasn't sure Cole was going to let go of her for a second. But he finally loosened his hold enough for her to reclaim her hand.
She wasn't sure what he wanted to hear, so she kept her mouth shut. Mike and Jackson had told her often enough that if she didn't have anything nice to say, she shouldn't say anything at all. She'd taken their words to heart and very rarely said the things she was thinking.
Cole apologized again. "I was a dick. I'm sorry. In my defense, my partner has been out of town for the past week, and I'm drowning in administrative stuff that she usually takes care of. I also didn't know it was you. Carrie didn't give me your name when she said you were here. That's not a good excuse, though."
Sarah pressed her lips together and nodded. He was right, it wasn't a good excuse. They had an appointment. It wasn't as if she'd walked off the streets and demanded he spend an hour of his precious time with her.
He winced. "Look, you have a right to be pissed. I want to make it up to you. Come on back to the gym, and we can talk."
Sarah took a deep breath and found her voice. "It's okay. You're busy and don't have time right now. I'll just come back some other time."
Cole regarded her for a long moment before saying astutely, "I have a feeling if I let you go right now, you won't be back."
Sarah refused to feel guilty. He was right, she had no plans to come back to Rock Hard Gym for the self-defense lessons she so badly needed. But she wouldn't lie to him either. So once again, she kept her mouth shut and simply stared back at him.
Cole sighed. "Look, I can't lie, I'm busy. I've got a million things going on, and I double-booked my schedule tonight. But the day I'm too busy to help a woman who needs self-defense lessons to feel safe is the day I might as well quit and find another occupation. Also, I'm the boss, but I suck at delegating. You coming back and talking to me right now will save me from having to do other administrative work I've been putting off."
She eyed him skeptically. He smiled—and her knees almost gave out from under her. She'd thought he was good-looking before, but when his lips quirked upward in a genuine smile, he was drop-dead gorgeous.
"Please?" "What about the interview you've got set up?" Cole shrugged. "I'll have Carrie do it. She's the one who'll be working with him. I've got the questions I'd planned to ask printed out already, so I'll just give them to her, and she can conduct the interview. It'll be fine."
Sarah hesitated. Her bed called out to her. She wanted nothing more than to go home and bury herself under the covers.
"Please? I'll feel terrible all week if you don't let me make this up to you," Cole begged. She sighed. "Fine."
"Great!" Cole exclaimed. He stepped back and held out a hand, indicating the sidewalk behind him. "After you."
With the oddest feeling that this decision would somehow change her life, Sarah fell into step with the man beside her as they headed back to the gym.
Cole silently blew out a breath of relief. When Carrie had informed him he was off the hook, that his appointment had just walked out the door, he'd panicked. He realized Carrie hadn't shut his office door when he'd been ranting about not having time to see anyone, and the woman had obviously overheard, gotten offended, and left.
Turning away women who wanted self-defense lessons wasn't his usual MO. He always went out of his way to help however he could. Especially considering his best friend had been in a situation where she'd been stalked and terrorized for years. Felicity was safe now, and had recently gotten married to Ryder Sinclair, half brother to the Anderson triplets.
Logan Anderson had personally asked Cole to handle Sarah's lessons, and he'd agreed without hesitation. The thought of her leaving without getting the help she obviously needed was abhorrent.
He hadn't lied to Carrie; he didn't have an hour to spend with a new client, but he hadn't known it was Sarah, and he'd never forgive himself if something happened to the young woman because he'd turned her away. He couldn't help but notice—and approve of—the brass knuckles she had in her fist. Yeah, they were in the form of a cute little cat, but the points of the ears on the metal gadget would definitely do some harm and give her a chance to get away if it came down to that.
He'd run after her, and luckily, she'd agreed to come back to the gym.
The walk was done in silence, which gave him an opportunity to study the woman beside him. She had brown hair, currently up in a haphazard bun, and beautiful hazel eyes. He would bet everything he had that they'd change colors based on the light around her. She was wearing a pair of wrinkled scrubs, indicating that she worked in the medical field. Her shoulders were hunched, and she made sure to stay far enough from him so their arms and hands wouldn't accidentally touch.
They arrived back at the gym, and Cole held open the door for Sarah and followed her inside. His professional gaze assessed her overall form from behind. She was very different from the carb-hating, protein-loving clients who frequented the gym. She might not have the muscle strength to execute some of the more advanced self-defense moves, but she could still do some damage to someone intent on doing her harm.
Ignoring the way Carrie was staring at him in shock—he'd never run down a client before, begging her to let him help after claiming he had no time to see her—Cole gestured for Sarah to go down the hall into his office.
He winced at the mess when he entered behind her. Felicity was always giving him crap about the condition of his office, but it hadn't ever bothered him . . . until now. Until he wanted to impress this woman for some weird and unknown reason.
He hurried past her to the small love seat against the wall and gathered up the papers that were on the cushions. "Please, make yourself comfortable. I need to go give Carrie the questions for the interview."
He stood patiently in the middle of his office, waiting for her to sit. She lowered herself gingerly to the very edge of the couch, as if she were ready to bolt if he so much as twitched in her direction. She was still gripping her keys in her left hand, and Cole hated that. Not that she was prepared to defend herself, but that she felt she needed to arm herself against him. He didn't know her story, only the little bit that Logan had told him, but he had a feeling whatever she was worried about was bad.
"We really can reschedule, Cole," she said, raising her eyes to his. "If this is going to disrupt everyone, I can come back later."
"It's fine," he said, trying to reassure her. "My staff is used to things being crazy around here. I'll be right back."
He waited until she nodded, then dropped the papers he'd collected from the couch onto his desk, shuffled a few of them around until he found the interview questions, and headed out of the room.
He was back less than five minutes later, and saw that Sarah hadn't budged from her position. She was still perched on the edge of the cushion and still had her keys in her hand. But now her eyes were closed—and he could see her torso swaying as her body struggled to stay upright.
Cole watched her for a beat, unexpectedly filled with emotions he hadn't experienced in a very long time.
It was more than concern for a woman who was obviously at the end of her rope. There was something about Sarah—her wariness, her vulnerability—that touched him deep inside. She immediately reminded him of Felicity. Uneasy, scared, hanging on by a thread . . . but he sensed a spine of steel, stronger than even she could ever know.
However, even after spending only a few minutes in Sarah's presence, Cole knew she was very different from his best friend.
Felicity never hesitated to tell someone what she thought. If someone pissed her off, they knew it. She wasn't mean about it, but she had no problem speaking up. She also frequently walked through the gym scolding the patrons for not cleaning the equipment after they'd sweated all over it. If someone told a story and had their facts wrong, she was the first to point it out. She was outgoing and outspoken, even more so now that the stalker who'd been after her for more than a decade was no longer a threat.
Sarah seemed far more subdued. She'd had every right to read him the riot act, but she hadn't. She'd politely let him off the hook, even though he'd been a dick. Yes, he was tired and overworked, but that didn't give him the right to be an asshole. And he had been.
"Sarah?" he said quietly as he pulled a chair over and sat in front of the couch.
He might as well have yelled the word for the effect it had. Her eyes popped open, and her back went ramrod straight. He saw the second she realized where she was and who had spoken, as her body sagged in relief, even though she quickly hid her emotions. "Yeah?"
"I'm sorry I took so long." "No, I'm sorry for falling asleep on you. It's been a long day."
Cole found himself wanting more information. He wanted to know where she worked, what she did . . . if there was anything he could do to make her day better. But instead, he got down to the reason she was there in the first place. The sooner they finished up here, the sooner she could go home and get some sleep.
"I don't have a lot of information on your situation. You were referred to me by Logan Anderson. All I know is that you have an ex-husband who's been harassing you?"
She shook her head. "No, I haven't ever been married." "Oh, I'm sorry. Logan must've misunderstood," Cole said. It was possible. Ace Security got a ton of emails and messages every day asking about their services. When Logan had emailed Cole to tell him about Sarah and ask if he would teach her some self-defense, Logan probably got her case confused with one of the others he'd been looking into. But for some reason, whatever was going on with her had struck a chord in Logan, if he'd reached out for Cole's help.
Ultimately, it didn't matter if an ex-husband or boyfriend was harassing her, or a perfect stranger. She could end up just as dead no matter who was making her life hell.
Sarah swallowed hard. "I just . . . I need to be able to protect myself . . . just in case."
Cole waited for her to go on, but when she simply sat on his couch, silent, he realized she was done talking. That was all she was going to give him. If it had been anyone else, he probably would've been relieved and finished up quickly by scheduling a time for their first lesson.
But this time, Cole pushed for more. "Who's harassing you, Sarah?"
She stared at him for a long moment, and Cole did his best to try to make himself look as nonthreatening as possible, which was kind of a joke, considering his tattoos and muscles.
Finally, she took a deep breath. "It's stupid." "If someone has done something to make you feel like you need to take self-defense classes, it's not stupid."
"You aren't going to think it's anything to be nervous about." "Why don't you let me be the judge of that," Cole told her, even more worried now. He had a feeling if she was downplaying the threat against her, it was probably way worse than he'd imagined.
"It's just that . . . I've been to the cops, and the guy I talked to flat out told me there was nothing he could do, and that I was likely imagining danger where there wasn't any. Even my coworkers think I'm crazy."
Cole leaned forward. He wanted to cover her hands with his own in comfort, but settled for doing what he could to reassure her with words. "If that little voice in your head is telling you that you're in danger, then you are. There've been plenty of times in my life when I've sensed something was off or wrong, and have been proven right. But regardless, whether you're imagining things or not, that's not my place to say. If you want to learn how to protect yourself to feel less vulnerable, then I can teach you the skills to do just that. It's not a matter of me believing you or not. But with that said . . . you can trust me, Sarah. If you tell me you're in danger, then I'll one hundred percent believe you."
"Why?" Her question was blunt and to the point, and she looked right into his eyes as she asked.
"Because my best friend was stalked for over a decade by a man who others thought was perfectly normal. Because I've seen case after case Ace Security has taken on where men have sworn up and down that their ex-wives or girlfriends were batshit crazy, and the police didn't believe them . . . and in the end, they were proven correct when they were attacked by the same women authorities deemed 'normal' and 'docile.'
"Because most importantly, when I look at you, I can tell you're at the end of your rope and you need help. Let me help you, Sarah."
She didn't cry. Didn't wring her hands. She simply began to talk.
"I met Owen Montrone six months ago. His mother was in the hospital where I work and was very sick. I was nice to them both, as I am to everyone. Owen is . . . slow."
"What do you mean? Mentally handicapped?" Cole asked.
"Not really. I mean, I'm not sure. I think he just has a really low IQ. His mom told me he was in special classes throughout his school years, and he's lived with her for his entire life. Anyway, he seemed lonely in the hospital. A little lost. I went to lunch in the cafeteria with him once, after his mom pleaded with me to spend some time with him. A few weeks later, I heard his mother died. Not long after that, I started getting letters from Owen.
We hope you are enjoying the book so far. To continue reading...
Claiming Sarah
Susan Stoker
Copyright © 2023 All Rights Reserved
Also in this series
Also by this author