Book info
Sample
Audiobook
Media
Author updates
Lists
Synopsis
In a Gotham-inspired city where people go to sleep and wake up as their own nightmares, perfectly normal, perfectly terrified Ness must face her biggest fears, before she ends up a casualty in some else's villainous war.

Face your fear . . . or become your nightmare.

Ever since her sister became a man-eating spider and slaughtered her way through town, nineteen-year-old Ness has been terrified - terrified of some other Nightmare murdering her, and terrified of ending up like her sister. Because in Newham, the city that never sleeps, dreaming means waking up as your worst fear.

Whether that means becoming a Nightmare that's monstrous only in appearance, or transforming into a twisted, unrecognizable creature that terrorizes the city, no one is safe. Ness will do anything to avoid becoming another victim, even if that means lying low among the Friends of the Restful Soul, a questionable organization that may or may not be a cult.

But being a member of this maybe-cult has a price. In order to prove herself, Ness cons her way into what's supposed to be a simple job for the organization - only for it to blow up in her face. Literally. Tangled up in the aftermath of an explosive assassination, now Ness and the only other survivor - a Nightmare boy who Ness suspects is planning to eat her - must find their way back to Newham and uncover the sinister truth behind the attack, even as the horrors of her past loom ominously near.

(P) 2023 HarperCollins Publishers
Release date: January 10, 2023
Publisher: HarperCollins
Print pages: 384
* BingeBooks earns revenue from qualifying purchases as an Amazon Associate as well as from other retail partners.
Listen to a sample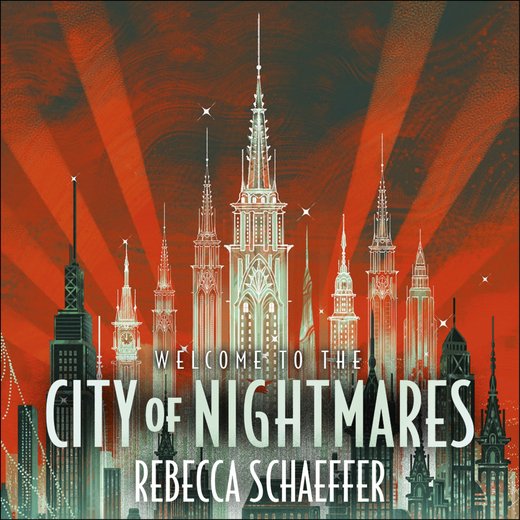 08:41:39
238.81 MB
9781399712125
January 10, 2023
Hachette UK
2023
City of Nightmares
Rebecca Schaeffer
My sister's worst nightmare was a giant, man-eating spider.
I know because that's what she turned into when she went to sleep for the last time.
So I understand something about what it's like to have a family member turn into a giant bug and try to eat you. It's not hard to find people in this city who've lost loved ones to Nightmares, whether they became one or were killed by one. But people who turned into homicidal giant bugs are actually surprisingly rare.
I suppose most people have much worse fears than bugs.
"And how did you know my husband?" Mrs. Sanden asks us.
She's in her forties, white, auburn hair just beginning to show signs of graying at the temples. She stands as stiffly as her starched, white button-up shirt and long, black skirt.
She's small and looks even smaller in her tiny apartment. Like most apartments in Newham, it's basically one room—double bed in one corner across from a tiny kitchenette against the wall and an attempt at a sitting room with one skinny sofa and table. Every available surface is covered in flowers.
A large wooden telephone watches me from the wall, the two brass bells on the front eerily resembling eyes and a long speaker dangling beneath like an elephant's nose.
"I'm afraid we never had the pleasure of meeting your husband," I say, stepping into the apartment. The door will be open for the next few hours, and people who knew the deceased will come and pay their respects. Priya leans against the wall in the hall—there isn't really room for both of us in the entryway.
Mrs. Sanden frowns a moment, taking in my distinctive powder-blue waistcoat and black trousers. Her expression shifts in understanding. "Oh. You're from that cult."
My mouth tightens. "It's not a cult."
"Put your flowers down and get out." Mrs. Sanden's lips thin. "I don't need you or whatever scam you have."
"Oof," Priya says with a grin, speaking for the first time since we've arrived. "Tough crowd."
I roll my eyes. "You could help."
"Me?" Priya widens her eyes innocently. "Are you sure?"
A wicked smile pulls at the corner of her lips, and she tips her head slightly, her short, black-and-turquoise ombre hair falling over her forehead. The hall lighting sharpens her already-sharp cheekbones and adds a reddish tint to her warm brown skin.
"No, actually," I admit. "I take that back. Don't help."
"Are you sure?" Priya's smile gets slyer. "I could—"
"Do you want to get kicked out?" I ask mildly. "Because after last time, the Director will definitely kick us both out."
Priya's mouth clamps shut and she frowns, casting me an annoyed look. I've won and she knows it. She may not like this gig, but she needs it.
Frankly, so do I.
"Are you going to leave the flowers?" Mrs. Sanden snaps, clearly irritated by our existence. This is common. Most people think of us like door-to-door salesman but for religious services. Which is only sort of accurate, but most people don't really stick around long enough for me to explain.
"Yeah." I take the flowers I brought and place them on top of the sideboard, on a pile of similar bouquets. Hanging on the wall above the flowers is a black-and-white picture of a white man with a large, bushy, black beard. He's smiling broadly. Even in the black-and-white photo, I can see the outline of the blue scales that covered his cheekbones.
Contagious Nightmare.
I tug at my gloves, ensuring they're secure. I know he's dead, and his body isn't even here because he turned into a Nightmare in his sleep, and even if it were, the blue scales weren't contagious by touch. But I still make sure my gloves are secure.
The blue scales were from the southern sea dragon, a Nightmare killed a decade ago. When it died, its blood spread in the water of Grand Lake, and anyone who drank that water grew scales, the severity of the scaling depending on how much blood they consumed. Given that most of the southern part of the country got its water from that lake, a lot of people have scales.
"There," Mrs. Sanden says. "You've put the flowers down. Now get out."
"Of course," I tell her, voice calm and measured. "If that's what you wish."
I take a pamphlet from my bag and place it on top of the flowers.
"Oh no," Mrs. Sanden says, marching forward. "You keep that. I'm not going to therapy or talking about my feelings or any of that nonsense. Especially not with you."
"You don't have to if you don't want to, Mrs. Sanden," I reassure her, pressing the pamphlet into her hand. She stares at it as though not sure how she managed to end up holding it.
The front reads YOU ARE NOT ALONE. WE CAN HELP. PAY-WHAT-YOU-CAN-AFFORD NIGHTMARE TRAUMA THERAPY.
"We're only here to tell you what's available," I tell her. "You're under no obligation to do anything you don't want to do."
Behind me, Priya is trying not to fidget, fiddling with something under her long, black coat. Probably a weapon. She's dressed like she hopes, part way through this meeting, a Nightmare will burst through the wall and she can single-handedly defeat it with her combat boots and her myriad of concealed weapons.
Mrs. Sanden crumples my leaflet into a ball. "I'm sure your little cult would like that, me going in so you can brainwash me into believing my husband's death was a good thing."
"We're not a cult," I repeat automatically. "And no one's planning to brainwash you."
"You only say that because you're already brainwashed," she informs me, her expression haughty. "My husband was murdered in my own house, and I'm sure you're just planning to convince me not to file a complaint against those Nightmare killers."
I try to be patient. I signed up for this—a choice I am deeply and profoundly regretting.
Priya steps into the apartment, eyebrows angry slashes. "The Department of Nightmare Defense saved your life."
"They murdered my husband!"
Priya's eyes are shining with anger, or maybe reverence. They kind of look the same on Priya. "They took out a monster."
So not helping, Priya.
"This isn't another interview for Nightmare Defense," I hiss at her. "Don't make it worse."
Priya rolls her eyes. In Priya's world, everything is practice for an interview to join Nightmare Defense.
"Mrs. Sanden." My voice is gentle and patient, experienced at this. "I'm so sorry for your loss. I know exactly how it feels to lose someone you love to a Nightmare."
"I didn't lose him to a Nightmare! I lost him to those murderers!"
"No," I repeat gently. "Your husband was dead the moment he turned into a giant cockroach in his sleep."
"No, he wasn't!" Mrs. Sanden is waving her arm in anger. "He was still my husband. We just couldn't communicate anymore because I don't speak giant cockroach!"
I stare at her, incredulous. Look, I, of all people, understand how desperately you can wish for the person you love back after the Nightmare changed them into something monstrous. I do. I wish every day that I had my sister back.
But the difference is, I know that she wasn't my sister anymore once she became a Nightmare.
"Ma'am," I tell her. "Your husband was trying to eat you."
"A misunderstanding!" she insists, still waving the only arm she has left.
I press my fingers to the bridge of my nose. "He ripped off your arm."
"An accident."
"He ate it."
"He was hungry. It's a shame to let these things go to waste."
Beside me, Priya snorts and leans down to whisper in my ear, "And I thought you were a little on the irrational side about Nightmares. I take it all back. Your quirks are normal compared to this lady."
"Wow, thanks, what a grand compliment. Such a high bar I've passed," I deadpan.
"Call me the queen of compliments." Priya grins, wide and sharp.
Mrs. Sanden kicks over her coffee table, sending doilies and flowers flying.
"Get out!" she snaps. "I don't have to listen to you mocking me!"
Okay, we deserved that. The woman is clearly in denial and needs help, and we've probably made everything worse.
"I'll just leave this here in case you change your mind," I tell her, slipping a pamphlet onto the sideboard as I turn away.
Priya leaves a stack more. "In case you get angry and destroy the first one. Or two. Or ten."
"Priya," I hiss.
She ignores me, piling up all the pamphlets she has. A gust of wind chooses that moment to come in through the small, open window and whip the pamphlets around the room, making them soar like it's raining therapy advertisements.
This does not please Mrs. Sanden, not at all. She screams, swatting them out of the air in a rage. Then she picks up a vase and hurls it at us.
I dodge out of the way, and it shatters against the wall.
"Out!" she screams. Her eyes are wide and bulging a little.
"We're going!"
"Ou—"
Her eyes roll up.
Oh no.
Mrs. Sanden tips backward, keeling over onto the floor with a heavy thud.
Priya and I freeze, staring at her still form for several shocked heartbeats.
"Shit!" I run over, kneeling beside the fallen woman. "Is it a seizure?"
"How should I know?" Priya paces, biting her lip.
"Your sister's a doctor!"
"But I'm not!" She frowns down at the woman, then shakes her head. "Actually, I think she's just fainted."
My skin prickles. "She's unconscious?"
Priya casts a sidelong glance at me, fully aware of why I'm uncomfortable. "Ness, we're in the city. The water has Helomine in it. As long as she's been drinking tap water, she's got the drugs in her. She won't dream."
I shift uncomfortably, wiping my gloved hands on my neatly pressed trousers. I forget that I can't wipe the sweat off my palms through the cloth.
My eyes never leave the sleeping woman. "But what if she hasn't?"
Priya sighs. "Ness—"
"No, listen. Her husband turned into a Nightmare, didn't he?" I look around the room, searching for something that would confirm my suspicion. "That's not supposed to happen if you're drinking the tap water."
I pace into the tiny kitchen area, eyes darting past the sink. I open the top cupboards and see glass jars of flour and rice and pasta, along with kitchen utensils. I close the wooden cupboard door and kneel in front of the small doors under the sink.
A large jug of brown liquid, unmarked.
Moonshine.
Priya's eyes widen. "Ah, fuck."
Prohibition bans alcohol across the country for the simple reason that alcohol nullifies the Helomine and most other Nightmare-prevention drugs.
Of course, it hasn't stopped people bootlegging and making their own liquor. Because some people are stupid enough to take the risk—after all, you don't dream every time you sleep. And people always seem to think that Nightmares are a thing that happen to other people, not themselves.
Until they do.
"The bottle is half-empty," I whisper, my voice layered with the fear growing like a Nightmare in my chest. I reach out and touch it. "And it's damp. It's been opened recently."
Like, say, by a depressed woman whose husband just died and wanted to numb the pain.
Priya's eyes widen in understanding, and her head whips around to Mrs. Sanden.
Except she's not Mrs. Sanden anymore.
Her skin is morphing, stretching, melding, like there's some sort of living creature inside her and it's trying to burst its way out. With a horrible crackle of bone, her body lengthens, elongating into something stretched and contorted. Her skin darkens to the same stormy blue of the uniform of the Nightmare Defense teams, and her eyes stretch and bulge, changing shape into a parody of the goggles they wear.
"Oh no," I whisper.
Priya's eyes gleam. "Oh, hell yes!"
The Nightmare has risen, and it opens its massive mouth to reveal an empty void, a path to nothing, a sucking darkness.
It screams, and the air is pulled toward it like a vacuum. I scrabble for the cupboard doors, holding tight to them as the air whips around me, yanking me toward the Nightmare like a tornado.
Enraged, the Nightmare lunges for me.
I scream, loud and sharp, diving away from the monstrosity, smashing into the hardwood floor. I scramble across it on my hands and knees. A broken piece of the vase caught in the rug cuts my glove, slicing my skin beneath. I leave drops of blood behind as I scuttle away.
Behind me, Priya is practically dancing with excitement as she rips off her coat to reveal all the weapons underneath. She has a utility belt with so many different implements of murder it can't possibly be legal, but that's never stopped anyone from doing anything in Newham.
Priya dives for the Nightmare, gun out, firing, rat-a-tat-tat.
The bullets go right through it.
It's made of smoke, formless and intangible, and it's like cutting through air.
Undeterred, still grinning, Priya whips out a spray can from her belt and starts spraying something in the air at the Nightmare. Pressurized salt, maybe. A lot of the ethereal Nightmares come from people's fears of old ghost stories, which means they can often be stopped with salt because that's what the legends say stop them.
Every single Nightmare is different, because every person's idea of what would stop their own personal monster is different.
The Nightmare shrieks, rearing back, and I take the opportunity to wriggle my way under the couch, covering my face like a small child. Maybe if it can't see me, it'll forget about me and go away.
I'm blind underneath the couch, but I don't need sight to figure out what's happening. It's perfectly clear from the crash of breaking pottery, the crunch of wood as Priya destroys the table, the angry and murderous wails of the Nightmare.
I know I need to get out. I need to call for help. Or assist Priya. I need to do something.
But my body is frozen, seized under the couch, completely trapped by my terror. My mind has snapped back to the me of eight years ago, the me who listened from my hiding spot as my father was ripped apart piece by piece, the bones crunching as my sister—no, as the Nightmare—slowly ate him alive.
"What were you thinking?" the Director of the Newham branch of the Friends of the Restful Soul asks me, with a look so pained I mentally up the level of shit I think I'm in.
I'm standing in his office, a tiny room with brick walls. On the wall behind him, a large Jesus on the cross judges me, and on either side of his bloody form, framed portraits of the four founding saints of the Friends of the Restful Soul look down at me in shame.
The one on the far left, Magdalena, looks particularly unimpressed. Supposedly, a hundred years ago, she killed an unstoppable demon traipsing through the countryside slaughtering people. Well, they call it a demon, but we all know it was a Nightmare—it was in the early days when Nightmares were just starting, and no one knew what they were yet.
No matter what you call it, doctrine claims she killed it when she was only eleven. When I was eleven, I cowered in the cupboard under the kitchen sink and prayed that the Nightmare crunching on my father's bones wouldn't consume me too.
I can feel the painting's eyes judging me.
Beside me is a wide window that's just big enough to crawl out. The rusting metal fire escape is visible through the warped glass, and a not-small part of me is sorely tempted to make a run for it.
I don't, of course. That would only make all of this worse. And it's already enough of a mess.
I smooth a gloved hand down my crisp waistcoat. I changed after I got back, knowing this was coming and that I needed to make the best impression possible. My long-sleeved, white shirt practically glows against my tight, black, button-up waistcoat, and the creases on my trousers are so sharp you could cut with them.
"I'm sorry, sir." I fold my hands in front of me. "But if I'm being honest, this isn't my fault."
"How do you figure that?" the Director asks, raising one eyebrow into the spiny folds of his lizard crest. His features are still human enough to discern expression—though I suspect a lot of that is due to reconstructive surgery—but there's no mistaking that the Director is a Nightmare.
Lots of people are—just because you become your worst nightmare, it doesn't always mean you change. Like that actress whose worst fear was to be ugly and so that's what she became. She never turned into a cannibal or melted people's flesh off or ate live children. She's just . . . no longer a famed beauty.
I don't know what the Director's fear was—something about lizards, based on his appearance—but I know it happened when he was young. They were able to do reconstructive surgery early, and he grew into his features. His mouth can reproduce human language, which is better than some Nightmares, who end up stuck in the form of something terrifying and then have to tap out messages in Morse code and shit.
But not all Nightmares come back sane.
I think of my sister, Ruby. My overprotective sister, who beat up kids at school who dared try to bully me. Who held me when I cried and would have given me the world if she could have.
My sister, who ate our father alive and nearly devoured me too.
The Nightmare didn't just twist her body into something monstrous—it twisted her mind too.
It always seemed viciously unfair to me that so many people came through their Nightmares twisted in body but not in mind but the one person who meant the most to me had become the thing I feared the most.
Why couldn't Ruby have come through the Nightmare sane?
"I don't see how it's my fault Mrs. Sanden turned into a Nightmare," I tell him. "She and her husband were drinking bootlegged alcohol. That's against the law."
He sighs heavily, his vibrant green scales dimming, a sure sign he's disappointed. "I'm not saying that's your fault. I'd never hold you responsible for something out of your control."
"Oh." I shift from foot to foot. If he's not mad about that, then . . .
"Ness, you've had basic training to handle people in distress," his voice is gentle. "And I know you've had basic Nightmare-containment training."
Of course I had. No one planned to have to face dangerous Nightmares when going door-to-door handing out pamphlets, but you had to be prepared just in case. That was just practical.
"I've had the training," I admit.
"What's the first rule?"
I hesitate. "Pull the fire alarm to warn everyone."
"Right. Was there a fire alarm in the room?"
He knows there was. There's a fire alarm in every apartment in the city. In Mrs. Sanden's apartment, it had been right beside the wall phone. I'd clocked it the moment we entered.
I look away.
"What's the second rule?" he asks me.
"Call for help. Find a phone and dial 666 for Nightmare Defense."
"And did you do that?"
"No."
"Was there a phone in the room?"
"Yes." I lower my eyes.
"Why do we do those things?" he asks me patiently.
"To minimize casualties in case the Nightmare is violent."
"That's right." He leans forward, eyes sad. "And instead of calling for help and warning the other residents who might have been in danger, what did you do?"
I clear my throat, not meeting his eyes. "Hid under the couch."
"And when Priya had the Nightmare contained and asked you to call for the police, what did you do?"
I rub my arm awkwardly. "Jumped out the window and down the fire escape."
"And while Priya was singlehandedly containing a violent Nightmare and calling for help and pulling the alarm, where were you?"
I lick my lips. "I get the point."
"Answer the question, Ness."
I sigh heavily, shoulders slumping. "I was running back here, where I went to my room and barricaded myself inside, then hid under the bed."
The words hang between us, heavy and awkward.
He's clearly waiting for me to say something, but I don't know what else there is to say. I screwed up. I saw the Nightmare, and I reverted into a scared child who couldn't do anything and then hid and ran, leaving my best friend to fight for her life alone.
Priya, of course, enjoyed the whole thing. I've never heard such sounds of delight from her before. She's been itching for a chance to fight a Nightmare and show the world—and Nightmare Defense—what she's made of.
But I didn't hide so Priya could shine.
I hid because I'm a coward.
I'm trying to look anywhere but at the Director. My eyes land on a newspaper open on his table. The splashy headline across the front reads MAYOR SENTENCED TO SIX MONTHS IN PRISON ON CORRUPTION CHARGES, SAYS IT WILL BE "GOOD NETWORKING OPPORTUNITY."
"Ness," the Director says, pulling my attention back to him and away from the newspaper.
"Yes, Director?" My voice is hoarse.
He examines me with the slitted lizard eyes, and his voice, when he speaks, is gentle. "Why are you here, Ness?"
I feign ignorance. "You called me into a meeting, sir."
"No." He sighs heavily, folding his long, green talons over the desk. "Why are you here? Why did you become an initiate at the Friends of the Restful Soul?"
My smile is sickly. "To help people, of course."
He gives me a skeptical look, like he can smell my bullshit a mile away. Who knows, maybe he can. I don't know how lizard noses work.
"Really," he says slowly.
"Really."
"I understand," the Director says. "But I wonder if this is really the best place for you to do that."
My head snaps up. "What?"
No. He can't be saying what I think he is.
"Please," I whisper. "Don't kick me out."
"I'm not kicking you out, child." His smile is gentle. "I'm suggesting you rethink your life path. Our organization is built on reaching out to people in need. And sometimes people in need lash out. It's not their fault they're going through terrible things. But you need to be able to handle that in a safe and professional way."
I swallow, fear making my chest ache. I can't lose this. "I can do it."
"But you don't have to," he insists. "I see how devoted you are to this organization. And that's wonderful. But maybe this path isn't the right fit for you. There's no shame in that."
"Please," I whisper, voice choked. "I have nowhere else to go."
I have to make this work. I have to.
If the Friends of the Restful Soul kick me out, I'll be homeless. I have pretty much no money, except the little bit of pocket change I sometimes have after running errands for Shenwei, who runs the kitchen.
I live here, in this building, with all the other disciples. I have my own tiny little cube room. Where else in this overcrowded, overpriced mess of a city can you get a place of your own? If I left, I'd be broke, sleeping on the streets. Even if I did get a job and manage to scrape up enough for rent, anywhere I stayed would inevitably have multiple people in a room. I'd seen the apartment ads for bunks stacked three high, eighteen people to a room, all sharing one toilet. I couldn't live like that.
I couldn't even sleep when one other person was sleeping in the room—you never knew what they might become while asleep.
I'd never sleep again.
"I—I know you know my history, sir," I stutter, scrambling to find the one thing that will make him reconsider sending me away. "My sister."
It's his turn to look away. There we go. I know how to lay this on thick.
"I just . . . After everything I went through, the Friends were so helpful at getting my life together." This is actually true. I'd been even more of a coward before I went through their free group therapy. ...
We hope you are enjoying the book so far. To continue reading...
City of Nightmares
Rebecca Schaeffer
Copyright © 2023 All Rights Reserved