Chorus of Ashes
Her future has already been decided.
Book info
Sample
Audiobook
Media
Author updates
Lists
Synopsis
Her future has already been decided.
If the prophecies are to be believed, that is. Terra, leader of the Earth Fae, is at her happiest when wandering sky clad through the misty forests of Ireland. While she knows it is almost impossible to resist the Fates, Terra hopes there is another way.
A way that doesn't require her to claim a man that is meant to be her fated mate.
The problem is…the prophecies hadn't mentioned that he would also be her sworn enemy.
Her people are troubled, and their unhappy rumblings shake the Earth and threaten the future of Ireland. Torn, Terra must decide if answering her heart's song will save her people but in doing so, destroy her only chance for happiness.
Release date: March 14, 2023
Publisher: Lovewrite Publishing
Print pages: 262
* BingeBooks earns revenue from qualifying purchases as an Amazon Associate as well as from other retail partners.
Listen to a sample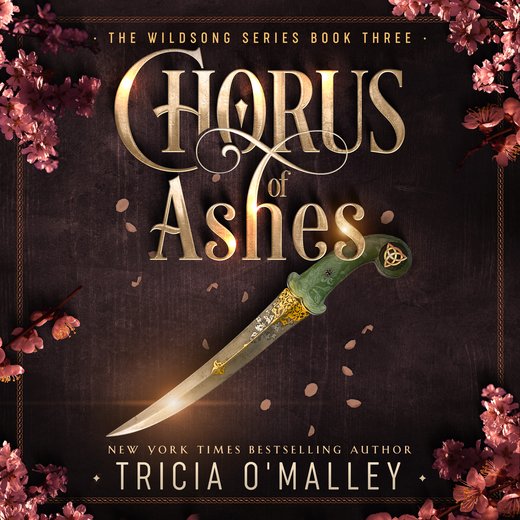 06:19:04
173.53 MB
March 7, 2023
Lovewrite Publishing
Chorus of Ashes
Tricia O'Malley
Prologue
"What say you, Rian?"
"I've never lain with this woman. You are judging the wrong person. I stand by my innocence." Rian's heart hammered in his chest, and he narrowed his eyes at the crowd, searching for anything unusual. Did the true culprit lie hidden in the audience, watching as the High Court of the Danula Fae handed down a sentence to an innocent man?
His own people had turned on him.
Rian, as head of magicks training for the Earth Fae, was standing trial for allegedly having an affair with the wife of one of the Royal Fae. It wasn't true, not even close, and the unfairness of the situation he now found himself in made his stomach burn. It was a wrongdoing to lay with another's fated mate, and the crime was often punishable by the stripping of one's powers. However, when it came to the royals, the price was much higher.
Exile.
Now, Rian faced having to leave his family, his homeland, and his people – all because someone had supposedly seen him near the royal's home when the crime was discovered. The evidence was tenuous at best, and Rian wanted to scream as the supposed witness stood up before the court.
The hearing took place deep in the bowels of the castle of the Danula Fae, the rulers of the various factions of the Elemental Fae, so that should any punishment need to be administered quickly, the convicted would have no option for escape. White marble walls with no windows, high ceilings, and gleaming gold light fixtures highlighted the starkness of the room. Long benches lay in three rows in front of a large gold table where the judging committee met to overhear cases. Rian's eyes lit on one woman in the audience, and his breath caught in his throat.
She was furiously, stunningly beautiful.
And if looks could kill, well, Rian would be eviscerated on the spot.
A hammered gold circlet of leaves held back shining brown curls that tumbled over her shoulders, and green silk caressed her softly curved body. Eyes the color of her dress glared at him, and Rian could feel her anger from across the room. Judged and found guilty, Rian realized. It was a good thing this woman wasn't on the committee, or he'd likely be put to his death.
She was Terra, leader of the Earth Fae, and Rian had only ever seen her from afar. Unlike other factions of Fae, where rulers were ever present in daily life, Terra took a more nuanced approach, preferring to lead with a soft touch from the forests that surrounded their castle. She wasn't one for pomp and circumstance, and now, seeing how she commanded attention even while sitting silently in the audience, Rian understood that he'd grossly underestimated the power she wielded. He wondered who this royal philanderer was to her.
A sob drew his attention, and his stomach twisted. Rian's mother sat, her arms clutched around her frail body, tears streaming down her cheeks. While she believed his story, wholeheartedly, they both understood that the royals always got what they wanted. Whatever secretive agenda was at play here would unfold as they saw fit, no matter what lives they sacrificed in doing so. Rage slid more deeply through him, becoming sinister and dark, as he was commanded to stand.
"Any final words, Rian, Ruler of Magicks?" This from the head of council, a man that Rian did not know, whose face remained placid as though he was asking after the weather.
"I did not commit this crime you've accused me of. I'm an honest man, a proud Earth Fae, and I live a humble life in service to my mother. I'm all she has, you understand. I would never do a
nything to jeopardize my position in caring for her." Rian infused his voice with sincerity, though the sticky anger that clung to him made him want to shout. "There is no crime to be walking down a street at night. You've accused the wrong man, and I beg of you to reconsider your accusations … or…"
"Or what?" The council leader raised his chin, a considering light in his eyes.
"You'll regret the day you exiled the wrong man." The anger won out, and a frigid wave swept the room at his words, causing the crowd to gasp as a sheet of ice coated the gold high table. Rian saw his mother close her eyes, and he knew, in that moment, that he'd let his emotions decide his future. Perhaps if he had managed to hide the level of his powers, or the depth of his rage, he would have walked out a free man.
Tempering who he was had never been his strong suit.
"We don't take kindly to threats." The council leader sniffed and turned to the others, who all nodded their heads. "Rian, Earth Fae and Ruler of Magicks, you are found guilty and exiled from our lands at once. You may have a moment to say goodbye to your mother."
Iron cuffs slipped around his wrists, binding his magick and stinging his skin. Rian didn't care about the burn, no, it was the only thing he could feel at the moment as his anger threatened to overtake him. A guard stepped forward and took his arm, drawing him from the stand and toward his mother.
"Rian." Aster, a slim woman with steely determination, wrapped her arms around him. As her tears soaked his tunic, Rian's heart broke into a thousand pieces only to be soldered with ice. Aster was sick, and they both knew this was more than a goodbye-for-now.
This would be the last time he saw his mother alive.
"I will avenge this," Rian whispered into her hair, pressing a kiss to the top of her head.
"Don't, Rian. For what purpose? I'll be…" Aster lifted tired eyes to his. "Promise me you'll seek your happiness. Wherever you land. There's more to this world than the Fae realms, and you may very well live a happy and fulfilled life elsewhere. Promise me you'll try."
"I … how can I make that promise? This is wrong. What they're doing is wrong," Rian protested.
"And I'll continue to fight for you here, darling. I won't let this go, and if it's the last thing I do … I'll try to get you home.
But in the meantime, I can't… I can't go on if I know you're unhappy. You've always been a bright boy, strong, and you've brought so much joy to my life. Promise me you'll try?" Aster clung to him as the guard tugged his arm.
"I… I promise, Mother. I'll do my best to find happiness." Which will come from seeking vengeance. He bit his tongue as his mother leaned up to press a kiss to his cheek.
"May love carry you in strength," Aster whispered.
"May love carry you in strength," Rian repeated. The guard pulled him away.
"Rian," Aster said. He turned, his eyes locking on hers.
"Where the sun shines through the trees, blessing the ground with light, I will always be. Remember me, and I will come to you."
Rian nodded, shuttering his eyes against the tears that threatened. The unfairness of his situation slapped at his sense of justice. He'd always believed the Danula Fae to be fair rulers, and now he couldn't wrap his head around what was happening to him. The guard pulled him through a narrow door that led to a secondary room where the council waited.
Where she waited.
Rian's chin came up when his eyes landed on Terra. She met his challenging look with a smile. It seared him, melting some of the ice, only to allow his rage to flood through.
"You smile for the fate of an innocent," Rian spat.
"Justice is served." Terra shrugged a shoulder. "Breaking a fated mate bond brings great harm to not only the immediate family, but to the rules of our society. There is no stronger bond than that of fated mates."
"If she was bonded, then why was she lying with another man? Did you ever think to accuse her instead of her lover?" Rian grit out as the guard pulled him past Terra.
"Enough." The head council member thundered.
"I will avenge this wrongdoing. Of this, I promise you." Rian spoke to Terra.
A considering look entered Terra's eyes, but Rian was already being forced into a narrow corridor. The last thing he saw was Terra opening her mouth to speak, when the door slammed shut, and his world went black.
Chapter 1
---
"I say we fight."
Terra raised her eyes to where King Callum paced in front of the stream, his wife Lily having instead chosen to sit with Terra in the soft moss that coated the gently curved riverbank. The King of the Danula Fae's shoulders were rigid with tension, and she appreciated him meeting her out here instead of inside the castle. Walls made her feel like she wanted to bounce out of her skin, and she much preferred conducting business beneath the sky where the wind blew their words into the ether.
"But how? Are we aware of any organized advancing armies?" Terra asked. "Thus far, the Domnua Fae have been insidious in their actions, and all we've been able to do is react. Unless you choose to go to their realm?"
"We might have to." King Callum whirled, his hands at his hips, his face stormy.
"Our people are restless," Terra said, threading her fingers through the springy moss, feeling the worries of her people communicating through the roots in the Earth. "They know of the attacks on the Fire and Water Fae, and now look at each other with suspicion. We don't know if a Domnua has infiltrated our midst. What's their end game? Can we cut them off there?"
"It's Domnu," Lily, a lovely human who'd had the unusual good luck of being King Callum's fated mate, murmured. "The Dark Goddess will never rest until she can leave her realm and rule Ireland … if not the Earth. Essentially, she's a toddler having one big tantrum. She doesn't like being told what to do, and she certainly doesn't want to compromise. Even though she's been given her own realm to rule, it's not enough. It will never be enough."
"But you can't kill a goddess," Terra protested.
"We can contain her. We can weaken her. We can take her powers from her." King Callum ticked the points off on his fingers.
"So the option to fight is to capture the Goddess Domnu?" Worry creased Lily's forehead. "Surely there's a better route?"
"Can we turn her people against her? Maybe show the Dark Fae how nice it is over here?" Terra mused.
"That would take a massive campaign that I'm not sure we have time for. All they know is Goddess Domnu as their leader. I'm not sure we'll have the strength to change that." King Callum crouched by Lily and pressed an absent-minded kiss to her forehead. Lily's eyes softened, and Terra couldn't help but smile in the presence of their love. Their love story had been fraught with danger and troubles but, somehow, they'd still found their way back to each other.
Terra suspected her own would be much the same. Her heart twisted as she thought about her fated mate, the man who'd been shown to her through the scrying stream. If it was the same man she thought it to be, well, it wasn't likely she'd be finding her happily-ever-after anytime soon.
Exiled.
In an awful twist of fate, Terra had heard her fated mate singing their heartsong in her dreams one night. It was the first time she'd heard their song, and when she'd awoken, excitement coursing through her body, she'd hurried to the stream to finally get a look at her mate. Her excitement had quickly shifted to dismay when the clear waters of the stream had shimmered to reveal her sworn enemy.
The man who had torn her family apart.
Bitterness filled her mouth as she thought about the aftermath of Rian's trial, his exile, and how her brother, Eoghan, had fallen apart at his fated mate's betrayal. Not only had his heart been broken, but the breaking of a fated mate bond had sent confusion and uncertainty through her people in a time when they needed to rely on consistency and foundational truths.
For the Fae, a fated mate was a singular truth that defined the course of one's life. The magick was so powerful, that once two Fae claimed each other and accepted their fated bond, not only did their own magicks grow stronger, but that of the entire community of Fae as a whole. If one Fae claimed their fated mate, and the other refused, the first Fae would eventually die from the unrequited claim.
A bit archaic, Terra supposed, as she'd often chafed against the confines of the fated mate expectations of the Earth Fae, instead largely enjoying her life untethered to another. Who said she needed a partner to be happy? She hadn't always thought that way, but watching Eoghan unravel at his wife's unfaithfulness had started her down a path of convincing herself that perhaps fated mates were an outdated and unnecessary construct.
Until she looked at Lily and Callum, that is. Terra's heart twisted, and a soft sigh escaped as Lily traced her finger over Callum's lips, unspoken words drifting between them. And then there were these two. Their bond was so strong, Terra could all but see the golden tendrils linking them together.
It would never be this way for her, Terra reminded herself, because her fated mate was exiled and an adulterer. Her choices were limited in the matter. Ignore his heartsong and continue to lead her people in the battle against the Dark Fae or leave their realm and live in exile with a man who had a deeply questionable moral compass.
The Fates certainly enjoyed their whims, did they not?
Except when it came to these two. Terra smiled indulgently at the lovers, happy they had found each other. Just because it wasn't written in the stars for her to have the same bond, didn't mean she begrudged anyone their happiness. Joy was something to be celebrated in any f
orm.
"Well, I did find something…" Lily said shyly as she glanced from Callum to Terra. Though she'd proven herself to be a strong woman, Lily still was timid when it came to offering her insights on the Fae realm. Terra certainly couldn't blame her. The Fae were a mercurial and tricky lot, and their rules and history were a morass of riddles shrouded in mystery. "Perhaps it's nothing."
"Tell us, love. What did that sharp brain of yours dig out? Spending more time in the library were you?" Callum's eyes gleamed as he studied Lily.
"I was. Bianca and I can hardly tear ourselves away now that we have access to all this fascinating knowledge. It's, well, sure and it could take ages to read it all, couldn't it? But we did stumble on a little tidbit yesterday that we both think might be worth exploring." Lily tucked a stray tendril of warm brown hair behind her ear and pursed her lips. "It seems that while, yes, you are correct that we can't kill a goddess, you can incapacitate her."
"Is that right?" Callum's expression went from soft and loving to sharp and deadly in an instant.
"Bianca thinks it is why the Domnua are trying to divide us. It takes all of the Elementals to come together and work the spell that will strip Domnu of her powers."
"And if we unite? The ritual will require sacrifice, will it not?" Terra was well versed in the way of magicks. Nothing in this realm or the next came for free, and the energy they used here would be taken from something else.
"I believe so. But Bianca is digging more deeply today. You know how she is…" Lily laughed. Terra had only met Bianca recently, a human gifted magick from the Fae for her service in the battle of the Four Treasures, and she had recognized a kindred spirit instantly.
"That's great news. If anything, it gives us some direction. I'll admit, I'm frustrated. I hate being reactive and, after they took my mother, well, I'm ready for a fight." King Callum stood, his fists balled at his side. Immediately, Lily rose and wrapped her arms around his waist, leaning into him.
"Oh, we'll fight," Terra assured her king. "Of that I am certain. No longer can we ignore the cries of our people. The Domnua are insidious, and though every pest serves a purpose, at best, theirs is only to be an agent of change. Change for a better and brighter future for our world. To that end, I will commit."
"We'll reconvene tomorrow." King Callum gave her a nod, and Lily waved shyly at Terra as he tugged her toward the castle.
Turning, Terra wandered along the stream, the chill of the air nothing more than the brush of a lover's touch against her skin. Once she'd slipped deeper into the forest, she tugged her dress o
ver her head, preferring to be naked among the trees. Here, she was home. Who needed a fated mate when she had the soft caress of the wind filtering through the leaves or the cool brush of icy water from a bubbling brook? Her heart belonged here, in the wilds, and she'd die protecting it.
A sharp warning from a small bird perched above her was the only alert she had. ...
We hope you are enjoying the book so far. To continue reading...
Chorus of Ashes
Tricia O'Malley
Copyright © 2023 All Rights Reserved