Charlotte Illes Is Not a Detective
Book info
Sample
Audiobook
Media
Author updates
Lists
Synopsis
"An immensely fun, voice-y read with a twisty mystery." –Mia P. Manansala, author of the Agatha, Anthony, and Macavity Award-winning Arsenic and Adobo
"Charlotte is a delight."—The New York Times
For anyone seeking to satisfy their Harriet the Spy, Encyclopedia Brown, or Nancy Drew nostalgia, this charming, entertaining debut based on the popular @katiefliesaway TikTok series stars a twentysomething former kid detective who's coaxed out of retirement for one last case.
The downside of being a famous child detective is that sooner or later, you have to grow up . . .
As a kid, Charlotte Illes' uncanny sleuthing abilities made her a minor celebrity. But in high school, she hung up her detective's hat and stashed away the signature blue landline in her "office"—aka garage—convinced that finding her adult purpose would be as easy as tracking down missing pudding cups or locating stolen diamonds.
Now twenty-five, Charlotte has a nagging fear that she hit her peak in middle school. She's living with her mom, scrolling through job listings, and her love life consists mostly of first dates. When it comes to knowing what to do next, Charlotte hasn't got a clue.
And then, her old blue phone rings . . .
Reluctantly, Charlotte is pulled back into the mystery-solving world she knew—just one more time. But that world is a whole lot more complicated for an adult. As a kid, she was able to crack the case and still get her homework done on time. Now she's dealing with dead bodies, missing persons, and villains who actually see her as a viable threat. And the detective skills she was once so eager to never use again are the only things that can stop a killer ready to make sure her next retirement is permanent . . .
"Kept me guessing and left me with a warm and happy glow." –Mary Robinette Kowal, author of the Hugo, Nebula, and Locus Award-winning The Calculating Stars

Release date: June 27, 2023
Publisher: Kensington Books
Print pages: 384
* BingeBooks earns revenue from qualifying purchases as an Amazon Associate as well as from other retail partners.
Listen to a sample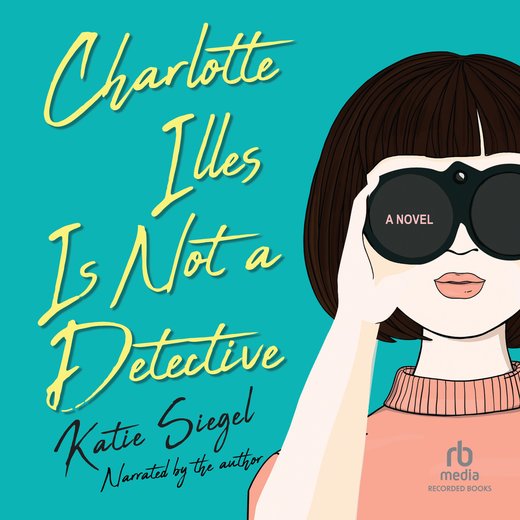 10:04:13
276.59 MB
9781035407668
June 27, 2023
Recorded Books
2023
Charlotte Illes Is Not a Detective
Katie Siegel
"So . . . I Googled you."

They hadn't even ordered their food yet. The last time this happened, she was at least able to hide her involuntary grimace behind a curtain of spaghetti. The time before that, a fistful of fries.

Charlotte Illes quickly raised the giant diner menu, but not fast enough to conceal the wince.

The woman sitting across from her—Amy—smiled sheepishly. "Sorry," she said. "I do it before every date."

God, I hate that word, Charlotte thought as she slowly lowered the menu. Googled. Just thinking it felt gross.

"Oh!" she said, her voice several steps above its usual pitch. She cleared her throat, forcing her tone back down to normal. "Hope you didn't find my middle school–era fanfic. That'd be embarrassing." But a relief, Charlotte thought. She hoped that was all Amy found.

She cracked a smile, hoping her date would take the out, laugh at the joke, and change the subject to something more palatable. Like tax returns. Or lawn care.

"No, it wasn't that," Amy said, leaning forward eagerly. She had that look in her eye—the look of someone completely oblivious to the fact that the thing they were about to say was way more exciting to them than it would be to their audience. "I didn't know you were, like, famous!"

Like, famous. Charlotte heard that modifier a lot. Not super famous, or currently famous. But she had, at one point, been sort of, kind of, like, famous.

Charlotte shifted in her seat. "I wasn't really famous," she said, beginning what was now a well-rehearsed speech. "I just—"

"You were!" Amy said, as if she were gifting Charlotte a great compliment.

Oh, okay. She wasn't even going to listen to the speech. Charlotte sat back.

"I mean, there were so many articles about the mysteries you solved," Amy continued, her eyes bright. "You were, like, a mini Sherlock Holmes."

Yup, just a ten-year-old solving mysteries and doing cocaine. Charlotte had made that joke the first time she got the Sherlock Holmes comparison on a date. It didn't land. She never made it again.

"You helped so many people." Amy took a quick gulp of water, looking at Charlotte over the rim of her glass. She swallowed. "Did you really help the British Museum find a stolen artifact?"

Charlotte paused for a moment, going very still. Maybe if she stayed frozen and silent, the other woman would just keep talking, and Charlotte would never have to comment on her well-documented childhood.

But Amy was gazing at her expectantly, so she cleared her throat and said, "Yes. Yeah, I . . . yeah."

As Amy continued to gaze, Charlotte realized she was waiting for more than that. "Oh. Um, I was in London on a family trip when the museum got robbed. I looked around, talked to a few people, and saw that a screw on an air vent was a little loose . . . it was pretty quick work after that."

She paused for a moment, then added with a half-smile, "Of course, the statue had already been stolen way before then."

Amy's eyes widened with excitement. "This wasn't the first time it was stolen?"

"You know, because . . . the British Museum. Most of the artifacts were stolen from other countries." Charlotte hesitated as the eagerness in Amy's eyes began to dim. "A lot of artifacts in Western museums are . . . stolen."

"Oh." Amy took another drink from her glass, much longer than her last one.

Charlotte felt indignant as the mood suddenly shifted. Why did she always have to tell stories from her childhood to keep the date going well? Why couldn't she talk about looted cultural property instead?

She seized the opportunity to catch the eye of Maggie, the diner's manager (and host, on slow nights like this one). Charlotte flashed her a distressed look.

"Already?" Maggie mouthed back, stepping out from behind the host stand.

Charlotte gave a subtle nod, then looked back as Amy put down her glass. Behind her date's head, she saw Maggie flag down a server and send her towards their booth.

"Sooooo . . ." Charlotte said, drawing out the word for as long as she could as she watched the server—Jordan—approach the table. Right as Jordan was about to reach them, someone in the adjacent booth called out. To Charlotte's dismay, Jordan stopped to respond.

Charlotte's jaw tightened. She really didn't want to give Amy the opportunity to reopen her line of questioning, and she was clearly already gearing up for round two.

As Amy opened her mouth to speak, Charlotte blurted out, "So, did you just get out of a long-term relationship?"

The diner's retro jukebox, while usually one of Charlotte's favorite things about the place, chose that inopportune moment to end the song that had been playing, making the silence that followed even louder than it would've been otherwise.

Amy blinked. "Um . . . yeah, actually."

Charlotte glanced back at Jordan, who was still talking to the people in the other booth. "That must've been rough."

Amy shrugged noncommittally, looking vaguely confused. "It was a long time coming, honestly. I'm taking it better than I thought I would."

Charlotte bobbed her head way too enthusiastically. "Cool. Very cool. Good for you."

Amy stared at her. "How—"

Charlotte silently thanked the diner gods for their mercy as Jordan finally arrived at their booth, a wide smile on her face. "Hey there," she said, pulling out a pad and pen. "Ready to order?"

"So, what do you do?" Charlotte asked as soon as Jordan walked away with their menus. It was a question she normally hated receiving on dates, but one she found useful when trying to get the other person to talk about themselves for an extended amount of time.

Looking like she'd rather continue delving into Charlotte's childhood, Amy reluctantly began talking about her work. Charlotte tried to concentrate on what her date was saying, but her brain was already working in overdrive to figure out how to keep the conversation off of her sleuthing days.

Their food arrived, and Charlotte managed to squeeze in one mundane story about having to jump-start her car before Amy said, "I'm sorry, I just have to go back to the whole child detective thing."

Charlotte paused chewing for a moment, then continued, swallowing a mouthful of cheese and tomato. "Sure," she finally said, putting down her sandwich. "I mean, I promise you, it really wasn't as wild as a lot of the articles made it sound, but . . ." She put a tight smile on her face. "What do you want to know?"

Amy put her spoon down. "It's just . . . nuts, right?" she said. "How you kept solving mysteries that adults couldn't." Her brow furrowed as she suddenly looked concerned. "Was it a lot of pressure?"

Here we go.

Charlotte pursed her lips. In her experience, there were two types of people who wanted to hear about Charlotte's experience as a kid detective. In fact, she was convinced that she could write an entire dissertation on the topic:

Amy was staring at Charlotte, waiting for a response, her spoon still lying in her rapidly cooling matzo ball soup.

Charlotte gave a small smile. "Sure," she said. "There was some pressure." She shrugged. "But, you know, who doesn't experience pressure as a kid?"

Of course, there was much more to it than that, but that was a conversation for a therapy session (of which she'd had many), not a first date.

Out of the corner of her eye, Charlotte saw Maggie watching them as she led a family to their table. Maggie Lewis was in her mid-fifties, White, with curly blond hair perpetually pulled up into a messy bun. She had known Charlotte as early as her pre-detective days, back when Charlotte's mom would bring her and Landon to the diner for milkshakes. Charlotte would sit at the counter, legs kicking against the vinyl cushion of the chair, solving the maze on the children's menu in under a minute.

But Maggie, unlike most other adults in Charlotte's life, wouldn't gush over how observant or clever Charlotte was. She would just disappear into the back and emerge a few minutes later with two milkshakes and a new maze drawn on a napkin for Charlotte to solve, always more difficult than the one on the menu.

Nowadays, Maggie and Charlotte's relationship was less mazes and milkshakes, and more of Maggie helping Charlotte escape out the back door of the diner during especially rough dates. Maggie particularly enjoyed making up excuses for why Charlotte had to run out, to the point where Charlotte had to tell her to ease up on the tall tales. ("In what world would NASA ask me to go to space?")

This date wasn't bad enough to warrant an emergency exit, although Charlotte definitely wasn't planning on there being a second one. She didn't blame Amy—no one, especially the Psychologists, ever considered how often Charlotte had been asked the same questions over and over again.

Charlotte just couldn't help but feel like she was sitting in a ten-year-old's shadow every time they looked at her.

The rest of the date went by quickly after that. Charlotte steered the conversation back to Amy, who talked about a TV show she was watching before pivoting to Charlotte's astrological chart.

"You have to find out what time you were born," Amy explained as their plates were cleared. "It's the only way to know exactly who you are. Astrologically, I mean."

Jordan brought over the check, and Charlotte managed to win the "no, let me pay" debate, despite not currently having an income.

"As long as you let me pay next time," Amy joked. Charlotte let out a ha ha and hoped it didn't sound too forced. The two walked out of the diner into the warm July evening.

"My car's over there," Amy said, pointing across the parking lot.

"Oh, I'm that way." Charlotte jerked her head in the opposite direction. "Um, it was nice meeting you!"

"Same!" Amy started to lift her arms, as if to go in for a hug, then seemed to rethink the move. She scratched the back of her neck instead. "I'll text you?"

"Sounds good."

Amy gave a little wave and said goodbye, then turned and walked to her car.

Charlotte stood under the diner's neon sign, bathed in its pink and blue light, and watched Amy cross the parking lot before walking over to her own car. She stopped, pretending to inspect the pressure of one of her back tires, listening for the sound of an engine turning on.

Giving the tire a little kick (she didn't actually know how to check tire pressure), Charlotte looked up to wave as Amy drove past. As soon as the car's taillights disappeared around the corner, she straightened, turned on her heel, and headed back into the diner.

"That didn't look too bad," Maggie commented as Charlotte pulled herself up onto a seat at the counter. "I'm a little disappointed. I had a really good excuse this time."

Charlotte rested her arms on the counter and dropped her chin on top of them. "Did it involve me going into space?" she asked wearily.

Maggie pulled a giant bag of mints out from under the counter and got to work refilling the little glass bowl next to the cash register. "No. I had you rushing to the hospital to donate your stomach to a woman in critical condition."

Charlotte grabbed a mint and popped it into her mouth. "Yuh con't donate yer shtomach wall yer stull alahve," she said, her words garbled by the mint.

"I know that," Maggie said, closing up the bag and bending over to put it away.

Tucking the mint into her cheek, Charlotte leaned over the counter, looking down. "You were gonna kill me off?"

Maggie straightened, tucking a loose blond curl back beneath her headband. "You would've died a hero!" she said. "Plus, it would've been a surefire way to make sure she didn't text you again."

"I guess," Charlotte said grumpily, sucking on the mint.

Maggie crossed her arms. "Hey, missy," she said. "You know, one of these days, you'll have to go on a second date."

"Wanna bet?"

Maggie rolled her eyes, then gently tapped twice on the laminate countertop with her fingertips, remembering something. "What was the name of the town your brother moved to?"

"Highview." Maggie began to walk away as Charlotte spoke, remaining in earshot. "It's up in North Jersey, close to the city. Commuter town."

Maggie returned with a newspaper in her hand. She dropped it onto the counter.

Charlotte looked down at it. " 'Bowling Alley Chain Closes After Declaring Bankruptcy.' Burrito Bowl closed? Sad." She looked up. "That's where everyone used to have their birthday parties. And get food poisoning."

Maggie picked up the paper and used it to bop the top of Charlotte's head. "Not that, smarty pants." She put the paper down again and pointed a French-manicured finger at a different headline.

Smoothing down her hair, Charlotte returned to the paper and read:

Charlotte's stomach dropped. She kept reading:

Charlotte looked back up. "Okay, next time you ask me about Landon and then show me a news article about a murder, could you preface it with something like, 'This article is not about your brother,' or something like that?"

Maggie put her hands up defensively. "Sorry. But tell him to be careful."

Charlotte gave her an amused look. "Landon's one of the most careful people I know."

"I'm just saying. I worry about him, out there in the big city."

"Commuter town," Charlotte corrected.

Maggie narrowed her eyes. "I should've killed you off with the stomach donation story." She grabbed the paper out of Charlotte's hands and gave her one final bop on the head. "Alright, get out of here. You're scaring off the customers."

"But I'm your favorite customer!"

"Out." Maggie turned to walk away.

"Hey, Maggie?" Charlotte said quickly.

The older woman turned back, an eyebrow raised.

"I know we joke about the excuses you make up for me, but . . ." She flashed a tight smile that faded just as fast. "Thanks for never telling them I had to leave to solve a mystery or something."

Maggie pursed her lips, giving Charlotte the same look she would give when Charlotte was seven and finished another maze without touching her milkshake. Then she walked over to the case of baked goods by the cash register, grabbed a couple of big black-and-white cookies with a piece of wax paper, and dropped them into a paper bag. She slid the bag towards Charlotte.

"One of those is for your mom," she said warningly. "And I don't mean the two vanilla halves. I mean one full cookie."

Charlotte smiled. "Thanks."

Maggie gave her one last Look, then headed into the kitchen.

Charlotte pushed herself off of the chair, holding the bag of cookies in one hand, and walked out of the diner for the second time that night. She knew Maggie was probably right. Maybe she didn't give people a fair chance to really get to know her beyond whatever they had read on the first page of Google's search results. But as she walked past the spot where she had said goodbye to Amy, her farewell rang in Charlotte's head.

"Bye, Lottie."

The gas light blinked on just as Charlotte pulled up in front of her house. Her dad called it the "idiot light," but the moniker never deterred Charlotte from almost always waiting for it to turn on before getting gas. She'd do it tomorrow.

The slam of her car door echoed down the quiet suburban street as she hopped up onto the curb and crossed the front lawn. The porch light illuminated the front walk with a warm yellow glow. Her mom always turned it on if she was out after dark.

"Hi," Charlotte called out once inside, closing the door and switching off the porch light. "I have cookies."

"Hi," her mother called back from the kitchen. "I have a digital pile of ungraded papers and didn't eat dinner."

Charlotte made her way to the kitchen, dropping the paper bag of black-and-white cookies onto the table next to her mom's laptop. "You should probably eat some real food first."

Her mom closed the computer and dipped her hand into the bag. "Probably." She pulled out a cookie and took a bite. "How was the date?"

"It was fine." Charlotte sat down across the table from her mom. Evelyn Hartman was in her early fifties, White, Jewish, with gray streaking the dark brown, almost black hair she shared with her two children. Her brown eyes were also passed down to her daughter, while Landon defied the Punnett square by inheriting his blue eyes from their father.

Charlotte had never believed anyone who said she looked like her mom. Until she chopped her hair to her shoulders right before her freshman year of college. Then she saw it.

Evelyn popped up, turning on the electric teakettle as Charlotte pulled the cookie bag across the table towards her.

"Not bad, nothing special," Charlotte continued, reaching for her cookie. "Probably won't see her again." She took a bite, bracing herself for her mother's response.

The silence that followed was even more painful than if her mom had pointed out that Charlotte hadn't been on a second date in years.

Just say something like, "Maybe next time, kiddo," or, "No one's good enough for my little girl." I'll even take, "There are plenty of fish in the sea." Just not this.

Evelyn stayed quiet as the teakettle's wheezing grew in volume.

Unable to take it any longer, Charlotte put down the cookie. "What?"

"I didn't say anything."

"Your silence spoke volumes." Charlotte crossed her arms. "Maggie already called me out. I'm aware of my dating habits."

Evelyn shrugged. "I didn't say anything," she repeated. She crossed the kitchen and opened a cabinet door, searching for a mug.

"It's just, like, I think I'm pretty good at figuring people out. And every time we reach the end of the date, I feel like I know the person well enough to decide if I want to see them again. It's not my fault that I haven't wanted to see anyone for a second date." She paused, the cookie halfway to her mouth. "Right?"

Evelyn had found a mug and returned to the kettle as it began to whistle. "I think," she said slowly, pouring hot water into her mug, "that you might go on these dates prepared to be disappointed, and don't give yourself a chance to not be. And you can get a little defensive if they bring up your childhood."

"I'm not defensive," Charlotte said defensively.

Her mother gave her a pointed look.

Charlotte sighed. "I'm just . . . tired of it."

"Why do you keep going, then?" Evelyn asked, dropping a tea bag into her mug. "If it just tires you?"

"Um . . ." Charlotte split her cookie in half with her hands. "There are some fun parts."

"Well, that's good!" Evelyn looked over at her, smiling. "Like what?"

Charlotte's expression turned sheepish. "I . . . like to deduce things about them from their dating profiles and social media and then find out if I was right."

"Charlotte Yetta."

Charlotte winced.

Her mother was looking at her with an eyebrow raised. "You're not seriously going on dates with these people solely to guess things about them?"

"No! That'd be weird. And terrible. I know that." Charlotte popped another piece of cookie into her mouth, feeling strangely lighter after getting that off her chest. "It's just a way to get to know more about them beyond all the boring first-date stuff."

Evelyn sighed heavily and sat down with her tea as Charlotte continued.

"Tonight's date, Amy? I looked at her Instagram before the date, and she seemed to be a pretty regular poster up until two and a half years ago, when her posting got a lot more infrequent. Then, recently, it got frequent again. I realized maybe her posting wasn't infrequent—maybe she just deleted a bunch of photos of an ex. Then on the date, I noticed she kept touching her ring finger on her left hand, like she wanted to twist a ring that wasn't there."

Charlotte mimicked twisting an invisible ring on her finger. "Probably a promise ring, or even an engagement ring."

"So did you ask her?"

"Yup, she confirmed it."

"Mhm." Evelyn took a sip of her tea. "And you see how you're doing the thing to her that you hate other people doing to you?"

"No, uh-huh," Charlotte said, pointing at her mom. "I looked her up on social media. That's totally different from Googling. On social media, you control what you post about yourself. If she looked me up on Instagram, she only found a few super old photos from high school and one picture of me, Lucy, and Gabe at Six Flags."

"So did she Google you?"

Charlotte looked down at the remaining two bites of cookie in her hand—one chocolate, one vanilla. "Yeah," she said quietly.

Evelyn took another slow sip of her tea, then put it back down onto the table. Charlotte avoided her eyes, not wanting to see whatever look she had on her face. She imagined it was some combination of concern, pity, and sadness.

Charlotte didn't like worrying her mother. She was just naturally incredible at it.

"Oh," Evelyn said suddenly, remembering something, "change of subject: you got a letter in the mail."

"From who?"

Her mom tutted. "Reading someone else's mail is illegal."

"It's not illegal to read a return address."

Evelyn waved a hand in the direction of the front door. "I left it by the door, on top of all the other mail you never go through."

"It's all junk mail."

"Also, did you email back that woman from the magazine?"

Charlotte looked up at the ceiling and groaned. The woman had emailed her a week and a half ago, calling herself "a big Lottie Illes admirer" and expressing interest in writing a Where Is She Now? piece about her. Charlotte had been tempted to reply, "Great question. Let me know when you find out."

Her mother stared at her, waiting.

After a beat, Charlotte dropped her chin and sighed. "I still don't know."

"You don't have to do it, bub."

"I know I don't; I'm just gonna give it a few more days."

"Well, what did Helena tell you to do?" Evelyn asked.

Shit. Charlotte still needed to schedule her next session with her therapist.

"It's not Helena's job to tell me what to do," Charlotte said, shaking her head. This was not the first time she'd had to explain therapy to her mother. "She helps me talk through my thoughts and feelings so I can determine what I feel is best for me."

"Okay, so what did you determine?"

"That I'm gonna give it a few more days."

"Charlotte."

"What? "

"If you don't want to do it, you should email back and tell her. You're leaving that poor woman hanging."

"I don't want to do it," Charlotte said, popping the last bite of cookie into her mouth. "But Gabe said I should."

"Well, Gabe is a lot more concerned about your online presence than you are," Evelyn pointed out. "And I'm sure he wouldn't push you to do it if he knew you'd made up your mind."

"I haven't made up my mind. I'm giving it a few more days."

Evelyn grabbed the empty paper bag and wadded it up in her hand. "Suit yourself." She twisted in her seat and tossed it at the wastebasket across the kitchen. The two watched the ball of paper sail through the air and land in the sink.

Evelyn turned back around. "I'll get that when I get up."

Charlotte picked at crumbs on the tablecloth. "Someone was murdered in Highview," she said conversationally.

Her mother covered her face. "You can't tell me stuff like that," she groaned.

"Why not?"

Evelyn pinched the bridge of her nose, her brow furrowed with concern. "Because I worry enough already about Landon being out there on his own."

"He's not on his own, he's got Olivia."

"And I worry about both of them, alone in that city. And Lucy, in Manhattan."

"Commuter town," Charlotte corrected. "And Lucy's not alone, either. She's got dumb Jake."

"I'm sure you understand why your nickname for him doesn't reassure me at all." Evelyn pushed her chair back and took her now-empty mug to the sink. "Speaking of your brother," she said over her shoulder, "he told me you've still been ignoring his calls."

"He's been calling me?" Charlotte asked innocently. "They must still be going to spam."

"That's what I told him you said last time, and he told me that phones don't have spam boxes." She gave Charlotte a sharp look. "I don't appreciate you taking advantage of my technological ignorance."

Charlotte grimaced. She had known that weak excuse wouldn't last long.

"He said you haven't replied to him in months."

"He's lying," Charlotte objected. "I replied to his happy-birthday text."

Evelyn gave her A Look. "You thumbs-upped the message and didn't say anything else."

"Does that not count as a reply?"

"Talk to him, please. He wants to know how you're doing."

"Can't you tell him?" Charlotte whined.

"He wants to hear it from you."

Charlotte scowled. As much as she loved her brother, she really wasn't in the mood for a catch-up conversation with him. Especially the part where she'd have to talk about herself. Apparently, she'd been in that mood for a while.

"Do you remember what time I was born?"

Her mom blinked at the sudden change of subject. "What?"

Charlotte powered ahead, hoping that the faster she talked, the faster they'd get away from the previous topic of conversation. "This is the third date I've gone on where the person asked what time I was born. It has to do with my astrological chart or something. Do you remember?"

Evelyn shook her head, grimacing. "I was pretty busy at the time, so I don't remember exactly. But it should be on your birth certificate."

Charlotte pushed her chair back. "Where's that, the attic?"

"Garage. There's a file box on a shelf close to the door." Evelyn looked like she wanted to return to their earlier conversation, but stopped herself.

"Thanks." Charlotte breezed past her and headed downstairs to the garage.

"Thanks for the cookie!" her mom called after her. Charlotte heard the scrape of the kitchen chair as Evelyn returned to grading papers. Her mother had agreed to start teaching this summer course in addition to her usual fall and spring semester courses when Landon moved to Highview the year before. Charlotte knew she did it to distract herself from worrying about him too much, and remembering that, she felt a twinge of guilt for mentioning the murder to her.

Daughter of the year, she thought sarcastically, pulling open the garage door.

Flicking on the light switch against the inside wall, Charlotte breathed in the familiar smell of the garage. There was always a mild whiff of gasoline in the air, despite no one parking a vehicle in there since before she was born.

Charlotte stepped inside and turned to inspect the shelves her mother had mentioned.

"Ma!" she called through the open door.

"Yeah?"

"The box isn't here."

"Look around; I might've moved it when I was organizing."

Charlotte turned and surveyed the garage. Once upon a time, the boxes had been pushed to the back of the garage to make room for a small table. On one side, two folding chairs were set up with their backs to the garage door. On the other side sat an old desk chair, next to which Charlotte's pet rabbit, Rusty, would sit in his cage on the floor, either napping or nibbling on broccoli. A blue landline phone would rest on the table, its curly cord dangling off the side.

A paper sign taped to the table read: LOTTIE ILLES DETECTIVE SERVICE. The sign was written neatly in block letters with a black marker, flapping in the breeze every time someone sat down in one of the visitors' chairs.

Lottie's "office" was long gone, replaced by boxes and piles of old toys, file boxes, high school memorabilia, and so much more clutter that Charlotte couldn't imagine what her mother's "organizing" actually achieved.

Charlotte didn't give herself the time to reminisce—she was on a mission. Granted, it was a mission primarily fueled by wanting to move the conversation away from how she hadn't talked to her brother in months, but it was a mission nonetheless. She moved a box of photo albums to the floor, and, grunting with exertion, set a box of dumbbells down next to it.

The file box sat on top of a skateboard, where it had been hidden from sight by the two other boxes. Charlotte had no idea whom the skateboard belonged to. It was most likely a well-meaning (but misguided) Christmas gift from her father for either her or Landon, neither of whom ever demonstrated any type of athleticism that would warrant such a gift.

Charlotte popped the file box open and scanned the tags, pulling out a folder labeled BIRTH CERTIFICATES. She quickly found her own and made a mental note of the time (3:15 p.m.) for the next person who wasn't satisfied with, "I'm a Cancer? I think?" as a response to, "What's your Big Three?"

Charlotte returned the certificate to its folder, and as she restacked the boxes, something caught her eye. A flash of blue, half-hidden by an old sled leaning up against the wall.

She picked her way across the garage and moved the sled to the floor, revealing the powder blue landline phone—her phone—resting on top of
We hope you are enjoying the book so far. To continue reading...
Charlotte Illes Is Not a Detective
Katie Siegel
Copyright © 2023 All Rights Reserved