Book info
Sample
Audiobook
Media
Author updates
Lists
Synopsis
If you had to endure a debilitating condition of body or mind, which would you choose? In this world, everyone suffers.



In the far-future aftermath of a genetic plague that separated human society into two different groups—sickly yet super-intelligent Subterraneans and healthy but weak-minded Omniterraneans—a brilliant Subter girl is tasked with fixing the broken genetic code to reunite the two groups in the next generation.



But when a newer plague turns fatal for the surface-dwelling Omnits, the only group able to reproduce (giving birth to both Subter and Omnit children), Zuzan must find a cure or humanity won't simply remain divided, it will become extinct.



But there's more conflict at hand than a broken genetic code. The fragile connection between Subters and Omnits has frayed to the point of breaking—to the point of war—and it will take more than genius to repair; it will take heart.
Release date: January 10, 2023
Publisher: Angry Robot
Print pages: 400
* BingeBooks earns revenue from qualifying purchases as an Amazon Associate as well as from other retail partners.
Listen to a sample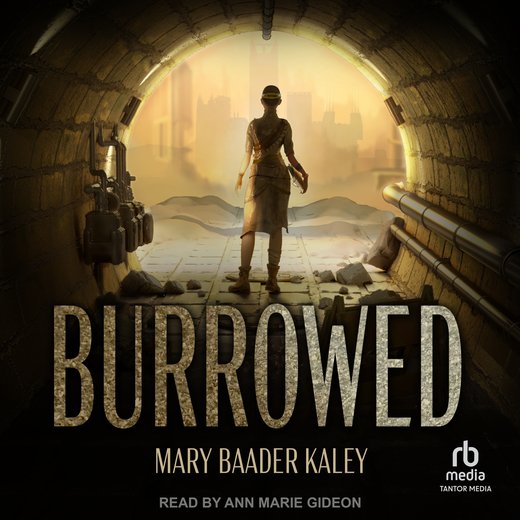 12:14:50
336.39 MB
January 31, 2023
Tantor Audio
2023
Burrowed
Mary Baader Kaley
CHAPTER 1
Horrific Thing to Say
Ghosts roam the shadows of our Sublery's walls. Or, at least, that's what some of the younger sublings claim. I don't normally see them – the withering souls reaching from the shadows – but today I do. My mind tells me they're not real, but the icy tendrils of fear reaching through me scream otherwise.
My nurserymaid snaps my travel skirt in the air, sending enormous shadows cascading down the slate walls of the underground room. Even the ceiling lights flicker as if to complain from the sudden breeze as I shiver in my underslip. They're not real, they're not real, I chant silently to myself, even as these shadowy ghosts and flames reach for me one last time to claim me as their own before I can leave this place. As nursery lore tells it, they're the spirits of deceased children wailing in the crematorium, screaming for the lives they don't get to live, and cursing the rest of us who remained healthy enough not to die. We believe they want to steal life from the surviving children, not realizing that once a life is separated from a soul it cannot be used by anyone else. Robbing a life only creates another dead child, and the cycle starts again, much like the plague that sent sublings underground in the first place.
"Stop your whining," Na'rm Anetta says as she snaps the skirt again.
I flinch, but neither she nor the ghosts can spook me much longer. I'm leaving today, I remind myself over and over. I take my deepest breath.
"May I wear a cap?" I try to smooth my wispy hair, but my goggle straps get in the way, and it sticks out in confused directions.
A scowl grows on my nurserymaid's face. "Hats are only for boys, and only because they have no hair," she says to the beat of her up-and-down skirt snapping, and then holds it out for me to step into. She'd taken the hem up and adjusted the waist so that it falls exactly at midcalf-length.
Across the room, another nurserymaid sings a melody while brushing her subling's long, white hair. I begin to hum with her but she's singing at a slower pace, and the usually comforting song now
has a hymn-like lilt to it. The subling girl wipes tears from her cheeks, her voice crackling as she tries to sing along for the last time. I'm sad for her, but she'll be okay at the burrows. She's a good size, has never been to the infirmary for longer than a week, and she doesn't wear goggles.
"Pay attention." Na'rm Anetta holds out a starched blouse. Her gaze bounces across the room and back to me. "I don't suppose we'll miss each other as they will."
I straighten my body like she's taught me – as if a giant Omnit is pulling me up by the roots of my hair. "I will always be grateful to you for your dedication in raising me to my seventh year," I say perfunctorily, as I hand her my good-bye gift. The traditional hand-painted bead will be her first ever memento, so I used the finest brush to paint a design that the artmaid ooohed over – she said it reminded her of a mist of water frozen in the air.
My na'rm isn't moved by my masterpiece, though, and drops the bead onto the wheeled dressing cart. It falls with a tinny clank next to the brush that we don't need.
On the other side of the room, my roommate's na'rm kisses the simply striped bead she's been given and strings it onto her necklace – which now has two beads – before replacing it around her neck. The two of them weep, embracing as if they could never be separated by something as slight as Sublery Graduation.
I tilt my head at my na'rm and blink really hard, testing if tears will sprout from my eyes. I'm too excited, though; glad we're leaving a month early. After Common Good sent word that they're clearing all subs from this region, it forced my graduating class to pack for the burrows that much sooner. I was the only one who clapped when the Grand Na'rm announced the news.
"Maybe we'll miss each other in smaller ways," I say to my na'rm, trying to be as grateful as a non-wicked subling should be. But that's the difference between us – she's allowed to tell when I misbehave, but I cannot help her see her own temper. "You're a wonderful seamstress," I add.
Na'rm Anetta's eyes sour, as if everything about me has grown blurry. It's the face she makes most when she looks at me – like
she's pretending I'm not really there, like I'm a child-ghost on the wall. She bumps into the dressing cart, and the bead begins to roll. I point as it nears the edge, but then it slows to a stop.
"Don't stare at me like that, subling!" She smacks my hand and sighs. "I never did connect with you. Give it a few months, they said. How can I raise her if I can't see her eyes? I implored. Somebody had to, though, and I was that unfortunate somebody." She hands me the satchel packed with my book. "Hear me this one last time, girl. Do not allow your temper to slither out of that wicked mouth of yours."
I swallow the redhot words at the tip of my tongue because unpleasant sentiment isn't to be tolerated. My thick goggles hide my rage. Besides, I've only pointed out her blunders to help her do better with her next subling, not for the purpose of being wicked. Not the sole purpose, anyway.
"Your medera will not allow you the same cheekiness I have endured all these years. My full report includes pointers on how to manage you."
My face prickles as if she slapped me. "Report?" Sublery Graduation is my chance to start fresh. "You didn't say I'm cheeky–"
"I've relayed the pertinent facts." She steps back to inspect me. "It's up to Medera Gelia Cayan to gauge the degree of your wickedness."
"No." I rub the sweat from my palms into my new skirt. "Fix it, please. Or at the least tell her I'm a model learner, and I coach the younger sublings to read."
"Your medera already has the report, not that I would revise one word." She steps back as if she's completely done with me. Her hand moves in a half-flutter-half-wave as she spins the wheeled table around to walk off. "Good health, girl." Her pleated skirt rustles about in awkward swishes as if it's fighting to free itself from her.
"I do not wish you good health!" I call back, tightening my fists. "You are wicked."
The other maid gasps, covering her subling's ears.
Na'rm Anetta flies around and stands above me in an instant, yanking my satchel. "Give me the book."
"No!" It's the memento I chose, the one thing that I'm allowed to bring with me – she can't take it back. "I will report you to Common Good." I have no idea if my threat carries any weight, but if our government is serious about their pledge for the good of common people like me, then they might be interested to hear about Na'rm Anetta.
Her face twists as I struggle, but she manages to strong-arm the bag away.
I jump for it as she slaps my hands again.
She rips the book out of the bag and throws the empty satchel at my feet. "This belongs to the Sublery." Her voice turns growly. "You were supposed to choose something of mine to take with you, you impudent, shameful child!"
"Anetta!" The other na'rm calls.
Na'rm Anetta's head snaps to her fellow maid, and then she straightens her back. She tosses my book to the floor: The Chronicles of Narnia. "Take it then," she growls. "We'll probably leave the paged books behind when the Sublery transfers to its new location, anyway. And they've all but promised me that my new subling will be normal, thank all that is good." She fixes the cuffs of her blouse and scuttles off.
I slump onto the floor even though my skirt will wrinkle, which will reflect poorly on Na'rm Anetta. But now I want it to wrinkle, so I crumple chunks of my skirt into my fists. I press lightly at first, but nothing happens. So, I squeeze my fists as hard as I can, grinning at the star-shaped creases I make. Something small and hard pokes into my thigh against the cold tile. Sweeping my hand under my leg, I pull out the bead – the one my na'rm should have strung onto her necklace. Something she should have worn to her dying breath, disdained and discarded.
"Come, child," the other nurserymaid stops near me, her subling's arms wrapped around her waist. "Walk with us to the transport tunnel."
"She hated me," I say as I hold up my bead. Perhaps she even wished me dead. My ears begin to ring as the lights flicker around me; the children of the shadows laugh at me from the walls. Their ghostly voices cackle all about me, and I want to flee. The shadows shift around with the flickering, and I'm sure the dead children begin reaching out with their ashy arms to steal my life.
I cover my head and scream.
"Okay, child! It's okay!"
I hiccup to a stop as the ringing ceases. It's the other nurserymaid who has picked me up, not a charred phantom. She holds me tight. Perhaps she got to me just in time.
The walls return to their gloomy slate color – I check each one to be sure. I don't have to squeeze my eyes or blink hard. The tears fall and fall, catching in a pool inside my goggles.
I am alone.
Hundreds of seven-year-old sublings from the region crowd together at the check-in line by the transport tunnel. All of the girls wear the same blouse and skirt, and all have various shades of albino-light hair grown to the standard shoulder-length. The hatted boys wear pants made with the same tweed material as our skirts, and collared shirts to match our blouses. We make up an army of tiny soldiers, marching off to fulfill our civic duty – to learn as much as possible so that we may embark on a sustainable trade when we graduate from the Burrows at the age of twenty. Or die trying.
The din of children shuffling and buzzing about calms me; I'm able to stay camouflaged in the center of it all. I scan the floor, hoping to discover an errant cap to cover my short, nonstandard hair. The Grand Na'rm told me not to worry, that it would grow by the time I graduated the Sublery. It didn't.
"What's wrong with you?" asks a tall boy with sunken eyes, four people in front of me in the queue. He carries a gallon-sized cage with a mouse in his left hand, and his right arm must be broken as it's covered with a wire-mesh cast.
There are many things wrong with me. Where shall I start? I'm forever unloved. My new medera must certainly already hate me because of the report from my na'rm. I can't possibly blend in
because of my goggles and patchy hair. People will always detest me, and maybe I deserve it because I'm wicked whenever I'm angry, and I'm prone to anger whenever someone points out how I'm different. Like now. Always.
Before I can figure out how to respond, a transport tech spins him the other way, mumbling, "You're next."
I flatten the wrinkles in my skirt with my hands. All the other sublings probably know the difference between red and purple and green – no one else wears goggles, and they all have a favorite color.
When it's my turn, a travel tech scans my finger and then reads my identification number from his tablet. A machine begins to hum and whine, inscribing my data onto a shiny bracelet. "Terminal six. Your magnetran leaves in twenty minutes." He affixes the band onto my wrist and hands me a white fabric travelmask to go over my nose and mouth. "Good health."
I'm pushed forward and away. Finding my way to terminal six, I soon discover the perfect spot – just behind a wooden crate with giant letters spelling out CAUTION.
The boy with the broken arm and the caged mouse stares at me from the front of the terminal. I tighten my fingers around my satchel as he snakes his way through the crowd of children, edging closer. When he makes it to my side I pretend not to notice, studying the new scuff in my bootstrap. I do notice him, of course. His giant shadow could swallow me whole. You're this size because you didn't grow when you were supposed to, Na'rm Anetta exclaimed a year ago.
The boy's eyes continue to scour over me, so I inch my right foot to the side, and then my left, hoping I can shrink further behind the crate.
"You're a curious case," he says a little too loudly, and a few sublings turn our way. He'd never have survived Na'rm Anetta. "It's okay. I'm a scientist." He holds up his mouse as if it proves his claim. "Genetics are surely at the bottom of your – err – uncommon features." He doesn't seem to know when to stop talking.
My cheeks flame and I close my eyes. He isn't here, he isn't here, he isn't here.
He jabs two fingers from his casted arm like a sword into my ribs, singing, "Touché!"
"Ow!"
He laughs and lunges like he'll do it again, so I jump.
"I'm just playing. You're old enough for the Burrows, then?"
Without lifting my head, I hold up my bracelet. "Seven point seven years old."
He checks his own wristband, which only lists his date of birth. Seven point nine years if he wants to know, but he doesn't ask. Instead, he smiles like I've divulged the secrets of the universe.
"Ah – intelligence on top of your odd features. That's why you've been sent to Cayan. I'll bet someone messed with your genetic coding. You've barely any hair." He reaches out and flicks a tuft on top of my head.
"Clearly I have some if you can touch it. Please don't."
A girl I've never met turns around, and my muscles tense, ready for her to join in. But instead, she glares at him. "You're a rude, miserable subling. Leave her be." The rims of her eyelids are swollen, and her hair shines like silk. Her nurserymaid probably sang a lullaby too slowly before walking her to the travel tunnel.
"You've got to admit she's an interesting specimen with those glasses." He touches his cleft chin. "I'd bet she's nearly blind."
Wickedness fires up inside me, and I move away from the shelter of the crate. "These aren't glasses, you bumbling chunk of flesh!"
"Okay." He makes the peace-sign with his hand. At first, I think he's apologizing and say nothing. But he continues, "It's an experiment. How many fingers am I holding up?"
As the heat rises to my cheeks, I know without a doubt that I hate-hate-hate scientists. I shove him as hard as I can.
He grabs my arm and raises his mouse up high in the air. "Woah, a fast temper, too. You must be more careful before someone breaks."
The girl beside us lets out a screech and karate-chops me free from his grip. I lose my balance from the force of it and topple to the ground. My palms slap onto the cold marble floor. Our commotion has drawn the attention of all the children in our terminal. I want to stay down – to never get up, at least not until everyone stops watching.
A whack resonates over my head, and I pull my shoulders in.
When I finally look up, the girl is standing nose-to-nose with the boy, who is now rubbing his cheek. She presses her fingers into his chest, even though she's a few inches shorter than he is. "Mind your manners, lest you want someone to mind them for you. Is this how your nurserymaid taught you?" Her eyes shimmer like fire, and he shrinks away from her.
For a moment, I consider doing the same.
But she reaches down and yanks me from the ground. Lacing her arm in mine, she holds her head high and walks me to the edge of the platform near the metal grate. "I despise hateful people." She motions to my satchel. "What did you bring?"
"It's the book my na'rm wouldn't allow me to read while I was at the Sublery. She said it would inspire my mischievous side. I plan to read it on the magnetran." I rub my stinging palms together. "He's half right, though. I'm blinded by light, but I can see perfectly fine with these goggles because they block most of the rays. Except I can't make out colors – just white, black, and lots of gray."
She checks my hands, and rubs them for me, keeping one arm wrapped in mine. "It's okay. He's not worth an ounce of his own fuss."
I crane my neck to search for him, but thankfully, he's disappeared into the crowd.
"I'm scheduled on the next tran to the Cayan Burrow," the girl says, showing me the data on her bracelet. She's a month older than I am.
"Why?" I examine her up and down. She's grown to a good height, her hair falls to her shoulders, with no signs of sickness or ailment whatsoever. "I don't see anything wrong with you."
She drops my arm. "That's because there is nothing wrong with me." Her voice falls flat as one of her eyebrows arches high on her forehead. I've insulted her without even trying to, but I refuse to give up on having a friend.
"I'm going there, too," I whisper, grabbing the tube of emergency serum hanging from a chain on my neck, hidden under my blouse. "My na'rm said that Cayan is the poorest of all the burrows and only the sickliest, most disabled children go there. She said even with a full-time medtech, a good portion of Cayan burrowlings die before they graduate."
The girl gasps. "What a horrific thing to say. My na'rm said only the kindliest and most intelligent children go there. As in, off-the-charts intelligent." She blinks quickly, like it's settled.
Could Na'rm Anetta have lied to me?
The girl puts her arm in mine again and smiles. She's connecting with me – she doesn't mind the goggles. Even if it turns out I'm not good enough for Medera Gelia, this girl will be with me at Cayan. I smile so hard the muscles in my face hurt from the abnormal stretching, and it makes me want to giggle.
A bell clangs and the lights flicker, warning us to step behind the line. The flash reflects off a chain around the girl's neck, causing a sharp glare. I press my lids shut as a stabbing pain hits in the center of my eyes. The sharpness moves to the center of my head, and I keep them shut until the flickering stops. My new friend's neckchain mirrors mine, which means she has fatal allergies too. I tighten my grip on her arm. For her, I will pretend that the Cayan Burrow is packed with the most promising, intelligent children. After today, it will have at least two.
"I hear we're allowed to name ourselves once we know our calling," she says. "Medera Gelia Cayan may be old with hundreds of hairbeads, but I think that makes her all the cleverer, don't you?"
I nod as if I already knew these things.
Our magnetran blasts its way into the station underneath the grated edge of the platform, and the warm gust makes our bell-shaped skirts fan out. My friend's eyelids flutter and she buries her head into my shoulder. Her hair whips about, stinging my cheeks and forehead, and I can't remember ever being so content.
"My na'rm said that I'd save the world someday," she shouts over the squealing of the magnetran brakes while she pulls her travelmask over her mouth and nose. "I'm glad you'll be there to save it with me."
The next morning, the Cayan burrowmaid calls out, "Time to rise," and I hear bedchamber drawers squealing open. Yesterday's tedious journey feels more like a dream now.
My beddrawer squeals like a tortured banshee as the maid yanks it open from the outside – perhaps I was not fast enough for her. As light smashes into my space, a horrific white pain strikes me. Even Na'rm Anetta knew better.
"My goggles–" I don't sleep with them on because the strap presses into my scalp when I lie down. Frantic, I rake the bottom of the beddrawer until I find them.
"Your eyes–" My friend stands somewhere nearby. "They're a b
eautiful pink." She helps me affix the strap around my head until the protective goggles are in place. "And your face is an elegant oval shape, now that I've had a proper look."
I smile even though my vision remains foggy, and the entire time the burrowmaid dresses us in uniform, the smile doesn't fade from my lips. I've never been called elegant, and have never thought of my eyes as beautiful. How can I when I haven't seen for myself?
"Do you think," asks my burrowmate as we dress, "that if I already know my calling, Medera Gelia would allow me to choose a name today?"
"You already know what you'd like to be?" I study the faces of the other girls getting ready. Maybe I'm the only one who doesn't know. Even that strange boy with the mouse knew he's a scientist, which is the only thing I can safely rule out.
"A seven-year-old knowing her calling?" The burrowmaid tsks. "Complete folly."
I clench my teeth at our rude ba'rm, adding her career as something to never aspire to be, alongside scientist.
"I want to work where people need the most help," my friend says with a matter-of-fact air. "In humanitarian politics, fighting against things like the subpar treatment of our maids and servicetechs, or perhaps aiding the hungry Omnits in the farmlands." Her eyes shimmer and grow distant, like she's imagining herself after graduation helping faceless masses of people.
The burrowmaid pauses, putting both hands on her hips. Her face opens with the same awe that rumbles inside me. Here I am, battling every second to keep from being wicked, and this girl has chosen to do nothing but good for others as her calling. Somehow, the thought of her wanting to be so compassionate gives me hope. Maybe there are others who, like her, will accept me as I am.
And then the room echoes with two dull but heavy thuds. "On your guard, ladies," a woman's deep voice rings out.
The maid scurries to line up our group of five girls. "Hush up and stand straight for your medera." And then she stands at the end to make a row of six.
My humanitarian comrade slips her hand in mine as the stately woman enters our chamberroom. I wonder if I should drop her hand. There's no reason I should take her down with me. I'm sure her na'rm's report was written with a much kinder pen than mine.
The elder medera – perhaps in her late forties – walks with a straight cane and a bent limp, stopping just a few feet in front of us. She wears a long, dark robe with Cayan embroidered on her lapel. She nods at the maid, who then rushes off.
"Hear me now: I am Medera Gelia Cayan." Her thick lips enunciate each word, and her eyes light up as if she's excited. Former students' beads line the front strands of her hair, clicking as they bounce together at her movement. "You will follow me to the first years' lessons gallery now."
We follow her out of our chamberroom in single file, joining a line of boys.
I scarcely make it out to the hallway before I'm face-to-face with the scientist-to-be, the boy who made fun of my goggles.
"Watch it." His eyes bulge with severity. He lifts the mouse out of reach as if to protect it from me. "I must keep my distance from you and your friend. My brittle bones have plagued me since birth, and you're likely to cause them to break."
I frown at the cast on his arm. Brittle bones must be one of his ailments, landing him here at Cayan. He and I had a poor start yesterday, but we are more alike than different. He's as much of a target for bullies as I am. Besides, a new burrow means new beginnings. "What's the mouse for?" I whisper as we march along, extending a possible hand of friendship.
"It's my experiment. I've coded it with some of the same genetic sequencing that's found in my own DNA, and the adverse antibodies that curse me. Specifically, the level-seven or higher allergies, the deadliest."
I cock my head. "So, if you come too close to something that is harmful–"
"I'll know before I get a chance to get close because it will affect the mouse first. I call it a canarymouse." He shrugs one shoulder.
My foot twists beneath me, and I reach out for the wall to steady myself. Somehow, I underestimate the distance between me and the curve in the wall, and I tumble to my knees before I have a chance to catch myself.
"Are you hurt?" The boy puts his mouse cage down. His face is inches from mine, and worry shoots across his eyes, and I almost cry. Not because I'm hurt or embarrassed, but because he seems genuinely concerned for me. Maybe he isn't as bad as I thought.
"Check your bones," he says. His warm hands tremble as they find every long bone in my arms and legs in search of injuries. Despite his seriousness, I smile because I'm sure I've found another friend.
"I'm okay."
He helps me up and he smiles while he searches for my hidden eyes. I try to make my smile even bigger to make up for it, until I realize everyone is watching.
"Pip, pip," Medera Gelia says. "She'll mend." She then leads us into a room and asks us to form a circle with the girls on one side
boys on the other. I take a spot next to the girl who called me elegant.
She curtsies, tugging my hand as a hint. I nod and curtsy too. "Good health, Medera," I add for good measure. Anyways, I have nothing to lose. The other girls amazingly follow our lead, and the boys bow.
"Such manners." Medera taps her tablet and pauses to read. "Surely this nurserymaid's report must be mistaken," she whispers barely loud enough for anyone to hear.
My neck heats like lava. I'm saddened that my friends are about to know me for my former ways once the medera explains. Perhaps she won't. Of course she will. Please don't look my way.
"Most of you have been pulled from your nurseries early. I'm sure your na'rms did their best, but what matters to me now is how you do here. My small burrow houses seventy-six members. Each and every day, you will demonstrate your capacity to learn, your mental stamina, and quickness of thought. I expect no less. These skills are crucial in today's workforce. Are you up for the challenge?"
I stretch my body straighter with the help of my imaginary giant Omnit at the notion that she doesn't care about my past. "Yes, Medera," I say with pride. Learning is my specialty. A few burrowlings echo my response, though not with the same fervor.
Medera strikes her cane into the ground and everyone quiets, straightening their bodies like me.
"Our Omniterranean relatives count on you to improve their world. Their healthy bodies afford them a long life of hard labor so that we have desks for research, clothes to wear, and food to eat." She begins to hobble down the line of girls, inspecting each one of us, while I imagine giant people walking above us on the very top of the ground. What would it be like on the surface among all the people and animals? It sounds absolutely chaotic. Maybe the Omnits are so large that I would get trampled if I went up there. Would I be eaten alive by wild animals? I shiver.
"Who can tell me why we Subterraneans live in burrows away from our Omniterranean family?" Medera Gelia asks.
"I can, Medera." My humanitarian friend steps forward from our line. "We live away from our Omniterranean family because of our weaker immune systems."
Our medera smiles. "And why are our immune systems so weak?"
This time, it's the scientist-boy who steps forward. He doesn't speak until Medera Gelia motions to him. "The Genetic Plague caused it, ma'am, generations ago. Before then, we all lived together. But afterwards, humans were born either Omniterranean with extremely robust, healthy bodies, or they were born Subterranean with smaller bodies and various physical ailments and weaker immune systems." He takes a breath as if he might keep going.
"Correct," Medera Gelia says, cutting him off. "Subterraneans have accounted for about ten percent of the human population ever since the Genetic Plague, but we all must remember that we're born from Omniterranean parents. We're all still one species."
I must admit I haven't thought about them much. Why would we? We're not allowed to know where we came from. Rumor has it that the first time Subter children were sent below ground, their Omnit parents tried to visit them which just put all the Subters in danger of catching diseases.
"Interesting point, Medera," the boy says, stepping back into line with a contemplative furrow in his brow.
"So," my friend with beautiful hair steps forward again. Her eyes narrow as if she's finally thinking things through, too. "Our parents sent us here because they love us and wanted us to live."
Medera Gelia nods, walking around the circle of students. "It is a travesty of scientific abuses that started the Genetic Plague and separated us all. As Subters, we are cursed with weaker bodies, but we are also genetically wired to invent, to research, and to solve problems." She stops in front of me and cocks her head. "Beginning t
oday, you may indeed pay your families homage by serving them with the power of your minds."
A family – my family of giant people – lives somewhere up there. Brothers or sisters or maybe both, a blood connection to people I don't even know, who build or farm or manufacture things each and every day for our survival. My stomach twists because Medera Gelia's words hit every sadness I've ever had. Nurserymaids were supposed to be like parents for their sublings, but mine was far from it, at least compared to how the other na'rms were with all the other children. Parents are supposed to love you no matter what, even when you're different. Maybe my na'rm didn't want me, but surely my real family would. It's not fair – I would gladly toil by their sides even if it risks my death. My legs weaken, and I grab my friend's arm, but surely her na'rm treated her with affection. I glance across the circle at my mouse-loving friend whose eyes start to glisten with tears, as if he feels the same.
"Pah, pah, sweet burrowling." Medera strokes my fuzzy hair and her voice softens. "Though I can never take the place of your parents, it is my honor to serve them as your medera."
Before I can think about what I'm doing, I wrap my arms around Medera Gelia and squeeze her waist. The face of the kind nurserymaid who embraced me yesterday flashes in my mind, and then that of the nursetech at the old infirmary who fixed my blankets and fed me broth when I was sick, and even the image of a mother I've never met who caresses my face; I see it all as I squeeze my medera tighter.
Medera gently wraps her hands around my wrists, and her enlarged knuckles press into me as she gently pries my arms loose, but holds onto one of my hands. "We will begin your names with an initial."
My group of new burrowlings begin to buzz with excitement.
She looks into my eyes. "You shall be called Z until you know your calling, and then you will name yourself accordingly. Your name will be celebrated from that day forward."
"Z," I breathe outwards. How beautiful it sounds. Because of it, I'm less invisible, less blurry. "Thank you" doesn't seem adequate, so I take the bead out of my pocket. "Please, Medera Gelia Cayan, will you wear my bead?"
The other sublings gasp at my request, but I cannot care about that for now.
"My na'rm –" I drop my voice. "The one who wrote the report – she didn't take my gift."
For a fleeting second, a look of shocked surprise passes on the medera's face, and then she allows me to place the bead into her hand. "These beads," she strokes a few in her hair, "are from my burrowlings who have graduated: researchers, historians, scientists, and even a medera or two – all beautiful and brilliant in their own way. But I will save yours here." She unfastens her necklace and strings my bead onto it. "It will be safe with me until your graduation day."
Energy fizzes in my chest, because I finally know what my calling is.
Staring into Gelia Cayan's eyes, it's clear to me I'm supposed to become a medera.
We hope you are enjoying the book so far. To continue reading...
Burrowed
Mary Baader Kaley
Copyright © 2023 All Rights Reserved