Boys I Know
Available in:
eBook
Paperback
Audiobook
Hardcover
Book info
Sample
Audiobook
Media
Author updates
Lists
Synopsis
A high school senior navigates messy boys and messier relationships in this bitingly funny and much-needed look into the overlap of Asian American identity and teen sexuality.

June Chu is the "just good enough" girl. Good enough to line the shelves with a slew of third-place trophies and steal secret kisses from her AP Bio partner, Rhys. But not good enough to meet literally any of her Taiwanese mother's unrelenting expectations or to get Rhys to commit to anything beyond a well-timed joke.
 
While June's mother insists she follow in her (perfect) sister's footsteps and get a (full-ride) violin scholarship to Northwestern (to study pre-med), June doesn't see the point in trying too hard if she's destined to fall short anyway. Instead, she focuses her efforts on making her relationship with Rhys "official." But after her methodically-planned, tipsily-executed scheme explodes on the level of a nuclear disaster, she flings herself into a new relationship with a guy who's not allergic to the word "girlfriend."
 
But as the line between sex and love blurs, and pressure to map out her entire future threatens to burst, June will have to decide on whose terms she's going to live her life—even if it means fraying her relationship with her mother beyond repair.
Release date: July 26, 2022
Publisher: Peachtree Teen
Print pages: 352
* BingeBooks earns revenue from qualifying purchases as an Amazon Associate as well as from other retail partners.
Listen to a sample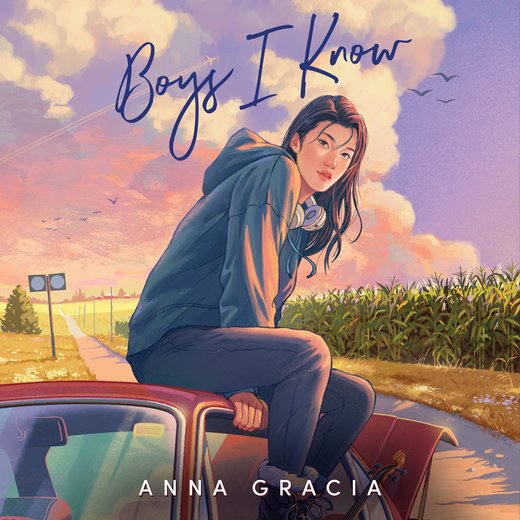 08:58:34
246.55 MB
9780593558812
July 26, 2022
Penguin Random House
Boys I Know
Anna Gracia
CHAPTER ONE
"Aiya. You go to school all day looking like jì nǚ? Go change." I'd barely taken five steps into the kitchen before my mom called me a prostitute. I opened my mouth to tell her the correct term nowadays was sex worker, but she wasn't finished scolding me.
"Totally inappropriate." She frowned, the pull of her mouth creating tiny wrinkles around her eyes that made her look closer to her real age. "What people think of you?"
I glanced down at my simple black scoop-neck T-shirt and jeans, trying to figure out why she kept looking at me as though my clothes were see-through. "What are you even talking about? I look fine."
She swiped a bony finger across my chest. "Look. So much skin showing. I can see your bra."
I swatted her hands away, pulling up the neckline of my shirt to cover myself. "You're supposed to, Mom. That's why the straps cross in front, it's the style."
"Looks terrible, like you tangled in string. Looks cheap. No cheap clothes like this in Taiwan. Probably fall apart in the washing machine."
I didn't bother replying that cheap American clothes were probably manufactured in Taiwan to begin with. Instead, I glanced at the clock, wondering anxiously how much longer she was planning to stick around. Rhys was due to show up in ten minutes, and I wasn't exactly looking forward to seeing my mom's reaction when she discovered the AP Biology partner I'd been "studying" with for the last month was a boy.
"I thought you'd still be at work," I said, casually pulling books and papers out of my backpack and setting them on the table like I was a diligent student, ready to study by myself.
"I come home to check on you before I go shopping. Today senior discount day at the fish market."
The only Asian grocer in the area, a full forty-five-minute drive from our house, offered a marginal discount for people aged sixty and older on Friday afternoons. My mom made the drive practically every week despite the fact that she was nowhere near sixty, always hoping she would get rung up by the one cashier who never checked IDs.
Nine minutes.
"Well, everything is great here," I replied with false cheeriness.
"You eat yet? There's xī fàn on the stove."
I eyed the dull, dented gray pot, a fixture in our household from before I was born. My older sister Wendy and I saved up and pooled our money together when we were little to buy our mom a new one for Mother's Day one year, but she continued to use the old one. Dà shǒu dà jiaǒ, she'd explained. Big hand, big foot. Sometimes it was easier just to pretend we understood the Chinese proverbs she loved to spout instead of having to sit through a long-winded lecture. In Taiwan, everyone talks like this, she always claimed.
I patted my belly. "I'm saving my appetite for fish tonight." The thought of feeding me a full meal might motivate her to get going. Nothing could spring an Asian mom into action faster than declaring your possible hunger.
Eight minutes.
She frowned again, like she was forgetting to scold me about something before she left. "You practice yet today?"
"I will after I do my homework, which I can't start if you keep standing here talking to me."
I was practically herding her toward the door, my hands anxiously jammed in my pockets so I didn't reach out and just shove her out of the room.
Seven minutes.
"You know," she started. "Wendy—"
"—Yeah, yeah, yeah, Wendy was never like this. Wendy never needed to be reminded to practice." For a moment I forgot all about being cheerful, and the bitterness of always falling short of my parents' expectations that I be exactly like my sister cut through my voice. Wendy was Valedictorian. Wendy had ten full-ride offers for violin. Wendy is studying premed to become a doctor like Daddy. Anyone who thought youngest kids were the spoiled ones of the family had never met Asian families, where the first child was revered and celebrated and everyone who came after was watched like a hawk to make sure they lived up to the firstborn's example.
Six minutes.
My mom sighed. "I don't know why you always like this. Daddy say if you put this effort into practicing instead of arguing—"
"—Don't call him Daddy, it's weird."
"You call him Daddy. I do it when talking to you."
"I don't call him Daddy, I'm not eight."
"See? This is what he say."
I bit my tongue.
Five minutes.
It wasn't enough to get her out the door—she had to be clear out of the neighborhood or she'd see Rhys's car pull into our driveway and my whole plan would be ruined. Sometimes it felt like she lived just to foil my best-laid plans. Like in seventh grade when it slipped out that I'd planned to go to the movies with a group that included boys and she refused to let me go, forcing me to concoct a fake reason for canceling so I didn't have to explain that my parents were weirdly puritanical despite not actually following any organized religion.
"I'll do my practice," I promised. "I always do." Sometimes at the last minute, I added silently. But I always do it.
She kept frowning at me like she wasn't quite sure whether or not to believe me. Forget that I'd never actually missed a day of practice—apparently my existence itself was suspicious now. Like she could sense I was even thinking about doing something she wouldn't approve of.
I kept eye contact, knowing that she'd take my looking away as an admission of guilt and finally she sighed again before making her way toward the door where our shoes and jackets were tidily lined up. She took one last look around, stepped outside, and turned around to add, her eyes squinting, "Go change. Hurts my eyes to look at you dressed like that." With that, she shooed me away and closed the door behind her.
CHAPTER TWO
I collapsed back against the closed door, relieved to have actually gotten her out of the house. But doubt quickly creeped back over me. Surely I didn't look that bad, did I? My friends would have told me if I looked…what was the word she'd used? Cheap? If anything, my fancy bra had been not cheap at all—I got a deal by buying it on sale. Not that I could brag to her about that now.
My mom's favorite reminder to me in English was a mangled version of Why buy the cow if you can get the milk for free—the irony of which was not lost on me. Regardless of what you called them, sex workers got paid.
I checked my phone again. Rhys was due any second. I didn't really have time to change, but I dashed up the stairs, taking two at a time, and threw on a plain gray hoodie anyway. Just in case. Another minute to smooth any flyaway hairs and rinse my mouth and I was back downstairs as he was pulling into the driveway.
I took two deep breaths, giving myself a full eight count on each exhale. The knock came and I did an extra four count just so it wouldn't look like I was hovering behind the door for him.
"Oh, hey," I said, flinging the door open.
"Hey." As usual, his sharp shoulders were slouched over, as if to apologize for how much taller he was than me. His dark curly hair jumped off his head every which way like he'd just woken up, and a rumpled, faded blackish T-shirt peeked out from beneath his unbuttoned flannel. In other words, perfect.
I allowed myself a momentary fantasy in which he greeted me with a hug and kiss like I was a proper sort of girlfriend instead of waiting until we were halfway through studying to make his move, but I quickly brought myself back to the present before I accidentally said something that might spook him. It had taken him ages to make the first move as it was. I didn't need him figuring out I'd invited him over as a subtle way of establishing myself more firmly in his life.
"What obscure band are you wearing today?" I nodded toward his partially covered T-shirt. He must have owned dozens of different vintage T-shirts, all courtesy of his dad's concert obsession in the nineties. While everyone else bought preworn replicas from Target or Urban Outfitters, Rhys had endless originals, all faded gray with peeling print, like he had worn each one a thousand times himself. They were usually hidden under another shirt or a hoodie or some other innocuous cover-up, but the threadbare edges peeked through at the collar and the waist, which of course I tried very hard not to get caught staring at during class.
He pulled open the flannel, revealing an image of a person in an electric chair, half their body zapped into a skeleton. "Metallica?" At the blank look on my face, his knees crumpled and he threw his head back in a strangled plea. "Come on, June! They're one of the most famous bands of all time. They inventedthrash metal. You can't live under that big of a rock."
I didn't want to admit aloud that I had no idea who they were, even though it was already pretty obvious I didn't. It was both annoying and impossibly sexy that Rhys was somehow both book smart and pop-culture smart, in addition to being cute. People weren't supposed to be good at everything; it wasn't fair to everyone else. Why didn't anyone ever want to quiz me on my knowledge of classical composers?
"My rock is actually back here," I said, leading him toward the kitchen, where I had already neatly laid out my materials. "I don't get a lot of sunlight, but they do feed me occasionally."
"Do me a favor, okay?" he asked. "Just look them up. This album especially. It's the best one."
I shrugged noncommittedly, even though I was practically YouTubing it in my pocket. His T-shirt and the words Thrash Metal were giving me some very unpleasant screeching electric guitar vibes, but if it gave us something to talk about besides biology, it'd be worth it. "I'll think about it," I conceded. I nodded toward his backpack. "Do you actually have books in there today or is it just for show?"
"Nah, there's definitely a book in there, but I can't guarantee it's the right one." He set his backpack on the table and pulled out a thick textbook wrapped in plain brown paper. "Hey, whaddya know, it is. And look, it opens and everything."
"Watch out, the next step is actually reading it."
He snapped the textbook shut with a loud thwack and turned toward me, the faintest hint of a smile playing at the corners of his lips. "Definitely don't want that."
The way he smiled—that little grin that told me we were sharing some kind of inside joke together—made my stomach feel like it was about to levitate out of my body.
I cleared my throat nervously and quickly sat down at the table. "I was just kidding. I outlined the major areas we need to study, with a few bullet points underneath key concepts and terms we should know. I also arranged them by level of importance, so we can work our way down the list." I smoothed the top sheet of my notebook, pressing out the invisible wrinkles.
Rhys whistled and I couldn't tell whether it was out of appreciation or deprecation. "You sure you didn't want to put this into an Excel spreadsheet first so you could color-code it? Maybe add a pivot table?"
My eyes narrowed at the mention of Excel, even though there was no way Rhys could know about my secret spreadsheet of non-parent-approved colleges that were, in fact, color-coded. "That's not how pivot tables work."
He shrugged. "Close enough."
"It's really not. Pivot tables aggregate statistical data and sort it into groups. It wouldn't make sense to use it for this."
Rhys leaned closer to me. "It's a good thing you convinced me to be your lab partner so you could explain all this to me. It's fascinating stuff."
My cheeks flushed at the proximity. This close, I could smell his cologne. It was faint—not like other guys our age that seemed to bathe themselves in scent—but it was definitely there. Sharp and woodsy, like pine trees, but also sweet. Like marigolds. "You picked me, not the other way around."
He cocked his head to the side, his eyebrows creating dark slashes across his face. "Did I?"
I thought back to the first day of class, when our teacher told us each to pick a lab partner for the semester. Never mind that that was a lot of pressure to put on us, but the race not to be left with whoever else didn't get paired off was so great that lots of people made rash choices. Like last year, when I'd paired up with a guy because he'd gotten a 1500 on the PSAT, and he ended up spending the entire semester espousing his personal theories about the link between "Big Pharma" and the rise of cancer diagnoses. They get you sick, then sell you the cure, he'd constantly say.
Rhys had turned around amidst the madness, we'd made eye contact, and he'd given a little nod and a crooked little grin—the same one he'd used just now. Then, when we'd been sent to stand next to our partners so the teacher could write them down, he'd pulled my stool next to his so I could lean my back against the wall, our legs bumping against one another as we silently judged other people's choices. Yeah, he'd definitely been the one to pick me.
I cleared my throat again, dragging my brain back to the present and away from the warm feeling creeping through my chest from the memory.
"So like I was saying—"
"Yeah, yeah, I got it. Key concepts." Rhys cut me off, saving me from my own agitated state as he gently lifted my hands and pried the notebook out from under them.
I snatched it back, a little more forcefully than I intended. "Hey, you want notes, you should've taken some. These are mine." I hugged them tightly to my chest, as if ninety-six sheets of college-ruled white paper could protect me from the fact that I might not always be able to identify the fine line between flirty banter and outright hostility.
Rhys regarded me for a moment, as if deciding what to do. One of his dark eyebrows arched higher than the other, the individual features of his angular face always slightly askew.
Maybe this was it. Maybe he'd finally realized how much he liked arguing with me—someone who was actually as smart as him and able to fire off quick retorts—and he'd ask me to do something beyond the confines of our own homes instead of hiding me like a shameful secret.
Without warning, he abruptly leaned over and pressed his mouth against mine, the force of the kiss causing me to fall back into my seat. He followed me, never losing contact as he tilted his head slightly to the left, lips parting, his tongue tumbling into mine and sending my brain into a dizzying spiral. No matter how many times I'd kissed Rhys before, each time made me feel like I was tiptoeing along the edge of a tall building, wanting nothing more than to leap off the side of it but having the good sense not to.
His kisses grew deeper, his hands winding their way through my hair as I suddenly became very aware of how my own hands were trapped between us, desperately clutching the notebook. Yuàn dé yì xīn rén, bái shǒu bù xiāng lí, a tiny voice in my head whispered. When you catch someone's heart, you'll never be apart. My hands twitched, desperate to break free and grab onto Rhys's heart as if it were something I could physically possess.
His hands slipped through my long hair and down my back, pausing for a moment longer over the back of my bra. My oh-so-fancy bra with the straps that crossed in front that I was sure he hadn't even noticed during class earlier. Now I felt silly for having covered up with a hoodie. We'd made out a half dozen times, each time his hands inching closer to the more exciting parts of my body, but this was the first time he'd given any indication we might move to the next level. Maybe he really, actually liked me.
The creak of the front door opening followed by the slap of the screen door sent us both scrambling back to our original places. My pulse, already pounding with excitement, was now threatening to send me into cardiac failure from sheer terror. I'd been waiting for the perfect time to have Rhys meet my mom and this certainly wasn't it.
"Mom? Are you back?" I called loudly. I tried to keep my voice light, like I was just curious and not on the verge of a panic attack at being caught with swollen lips and mussed hair.
My mom appeared empty-handed a moment later, the shock of seeing a boy sitting at our table painted all over her unsubtle face.
"Who is this?" she demanded.
Rhys beat me to the punch. "Hey, Mrs. C," he said, rising out of his seat. "I'm Rhys, June's biology—"
"AP Biology," I cut in, as if the reminder that it was an accelerated class would magically make her happy to meet the boy who'd just been alone with me in my house.
"Uh, right." Rhys looked flustered by my forceful addition. "AP Biology partner. Nice to meet you." He wavered between offering a handshake or a small wave, his hand just sort of dangling out in front of him for a few moments before he stuffed it back into his pocket.
"You can call me Mrs. Chu." She smiled, but the smile didn't reach her eyes. I knew that smile. It was same the one she used when strangers marveled at her English fluency.
"Oh. Sorry, Mrs. Chu," he mumbled, slumping back into his chair as I silently willed myself to melt directly through the floor, preferably into a grave. If I'd known today was going to be the day my mom was going to meet Rhys, I would have at least given him some pointers beforehand. Rule number one: respect elders at all costs. ...
We hope you are enjoying the book so far. To continue reading...
Boys I Know
Anna Gracia
Copyright © 2023 All Rights Reserved